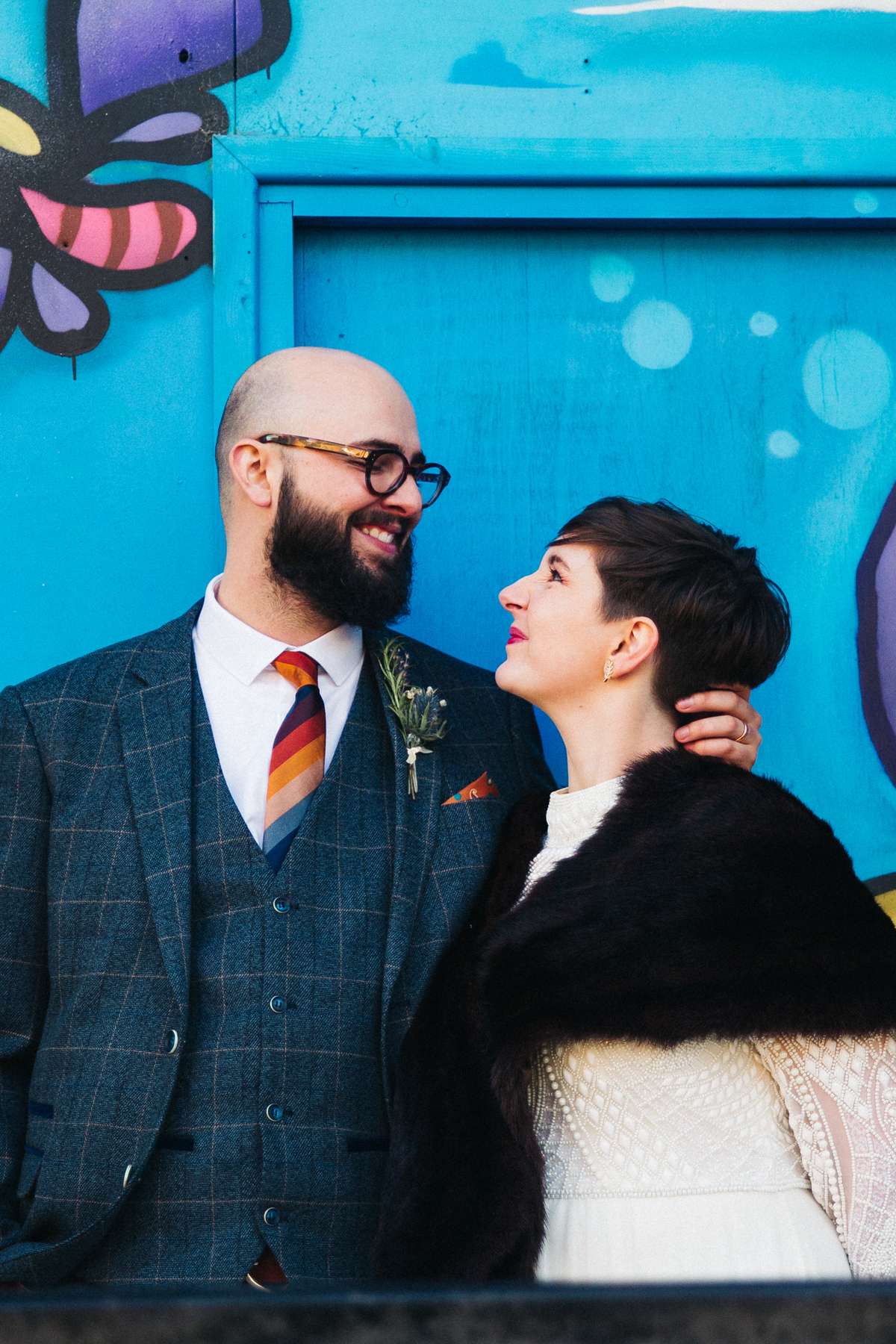 Simone and Chris met at Teeside University studying art history, so it was only fitting that their wedding was a celebration of the creativity and skills of loads of different artists they knew and loved, including taxidermy centrepieces and a pigeon cake topper. Their November wedding oozed autumnal glamour – check it out below!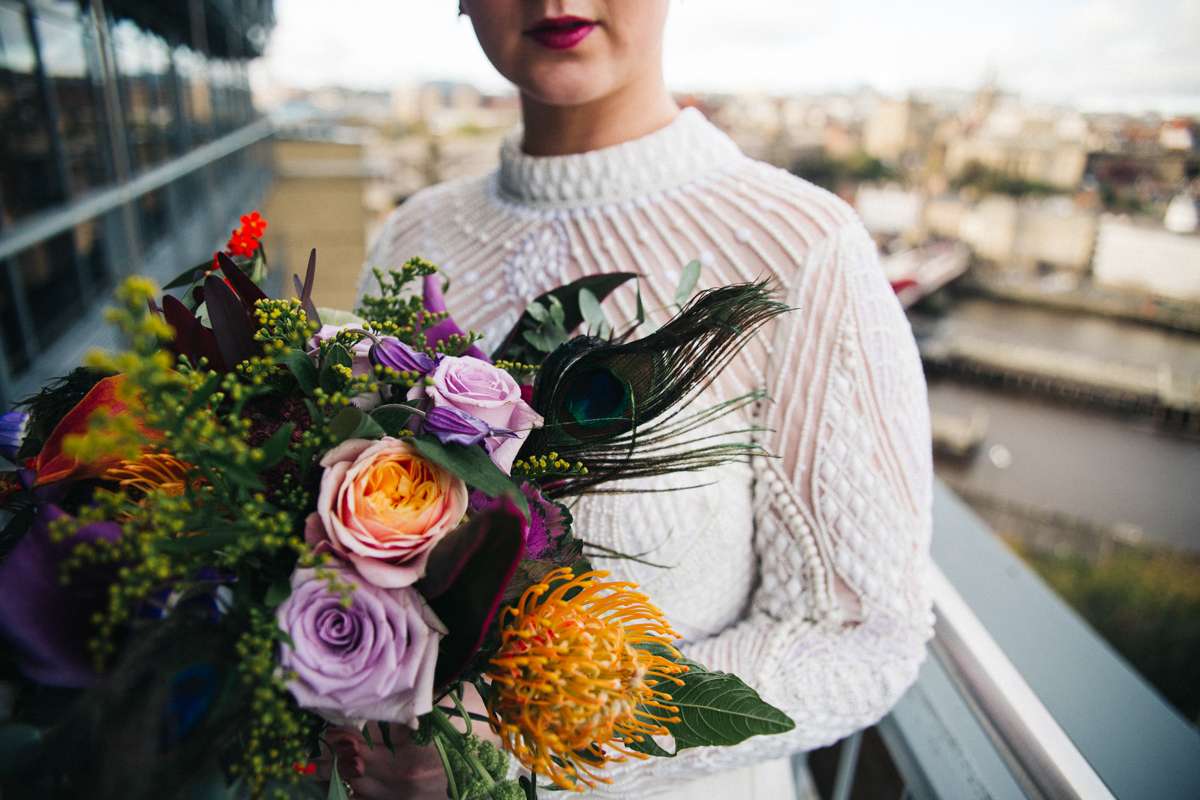 Simone was the epitome of Hollywood glamour in a gorgeous high-neck dress with intricate embellishment and beading from Phase Eight, and red buckled shoes from Zara. She had a bespoke headpiece made from Surf & Silver and wore Chris' Nana's fur stole to the ceremony and a bespoke painted leather jacket later in the day. Chris wore a checked suit from Marc Darcy, and boots from Grenson. They both had bespoke rings from Emma Hedley Jewellery.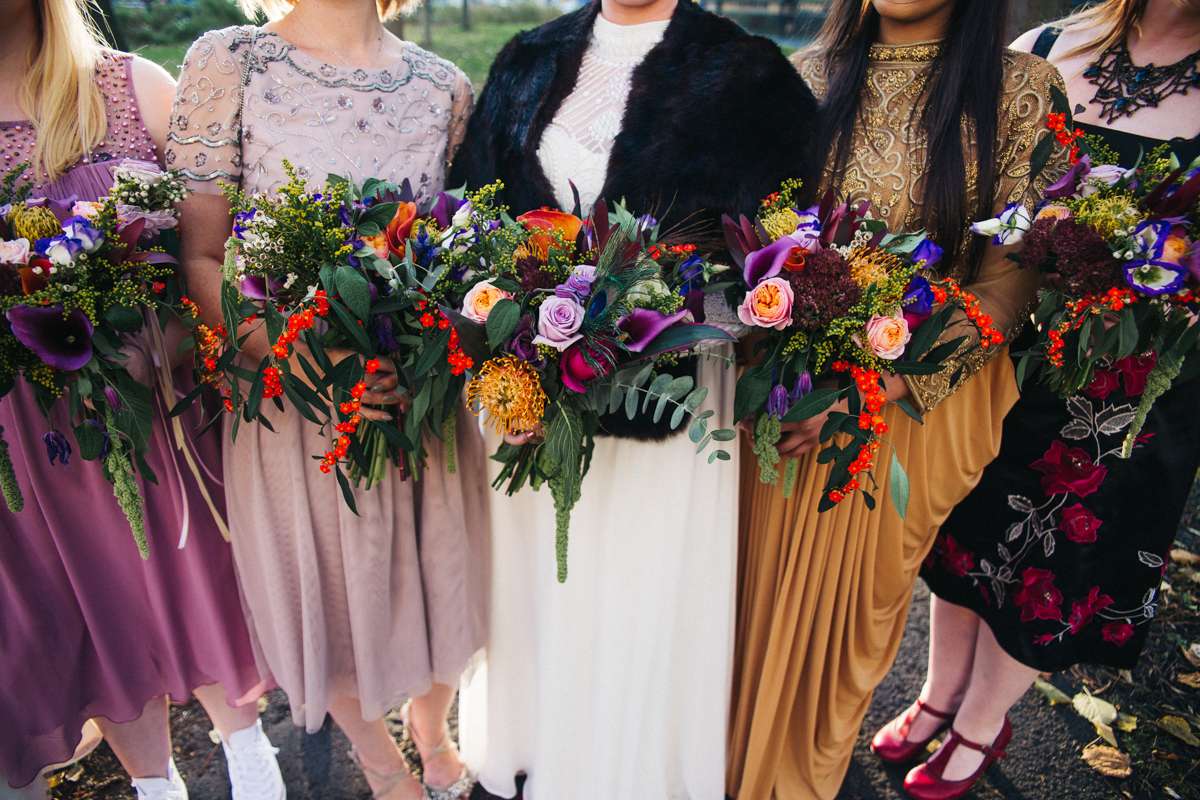 Of the ceremony at Newcastle Civic Centre, Simone says: "We both tried to keep it as low-key as possible, and were glad for that on the day when we were nervous and stumbling over our words. I practically sprinted down the aisle to meet Chris – note to self, walk slower!"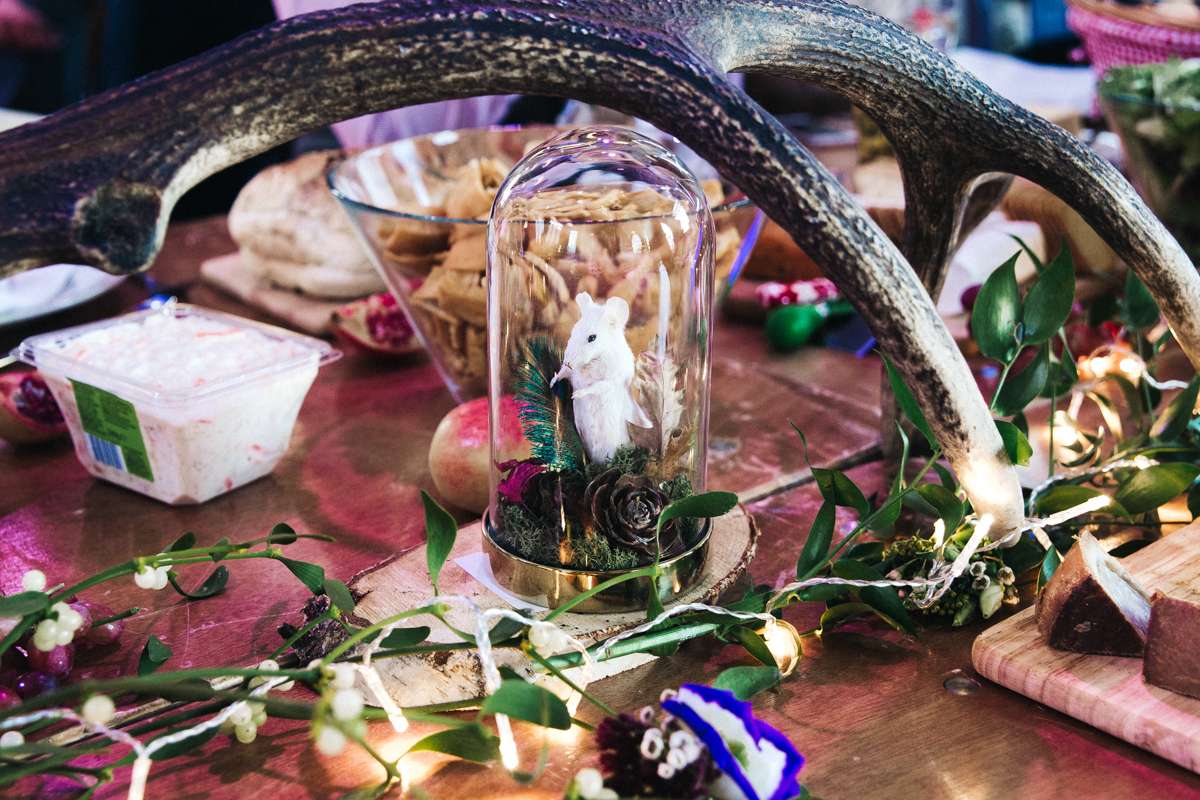 After taking some beautiful urban portraits with their photographer, Sally T Photography (that light!), they then made their way to the reception at St Mary's Heritage Centre, Gateshead. "Our favourite part of the wedding was walking into St Mary's and seeing how amazing it looked", Simone continues. The room, with it's beautiful vaulted arches, was filled with trestle tables and mismatched chairs so people could eat family-style. Their favours were a homemade masala chai blend. Every table was decorated with a bough of foliage by Kirkley Hall Florists, who also made the gorgeous colour pop bouquets, and taxidermy from Moth Studios (who only use animals donated or found once they've passed).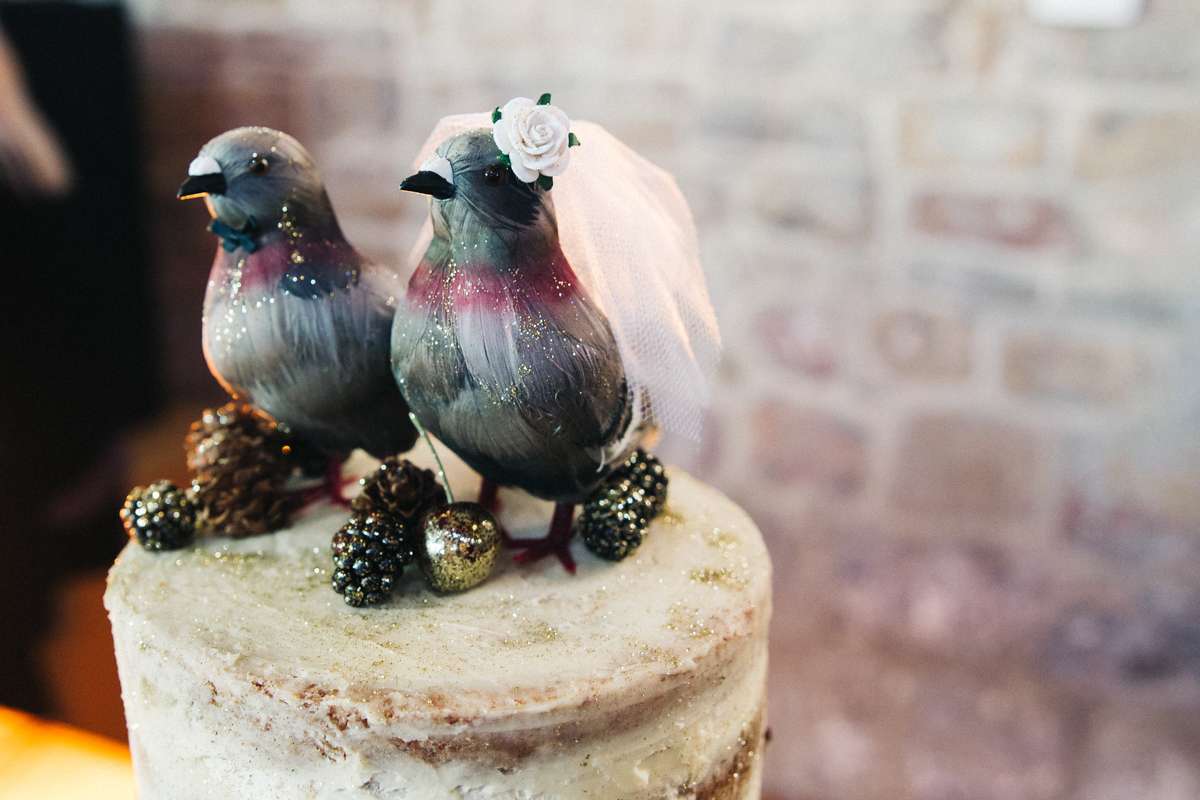 "We were inspired by all the artists involved coming together and showing their work. The best thing about planning our wedding was getting to commission all the fabulous artists we've wanted to buy things from for ages! We went as far as we possibly could to showcase the skills of everyone involved, from taxidermy to the cake, we gave them all free reign wherever we could." Their gorgeous semi-naked cake was made by Bake & Butler, and topped with pigeons!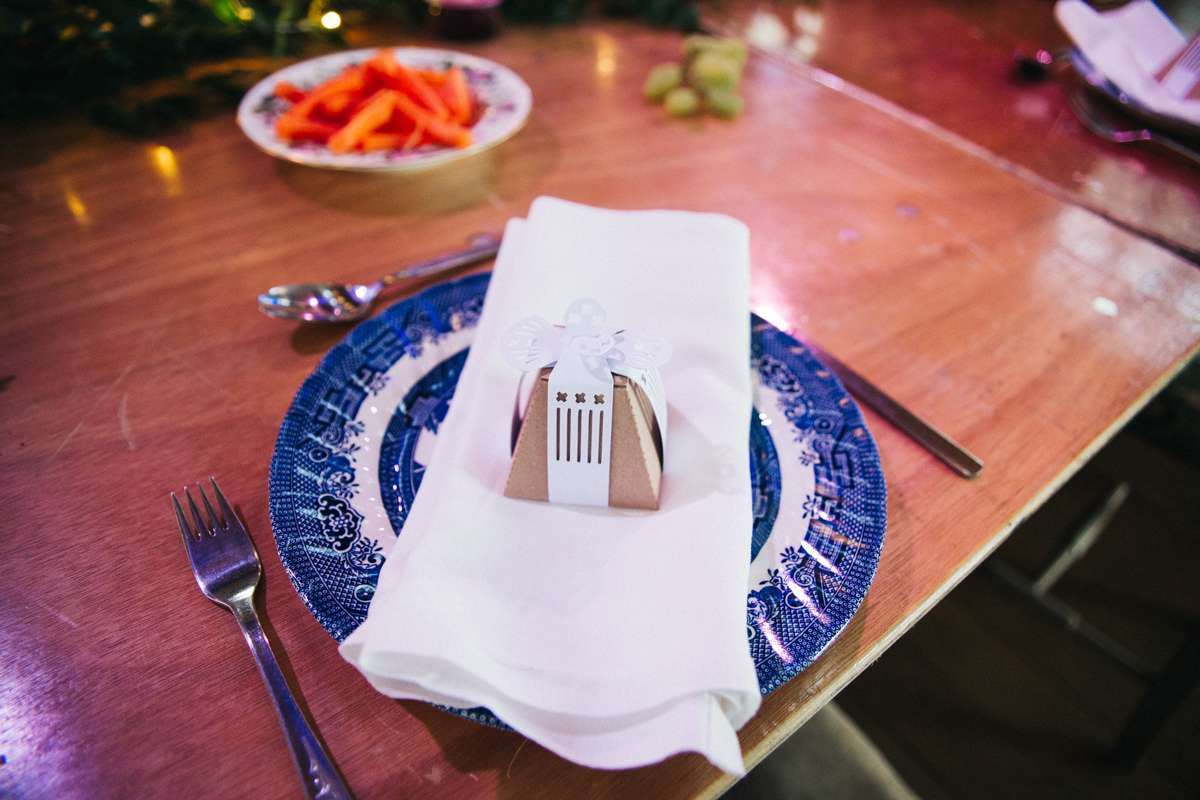 They also filled their reception with activities, including a games table and Jenga. Their band, The Midnight Specials, travelled all the way from Edinburgh to attend too. "I think the band were our biggest expense as we had our hearts set on them from the moment we found them. But they were well worth it, and came down from Edinburgh especially – I'd can't recommend a ceilidh enough for a good laugh!"
I love Simone and Chris's focus on celebrating the skills of the artists they chose to use on their day – it sounds like an amazing day to have been a part of!