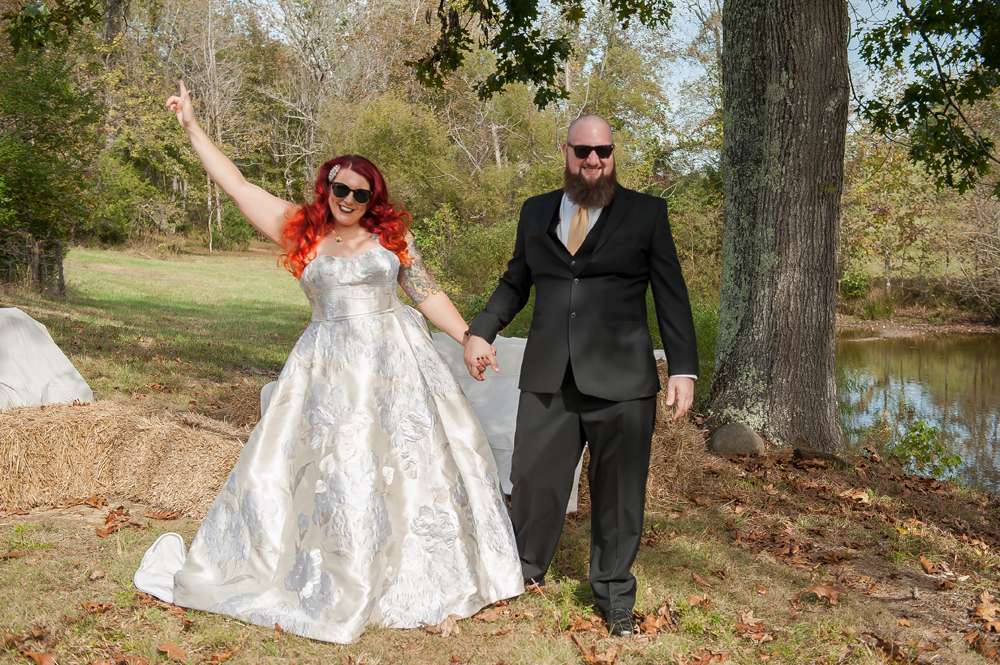 Brenna and Shawn's submission was called "dead stuff, gold stuff, black stuff and motorcycles" and we think that just about covers their amazing Rock n Roll meets rustic glam wedding! Having met whilst their bands were touring, it was always going to be a pretty epic celebration…
"Our inspiration was everything we like," Brenna says, "Gold glittery glam tones and jewel tones, black and bones." It was also important to the couple that the day was super personal: "Our wedding was at my aunt and uncle's farmland which has been in our family for generations, and was my grandparent's favourite place. We spent our wedding night in a hunting cabin that my grandfather and great-grandfather built by hand, that each generation has lovingly updated. It's a truly beautiful place."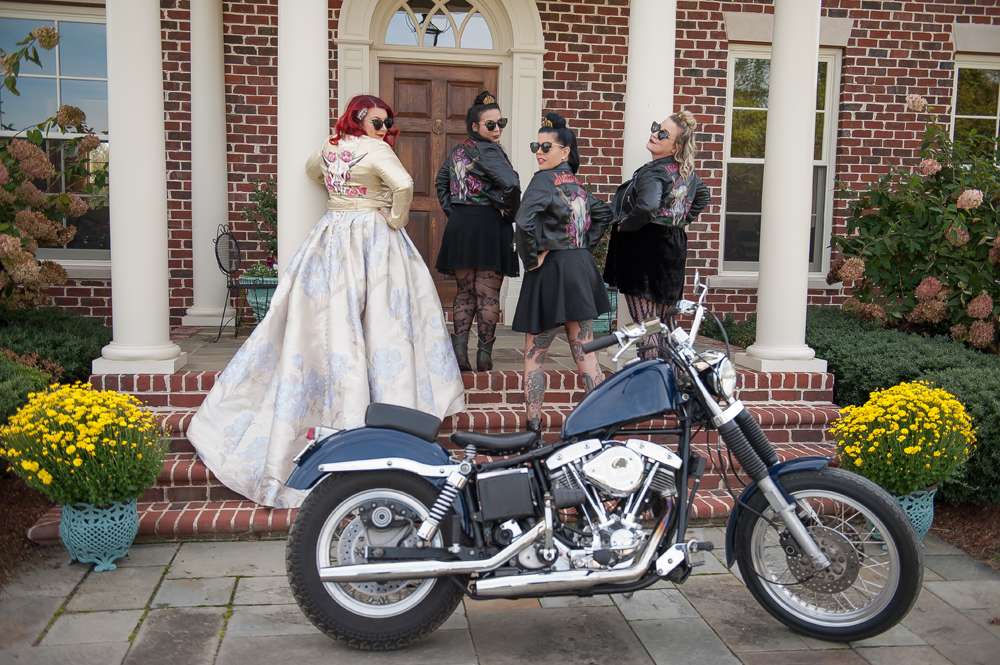 Brenna looked IIIIIIINSANE in an incredible strapless dress from Oleg Cassini with the most gorgeous metallic floral pattern, before changing into a sequinned fitted stunner for the evening (insert red dancing lady emoji here). Confession – I totally teared up at the photo of her and Shawn, dressed in a smart Men's Wearhouse suit, doing their first look. Her bridesmaids all wore their own black dresses and sunglasses.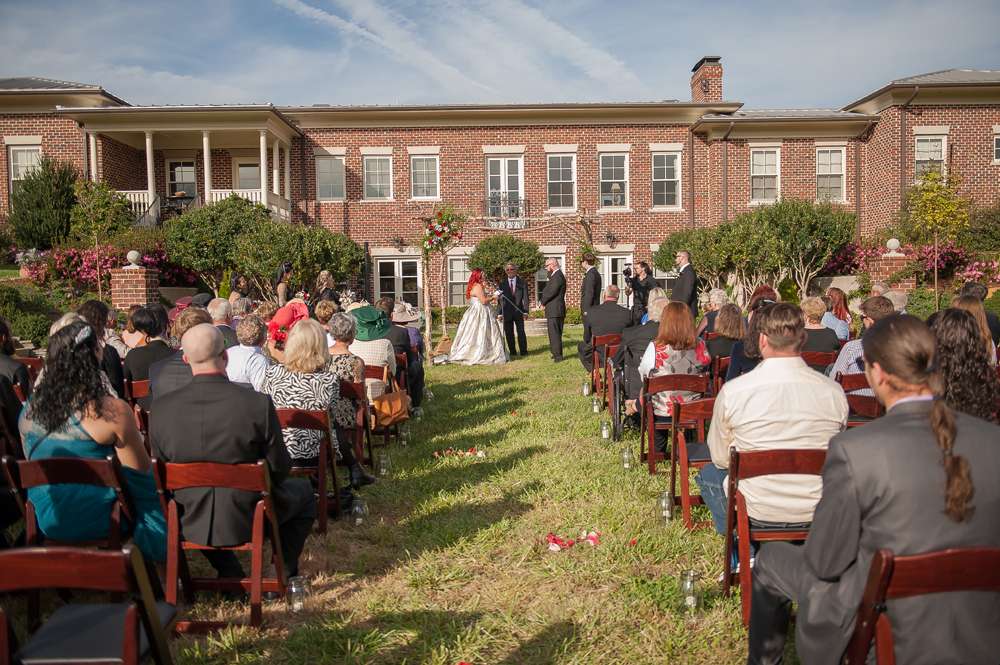 The couple got married outside under a floral arch created by her uncle, and decorated the rest of their venue with loads of rustic antlers, fairy lights, and gorgeous jewel-toned flowers from Fallon's Flowers. They made all of their centrepieces by hand with flowers and animal skulls, and for favours, they spent hours placing little succulent cuttings into tiny chalkboard planters – (but forgot to write 'TAKE ME' on a sign, so that nobody knew and over a hundred were left after the day!)
Brenna's bridesmaids also made all of their cute gold crystal headpieces and Brenna and her friend Cameron handpainted the back of all of the jackets. (We LOVE her grandma wearing a Motorhead one – what a ledge! – and the photos of the inimitable bride squad with their motorcycle).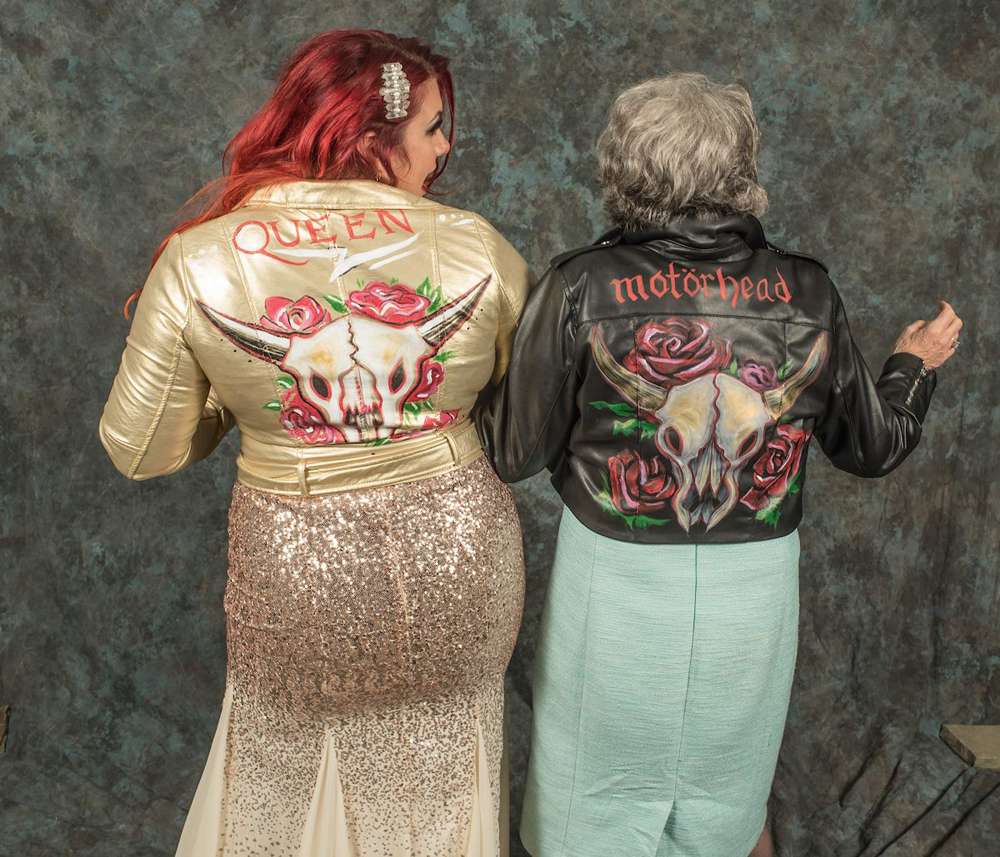 Now, we are clearly all about the inspiration at Rock n Roll Bride – I mean, who could look at this wedding and NOT be inspired –  but we also want to be able to give you practical advice to navigate the channels of wedding planning. As well as having a stunning wedding, Brenna and Shawn were savvy with their budgets. "We opened a rewards credit card at the start of wedding planning and were able to rack up a lot of points on wedding expenses, which we used towards a honeymoon. We got one of our round trip plane tickets for free and saved on the hotel costs, as well as some free transportation. By using the points, we saved $4,000!"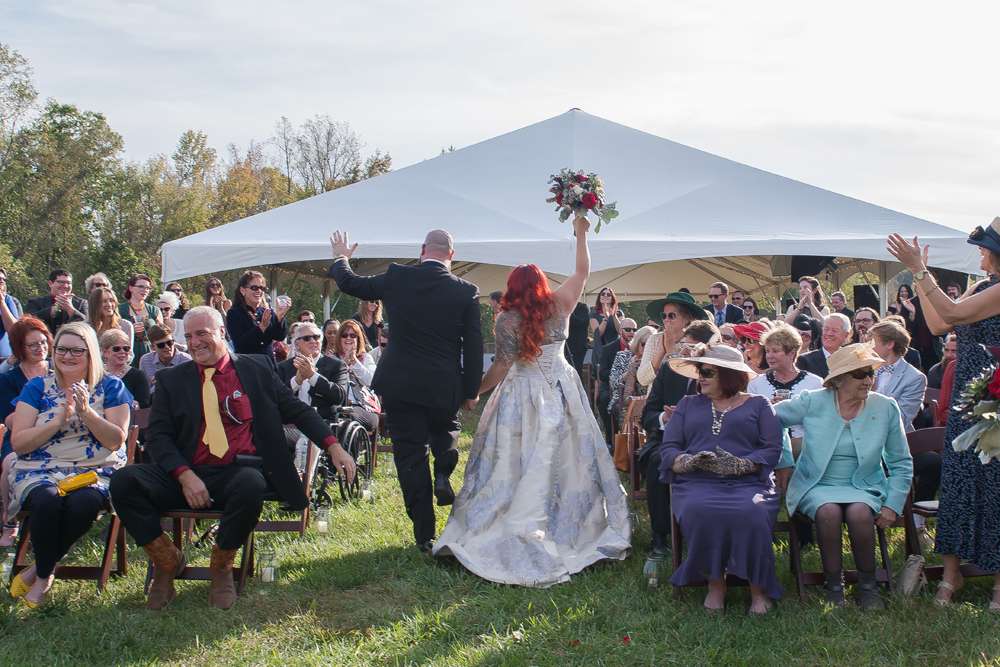 One of the things that was prioritised in the budget was a videographer. "Once we talked about it, we realised we were only going to have two things after the day was said and done… the photos and the video. We'll have those forever!" They settled on Bowtie films, and you can check out their video below – any wedding video starting with a language warning and saying it's only intended for mature audiences is bound to be a good'un…