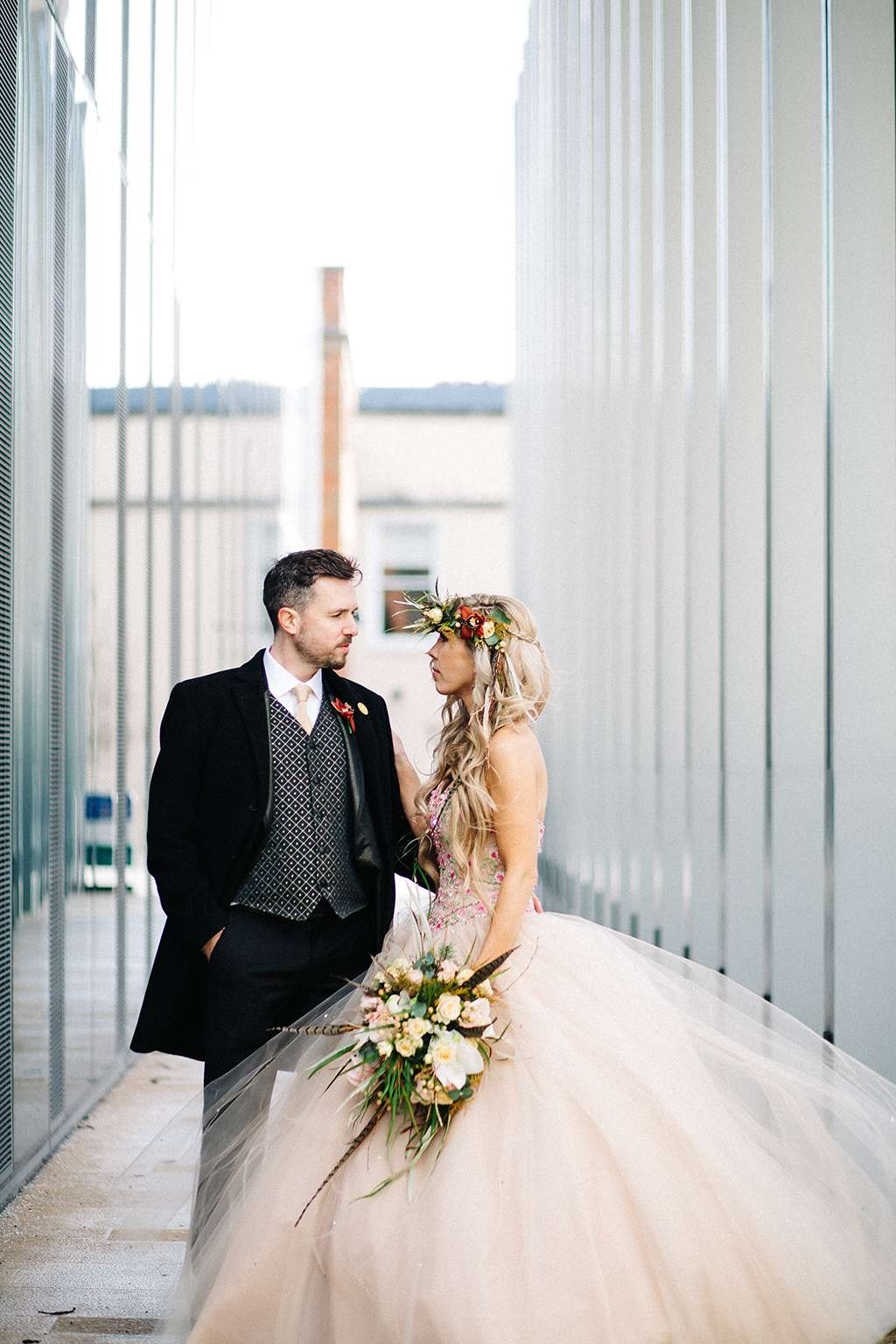 Music holds a special place in Katie and Darren's heart – both musicians, Darren proposed at the gig of one of their favourite bands, and were introduced through musical friends. They've always liked to do things a little differently, and so it was obvious from the start that their wedding wouldn't be predictable. Darren kicked off eschewing the norm when he wrote 'yes!' on Katie's finger with a Sharpie instead of giving her a ring after he proposed!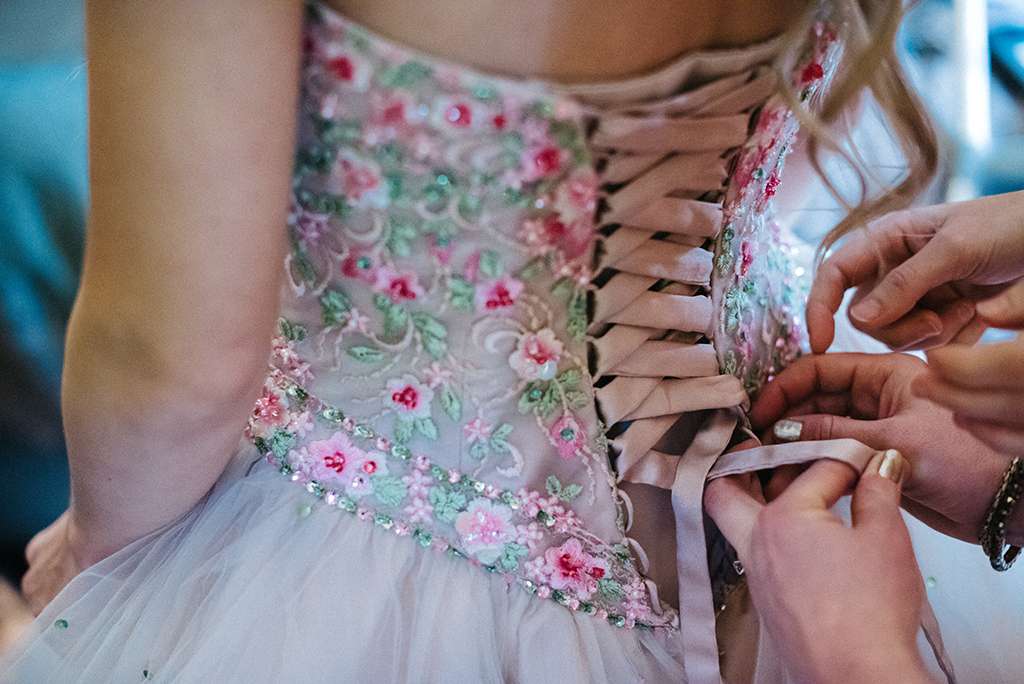 Though inspired by the things they both love – music, fun and creativity – the overarching theme for their wedding was the love they have for their friends and family. "It was so important to us to be able to show everyone in our lives how much they mean to us," said Katie,  "so all our decisions came from a place of making sure they had a fun and easy time." They chose December 29th for their wedding as they knew everybody would already probably have time off work, their venue was chosen as it was the closest proximity to most of their friends and family with loads of affordable accommodation options and they employed the creative talents of their nearest and dearest to fill their vendor list wherever possible. "It sounds cheesy, but we chose everything thinking that if our guests would be happy with it, we would be happy with it!"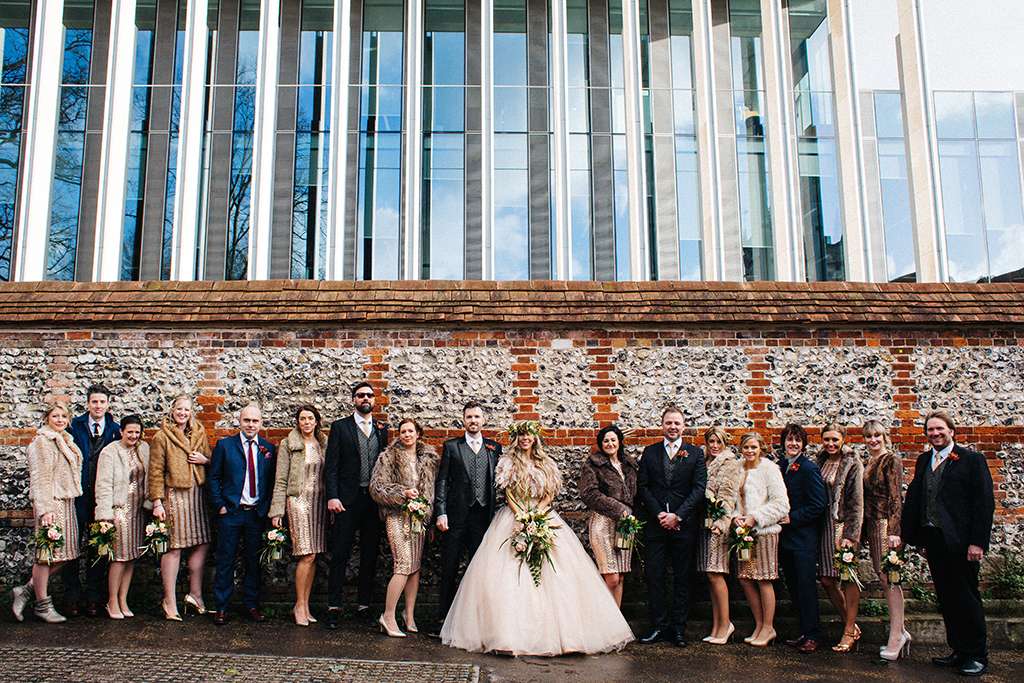 And they had lots of people to keep happy, they had a two hundred and fifty strong guest list, and their bridal party included 11 bridesmaids and three best men! With a £16,000 budget, they found ways to make it work. They chose to have a late afternoon ceremony, eliminating the need to feed people twice, and had street-food style catering instead of silver service, which suited the party atmosphere they wanted better anyway.
Katie's dress was actually a prom dress so savings were made there too, and Darren's suit was from the Versace Outlet at Bicester Village, and an absolute steal! They kept their ceremony costs down by opting out of church bells or tons of flowers to decorate, and DIY'd many decorative elements to reduce costs too.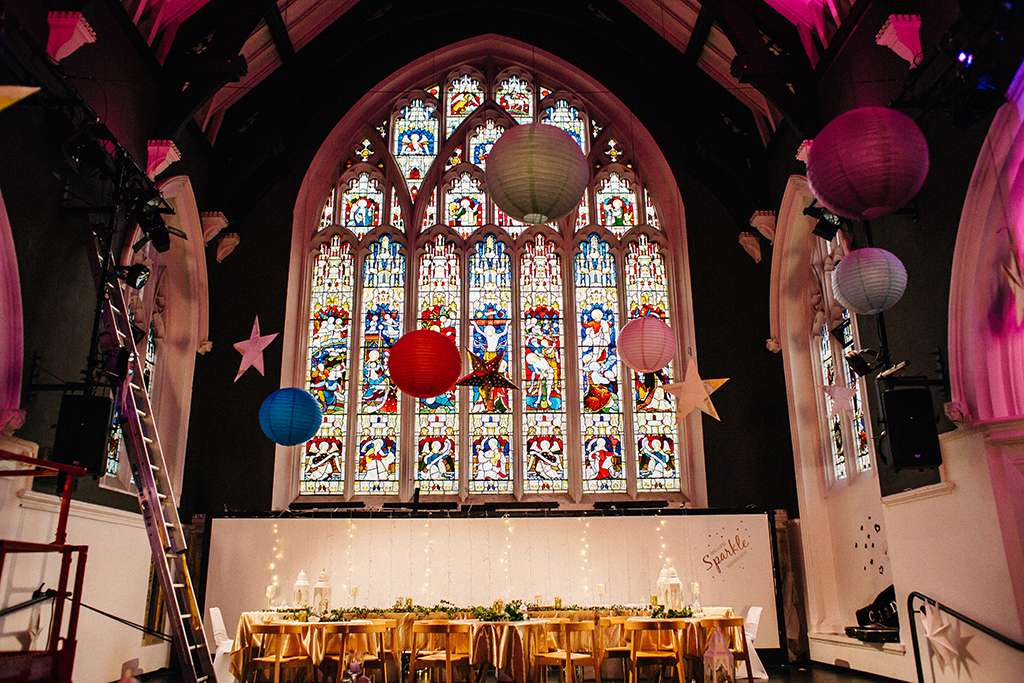 Their church ceremony was as one-of-a-kind as the couple themselves and included lots of audience participation. "I think it's such a shame to save all the fun, personalised elements of a wedding to the reception, and you'd be surprised at how many vicars would actually love to be able to do something different from the norm for the ceremony!" said Katie.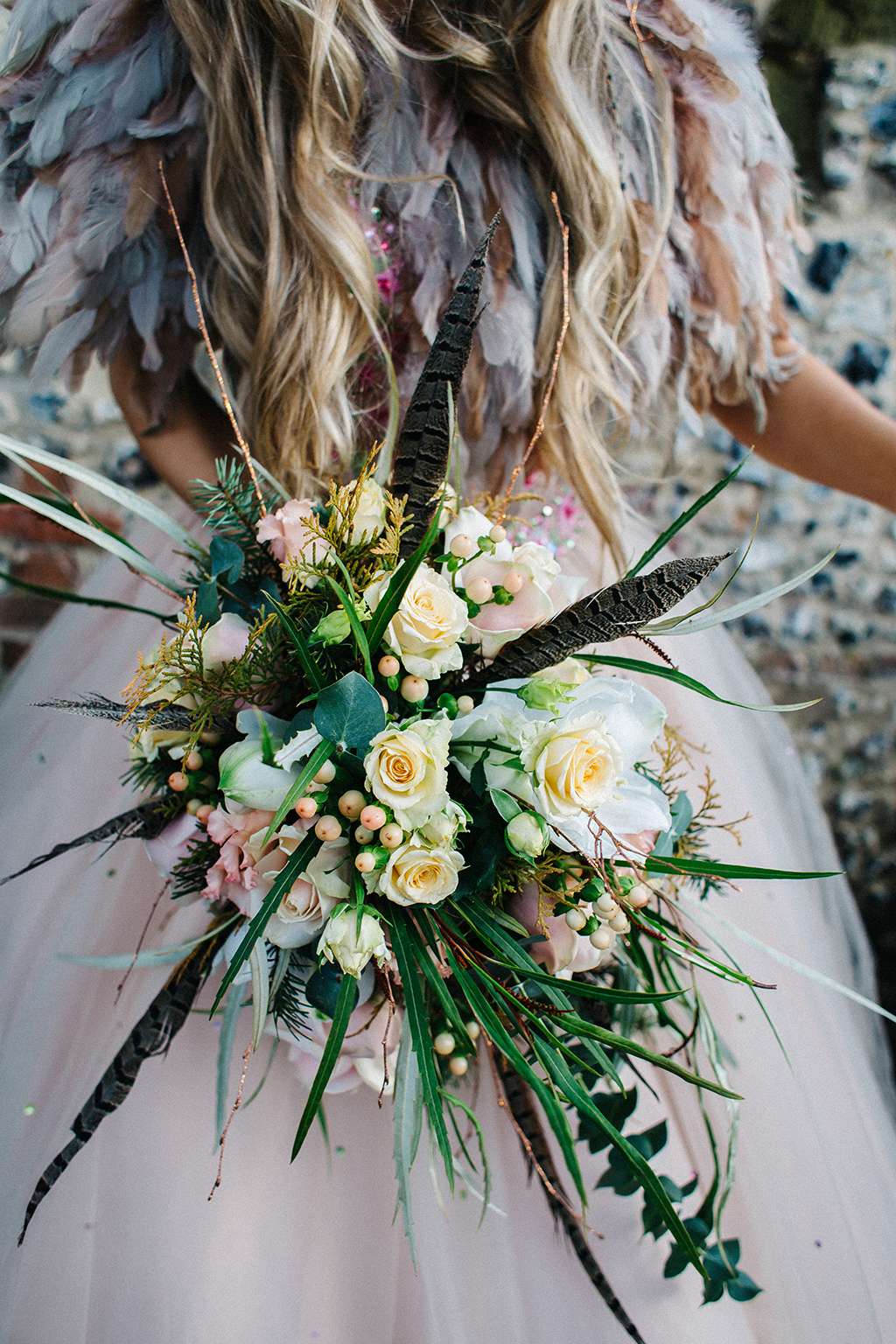 Katie walked down the aisle to the congregation singing Joy to The World instead of the traditional wedding march, their guests were all instructed to pull crackers with hidden messages inside after the 'I dos' , they lit candle-heart displays to remember the loved ones who are no longer with them, and sang pop songs and Christmas carols instead of hymns. "I work with churches who are reimagining themselves as 21st century communities," explained Katie, "so it was super important to us to be able to show our guests that church ceremonies don't have to be formulaic or boring."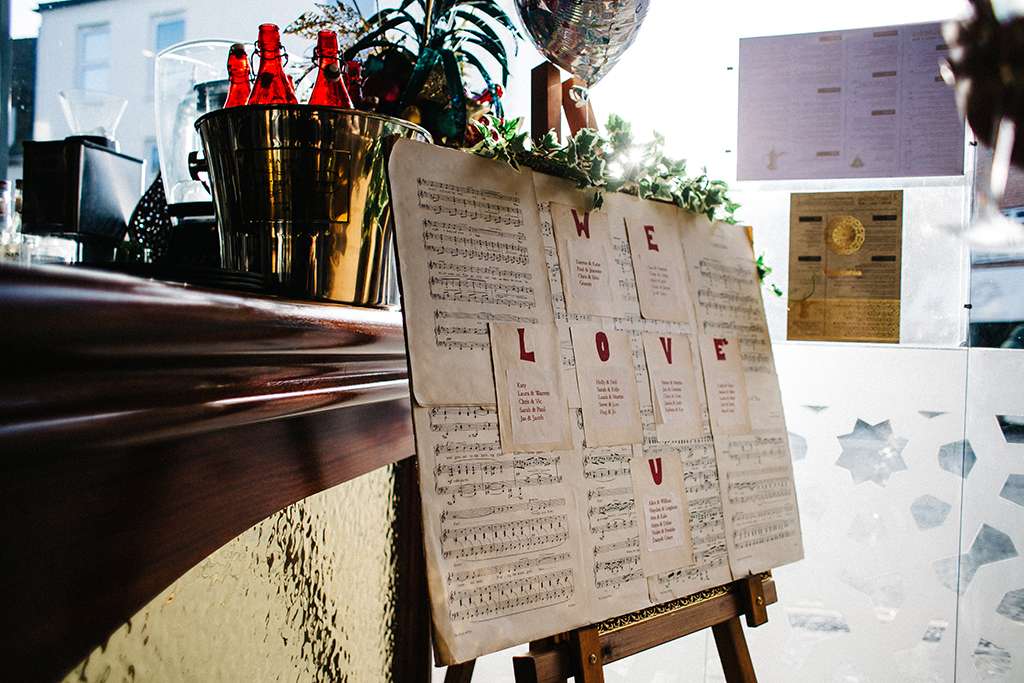 Their offbeat choices continued, with bridesmaids holding lanterns instead of bouquets, a prophetic artist who, during the ceremony, unveiled a portrait he'd created with the guests' signatures instead of a guestbook, and Katie's daughter surprising them with a reading she'd pieced together from a Tupac song! Katie's dad did his father of the bride speech in the church rather than the traditional pre-dinner time slot. They had their mince pie and drinks reception right after the ceremony in the church (vegan 'Jesus Beer', no less!) and then Katie's uncle led the procession on foot to the reception venue by playing 60s and 70s pop songs on his acoustic guitar. "Much to the bemusement of onlookers," laughed Katie, "it was like having our very own Pied Piper!"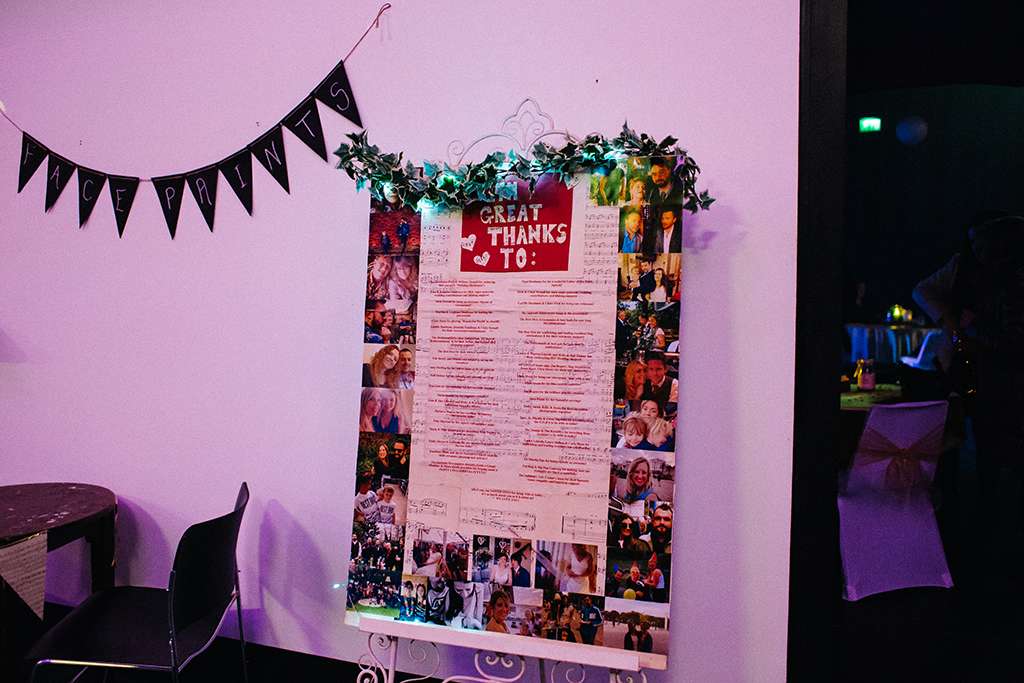 Their reception was held at Salisbury Arts Centre, and had a big party vibe from start to finish – there were live bands scheduled across the whole night, delicious street food and lots of activities to keep everyone entertained; a 'Grab a Grand' tank, a glitter-art face-painter, a cinema room for the kids (playing superhero movies all night), a photo booth and spaces to sit a little back from the music and chill-out. The bar and dance floor were always packed out, with the 'Hair Rock' band Hair Force 5 a particular highlight that gave all their guests the opportunity to rock out with the inflatable instruments they'd been gifted as the couples' version of wedding favours.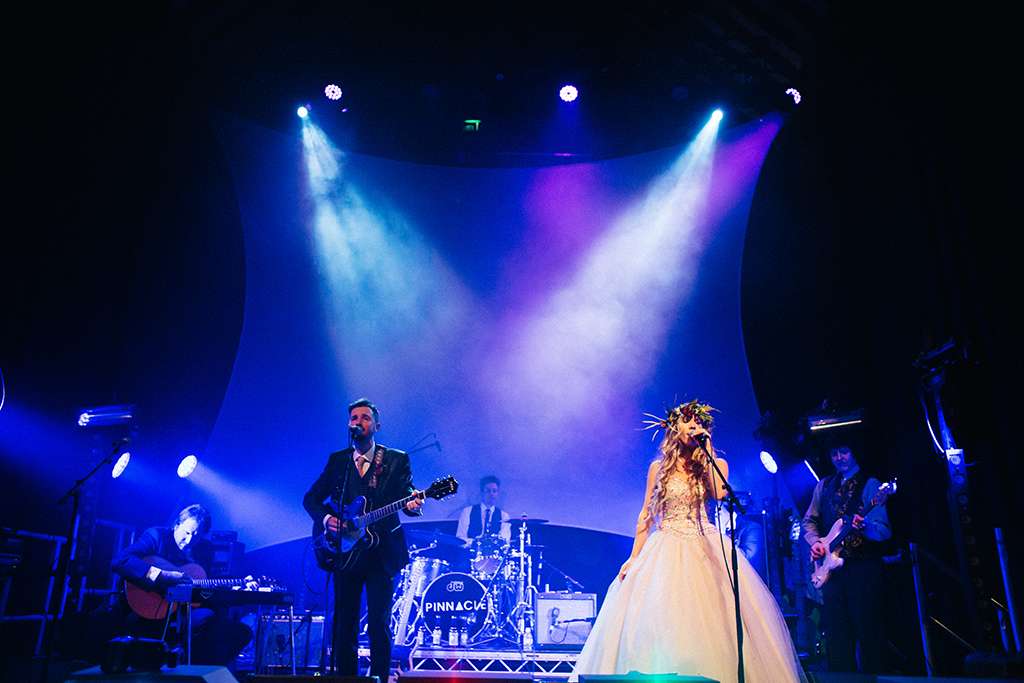 Katie and Darren even kicked off the reception by playing in their own band, something Katie was reluctant to commit to but wouldn't have had it any other way. "Since we've played at many of their special events, and it was then our chance to host them all under one roof, we thought we had to play for our guests as part of our hosting!" said Katie. "Also…we had thought that we'd get itchy feet if we didn't play at our wedding but another band did — when we watch live music we tend to want to storm the stage and play/sing along, so it saved me/our band doing any sort of embarrassing and unplanned, drunken, late-night singalong!!"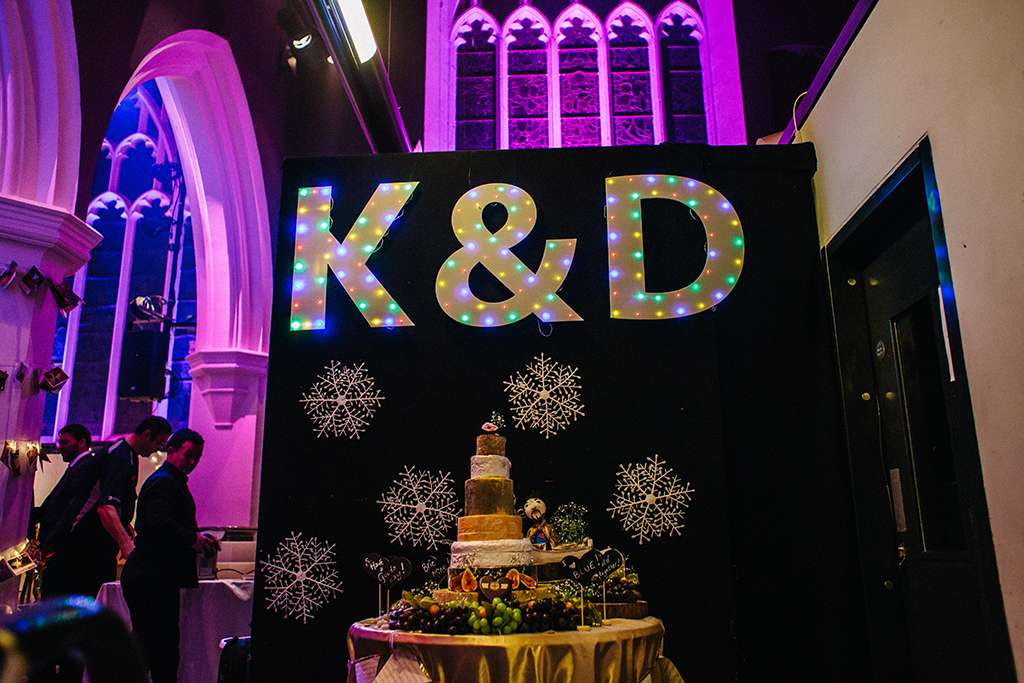 Katie and Darren couldn't possibly bring themselves to choose just one significant song for their first dance, so they asked a friend to surprise them with it! "With the help of someone of the musically talented members of the bridal party, our friend started signing Is This Love by Bob Marley, and it broke me…I couldn't even dance as I was so choked-up!" explained Katie. "It was beautiful, so touching that the guys made such an effort for us, and so lovely that the song-choice was a surprise. But hugely ironic that I couldn't dance to the first dance because I was sobbing (crying is a less-than-yearly event for me, so the floodgates opened a little!)."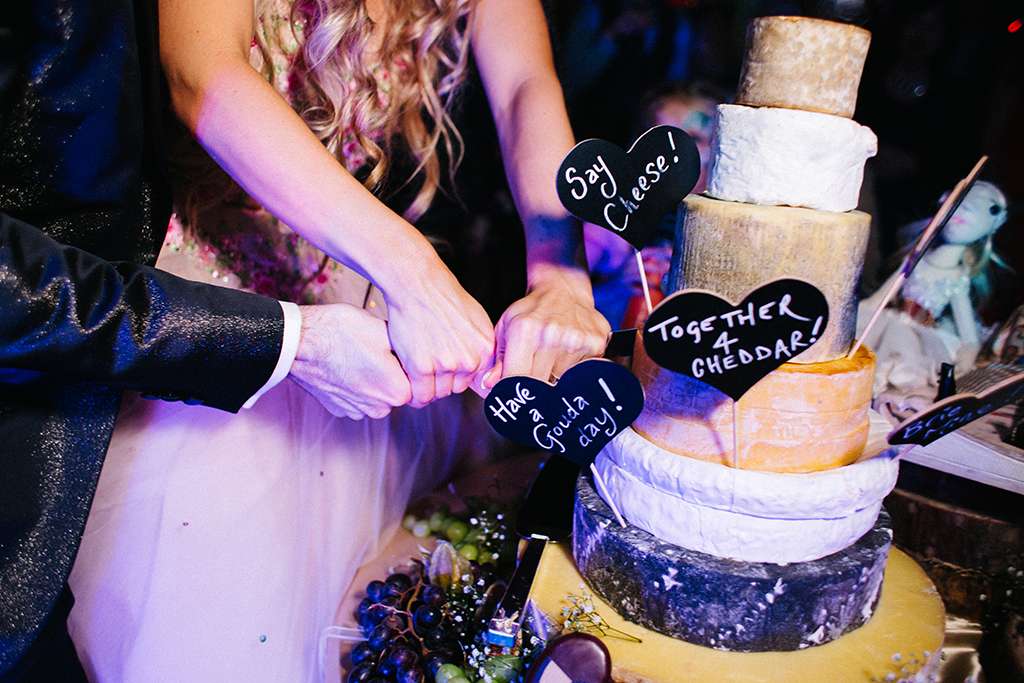 When asked if there was anything they would do differently, Katie said that she wished they'd scheduled some time to get some group photos. "We didn't want to put anyone through the boredom of the traditional group photos, instead doing a first-look and photo session with our bridal party earlier in the day. But looking back, I'm surprised at how sad I am that I don't have at least one photo of every single person there. I naively thought our guests would be snapping away on their phones, documentary style, all night, but we'd thrown such a good party they were all having too much fun!"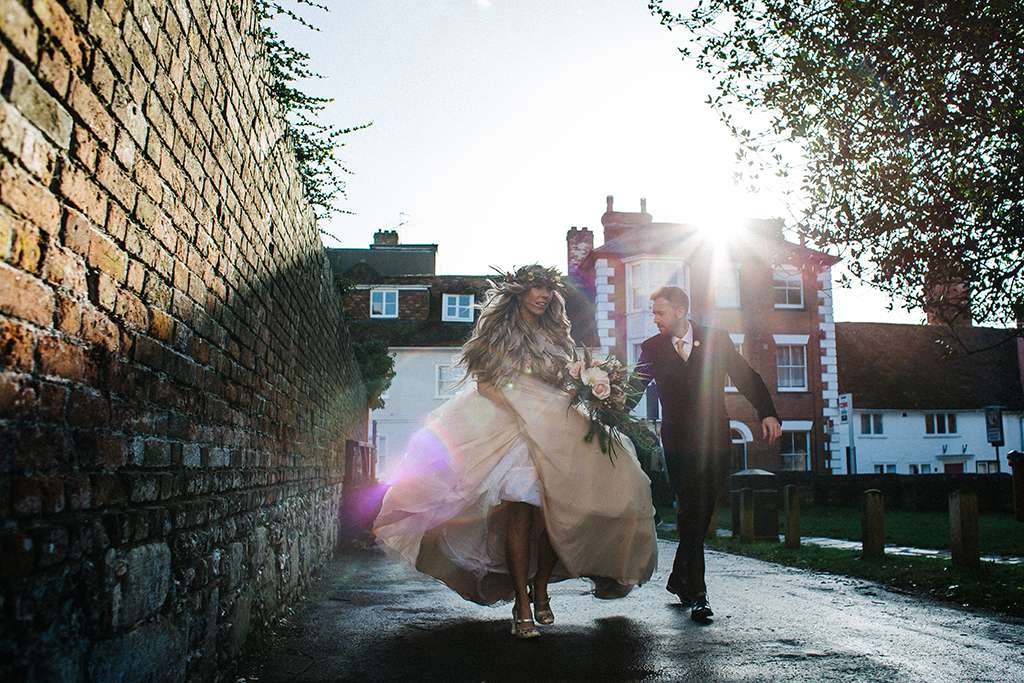 "I also wish I knew how all-consuming wedding planning can be; I was so emotionally invested in the concept of making it inclusive and 'fun for all' that at times I forgot that it was also about making me and Darren happy! It was difficult to keep in mind what all the stress and time spent was for at times. While having your guests enjoyment and happiness at the forefront of your decisions will mean you and your guests have the best time ever, there are just some things you need to make sure you please yourselves on, and at the end of the day those that love you won't mind indulging you in five minutes of cheesy staged group shots!"