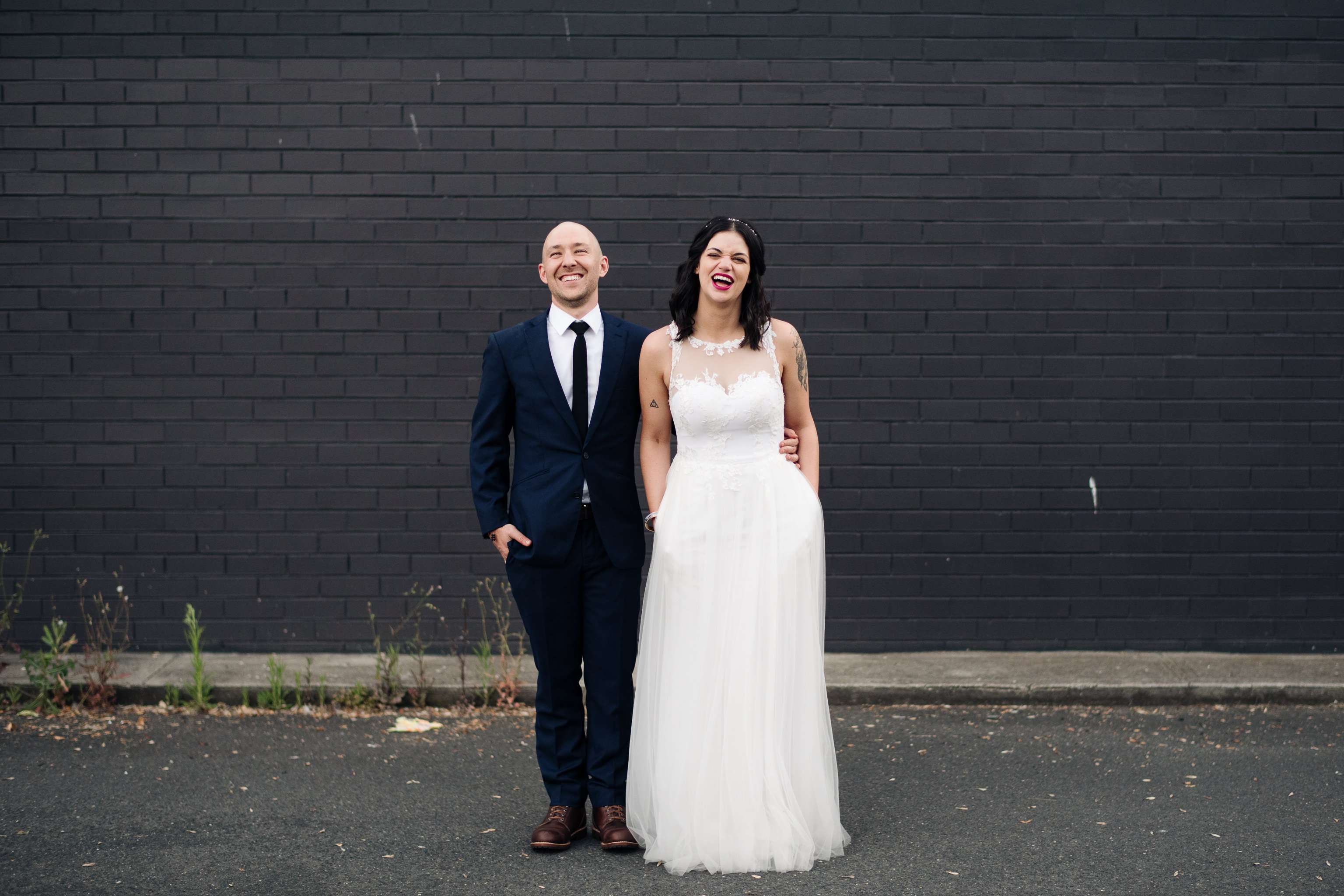 Em and Nick have turned the feel-good vibes up to 5000 today with their chic Melbourne warehouse wedding and its 'mid-century Mexicana' theme. I mean, a wedding with a neon "I like your face, loser" sign is going to be pretty bloody special, isn't it?
Not only is their day incredible to look at, but Em and Nick totally bossed the wedding planning side of things too, and they've shared some cracking advice as well as their gorge love story.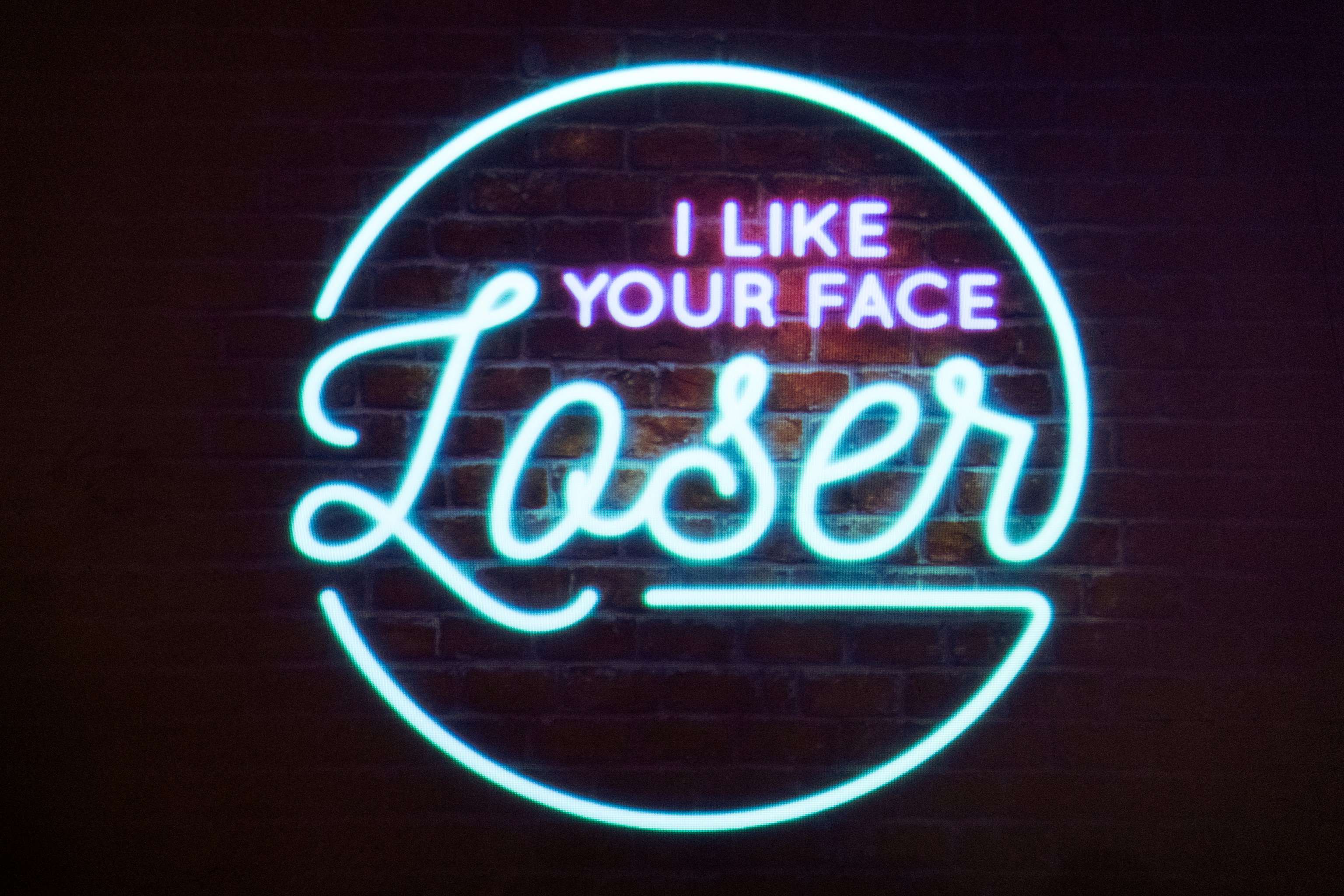 "We decided right away that we didn't want a sit down wedding or a formal venue, because it doesn't reflect us a couple and what we love sharing together," Em says. "We shared these decisions with Kate from Good Day Rentals, our Stylist, who then had us put together Pinterest boards of all things we loved that weren't Wedding related. By the time we were done, the boards were flowing with pins of 90s nostalgia films, Parks and Rec quotes, neon lights, and a lot of things we didn't see a correlation between. Kate did though because she put together our theme (Mid-Century Mexicana) and had us awestruck. It was the ultimate combination of us as individuals and as a couple."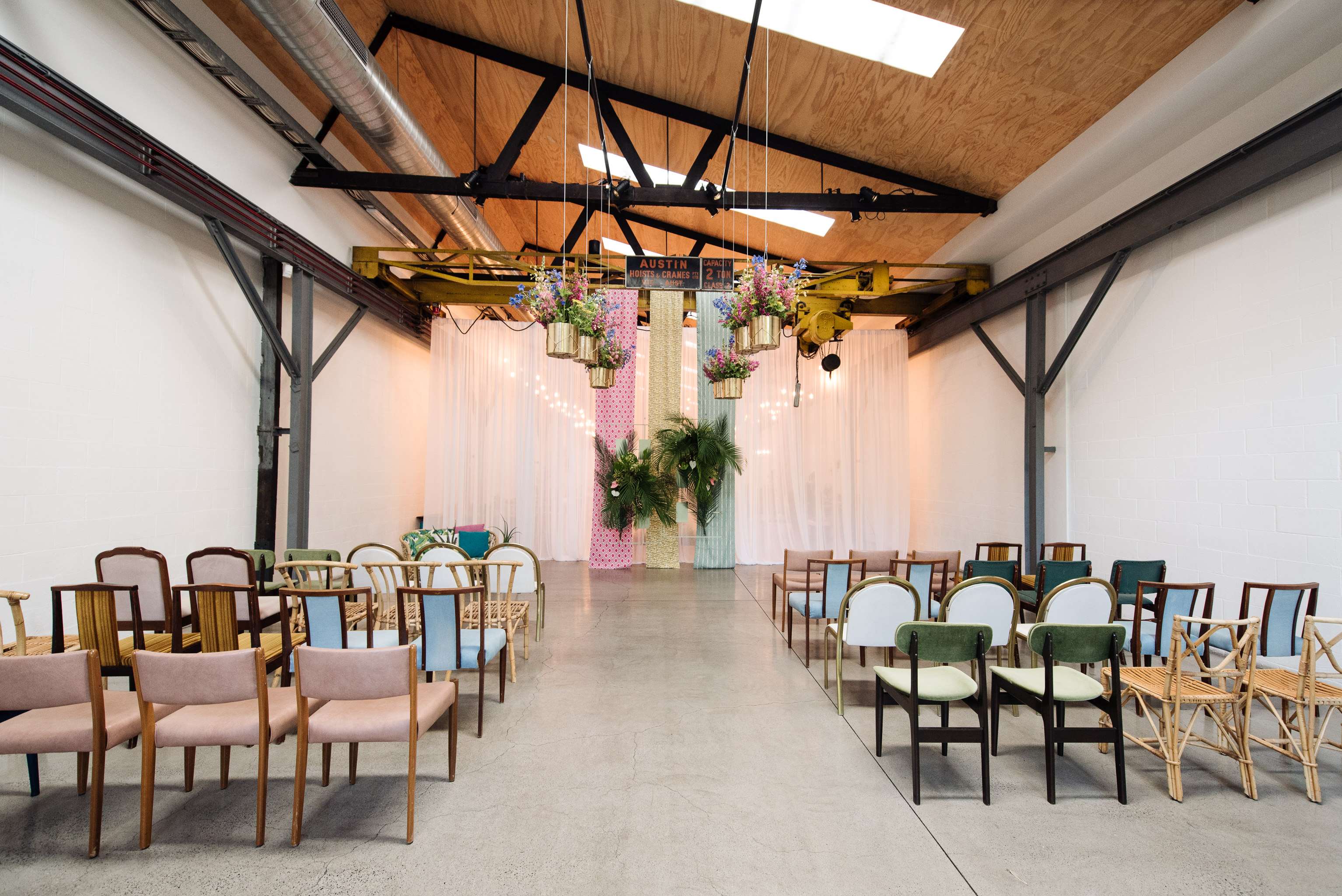 Kate took all of their inspirations and made total magic in the space, using mismatched furniture and a bright, cheerful colour palette to marry (no pun intended) vintage inspiration with more modern pieces. A sea of tied fabric ribbons made a super WOW wall feature alongside fluffy green foliage and gold plant pots filled with suspended succulents.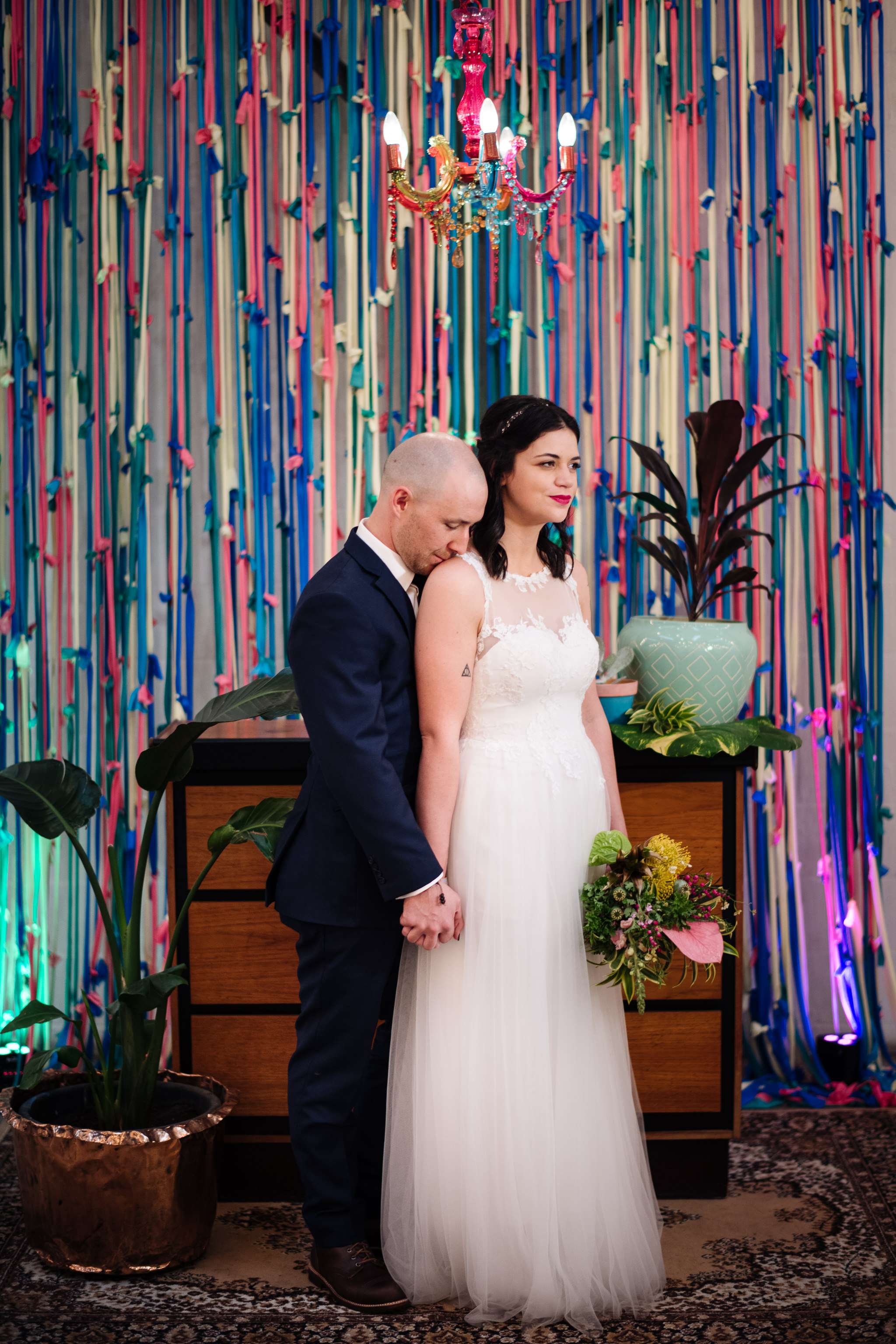 Em and Nick also DIYed a number of their decor elements, sewing the three fabric panels that featured as their ceremony backdrop and commandeering the best man's vinyl machine to make loads of "I like your face, loser" stickers that ended up everywhere (ping pong table and Em's leather jacket included.)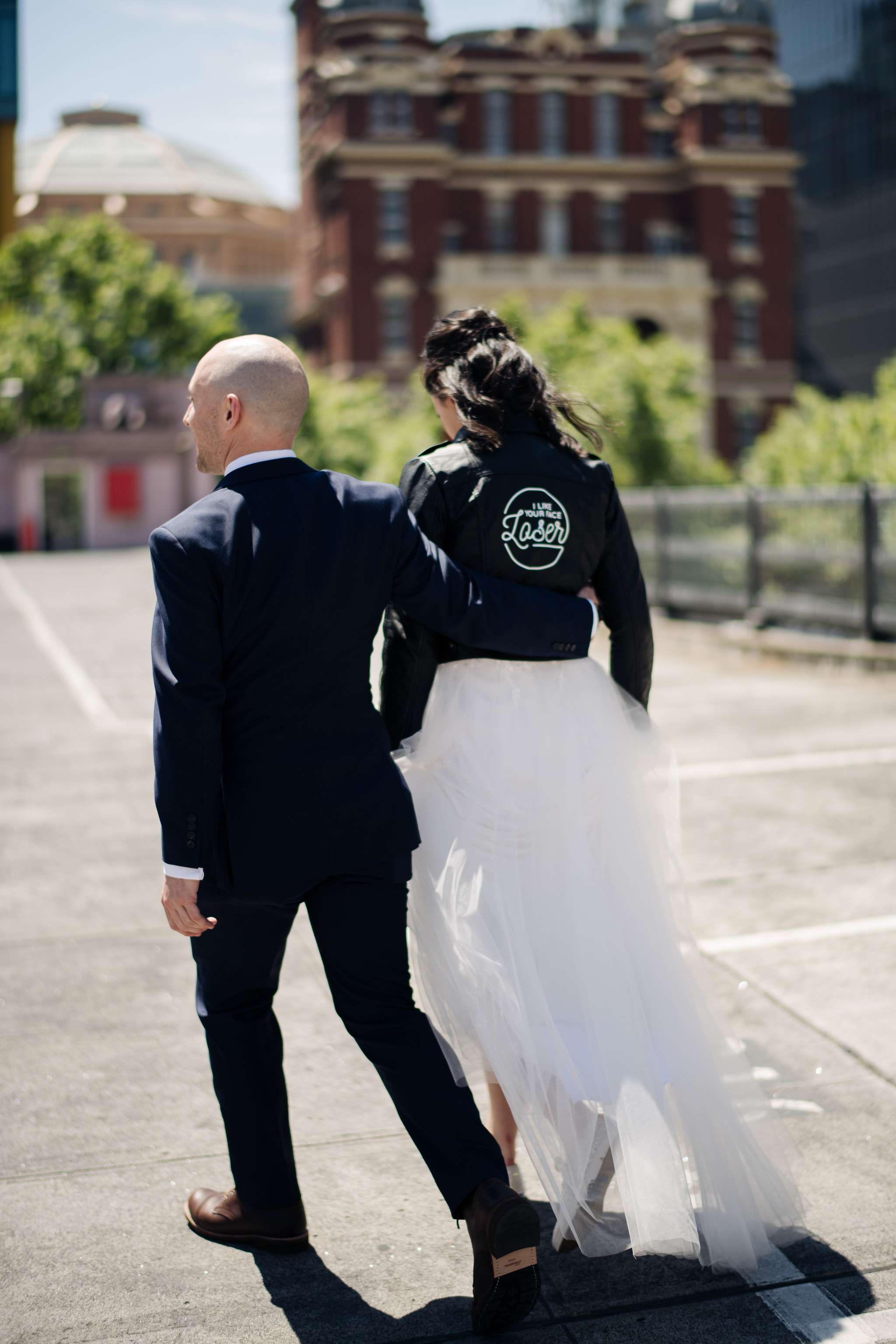 "With my experience in events, the wedding was always well organised and handled, however the DIY consumed the most of our time," Em continues. "It tested our patience levels and also took over our home (there was ribbon everywhere!) We both admire all couples that DIY their entire wedding (and hold a new appreciation for outsourcing)!" They also made a Love heart piñata that acted as a guestbook – people wrote notes on an old vintage typewriter they'd set up and then popped them inside. Em and Nick plan to smash it open on their anniversary which, frankly, is bloody genius.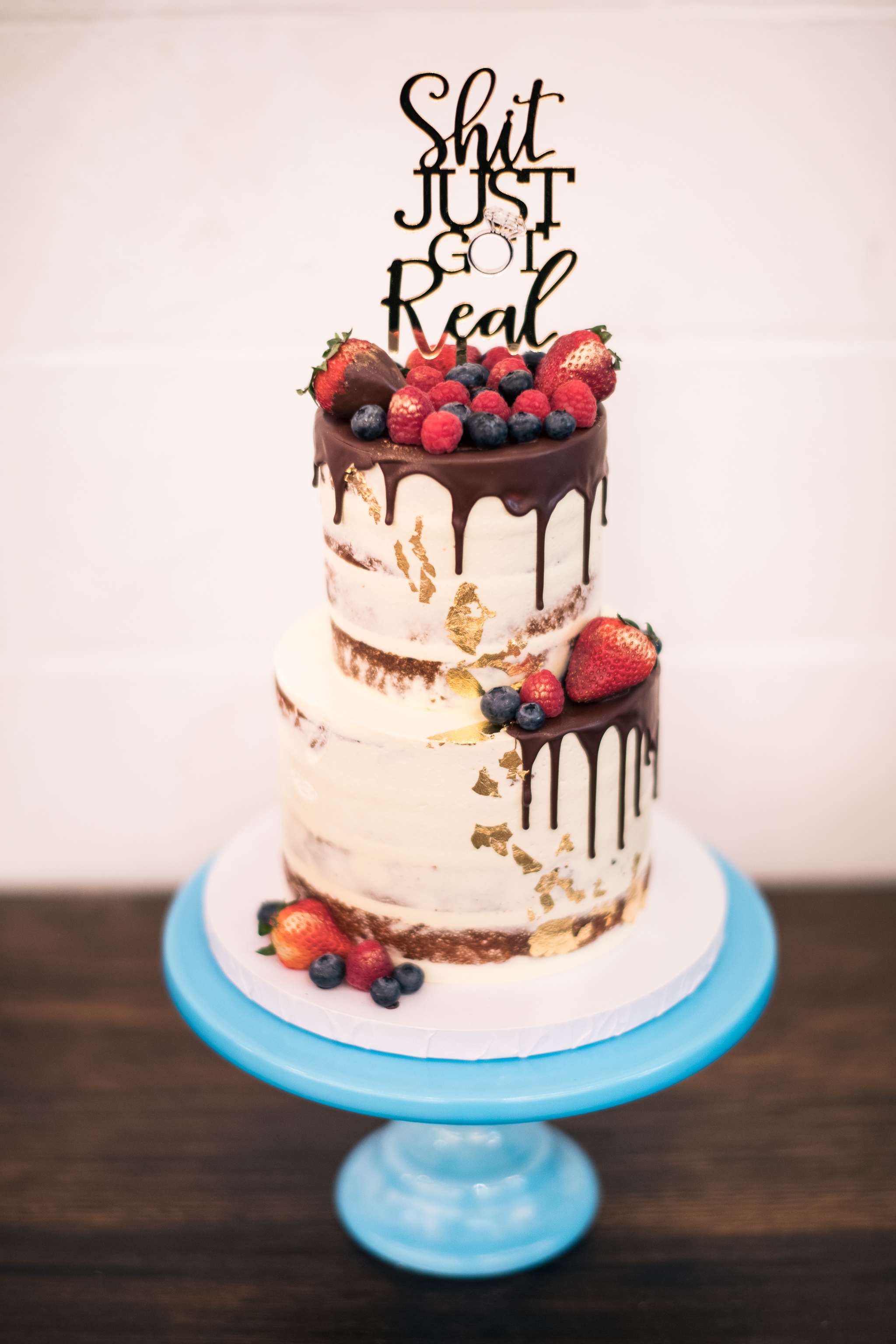 Their ceremony was fun, light and heartfelt, led by celebrant Sarah Aird. "When we were married, Australia was going through a plebiscite as to whether LGBT couples could marry." Em says. "Part of the legal wording Sarah had to say was that marriage was recognised as the Union 'between a man and a woman', however she shared our values and was more than happy to follow this legal wording up by saying that 'we look forward to the day when all couples have the opportunity and choice to marry in Australia'. The cheers and applause that filled the room was thunderous and made the ceremony so special, as it was affirming to know we are surrounded by such rad people!"
Em and Nick had curtained off their reception area, revealing it to delighted guests when it was time. Instead of having a formal sit down meal, they had a huge grazing table immediately available, a Dos Diablos food truck serving unlimited Mexican food for two hours, and a dessert table featuring all of Em's favourite desserts.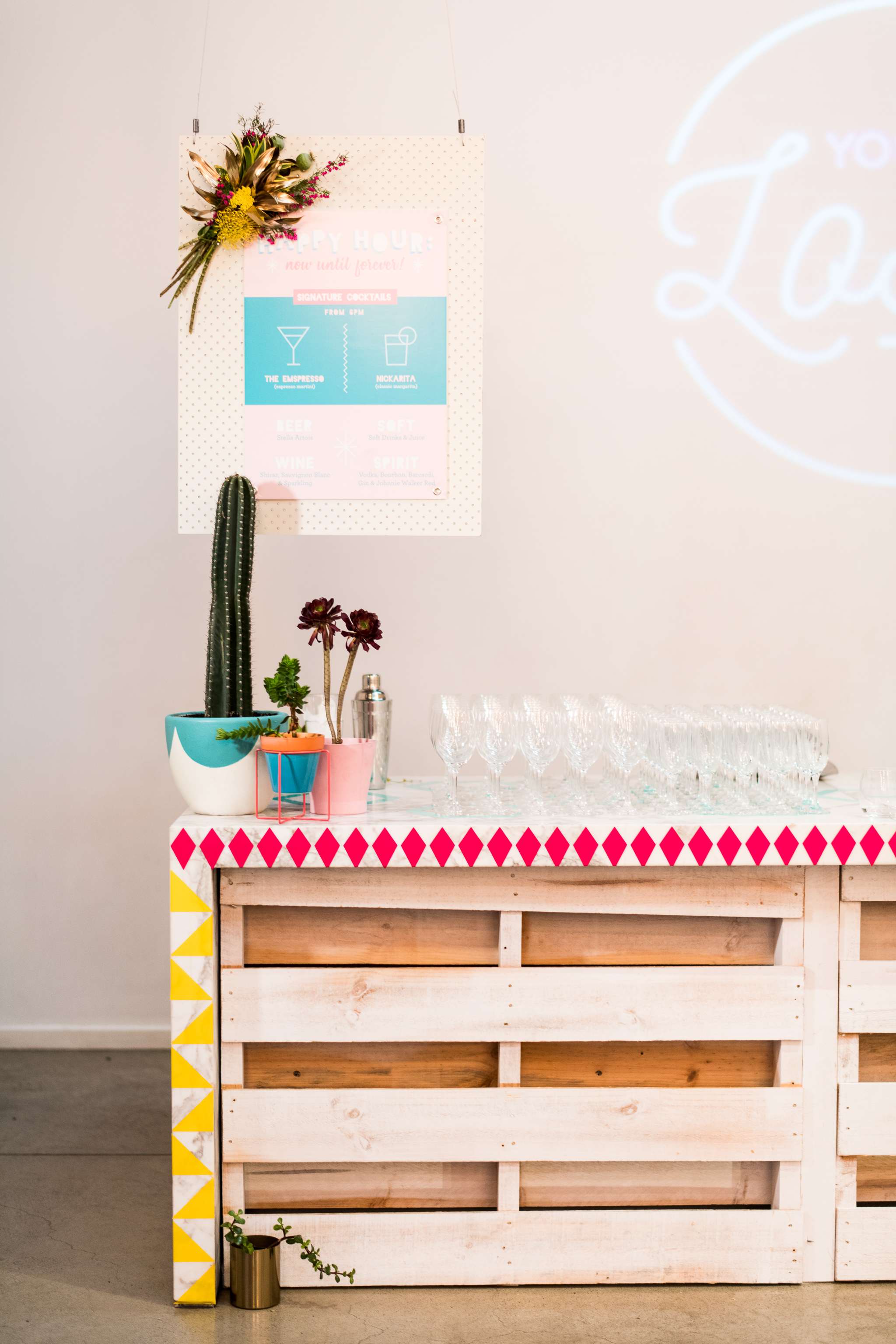 Their bar was also unlimited and a-flowing: "We spent the most money on booze on the big day. We really wanted to spoil our people, so we put on heaps of food and alcohol. We decided to go all out and have champagne on arrival, and then free flowing alcohol for six hours including two cocktails 'The Em-spresso-tini' and the 'Nick-arita'. Well worth it!"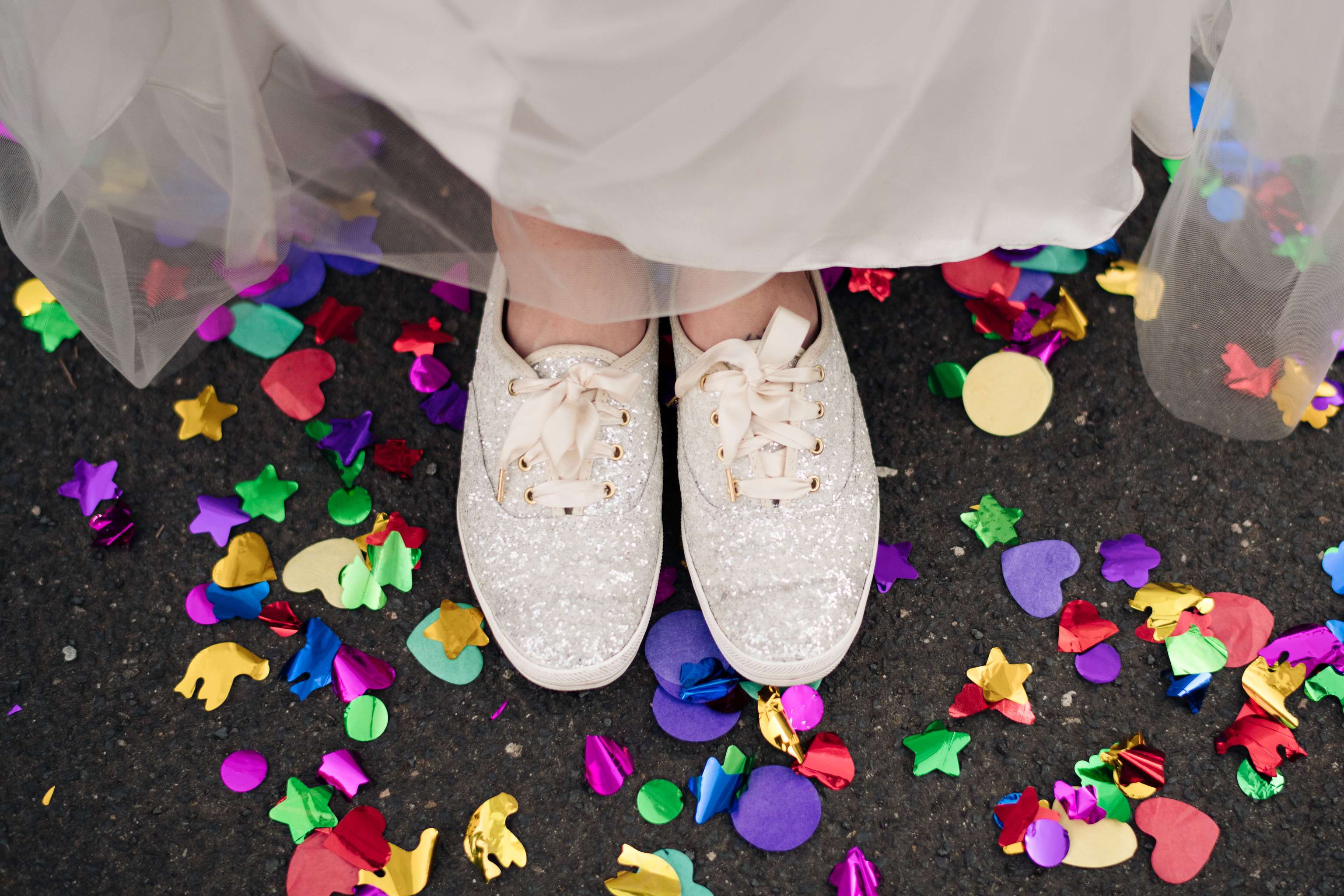 So, that sage wedding advice I promised? Here it is: "When we started planning the wedding, we got so excited about all of the possibilities and we reached out to multiple people at once with no clear vision as to what we wanted. It was a fast reminder that people can't help you if you don't know what you want! This led to a lot of time wasting for us and others. If we had a re-do, we would definitely sit down and have more in depth conversations about our vision, goals and ideals before connecting with anyone."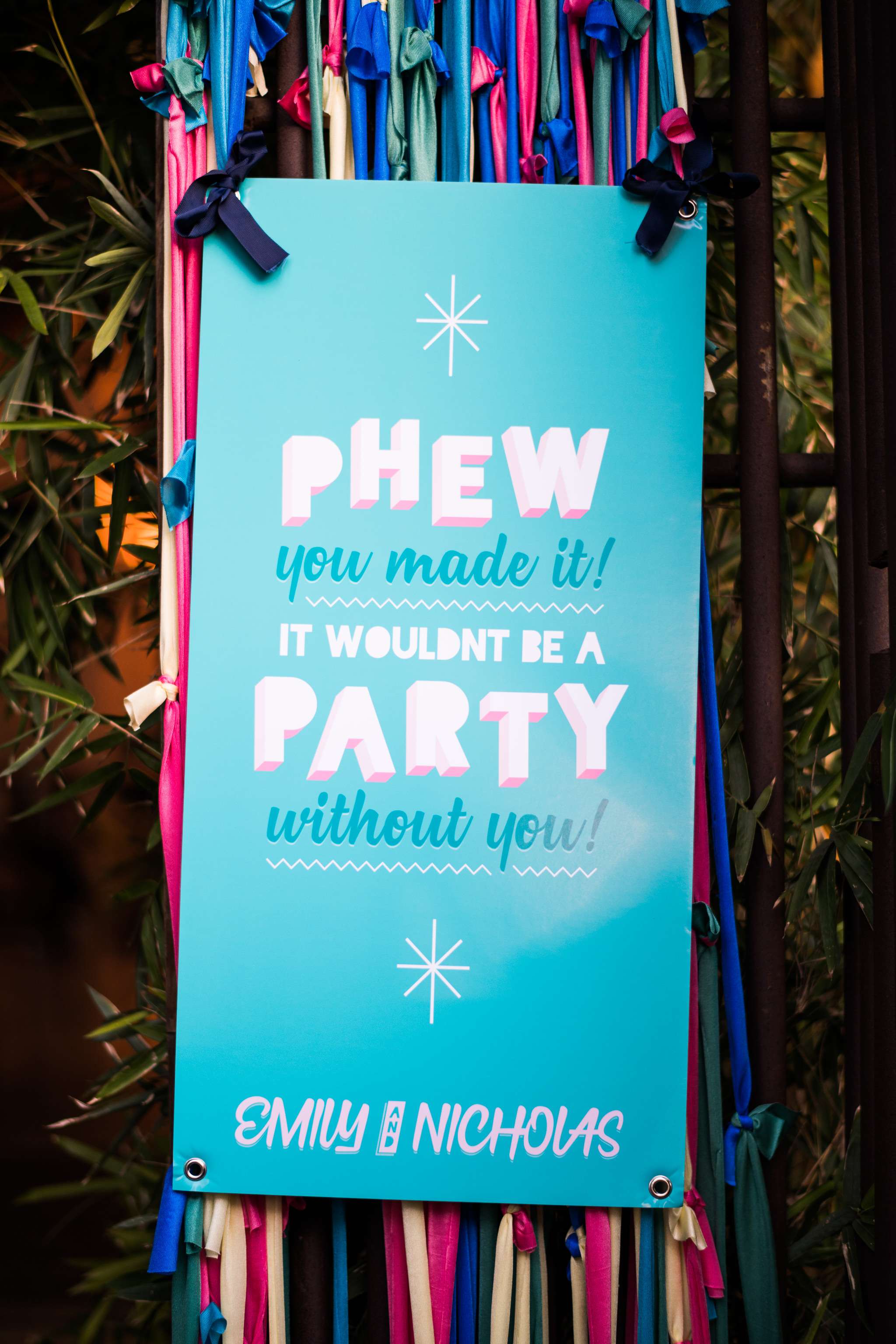 "When putting together all of the key people we needed: photographer, venue, caterers etc, we asked ourselves if we would share a cheeky beer with those people. The idea behind this theory is it gave us a clear idea as to who could see ourselves talking with openly, relying on and trusting and it definitely didn't fail us. In fact, to this day, most of our suppliers have worked together in different forms of collaborations and we ourselves would even consider them friends!'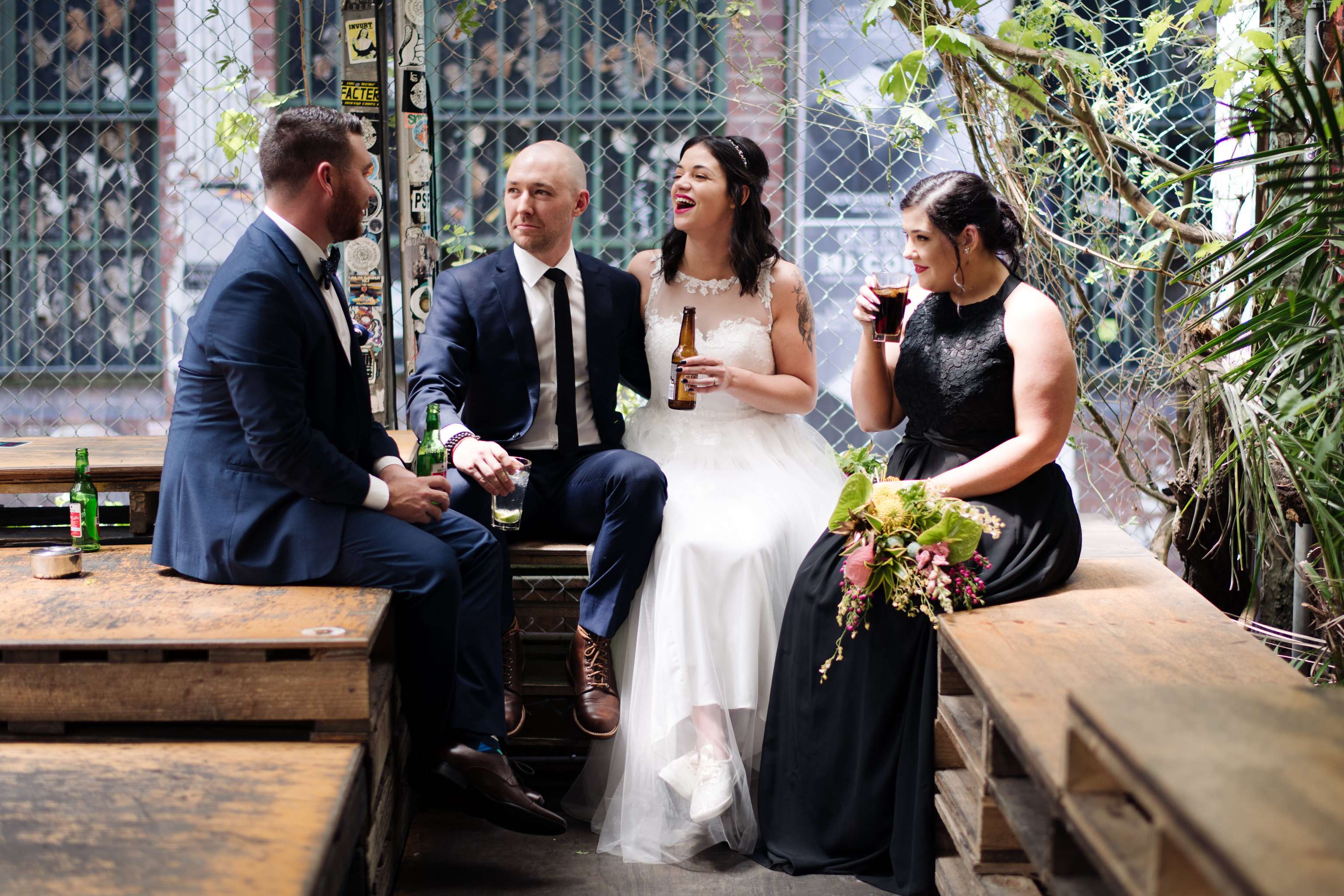 Well I tell you what – I'd totally be up for a beer with Em and Nick. How awe-inspiring is this whole thing?!