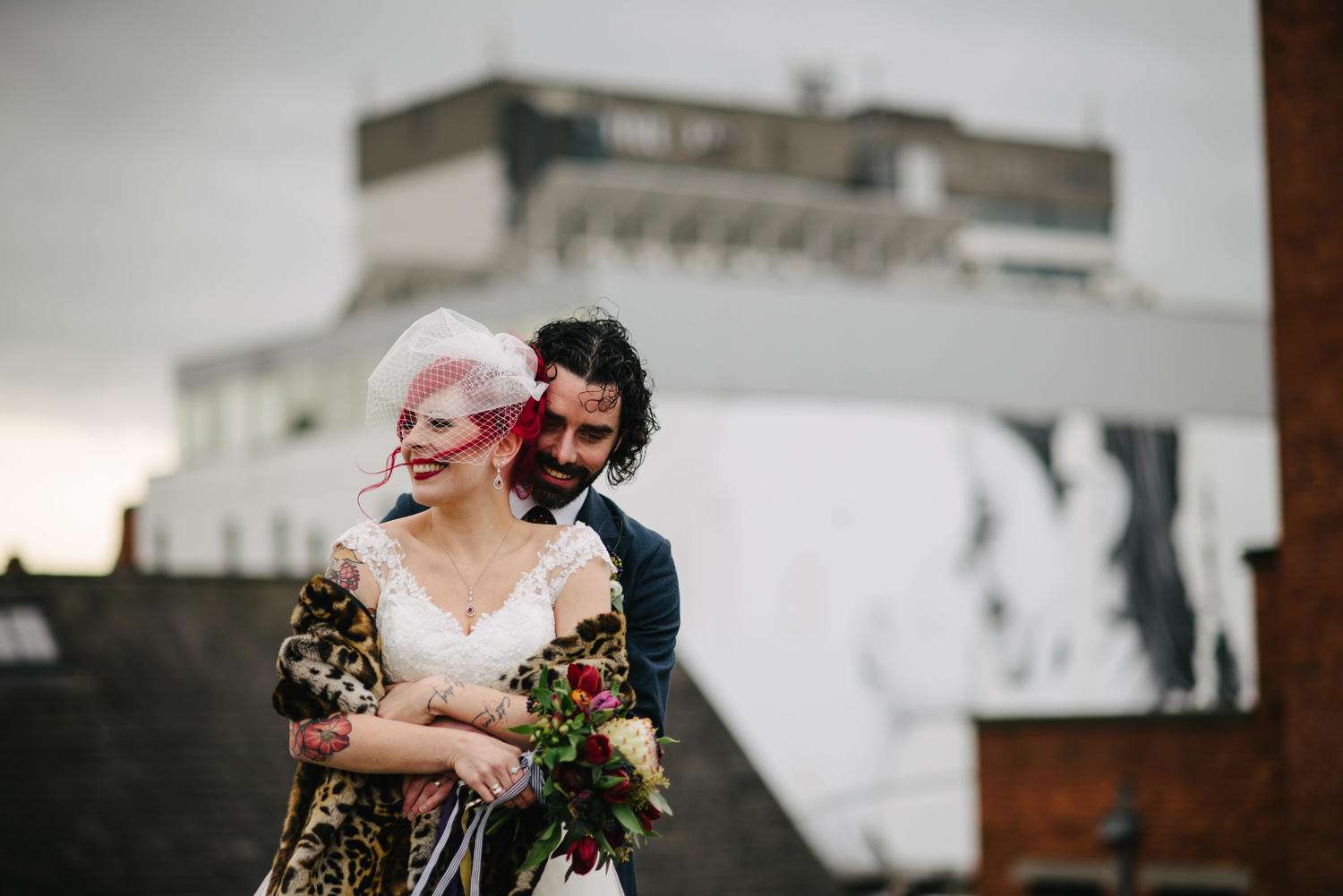 Music is a massive thing for Carrie and Dee, who met at a house party after they'd finished working at Belfast Music Week in 2011, plus Carrie photographs bands for Getty Images (as well as weddings!) so it was a major theme for their New Year's Eve celebration. Their other big love is good food and wine, so the meal had to be amazing! Basically, they said, it was all about everyone enjoying themselves.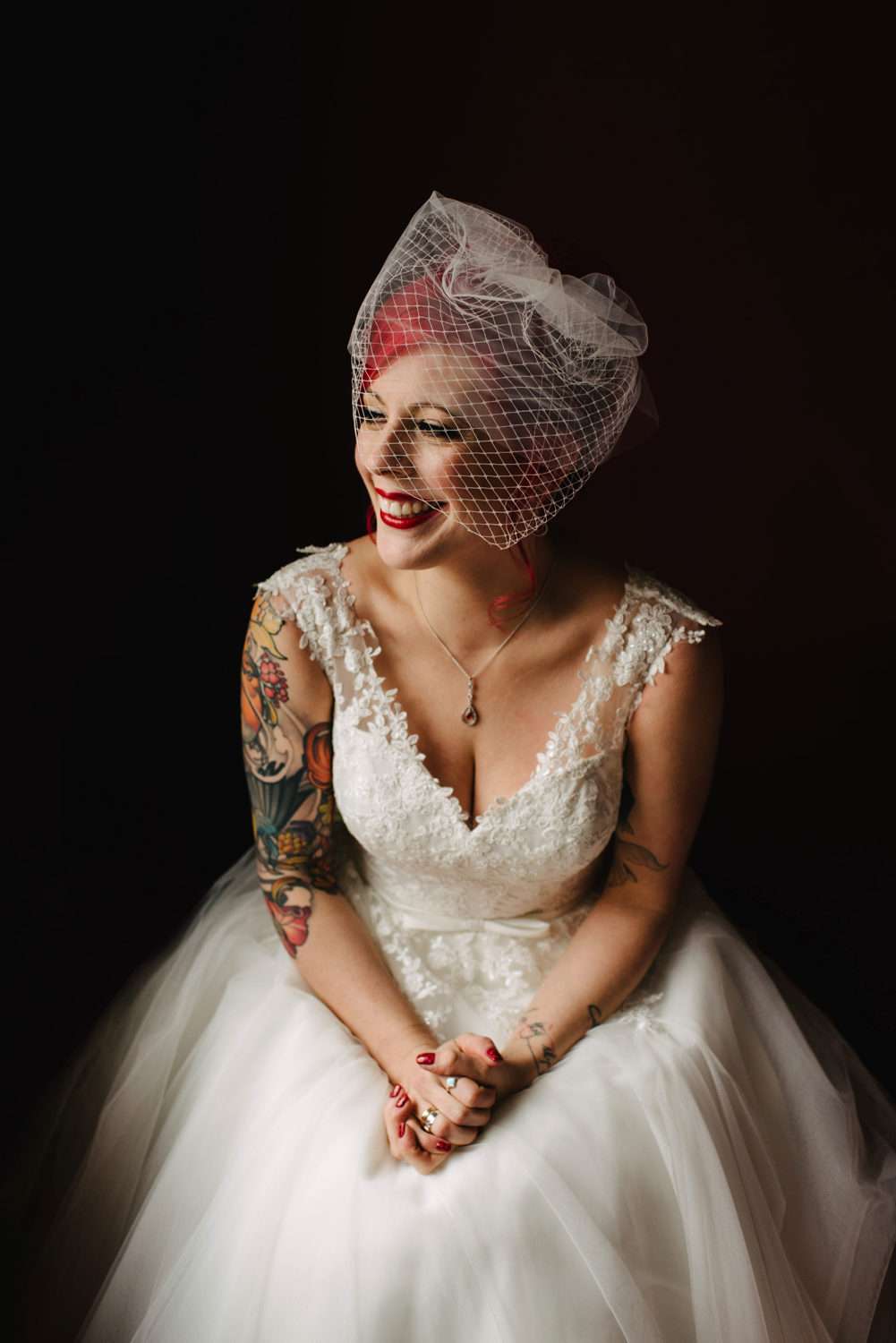 The couple planned everything themselves. Dee had worked running Queen's University Students' Union for years, so he knew his way around organising an event, plus they wanted everything to be as DIY and personal as possible. Regarding a budget, Carrie said "Honestly we didn't really set one as we had no idea where to start. Lots of friends and family helped, which made things so much easier for us, and both of us knew from the start we didn't want to spend a fortune and end up paying for it for years to come, but we wanted to make sure it was perfect and for everyone to have an amazing time, so we cut costs where we could to keep it reasonable."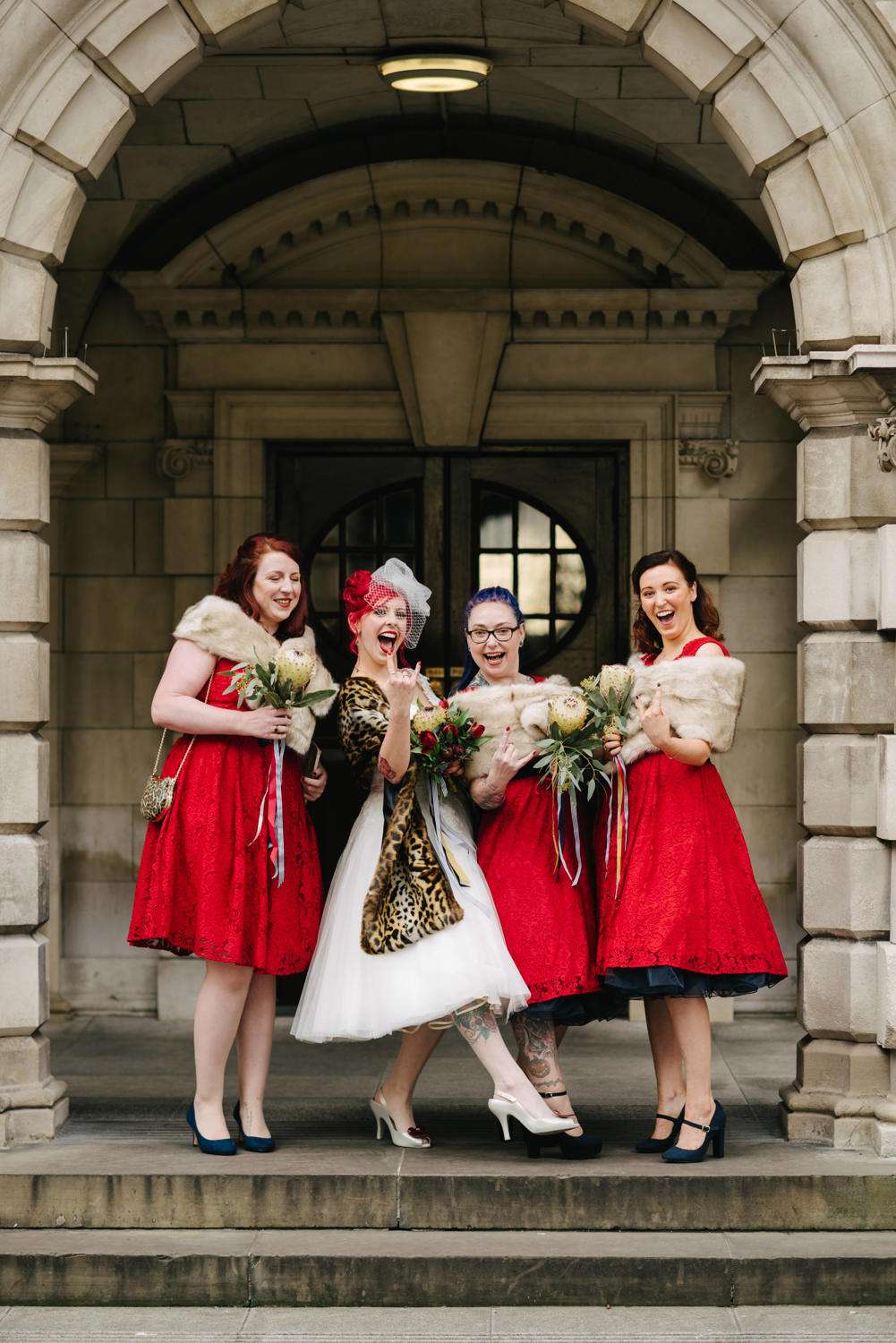 Their ceremony was held at Belfast City Hall, followed by an unofficial ceremony at The Hudson Bar, Belfast (now called Peaky Blinders). Carrie said, "We went for a city hall ceremony as both of us wanted a civil rather than religious ceremony, and in Northern Ireland humanist weddings aren't recognised yet. I've loved photographing weddings there, and the registrars are always so friendly, so we decided to go for it."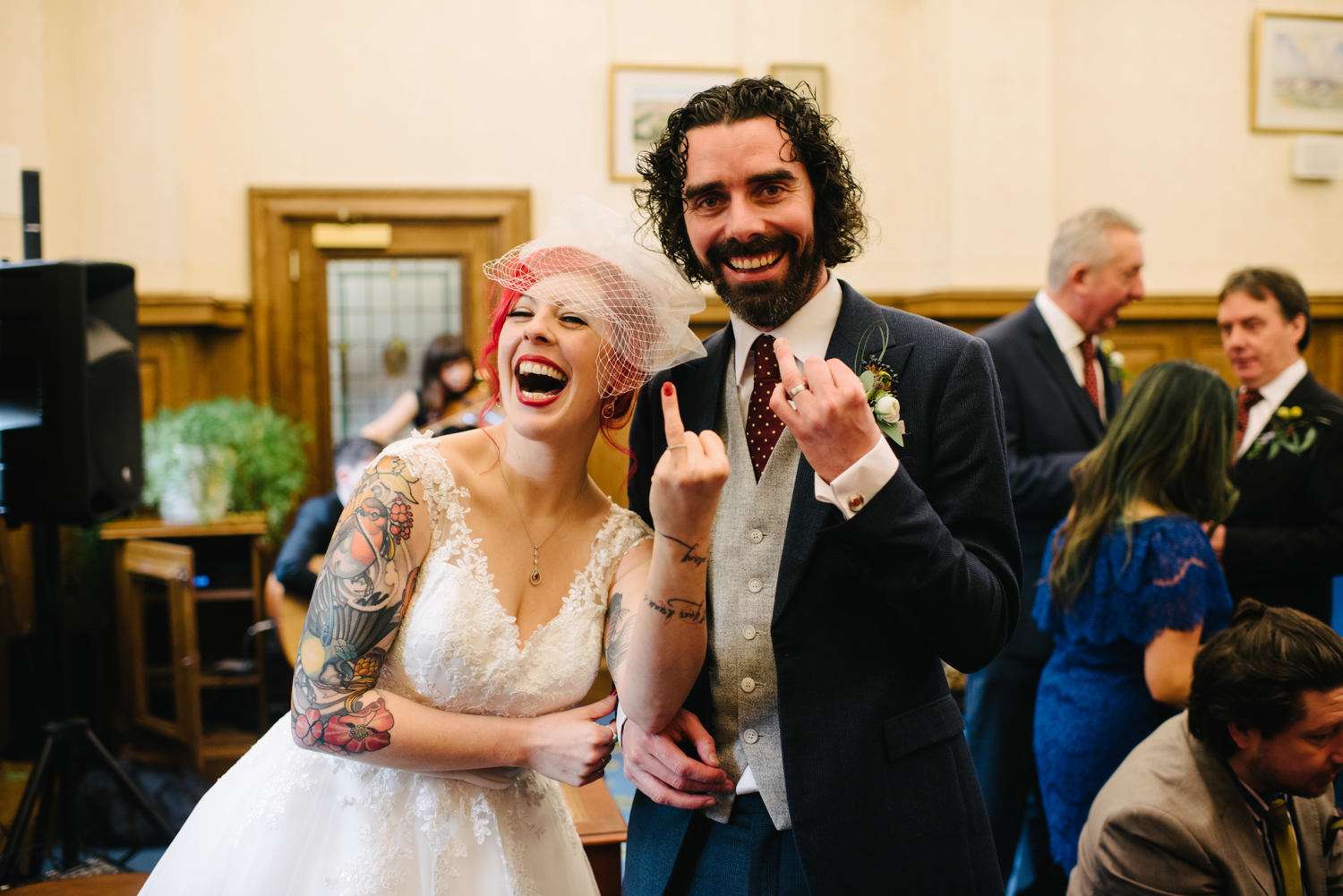 "My little godson and his sister walked in first with big red heart balloons, then my bridesmaids, then me, and we live-streamed the whole thing to Dee's grandparents who weren't well enough to make it. I walked up the aisle to the theme tune from True Romance, my favourite movie, and we'd written our own vows. I cried my eyes out, but everyone was laughing so it was such a lovely atmosphere. We are very lucky and have lots of musical friends and family so during the ceremony my sister-in-law Beth and our friend Owen played a few of our favourite songs acoustically for us: The Blower's Daughter by Damien Rice and Our House by Crosby, Stills and Nash. We got him to change the words to 'three cats in the yard' as we have three cats. In the unofficial ceremony after the legal bit, we did our own alternative vows and had readings from my brother Colin and our friend Sam who did an amazing job with the lyrics from I Like by the Divine Comedy. Several more of our friends formed a band to play some more amazing tunes for us."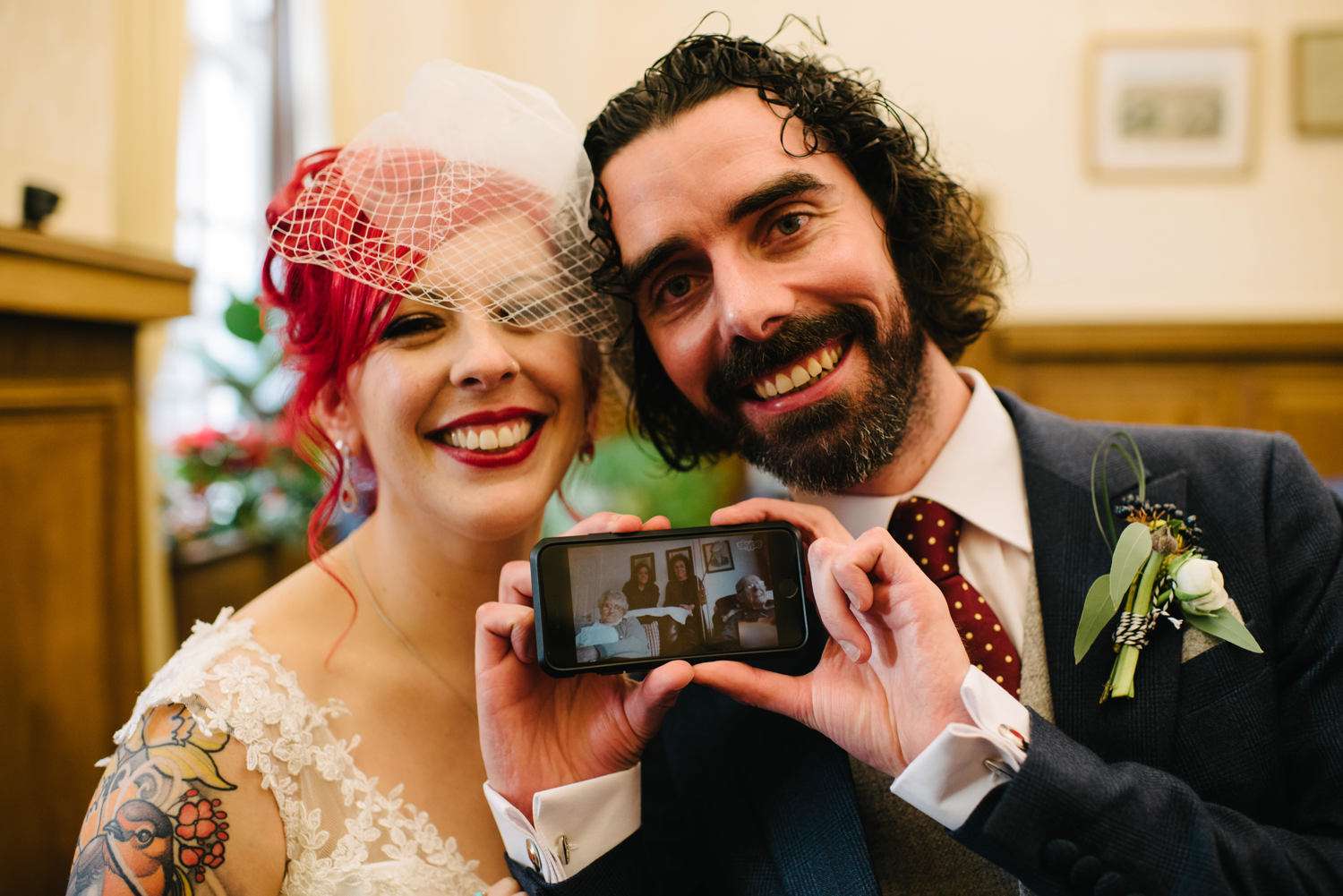 Having a winter wedding in Northern Ireland is a brave thing to do in terms of weather, so the dress had to stand up to potential extremes! Carrie said, "I always wanted a short dress as I see so many brides struggle under heavy dresses and get them ruined in bad weather. I found my perfect dress in a little shop called Biento Madame from True Bride's Brighton Belle collection." Carrie wore this with Vivienne Westwood for Melissa shoes, saying, "Ridiculously, I bought the shoes before we even got engaged as I had seen the flat version on a bridesmaid at a wedding I was photographing and fell in love with them, but when they arrived I couldn't think of any other time to wear them so I hung onto them. I got both the heeled and flat versions and I love them!!" Her veil was from eBay, and she got a 'Just Married' necklace from Tatty Devine to wear after the ceremony.
The bridesmaids wore matching dresses from Pretty Kitty Fashion and they added belts and faux fur shrugs for some New Year's Eve warmth.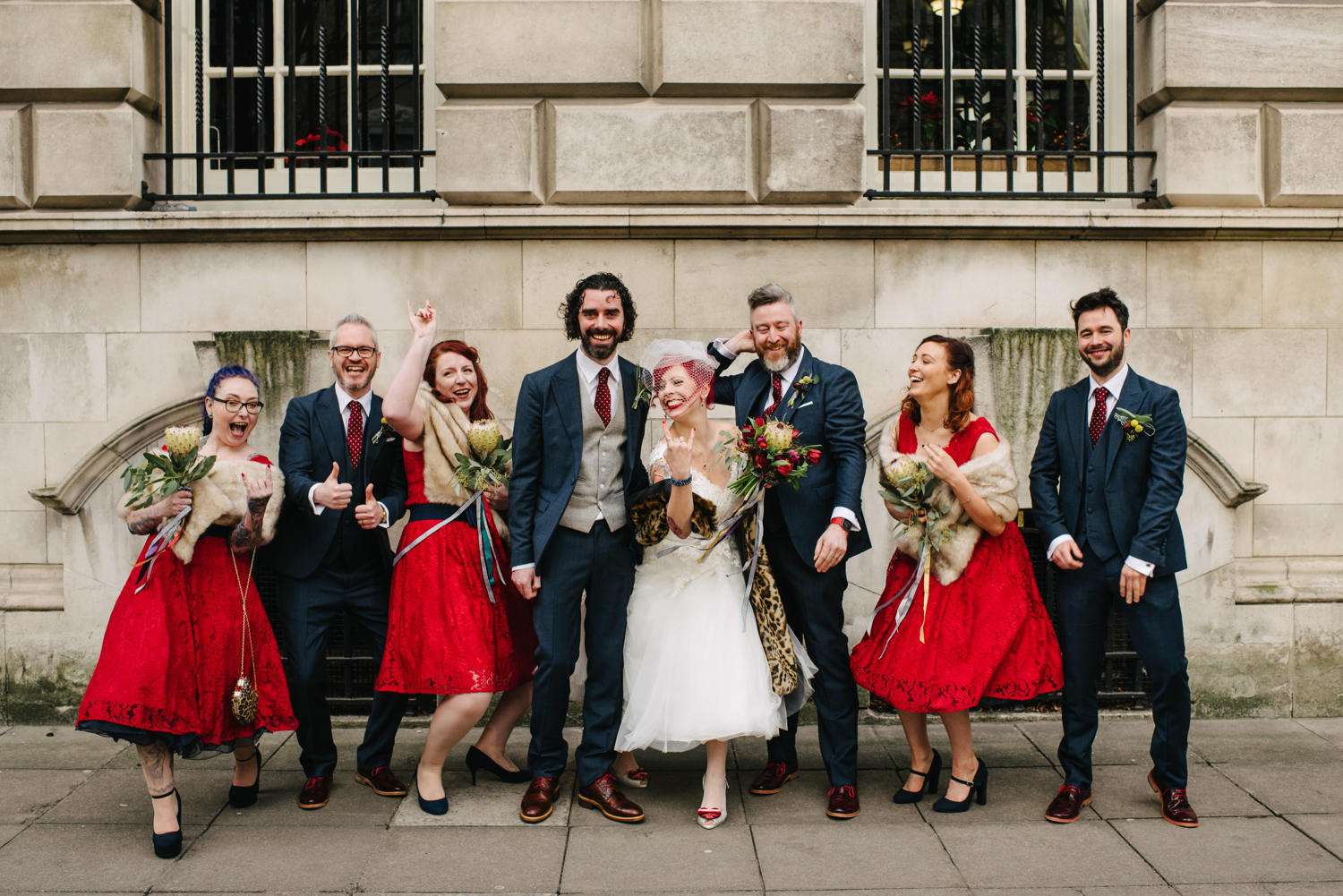 Their reception was held at The MAC, Belfast. "There's a café on site run by Yellow Door, so we had to use them in the venue, but their food was amazing, as was the service, so we wouldn't have used anyone else anyway," Carrie explained. "Dee is a big foodie and loves good wine, so the dinner was very important for us. We didn't want to make things really formal, so instead of the usual three-course meal, we went with a buffet for everyone with lots of choices, especially after everyone had just spent all of Christmas eating too much!. We had a bit of a gap between the first ceremony and dinner as we were planning the unofficial ceremony, so we put on nibbles for everyone and cocktails at The Hudson, too – it was one of our favourite bars to drink in in Belfast, and it, The MAC and City Hall are all within walking distance of each other so it meant we could show our families our favourite places."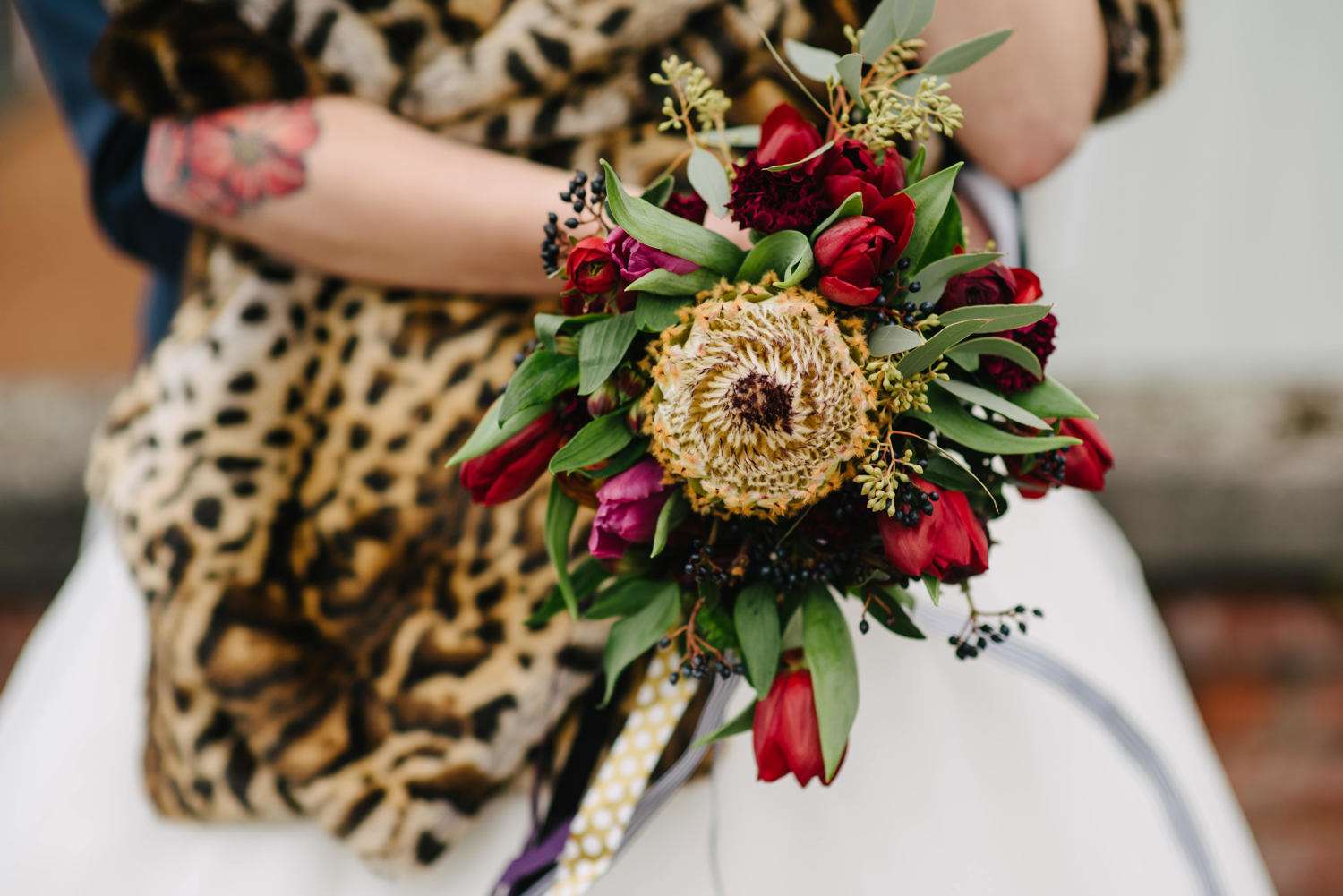 "The room at The MAC is actually a rehearsal space, so it's a big empty white room with black drapes and a ballet bar and mirror, so we needed to do a lot to make it look perfect. We wanted the blank space to really put our own spin on things. Dee's brother Paul is a touring lighting designer, so he helped us to make it look amazing. We wanted pendant lights with red cables, which he made by hand and then spent the whole day before the wedding hanging for us. He used red lights to light up the black drapes so they looked like red curtains. The lighting really made the place, and I actually cried when I first saw it all finished, it looked so good. He controlled the lights during the night so we had different lighting for speeches, meal and music."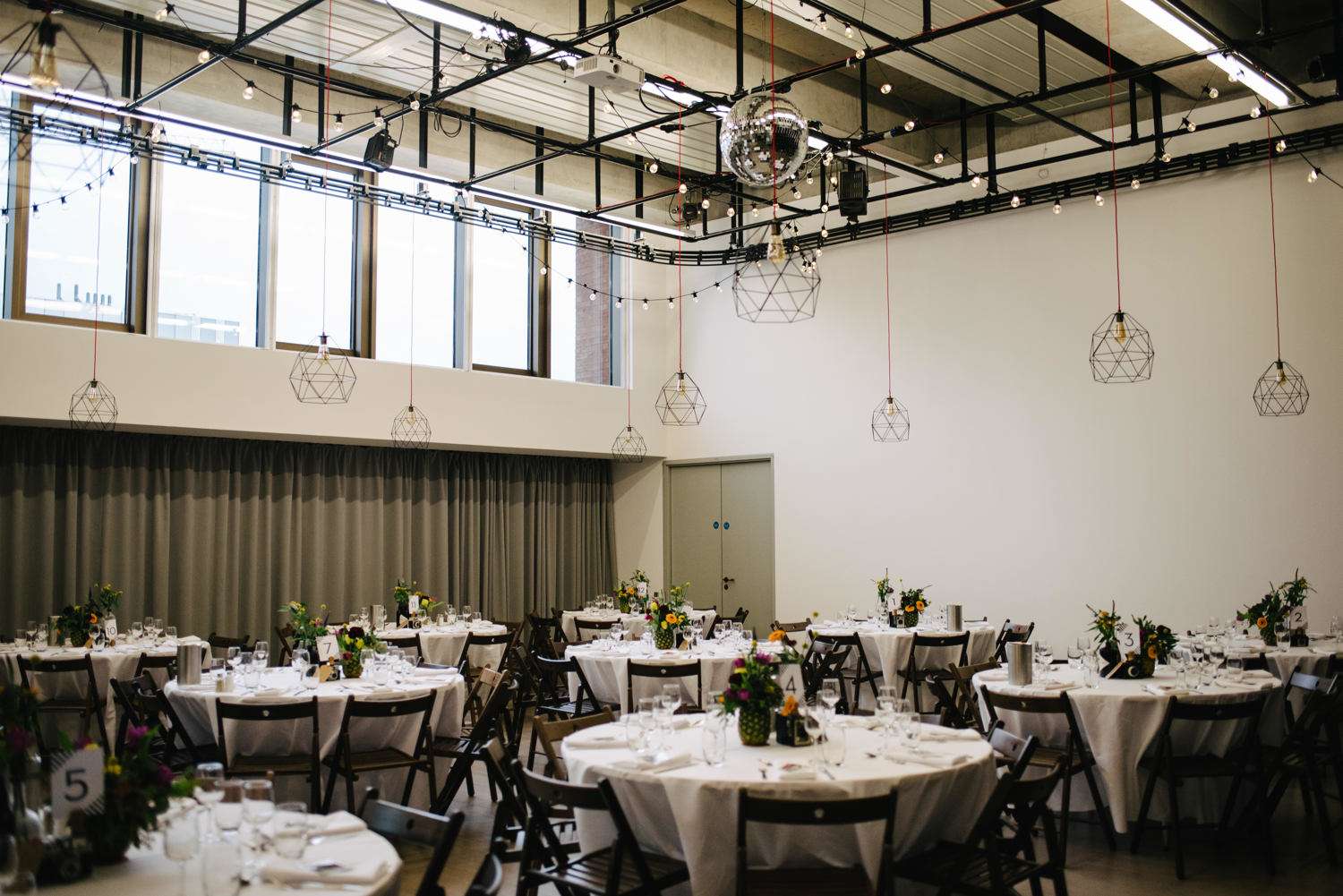 "I put a vintage camera on each table from my own collection (I'm a big geek who loves old cameras). The music theme carried throughout, too, as we have a huge collection of gig screenprints, so we hung these around the reception venue so it looked like our own personal exhibition. We're big animal lovers, so we had photos of all our pets on the tables. To amuse my metal head mates, they were seated at Table 666. Our friends who had gotten married just before lent us loads of wine crates, which we used all over the place and it looked great!"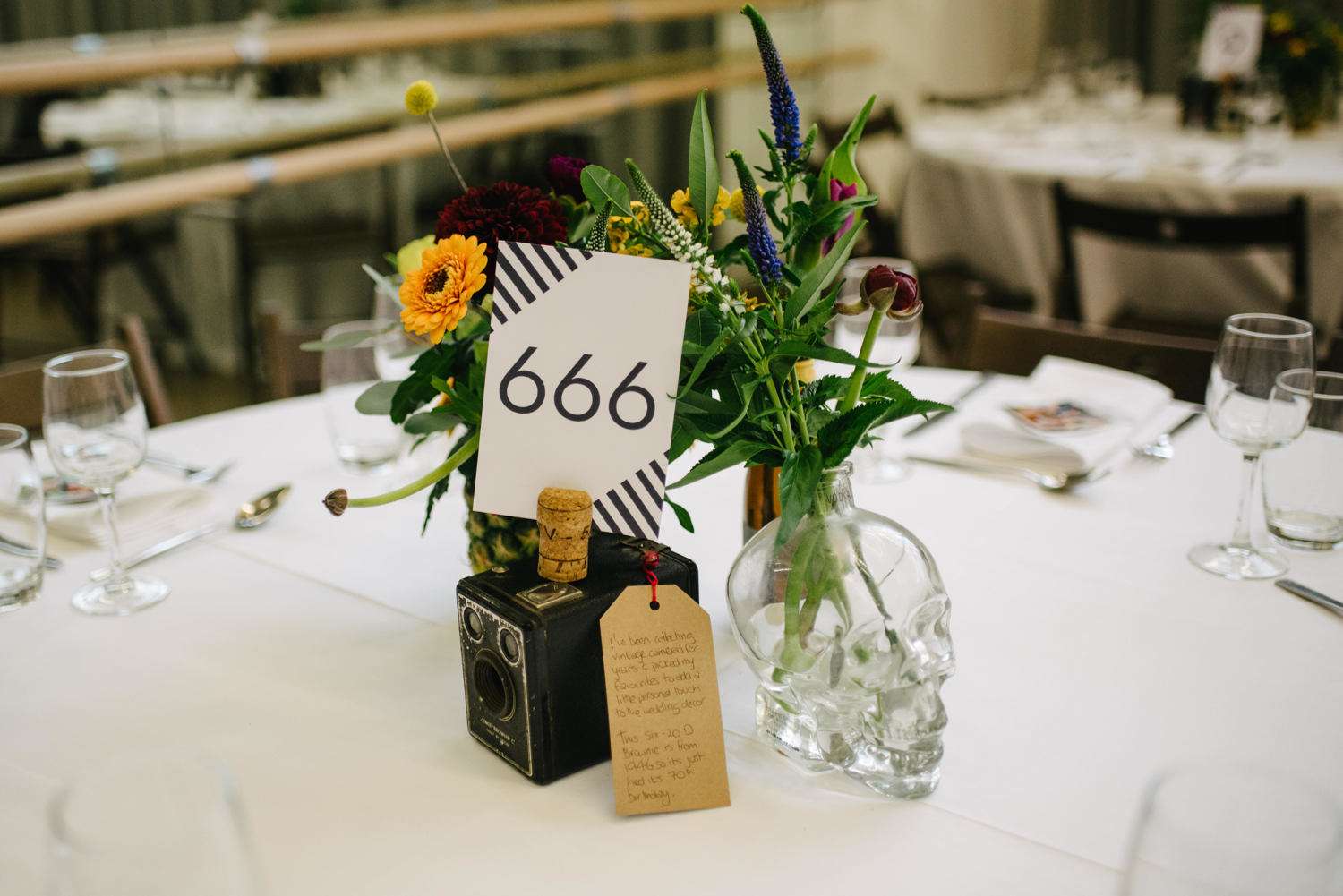 Carrie made the wedding cake herself. "We didn't intend to have one as Dee hasn't really got a sweet tooth, and I'm vegan so not everyone can make (or likes) vegan cake. I decided a few days before the wedding to make my own red velvet one – nothing fancy, but I'd hand painted little cake toppers to look like us and our three cats, and I needed a cake to put them on!"
"Flowers By Mee did an amazing job of the flowers for us – I told owner Gill that I wanted tulips and 'those big alien-looking roses', which I now know are called protea! I had a small bouquet full of red tones, and my bridesmaids had massive protea decorated with ribbons and greenery. She also did an amazing job on our reception. We used pineapples (an in-joke as we drink cocktails from party pineapples at friends' parties) and bottles of our favourite beers and spirits full of flowers on every table and they were so pretty."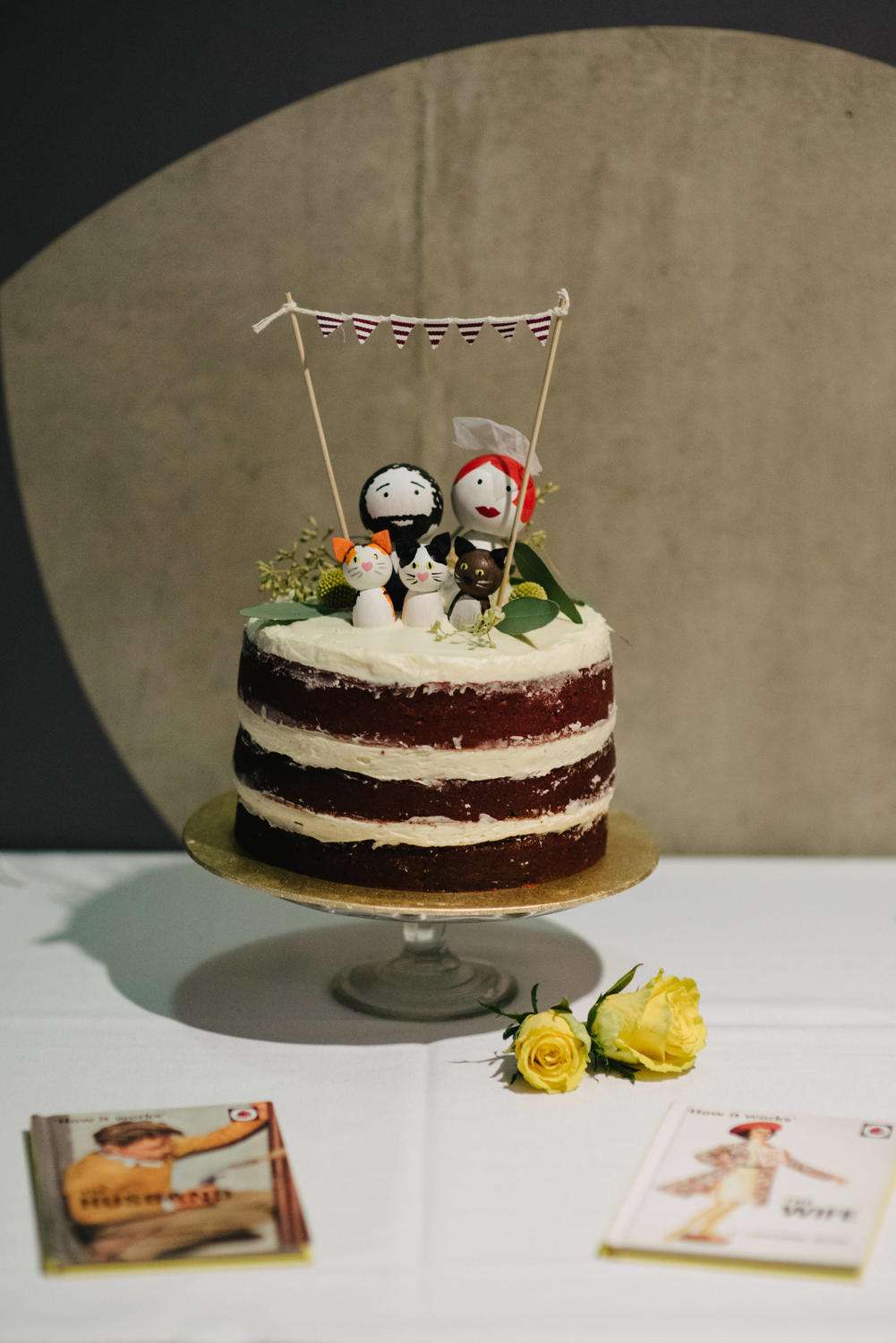 Choosing the photographer was obviously going to be a huge part of the day for Carrie. "We are super lucky to be really good friends with Deci and Brideen of Simple Tapestry, whose work is absolutely gorgeous, and they captured the day perfectly. We did worry about good friends having to work on the day instead of letting their hair down with us, but we didn't trust anyone else to do it like they would! Another photographer friend, Ciara, came down to capture the dancing and party for us as we wanted some shots at midnight, and we wanted Brideen and Deci to clock off and party with us, although I don't think they put their cameras down despite our orders!!"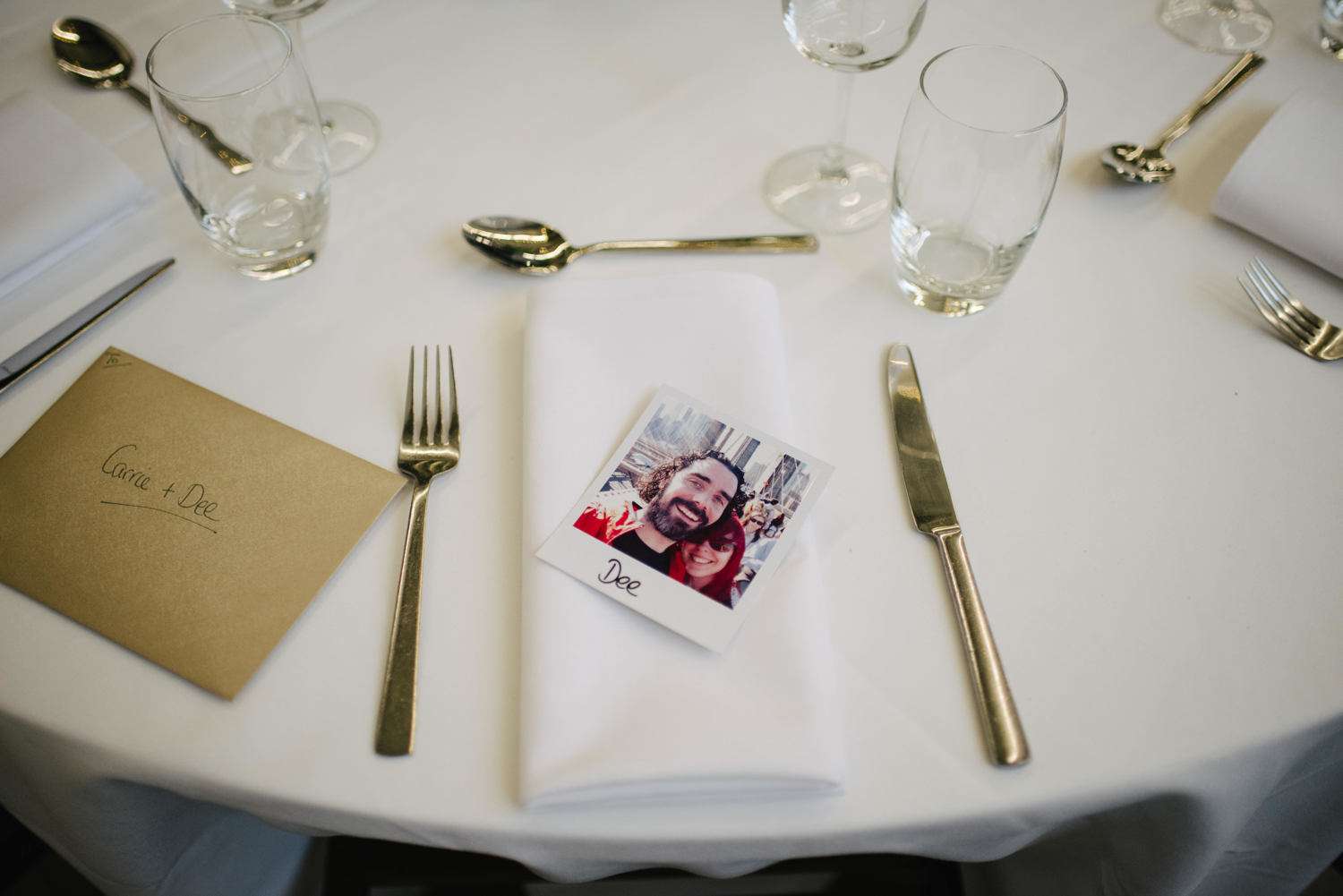 Carrie said she is a self-confessed control freak who loves making things, so there were a lot of DIY projects! As well as the cake and stationery, "I built the photo booth out of props I'd gathered from my own styled photo shoots, including flamingos, Day of the Dead masks and other random colourful things and set them against a gold sparkly backdrop. We used the pictures for a Polaroid photo guest book. I spent hours with a diamond drill bit, cutting glass bottles to feed in tiny fairy lights to make table centres. Dee and his brother made the lights. My mum made us bunting with 1950s B movie designs on it."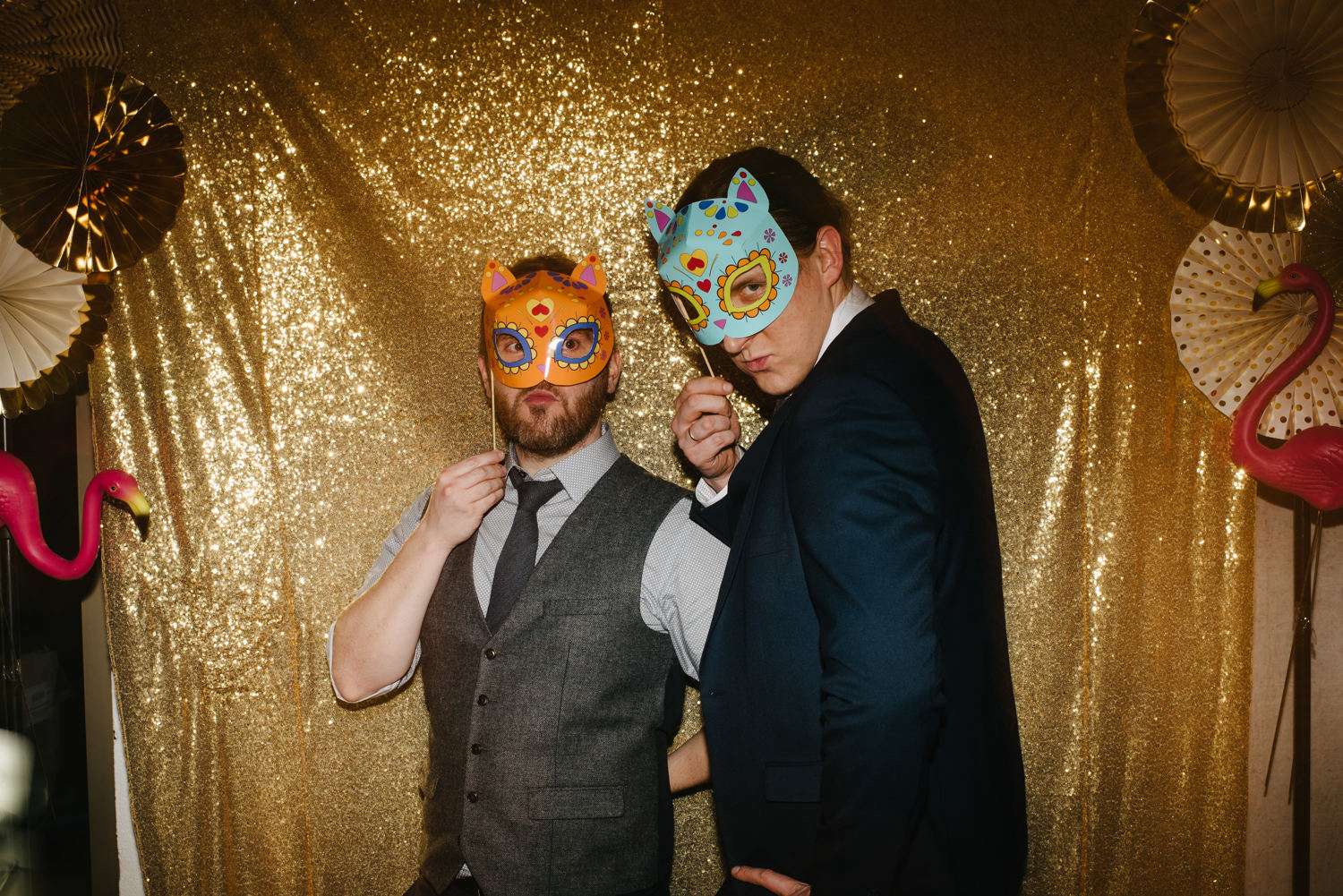 "My favourite part of the day was probably the alternative ceremony in The Hudson Bar. City Hall is limited on size, so we couldn't fit everyone in, but the bar fitted all our friends as well, and it was such a highlight for me! We said our alternative vows, which everyone laughed at, and had music, which everyone sang along to! It felt like the proper ceremony to me; even though our City Hall one was also amazing, this one was just very us! I also loved when at midnight we did the new year countdown and set off confetti cannons with everyone on the dance floor with us!"
There were only a few minor details she'd change about the day, said Carrie. "I would maybe have had a videographer as I would love to hear the music and speeches again, but at the time I thought it would make me far too nervous. Also I would definitely have allowed more time at the hairdressers so I could eat breakfast and not be hungry all day! Honestly everything else I'd keep exactly the same."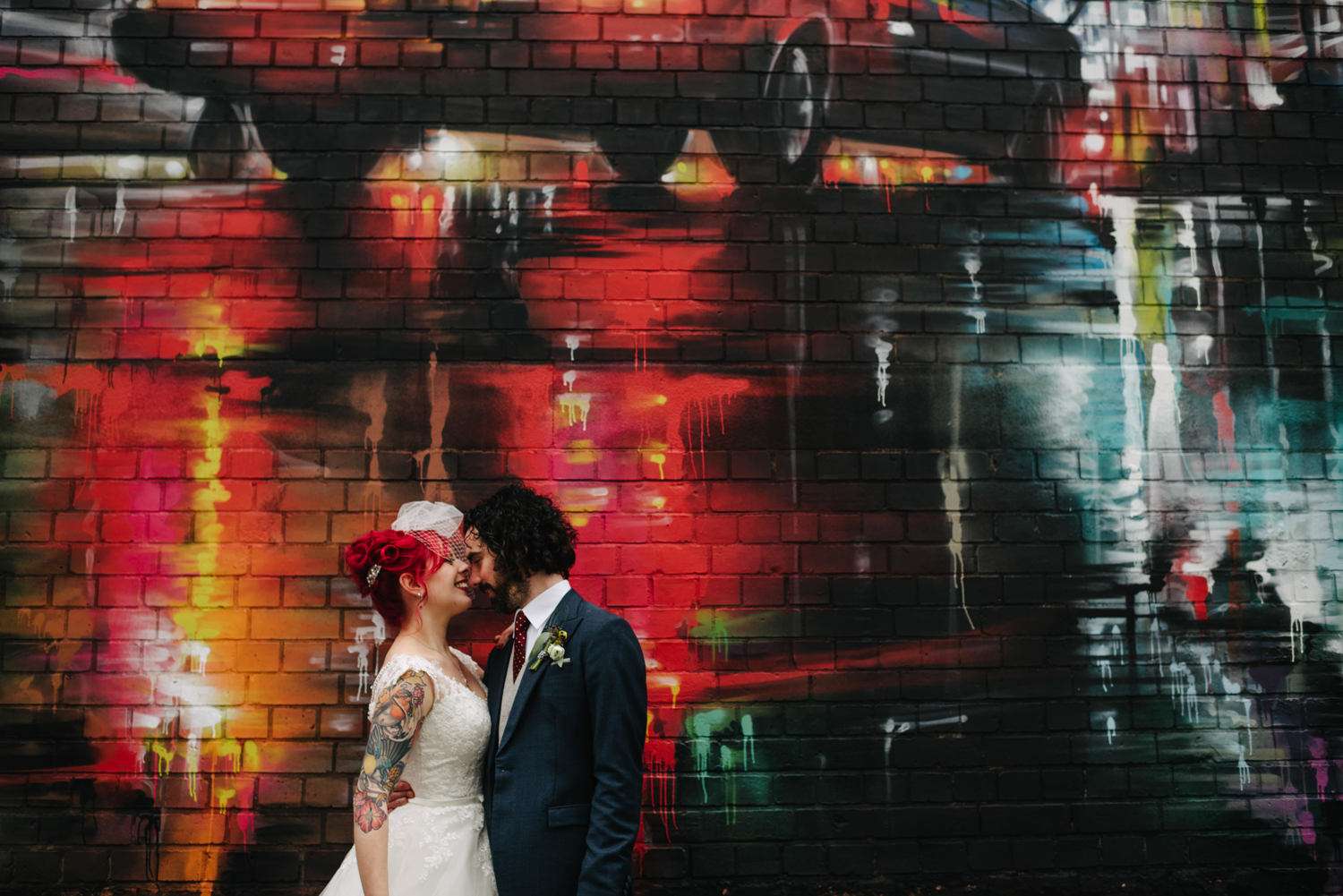 Carrie and Dee have a chart rundown of advice gems for you future brides and grooms! "On the day, EAT BREAKFAST!!! The planning can feel a little overwhelming at times as it's the biggest thing you'll ever plan, all while trying to keep everyone happy, so try your best to enjoy it. Take things on board, but don't let anyone take over. Your friends and family who are willing to help will be absolutely the best thing ever, so take them up on their offers. Plan things together, too – the wedding is about both of you equally, and the planning is a great chance to find out new things about each other; spend time together and have lots of fun! Also it's your day in the end, so make it as much about you as possible – I look back on our wedding and it was honestly the best day of my life And you can't ask for more than that!"