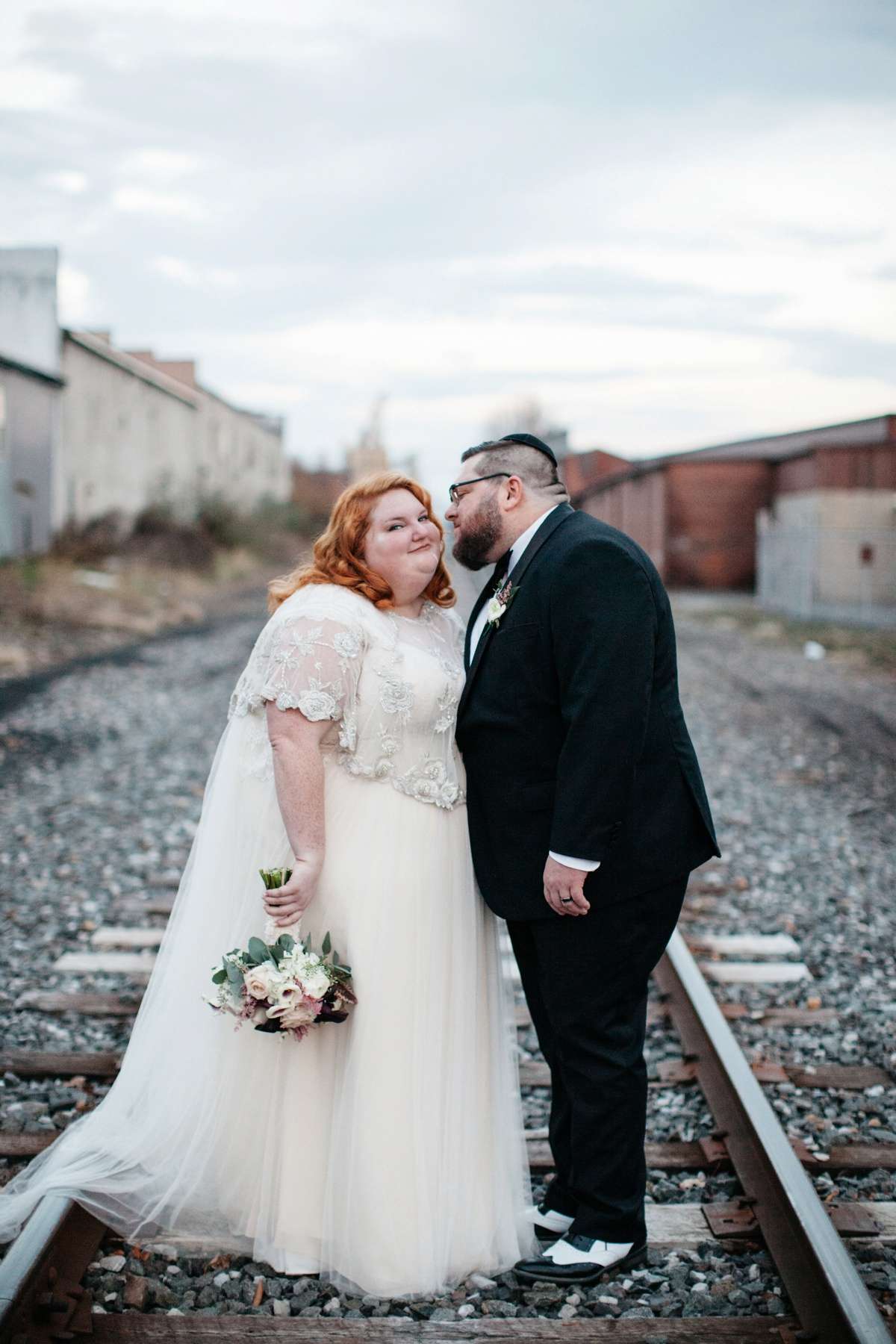 It was OKCupid and a mutual love of antiques that brought Ingrid and Johnny together. And even though the pair of them are known for having 'booming personalities' they decided to have a quieter day than their guests expected.
The bride said, "My whole life, I was a black sheep. Johnny has always been unique, as well. A lot of our guests expected to see a big, extravagant fashion bomb as our wedding décor. After a few people made comments about what they were expecting, I decided we had to have a calm, romantic day that really focused on us. Our colours were plum and blush and our mood words were 'vintage' and 'romantic. Our wedding was unique because it was fully a representation of our love story."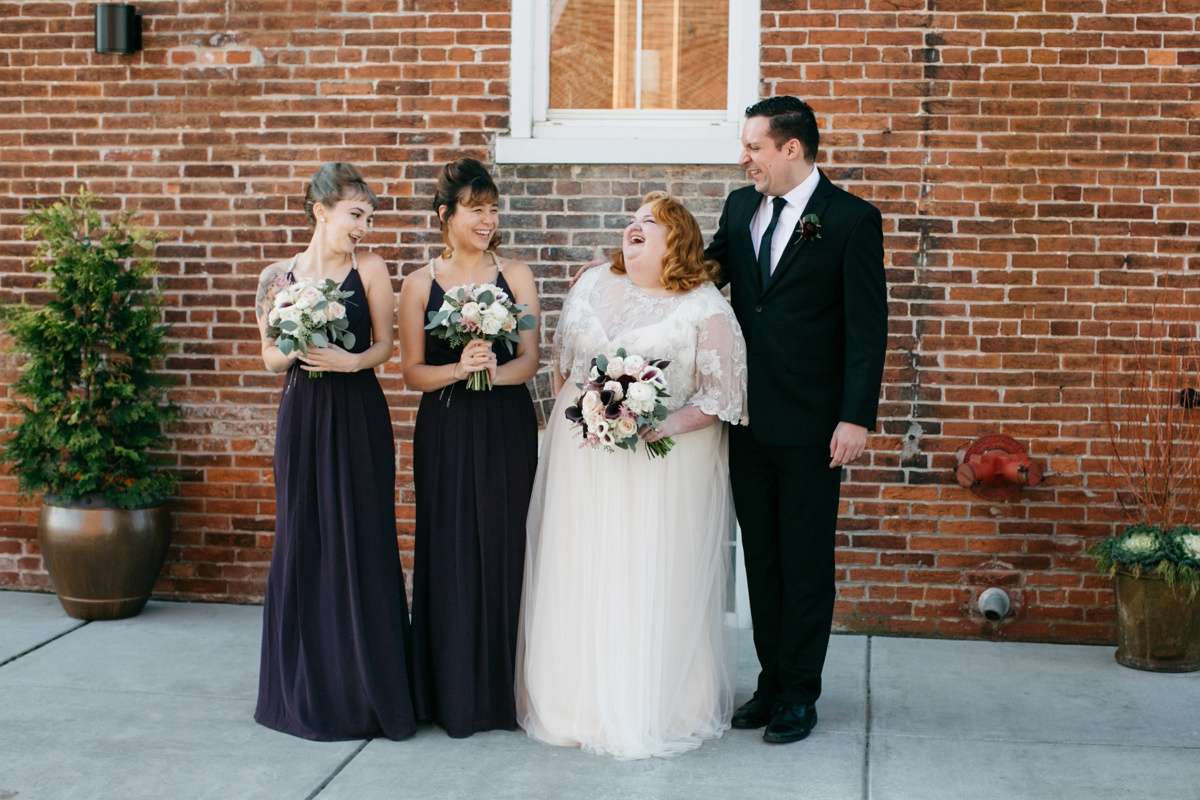 Rock n Roll Bride is all about body positivity and inclusivity, so Ingrid's wedding planning journey is extra amazing. "I've been in the Rock n Roll Bride Facebook group since the moment I got engaged. During my whole planning process, one of the questions I based my decisions off of was 'Would this be something Rock n Roll Bride would publish?' I was a fat Jewish bride (US size 28), and I found that many vendors had never worked with a happy fat bride before (or a Jewish one!) Photographers don't feature fat brides on their websites and, even when asked, many of them had never photographed a bride anywhere near my size. Many of our vendors were learning along with us, which made all our planning that much more exciting (as well as stressful…)."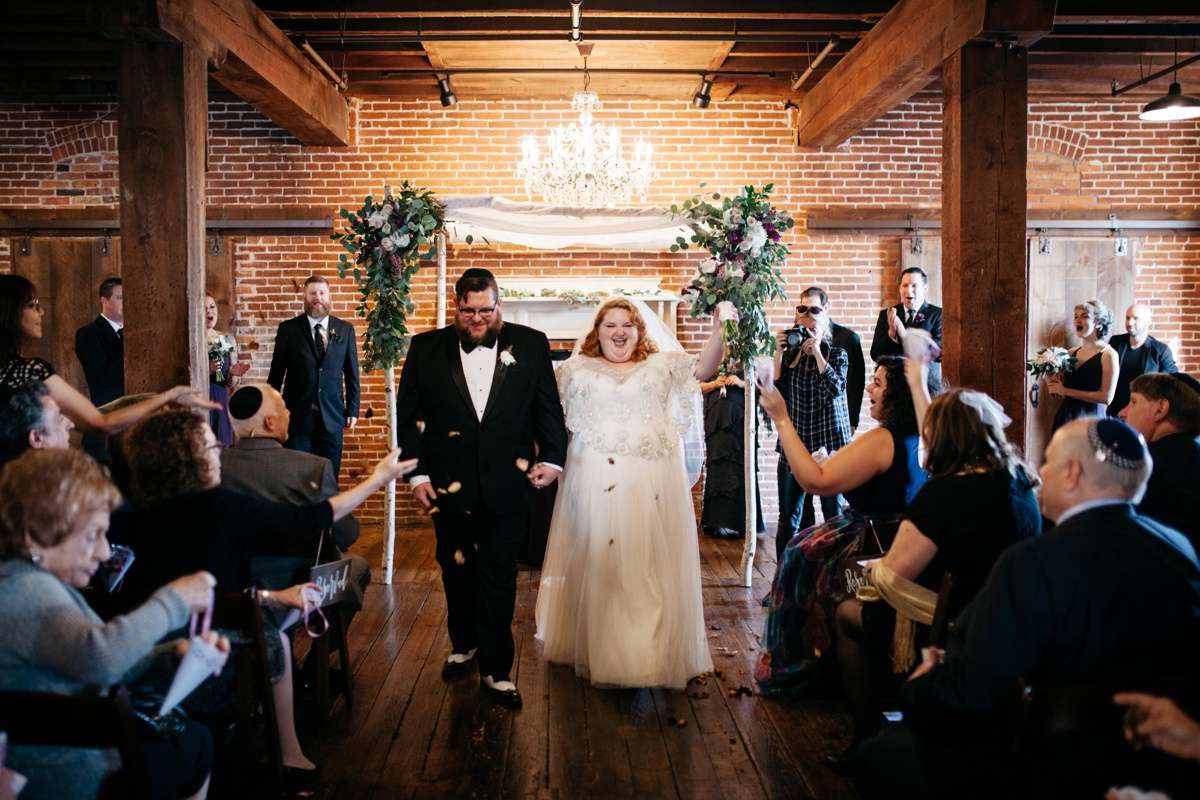 Their venue was The Booking House in Manheim, Pennslyvania, which used to be a cigar factory. Ingrid walked down the aisle to Somewhere Over the Rainbow played on acoustic guitar, and their recessional piece was Hava Nagila by 1950s girl group, The Barry Sisters. "We wanted our 90 guests to be transported through time, while getting to know the both of us as a couple. Our Rabbi, Sandra Miller, was someone who had gotten to know us through my husband's Jewish studies. She focused on personalising our story. Half of our guests were not Jewish, and she made sure that she explained each part of our ceremony with meaning so that our guests would be involved. We still managed to keep it under half an hour, so although it was quick, it was moving."
Ingrid's beautiful dress was by Maggie Sottero, which she wore with a cape by Bride La Boheme on Etsy, and shoes by Betsey Johnson. Johnny's outfit was from New Age Tuxedo in NYC, and the bridesmaids wore Hayley Paige.
There are sweet personal touches, and then there are acts so romantic that they're off the scale. Johnny pulled off the latter, and I'm not crying, you are. Ingrid said, "I'm not really a DIYer, but my husband is pretty crafty. Without my knowledge, he had saved and dried every rose he's ever given me. We used the petals to toss during our recessional."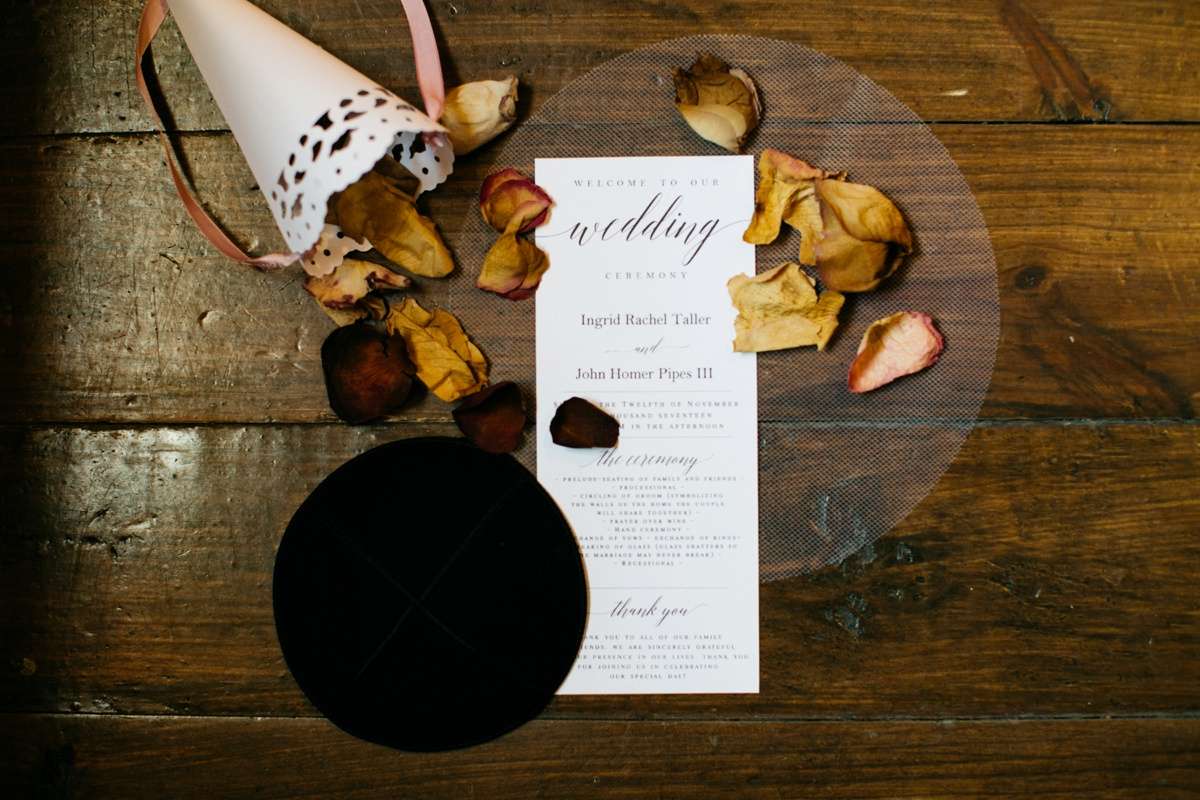 Ingrid's favourite part of the wedding was signing the Ketubah. "In a Jewish wedding, before the ceremony, the bride and groom, their parents and two witnesses sign the wedding contract called a Ketubah. It's the real wedding. It says 'I am my beloved's, and my beloved is mine.' With just our nearest and dearest present, it felt serious and meaningful. It was the only time I felt any type of nerves, but mostly because it was exciting."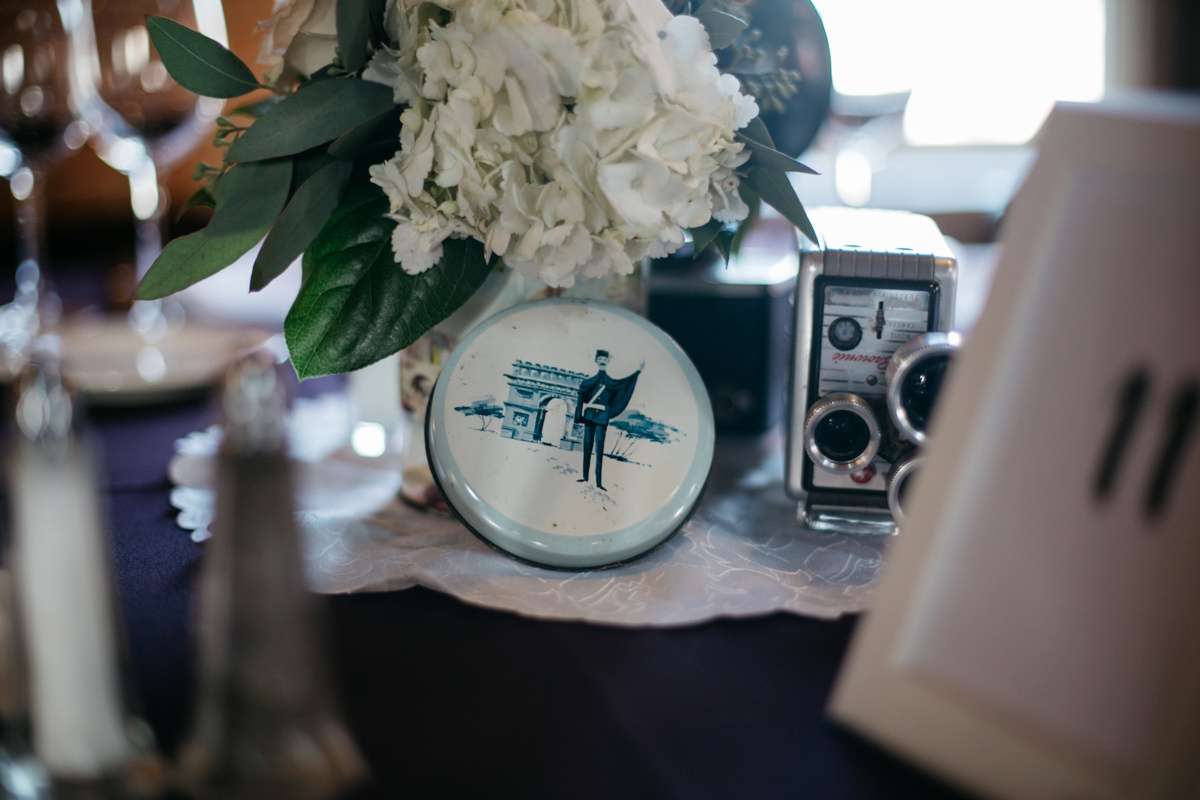 The biggest expense in their $20K budget was the food. "The food by Boscov's A La Carte Catering was kosher, and finding kosher catering in Amish Pennsylvania was pricier than we'd hoped. Next biggest expense was the entertainment, which was a package of DJ 3 West and an acoustic guitar for the ceremony. It was all worth it!" Especially when the DJ played as the last song of the night I'm Getting Married in the Morning by Yellowman, which had been their anthem from the bachelorette party, through the final two weeks leading up to the big day, to the bride and her best girls singing it while waiting to walk down the aisle!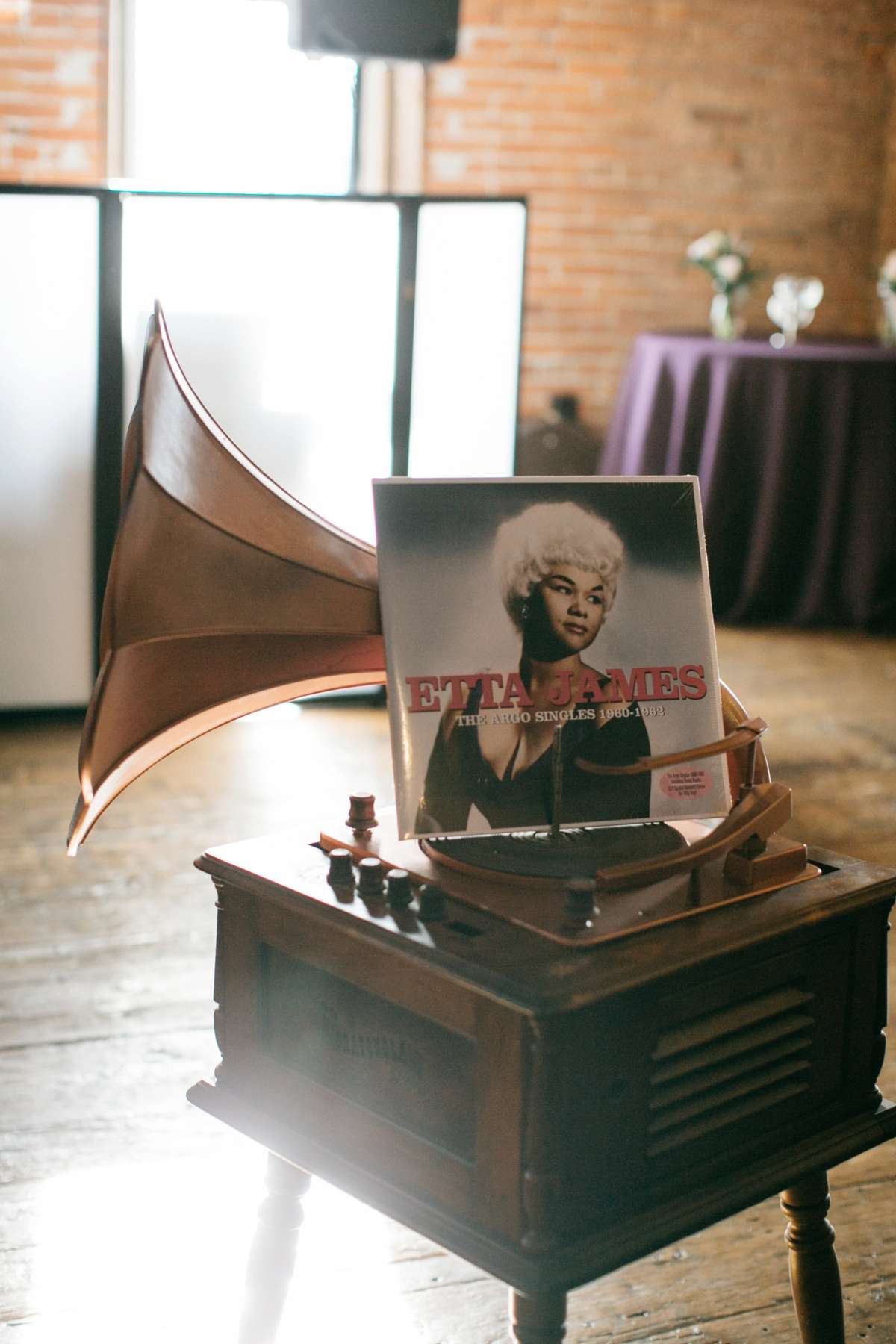 "We saved money as I found my hairstylist, JoJo Feo of JoJo's Tiki Hut, though a vintage hair group on Facebook. She was wonderful and gave me and my bridal group a really great discount since she's still in hair school. We didn't have a make-up artist as I did my own make-up, and my friend Gabie helped my bridesmaids and mother."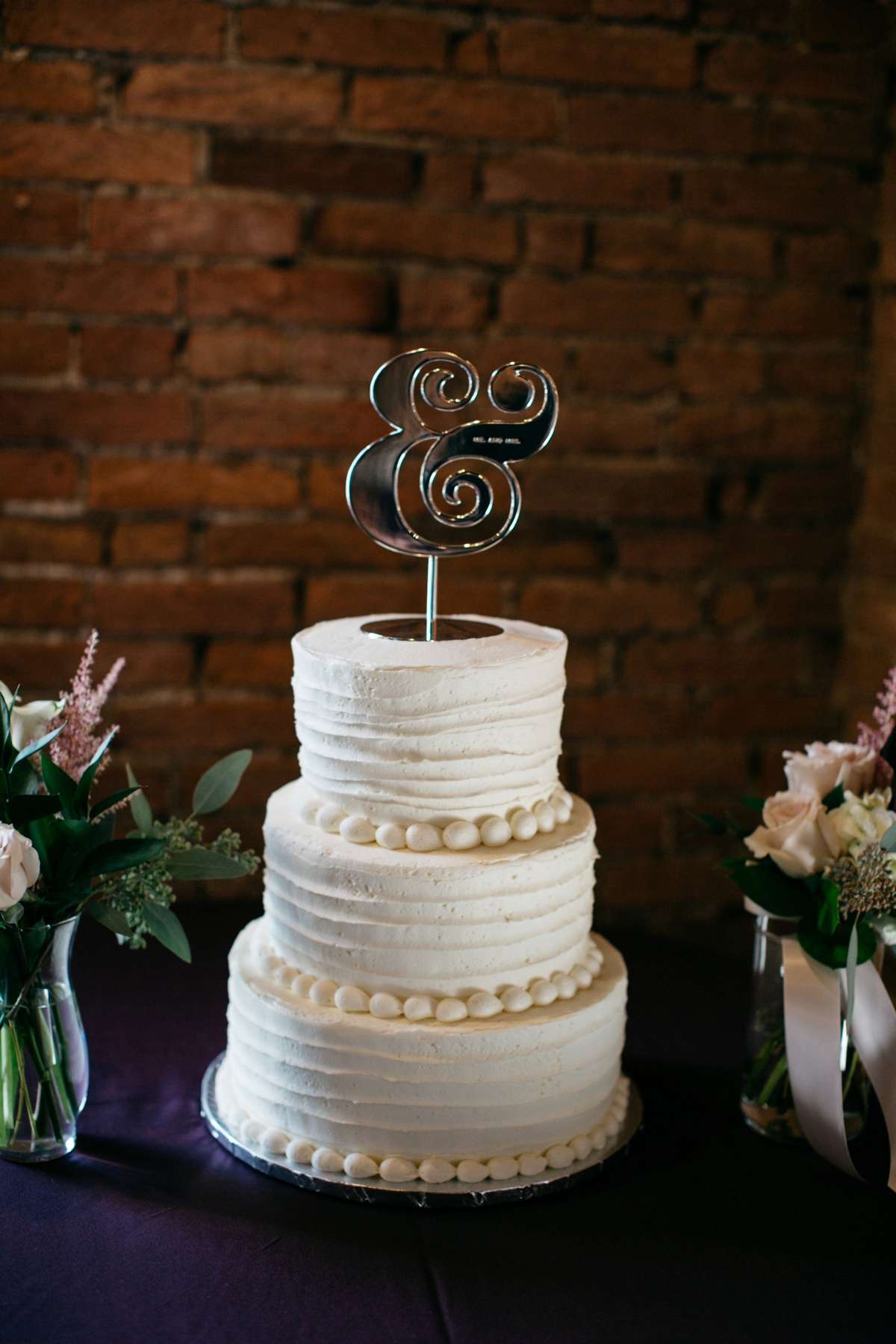 Before they began planning their wedding, Ingrid says she wishes she'd known "To take moments in each step to let it all seep in. Especially when trying on wedding dresses. Breathe. Look. Don't speak. Let your mind process."
"We live in Pittsburgh, Pennsylvania, but all of our family and closest friends are in New York City," said Ingrid, "so the best part of wedding planning was having excuses to see them often over the year." What was the worst thing? "Weddings make people weird. There are so many ways to hurt people's feelings without trying. Luckily, we didn't face too many issues, but it helped to remember that the ONLY goal from our wedding was that we would be happily married, which made decision making easier."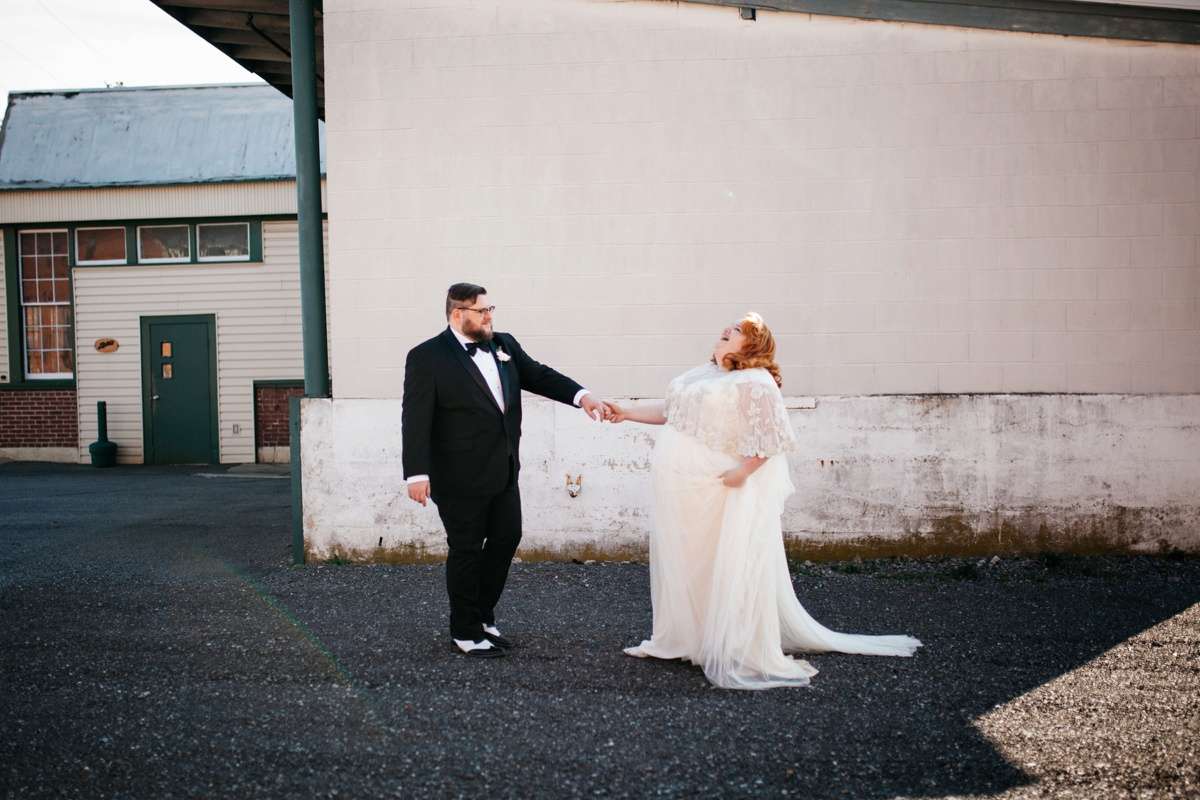 Would they have done anything differently? Ingrid said, "The day went too quickly. One more hour would have solved a lot of issues, but really, in all honestly, the day was perfect."
The couple's advice for you is to "Take time to enjoy every bit of it. Take time to hold hands and make decisions together. Put a piece of you and a piece of them in your day and let the rest be cake." And they added this wise gem – "Our wedding was perfect. Our marriage is better."