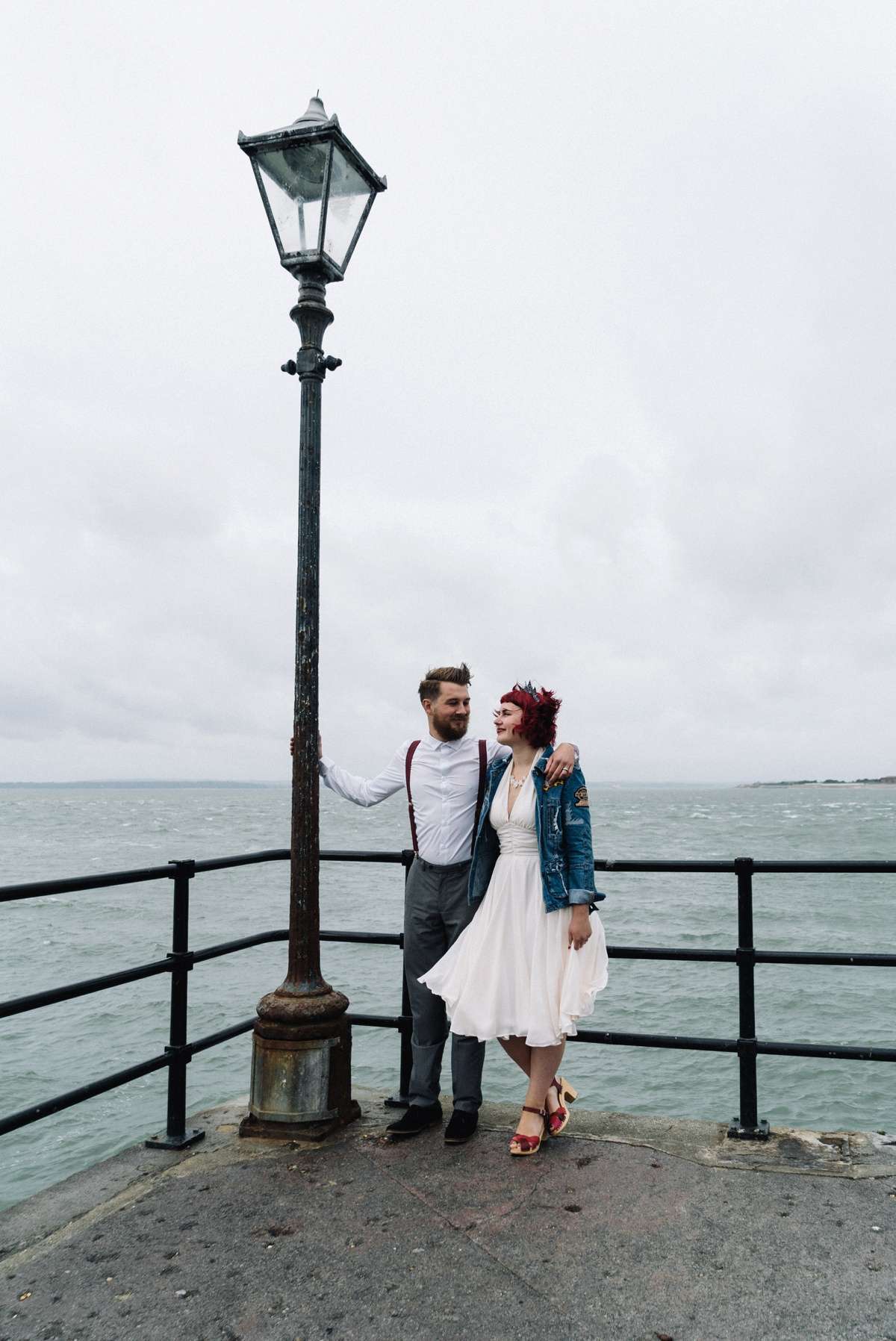 Millie and Mitchell said their biggest aim for their wedding was to capture fun and personify it into a colourful, laid back, alternative day. They actually had two wedding days. The first was the legally recognised one at Portsmouth Register Office with 14 guests made up of their families and one close friend. They followed it with a breakfast of champions in Chambers restaurant then on to the arcades at Southsea Seafront in the rain. Then, three days later, they had a big forest festival style party with a second ceremony in a woodland shelter at the Sustainability Centre in Petersfield. Even with having two events, they kept the budget under £3k!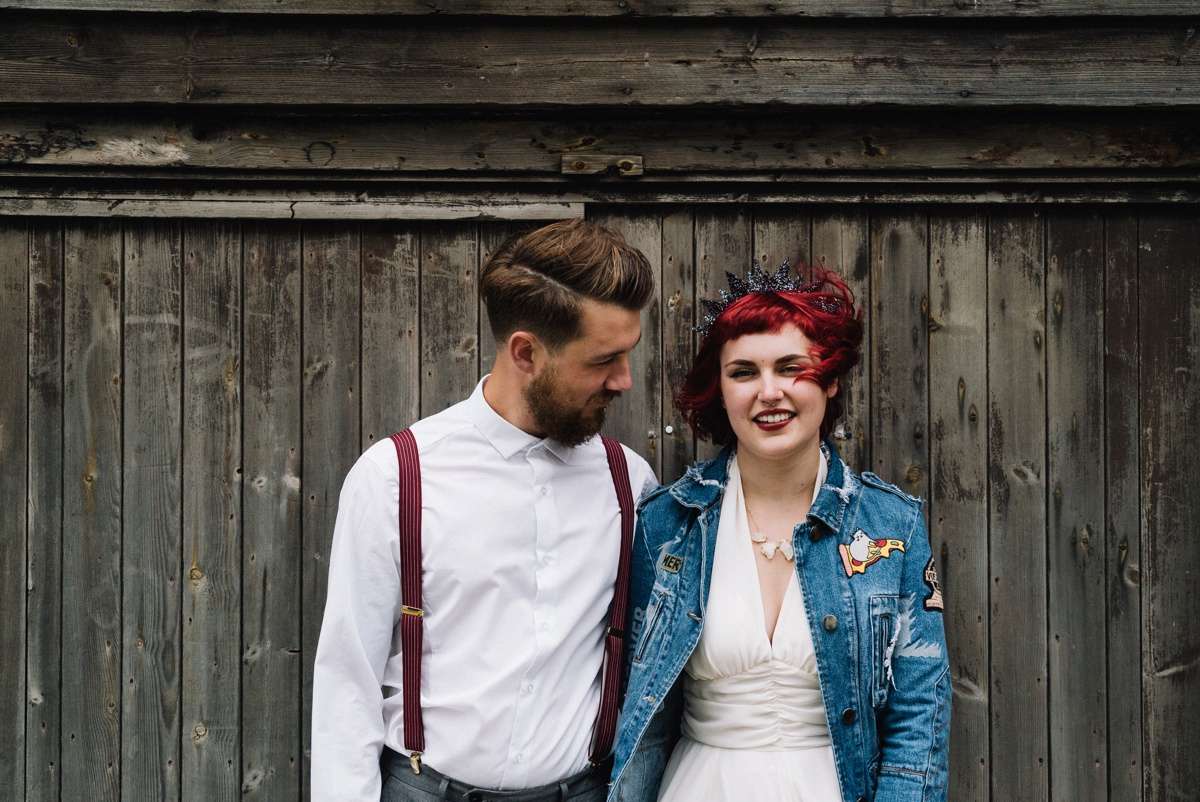 The couple did both days exactly how they wanted without making any sacrifices or changes to suit anyone else. They organised, decorated and sourced everything themselves over the two years leading up to the weddings. "The idea was to not have a theme or colour scheme, but to have multi-coloured everything", began the bride. "The décor consisted mainly of paper pom poms, coloured bunting, red tassels, candles and fairy lights everywhere! Although it was utterly tiring, it made the day that much better and unique to us."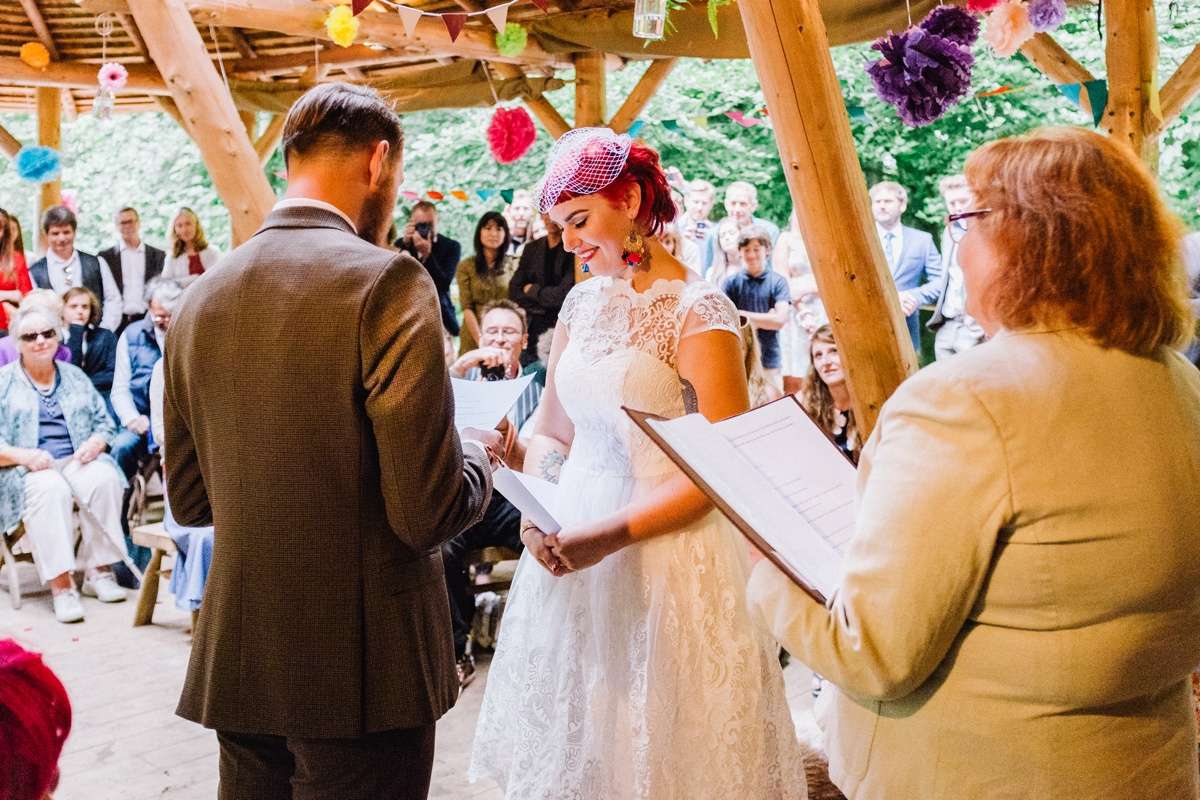 Millie continued, "At our Sustainability Centre ceremony, my father and stepfather walked me down the aisle together. We had a celebrant perform the ceremony, and she did a blessing where we exchanged vows we had written for each other, and our dog Jango came down the aisle with our wedding rings. My vows were in the form of a light-hearted poem full of puns and jokes, and Mitchell's vows were similarly humorous and perfect. There was thunder and lightning towards the end of the ceremony with a big burst of sunshine in between! We then headed to the field where we had prepared food, booze, shelter and music, plus tipis and yurts so the guests could stay overnight."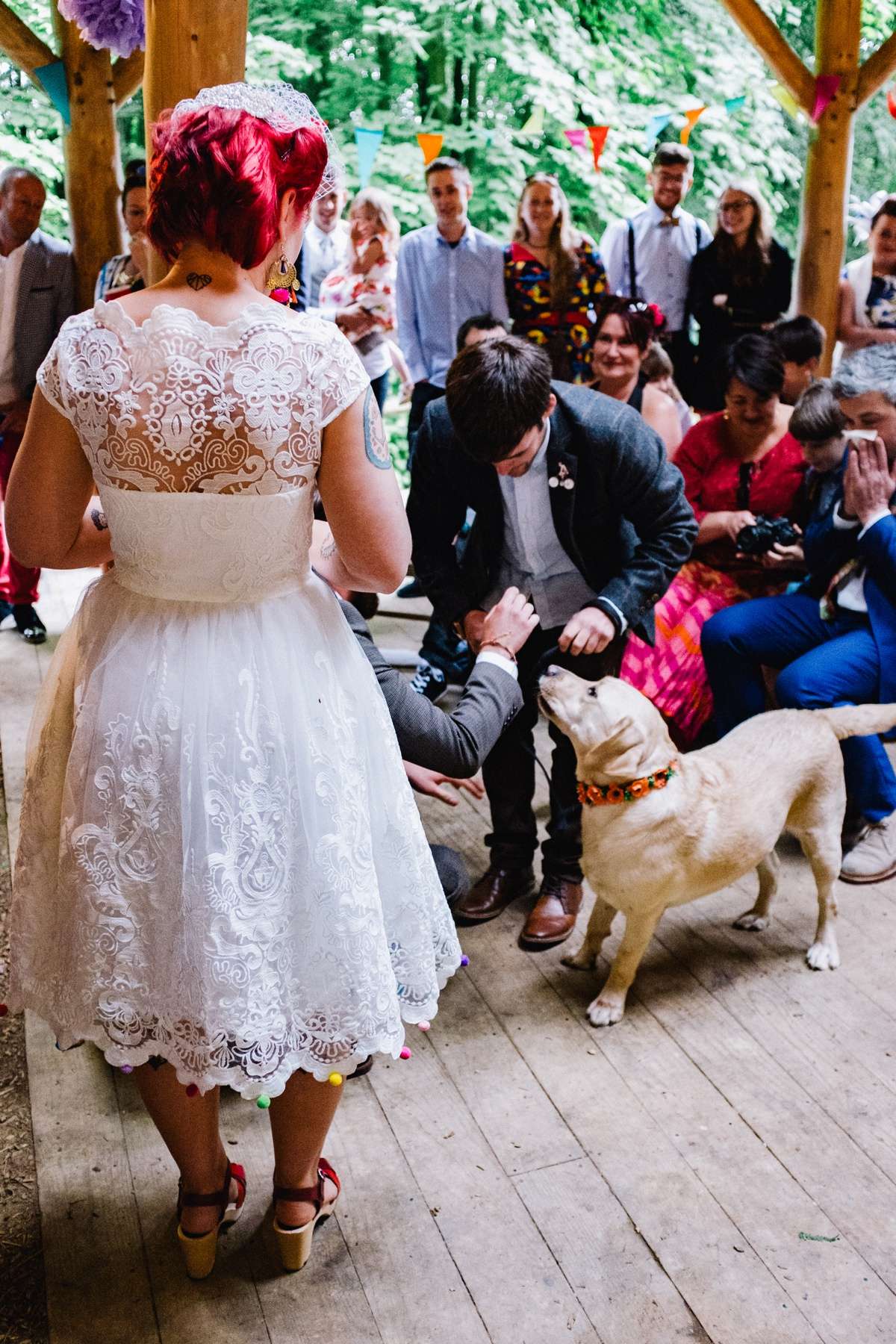 At the register office, Millie wore the 'Marilyn' dress from Lindy Bop, with red and pink wooden clog heels from Swedish Hasbeens, a black glitter headband from Crown and Glory
and a denim jacket from a market stall in Amsterdam which she and painted with a rib cage design herself. At their Sustainability Centre wedding, Millie chose a lacy short 1950s dress from Chi Chi London which cost just £99. She customised it by sewing multi-coloured pom poms along the hem! With this she wore a small veil style headpiece which she found onEtsy, multi-coloured pom pom earrings from Dorothy Perkins, and the denim jacket and clogs. Plus a cheeky, tiny hip flask on a garter!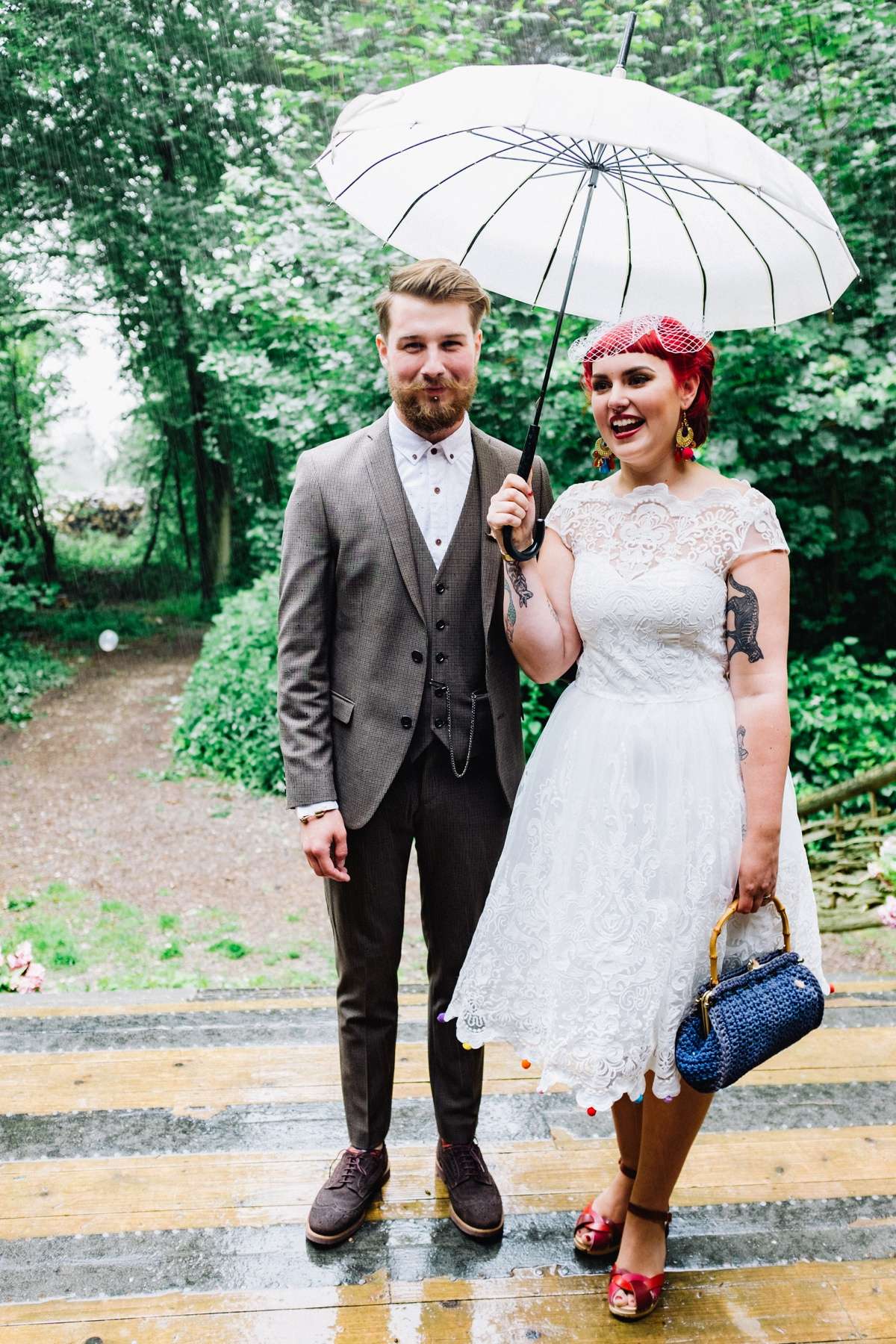 Mitchell's entire outfit was from ASOS, accessorised with cat socks Millie had bought him for their eight-year anniversary and brogues from TK Maxx. He also carried a pocket watch that she'd had engraved with their wedding date on. Jango the dog had bitten into it and smashed it, but Mitchell wore it anyway!
The vintage style dresses for the bridesmaids and flower girls were from Pretty Kitty Fashion – all completely different styles, but all multicoloured and flowery.
At the register office, Millie carried a bouquet she and her mother had made the night before using £3 peonies from Lidl and lavender from her garden. For their second wedding,
Millie had a bouquet by a local Portsmouth florist, consisting of succulents and draping flowers. Mitchell's mum decorated the whole venue with flowers she had either grown or sourced herself.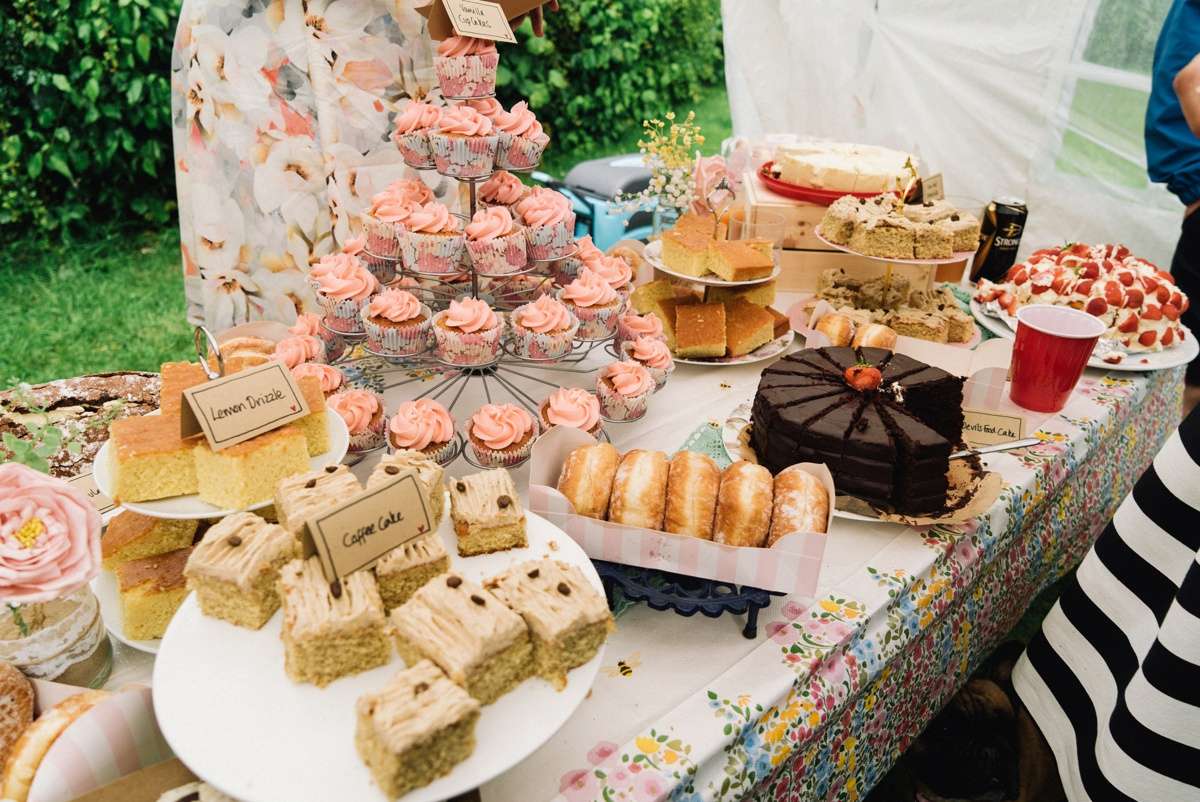 Caterers Camper Vanatics served traditional bratwursts from a bay-window, high-top camper van. The bride's mum, nans and aunty did all of the accompanying food, from feta and spinach filo pastry pies, to smoked salmon terrines and boards of antipasti style food. "My stepdad and uncle home brewed all of the beer (AKA. antifreeze!). I bought Aldi's version of Pimm's for £4.99 a bottle and made massive urns of it, and we had homemade elderflower Champagne for the toast!"
"We had a giant rainbow cake made by a friend, which was covered in white buttercream icing so no-one knew it was colourful until we cut into it! I had cake toppers made by Bird Can Fox on Instagram – she creates porcelain figures so I commissioned her to create Mitchell and me in cat form! She made a black and white cat with a red bow tie as Mitchell, and a Maine Coon style cat (much like our own cat Wasabi) with a red felt flower on her ear as me! I then sourced 50 edible flowers from a company called Forage For. I decorated the cake about 30 minutes before leaving the house to get to the wedding at the Sustainability Centre!"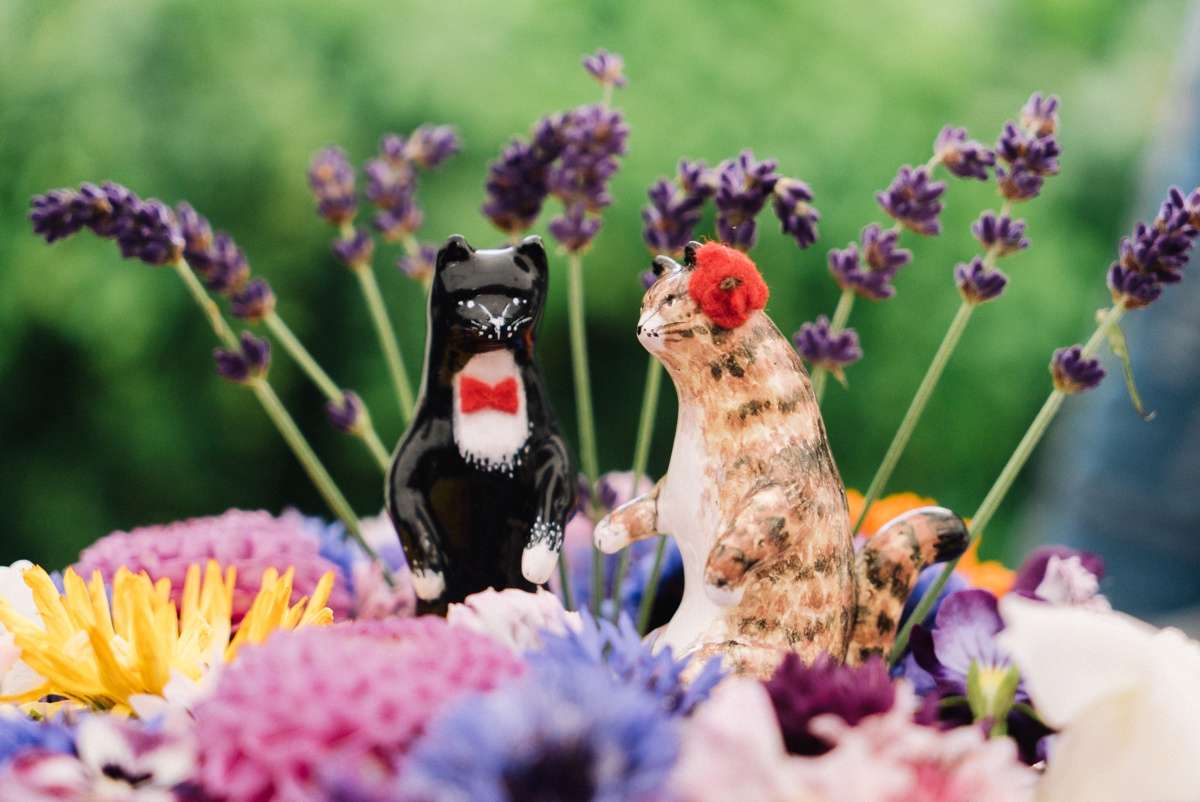 They weren't allowed any amplified music, so they hired ukulele band The Pompey Pluckers who did an hour and a half set under the cover of the marquee as it was raining. "We then had a man called Marley Blandford, who sat around small groups of people playing an acoustic guitar and staying right into the evening (supplied with food and beer!), and towards the end of the night was sitting around the campfire playing to everyone!"
Transport to both venues was all about the classic cars. "We drove to the register office together in our Classic '71 Beetle Emu, and for the second wedding friends from the Classic VW club that we were members of took my bridesmaids and me in exchange for petrol money! So I rode with my dad in a 1303 cab soft-top Beetle, and my bridesmaids were in an award-winning '58 Beetle – we were very lucky!"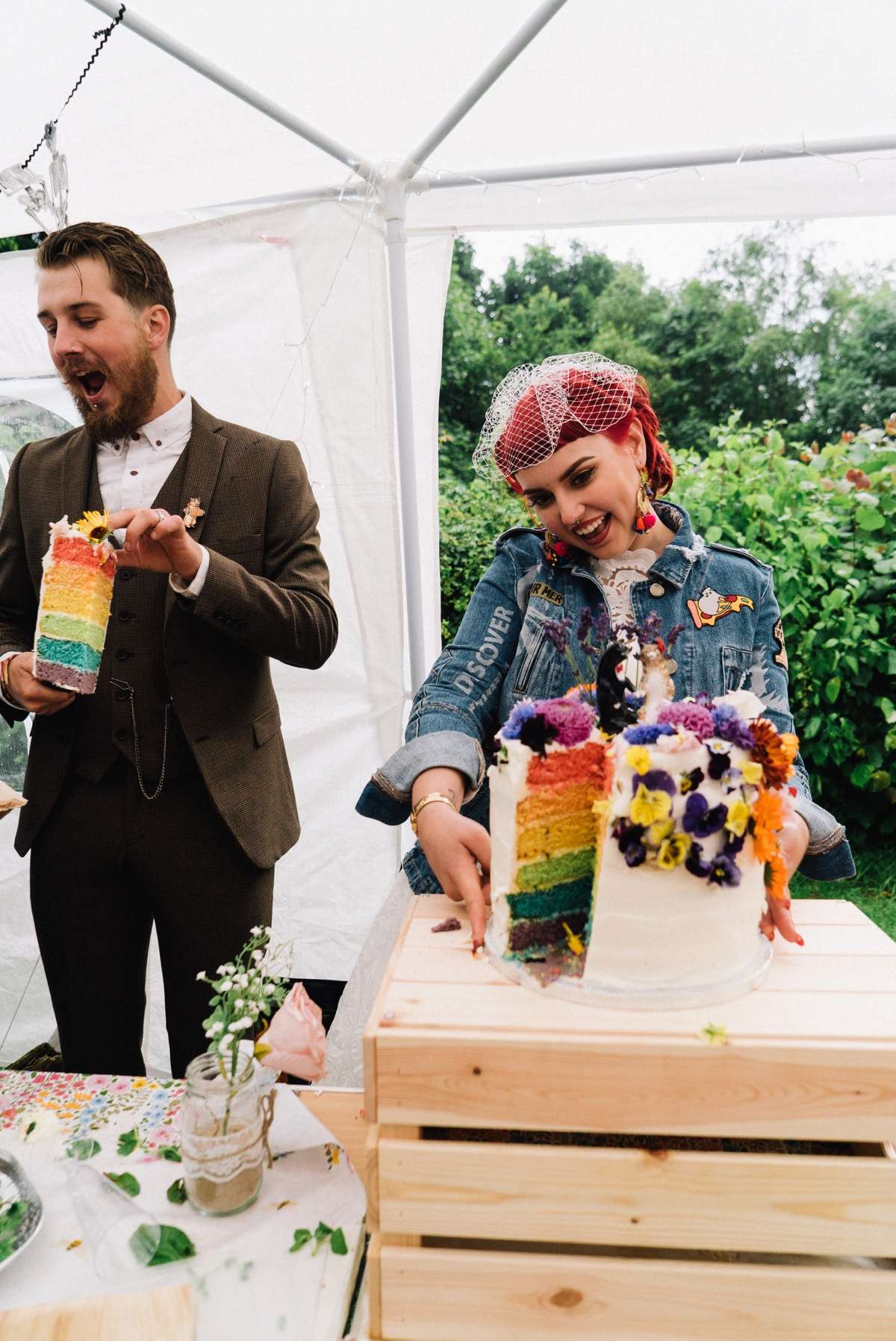 The speeches were really special and emotional moments for Millie. "My grandad asked if he could say a few words, and went on to talk about my pet giant African snail I had named 'Lemon'. When we were younger and that I learnt to drive, I used to take my snail with me everywhere in his tank, strapping him into the passenger seat with the seat belt! He said that Mitchell was a special person for loving me and my mad ways, which I really loved. When Mitchell got to the end of his speech, he thanked me for being his wife and completely broke down into tears, which was an incredible moment for me as in our whole relationship I hadn't seen him properly cry like this! An amazing picture was snapped by Billie at the right moment where Mitchell is crying and I am celebrating!"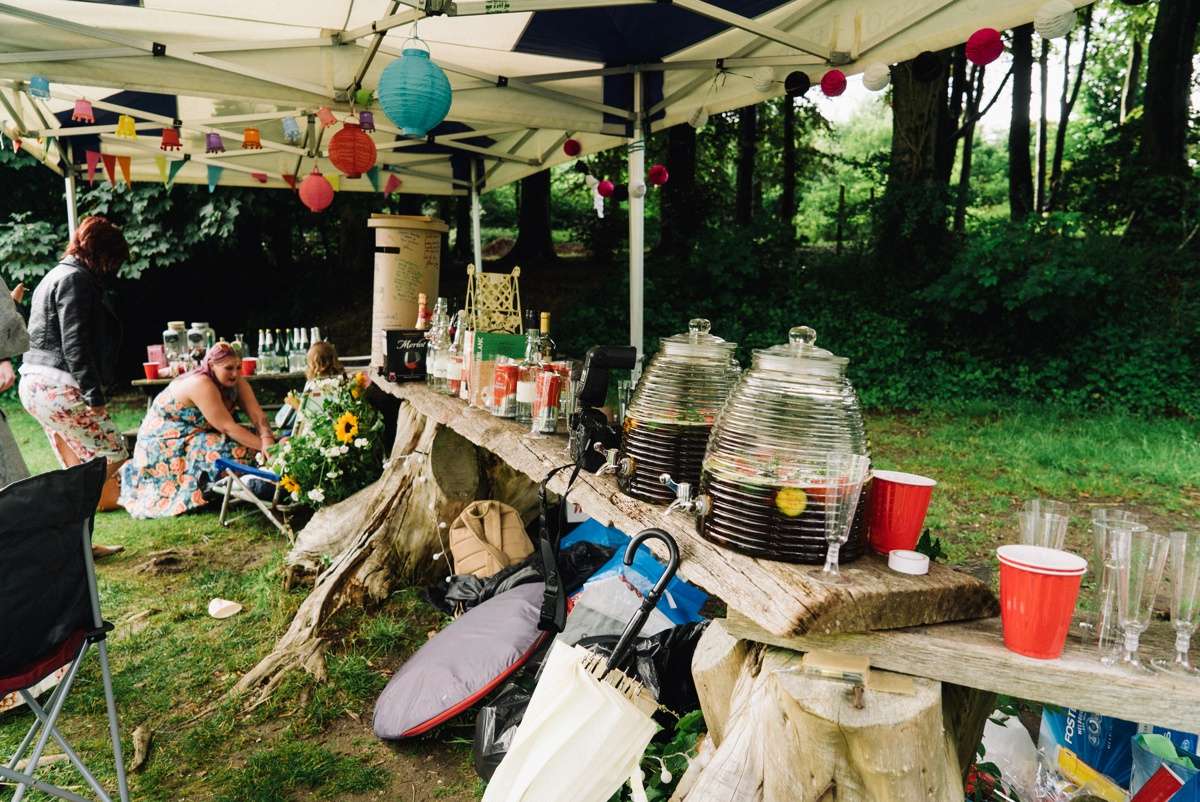 "Our biggest expense was probably the venue and the tipis and yurts hire, although £1,500 for the lot was amazingly cheap." When it came to saving money, Millie said, "We were very lucky to get a lot of things for very reasonable prices as we had two years to plan and organise the whole thing. I think having all that time allowed us to be thrifty with our budget. I was lucky to find one wedding dress for £39, which I wore to the register office, and one for £99 that I wore on the day in the forest. I think not going for traditional style dresses or themes really broadened the options and leant well to everything being a reasonable price. We also managed to borrow some marquees for free from the adventure playground that Mitchell worked at, and my grandparents supplied another marquee. Also we forged our wedding rings at Oldfield Forge in Wales using a discount code from the Rock n Roll Bride Facebook page."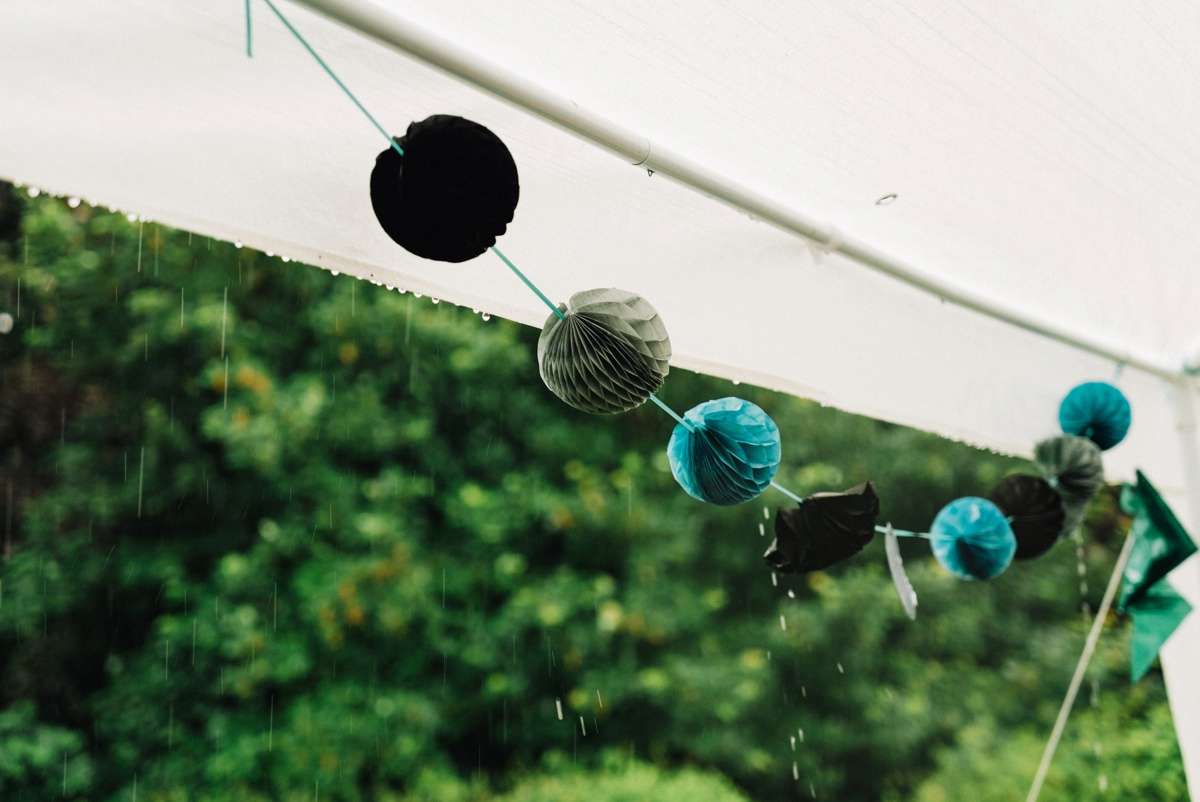 Millie's favourite part of the wedding was, "Walking into the rain under my umbrella with my husband to take our first dance/shuffle around in the middle of the field to the ukulele band. I would also say that it was lovely just taking moments to stand back and look at all the people that had come together to celebrate with us, and realising that in that moment everything felt amazing. Everyone was happy and you realise just how much you adore these people – that was a perfect moment."
While obviously wedding days are amazing, they're also prone to being quite draining on the energy levels. Millie said, "We underestimated just how tired we would be on the day of the wedding – the adrenaline, planning and all the last minute things really took it out of us! We were in bed in our yurt by 10:30 pm while everyone else partied into the night!"
The best thing about planning the wedding, said Millie, was "The freedom to sit down with your significant other and decide that you both want the same things, which in this case was a laid back, fun, colourful and beautiful wedding. It was a radical feeling being able to do what we wanted, exactly how we wanted, and not be bothered by anyone else's ideas, etc. We really thrived on that freedom, and I think it shows in how special the day was."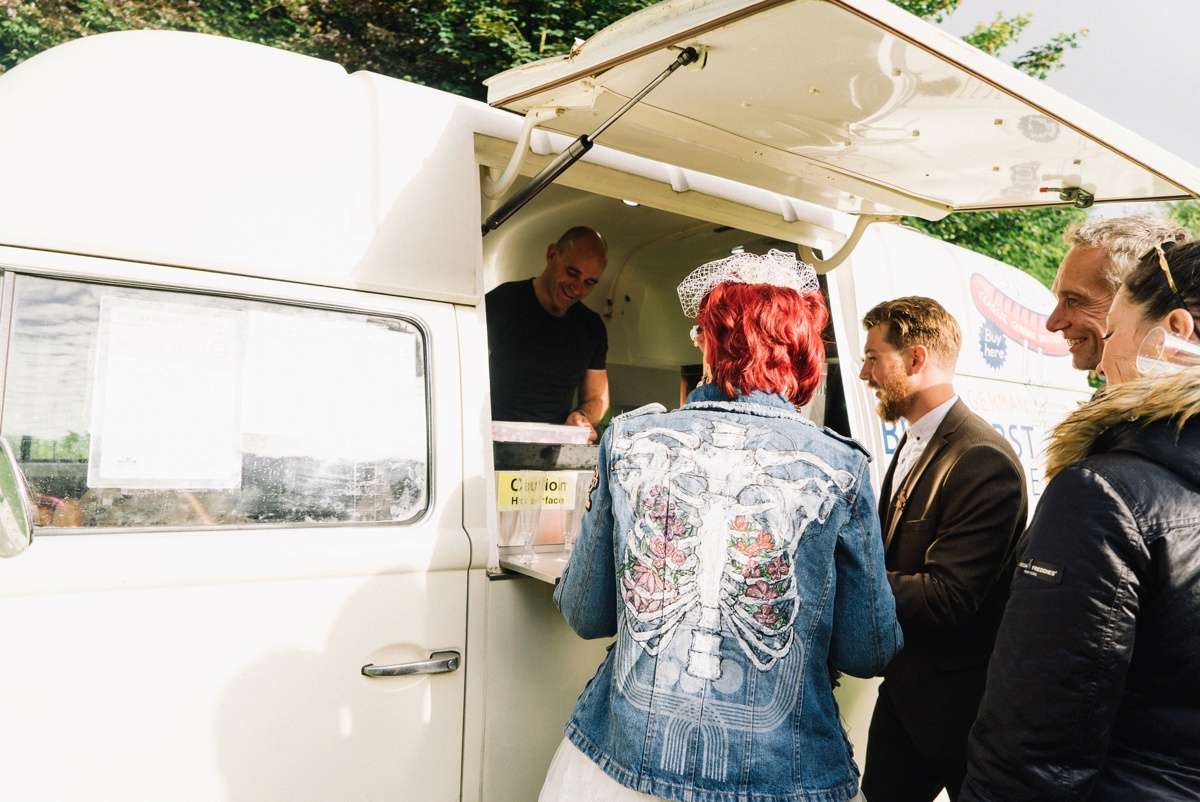 Millie reflected that the worst thing about planning their wedding was that "We spent a lot of time worrying about the weather as our whole wedding was going to be outdoors. In reality, it did rain, and on BOTH wedding days, but it didn't affect things at all. Everyone loved messing about in the rain, seeking shelter and chatting, then going back out when the sun shone in intervals. After the wedding, everyone told us that even though it rained, it really was the best day and no-one was bothered by it as they were all well-equipped with wellies, raincoats and umbrellas! I wish we hadn't put so much stress into worrying about the weather in the last weeks running up to the wedding as it is something that is completely out of our control. And living in England, well it's a lucky dip!"
"CHILL." This is Millie's main tenet of advice for you all! "We tried to take the laid back approach and let everything fall into place. Even though that is risky, it really paid off. Although it was a totally DIY wedding, so of course we were stressed, it is definitely not worth worrying over minor details. The only thing we would say to do is just enjoy the day; surround yourself with people you love and have fun."