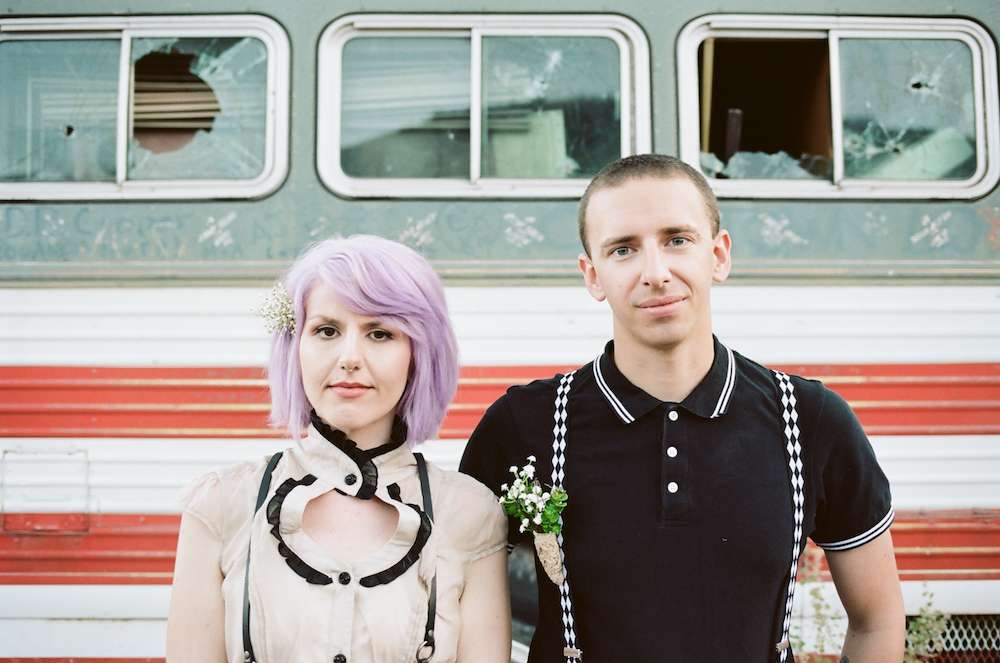 I love today's couple, Olivia and Joseph, for their do-no-harm-and-take-no-shit approach to wedding planning. Their intimate Ghost Town wedding was nothing short of breathtaking – just the two of them in Jerome, Arizona, getting ready together and then getting married (and livestreaming it!). Although it wasn't an elopement, they turned their wedding into an awesome adventure, and a stunning one at that.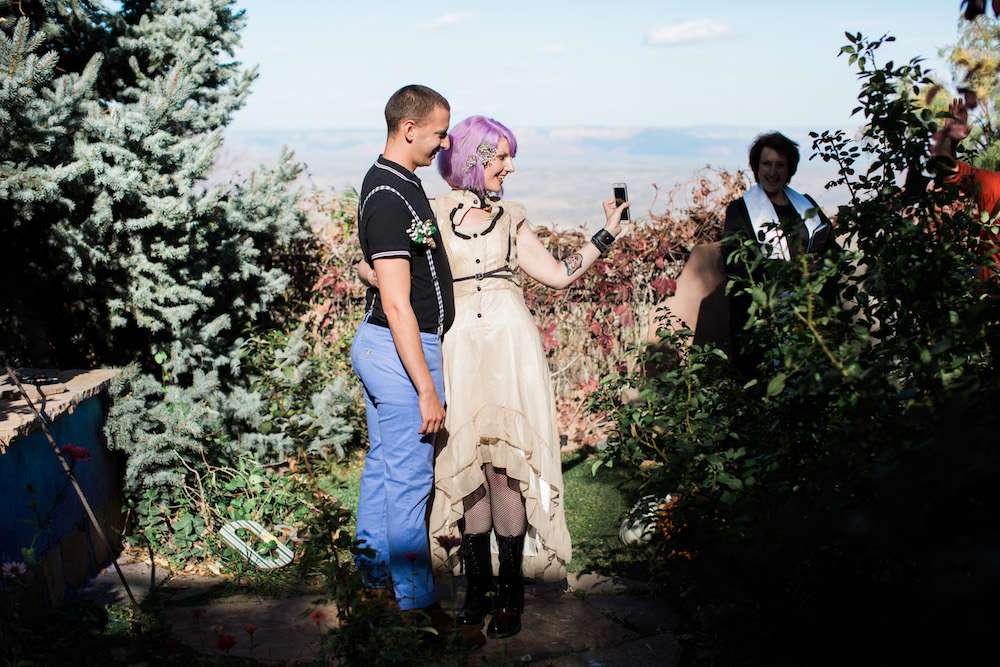 High school sweethearts – bonding over a Set Your Goals t-shirt and having their first conversation about Dave Grohl – they'd been engaged for almost five years. "Every time we started to talk about a wedding, we would get overwhelmed," Olivia explains. "Money, travelling, communications… it all just seemed like a lot. In August 2017, Joseph opened up a copy of the Phoenix New Times and saw an ad for somewhere in Jerome. We just kind of agreed that that would be where we were wed, then we decided on Halloween, and everything just evolved from there."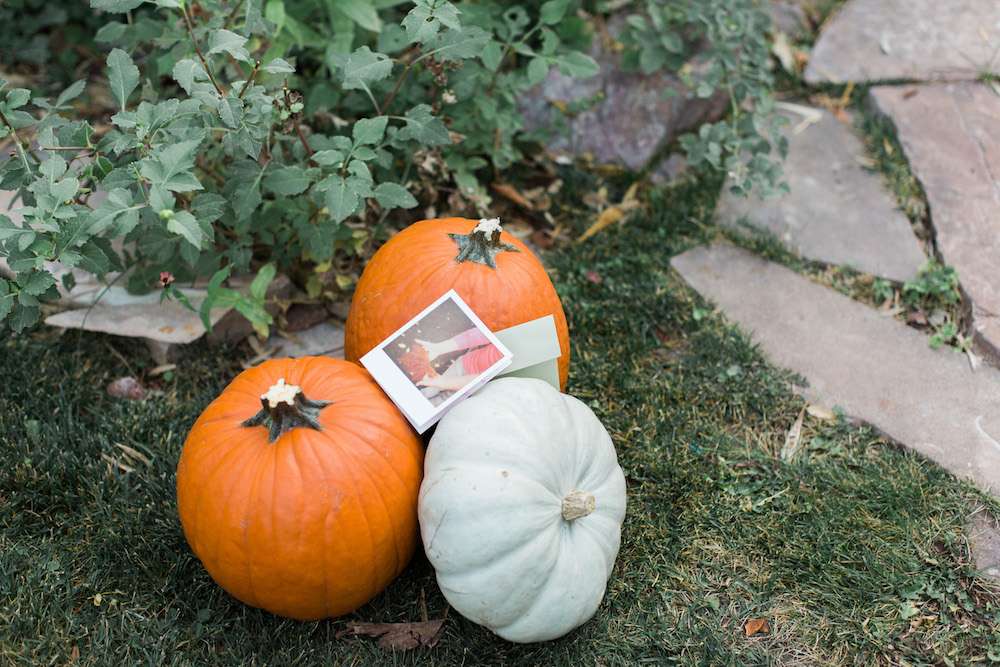 They stayed in Sedona and the Grand Hotel of Jerome before the wedding, which was held at The Surgeon's House, where they also stayed the night of the wedding. The Surgeon's House is a quirky Bed and Breakfast full of charm, overflowing with plants and washed-out vintage Americana perfection. I am genuinely obsessed with this location – I mean, just LOOK AT IT!
Olivia and Joseph made her bouquet out of Baby's breath, twigs, and some bits from Hobby Lobby, and got ready together in a room flooded with light before making their way outside for their ceremony. Olivia wore a Victoriana style Voodoo Vixen dress with a piece of baby's breath in her hair (which she dyed purple the morning of the wedding), and Dr Martens. Joseph followed suit, "It was important to us that we both sported Docs, and Joseph wore a pair he already owned. He also wore purple pants from Urban Outfitters – he just really wanted purple pants." Olivia's gorgeous rugged iridescent ring is from Nellie Bly 2.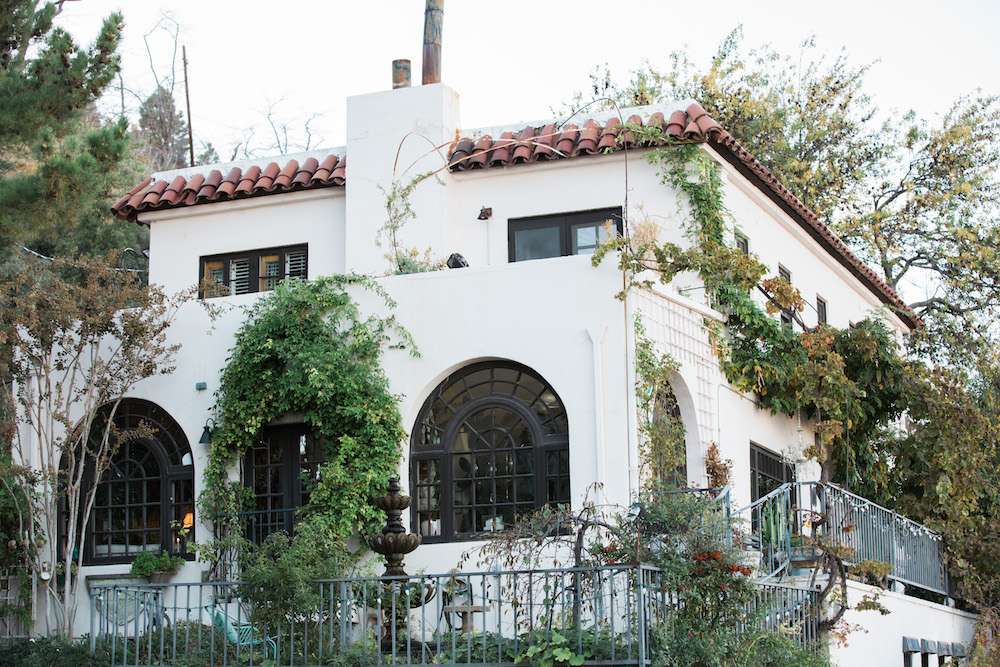 "The ceremony itself was pretty short, but it was wild! We were literally married on the side of a mountain, looking out on Sedona. Our guests were a sea of koi fish in the beautiful Coconut Island Garden of the Surgeon's House. It was super peaceful and cool." Led by Ann Ziller, they livestreamed their ceremony to the family and friends at home from their phones! They also found a handful of postcards from the Surgeon's House on the day of the wedding, which they made sure to post from Jerome, to give a few friends and close family a piece of the day to keep.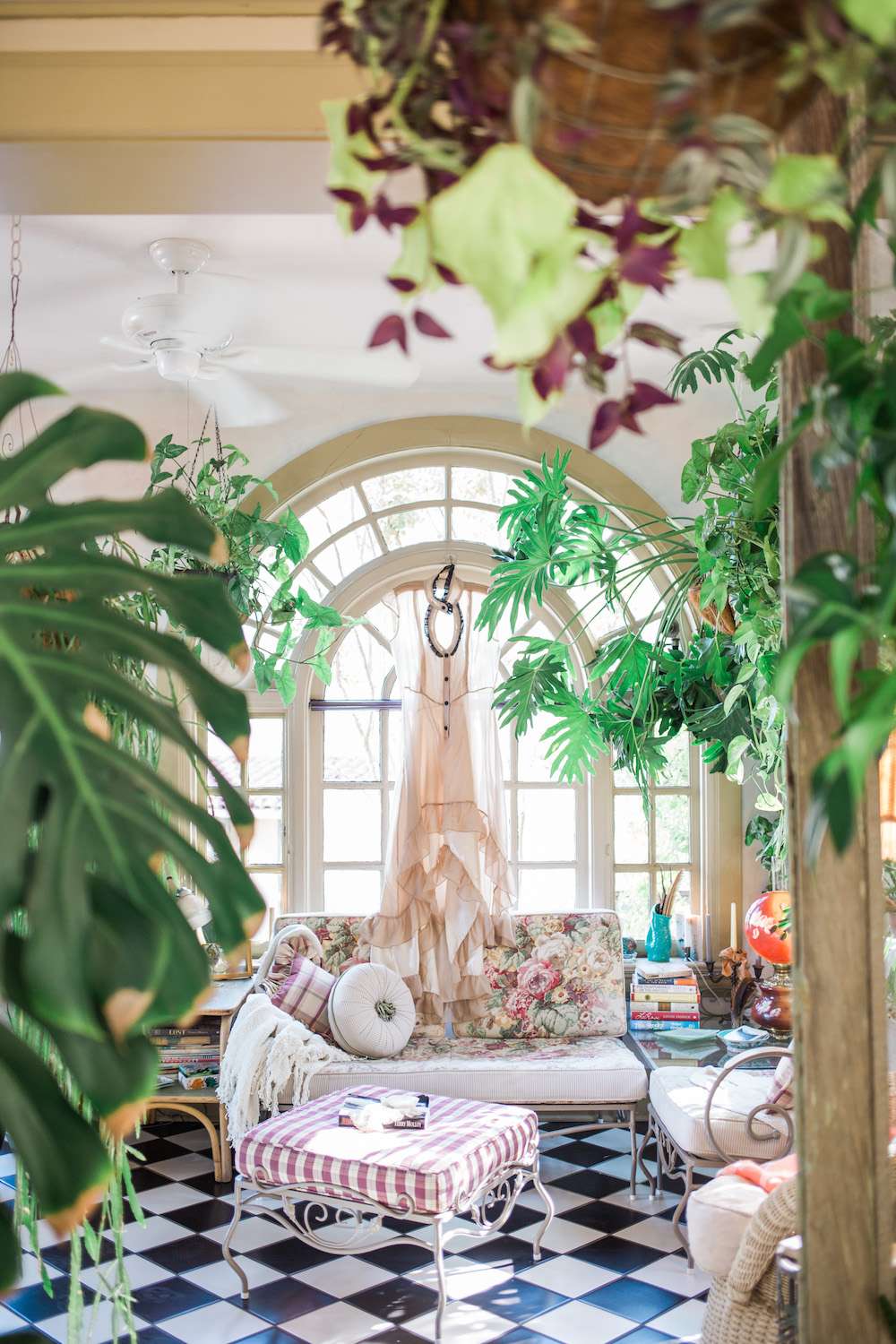 Before we feature a wedding on Rock n Roll Bride, we send a questionnaire for the couple to fill in with details of the day and the vendors they used. For so many of the vendors, Olivia wrote "Nope, Nah, None of that" – literally just "our silly selves and awesome photographers." And Copper Hill Photography were awesome, using a mixture of digital and film cameras to achieve some gorgeous memories in some kickass backdrops, with abandoned cars, metal scrap and a literal mountainside behind them. As you do.
"After we said our vows and did the photos, we literally walked across the street and got some burgers at The Haunted Hamburger, and chilled out." Olivia continues. "My favourite part is that we got to take the day at our own pace. We had a lot of friends and family that just did not understand why we did not want extravagance, or why we didn't do particular things in certain ways, but we weren't willing to sacrifice any aspect of our wedding for anyone but ourselves."