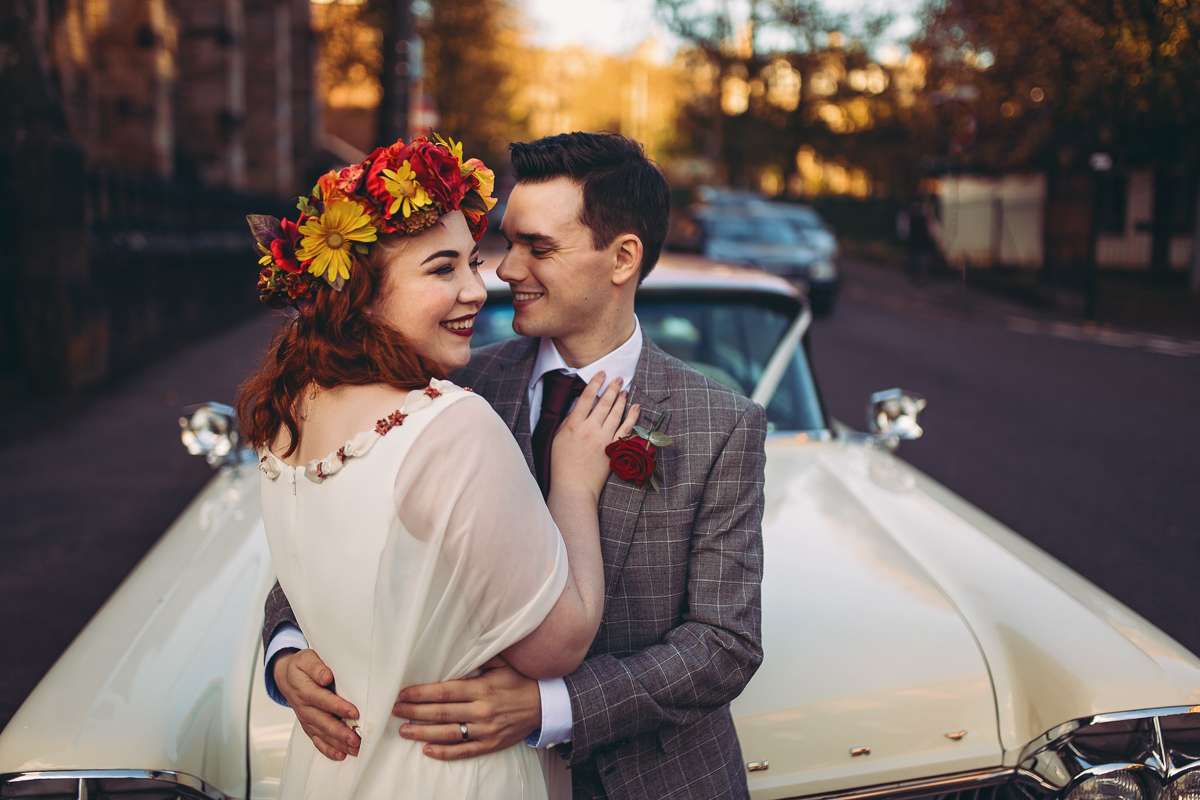 Laura and Chris wanted to create a warm wedding that they knew all their guests would love, and their autumnal Scottish celebration was just that. They wanted lots of red, orange and yellow, and they had floral pumpkins, fairy lights and leaves everywhere. They served a hog roast for the meal and had lots of candles in their architecturally stunning venue. It ended up a bit Hogwarts-like, in a wonderful way!
Both the ceremony and reception were held in Cottiers, a converted church space in Glasgow with stunning stone walls and beautiful dark detailing. "We'd dropped off our globes and lanterns there the day before, but we'd planned for these to be on the tables", explained the bride. "When Chris arrived to the venue, and I walked down the aisle, we were blown away – our wedding coordinator at the venue had had the brilliant idea to cover the hall floor with them. It just felt magical."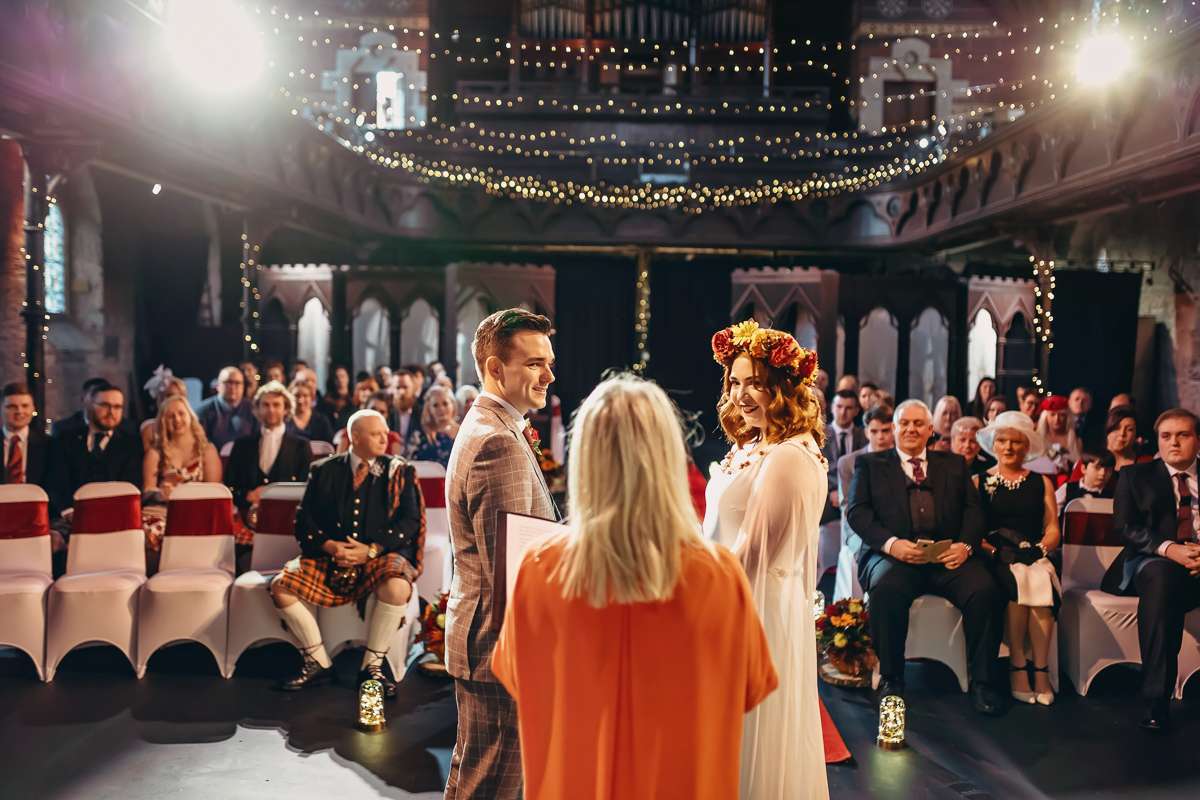 They'd both decided on a Humanist ceremony, with the help of officiant Kathryn Ross. "She was absolutely tremendous. Many of our guests had never been to a Humanist ceremony before, and many commented on how personal the whole thing was. It was very emotional – in a good way!"
Though there weren't any major DIY projects on the day, Laura and Chris infused the process with love the whole way. "We wrote all our invitations by hand – although in retrospect, I'd probably have had them printed, as the carpal tunnel just wasn't worth it! We revamped a mirror with burlap for our table plan and collated all of the décor ourselves – we ordered leaves from Amazon, boxes, fake tealights, lanterns and photo frames from B&M Bargains, chalkboards from Hobbycraft, light up domes from Primark and our chair sashes from eBay."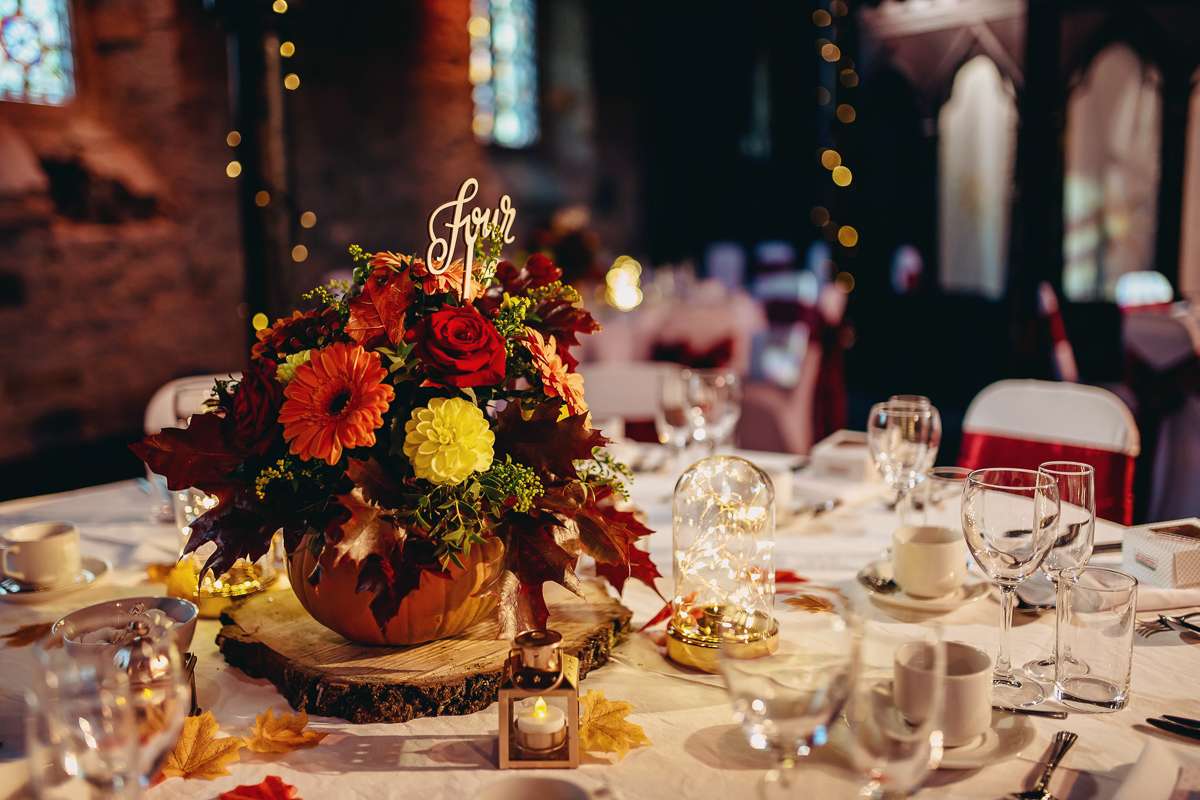 Really spending time (and we mean months!) researching suppliers meant Laura and Chris could stick to budget but didn't need to compromise. "We managed to save by swapping out things like vase hire for pumpkins, and it just added to our vision. It was important to us not to spend a lot of money, even on the dress."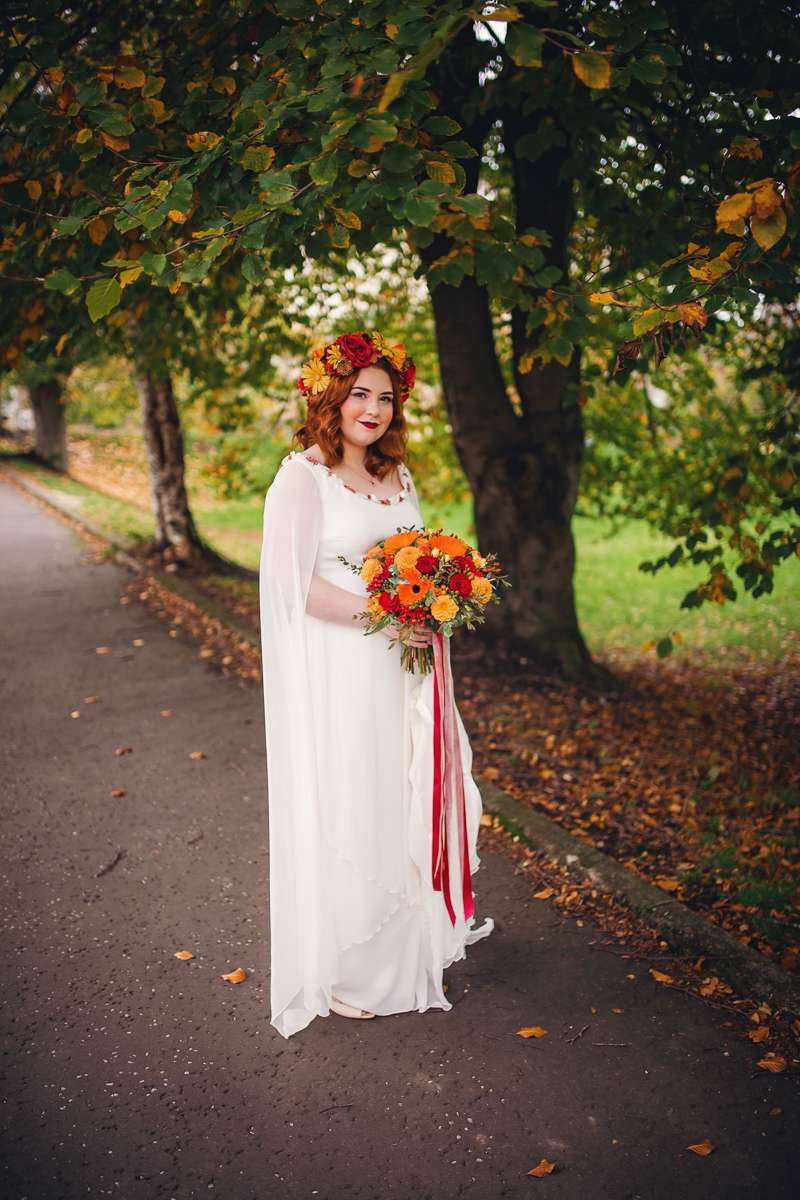 And oh, the dress. Doesn't Laura look a total dream in her wedding ensemble?  Those couple portraits with their incredible retro wedding car outside the venue are giving us life. Laura did her own hair and make up and wore a beautiful oversized floral headpiece from Wedding Flowers by Susan, we're getting serious Renaissance painting vibes in the best kind of way. Her dress even featured the autumnal colour palette! "My local Oxfam Bridal was sadly closing, so Chris and I decided to pop over to see if there were any accessories that I could pick up. Somehow ending up in the basement of the shop with me trying on dresses, I'd found some beautiful vintage numbers but they just weren't quite right. Despite being really superstitious about Chris seeing the dress, he'd found this incredible Stevie Nicks inspired number in a corner, and said 'Laura, I think I've found it'. I popped over and knew it was the one! £100 down and a very happy lady, I was delighted to have saved so much money, but also to have helped a good cause too!" Laura's shoes were her big sister's, "She passed away seven years ago, but as we were the same size, she walked me down the aisle in a way."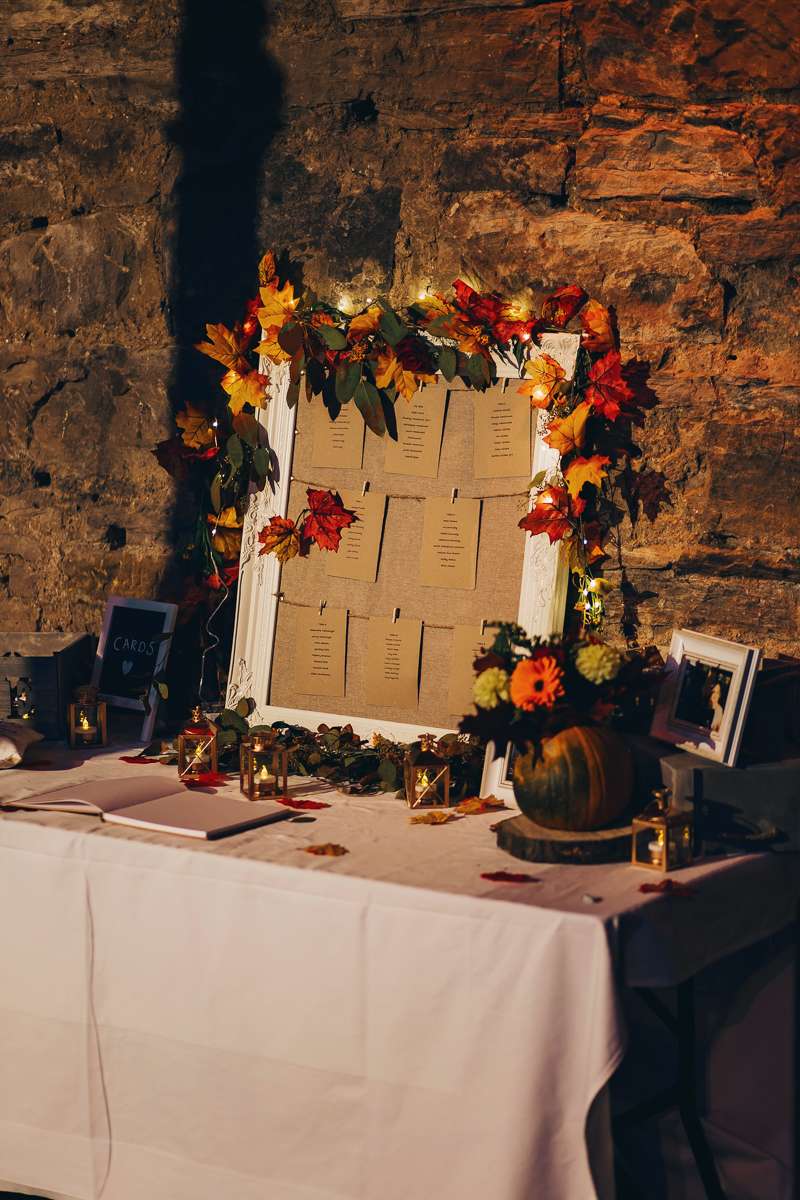 Having a habit of feeding the 500, making sure everyone was well fed and watered was a priority, all sorted out by the venue. They finished their feast with a beautiful four-tier minimalist cake from 3DCakes, adorned with textured flowers and a rustic wooden cake topper. "One story that sticks out from the reception is when a family friend of Chris' brought a tin of tomato soup to the wedding as a joke, as Chris was notoriously a picky eater as a child. Chris put it down later in the night and a guest found it and picked it up. When we woke up the next day, we saw on Facebook that it had gone on an adventure around Glasgow with our guests – we haven't ever laughed so hard!"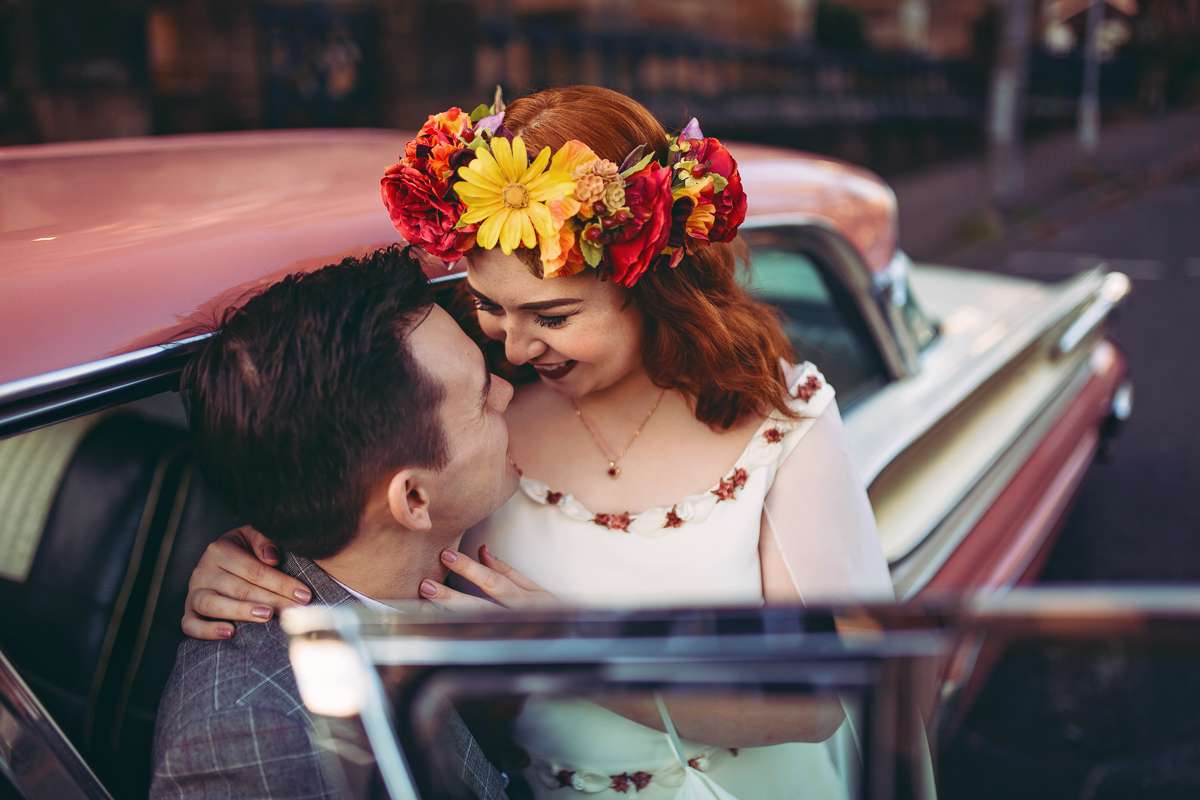 I think you'll all agree that their wedding looked totally mystical and magical, but it was very much real life. "In the last few weeks we felt frazzled!" Laura laughed. "You'll need more time than you think, so plan as a much as possible. Also, don't lose sight of what your big day means to you and your loved one. If that means spending a lot of money, that's fine, but it it also means keeping things low key and a very intimate affair, then that's okay too."
For Laura and Chris, it meant a beautifully warm, happy celebration all of their loved ones would love too – and they NAILED it.