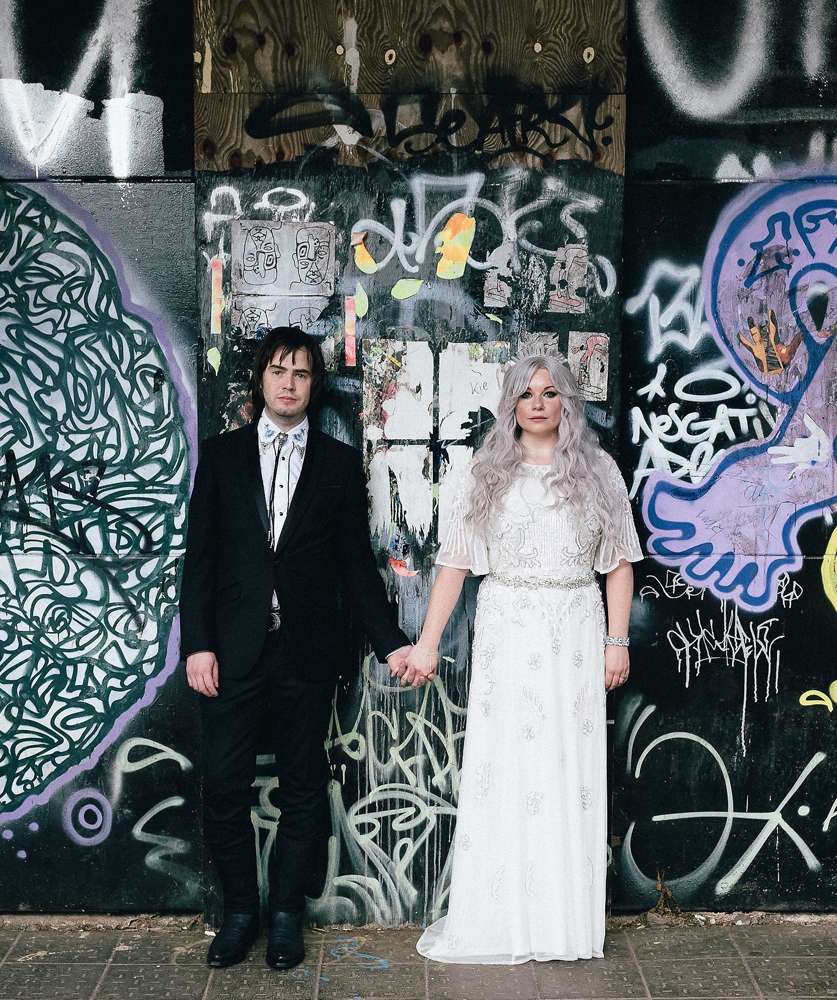 Liz and Marc's big day has it all: Succulents, vintage style, a canal boat, Dolly Parton covers, a handmade quartz crystal crown and matching leather jackets with portraits of their Huskies painted on them! They wanted everyone to come to the wedding and say "This is so you two!" – and we think they TOTALLY nailed it. From the start of the wedding journey, when Marc proposed with his Nan's 70 year old ring during a period of serious illness for Liz, we knew it was going to be an emotional and personal one – but it's also super stylish and a riot of fun too.
As a creative couple, it was key that the day celebrated creativity and friendship. "We wanted our wedding to be about our lives together being celebrated with everyone we love, but importantly not at the expense of blowing a ridiculous amount on just one day", said Liz. "We are extremely fortunate that we have a very talented group of family and friends around us that were able to help us out!"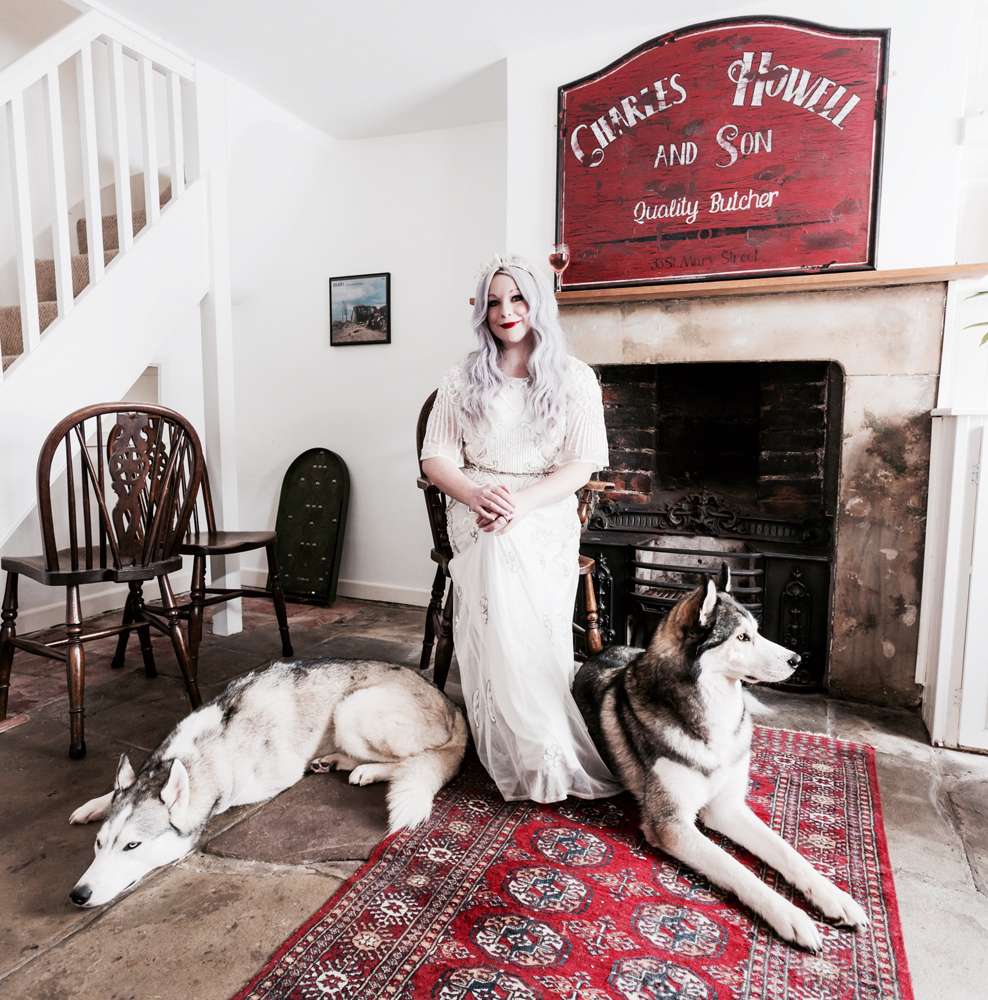 Liz's mum owns The Blonde Company and hand-sewed loads for the day, including custom banners, hessian favour bags, tablecloths and lots of the decor. Their wedding invites and guestbook were created by their friend at Fawn, who mastered a black and white B-movie style invite featuring the couple battling through cacti and dinosaurs to their wedding. Their incredible matching leather jackets were created by one of the bridesmaids, Kim of Lace & Bone Designs, who painted on portraits of their beloved Huskies Sega and Scarlett on the back.
Their jackets looked MEGA over their already incredible wedding outfits, both vintage. "I'm a bit of a magpie, and I love hunting for sparkly things and bargains, so knew a conventional wedding dress wouldn't be for me. My sequinned, angel-winged dress was £200 off eBay, and I loved the fact that another bride had worn it on her big day. All it needed was some small alterations, and as soon as I wore it I felt amazing!"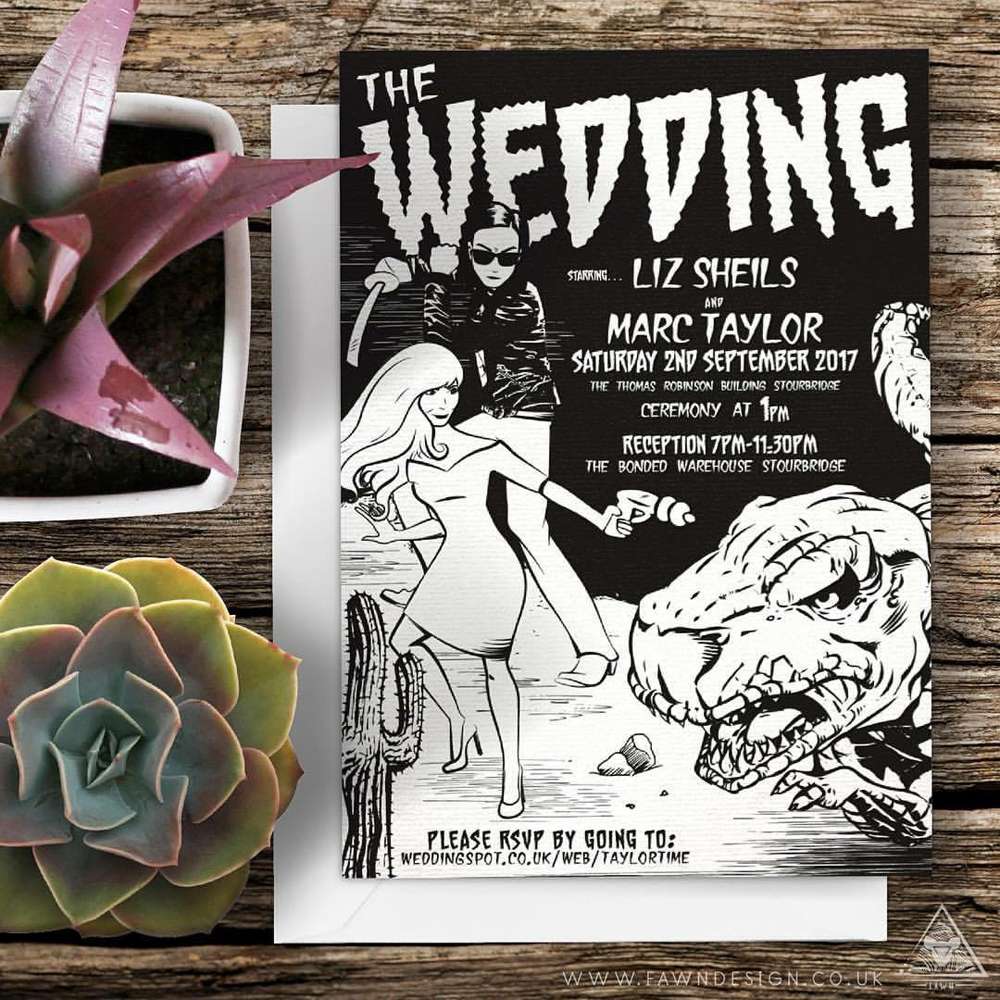 Liz accessorised this sparkly wedding dress of dreams with a handmade quartz crystal crown, which shone iridescent on the day, and her Dreamkiss Irregular Choice unicorn shoes (which she managed to keep on all day, but gave her such bad blisters in the morning that she had to wear Marc's fluffy slippers for the first three days of their honeymoon – Oops!) "Marc's skinny tuxedo was in a vintage charity shop for £15, which he wore with the cowboy boots he wears everywhere, a blue embroidered western style shirt and a silver wolf bolo and belt buckle from eBay."
The ceremony was held in the Thomas Robinson Building, which despite being a refurbished chapel is also a registry office, complete with beautiful stained glass windows and gorgeous chandeliers. Newly married, Liz and Marc spilled into the gorgeous sunshine to the tune of Pulp's Disco 2000, with their guests blowing bubbles instead of throwing confetti. The party then moved on to The Bonded Warehouse, a beautiful redbrick venue overlooking the canal. "We knew that the industrial-style graffiti-ed abandoned buildings would suit us down to a TEE, and loved its setting on its little cobbled street. I sing in a band called The Rose Birds, and my wonderful bandmates (and big brothers!) played a set for us outside on the cobbles. We danced next to the canal in glorious sunshine to Dolly Parton and The Strokes covers!"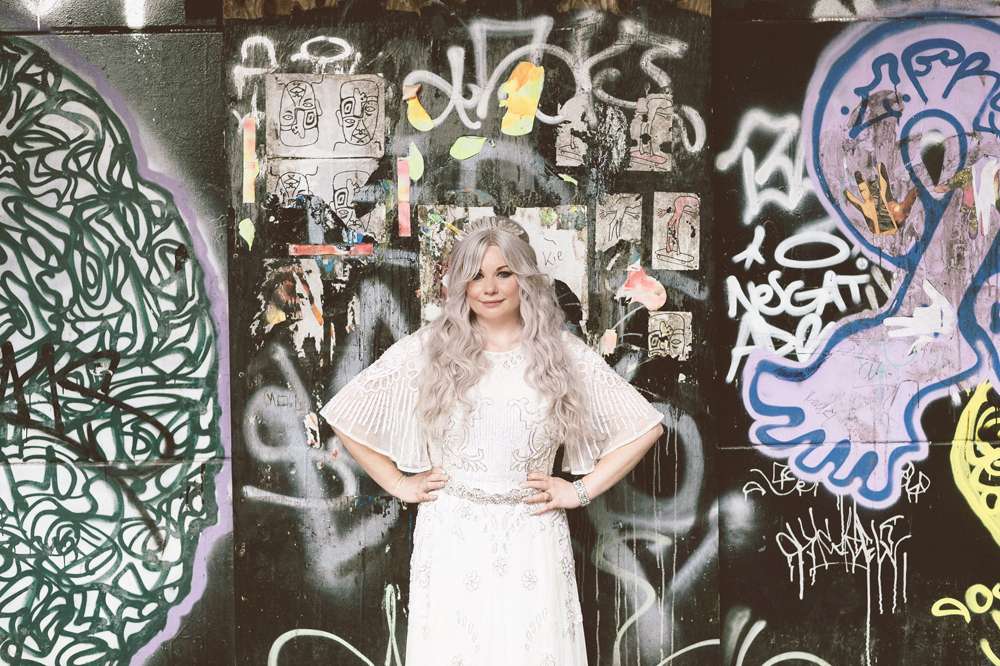 Once inside the reception, Liz and Marc had chosen a smorgasbord of street food from Food Genie for their guests. Guests could go up to the vintage horse trailer decorated with flowers and lights for a choice of delicious food before taking it back to their table, where they could marvel at all the details Liz and Marc had prepared. "We love our garden and our huge collection of cacti and succulents, so we went for a botanical theme for the tables, including hand-drawn dinosaur table names, artificial grass runners underneath jars of fairy lights, copper planters, miniature animals holding handmade Top Trumps place names, and fresh greenery all the way from our relatives' gardens in Clonmel, Ireland. I'd also made a large wooden frame to display Polaroid style photos of our family on their wedding days, and, of course, some very embarrassing photos of Marc and I throughout the years! On top of that, I made some photo booth backdrops, including artificial grass filled with flowers and our initials in gold, and a police mugshot style backdrop with a pegboard stating their crime of  being the best wedding guests ever." As if that wasn't enough, Liz also made a temporary tattoo bar, filling a vintage suitcase with temporary tattoos and instructions for application.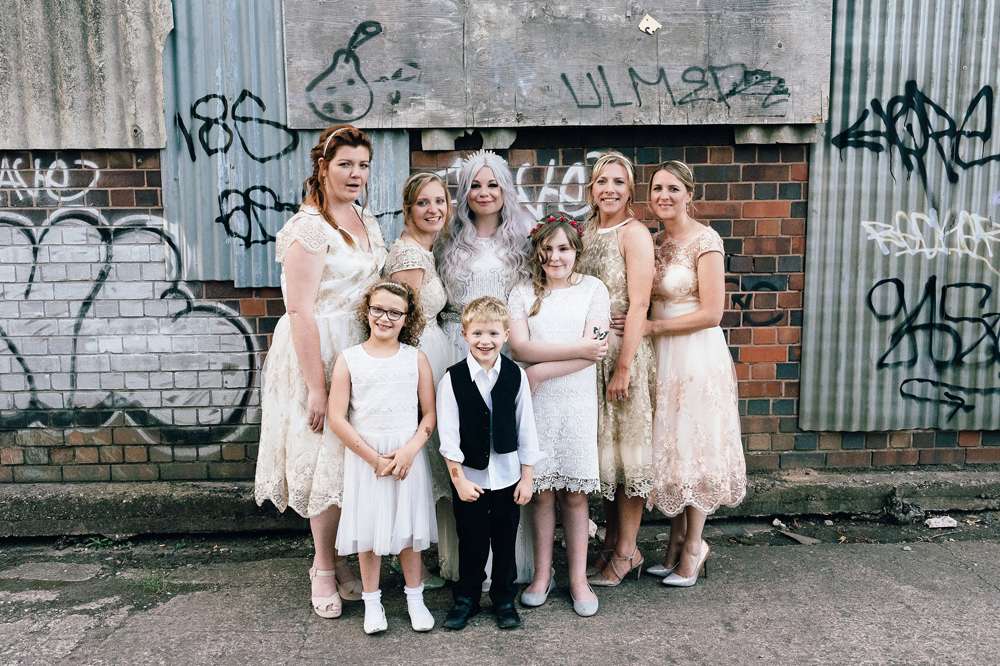 "After the wonderful speeches and food, we all went and boarded a canal boat for an hour before the evening guests were to arrive. The atmosphere on the boat was fantastic as we danced to live music from the incredibly talented Esther Turner whilst enjoying drinks from the on-board bar. Ken, the boatman, is an absolute legend and dressed the boat beautifully for us. We then got off at the lock for photos with everyone. Singing along to Montell Jordan's This Is How We Do It down the canal is one of our highlights of the day!"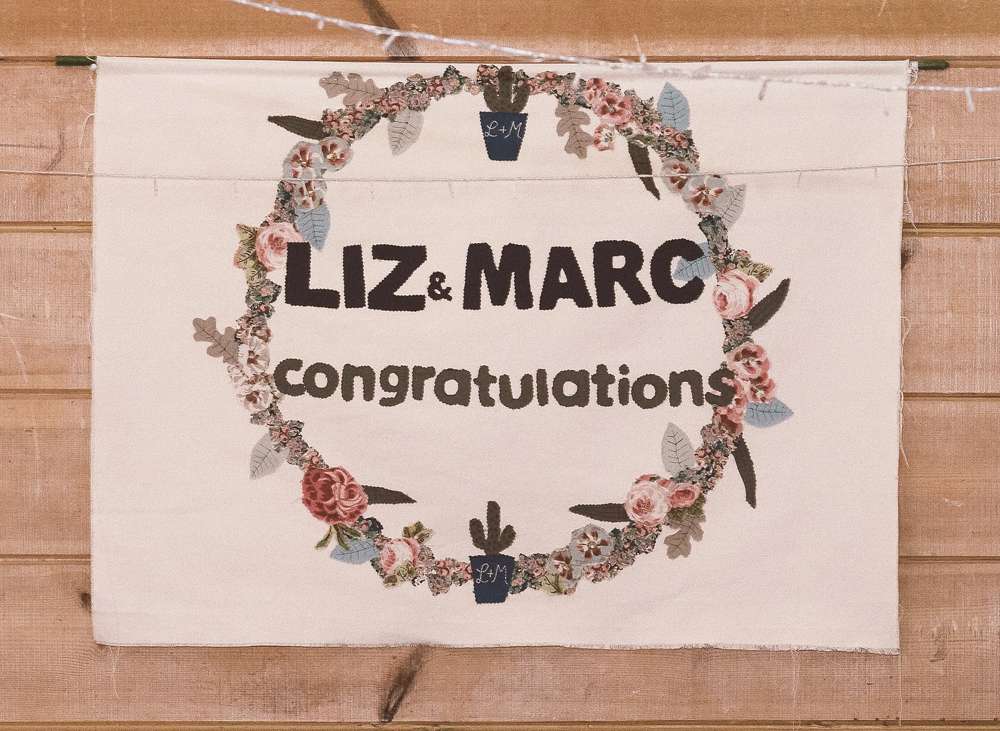 And although such an incredible day would be super hard to beat, Liz and Marc had more wedding fun up their sleeve. "Because our huskies couldn't join us at our wedding, we did a photo shoot with them when we'd come back from our honeymoon. As Marc is a professional wedding photographer, we booked a little cottage in Monmouth on AirBnB, and I put my wedding dress back on, and we took some beautiful photos!"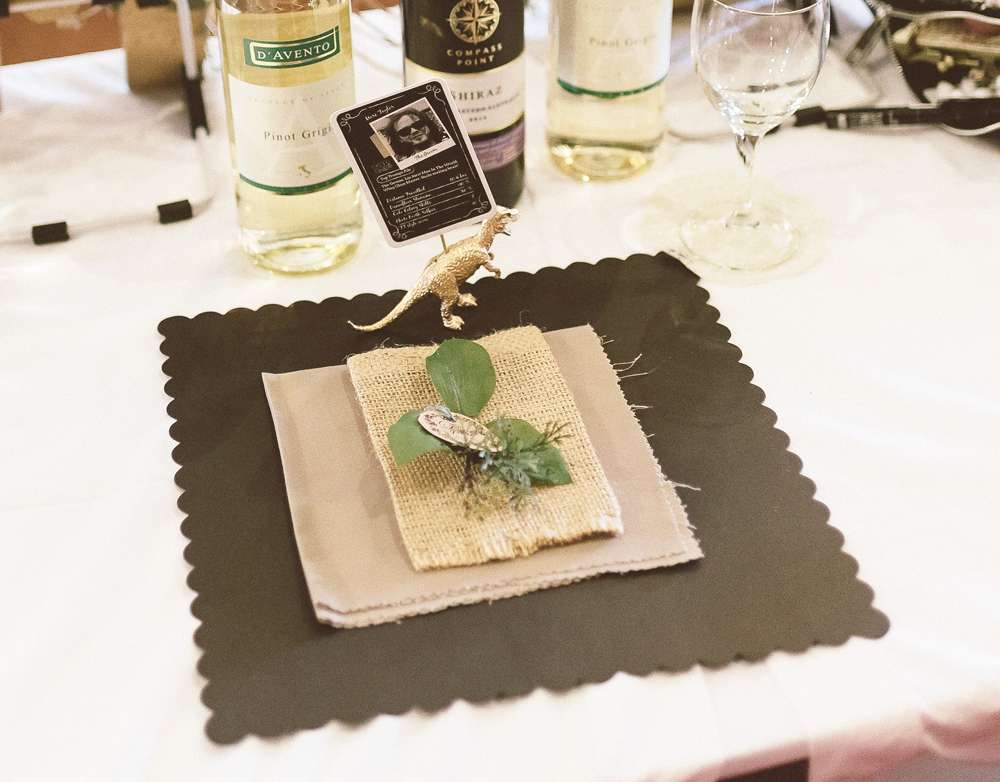 "The best thing about planning the wedding was being able to go completely nuts on the ideas and decor, clothes and music – knowing that it wouldn't be everyone's cup of tea but it was ours and that's all that matters. Marc and I made a rule that we were going to be a little bit selfish for once, and try to spend as much time as possible just enjoying the day together rather than worrying about making sure everyone else was okay (that's what all the prep beforehand was for!) This was a GREAT rule as all of my memories of the day are of the two of us laughing or dancing or sharing a moment. I also learnt that there's nothing lost by trying to make something yourself instead of buying it, and you may even surprise yourself. I had never made a crystal crown before, never drawn dinosaurs before, and certainly never made a police mugshot before, but I did it and it felt so much nicer as it was personal to us!"