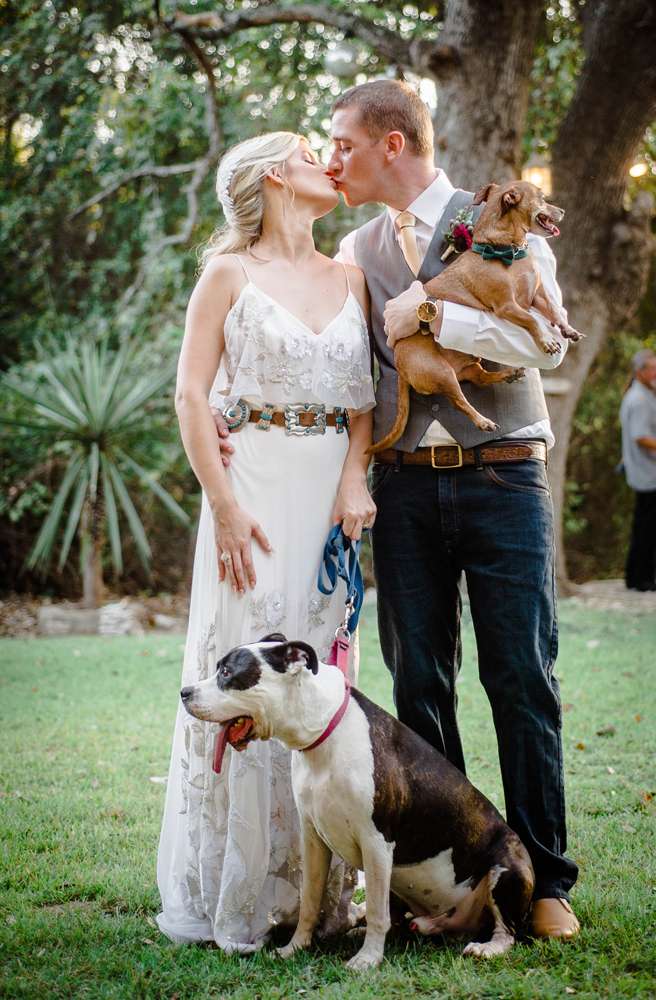 Jamie and Jason's wedding was a riot of colour and fun and took place in Liberty Hill, Texas. Their only inspiration was their family and friends and wanting to make sure there was a comfortable, fun and unique experience for everyone. And going on these photos, they definitely did that!
They hosted their whole wedding at Casa Rio de Colores a stunning and eccentric house on the waterside full of bright colours and gorgeous mosaics, which they rented for the whole weekend. "Our wedding didn't have a 'theme' per se, but it was an entire weekend getaway!" Jamie says. "We rented our venue for Friday – Monday (with lodging included) for only $2750. Our guests were able to swim in the river, relax or go for a walk on the nature trails, and really let loose during party time! Almost all 70 of our guest list stayed on site for Saturday night. We just wanted to have one big party with all of our loved ones – getting to hang out for several days, meeting new friends and reconnecting with old ones really was special. I truly believe some life-long friendships were made that weekend."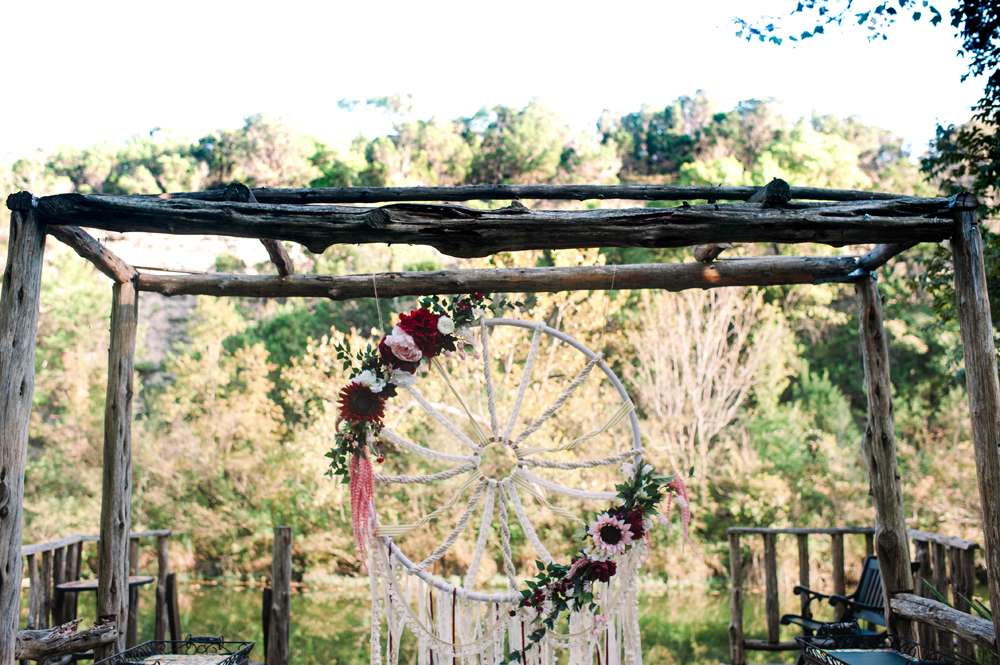 It was also really important to Jamie and Jason that their dogs were allowed there – for their stationery, a friend designed a wedding logo comprising of their two dogs' faces, which they used on the invitations and the thumbprint book they used as a guestbook. They also had them in their photos, and referenced them in their ceremony. "Our ceremony was short, sweet and heartfelt, with our mutual best friend Nic officiating. When we were in the planning stage, we both wanted Nic as part of our wedding party and fought over him until I realised the perfect solution: he could be right in the middle." Jamie continues, "Our vows were filled with jokes, references to our beloved dogs, mentions of adversity and promises for the future. It's difficult to choose but this was my favourite part of the day."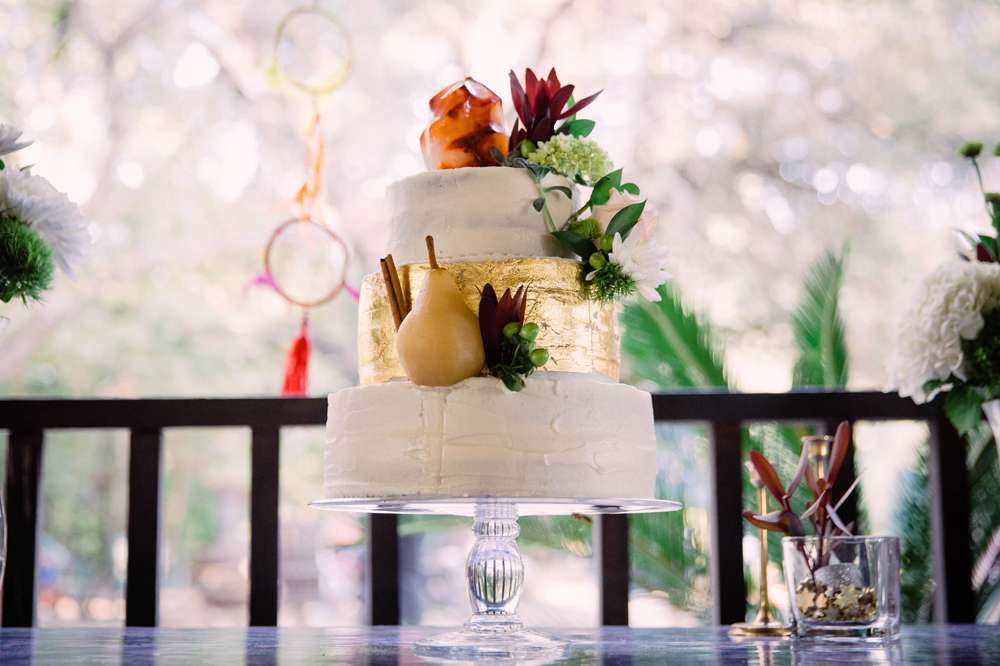 The couple added to the fun-filled spirit of the venue with loads of DIY decor projects. "As a semi-professional pole dancer, stilt walker and hula hooper, I simply couldn't have my wedding without plenty of hula hoops to play with." Jamie explained. "The biggest project was our altarpiece which I crafted out of my very first hula hoop. A friend and I spent over 30 hours on several separate occasions buying supplies, wrapping the hoop with ribbon, crocheting certain pieces, and attaching the different textiles and faux flowers. Now it hangs in our loft at home!"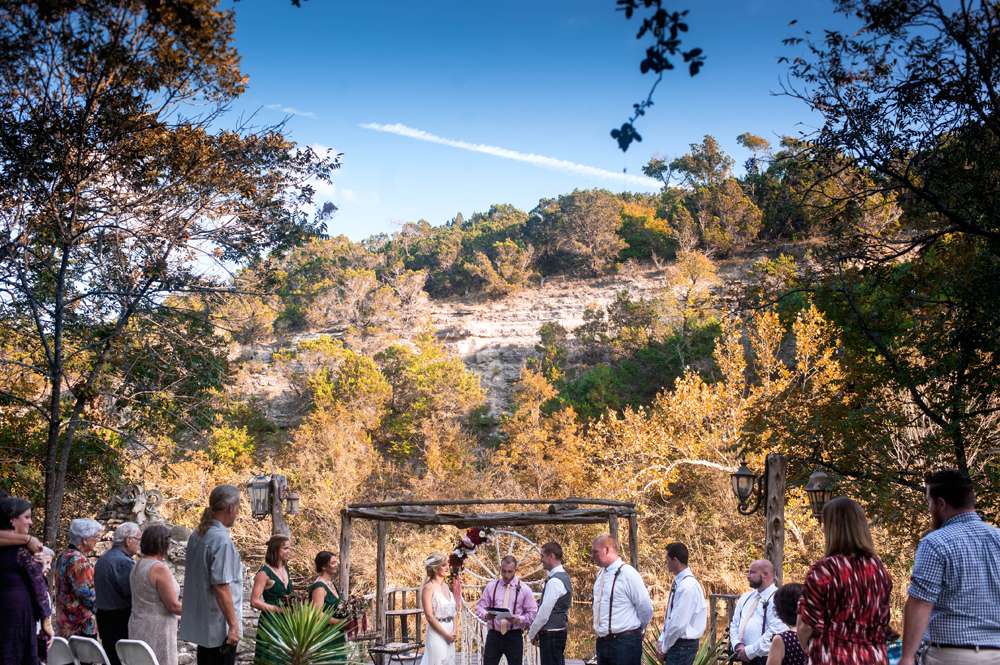 The focus on friendship and family is so clear in this wedding, which is so lovely. Jamie's cousin Jessica, a classically trained pastry chef, designed their beautifully ornate cake and handcrafted a homemade s'mores bar for their dessert table, a good bartender friend of the couple created them each a cocktail for the day – Jamie's was glittery, which I LOVE – and the fire dancing at the end of the night was performed by Jamie's friend. On top of that, the whole wedding was planned by Callie Langford, who Jamie describes as "a ROCKSTAR. She is my pole instructor and choreographer, as well as my wedding planner and close friend. Our running joke throughout the planning process was that she ran basically my entire life! She was definitely the best thing about planning our wedding, as she made everything feel so easy and breezy. I'm sure it would have been a complete mess without her!"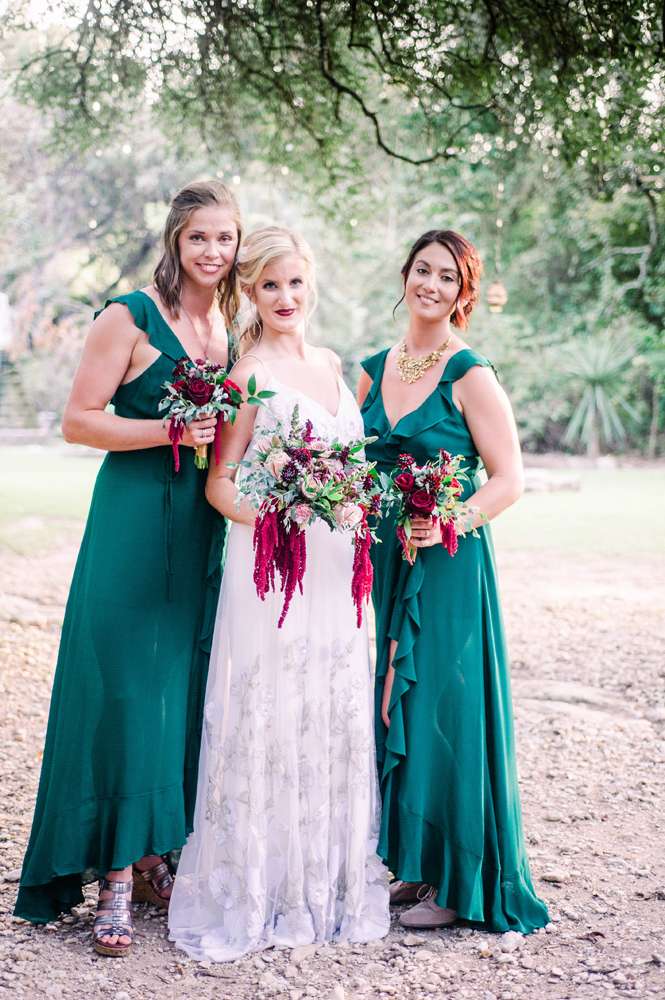 Jamie looked every inch the easy-breezy bohemian dream in her Leif gown from Rue de Seine which she accessorised with various vintage finds. "I think the small accents of my outfit made it really alternative. The vintage belt from Friends & Neighbors, snakeskin boots from Wandering Coyote, embroidered egrets on the dress and the gorgeous feather wing-like hairpiece from AMAROQ were all part of my attire." Jason wore jeans from Target and a custom shirt and waistcoat.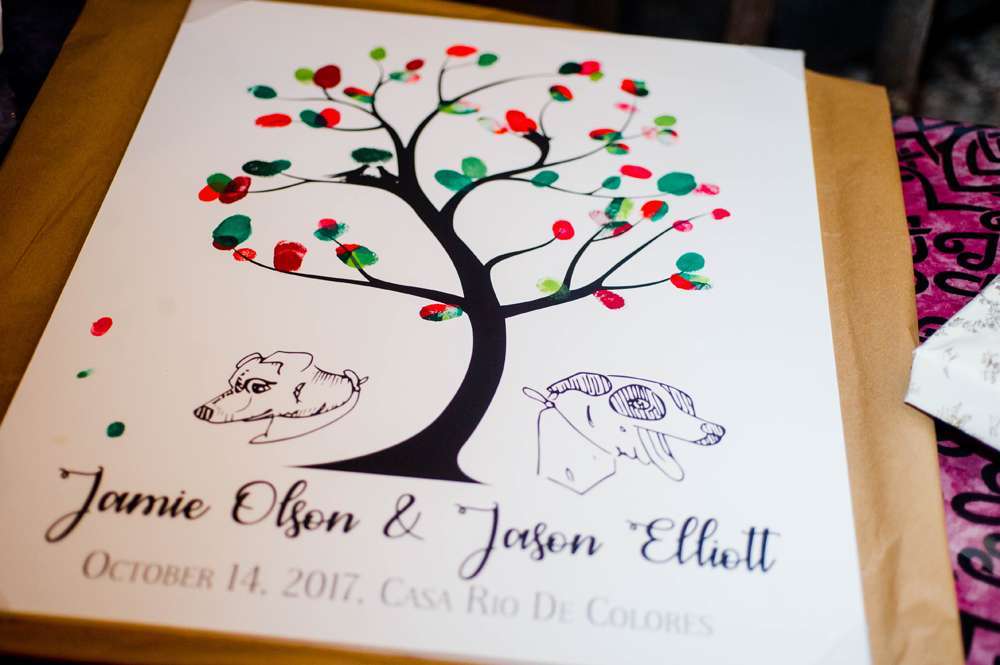 Such a gorgeous relaxed vibe from today's wedding, I can feel the happiness pulsing from the screen! The couple's main priority was making sure the guests had a good time, and they certainly delivered. When asked for advice for future brides and grooms, Jamie says "Dig deep and assess what is really important to you and focus on those things. Don't get stressed out or distracted by the details that matter less. Oh, and if you get the chance to allow people to bring their dogs to your wedding, definitely do it!"