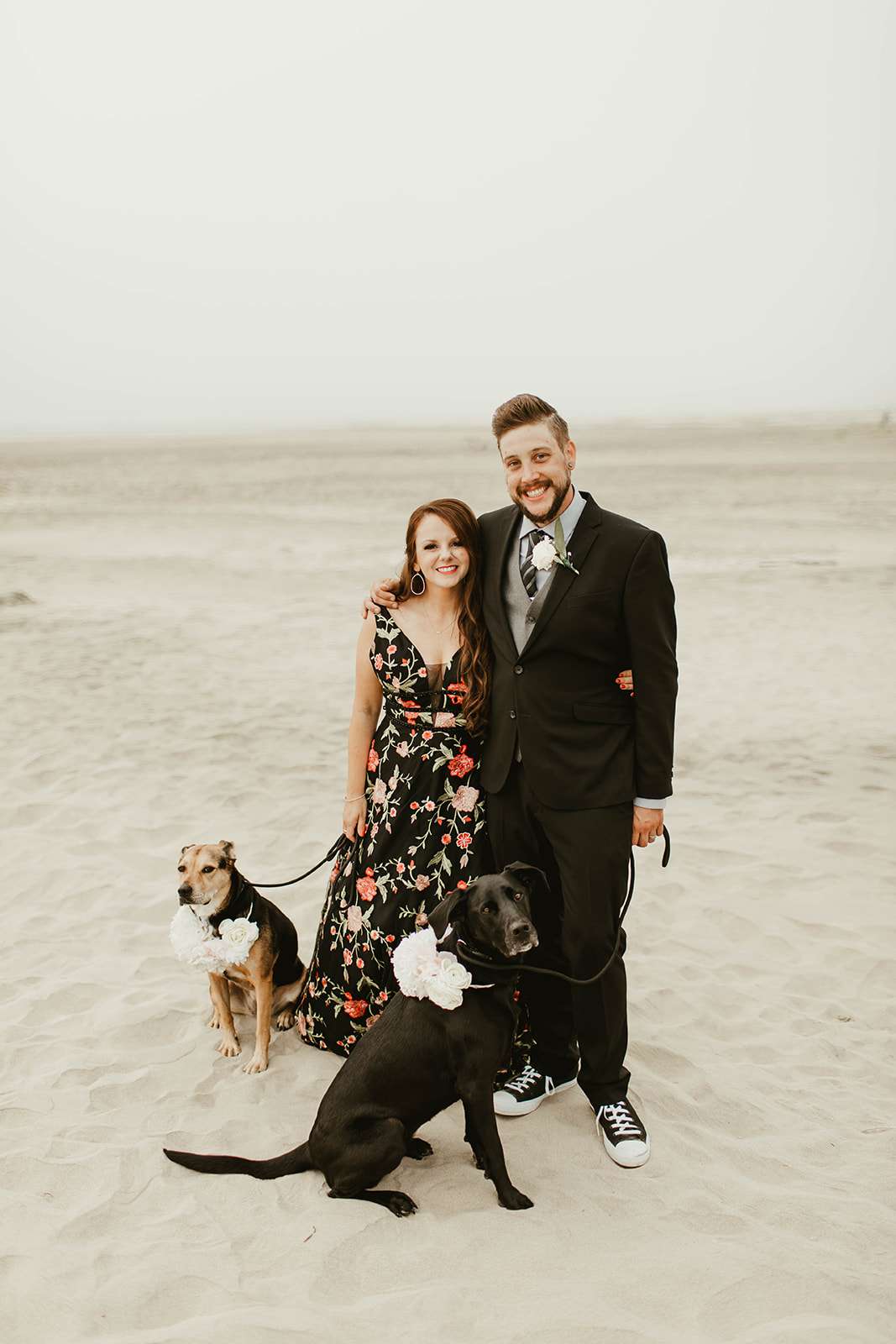 Bentley and Lizzi are the perfect example of how doing your wedding, your way means your day will turn out amazingly! They ditched loads of the traditional elements that they didn't identify with or feel were important, and instead had a super relaxed ceremony at a family cabin on the coast, with celebrations on the beach.
Lizzi grew up going to her grandpa's cabin on the coast of Oregon every summer. "I have so many amazing memories there, we just wanted to create one more magical moment with our closest family and friends," she explains.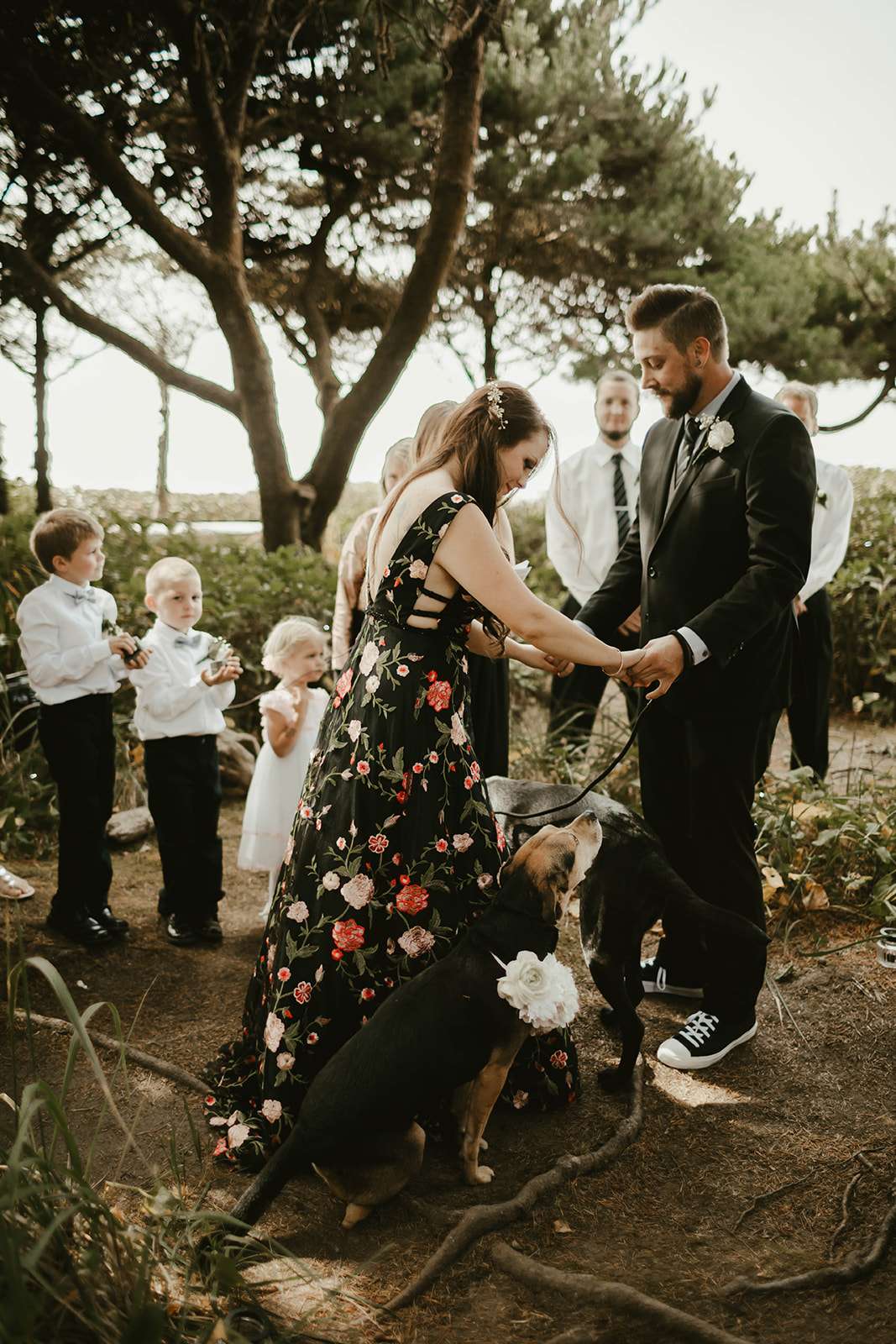 The couple wrote their own vows for their ceremony, which their maid of honour Mary officiated. The ceremony was held in the 'garden of weed-en' – so-called because her grandfather took over the entire plot of land covered in weeds and made it into a little heaven on earth! "We had everyone we loved surrounding us (literally, they were in a circle around us) and we were able to bring our dogs – it was truly magical," Lizzi says.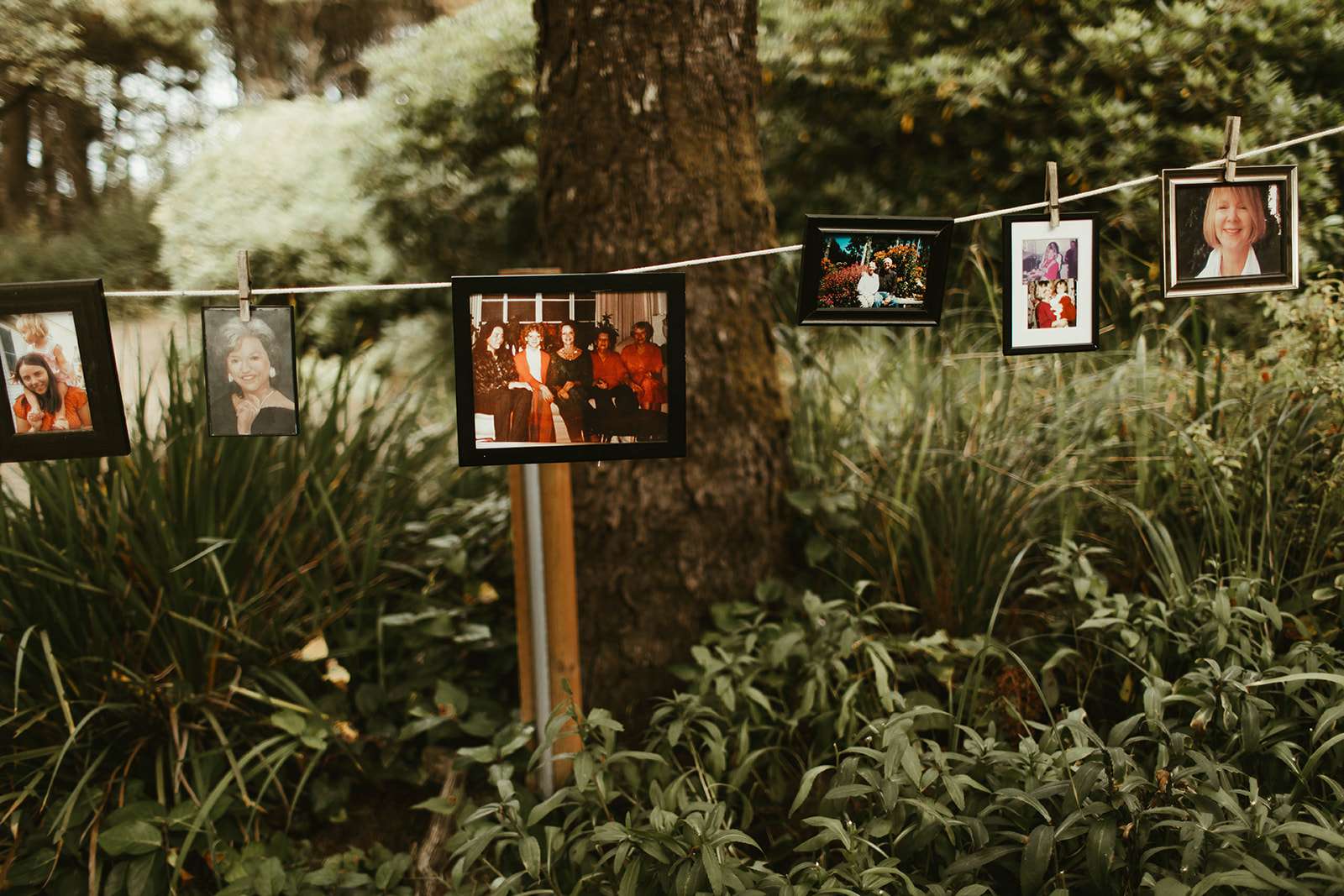 They didn't have a theme as such, instead "We just threw everything we loved together haphazardly and it all turned out perfectly!" Bentley's mum helped with some minimal decorations for the cabin, and mother nature decorated their reception as they had their first dance on the beach!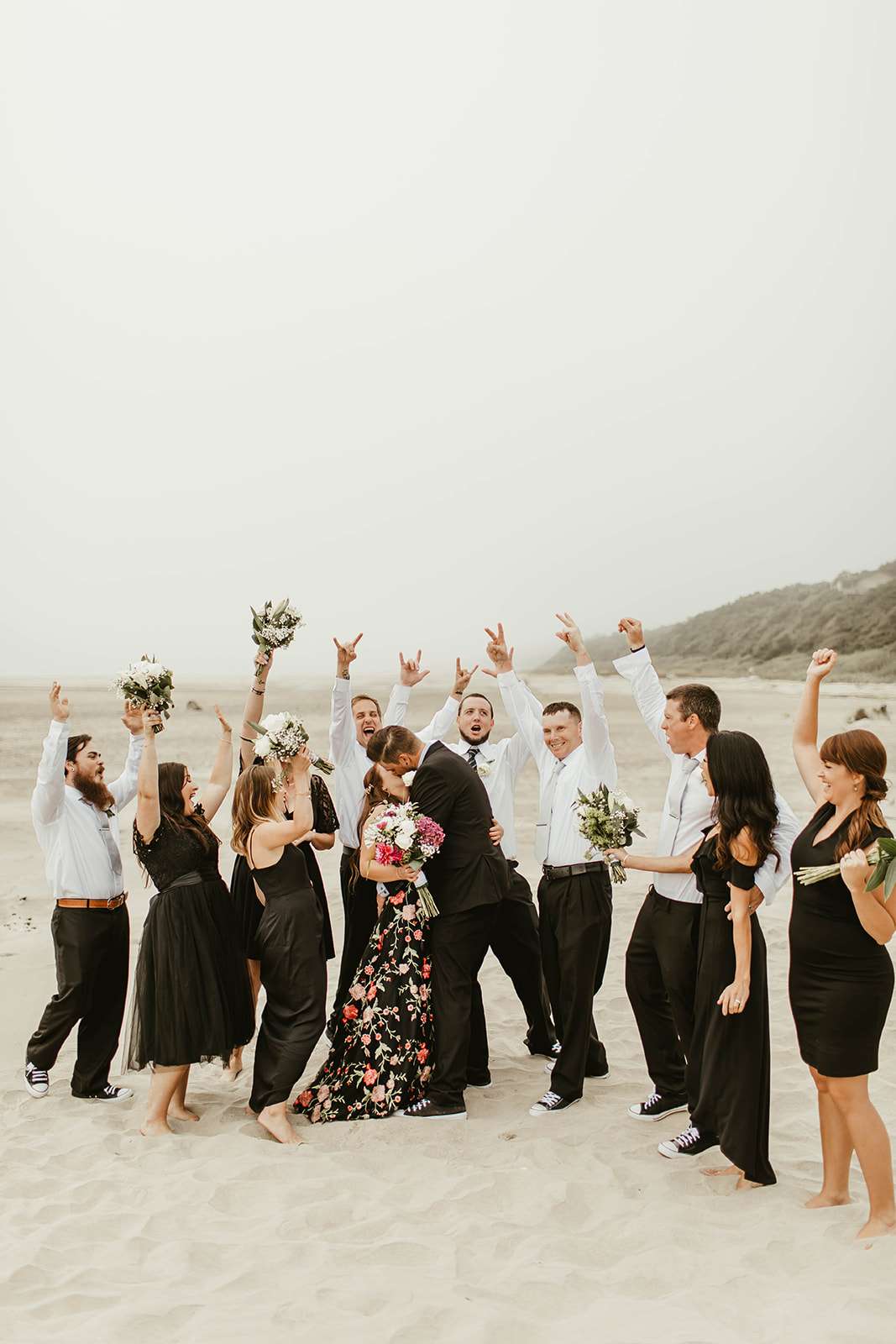 Their budget was $5000, with the biggest expense being their brilliant photographer, Naba Zabih. As Lizzi explains, "It was the one thing we did not want to skimp out on. It was worth every penny and our photographer captured every magical moment that we missed. We will treasure those pictures forever." They saved money on most things, with the venue being cost-free, the flower arrangements being bought in bulk from Costco, and food being finger food and lunch sandwiches.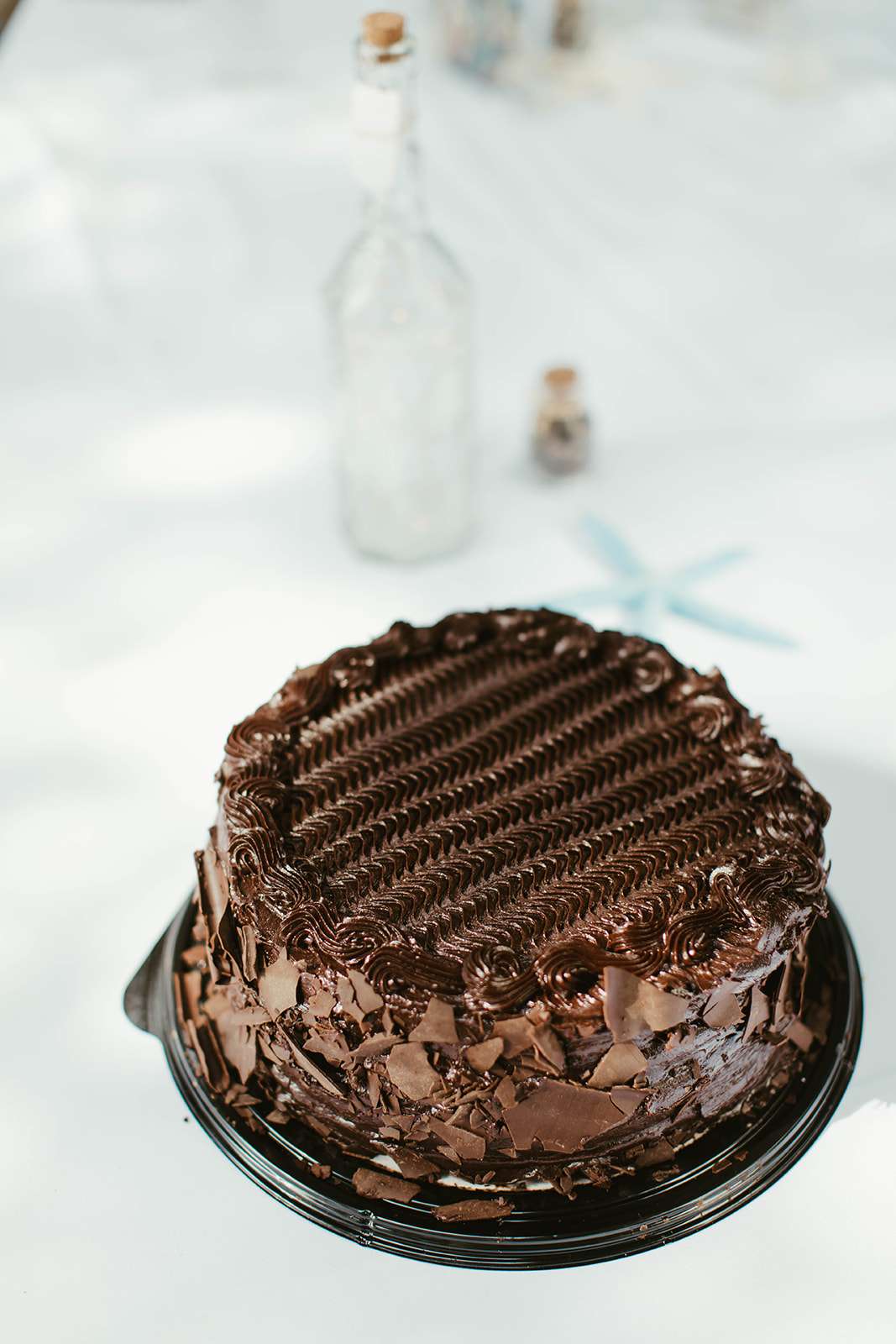 Lizzi's gorgeous black floral wedding dress was also very budget-friendly, as she bought it from a prom dress store in her local mall! Her bridesmaids also wore black, having been given the instruction to just pick a black dress they'd be most comfortable in. Both Lizzi and Bentley wore Converse, too.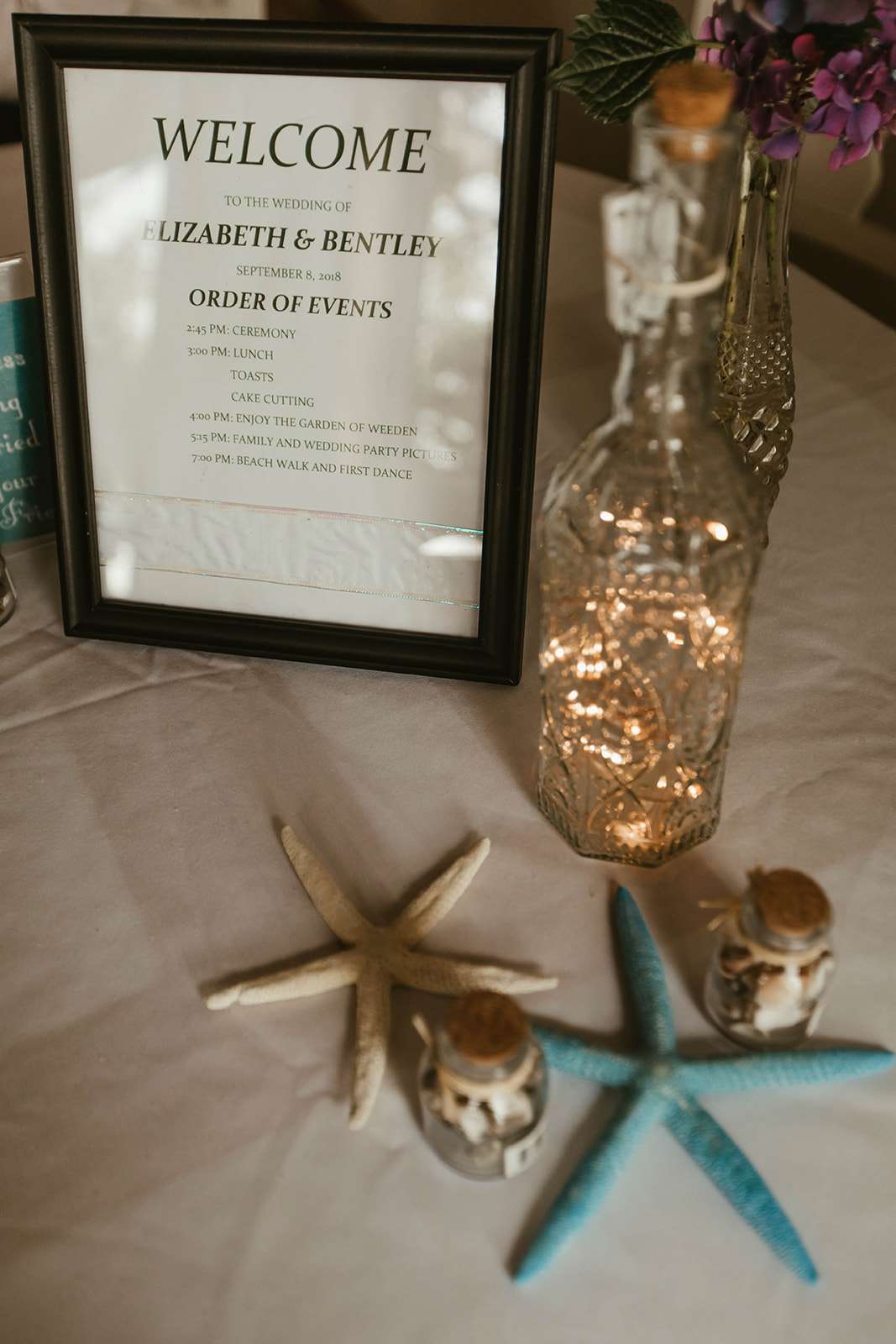 For other couples looking to DIY a totally relaxed, gorgeous wedding like this one, Lizzi's advice is, "Have food catered, even something really simple. I felt so bad that while I was sitting there getting my hair and makeup done my bridesmaids were doing all the work! They should have been enjoying the day as much as me. As well as that, Bring your dogs if you can, don't stress about the small stuff and enjoy each other's company. The day goes by so fast so hire a photographer so you can actually remember it!"