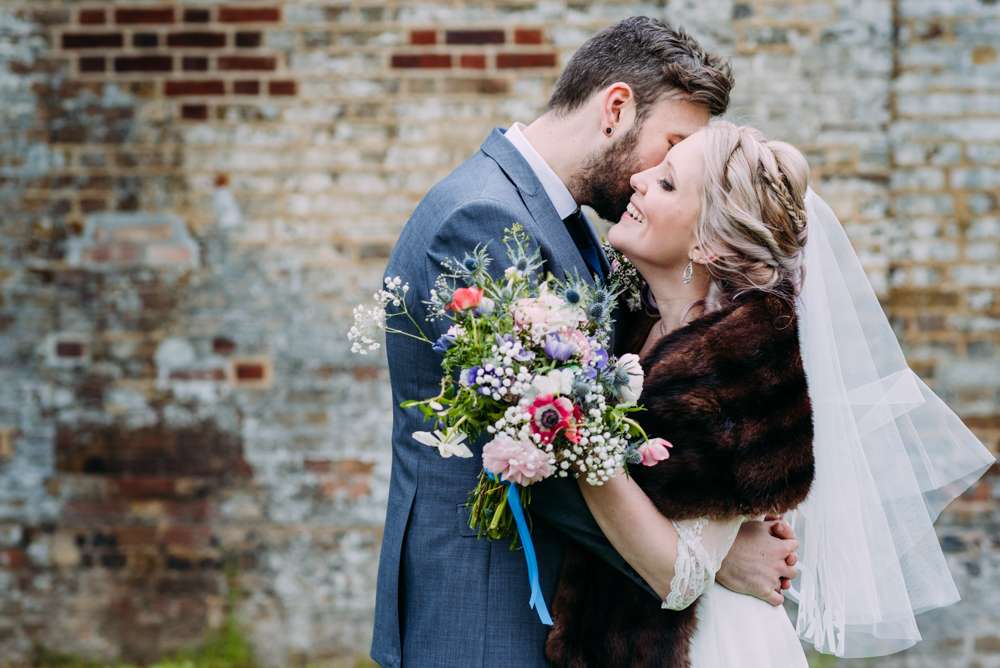 Nicky and David were married in East London. They had a relatively small budget of £5000 but they were able to make it stretch by avoiding wedding specific items wherever possible. They hosted their reception in a town hall, the bride wore a dress from Monsoon, they had a homemade cake and put all the flowers together themselves. They even skipped the wedding car, choosing to get the train between their ceremony and reception venues.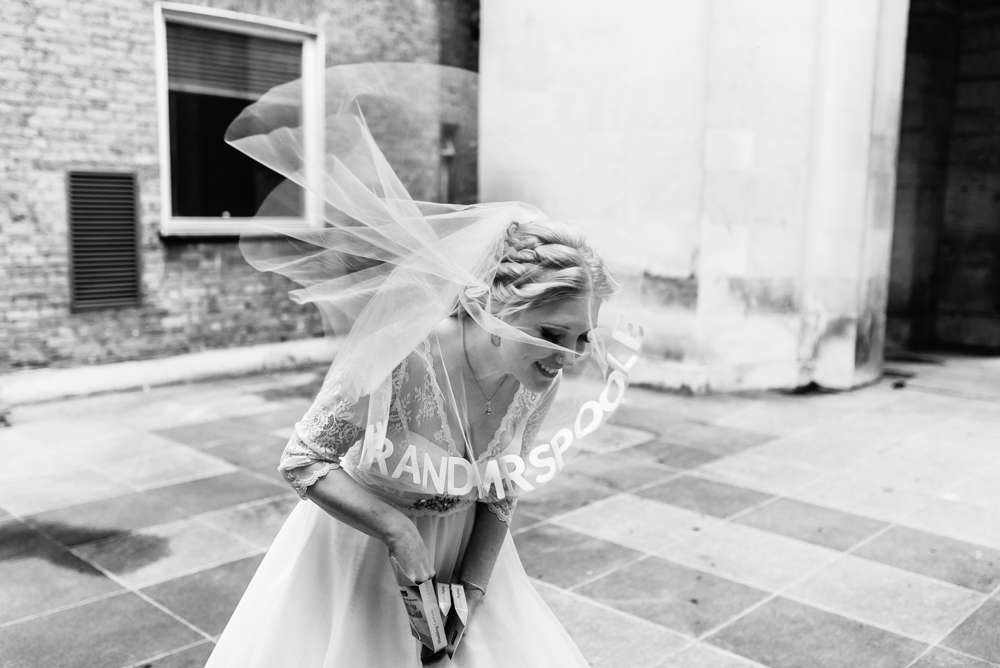 "I'm not a wedding-y person", admitted the bride, "so it wasn't like it was something I had always dreamed of or planned. We wanted the day to be filled with in-jokes and things we find funny like cats, Twitter (we met on Twitter!), plants, books, tea and cheese. I tried to get a kitten ring bearer for the ceremony – but people were surprisingly reluctant to help me with this. I actually started to question my own sanity at this point too. Someone did actually buy us a tiny white kitten as a wedding gift though! We named her Peaches."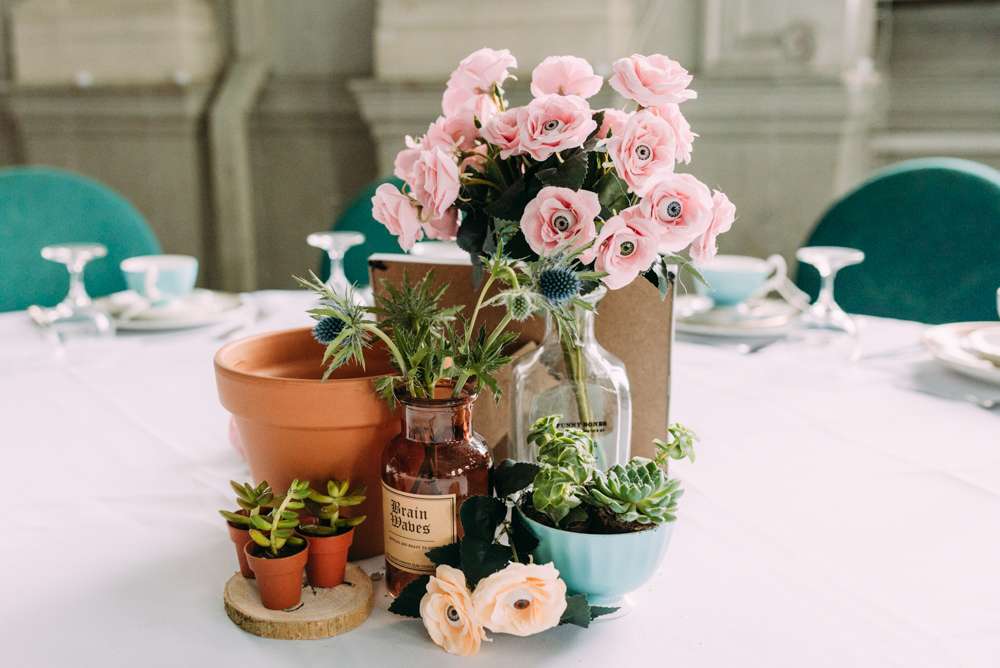 "We had marquee lights spelling out a hashtag to get guests to use it to share their pictures so that I could find them afterwards to make thank-you cards. We also got married on St George's Day / Shakespeare's birth/death day so we had small nods to this throughout. We were so lucky getting married at St George In The East on St George's day. We used to live on Cable Street, where the church is, and the area is where we met/fell in love so having the wedding there and nods to so many places where we had our first dates made it really special to us."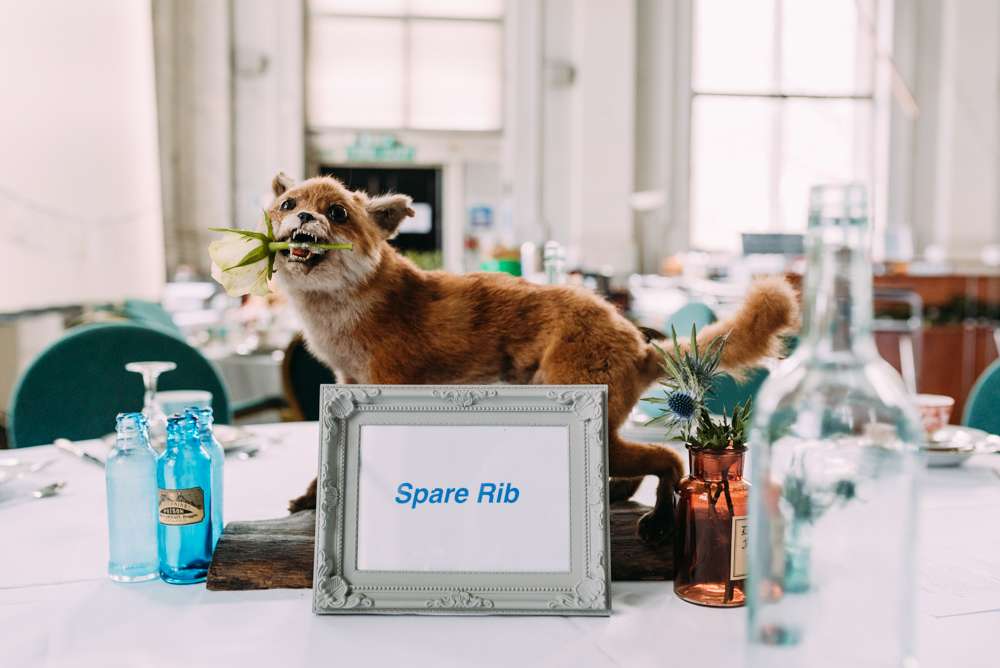 The pair wanted their wedding to be enjoyable for their guests so added lots of surprises to keep them entertained. "We have been to weddings before where you're bored and
starved so the theme was 'here is loads of food and stuff to do'" she laughed.
"I wouldn't say we cut corners exactly, but we economised in a lot of ways to splurge on others. For example, my shoes were £7 in the sale and we served pie and mash for dinner. We did A LOT of DIY and used a flower wholesaler for the flowers. The flowers cost £200 for 20 buttonholes, nine bouquets (including mine), tables, bathrooms and enough eucalyptus to swag around the stairs."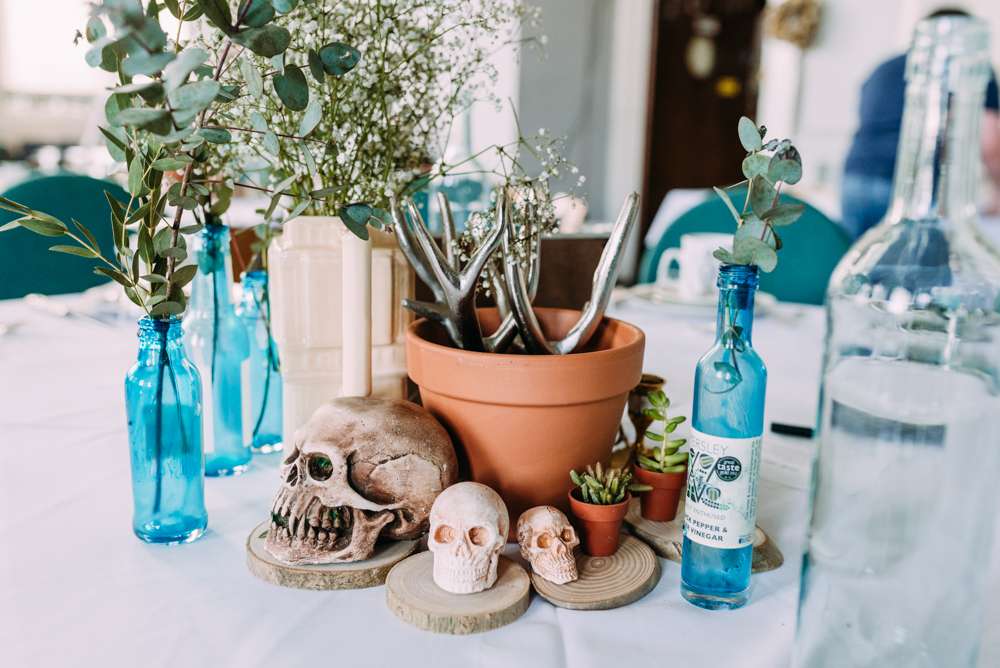 "Dave and I handmade almost everything including hundreds of paper pom poms and dyeing old tonic water bottles blue to make them look like vintage poison bottles. I used some fake flowers I had leftover from a craft project and a bag of fake eyeballs I had to make weird eyeball flowers to go in bottles and pots."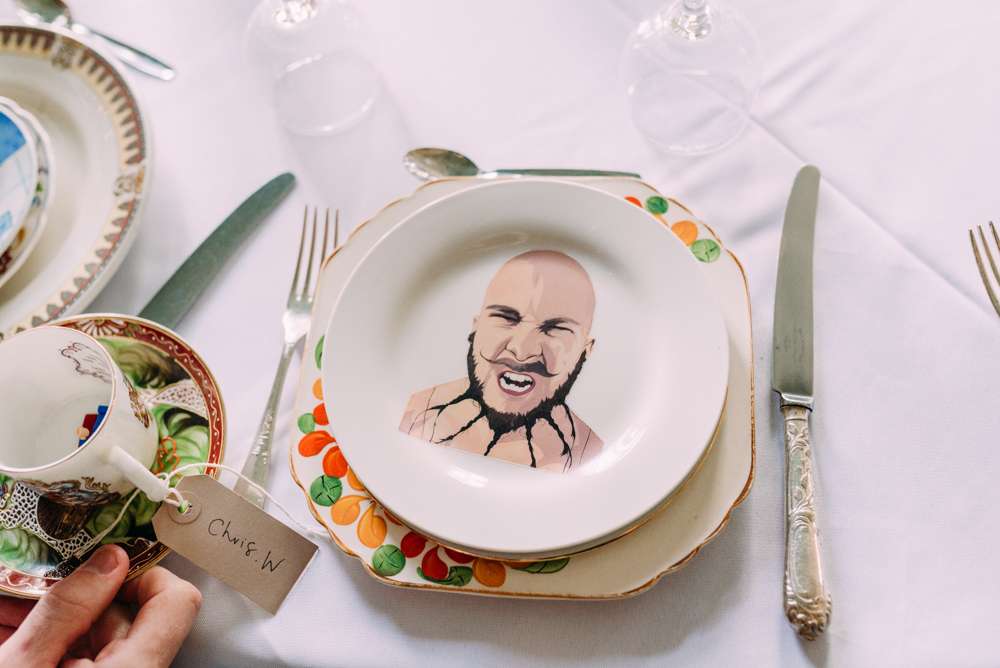 "We used mismatched vintage china and cutlery and vintage napkins and table cloths. We decorated the stairs with bunches of eucalyptus and fairy lights – I bought over a kilometre of fairy lights and we strung them up everywhere! We used potted herbs from the garden and decorated the tables with props from around our house. Which is why there was a taxidermy fox… The aim was not to buy anything we couldn't use again."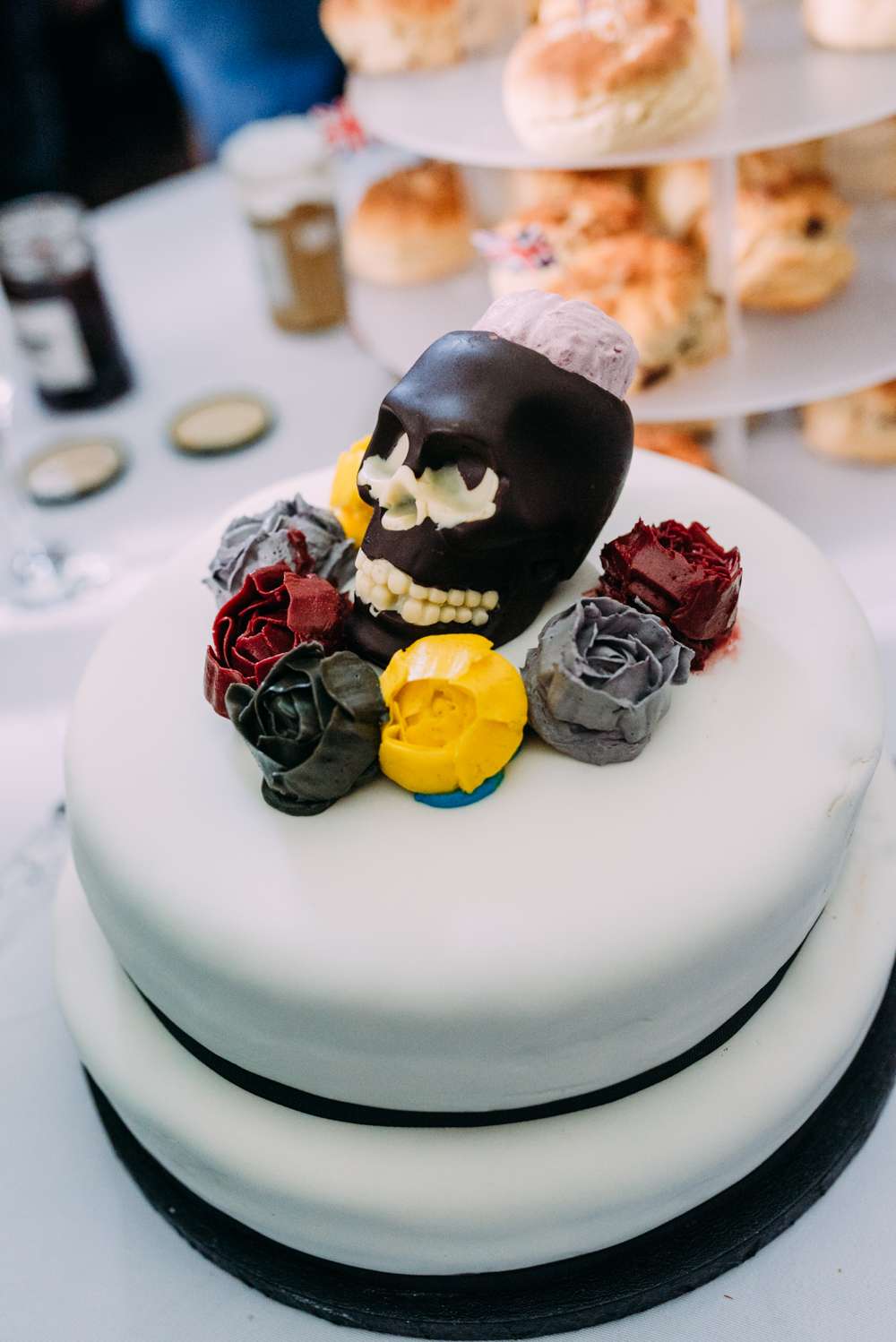 "We made vintage fairground things like a splat the rat and a hook-a-duck game. We created a secret bar upstairs which sold home-brewed vintage-sweets flavoured vodka, crisps and sweets. The mixers were all childhood favourites like Ribena and Capri Sun."
For food they served pie and mash, "Our first date was in in a pie and mash shop and the Brick Lane bagels were from my favourite bagel shops. We used jam, chutney and lemon curd from the Hoxton Street Monster supply shop because that's one of my favourite shops/charities: it helps and encourages literacy in children. We had afternoon tea because that's Dave's favourite meal – he likes it because you can have it as well as, not instead of, breakfast, lunch and dinner! We served GU puds for dessert because they are Dave's favourite. We had the cake of cheese because cheese is our favourite food in the world."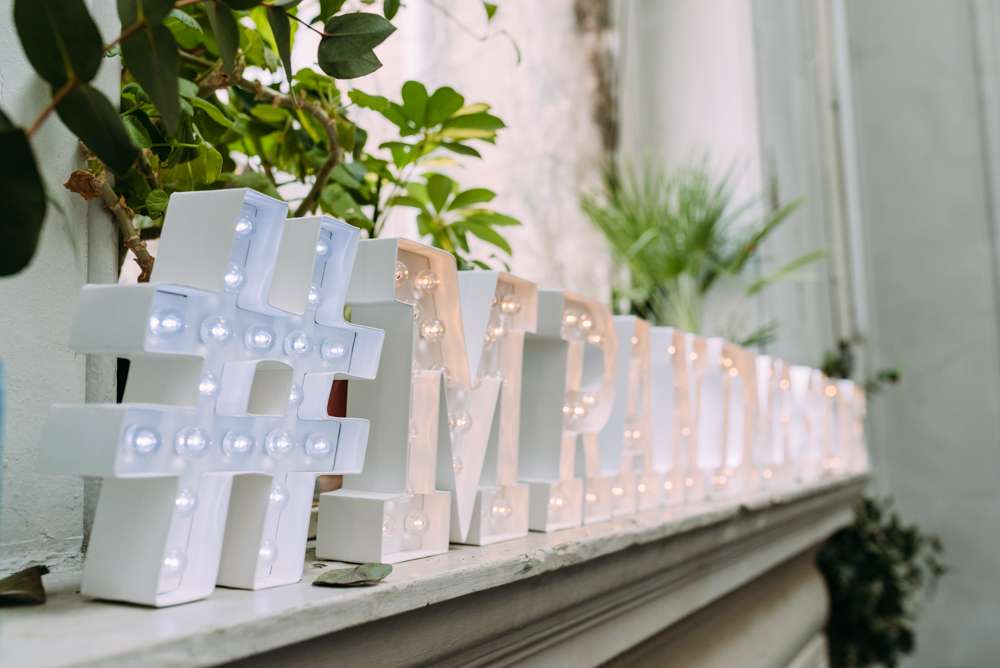 As the couple met on Twitter, they of course, had to have a wedding hashtag and they even ended up trending on the day! "So many guests used the hashtag that we actually trended on Twitter at #2 – ahead of Shakespeare", Nicky said. "We had social media wall which pulled up social posts posted with the hashtag #mrandmrspoole. We thought it would be funny – that people would tweet messages to each other like 'Sam, get me a G&T when you're at the bar…' etc. We didn't mean to trend, though it was hilarious that we did!"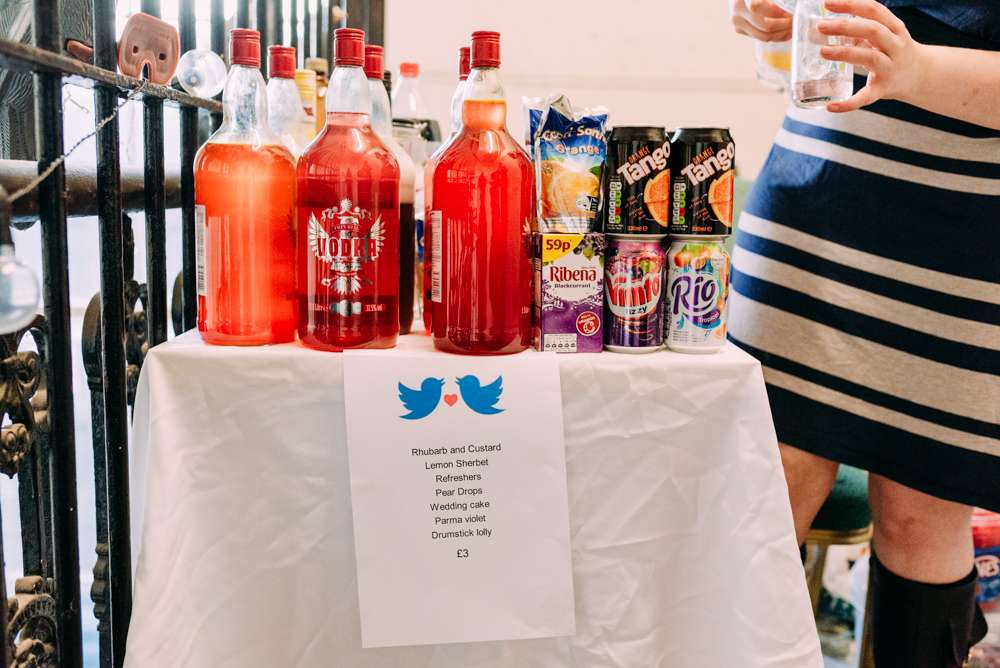 "Because of this the Daily Mail wrote a bizarre article about it which made it look like they'd actually been there. The got every detail wrong – even my name and hair colour – and stole guests' blurry photos to use. They literally made up a load of rubbish and made us look like right losers. It got taken down and our guests were offered compensation for their stolen images. Was the weirdest thing to ever happen to us!"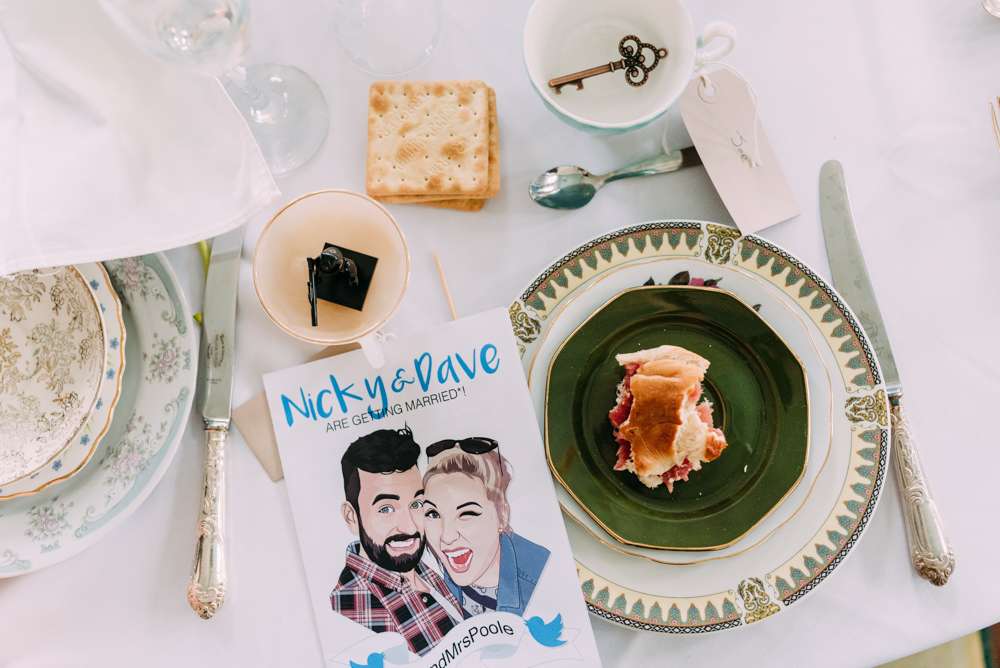 "The one thing we wish we knew before we started planning was how hard it is with a small budget. We had a tiny budget really, £5000, to feed and water 114 people in the day and the same again in the evening. This included our outfits and the hotel before and after. We saved money doing it all ourselves but it took so much time and energy. We were in the venue decorating until 2.30am the night before! And my hands were bleeding and callused from making pom poms. I am so glad that I never have to trawl an eBay auction for plates again! If I could go back in time and tell myself to save up a bit more and just rent stuff, I would."