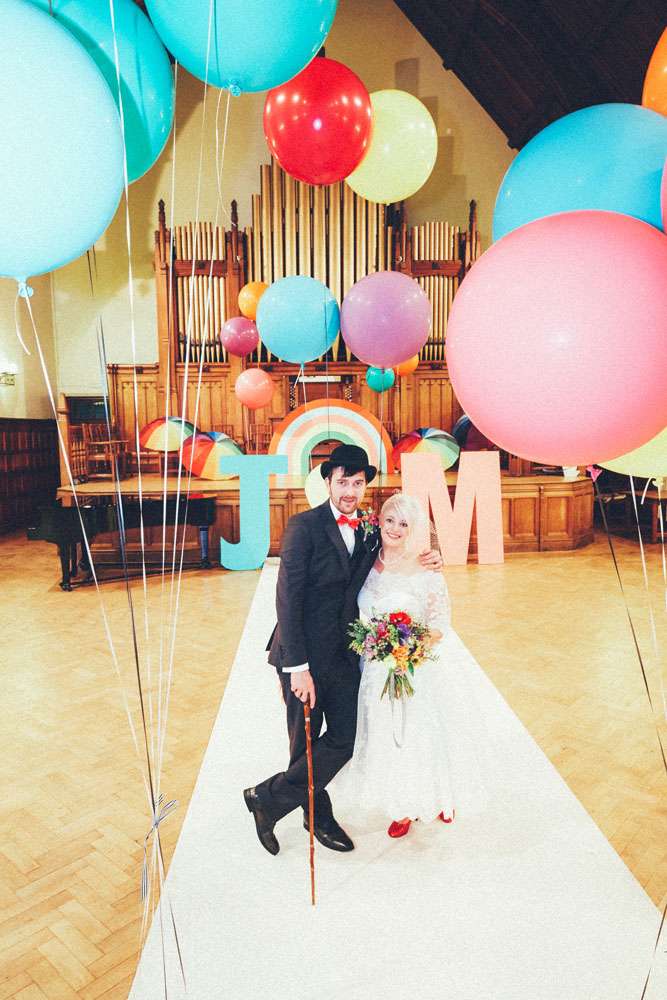 Inspired by the TV show Don't Tell the Bride, Michelle and Jamie's wedding was organised as a complete surprise for them by the bride's employers, Cosatto, who make brightly patterned pushchairs. Inspired by their products, and the bride's own colourful aesthetic, the team pulled together a truly one-of-a-kind wedding!
"Every year our fantastic CEO gives one lucky member of the team £10,000 to do something they wouldn't necessarily be able to do otherwise", bride Michelle explained. "I thought it was a fantastic opportunity to have a wedding with a difference and do it it Don't Tell the Bride style. My colleagues planned the whole wedding for us and we knew nothing about what it was going to be like until the day! It was great fun but very hard at times wondering if they would get things like the dress to my taste but they did absolutely amazing!"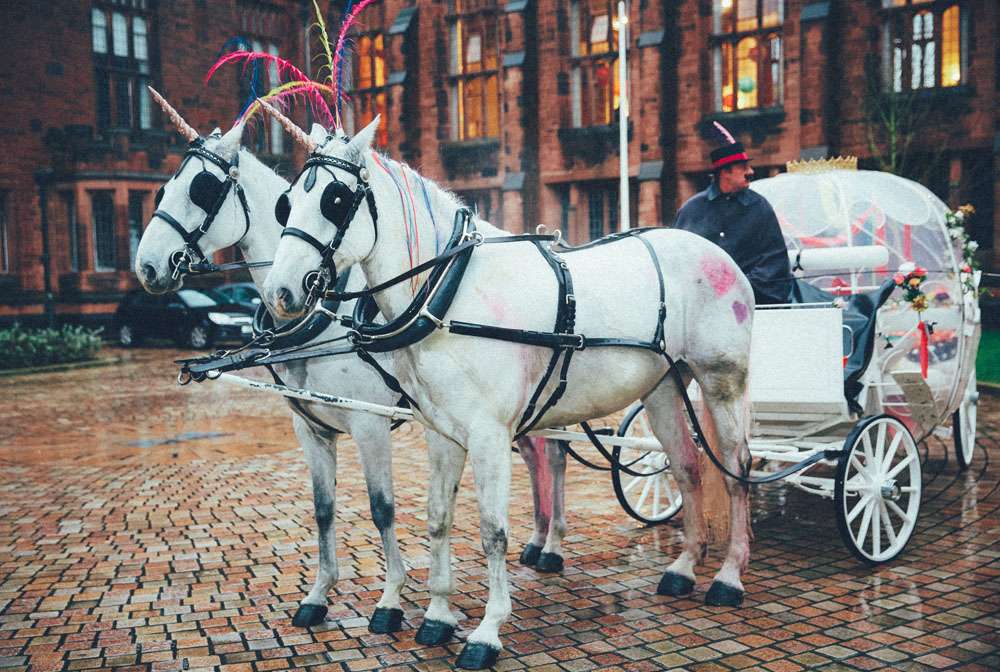 "On the day I was a rollercoaster of emotions – one minute a nervous wreck, the next dancing around on cloud 9 with excitement! I was also a social outcast at work for the past few months with all of the whispering and little meetings they had. No one would talk to me for months in case they spilt the beans!"
The bridesmaids were dressed as clockwork dolls in black tutus with pink cheeks, tea cup hats and keys on their backs. The homemade cake was flamingos and they served Afternoon Tea. The entertainment was mime artists, stilt walkers and fire eaters, The bride arrived by unicorn!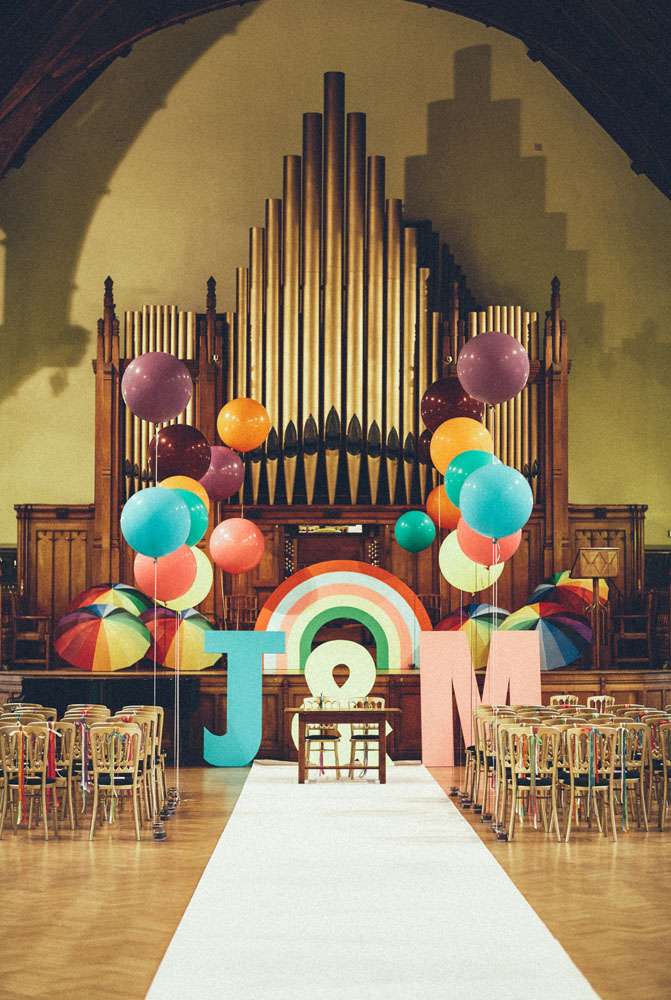 "Organising someone else's wedding, whilst being amazing, provided a whole different set of challenges", Vicky Morley, Creative Director, and chief wedding planner explained. Keeping it a Cosatto style affair while at the same time choosing things that would appeal to Jamie and Michelle was a daunting prospect. It's testimony to the Cosatto culture that an employee would trust her colleagues entirely with something so personal and precious and we were honoured."
"The theme of the wedding was Alice in wonderland and all things wacky! Our inspiration was anything bold and bright. We took some of the patterns that we use on our products from visually iconic popular culture such as Alice in Wonderland, Willy Wonka and the Wizard of Oz."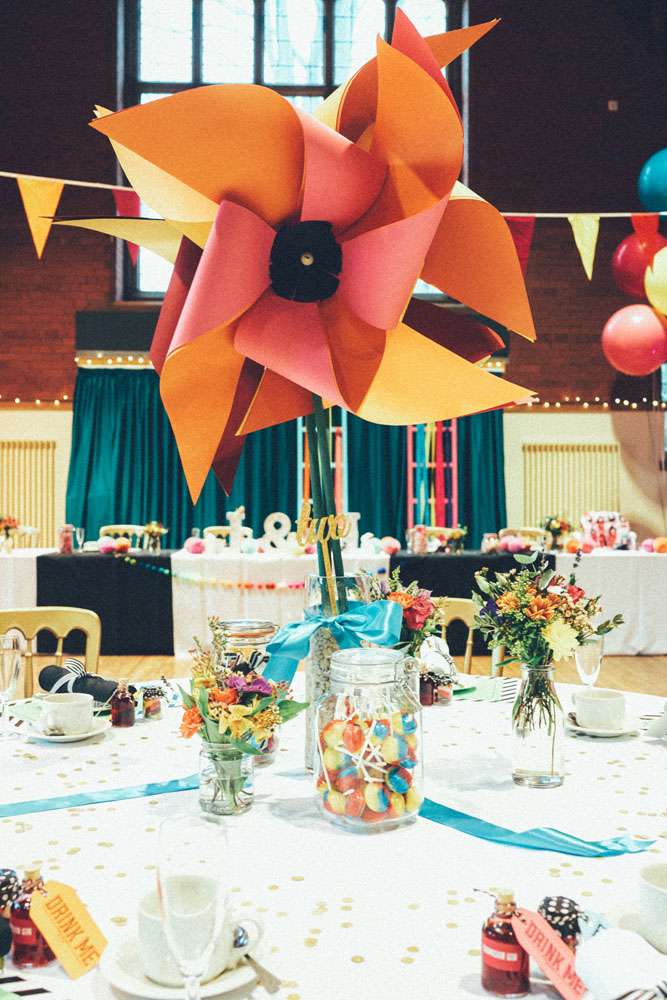 The wedding was held in a school. "For the ceremony, we were inspired by Hogwarts", she continued, "but with rainbows! We had a rainbow of balloons framing the aisle. Following the vows, the bride and groom walked out to a brass band dressed in pink tutus and bow ties who played songs such as You Got a Friend in Me from Toy Story. The guests then enjoyed cocktails and entertainment by mime artists and stilt walkers before moving on to the reception room. Eight big tables were set out, each in a theme of Cosatto pattern."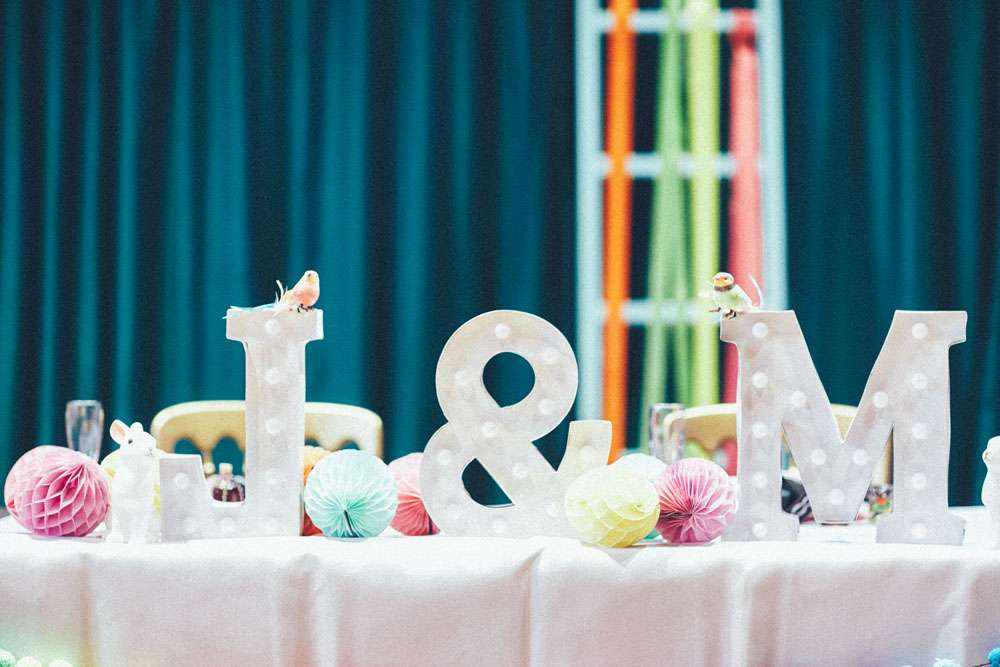 "The hardest thing about planning this wedding was keeping everything a secret from Michelle", Vicky concluded. "But getting creative and stuck in, and doing something we will never be trusted with again was so much fun. It was great for the whole team to work together to pull together an amazing day."