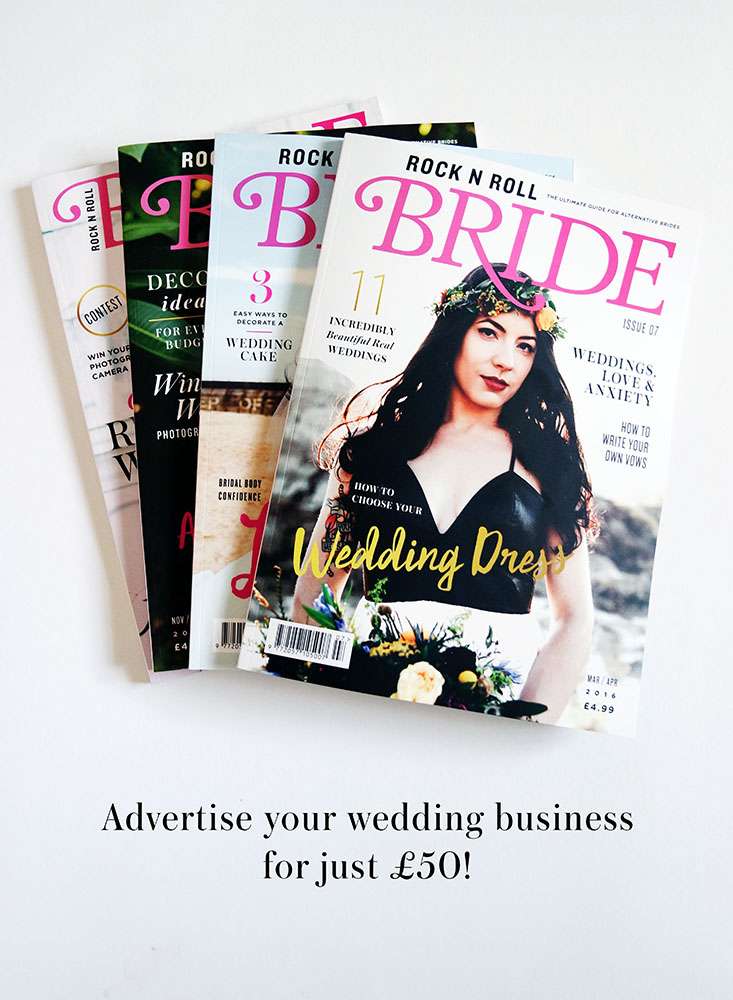 Are you running an alternative wedding business?
Are you passionate about what you do but are struggling to find the right customers?
Does it feel like you've tried everything to get the word out but you keep coming up against brick walls?
If so, Rock n Roll Bride is here to help!
I think a lot of artists make the same mistake – they figure if they build it they will come. Now I love Field of Dreams as much as the next child of the 90s, but when it comes to running a business, that theory rarely pans out.
People aren't just going to magically wake up one day and find you. Without marketing, your wedding business is nothing more than an expensive, all-consuming hobby. Without targeting your ideal clients your business simply will not survive.
But I get it. You're just starting out and money is tight. Which is why I am committed to making the advertising packages in Rock n Roll Bride magazine stupendously affordable for people just like you. Our ads still start from just £50!
If you're stuck with the design, we can help you with that as well. Not only do we have easy to use templates available, but if need be someone from our team can work with you to create your advert from the ground up.
Via bloodymarymetal
Here's what some of your peers have to say about advertising in Rock n Roll Bride magazine:
"Advertising with Rock n Roll Bride has been fantastic! Not only have I got my stationery in front of a whole new market, these couples have been totally the right clients for my business… really appreciating something a bit different and more colourful than your standard wedding fare! Plus compared to a lot of other magazine advertising it is really great value. I love the glossy 'coffee table book' format too, its so beautiful that I think that brides are less likely to throw it away like a normal magazine and will have it sitting in front of them for several months." Nikki Ward, Knots and Kisses
"I've advertised in the magazine a few times now, and am always pleased at the response I get. I always know that I will attract like-minded couples, who appreciate creative and fun wedding photography. I love the rest of the magazine too… I wouldn't just advertise in any wedding publication! In fact, Rock n Roll Bride is the ONLY magazine I advertise in now. I feel that it is the only one on the news stands that totally reflects my business.
It's not just couples getting married that have contacted me via my adverts, the ad has also caught the attention of some cool wedding wedding suppliers, and they've actually gone on to refer me to THEIR couples… WIN WIN as far as I'm concerned.
Dealing with Kat isn't your typical magazine sales-rep pitch either. Instead, its a breeze. No hard-sale… and no desperate phone calls near deadline day. And in my opinion, a very good price for an advert giving my business great exposure in the best wedding magazine out there. Thanks Kat, I've been waiting for a cool, stylish wedding magazine to come out for years… and Rock n Roll Bride was definitely worth the wait!" – Ed Godden, Ed Godden Photography
"We have been with Rock n Roll Bride magazine from the beginning. We love that it connects us with the right kind of awesome and alternative clients – couples who aren't traditional and want to put their own stamp on their weddings. The layout of the magazine is gorgeous and such an inspiring read. I absolutely LOVE the eclectic and diverse mix of real weddings featured too. The advertising rates are really reasonable and a must for any small business wanting to reach a more alternative market" – Jo Bromley, The Couture Company
"We're very proud to be long-term advertisers in Rock n Roll Bride magazine. Working with Kat is a joy, and the magazine itself offers a distinctive, independent voice that's sorely needed in the wedding industry. The mag is gorgeously produced, has the best-quality printing of anything we've been involved with, and has an excellent ratio of ads to content.
We include a discount code on our ad so we can see when couples are coming from the magazine and there's been a lot of variety! Through Rock n Roll Bride we've had couples sign up who are honeymooning in Bali, Argentina, Morocco and Tuscany — plus two gift lists for Disney World, huzzah!" – Andrew Green, Buy Our Honeymoon
This is your opportunity to place your product or service in front of the eyeballs of thousands of alternative wedding loving brides and grooms. Brides and grooms that are desperately and very actively searching for wedding suppliers just like you. Reading my magazine are the customers that you've always dreamed about having. So what are you waiting for?!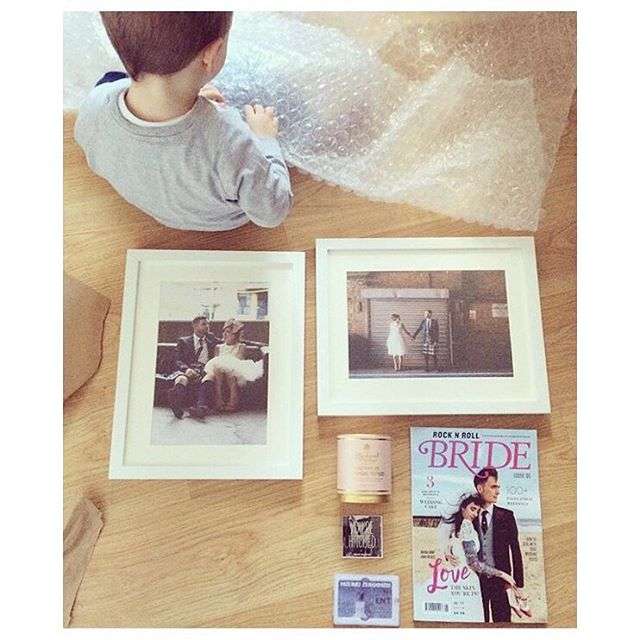 Via instaweddinguk
Like what you hear? Want to get involved? It's so easy! Simply get in touch with me personally at kat@rocknrollbride.com and we can chat. Be sure to include a link to your website and let me know a little about who you are and what you do when you email. I am currently taking bookings for issue 8 (May/June) and the deadline is next Friday, 8th April.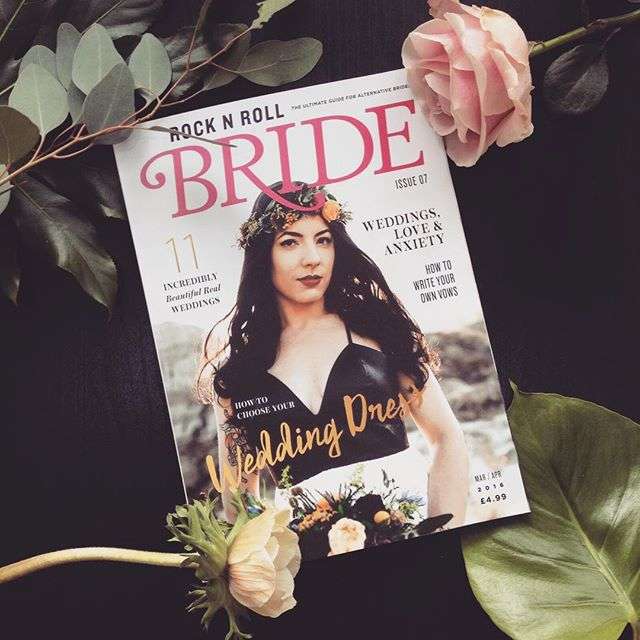 I can't wait to hear from you!