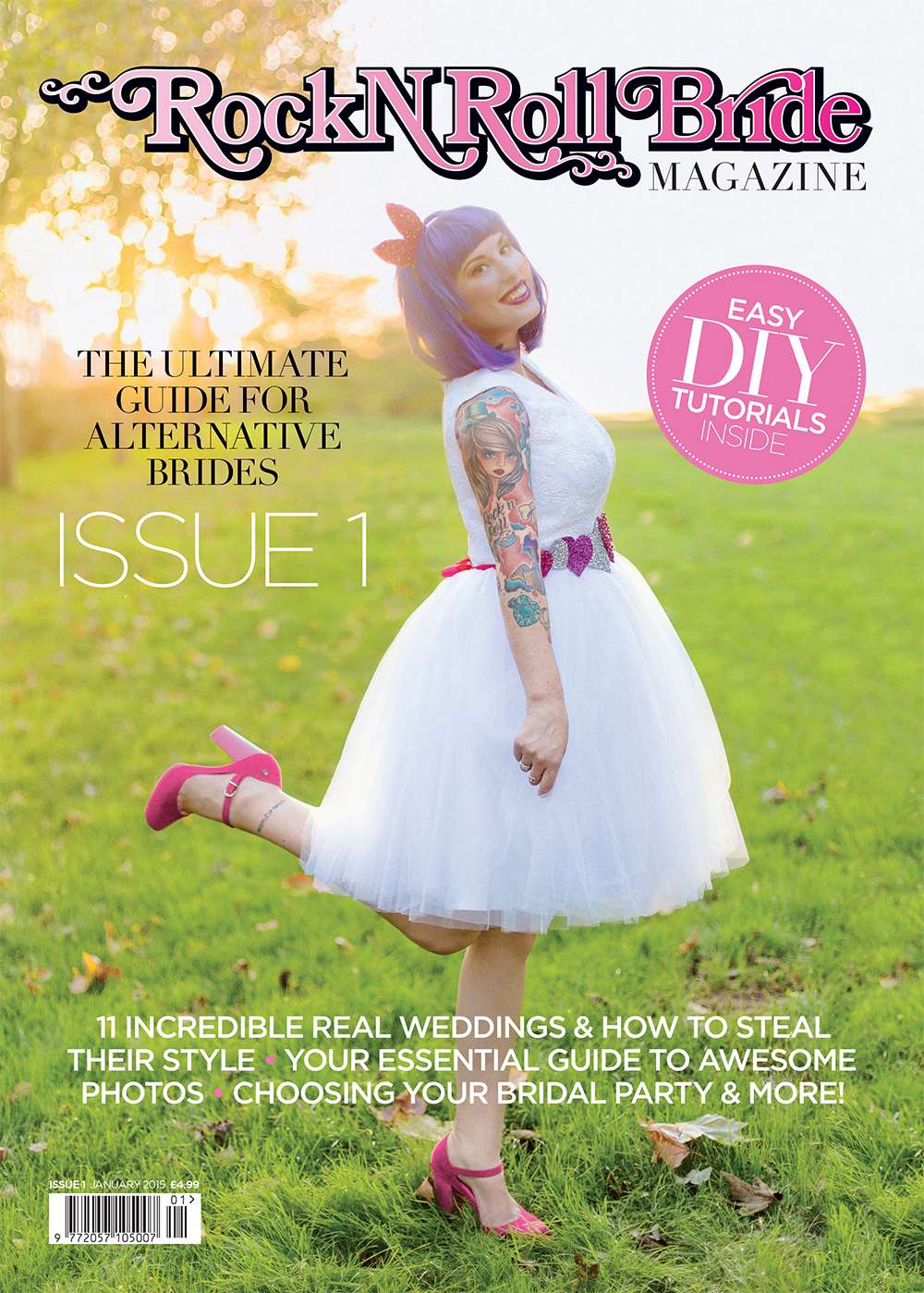 Do you know what day it is today? ROCK N ROLL BRIDE MAGAZINE LAUNCH DAY!!!
The journey of this magazine from a small idea in 2011 to what it is now is quite a story. It actually started it's life as a free handout that I gave away at a wedding fair, but it was so popular, and the reaction online so massive, that I went on to self-publish a yearly magazine. I did this twice, once in 2012 and again in 2013.
Then over the Summer last year, I got a call from a publishers who wanted to help me make it nationally available, AKA make it a bi-monthly mag and put it in real life shops all over the UK! This little baby of mine has all grown up and blossomed into a fully fledged, legitimate wedding magazine!
Oh and I'm in charge, which means inside it looks a little something like this…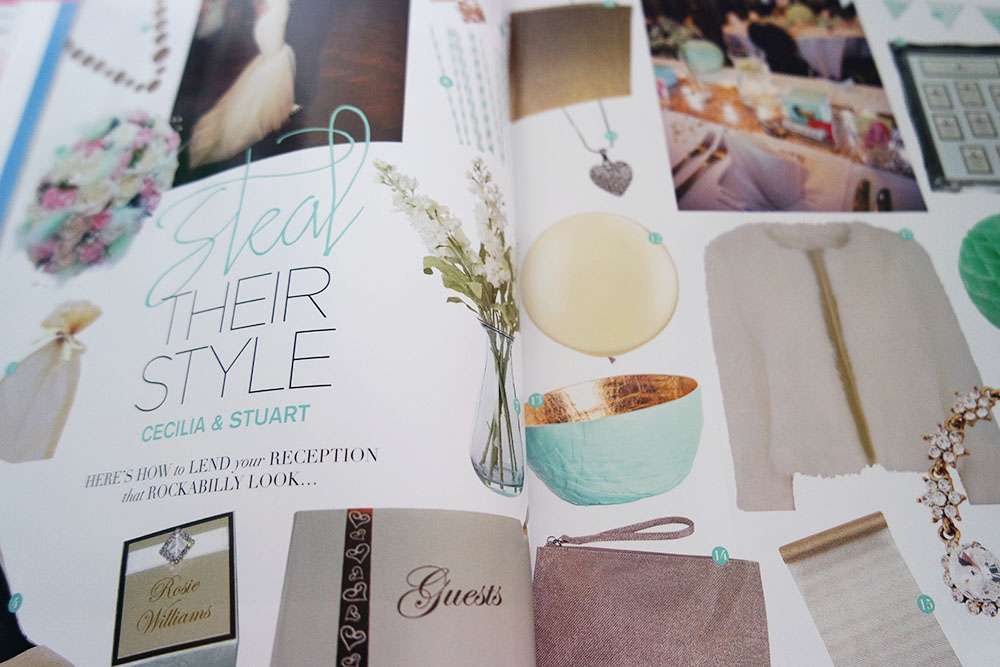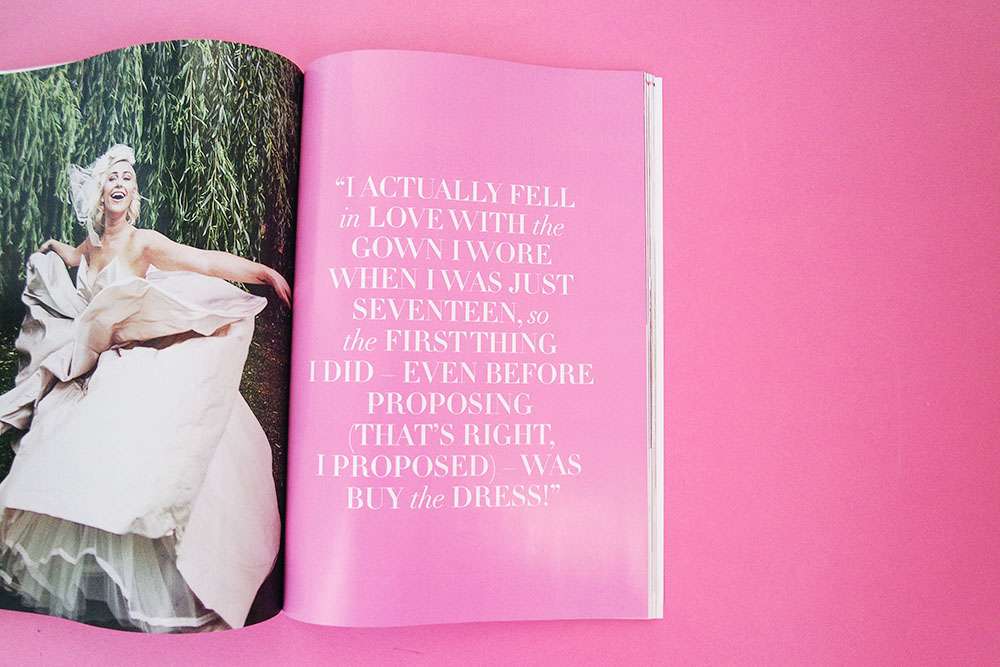 There's no doubt about it, I love the internet and I love blogs. But when you get engaged, there is still something so special about going out and buying your first wedding magazine. That feeling of getting home, grabbing a cup of tea and devouring it in one sitting just can't be beaten.
When I got engaged there were no wedding blogs, so I relied solely on magazines to help me navigate the muddy waters of planning a wedding. While I owe the ones I read a lot (our wedding wouldn't have happened without them!) I was always left with a distinct sinking feeling when I turned over that last page. They were beautiful and all, but there was never really anything that unique or revolutionary within them. They were always full of things that were very pretty… but not very, well, me. They didn't really represent the kind of wedding we wanted to have and they didn't show any options other than the expensive, matchy-matchy, hyper traditional wedding day. This is why I started rocknrollbride.com in the first place. To plug that gap.
The fact that this blog has come full circle and I'm now the Editor in Chief (er what? That title is way too fancy!) of an actual real life print wedding magazine BLOWS MY MIND. My amazing publishers have also given me completely free reign to write whatever the hell I want and share the stuff I know my readers cry out for, which makes the whole thing even more unbelievably awesome.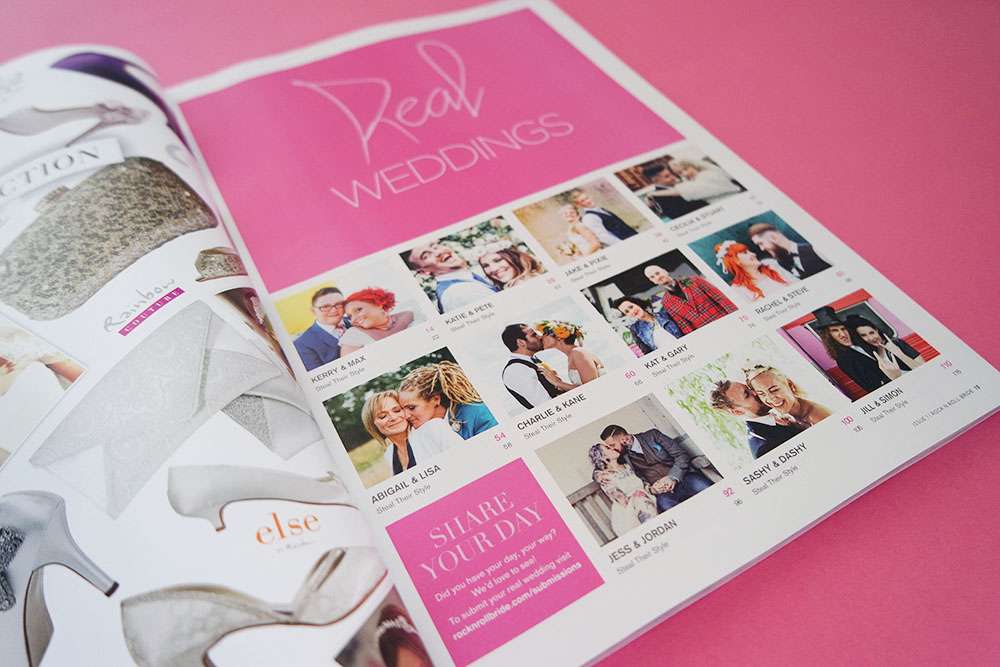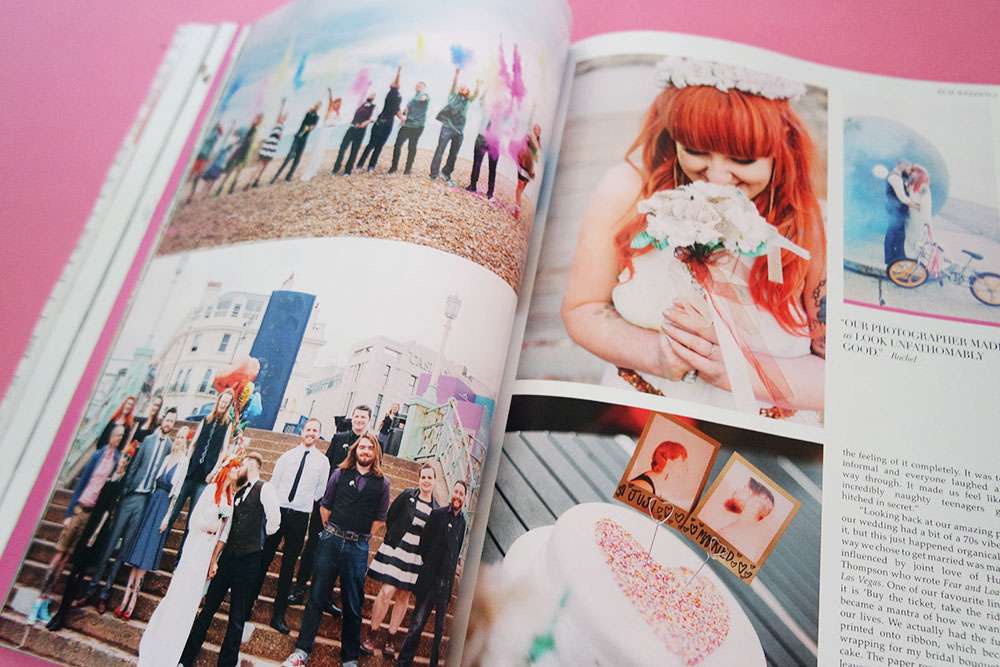 So what's inside this first issue?
Well, within the 166 pages (that's double the size of the last self-published issue!) you'll find eleven real weddings and ideas on how to steal their style, exclusive wedding planning advice articles, two epic yet surprisingly easy DIY tutorials, and so much more!
The magazine costs £4.99 and is available for purchase at WHSmiths, Morrisons and selected independent newsagents all over the UK.
For those of you who are not in the UK, you can buy issue 1 online and it will be shipped directly to your door! Fair warning though, there are a very limited number of copies available for online purchase (most of them have been snapped up by the retailers) so please don't delay in nabbing yours if you can't get yourself to one of the above stores. I actually expect that the online copies will sell out today, so no dilly dallying if you want one! (And hey, UK peeps, it would be awesome if you could go and buy one in a shop, to leave the online copies of issue 1 for your international friends!)
Subscriptions are available from issue 2 (out in March), and you can pre-order yours right now too!
OK hold up, before I go and continue running around the house screaming, it's time for the Oscar speech…
Obviously I couldn't do this alone so I have to give a quick shout out of love to my team at Giraffe Media: Rachel S, Craig, Jade, Rachel M, Hannah, Lee, Chandler and Dan. Also, big love to Shell de Mar for the cover image and my freelance contributors; Lisa Devlin, Sophie King of Crown and Glory, Emily Pettiford & Jessica Turley of Bespoke Bride, Veronica Dearly and Sara Gibb. I love you times a million! Also to everyone who provided images for this first issue, or who believed in it enough to advertise on it's pages, THANK YOU!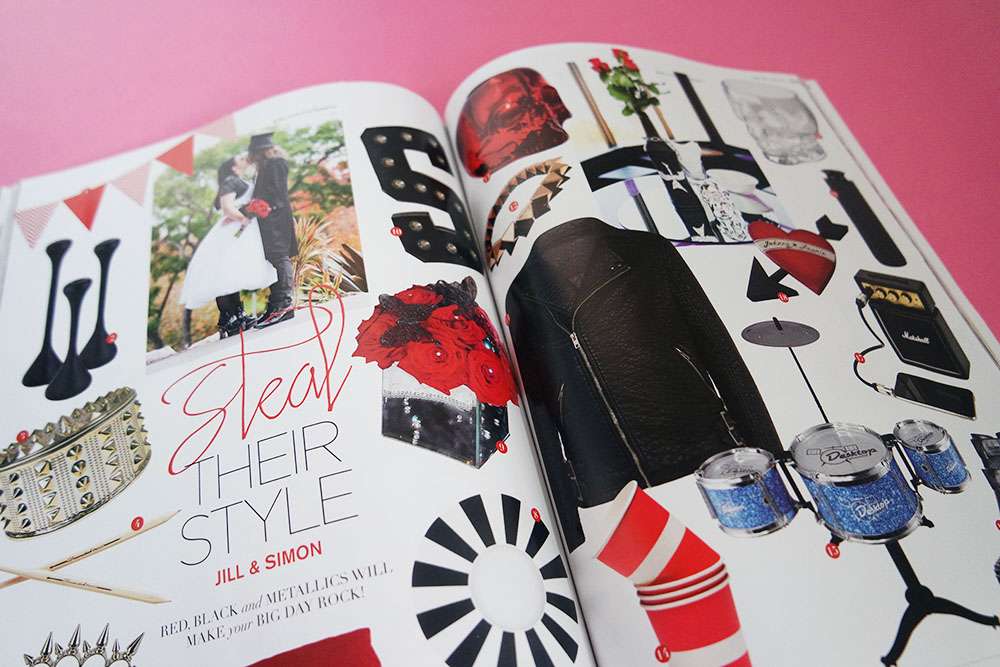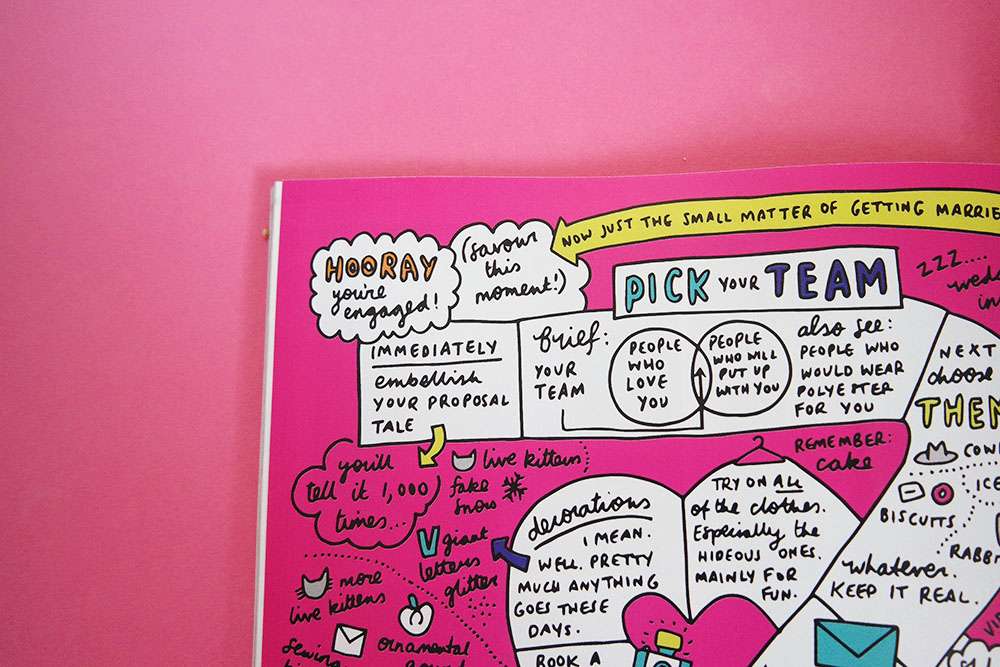 To my wonderful and ever-supportive husband Gareth (I can never leave him out): Thank you for the ridiculous amounts of love and the endless cups of tea that were required to write this thing and bring it to market. Thank you for taking on all the tasks that I could never get my head around, and for being my constant and never-wavering rock. I couldn't do any of this without you by my side.
He'll never let me forget that printing a free magazine to hand out at that wedding show was actually his idea… he'll also never let me forget that he once said to me, "Wouldn't it be amazing if we could get this thing in the shops?" to which I immediately shot him down because who in their right mind would ever allow me to do that… hum, I guess I was pretty darn wrong about that wasn't I?

When you get your copy, be sure to post a photo of you with it on Twitter or Instagram using the hashtag #rocknrollbride. I'm going to use my favourite pictures in the next issue!