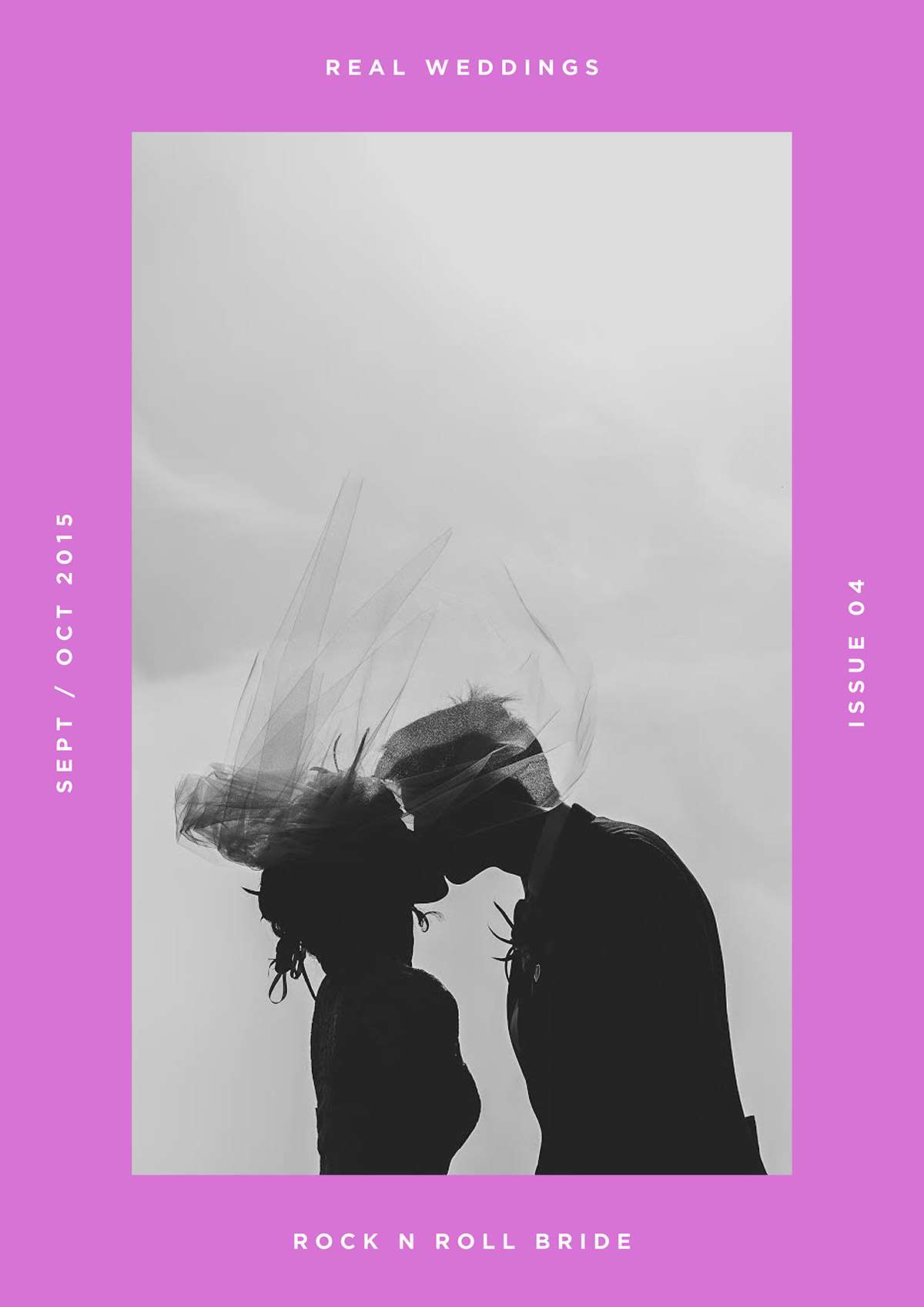 Rock n Roll Bride blog and magazine relies heavily on the awesome submissions I receive for real weddings, photo shoots, vendor profiles and freelance articles. Without them I wouldn't have enough content to keep updating as often as I do!
I have written about how to submit your wedding or a photo shoot on numerous occasions (you can read them here, here and here!) so today I want to talk specifically about freelance article contributions for the magazine.
Have you ever dreamt of seeing something you've penned in print? Well this could be your chance! Obviously I'm writing from my own experiences as an editor here, but I think my tips could very easily be applied to any blog or magazine that you might want to pitch to.
Be memorable
Most of the freelance articles I publish are actually written by people I'm already friends with. That's not to say you have to be my mate to write for me, but if I don't know you, I'm probably never going to think of you when I need a freelancer!
When we first announced the magazine I was literally flooded with emails from people wanting to write or create DIY projects for us. It was lovely and very flattering, but do I remember anything specific about any of them? Nope…not a sausage.
Charm goes a long way. If you seem upbeat, friendly and enthusiastic then you're more likely to get ahead of someone who's email reads like a generic CV. Ask yourself, what can you specifically bring to the magazine? What makes you different? Why should I call on you over someone else? What is your speciality and what do you know that no-one else does!? You don't have to be an expert on something to research and write about it, but it helps!
Check and double check your spelling and punctuation
Seriously! I'm no grammar Nazi and we're all guilty of the odd spelling error slipping through now and again, but if you're gunning for a writing gig, please make sure you demonstrate in your email that you know how to string a sentence together! Think of your initial email as your first audition. You need to make a solid first impression and no editor is going to want to hire someone whose writing is all over the place.
Be concise and friendly (but not over-familiar)
There's a lot to be said for being a bit charismatic when you send that initial email, but don't be creepy! It might just be me, but I cringe to high heaven when someone I don't know calls me "babe" or "hun" or "love". That fine line between professional and personal is the sweet spot when it comes to getting on an editor's good side!
Also, don't fan-girl. It's lovely to be told something you do is awesome, but don't make it uncomfortable. Demonstrate that you know and love the magazine, drop in some references to things I've spoken about online, but don't expect to be going out to dinner, holding hands and braiding my hair by the end of the night. Always remain professional, you're not trying to make a new best friend here!
Have an idea
Most of the time, coming up with a unique idea for a magazine article is the hardest part. Once I have that, in all honestly, I can pull something together relatively quickly myself. So instead of just vaguely offering yourself up as someone that can write (join the queue!) get ahead of the competition by actually having a killer idea to pitch. Better still, write it in advance and then submit it. Editors LOVE getting articles that are relevant and ready to go because it saves us a job!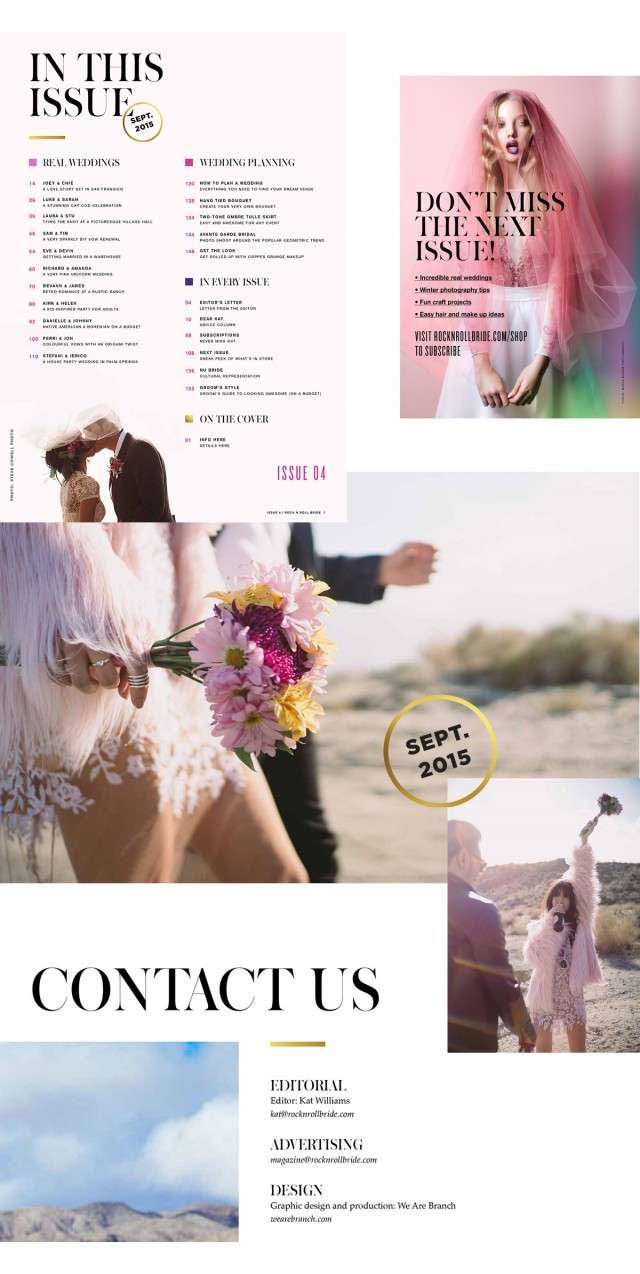 Make my life as easy as possible
In the same vein, make the editor's job as easy as possible. There is so much work that goes into producing a magazine, so if you can take any of that off me I'll probably be biting your hand off to feature you.
Can you source beautiful high res imagery? Can you find quotes to back up your argument? Can you get your article edited by someone reputable? If so, include this info in your pitch. Being able to do any of these things takes a task out off my hands which means I'm much more likely to want to work with you over anyone else.
Submit via the appropriate channel
To me this seems super obvious, but please (for the love of God!) submit via the appropriate channel. For me (and I'd imagine most other magazine editors) that's going to be email. I am shocked at how many people have tweeted or private messaged me on my personal facebook account asking if they can write/ submit/ be featured by Rock n Roll Bride! I might chat to you casually over social media, but when it comes to getting a job done you need to do things officially.
Understand the content we publish
Do your research into the magazine before you pitch. It would be mightily embarrassing if you pitched an article idea that we'd just published last issue! Similarly, make sure your article suits the niche of the specific magazine.
Think about who you are going to be writing for (for Rock n Roll Bride it's obviously brides-to-be planning alternative weddings) and pitch an article that specifically targets them, their interests and their preferred style of wedding. An article about chair covers, princess dresses or horse-drawn carriages just isn't going to fly!
Don't be over sales-y
The primary goal of all the articles in Rock n Roll Bride magazine is to help our readers plan their awesome alt weddings, and to inspire them (to be unique, to be themselves, to ignore the status quo). They are not there to promote the business of whoever wrote it! Of course a well-written article will do that as well, and the author will always be credited, but it can't be the sole reason for its existence.
When it comes to thinking of your article idea, ask yourself "Is this helping or inspiring (ideally both!) the readers of Rock n Roll Bride, or is it just promoting what we do?" If its the latter then we have plenty of advertising options available for both online and print.
It is very easy to submit to Rock n Roll Bride magazine (just email me!) and I promise I don't bite. Each issue currently includes two articles penned by freelancers so I am always looking for new writers. Just make sure you follow these simple steps and we'll get along just fine. I look forward to hearing from you!
The next issue of Rock n Roll Bride magazine is on sale September 3rd. You can pre-order a copy right now for just £4.99 (inc free shipping if you're in the UK!)