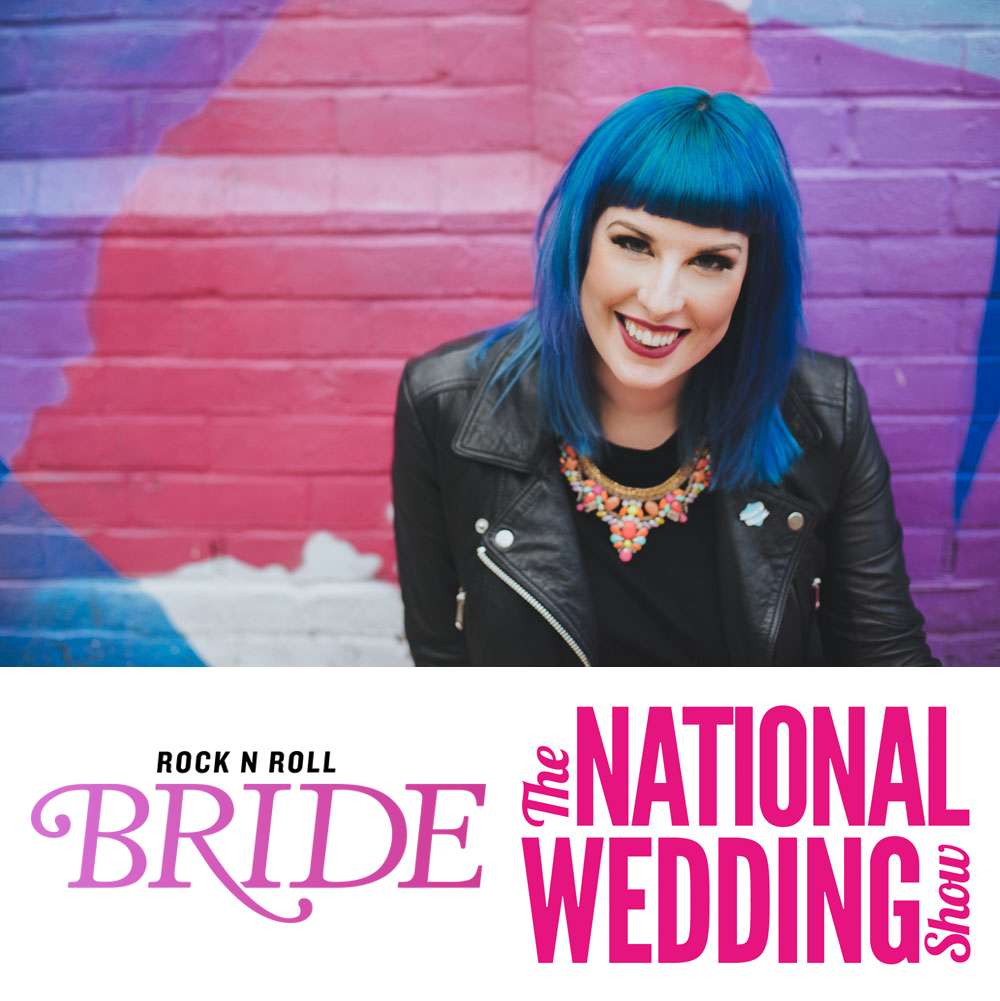 You don't know this, but when I started thinking about Rock n Roll Bride as a business rather than a hobby, one of my first big ideas was to organise an alternative wedding fair. However I shelved the concept before I even began to do anything about it because it just felt too big and scary. I was paralysed by the enormity of actually pulling something like that off.
Now some of you may remember that in September I was invited to take part in The National Wedding Show in London. It was a fab day and I loved meeting the exhibitors, but most of all it was a real thrill to hang out with my readers that came along to the meet and greet. The experience gave me a mini-brainwave and that early idea started to come to the forefront of my mind again because who could be better to make that dream a reality than the biggest wedding show in the country!?
So we had a meeting (remember this day?) and to my utmost surprise they loved the idea! I can't quite believe I'm writing this, but Rock n Roll Bride will be partnering with The National Wedding Show to create The Rock n Roll Bride Collection, a dedicated area for alternative wedding suppliers, at the Spring 2016 shows!
With the NWS being the biggest wedding show in the UK (with an average of SIXTEEN THOUSAND attendees in London alone!) in the past, they have mostly been focused on the very traditional end of the wedding market. I honestly thought they'd laugh this blue haired, tattooed chick right out of their 21st floor Canary Wharf office! However the fact that they want to partner with a brand such as Rock n Roll Bride to begin to cater for the much neglected alternative market is very. exciting. indeed.
Is the wedding industry at large finally sitting up and taking note of the massively awesome potential of tapping into our way of thinking!?
ATTENTION WEDDING SUPPLIERS!
Do you want to be there with me? Do want to put your product or service in front of upward of 16,000 brides and grooms that will attend each of these huge events?
The shows are taking place in Manchester on 20-21st February, London from 26-28th February and Birmingham on March 4-6th, and at every one there will be a dedicated area for alternative suppliers, hosted by yours truly.
The Rock n Roll Bride Collection will be a carefully curated area where only the most awesome wedding suppliers are allowed. The area within the show will showcase anything from outrageous bridal gowns to quirky wedding cakes, stationery, jewellery, photography, and much, much, more! So if you do something a little bit weird, a little bit wacky and something definitely left-field, then we want to hear from you!
To apply for one of the limited number of stands, simply email sales@nationalweddingshow.co.uk or call 0207 772 8455.
Brides and babes who just want to come along for the party, if you're super keen you can already book your tickets via The National Wedding Show website, but I will be reporting back closer to the time to let you know exactly who will be there and what will be going down.
Oh my goodness, I cannot WAIT to meet you all!