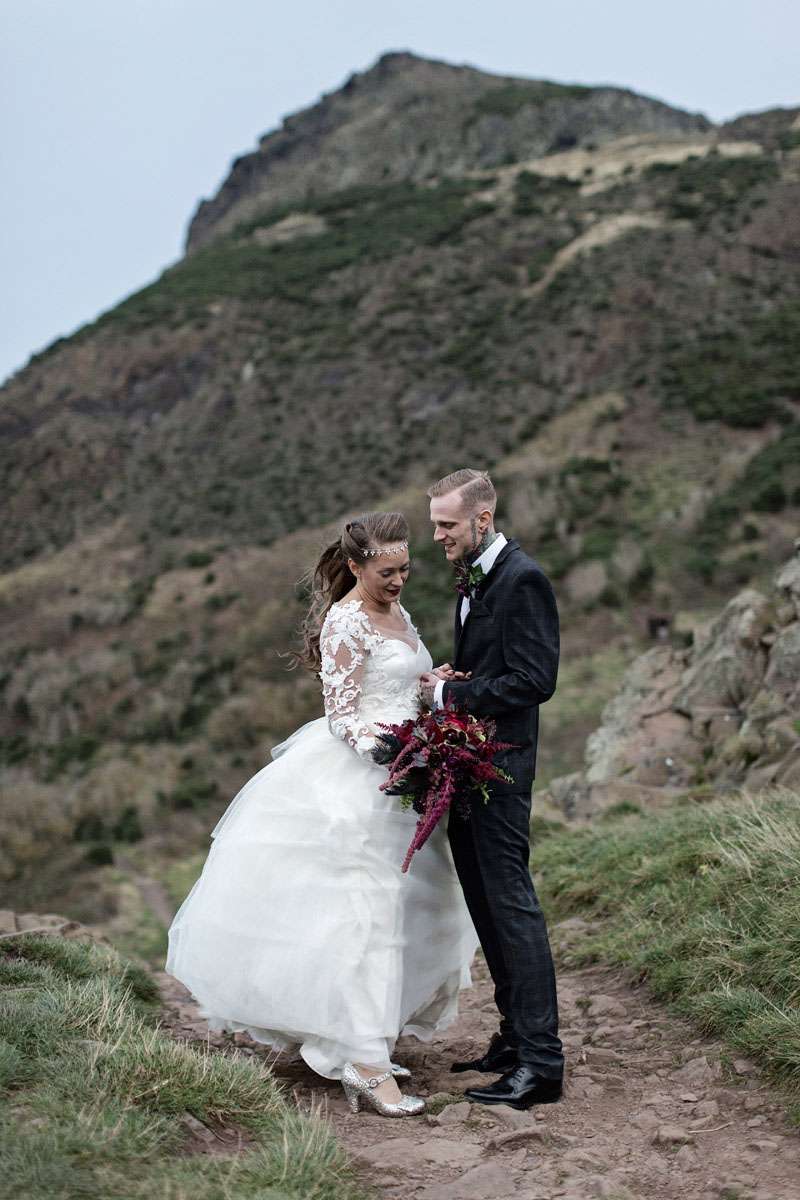 Lisa and Jim were married at Prestonfield House in Edinburgh on Halloween. They planned the wedding in just five months, had just 18 guests and did a lot of the key elements themselves.
"The idea behind our wedding was to have a small intimate candle lit ceremony at night with an open fire", began the bride. "We wanted all our guests and officiant to be dressed in black – black evening dresses and black evening suits with bow ties. There was a gothic touch and a spiritual element which all tied in with Halloween."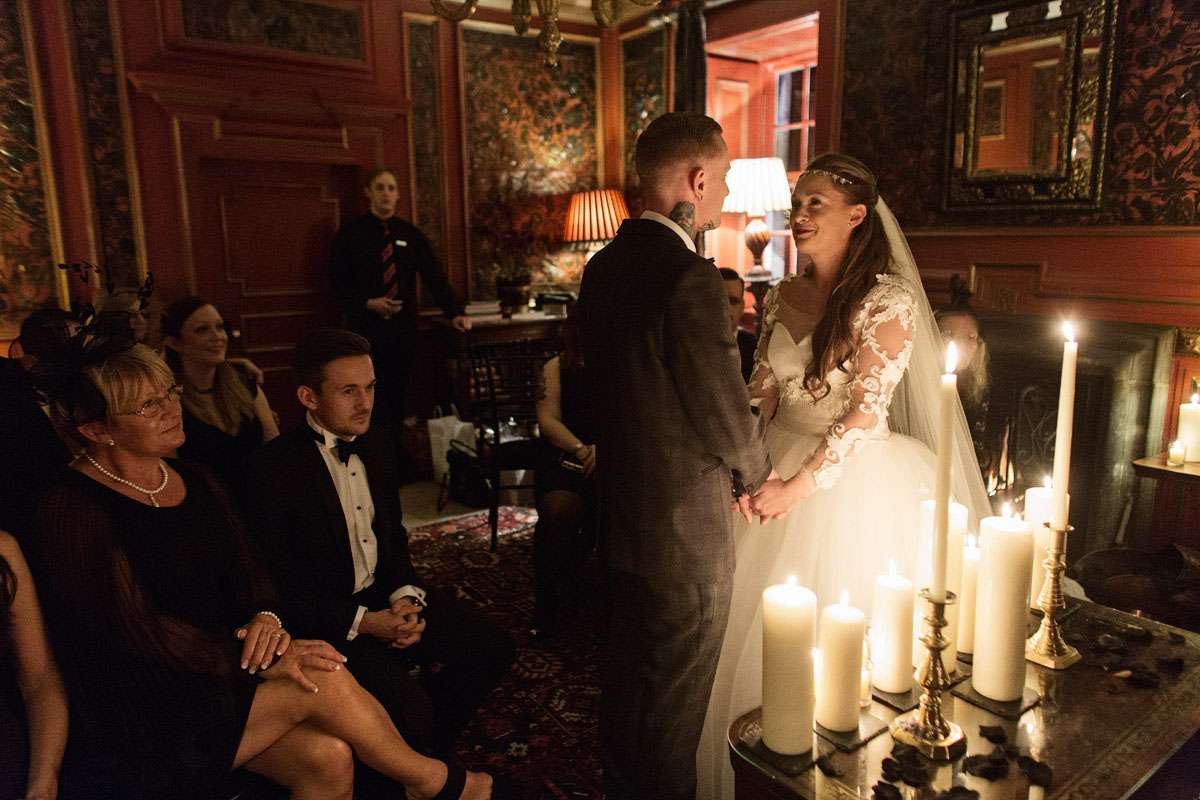 "After a champagne reception we had a dinner party with a woodland, harvest theme. Jim and I love Halloween, but for different reasons – Jim loves horror movies especially 'Halloween' and has three different Michael Myers' tattooed on him. We had Michael Myers mentioned in our ceremony by the officiant as a joke. I love Halloween as this is when it is the Celtic New Year, Samhain, celebrated at sunset on 31st October. This is why I wanted an evening wedding. Samhain marks the end of the harvest and the start of a chapter, new beginnings. Jim and I do not celebrate the traditional New Year of 1st January. Jim also lost his mum recently and so we felt that Halloween being traditional for the dead to be closer to the living to be a touching time to think of his mum being there with us when exchanging our vows."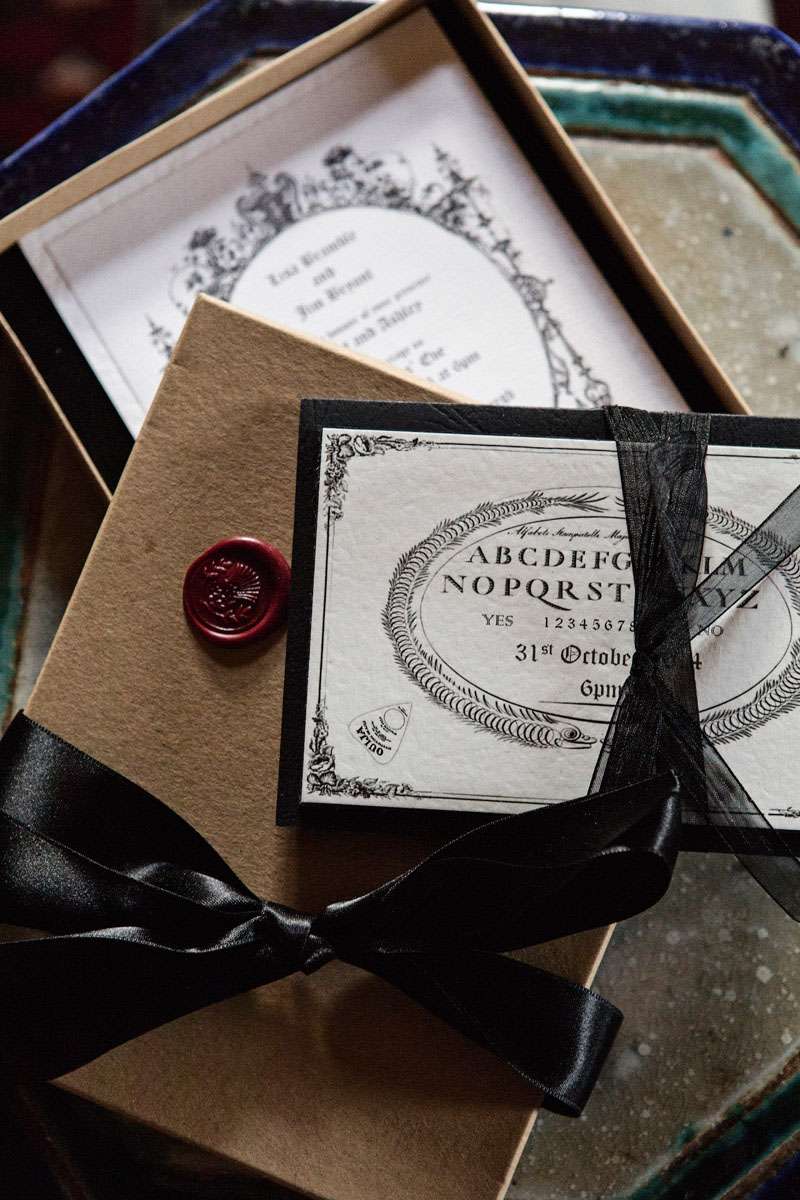 The couple did a lot themselves including making the invites and decorating the table, which all the guests sat around for dinner. "After contacting four different wedding invitation designers who were not able to create the kind of invites we wanted, we decided to do it ourselves. As we only had 10 invites to create we felt that this would be a realistic task. We locally sourced the padded boxes and materials which we then made by hand into 10 unique invitation boxes. The invitation boxes included a bat illustration on the inside, a Ouija board invite booklet which opened up to show a poem we wrote, and a bunch of vintage black and white wedding photos of brides and grooms which were found during numerous trips to local thrift stores in Brighton. Each invite box had their own unique photos to make their boxes one of a kind. There was also a personalised invite for each guest and their partner and personalised Tarot 'Lovers' card depicting two skeletons kissing for an RSVP reminder. Everything was sealed with silk ribbons and a wax seal with a thistle stamp."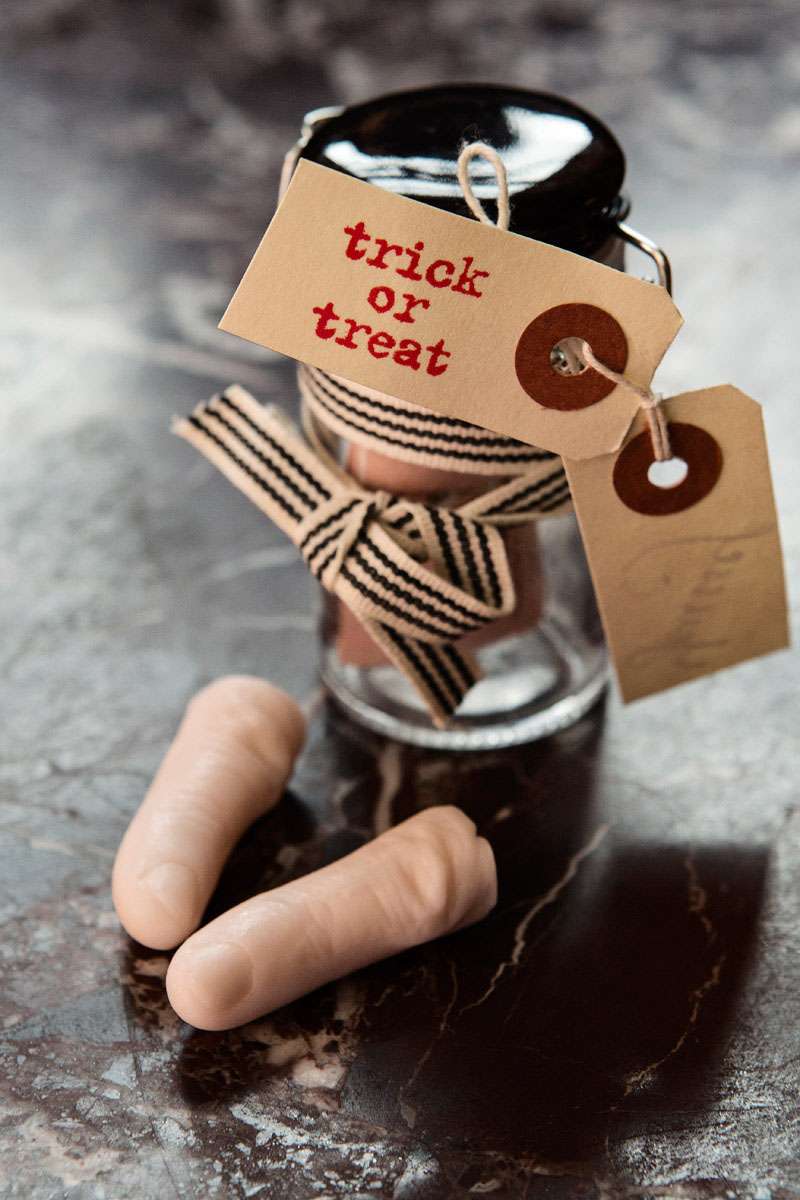 In terms of décor, the couple bought 80 candles of various sizes for their ceremony from places like eBay and TK Maxx. "A friend brought along black rose petals to scatter on the ceremony table too. Several incense sticks were also lit to add to the atmosphere along with open fires burning in the ceremony and wedding breakfast rooms."
"For the reception table we sourced the glass jars, ribbons and blank labels then we added lucky dip lottery tickets as favours. We also gave everyone cinnamon soap shaped into severed fingers and stamped everything with a 'Trick or Treat' stamp. Also on the table we had two bronze stags which were provided by the venue."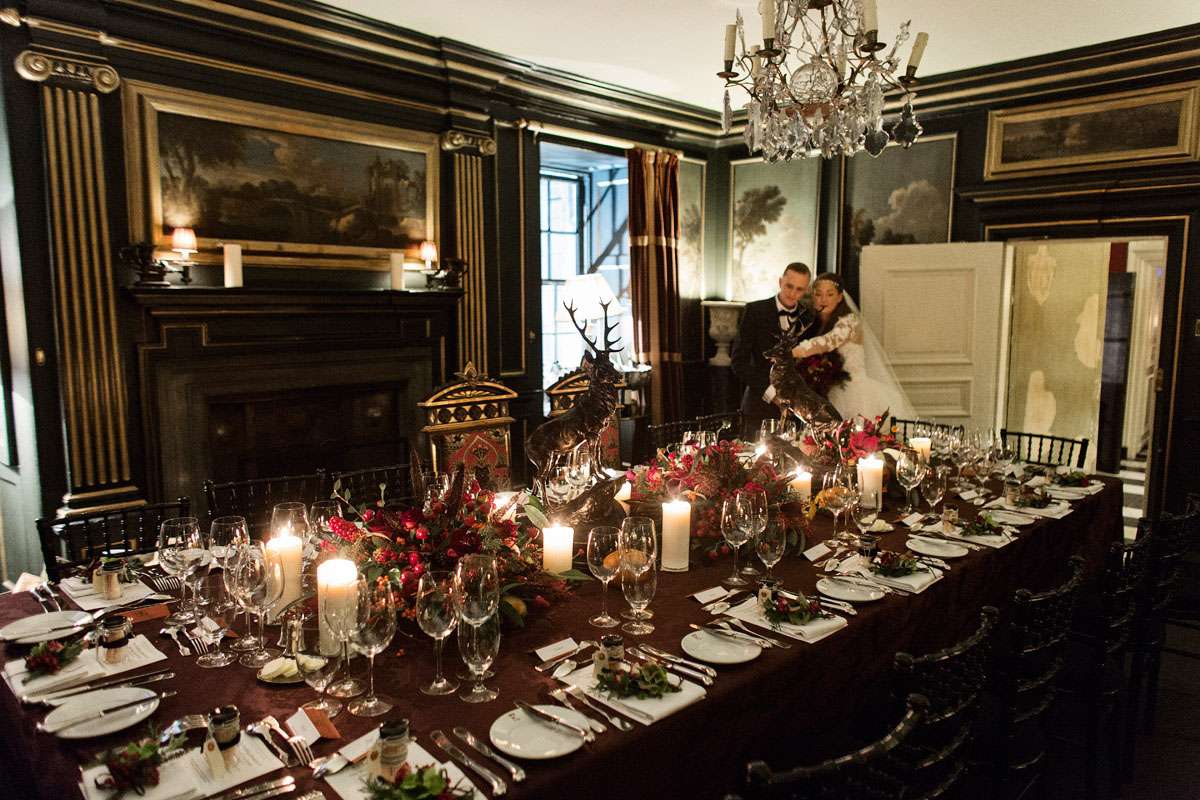 "We had no hen or stag parties, no bridesmaids, no groomsmen, no cake, no cars, no large flower displays, no DJ or party for people to dance at, all of which saved us money. Jim and I walked into the ceremony room together and we had two blessings read by my brother and one of our friends. With our chosen venue we knew that we would need to limit the number of invites due to the size of the wedding rooms, which for us was exactly what we wanted. We had always planned a small wedding as we wanted to spend our budget enjoying an indulgent experience with our guests with champagne flowing, all we could drink and all the food we could eat. Our venue was probably our biggest expense at £3000 but that included two nights stay for Jim and I, hiring three rooms, all the services, drinks and food! Having this wedding in England would have been out of our budget! Scotland is definitely the place to go for value for money. As the venue was so amazing in itself, we also didn't have to spend lots of money decorating it."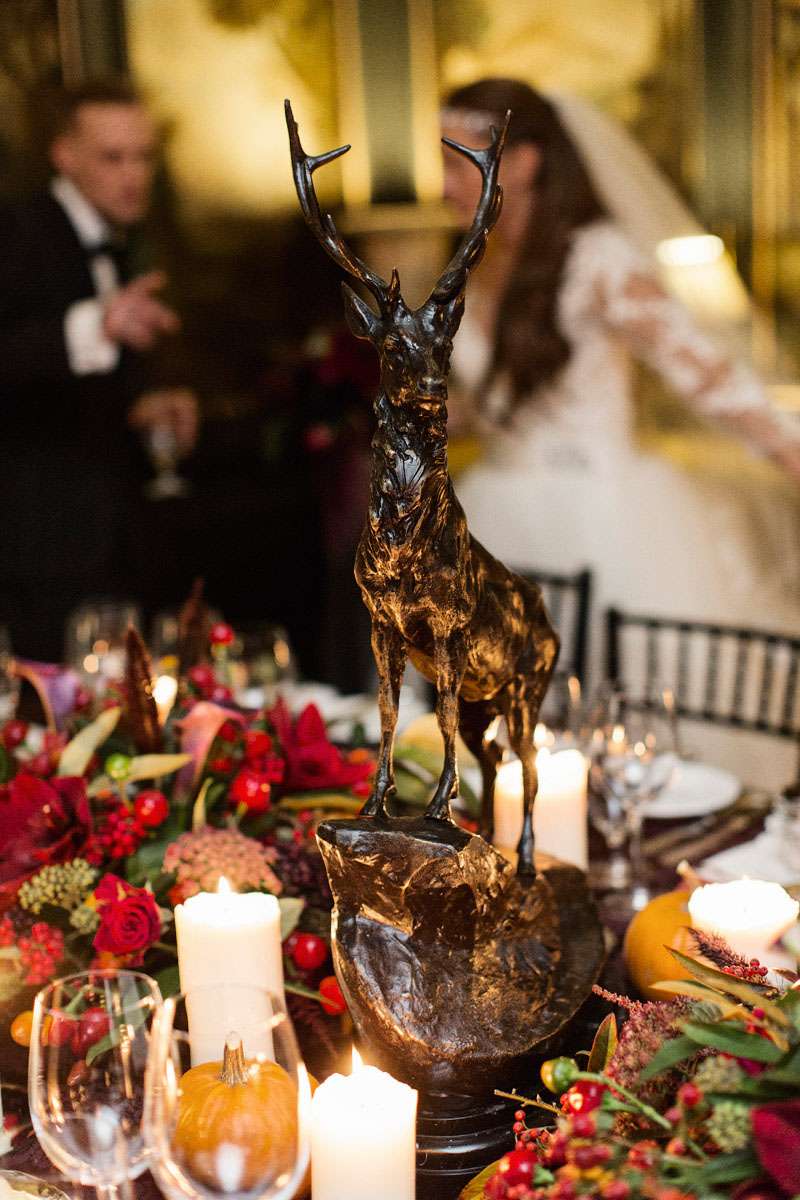 "Our advice to other couples would be to invest in a good photographer", Lisa concluded. "We are so pleased with the photos especially as Jim and I do not feel comfortable having our picture taken, but our photographer Paul was able to capture us enjoying our day without feeling like a camera was present.".