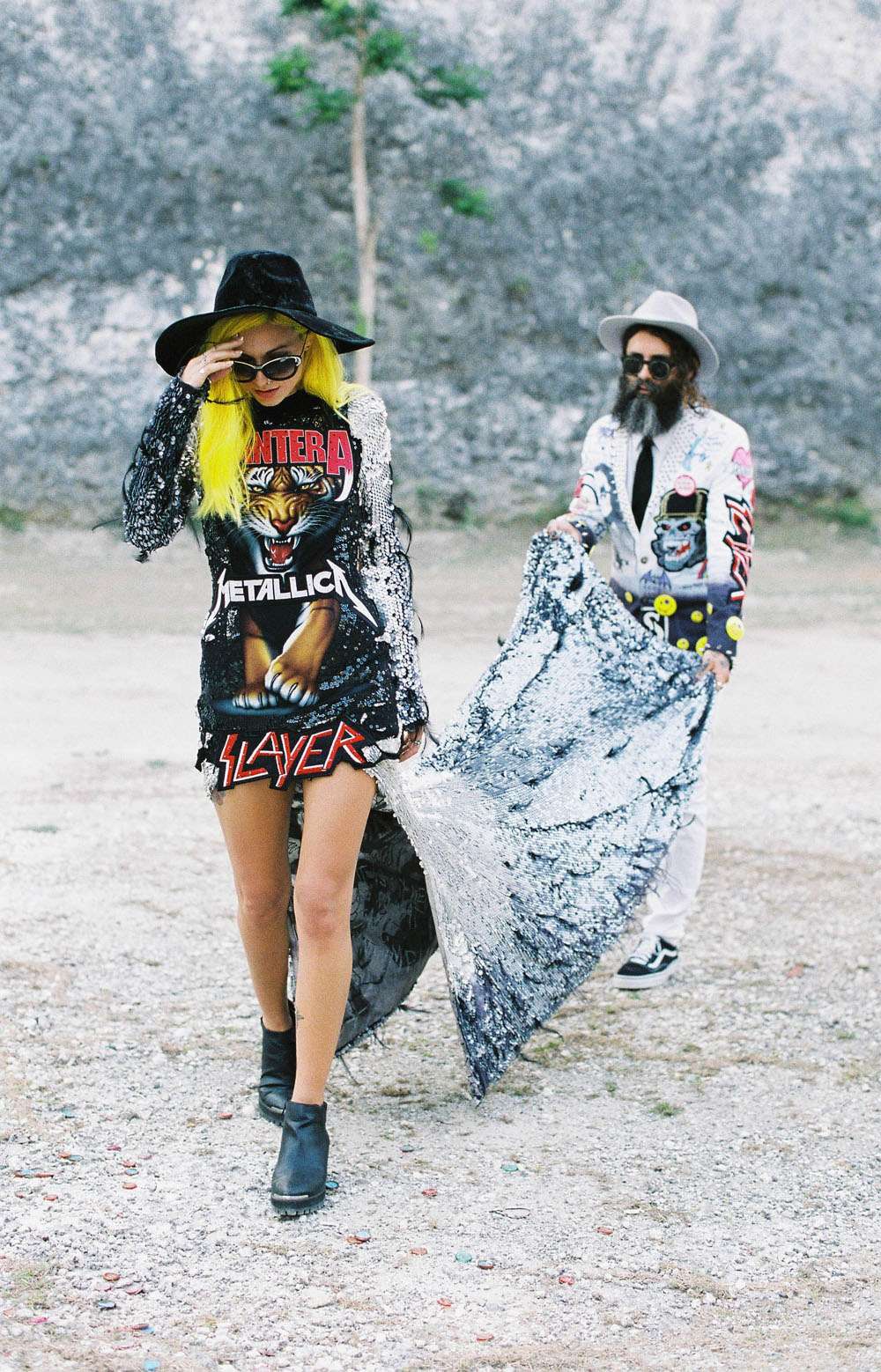 Ainsley and Sebastien have become quite the celebrities around these parts. I fell in love with them when I shared their epic engagement session, died and went to wedding heaven when I featured their INCREDIBLE Vegas elopement (it's definitely one of my favourite weddings of all time!) and now I want to marry them and have their babies after seeing their Bali one-year anniversary session! Photographed again by the spectacular Janneke Storm, prepare to get your freak-out on over just how awesome this pair are.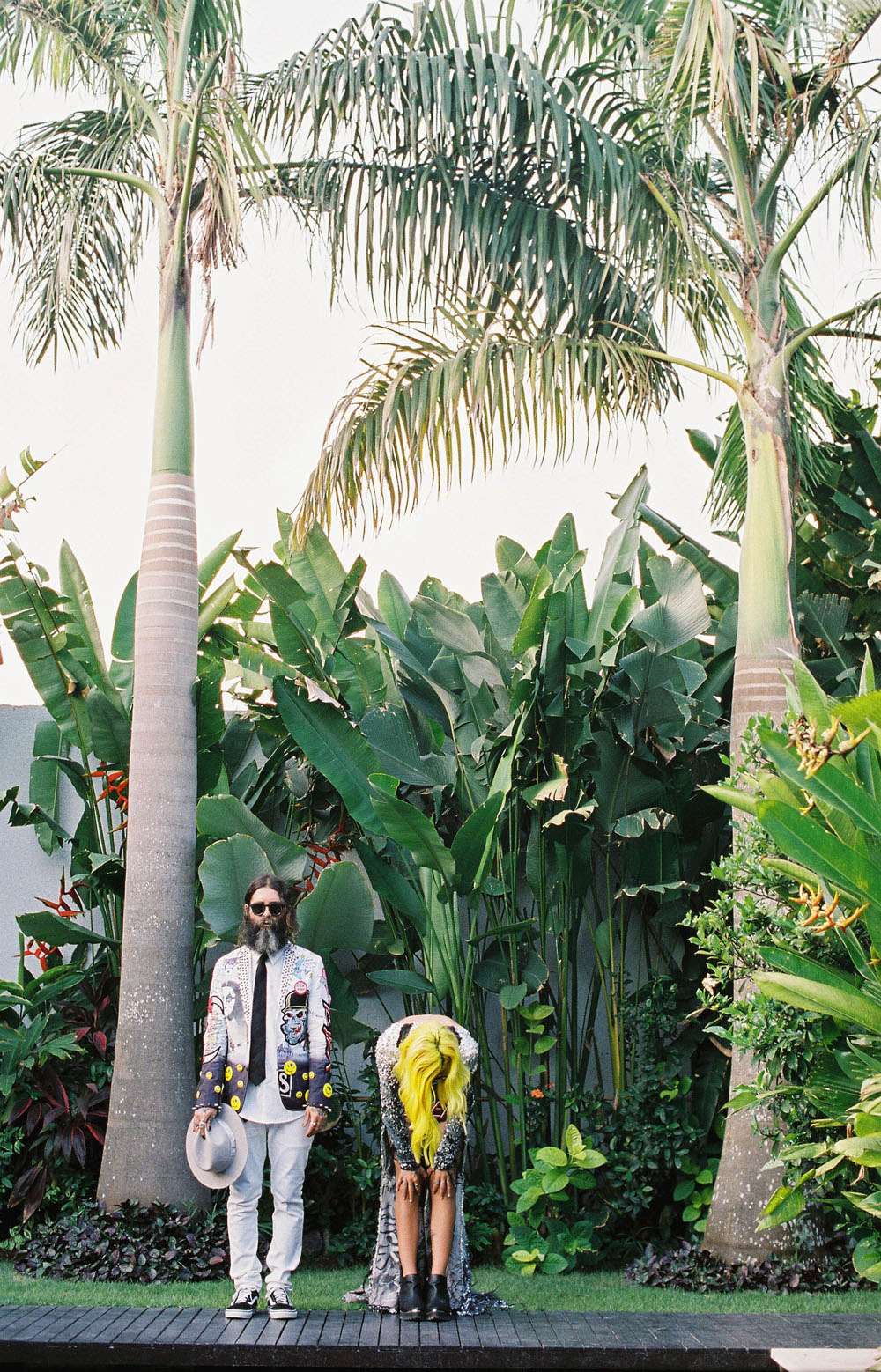 "In November 2013 Sebastien and I eloped to Vegas", wrote Ainsley. "After one of the most amazing experiences of our lives and some rad photos taken by our incredible photographer friend Janneke, we decided to do it all again… well kinda… Minus the wedding ceremony and Elvis. Exactly a year later, in November 2014, we took our customised wedding outfits and my freshly dyed yellow hair to Bali and asked Janneke to follow us around with her camera again for our one year anniversary shoot."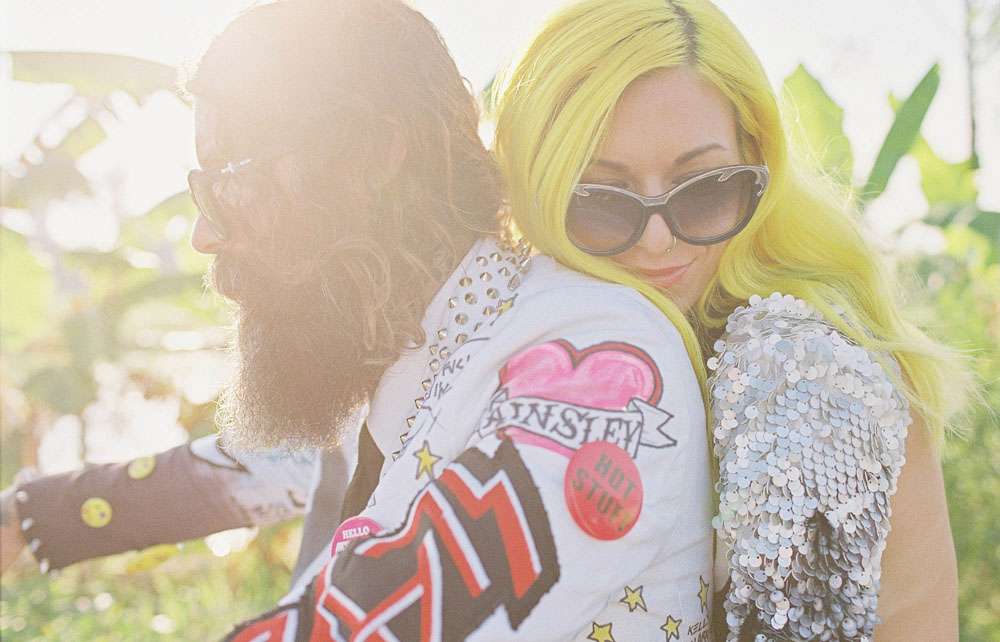 "On the morning of the shoot we got up super early to get ready and take a few pictures at the beautiful Canggu villa we were staying in. Already beads of sweat were beginning to form on all of us and by 7am in the morning the incredibly heavy, poly lined, sequins, patched up dress that I would be wearing for the next 16 hours was starting to feel like a bad idea. I mean what the fuck were we thinking shooting winter wedding outfits in a Bali summer? But whatever… it was still gonna be an awesome day, despite the heat! So we left the villa on our motorbike and headed to some beautiful near by rice fields to watch the sun rise and ride around on a dirt track for a bit."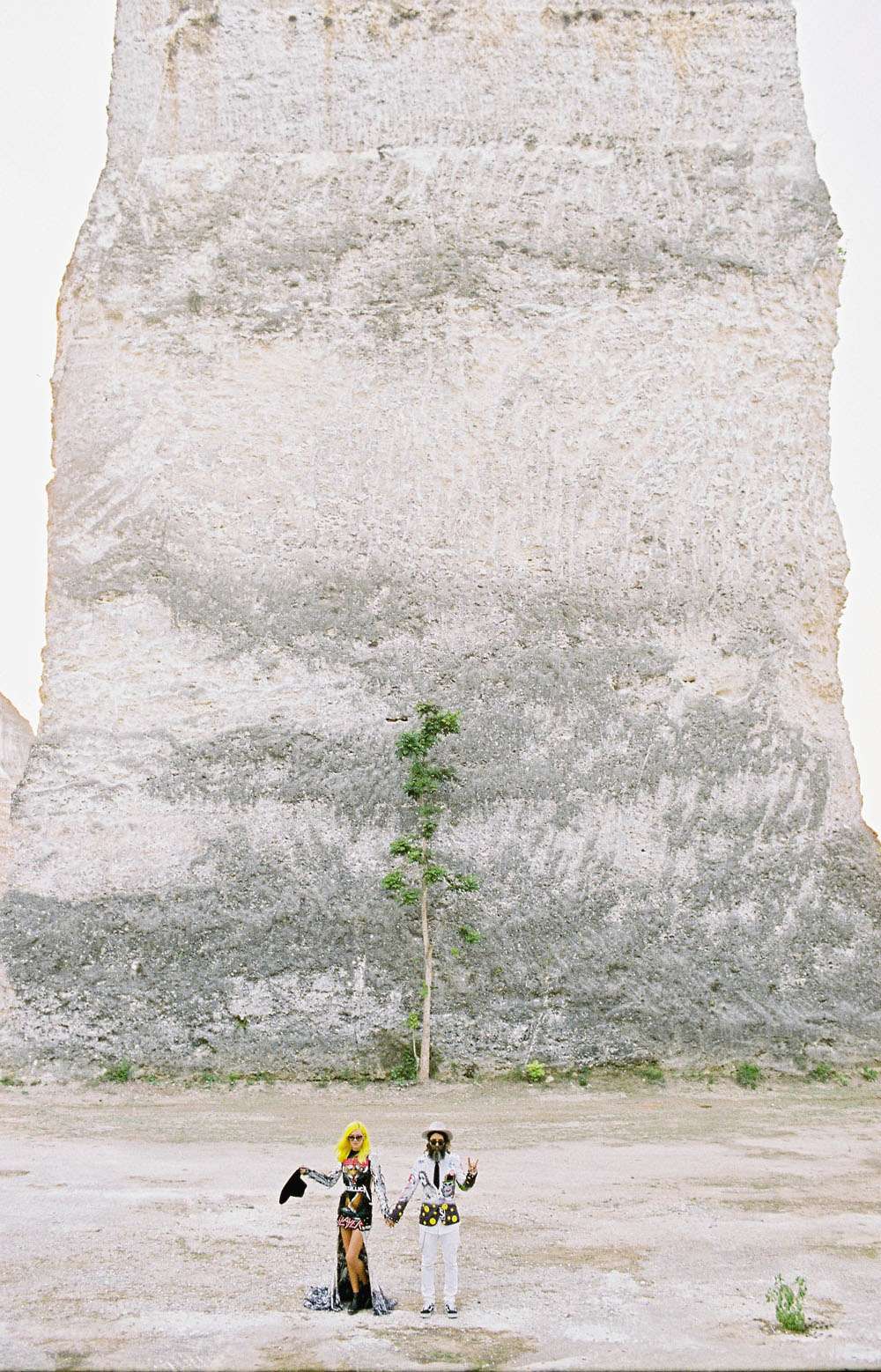 "Very quickly the beads of sweat started to turn into a thin dirt paste that would cover us and our outfits head to toe for the rest of the day", she continued, "but whatevs, we still had so much to see and shoot and so off we went to an incredible quarry that we'd been told about."
"After an air conditioned cab ride we were all feeling slightly more refreshed but also somewhat dry and stiff as the mud had turned into some kind of mask and set all over our skin. We stood humbly and in awe at the base of two of the largest most beautiful rocks we had ever seen and began to feel inspired to shoot again."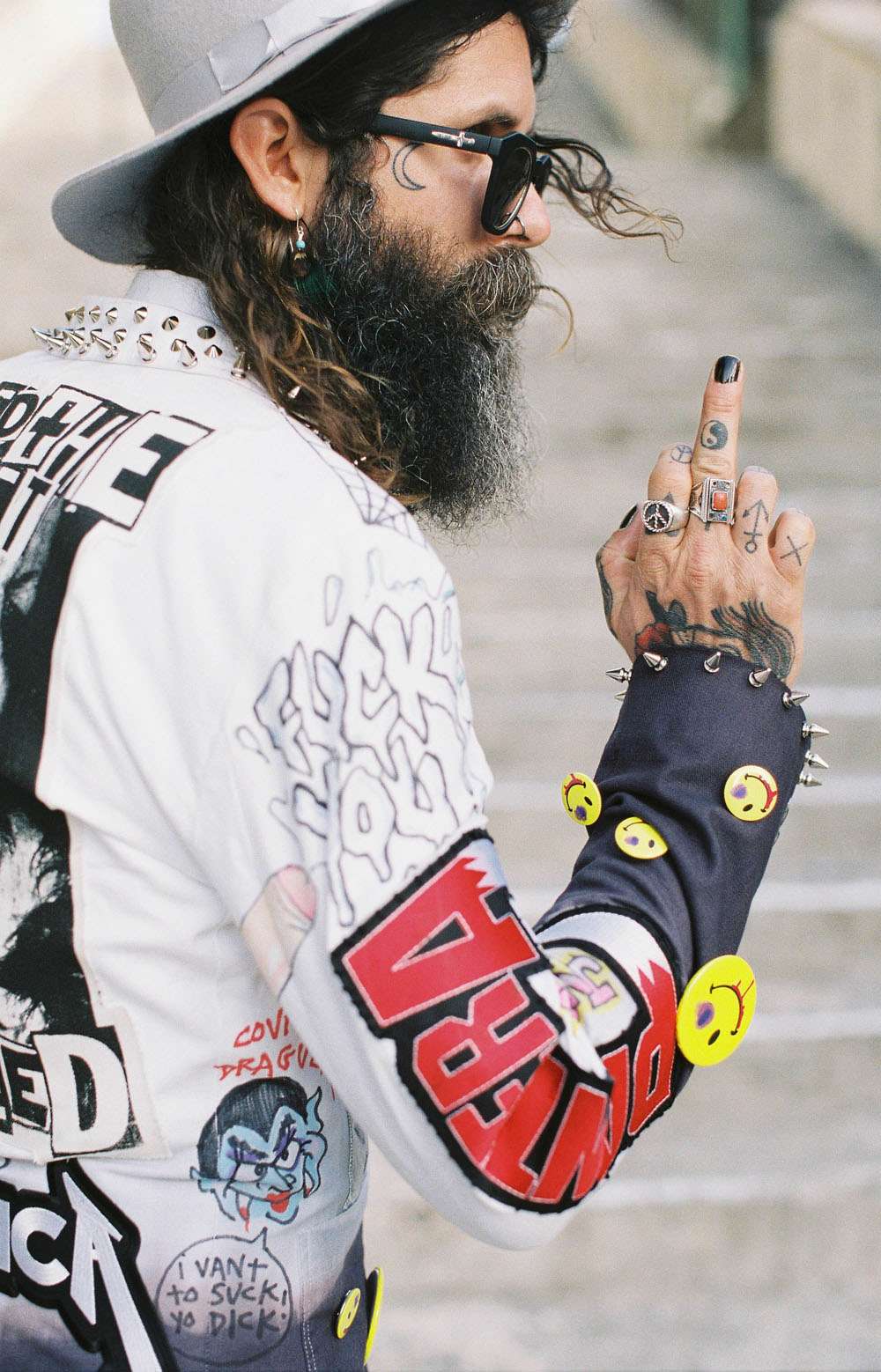 "We climbed some stairs and did some fun photo stuff and collected another layer of sweat and dirt. After about an hour, we took refuge in the air conditioned cab and headed back to Seminyak Beach for some incredible grilled corn, bintang beer and hopefully some ocean breeze relief. Unlike the temperature, our spirits and energy levels were beginning to drop a little, but there was no way we were gonna miss a Seminyak Beach sunset photo opp and so off we went."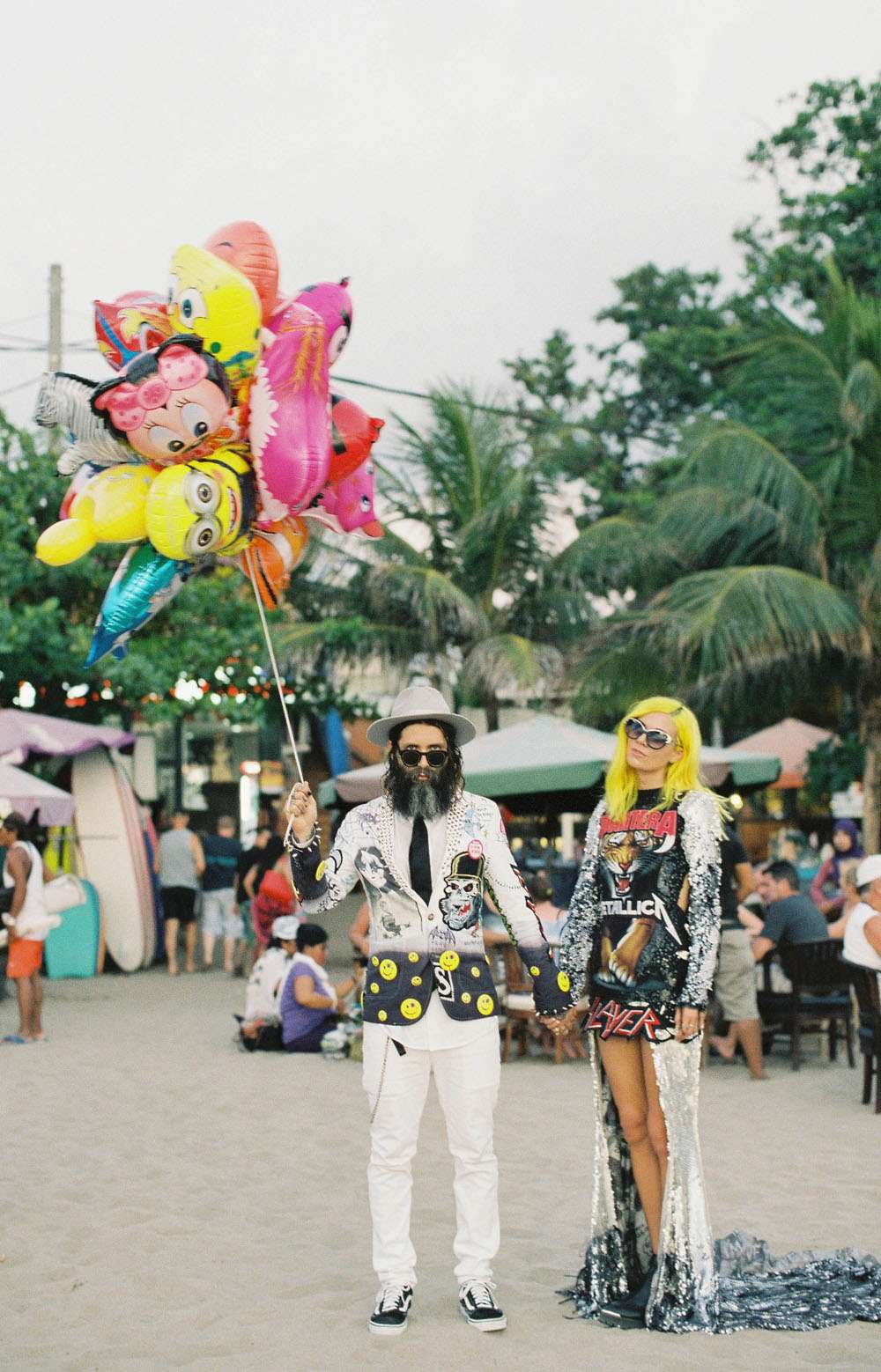 "As we arrived we realised that it wouldn't be just us three like it was at the dirt track, quarry and in the Vegas desert. Actually we would be joined by thousands of tourist spectators who flock to that beach every day, many of them very keen to be part of the shoot too. So with incredibly burnt, drunk, shirtless, enthusiastic white people weaving in and out of our shots, teeth filled with corn and a new layer of thick sand and bintang that felt like it was covering every square inch of our bodies, we soldiered on. In the meantime we also got to experience one of the most beautiful sunsets I have ever seen."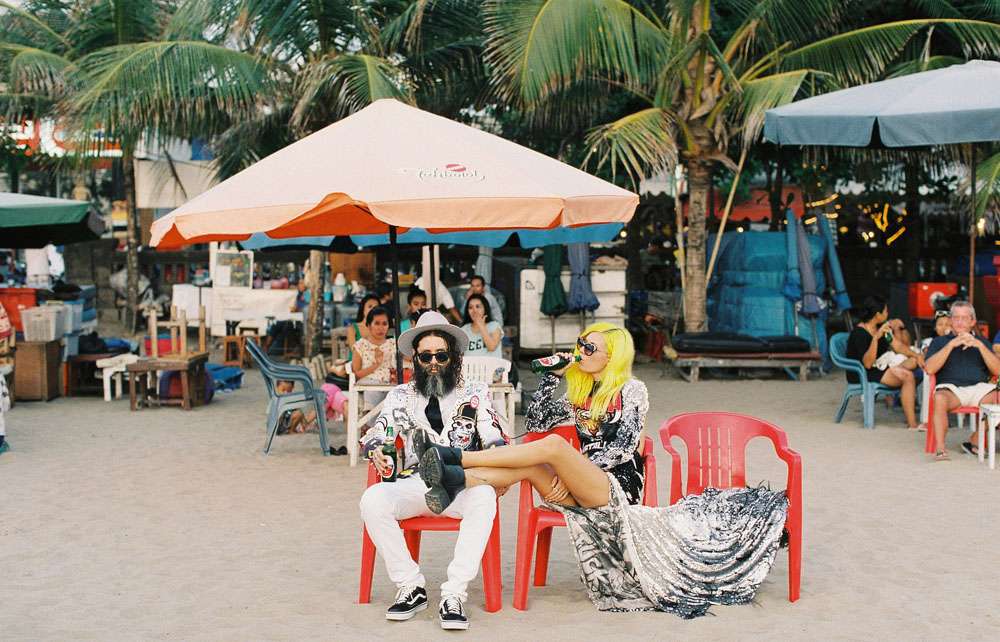 "Actually, we seemed to find our second wind at this point", she explained. "Perhaps it was from being so amused by everyone around us, so after dragging the heavy train of my dress through the sand for another hour or so we jumped in the cab and headed to one of the most amazing bars in Bali. It was massive and divided into loads of different incredibly decorated rooms filled with trinkets gathered from all over the world. This is where my favourite photos were taken and where the long day ended perfectly with an espresso Martini or two."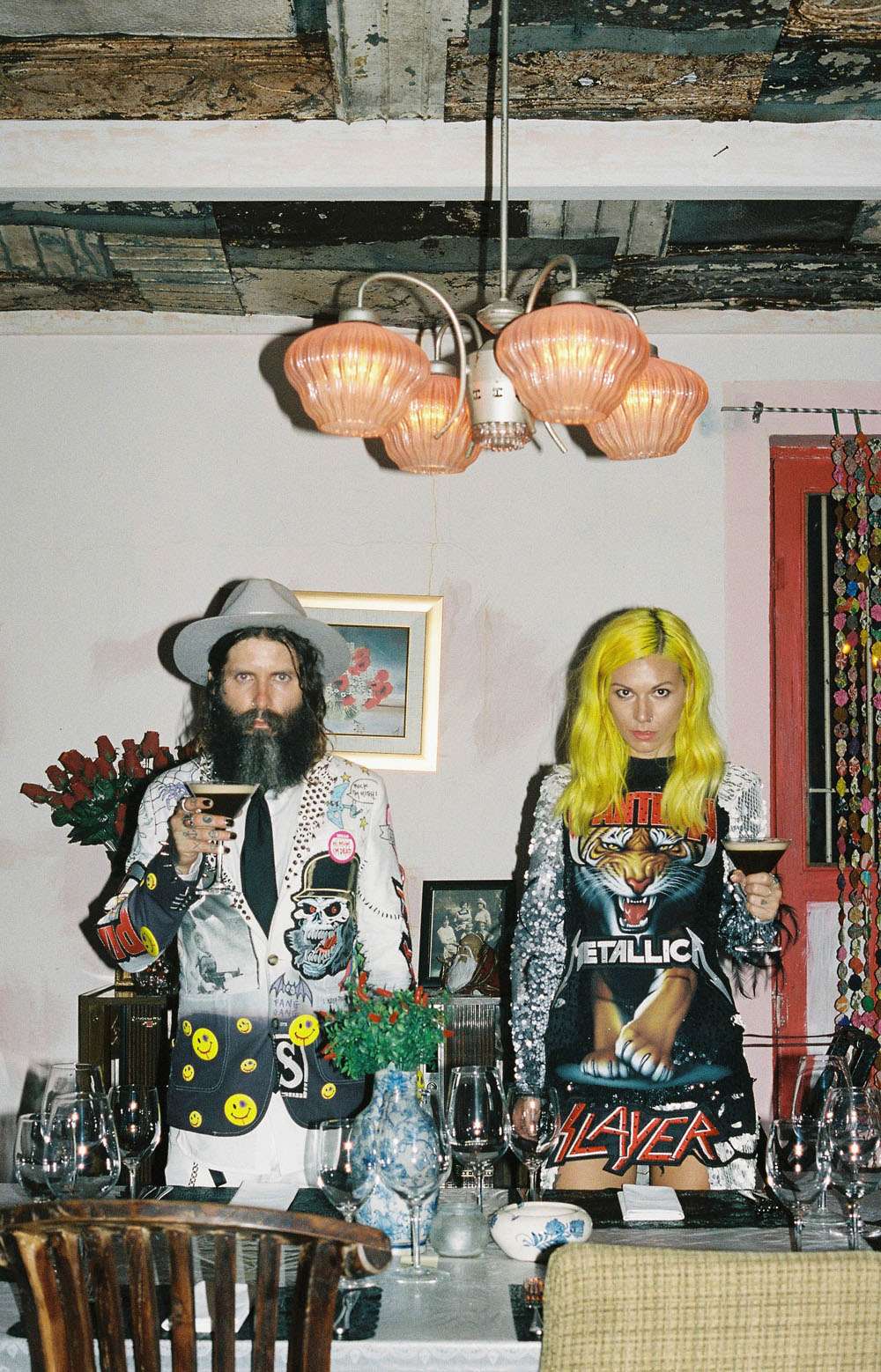 "You can 100% expect a second year anniversary shoot from us too", Ainsley concluded. "Only next time we will be heading back to the other side of the globe where things are a little cooler."
I can't wait to see what you come up with next guys, and before any other wedding blog tries to nab it for a feature I just want to put my stake in the ground and scream "BAGSY!" to having it on Rock n Roll Bride!