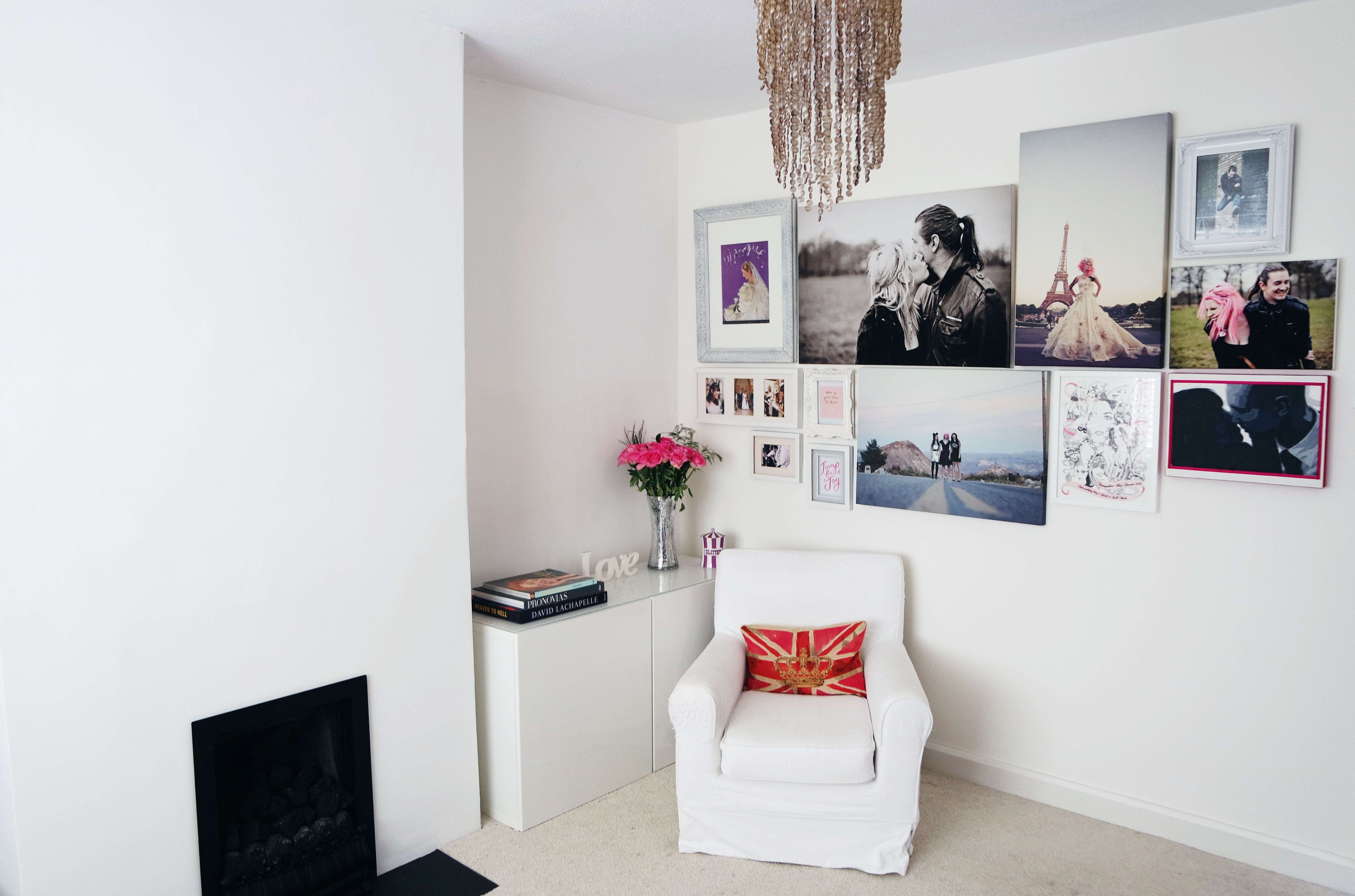 Gareth and I live in an extremely unremarkable two bedroom house. That's not to say it isn't a lovely home (even if it is a bit on the small size!) and we've been very happy here for eight years now. Some long-term readers may actually remember when I shamefully shared a photo of what our living room looked like in 2010 (ugh shudder..!) so needless to say we've made some vast changes over the years.
Well… Gareth has. While I am DIY phobic at the best of times, he really is a superstar. Over the past six months he's replaced the carpet throughout the entire house (I can't even tell you how overjoyed I was to see the back of the hideous terracotta monstrosity that was covering our floors), removed and replaced the fireplace, plastered, and painted everything pristine white… all on his own. Yes, it's true. I married a one-man IT/DIY genius. How the hell did I get so lucky?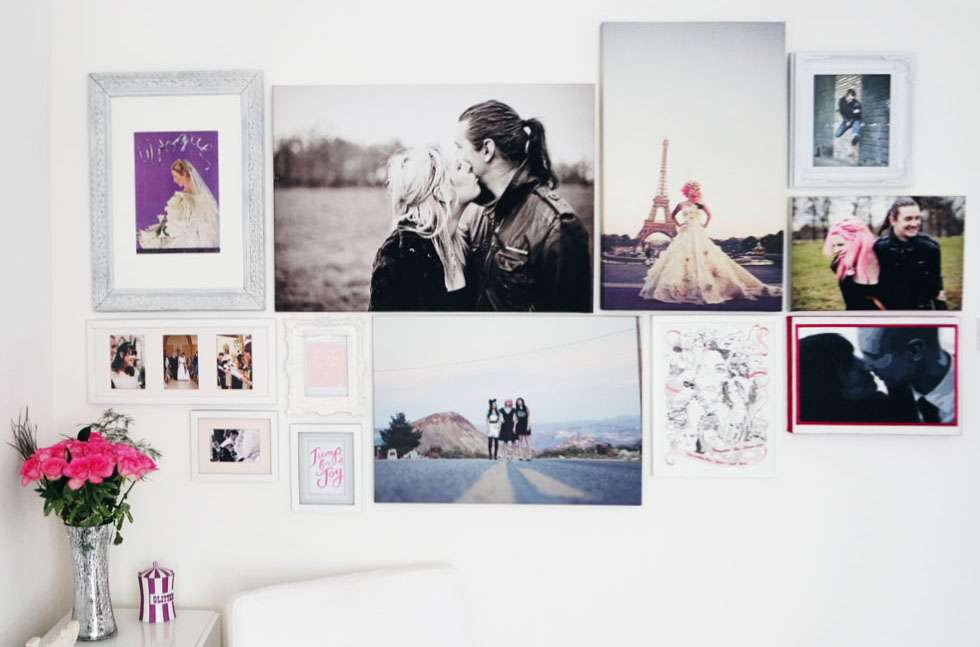 He also put up all those pictures I've been hoarding for years. We finally have the gallery style wall of canvases, prints and paintings that I always dreamed of.
Although we would like to move somewhere bigger in future, right now we're really happy with our little home. However as you'll see from these photos, there is one big thing missing from our front room… COLOUR!
As you can probably imagine, I am all for throwing all the colours of the rainbow at it and seeing what sticks. However, Gareth is a lot more cautious and strategic and wants to make proper plans (yaaawn!) about what will work together and look right in the space. But considering what it used to look like, I am beside myself with happiness to live in a white-on-white-on-white house!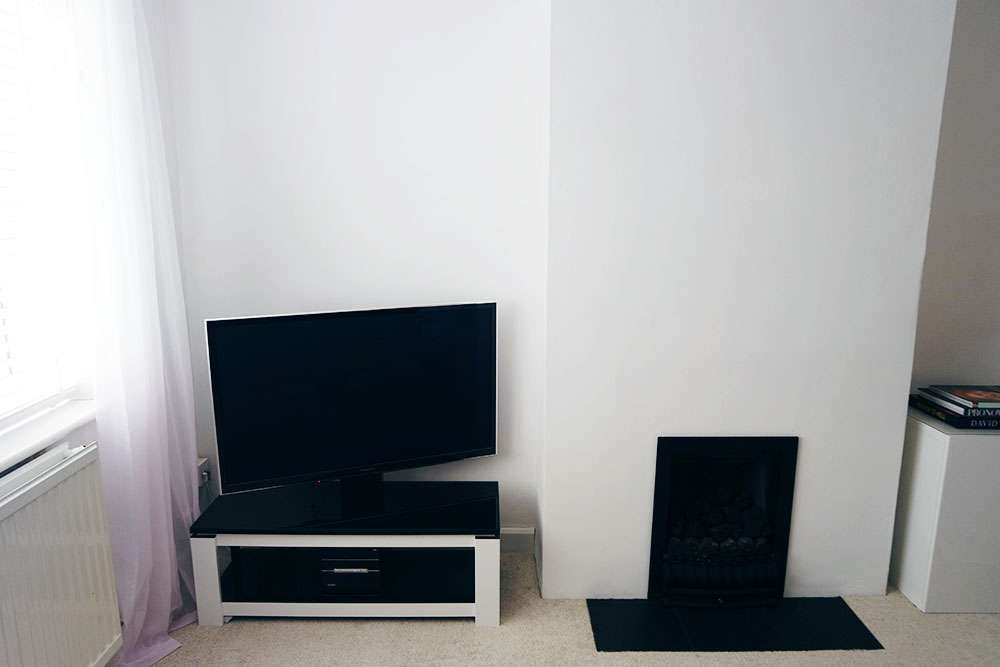 My friends at Prezola, the wedding gift list company, recently got in touch to ask if I'd like to go fantasy living room shopping on their brand new website. Well, who could say no to an offer like that!? Now I don't know about you, but I think our living room would look pretty damn amazing with all this extra colour in it! I wonder if I can convince Gareth that some of these things are totally mandatory purchases (like, especially that pink accent chair – swoon!)?
Prezola are a wedding registry like no other. The reason being, you can add literally anything your heart desires from any online retailer you can find. Want to add something from Etsy? No problem… What about an obscure little independent shop you wondered past one day? You got it! You can even include cash contributions, experiences (like spa days or honeymoon treats) or donations to any charity.
They publish 30,000 gorgeous products on their site from hundreds of retailers including Selfridges, House of Fraser, Heals and The White Company. They list items from homeware brands such as Wedgewood, Jonathan Adler and Emma Bridgewater, and even emerging designers such as Cornishware, Avenida Home and JimbobArt. Basically, you can browse everything the high street has to offer; all in one place.
However, if you do find something elsewhere online that they don't list, you can simply add up to 10 bespoke gifts using their super easy to use create-a-gift service. All you do is paste the link to the item into their system and it will be added to your list within two working days (although mine appeared in less than 24 hours)!
Even better than all that, using Prezola is completely free, including free delivery of all your items and optional gift wrapping. If you want to include cash contributions, a honeymoon fund, charity donations or to add bespoke gifts then there's a flat one-off fee of just £39.
So what are you waiting for? Why don't you start fantasy shopping for your own living room right now?