Yep, you read that right – Carla & Nicholas spent just $800 on their intimate fiesta elopement. In fact I had to double check they didn't mean $8000 when I received their submission and that it wasn't just a typo!
The elopement took place on 28th December at Madison County Courthouse. After they got engaged, the couple immediately started planning a big wedding, but after some time decided to instead elope the weekend after Christmas. All their family was in town for the holidays so it meant they could all be there to celebrate with a big family meal afterwards. The bride's sister-in-law, Melanie, secretly hired wedding photographer Ashley Vaughn of White Rabbit Studios as a gift to capture their day. Everything else came in under the $800 budget.
"Our family gathering after our ceremony was inspired by fiesta with a kick of Dia de los Muertos (Day of the Dead)", Carla explained. "When we decided to do a courthouse wedding with a small family reception, I knew exactly where I wanted the reception. I love the look, the colors, the details, and atmosphere at Rosie's Mexican Cantina. A fiesta theme just fit perfectly. Nick and are a little off the beaten path when it comes to what we enjoy and love in life and I have always been intrigued by and enjoyed the Mexican celebration Dia de los Muertos. We already had the family gathering together so why not honor loved ones who had passed on while we were at it?"
"I am inspired by the past and love mixing old with the new", she continued. "The décor items we used were exactly that, the old mixed with the new. The old bottles were purchased at flea markets and estate sales, the boxes were made from recycled pallets, the deer skull came from a garage sale and hangs in our living room. The DIY paper flowers looked great mixed with fresh flowers, and the champagne ice bucket was made by my sister who runs Southern Flair Events. I purchased the papel picado banner and Day of the Dead cake topper but I made everything else. It all just fit together so perfectly."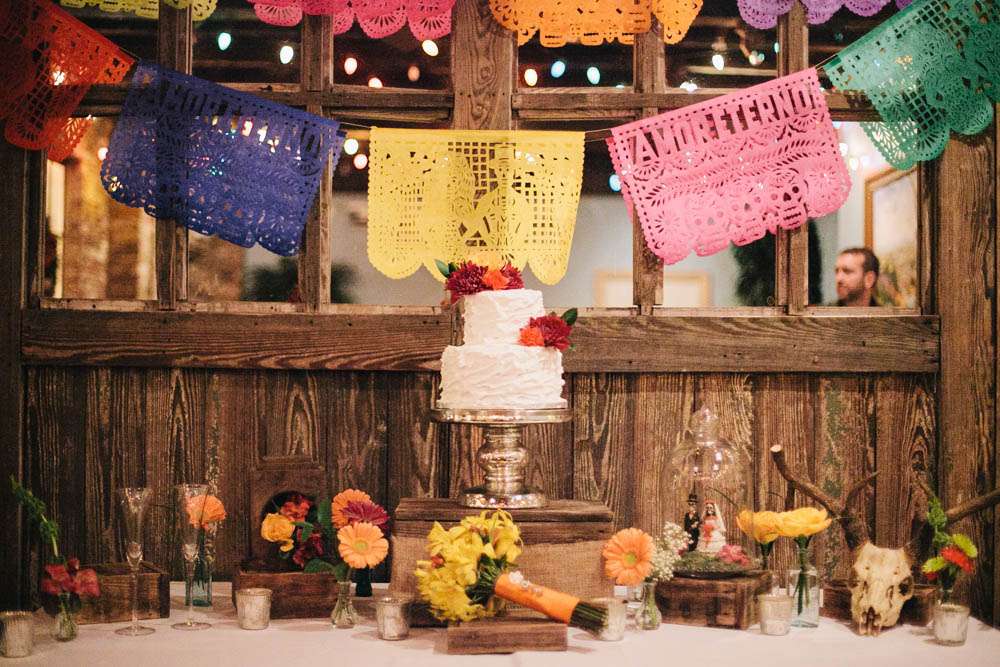 Simple, unpretentious and special. I love Carla & Nicholas' attitude to the whole wedding planning fiasco – making it as personal as possible. Thank you to them both for sharing their day and to Ashley of  White Rabbit Studios for sharing her images. Even if you have a small wedding budget, I think this elopement proves that hiring a professional photographer to capture the memories is always worth it!