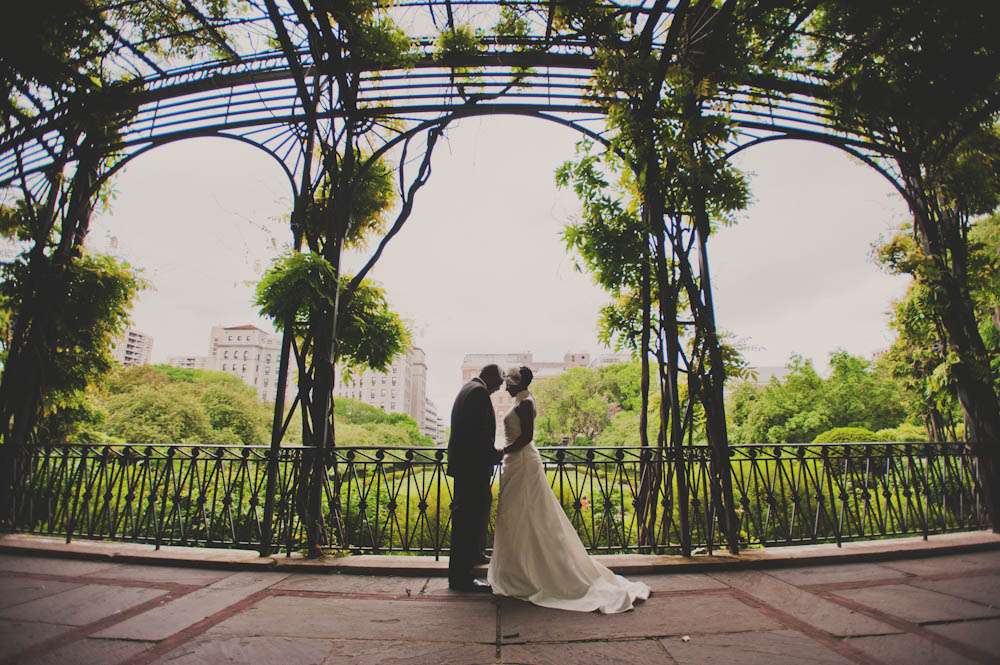 What could be more fun than a backyard BBQ, a ceremony in Central Park and a pizza party?! Well that's exactly what Jared & Nakia chose to do for their New York wedding. Unusually though, this couple opted for their casual BBQ reception to take place the night before their ceremony, in the groom's brother's back garden. Then the following day, after the ceremony, they went off – just the two of them – for portraits and pizza!
The bride explains, "We decided to have a big family grill out for our reception for two reasons. First of all, we were very concerned with the traffic and parking issues with getting everyone to Central Park for the wedding, let alone then asking everyone to drive and try to park again at an NYC restaurant for a formal reception. Secondly, after looking into renting out a whole restaurant, or even just a large room at a restaurant, in the city on a Saturday, we realised the prices were astronomical. After talking it over, we instead decided that having a big family grill out as it was more reasonable in price and much more relaxed for our family and friends."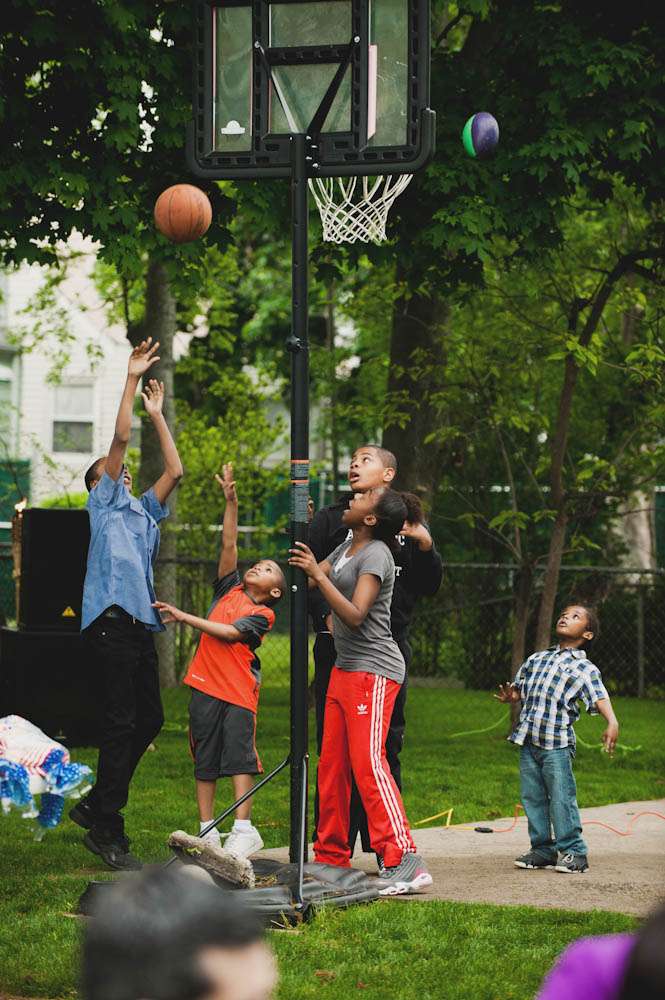 "Then the next day, after the ceremony, we did a photo shoot in Central Park. It was amazing! After the photo shoot I was really hungry, so we got in the limo and found a pizzeria. And no I didn't go back to the hotel to change beforehand. I went in my beautiful wedding dress and Jared went in his tuxedo. We sat down at a pizza shop on a corner and we enjoyed pizza while talking about how beautiful the wedding was. A couple in wedding attire sitting in a pizzeria draws a lot of attention but we didn't mind because as New Yorkers not much surprises you!"
"We didn't really have a traditional 'theme' as you can probably tell", Nakia chuckled. "I guess if anything we had a family reunion sort of theme. Jared and I grew up together so both our families know each other already."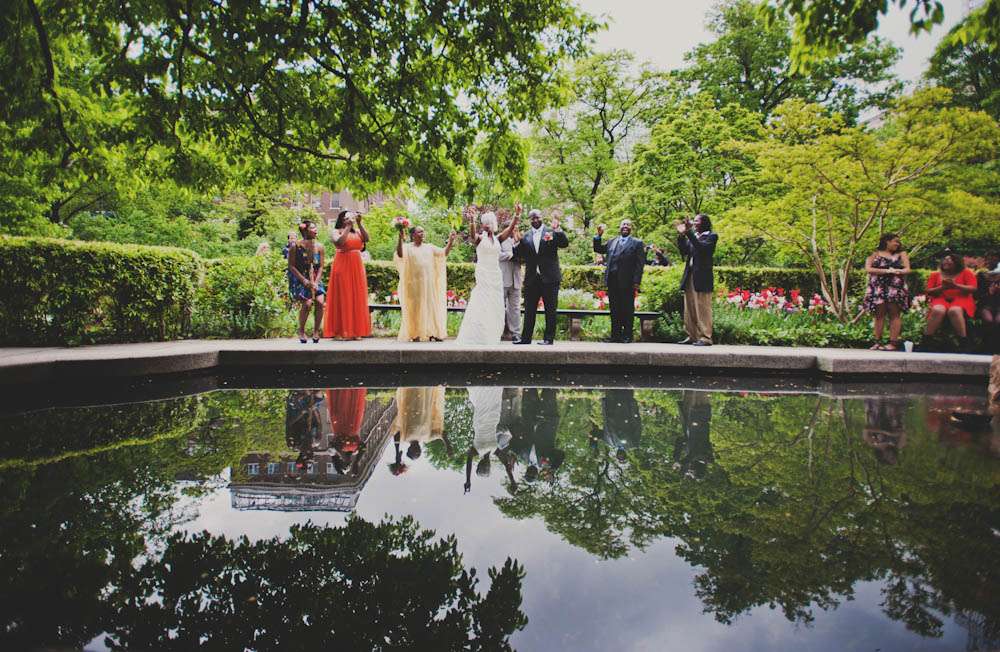 "Initially we didn't even want a wedding. We just wanted to email our family and friends, invite them to the Justice of the Peace and then go out to eat! But we decided that my mother and grandmother would be mortified if we emailed them an invite to watch us exchange vows. Our inspiration was just each other and our love for our family. We wanted a small get together – we didn't want an elaborate production. We wanted simple, fun and intimate. We both enjoy just kicking back with our friends and family. We had a BBQ and our friends and family cooked some of our favorite dishes. Everyone came in jeans and sneakers. We ordered some cakes and two of my girlfriends made red velvet cupcake towers. Our beautiful teenage nieces decorated them and that made them even more special."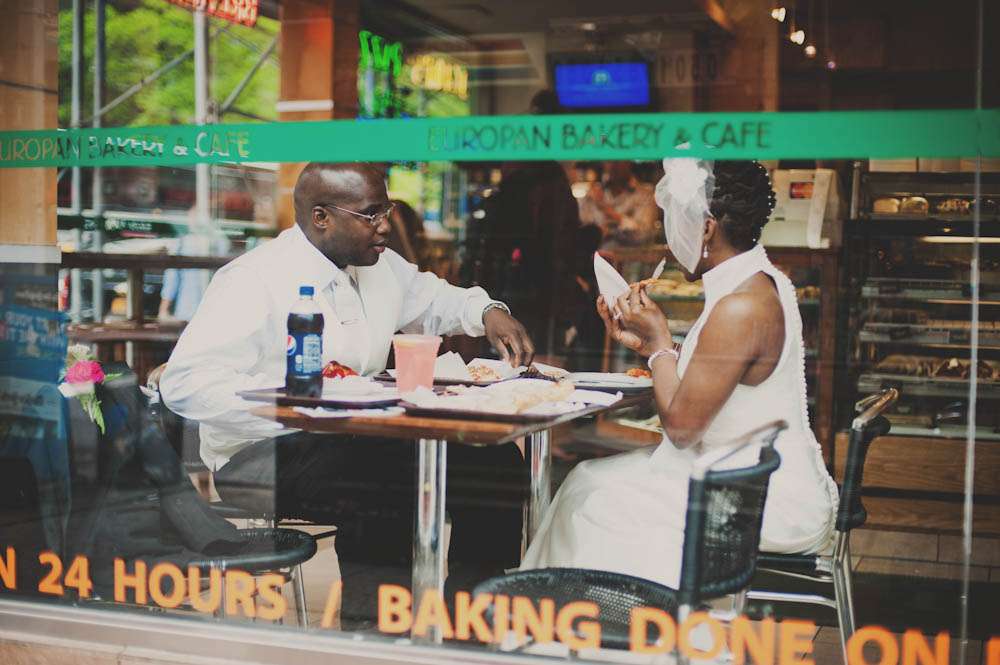 Awesome! I just love weddings like this – weddings that prove that you don't need to spend a fortune or have an elaborate production to have a perfect day. And this is what it's all about anyway isn't it? The joining of two families and the love of two people. AWWWW! Thank you to Jared & Nakia and their wedding photographer June Cochran for sharing with us today.