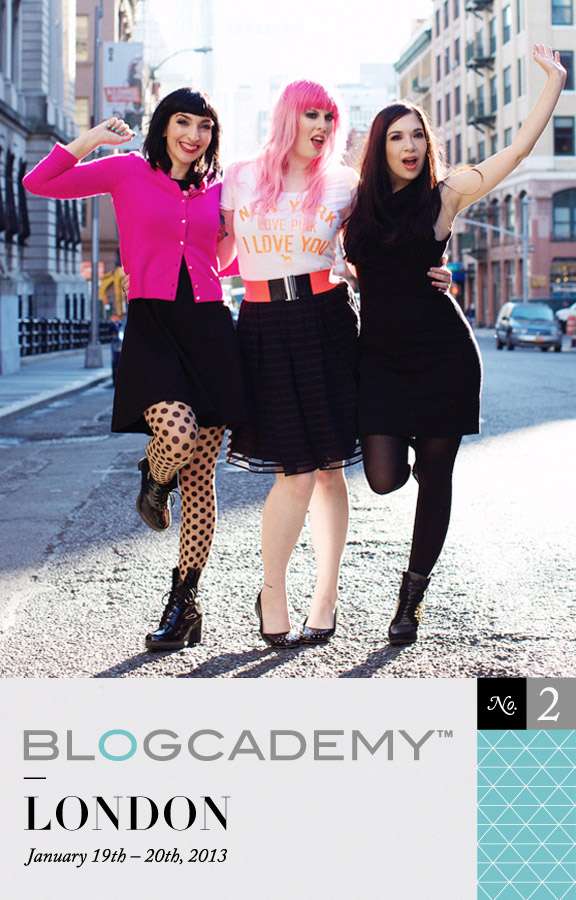 Cor blimey guv'nor, it's true! We're off to London-town for the next instalment of The Blogcademy madness and we couldn't be more excited!
It didn't take much persuading, but I've coerced Gala & Shauna into hopping on a plane to do the next Blogcademy workshop on my turf. To say I'm excited is a HUGE understatement. Come on Britain, let's show these international playgirls a good time! Shauna has never even been to the UK… I can't wait to get that gal in a black cab, by a red phone box and eating fish n chips. Lisa & I managed to get her drinking tea in New York, it's only a matter of time until she's a fully fledged Anglophile!
Alongside 30 passionate bloggers, Gala, Shauna & I will spend the weekend covering anything and everything you could possibly want to know about blogging, social media, branding and running your own business. We promise learning, laughing, photo ops, sugary treats and homework assignments you'll actually want to complete. As Blogcademy headmistresses we promise to be unshakably honest, to give away all our secrets and to be full of sparkle at all times (and, yes, probably wearing ridiculous headwear).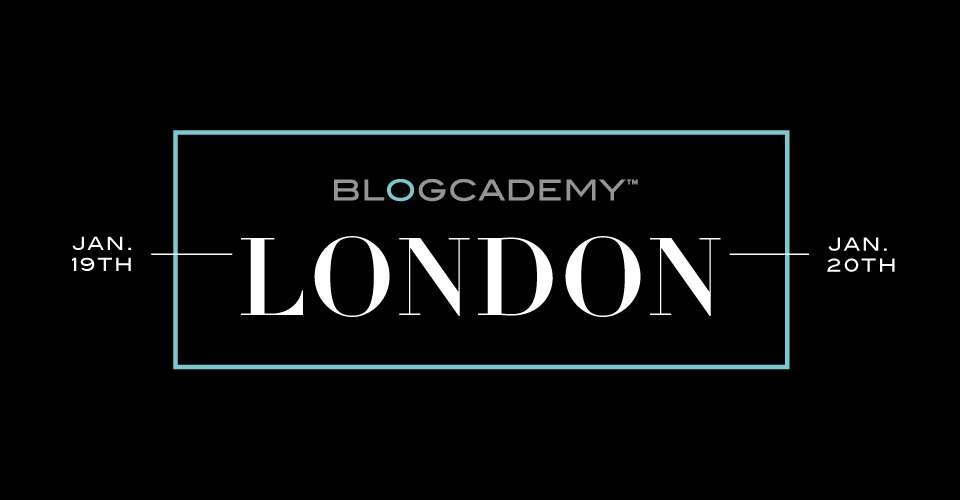 Whether you want to make blogging a full-time gig, you're doing it to support another business or you're just doing it for fun, this is the workshop for you. All we ask is that you have a basic understanding of social media and blogging (this is not a technical workshop – you can find that stuff out from a day of Googling) and if you're ready to take your online presence to the next level – we'd love to help you!
Oh but that's not all, for the second time I'm bringing wedding photographer of the year, Lisa Devlin, along for the ride. She'll be there to teach you all some basic photography skills. I've even roped in my buddies Chris Barber & Richard Wakefield in to photograph and video the event for us. Basically this is going be one massive party so who wants to join us?!
We'll be sending you away with a truckload of inspiration, a whole host of new friends, access to our exclusive just-for-graduates private forum, a personalised report card and more branded awesomeness than you can shake a stick at. Oh and did I mention the goodie bags?! In New York many a-graduate commented on them being the "best goodie bags ever!"
Date & Location
"OK Kat I'm convinced!" I hear you cry, "How the hell do I sign up?!"
The London workshop will be taking place on Saturday 19th & Sunday 20th January 2013 at the Curtain Road Studios in the hipster paradise of Shoreditch, East London. Head over to the newly updated Blogcademy website for further info and to reserve your space.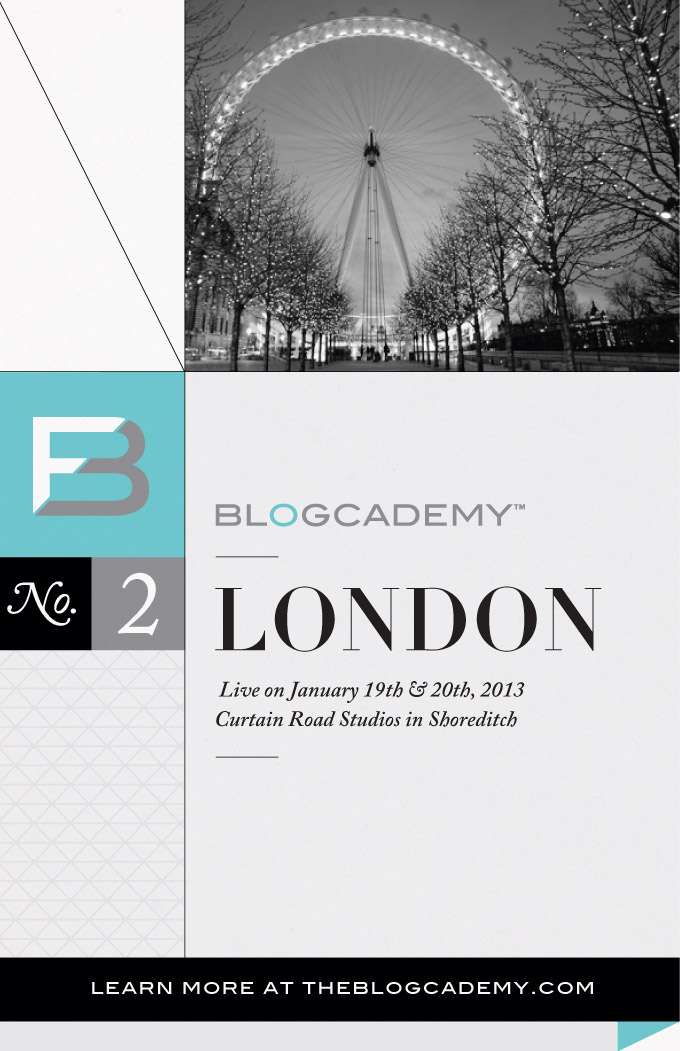 We've got another earlybird special!
The first event in New York sold out in under a week and I have a sneaking suspicion that London might be even more popular. But just in case you needed more incentive, we've got an earlybird special – for the first 48 hours only – at the reduced price of just £450! After that the cost is £500. Yep, just £500 for two full days of classes from three high profile and enthusiastic blogger headmistresses. That's a pretty sweet deal if you ask me.
You can book your space on The Blogcademy registration page where you can also find details of our super simple instalment plan if you'd prefer to spread the cost. Payments are handled securely by PayPal but if you'd prefer to pay by bank transfer then email me asap for the deets.
Plus we're still offering one scholarship space…
Oh we're too good to you! Yet again we're offering one scholarship spot to a deserving babe. We want to be dazzled by your creativity! For your chance to a win a ticket, pull together a blog post and let us know, in whatever format you'd like, why you think you should win.
Pro tip: The easy option of just writing why you should win won't cut it. We want sparkle! We want to see your personality! We want to see your creativity!
You could draw a picture, make a video, create an animated gif, start a facebook campaign, get a tattoo (only half joking..!) – anything that your crazy little brain can come up with.
Publish your entry on your own blog and then simply post a link to it on our Facebook page by 14th December 2012. That gives you one month from today. The winner will be notified via email shortly after so be sure to have a contact page somewhere obvious on your blog!
Any Questions?
If you have any further questions then check out the workshop overview, our FAQ or simply drop us an email. And if you're still not convinced, be sure to check out what went down at the first Blogcademy in NYC!
WAAHOOO London just got SO MUCH cooler. Roll on January!