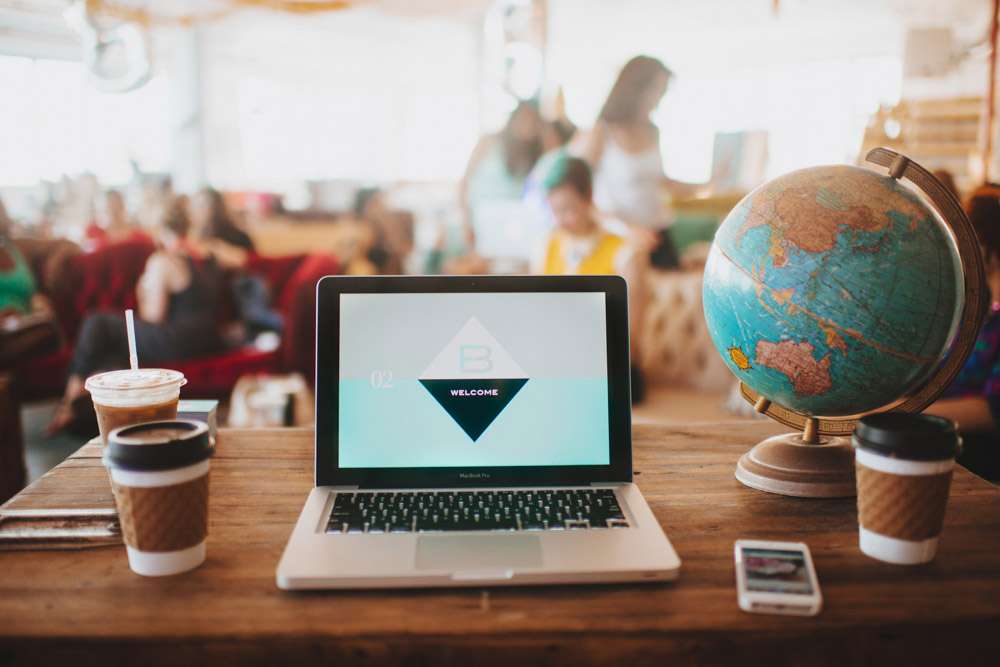 I've been throwing the word 'whirlwind' around a lot lately, but goodness these past few weeks have really been one! I've strolled around the streets of Manhattan, danced with a disco ball, made custom lipsticks, got a crazy Japanese glitter manicure, found my perfect wrist candy, had a coughing fit live on the internet, hosted a lunch date with our past students, eaten a tub of popcorn larger than my head, posed on velvet couches on city block corners and got locked on a rooftop… and that was just in the first few days!
We did two Blogcademy classes on this trip and I'll be blogging all about the Minneapolis adventures soon, but today it's all about my favourite city in the whole wide world – New Yaaawk!
We held our class at the amazing Rent Patina in Brooklyn, the most glorious white walled loft space filled to the brim with vintage furniture, knick knacks and oddities. I'd never been over the bridge before (except when a taxi driver got lost one time but that's a story for another day) so it was super fun to explore a brand new neighbourhood. As we walked in on day one we were overcome with awe and wonder at all the pretty things to look at!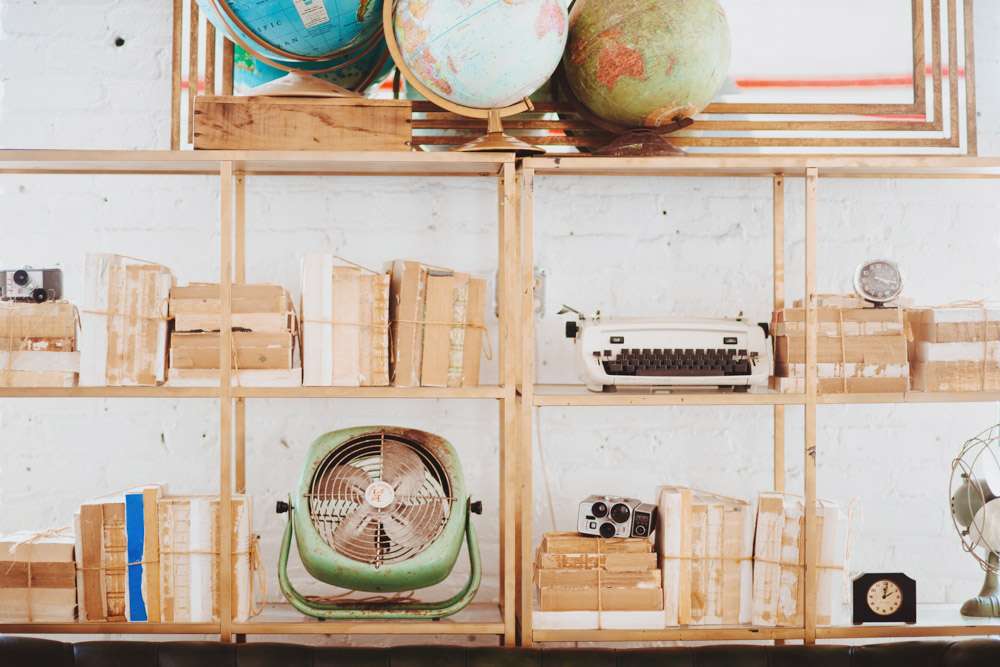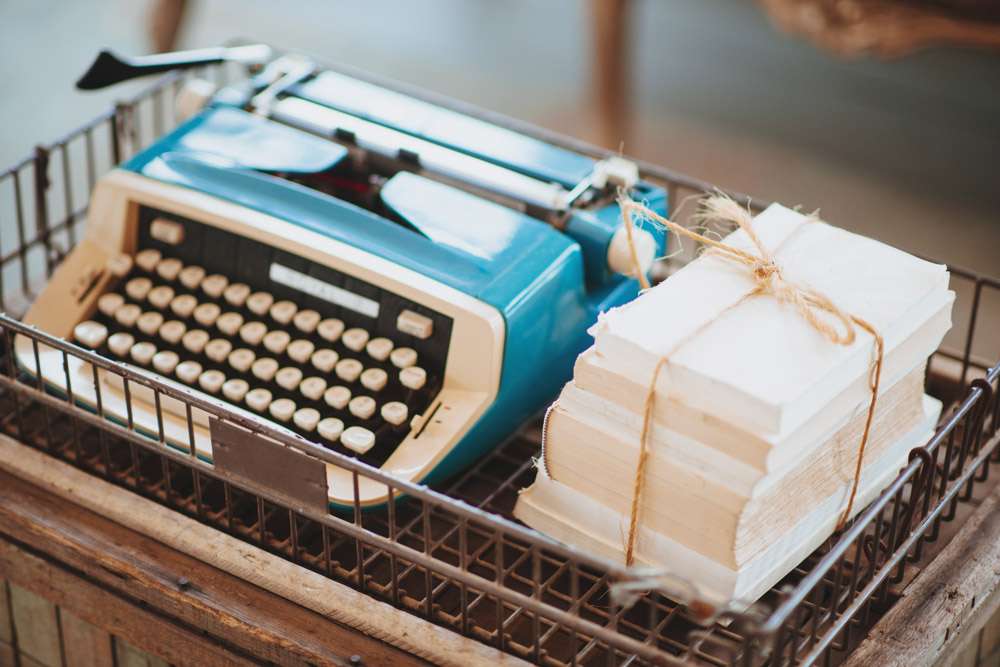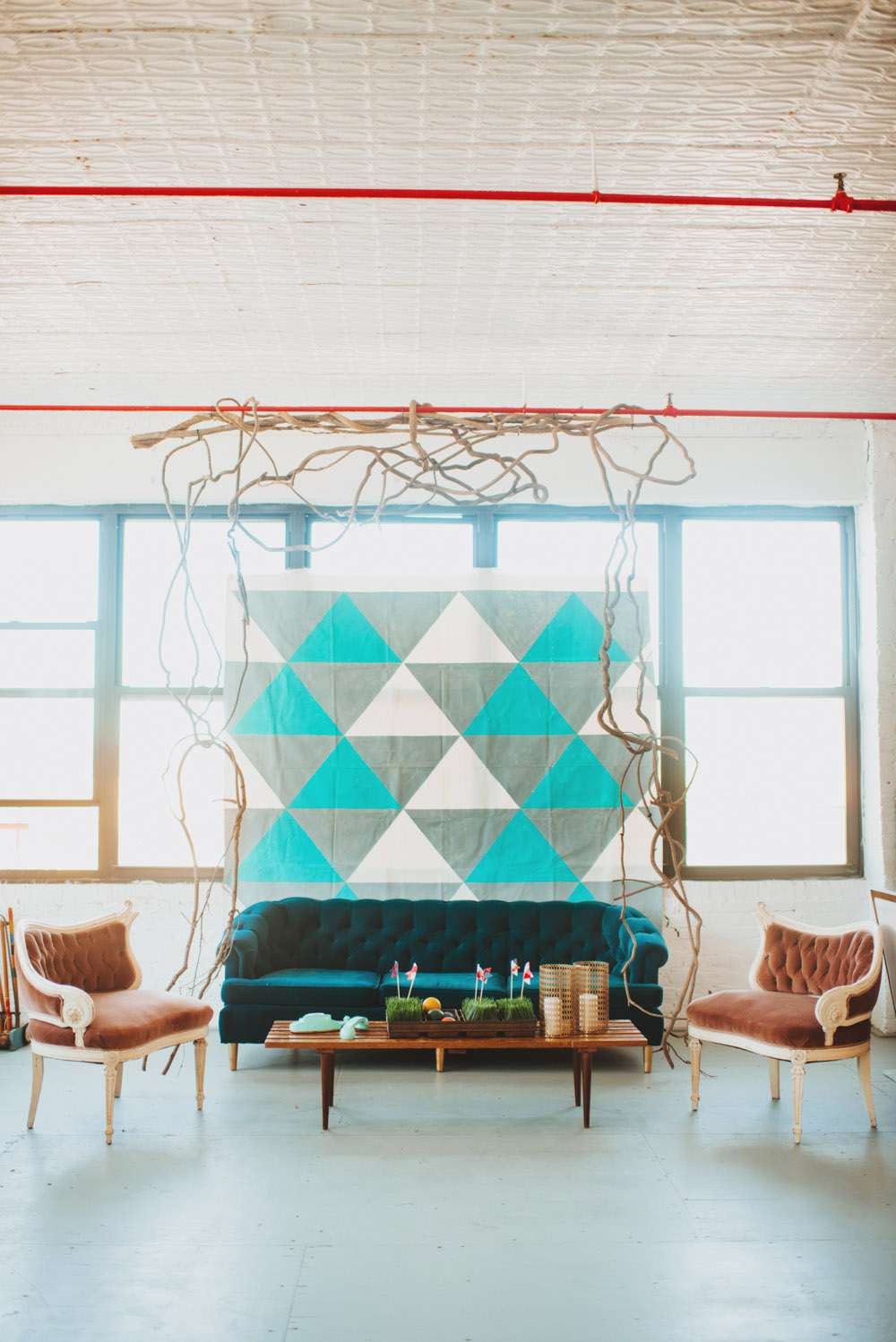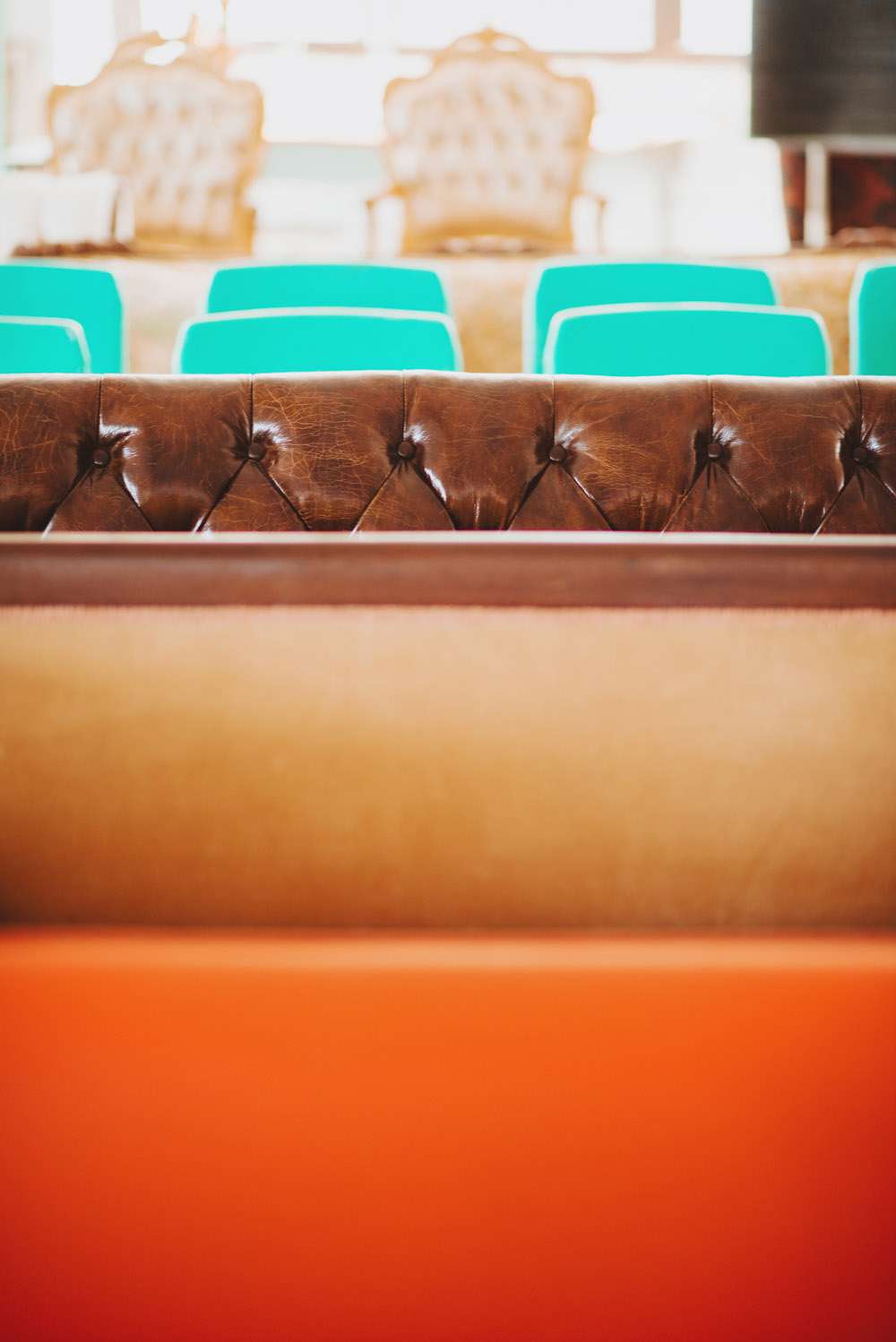 An influx of new Blogcadettes joined us for the weekend, each one more enthusiastic than the last. We had Stephanie who rocked up in a unicorn headdress, Kristin who had taken an eight hour bus ride to be with us and Madelin who'd sold half her wardrobe to buy her ticket! Alexis wanted to start a magazine, Nicole blogs about unconventional families and Jasika hand-crafts incredible and intricate head wear. Each girl had a unique story and a different tale to tell.
We listened to their experiences, worked through their struggles and shared as much blogging knowledge as we could over the two days. We spoke about social media, brand audits, creating killer content, making money, branding, photography, networking and so much more. It's an action packed weekend believe me!
You've heard me wax lyrical about the love I have for this workshop many times before so I won't bore you with the intimate details, but I'm glowing with pride reading such amazing feedback from some of the babes that joined us:
"The two days that I spent furiously scribbling notes at The Blogcademy were the equivalent of an amazing thrift shop score/non-substance induced unicorn sighting/beautifully manic sugar high, without the crash. Kat, Gala, and Shauna punctuated the thorough and awesomely useful information contained in each lesson with often hysterical yet utterly applicable anecdotes. The breaks between segments were akin to a glitter infused dance party/photo shoot, and allowed for the forging of permanent connections with fellow aspiring bloggers. Our headmistresses were totally approachable and presented their wide breadth of knowledge in a style that was both charming and memorable while also being completely relevant and life-changing. The two days flew by in a jumbled tangle of 'AHA!' moments, giggling with other attendees, and a mounting excitement in regards to what I will now do with everything that I learned"  Tracy Poppers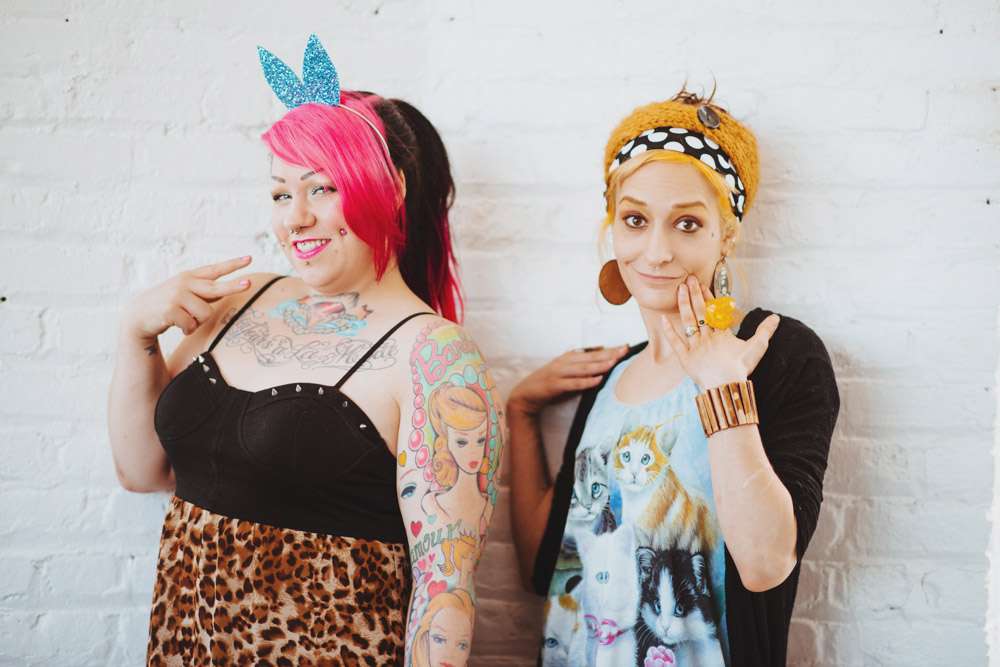 You might recognise Tracy (right) I blogged her amazing plumbing museum wedding just a few weeks ago!
"I had a blast! Hands down, the best experience I've had – from learning, making new friends, and finding MY kind of people. Thank you ladies for being such wonderful, colorful, and wise hosts, headmistresses, and friends! I love that you were able to cater to both new and veteran bloggers alike. Not once did I feel like I was learning something too far out of my grasp, nor did I feel like anything was too basic. It was wonderful to have loads of examples from different contexts to learn from, and I had a complete epiphany as to how I'll think about blogging from this point forward.
There may not be a magic wand to becoming a blogging megababe, but just being in an energetic space with so many creative ladies and thoughts has got my mind churning through ideas in a way in which I didn't think could be so exciting (and totally not scary)!" Kristin Antosz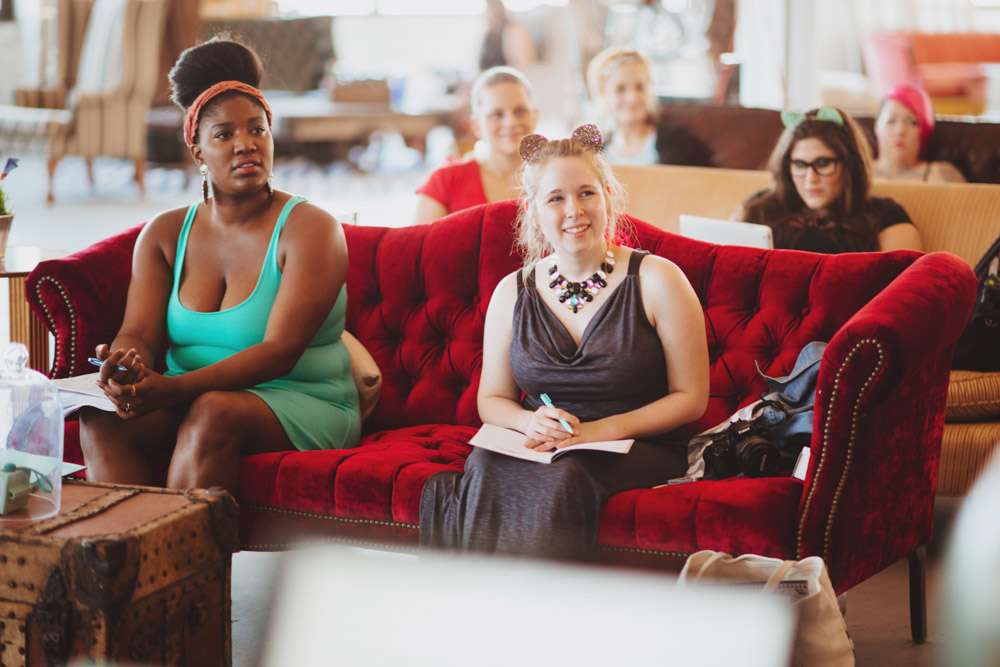 "Improving my blog has been a serious goal of mine for 2013 and as much thought as I put into it, I never felt like I was ready to take action; I was overwhelmed with all I wanted to do and didn't know where to start. After The Blogcademy, I feel like I have a roadmap to achieving the goals I had previously set forth for myself AND more knowledge and motivation to stretch my goals even FURTHER. The tools provided in the workshop and in the forum are invaluable, as well as the connections made with my fellow blogger babes! And the cherry on top of this gigantic banana split of awesomeness? You three! Each of you contributed in your own unique way and with every conversation I had with y'all you were giving genuine thought into answering my questions; the personal attention felt truly personal!" Stephanie Page
"The Blogcademy is fucking life-changing. I sold half of my wardrobe (no joke) in order to attend and I'd sell the other half and show up in nothing but my undies and black eyeliner ten times over: these women are legit. Their energy is through the roof. Their knowledge is powerful. Their commitment is palpable. And they will give you the necessary kick in the ass you need to own your identity, no matter how scary that might be. Between the sparkles, sea of hair colors, and resounding tribal spirit, I kept waiting for Jessie J to burst through the window on a Tarzan rope belting out 'Just be true to who you are'. (I wouldn't put it past these three. I believe them capable of anything). But all in all, whether you have to walk 500 miles, subsist on Ramen noodles for a month, or fly on a broomstick to get there…GO. Stop thinking about it. GO. I kid not when I say it will alter the course of your professional career and, by extension, your life" Madelin Smith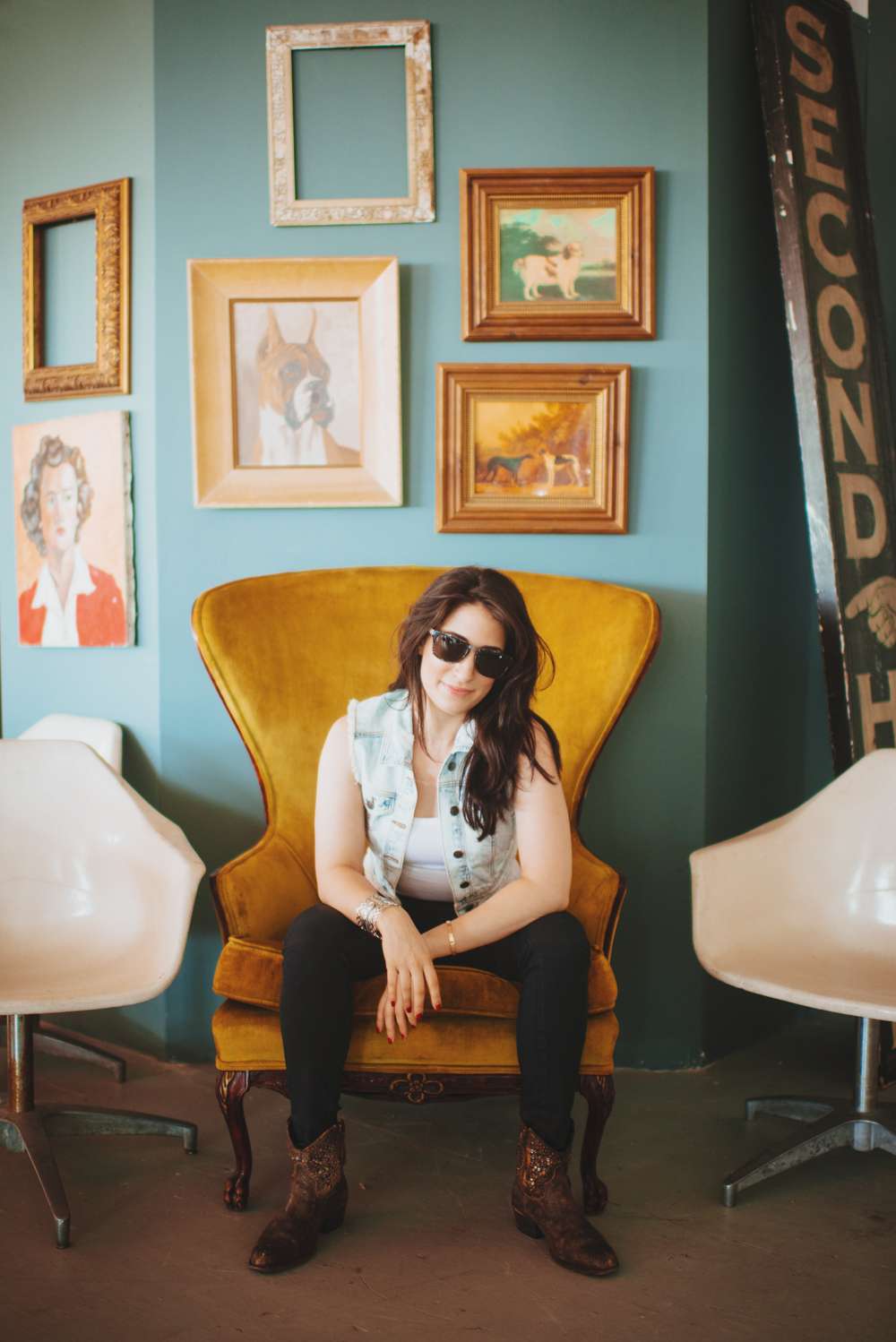 I also tried my hand at Instagram video for the first time over the weekend (I love it but clearly I'm still getting the hang of it!) I asked some of the girls to tell me one word to describe the workshop.
Cute huh?
As ever, the event could now have been possible without our amazing sponsors, assistants and hosts. Prepare for some gushing…
Firstly, thanks to the amazing guys at Rent Patina for hosting us all weekend. The space was pretty much perfect and their amazing vintage furniture made for super stylish and hella comfortable seating (they hire it all out for weddings and events dontyaknow? Check them out!)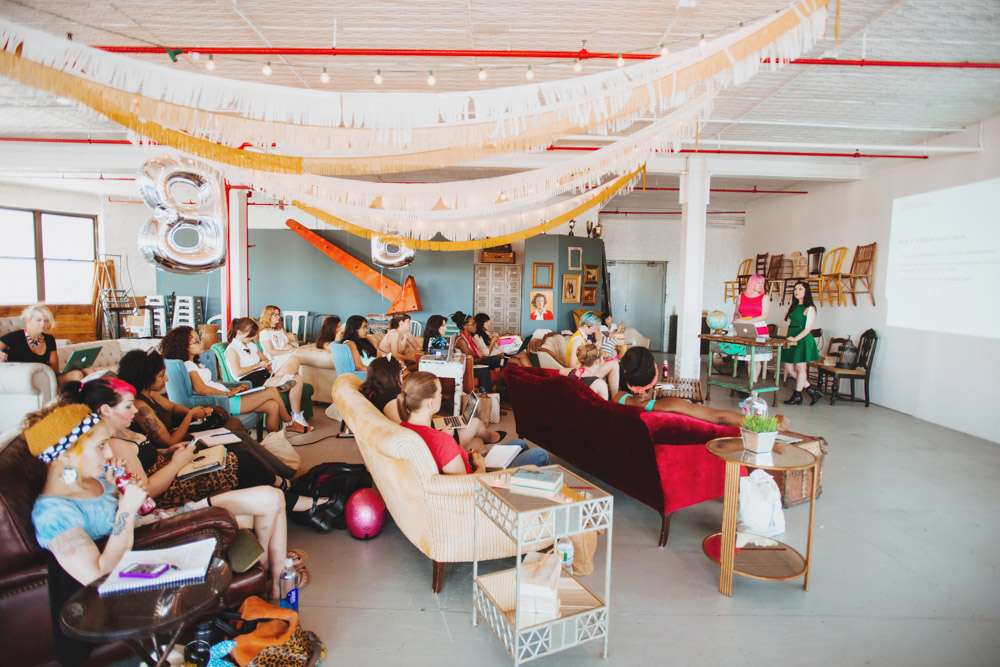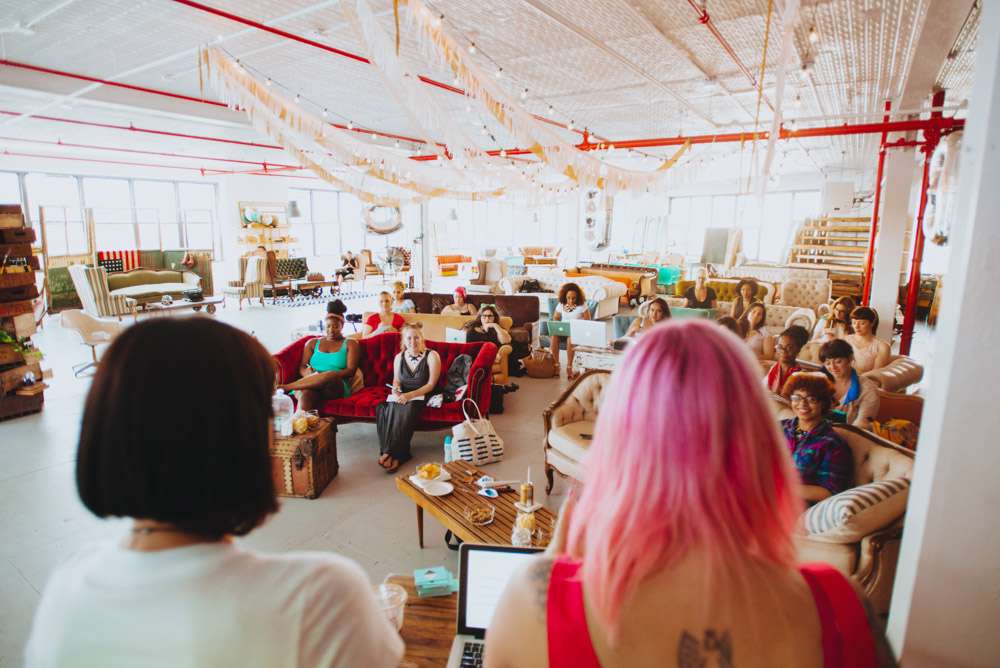 Sparklebeast designed this gorgeous gem necklace just for us. They went down an utter storm.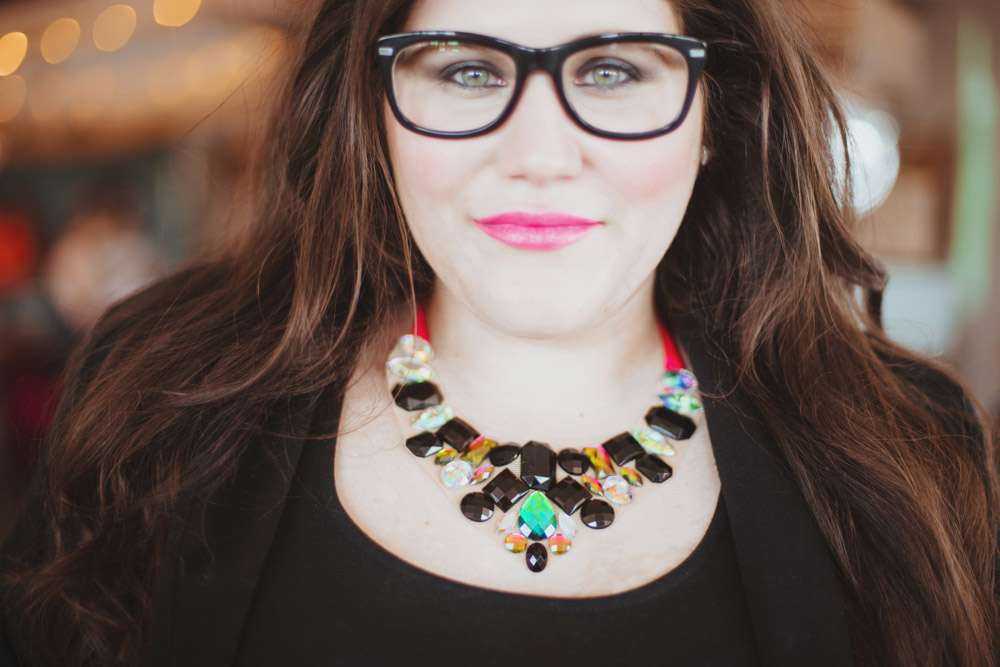 Alexis is a total babe!
Crown & Glory have become quite the Blogcademy staple. Designer Sophie provided us with glitter ears a-plenty.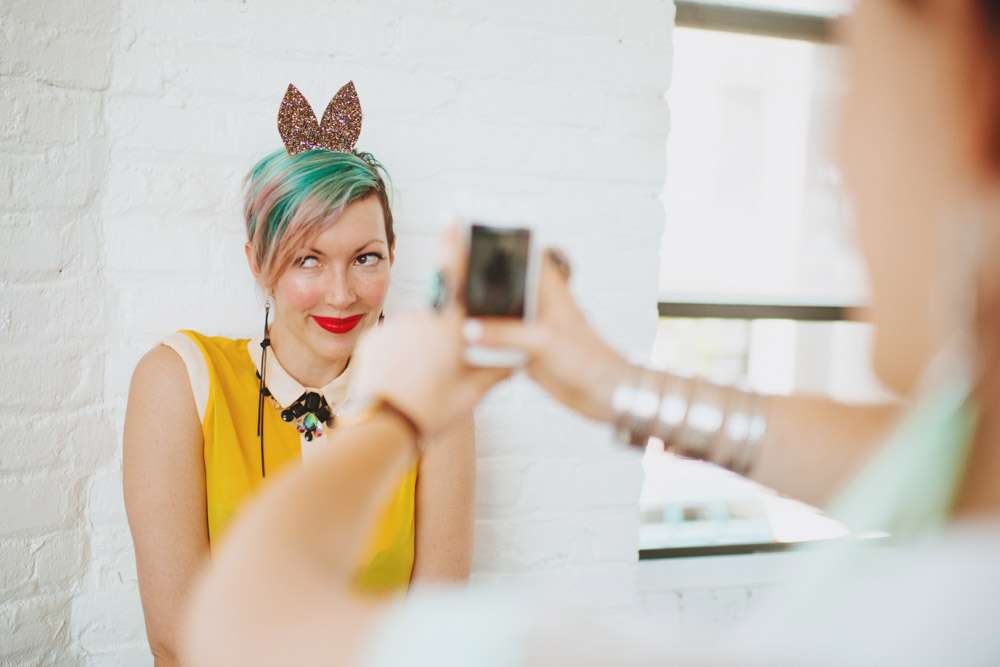 Stephanie is such an awesome creature.
Alphabet Bags sent over these adorable pink glitter heart pouches. I can't get enough!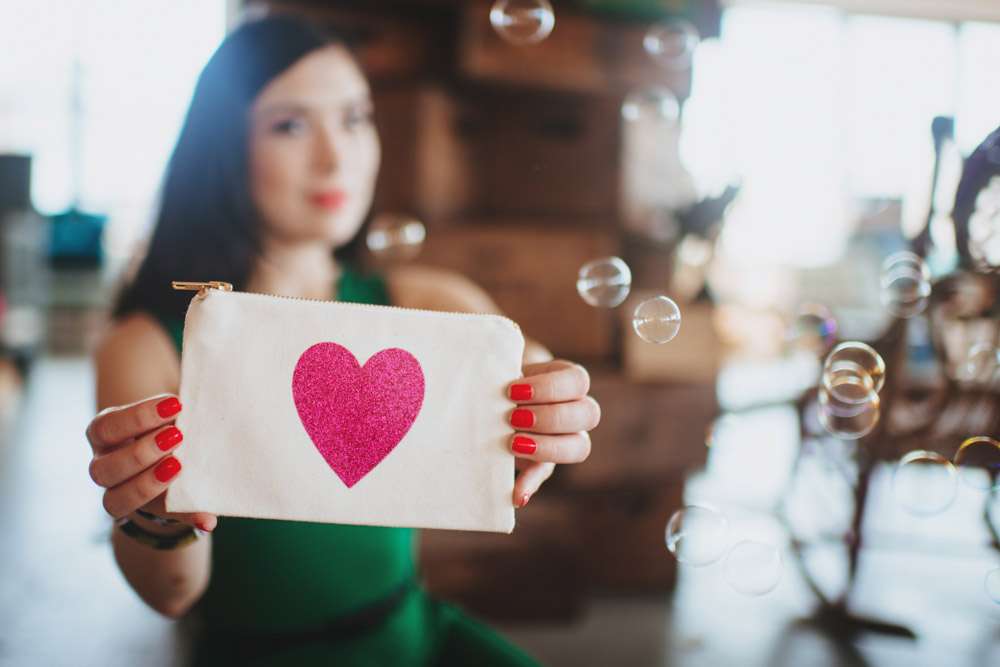 Cicely Margo made us these giant ring pop rings – so fun!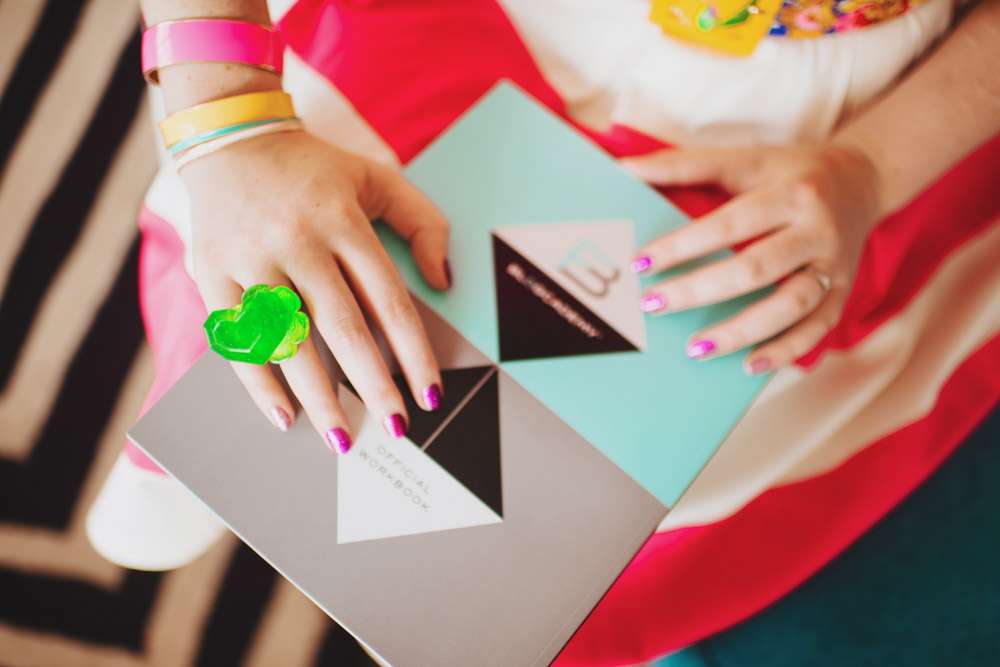 Milk & Honey Naturals created these solid perfumes. They smelt good enough to eat!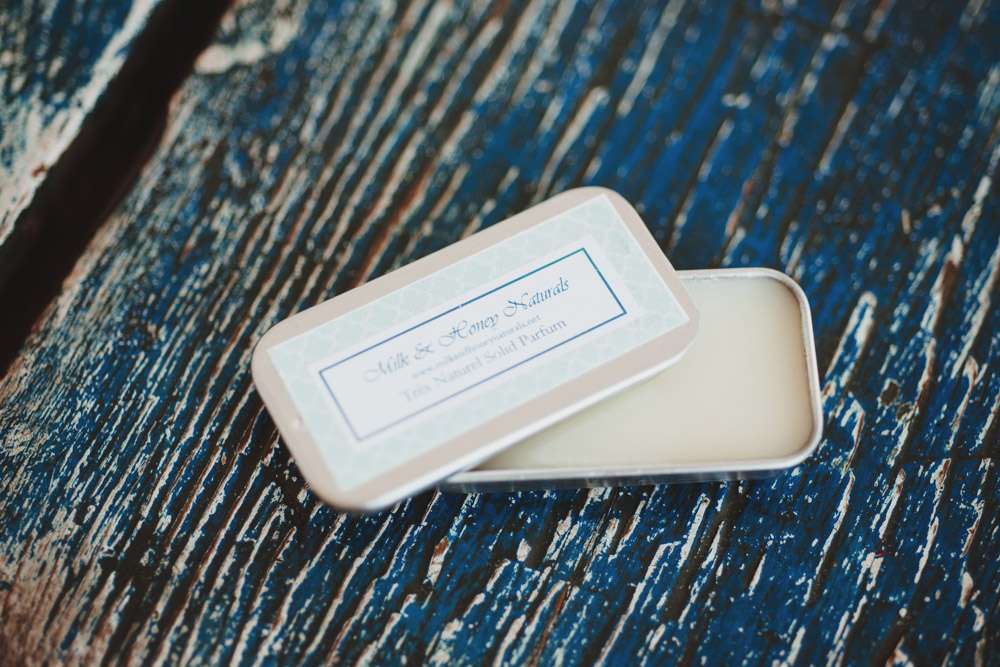 Tumi Eyewear generously provided a pair of designer sunglasses for everybody.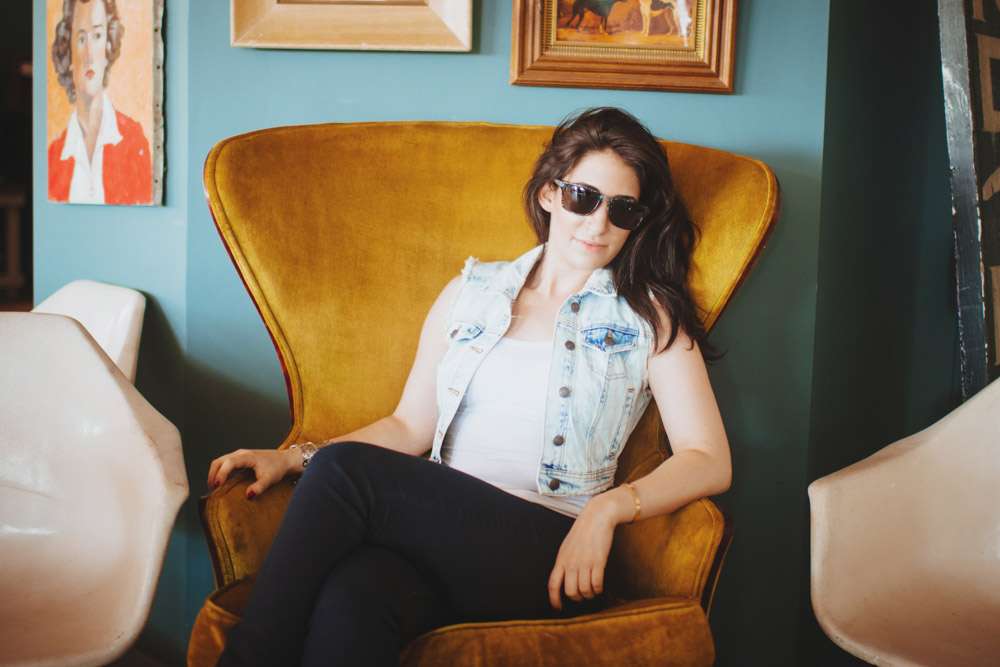 Damn Madelin you look smokin' hot!
Paige Lavoie made us some fun turquoise glitter crowns.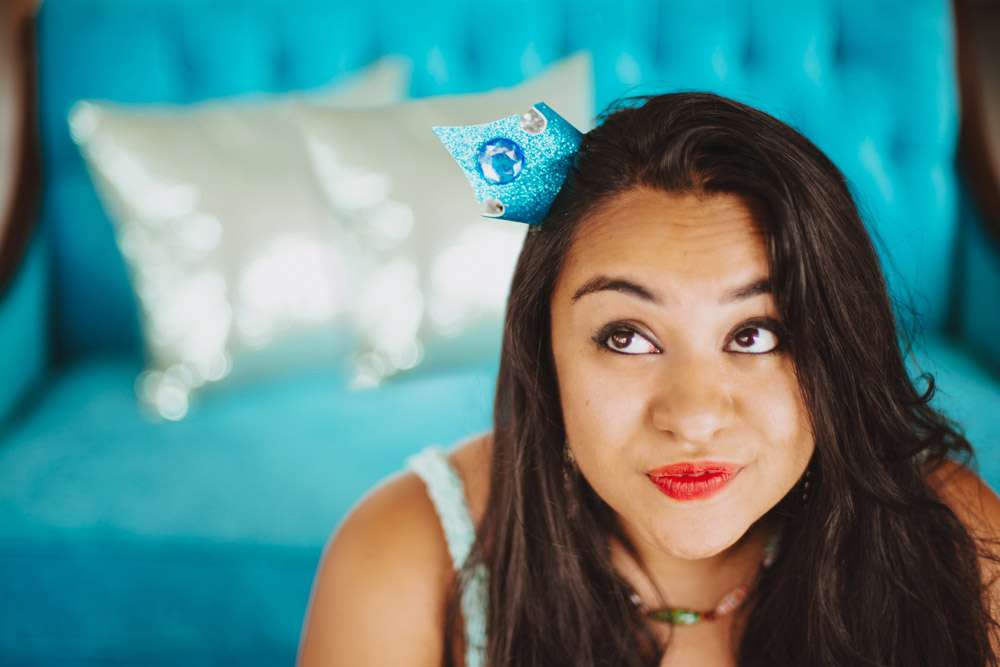 Nikki is the cutest
And Zevia kept us hydrated in the 35°C heat with their yummy zero calorie soda.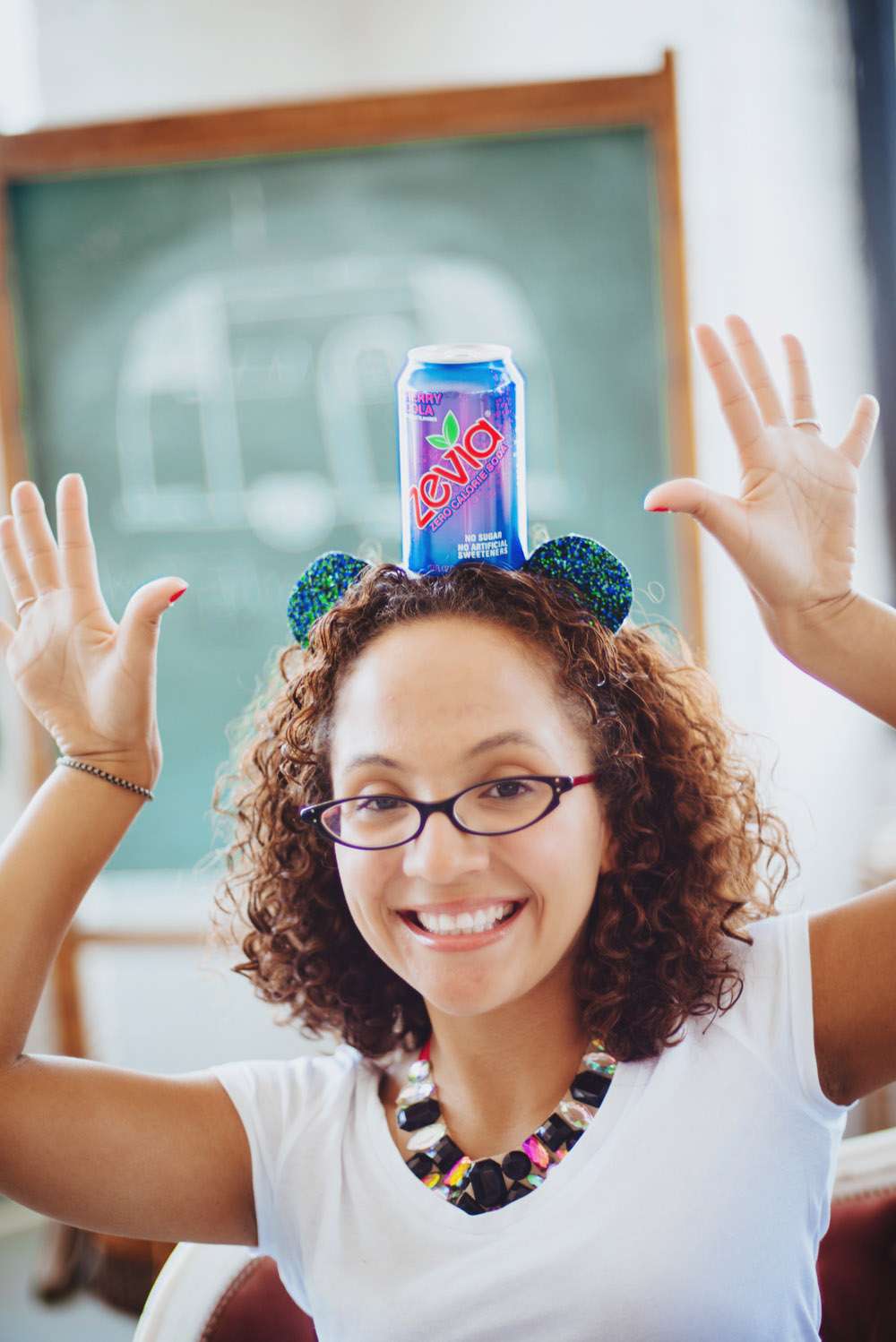 Haha Rosanna!
As usual everything came packaged in their custom city tote alongside their branded workbook – Shauna is a design genius! So damn slick…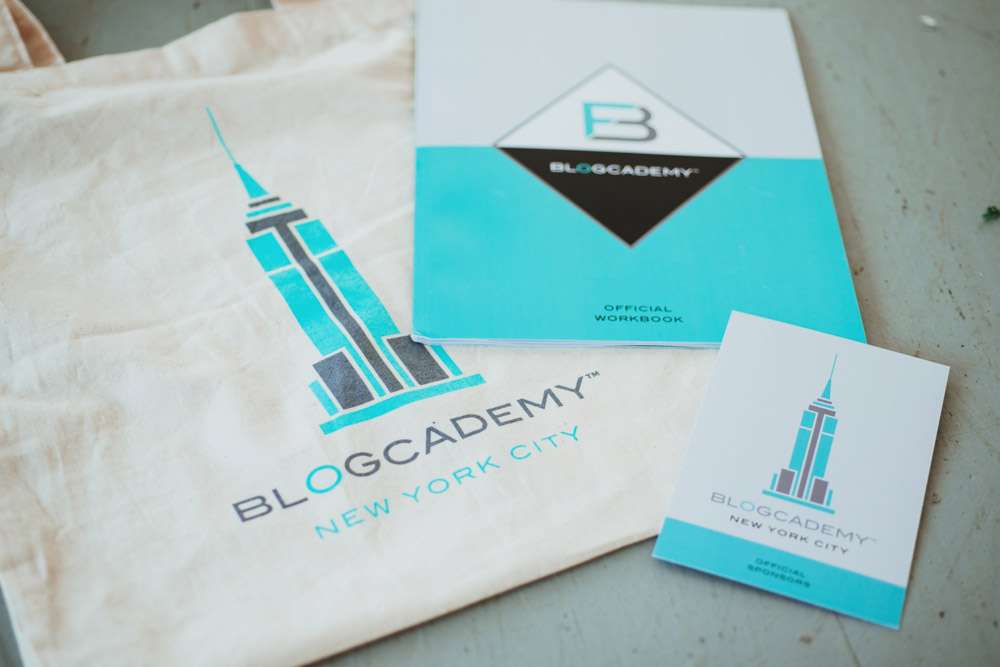 To Nikki and Hillary our stellar assistants, you are the best. Thank you for everything, we have you on speed dial for the next time we visit NYC.
Last but by no means least thank you to the incredible June Cochran who flew in all the way from Hawaii to photograph the event. We are so externally grateful and completely in love with these images. 
Yey for the New York class of June 2013. We love you endlessly. Thanks for being so damn bad ass!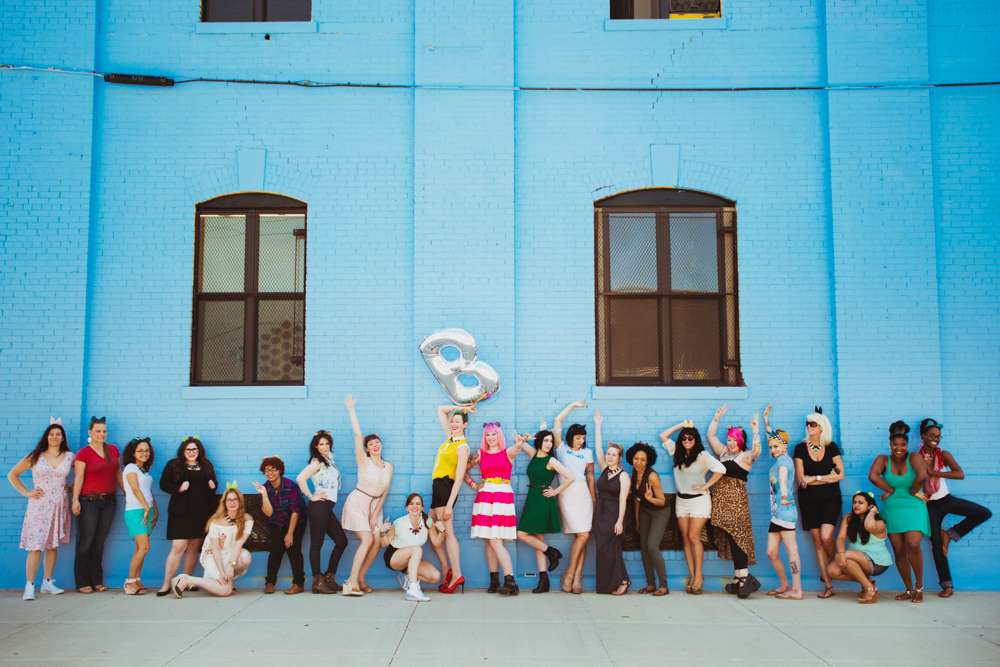 In case you're wondering my pink dress and yellow belt are both from Kate Spade (and were both sale bargains!)
At the end of day two, we dragged our exhausted bodies to the subway where we baked in the humidity, tired but happy. Our upbeat mood was tinged with sadness as we said goodbye to all the new friends we'd made but we knew we'd be back, and that a Blogcadette reunion would have to be on the cards when we did!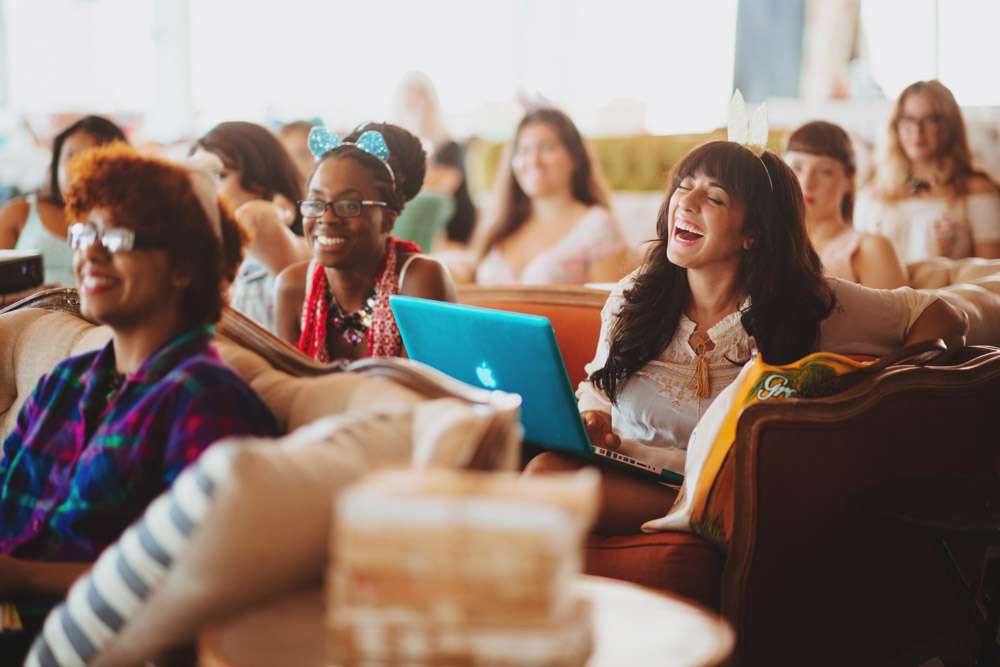 Our next class is taking place in Austin in August (which is the only US date we have left in 2013!) After that we'll be hitting London, Australia and New Zealand. For more information on the workshop head over to our website to check out what we teach, have your questions answered and, of course, to reserve your spot.