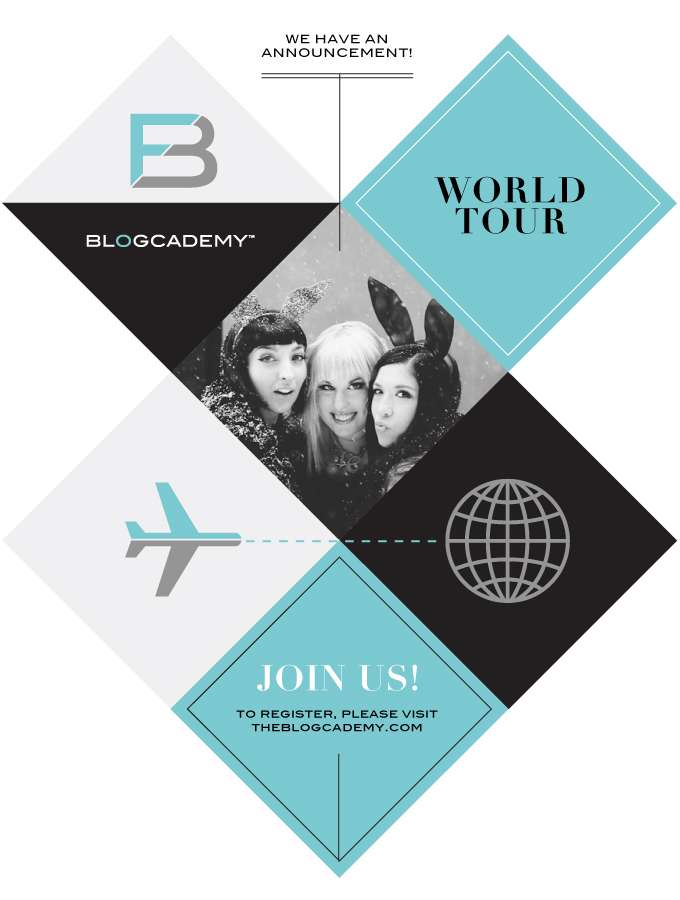 Sometimes you have a little crazy idea but you just know you have to run with it. The butterflies in your tummy tell you that you're onto something exciting and pretty darn life changing. That's just how I felt when we came up with the The Blogcademy, and its exactly how I'm feeling today as I'm here to tell you that we're announcing a world friggin' tour and an online Q&A livestream!
The tour
The flights have been booked, the giant 'B' balloons ordered and over the next 12 months the turquoise tornado™ is ready to hit… (deep breath)
Portland
March 30th & 31st
The Cleaners at The Ace Hotel
(a limited number of spaces still available)
Los Angeles
April 6th & 7th
McCaddenSpace Studio
(a limited number of spaces still available)
New York
June 22nd & 23rd
Patina
Minneapolis
June 29th & 30th
Public Functionary
London
September 7th & 8th
Curtain Road Studios
Brisbane
Proudly presented by Tourism & Events Queensland!
November 2nd & 3rd
Bleeding Heart Gallery
Melbourne
November 6th & 7th
Lightdrop Studios
Auckland
November 9th & 10th
Generator
As usual we're also offering an earlybird special price for the first three days. We also offer a super simple instalments plan if you'd like to spread the cost. Spaces are limited to 30 graduates per class and remember, our first New York event sold out in less than a week and London sold out in under 24 hours so no dilly dallying ya hear?!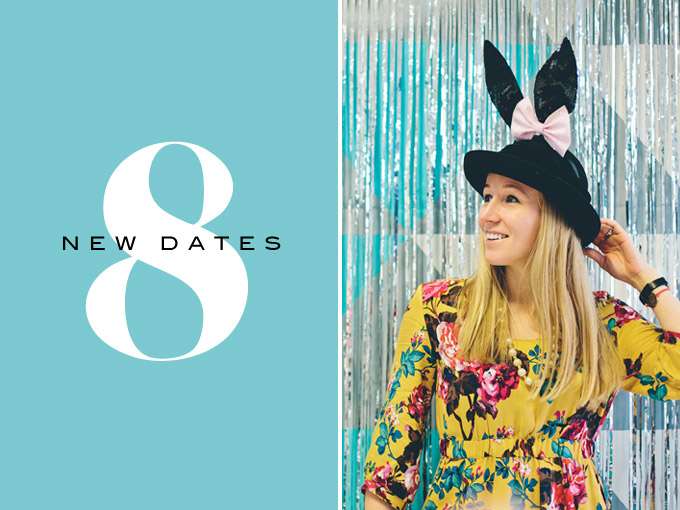 And yes, yet again we are offering one scholarship spot for every city! To enter for your chance to a win a ticket to the whole weekend simply pull together a blog post and let us know, in whatever format you like, why you should win! Remember: the more creative the better!
Publish your entry on your own blog and then simply post a link to it on our Facebook page. Applications are due 30 days before the date of the class you're applying for and make sure you state in your entry which city you'd like to attend.
If you have no idea what I'm harping on about, as a little reminder, The Blogcademy is a two-day workshop for bloggers that I host with blogging royalty Gala Darling and Shauna Haider. Hop over to theblogcademy.com where you can find out all about our curriculum and what we teach, get answers to your frequently asked questions, read some testimonials and see photos & videos from past events.
I guess I'm going to be racking up those air miles then huh? Virgin Atlantic, I hope you're ready for me and my ridiculous pink suitcases…
The Blogcademy, live in your living room!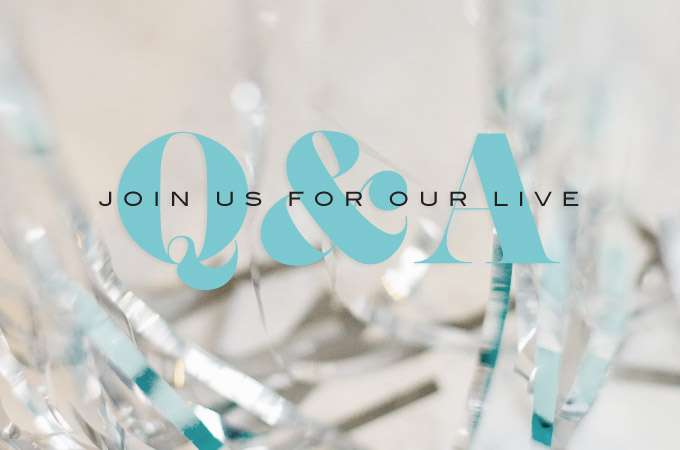 Ever since launching the workshop, we've been inundated with people asking if we'd ever make it available online. While we all love the internet (duuh!) the real beauty of The Blogcademy is physically being in the same room together, bouncing ideas off each other and making new BBFFs (blogging best friends forever!)
But we do realise there are many of you that might love to come, but for whatever reason just can't make it happen. So, when the three of us are reunited in Portland at the end of the month, we're going to do a live online Q&A session, in which we'll try to answer as many blogging or business questions as possible! This will also be a great chance for you to quiz us or get a little taste of what The Blogcademy is all about if you're still not convinced if the workshop is for you. So come on, ask us all those tough ones!
Live Online Q&A
March 27th
1pm PST / 4pm EST / 8pm GMT
Tickets are just $7 (that's £4.64 – what a bloody bargain!) and you can buy them here. The session will be broadcast live but if you can't tune in then, don't worry, your ticket gives you access to the recording forever! 

You can either ask your questions during the livestream, or you can tweet or email us them beforehand. We will try to answer as many of you as possible in the hour or so we have together but it will be first come, first served!
Goodie Bag Giveaway
And finally (phew!) we'll also be giving away a coveted Blogcademy swag bag to one lucky viewer. Inside you'll find some sparkly ears courtesy of Crown and Glory, some goodies from IF Ladies, sparkly shoe clips from Head full of Feathers, jewellery from Moorea Seal and so much more… You'll even get your very own copy of the exclusive workshop magazine and workbook packed full of inspirational articles and activities to get yourself in tip top blogging shape. Everyone who buys a ticket will be in with a chance of winning.
Still got questions? Hit me up in the comments on this post, send us a tweet or drop us an email. I hope to see you (in person or online) real soon!