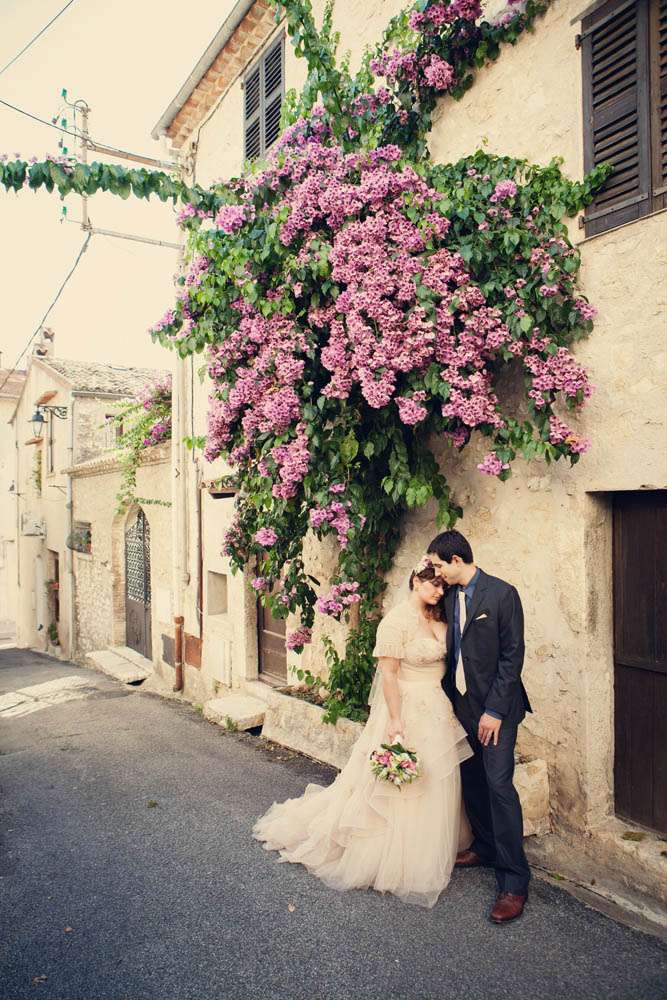 It seems that recently not a week goes by when I don't get a flippin' incredible wedding submission from wedding photographer Assassynation… This woman is just a magnet for awesome weddings! It must be because so many of her couples find her through Rock n Roll Bride – not that I'm biased or anything but it is widely accepted that that Rock n Roll Bride readers are the coolest couples, like, ever. So when Kenna & Scott's nuptials slipped their way into my inbox a few weeks ago I, as ever, couldn't wait to get them on my blog.
The intimate wedding took place in France and Monaco. The bride & groom just bought their maid of honour and her partner as witnesses. They hand no other guests. The ceremony was at L'Abbaye in La Colle Sur Loup, in the south of France and for the reception, they hopped over the border to Monaco for a low-key meal at the four star luxury resort of The Fairmont in Monte Carlo.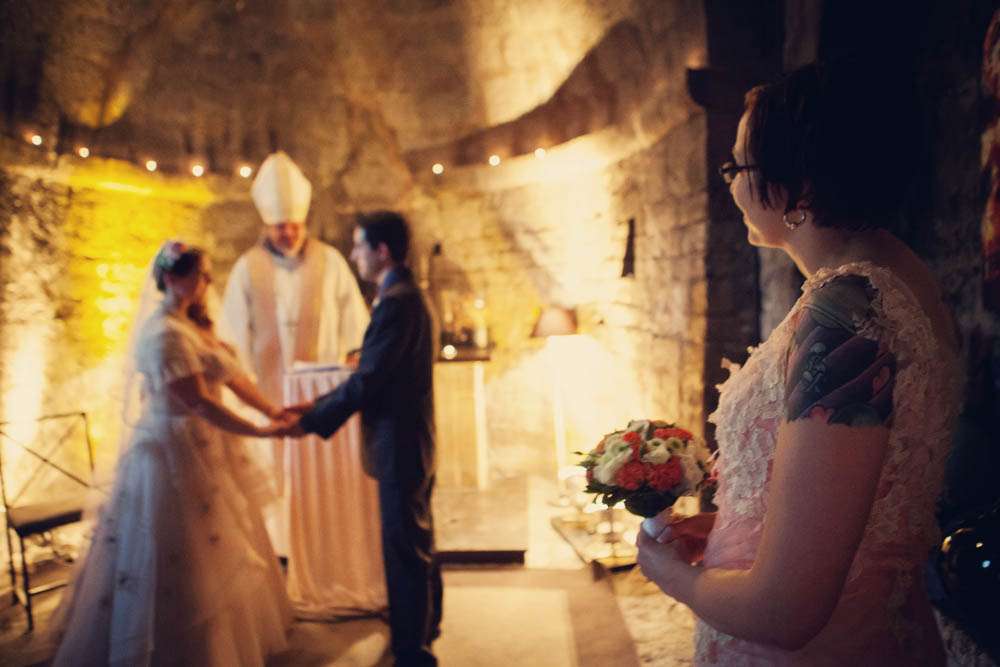 "We left our families, bucked the traditions that they balked at us dropping, and did it our way", explained Kenna. "Let's face it, weddings aren't cheap and when Scott and I were first engaged and I began my research, I understood immediately that we could either feed 300 people dry chicken in some generic venue or we could embark upon the adventure of a lifetime together. We spent 8 amazing days in the south of France. Your family may not get it at first, they may even be upset because it didn't fit into what they were hoping would happen – but remember that it's your money, memories and personality. The same people who expressed a lot of reservations and concern for Scott and my ideas later reversed their position and said what a wonderful thing we had done. I genuinely appreciated their compliments, because I knew our format had not been part of a convention they previously accepted."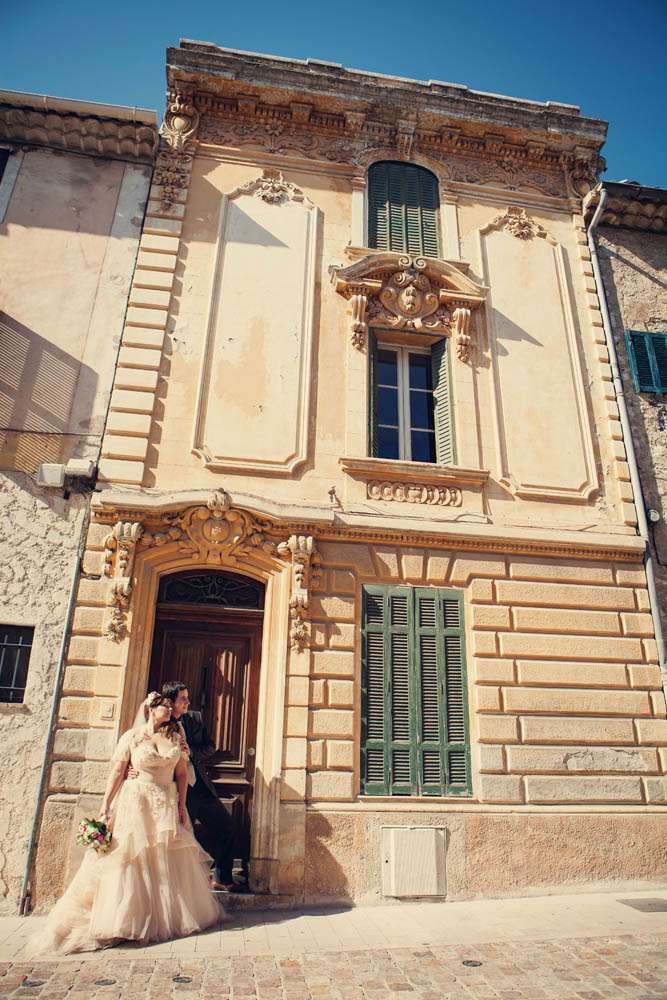 Kenna wore a Wtoo dress, Stella Mccartney shoes and a headpiece from Hazelfaire on etsy. "I looked at endless numbers of dresses", she continued. "Each one was pretty, but for someone else… Nothing felt right until, on a business trip in Phoenix Arizona, I found the blush gown of my dreams! You've featured many non-traditional coloured wedding dresses on Rock n Roll Bride before but I think it merits mentioning that once a bride makes the choice to be different, it becomes a true labour of love from that moment forward. I mean, no veil will match and no manner of stock-made materials will do. It is a line I think most of the Rock n Roll crowd is willing to walk, but my advice would be to stay away from traditional bridal boutiques and use etsy to source all your accessories. It definitely came to my rescue in more ways than one."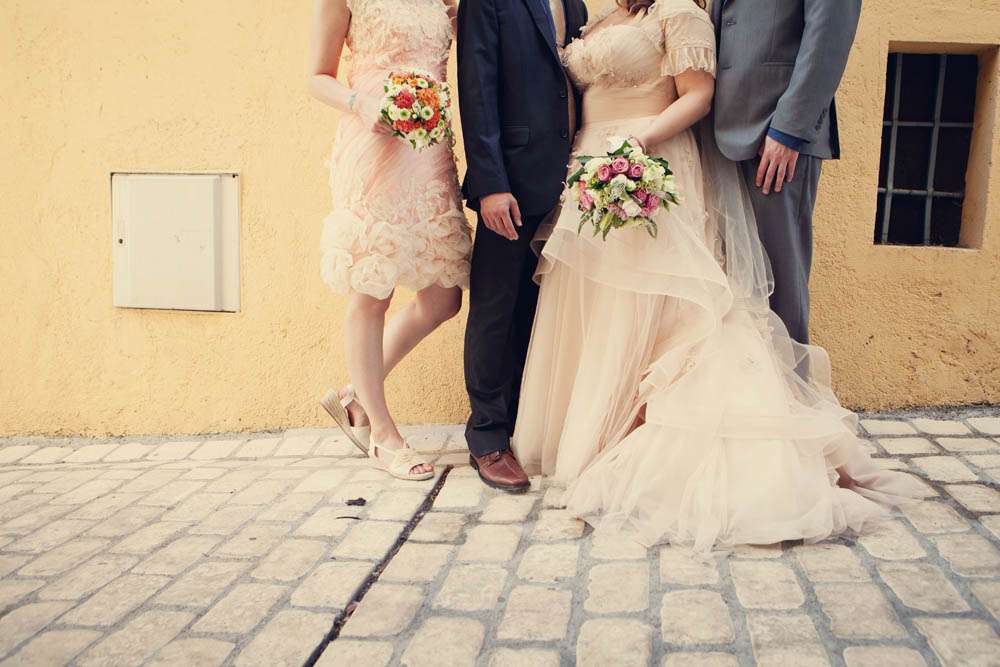 "My final advice would be, if you can, why not get married twice!" Kenna concluded. "Lots of couples work really hard on their weddings to make it a success – whether it is doing loads of research to make a wedding on another continent, lovingly DIYing your details, or trawling through countless flea markets to get the perfect vintage finds…and that's fine but, for me, to work that hard for just one day seems emotionally gutting. I got to marry the man of my dreams in France and have a very special day but then I got the love and support of all my family the very next week at our reception back home in the States. We came back and had a live-band karaoke reception in an antique shop. Get your money's worth and wear that dress twice!"
Gorgeous, and thanks for all the advice Kenna! Thank you to Kenna & Scott and the fabulous Sassy from Assassynation for sharing these today.
Supporting Cast
Photography Credit: Assassynation
Ceremony Venue: L'Abbaye in La Colle Sur Loup, France
Reception Venue: The Fairmont Monte Carlo in Monaco
Bride's Dress: Wtoo
Bride's Shoes: Stella Mccartney
Bride's Headpiece: Hazelfaire
Bridesmaid's Dresses: Madabby
Flowers: Local florist in France