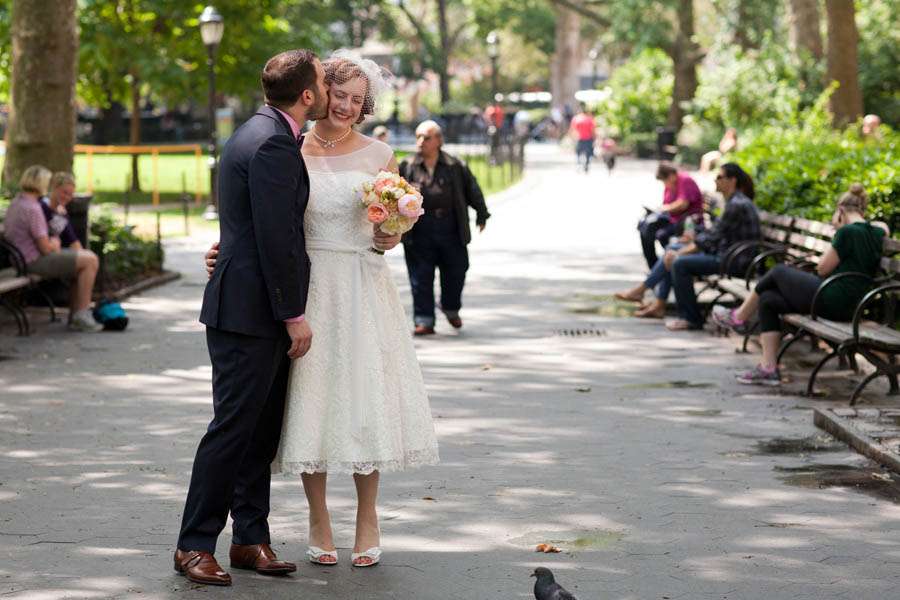 Have I told you yet that I'm off to New York again in under two weeks?! Oh I have? Oh I'm super annoying about it…? Yeah I know… sorry about that. But New York is the greatest city in the world and I'm sooo excited to be there again. EEEK.
Needless to say I have a bit of an affinity…or maybe call it bias… to anything and everything NYC right now, which is why I was super excited to receive Lesley & Perry's fabulous modern urban wedding. Sent over by wedding photographer Karen Seifert, the lunchtime wedding was held at 91 Horatio in the meatpacking district, with the late night after party taking place at The Drink, the couple's favourite bar in Brooklyn.
"I would have really loved to have had lots of beautiful, handcrafted elements in my wedding," began Lesley, "but the reality was that between a new, high stress job for me and a super busy work schedule for Perry, we just didn't have the energy or time to devote to the little details. It took some time to come to terms with that, as I felt it was expected of me as a 'crafty lady'. In the end, it cost a bit more to hand the design elements over to our wonderful planners, but it was the right thing to do. We all really connected over my creative concepts and their execution was above and beyond what I could have done on my own. In the end, it was absolutely beautiful and I love that we were able to incorporate handmade elements that came, not from me, but from my family's history."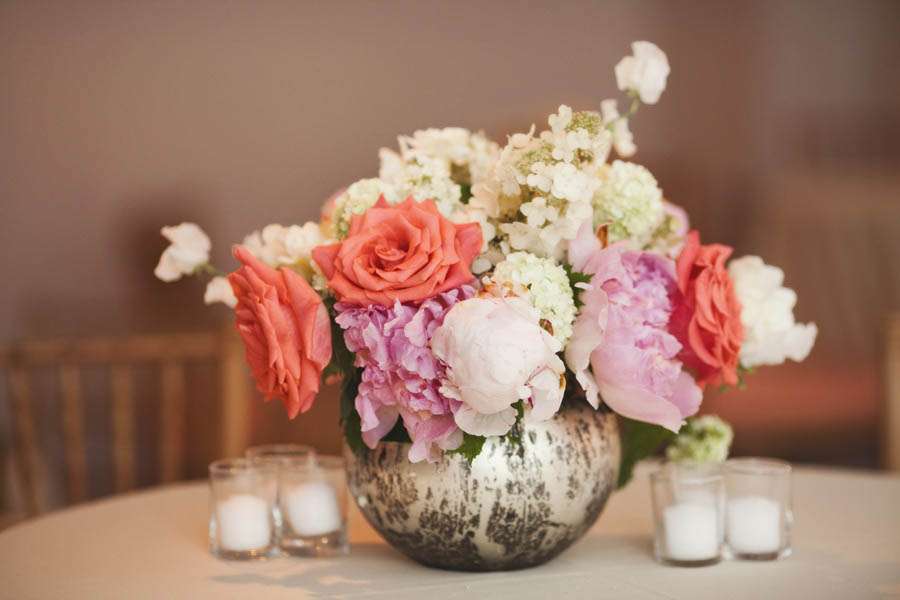 "We also wanted to have a wedding that was fun for everyone, and I knew that that meant having two separate parties", she continued. "Firstly a small, elegant luncheon for close family, and then a laid back, late night party at our favorite bar for our friends. Lots of people told me that we'd be doing double the work, but we split the workload and Perry took care of almost all of the details for the evening portion. It was incredible to see our friends enjoying themselves so much – I want host a party like that every year!"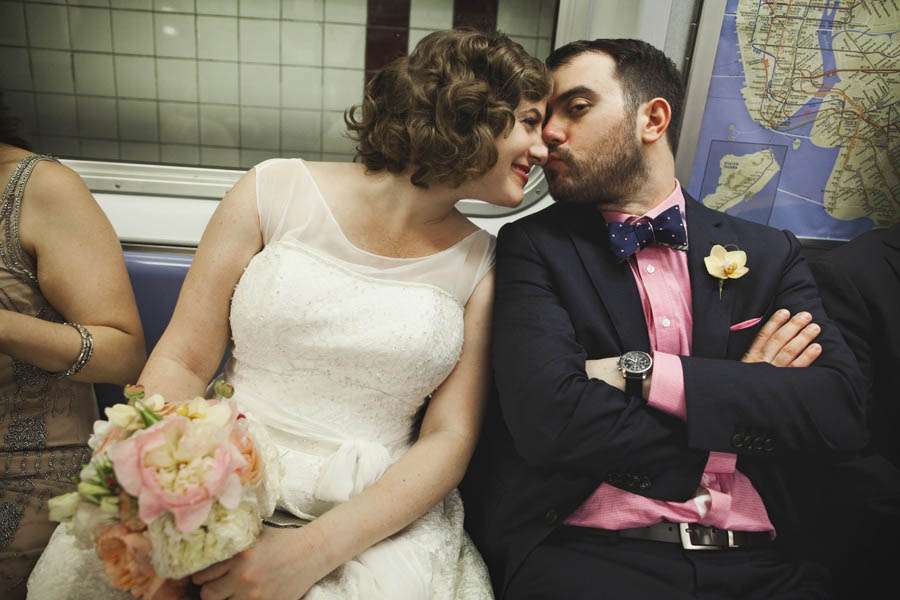 "As far as doing things differently", Lesley concluded, "I do wish I had taken a bit more care of myself during the day itself. I spent many months planning an event that made everyone happy (and it did!) but when the day arrived I was still a bundle of anxieties and cried at every tender moment. For all future brides and grooms reading this, I'd say do whatever you can (meditation! exercise! pharmaceuticals!) to make sure that you give yourself time to engage in whatever methods you use to take the edge off. Both of us agree that we should've eaten more, too – we worked so hard to make sure the food would be amazing and we heard that it was, but didn't taste most of it!"
Thank you to Lesley & Perry for sharing their gorgeous day with us today. I'm counting down the days until I'm back in NYC – just 11 more sleeps to go!
Supporting Cast
Photography Credit: Karen Seifert Photography assisted by Lindsey Thorne
Venues: 91 Horatio & The Drink, NYC
Dress: David's Bridal (customised by Selene Couture)
Shoes: Nina
Bride's Headpiece:  Bridal Veil Falls
Groom's Outfit: Suit Supply
Cakes/Desserts: Baked
Planners/Designers: Dan Fehlig at 91 Horatio
Catering: The Upper Crust
Flowers: Seasons
Hair: Katie Riesco, Suite 303
Make Up: Audrey Curry
Rings: Benari Jewelers
Stationery: Hello!Lucky
Ketubah: Urban Collection
Reception Decor: Confetti System