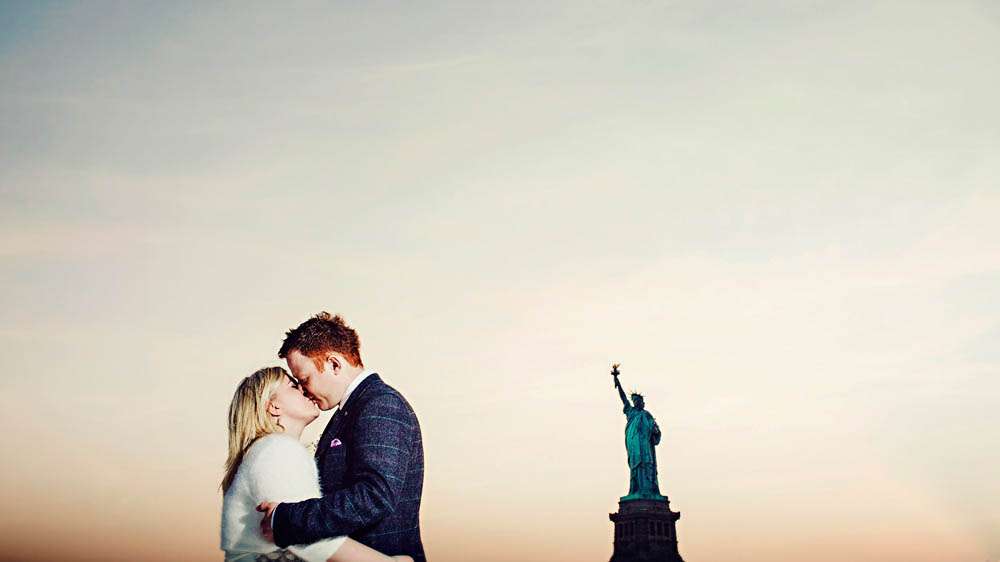 When Gareth & I were in New York in May we met up with photographer Steve Gerrard as he was also over from the UK to shoot Natasha & Marc's wedding! The couple, also from England, flew him over with them as they knew he was their perfect wedding photographer after seeing him featured on Rock n Roll Bride.
The intimate ceremony was held in the Ladies Pavilion in Central Park, which was followed by a photo session around some iconic NYC locations (they also met up again the next day to shoot some more!) The reception was on a private yacht with incredible views of the city.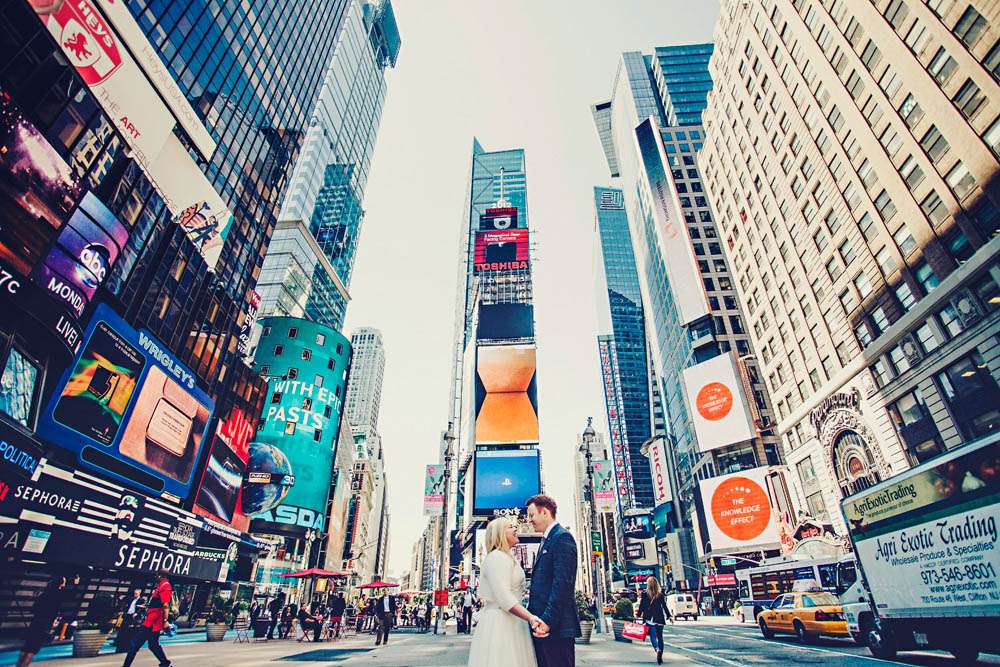 "We originally looked at having a wedding within the UK, but after viewing a number of venues something didn't feel right," began Natasha. "Everything was expensive and quite strict and we wanted something a bit more unique. I loved Emma Case's wedding which Steve had also shot. I actually cried reading about it on Rock n Roll Bride while sat at my desk at work. It was so beautiful and in the back of my mind, it was similar to what I aspired to as well – a smaller, intimate, romantic and unique wedding. Luckily for me it turned out Marc wanted that too! Phew!"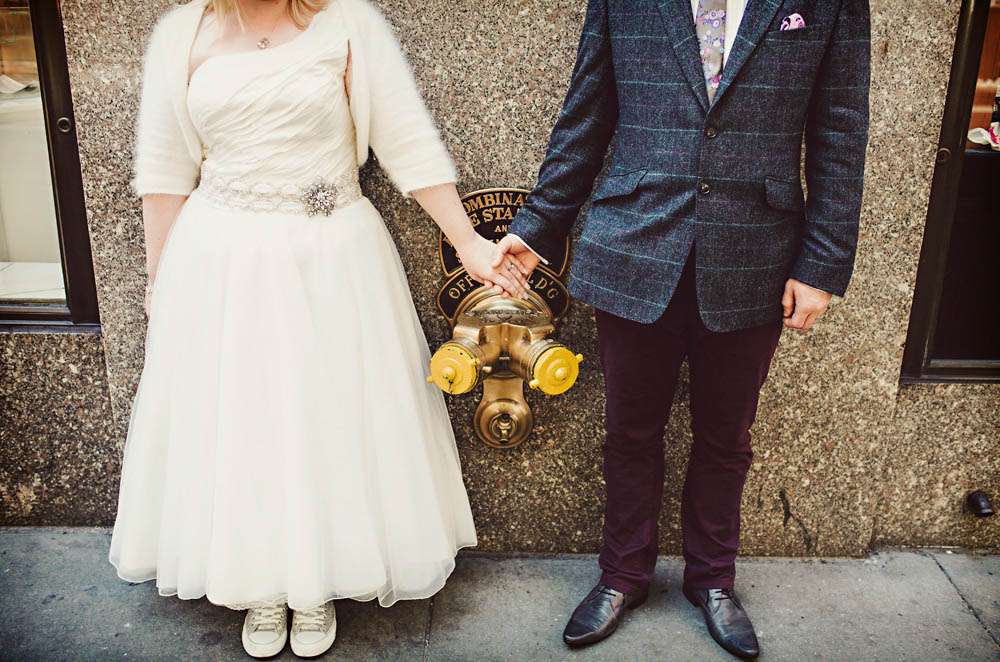 "Our first holiday together was a month in America, starting and ending in New York and we've been back together to visit since. We both love the city and decided, why shouldn't we be selfish? We thought, why shouldn't we just please ourselves and spend the money on us, a trip to our favourite city and have the wedding we really want. We avoided the things we were dreading – a sit down meal for loads of people and the dramas around huge guest lists and people trying to take over… ahh and family politics! Don't get us wrong, we love our family and friends but we're often too laid back and can pushovers because we don't want to upset people so we could see see how things could end up if we did the traditional UK wedding."
"Although I wouldn't say we were really alternative in our style, I think by not caving into pressures to conform to the norm, we did our own thing and that made us Rock n Roll!" She continued. "Also we felt like millionaire rock stars with the private yacht, complete with haters giving us rude hand gestures as we sailed past with Cosmos in one hand and (some of us) with cigars in the other! Haha, that was my brother's favourite moment and I think he'll be telling the story for years to come!"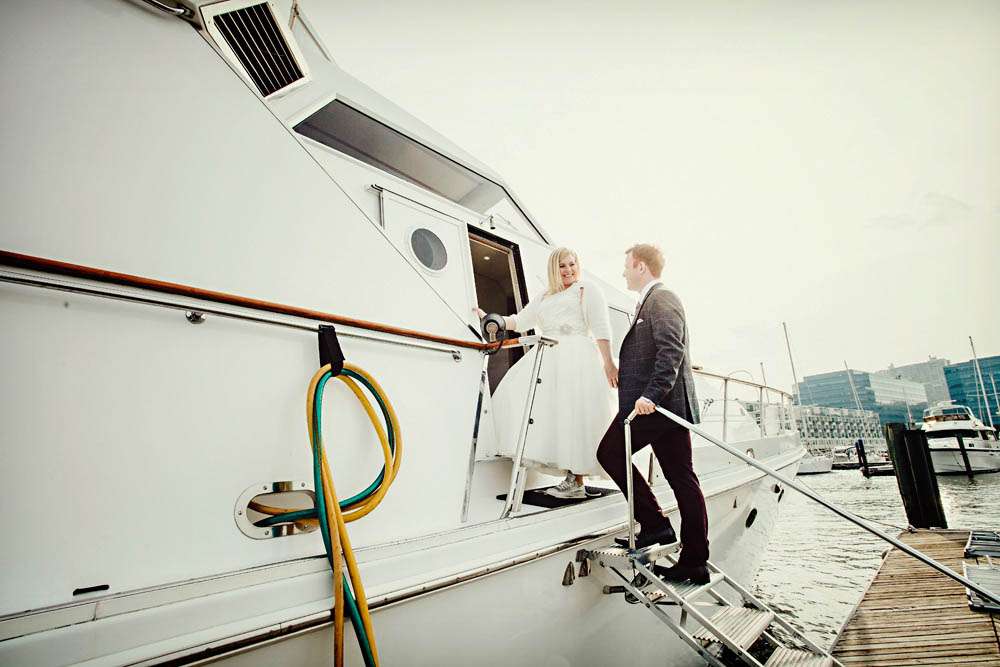 "My favourite thing about our wedding was that we wrote our own vows", Natasha concluded. "It was a last minute decision after meeting the officiant and he suggested it would be a good idea. They were great, we both cried and all I remember during that time is Marc and the officiant. We were in our own bubble. That was by far my favourite moment of the day. The other thing we loved would of course be the yacht – it was so cool and the idea suited our small group well. Everybody thoroughly enjoyed themselves (there were some bad heads the following day!) and it's not really something any of us will get to do again. It was a fantastic experience!"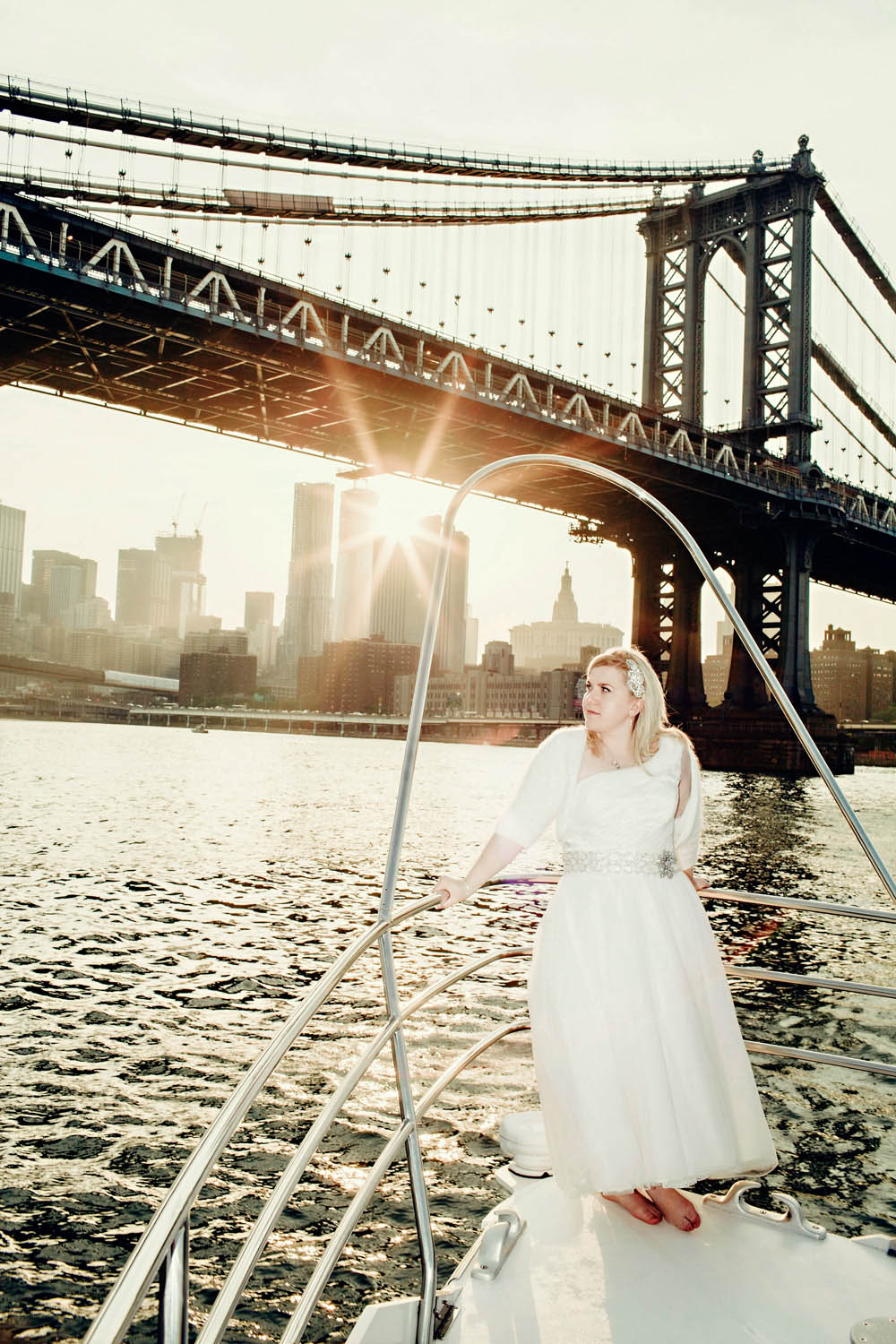 Awesome! I love your wedding guys and I'm thrilled you managed to pull of your day, your way! Thank you to you both and to  Steve Gerrard for sharing his kick ass photos.
Supporting Cast:
Photography Credit: Steve Gerrard Photography
Ceremony Venue: Ladies Pavilion, Central Park
Reception Venue: 'Justine', Private yacht
Bride's Dress: Justin Alexander
Bride's Sash: Glam House on etsy
Bride's Shoes: Jimmy Choo 'Crown'& Converse
Bride's Headpiece: Jenny Packham
Bride's Necklace: Royal Countess on etsy
Bride's Bouquet: Everlasting Bouquets
Shrug: Monsoon
Groom's Outfit: Duchamp
Cake Topper: Cakemates