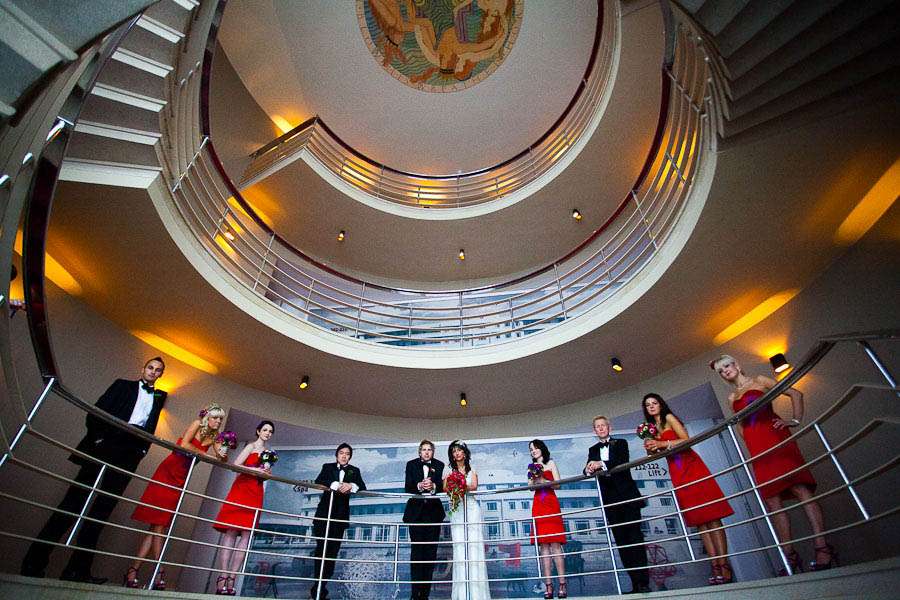 "Matthew is an architect & loves modernist architecture and things that are minimalist, well designed & have clean lines so we decided we'd like our wedding to reflect this", newlywed Hayley wrote. "The venue really set the scene with it's amazing art deco features but funky modern interior so we chose not to detract from this keeping decorations & flowers to an absolute minimum & only in white. We wanted the guests & bridesmaids to add the pop of colour which they did!"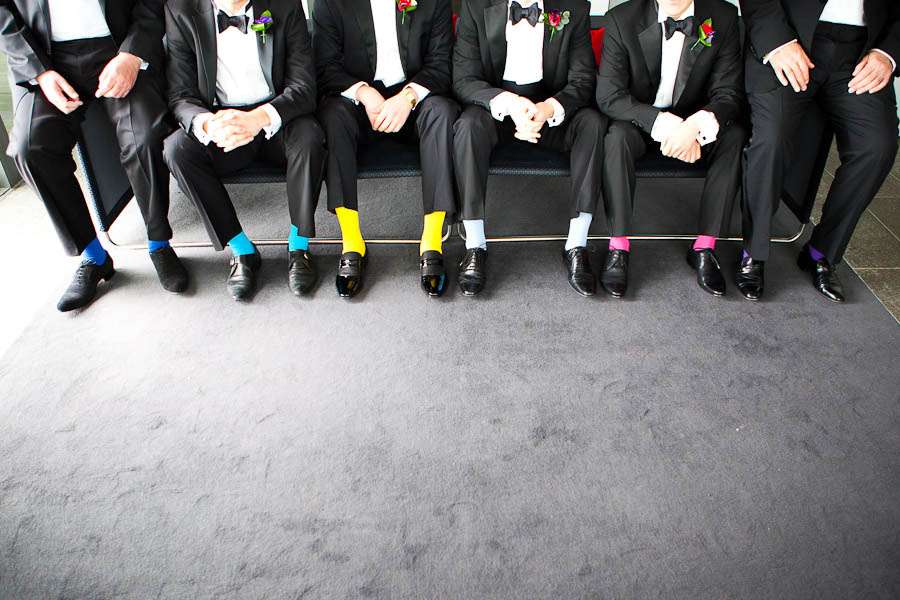 The bride wore a gorgeous Jenny Packham wedding dress and as anticipated, the bridesmaids stood out and looked spectacular in their red and purple Dan Kerr cocktail dresses and matching bouquets. "I wanted poppies but everyone told me they die too quickly so our florist suggested red anemones", Hayley explained. "When I started researching anemones I just loved the bright colours they came in (red, purple, blue, pink, ivory) so decided to incorporate all these colours in the bridesmaids, who all had different mixed bouquets with different coloured flowers in their hair too."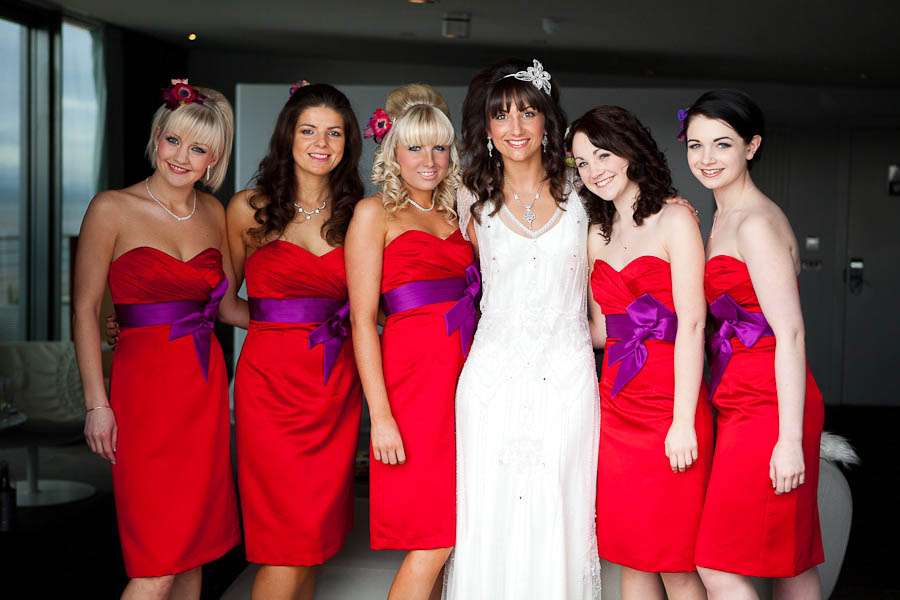 "The ceremony felt really intimate & personal, I think the acoustic guitarist helped us achieve this", Hayley continued. "Some other favourite parts of the wedding were the crackers as favours to tie in with how Matthew proposed (with the ring in a mini cracker around Christmas). Inside each was an alcohol miniature (alcohol played a big part in the wedding – we even had a tower of shots instead of a cake!) with a little fact about me & Matthew. It may have been a bit cheesy but sweet & good ice breakers on the tables."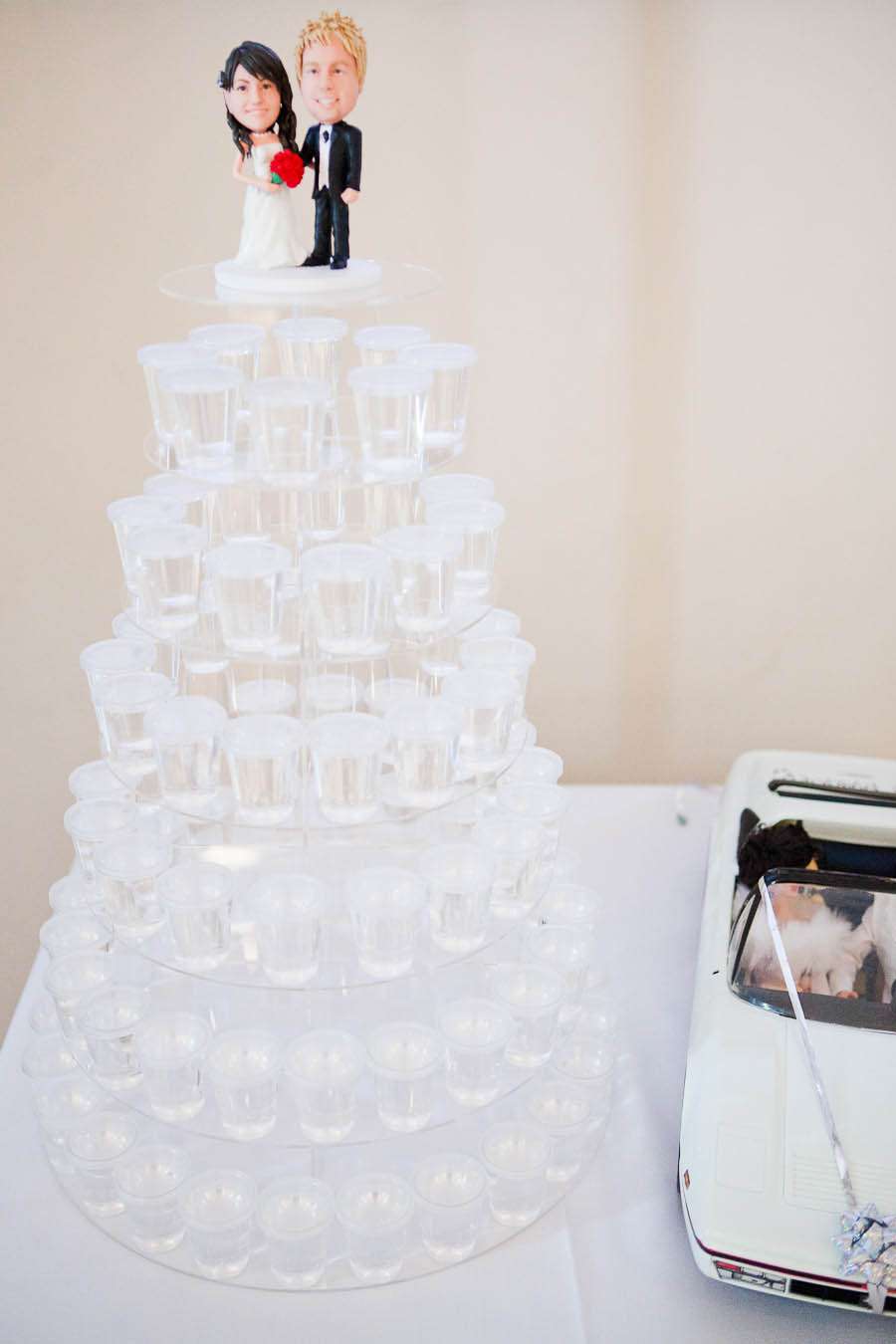 "For the shot tower we bought a clear 7 tier cake stand from eBay & 100 plastic shot glasses. We filled them with a mixture of 4 different flavoured vodkas, peach schnapps or sambuca! Because they are all clear it was pot luck which one you got! It was definitely a hit!"
"The most Rock n Roll aspect of the wedding was probably the after party in our epic honeymoon suite with all our friends in the jacuzzi on the balcony!" she concluded. "The only problem was we had to leave for the airport at 4am… So when my parents knocked on the door to say the limo was waiting we were still partying & hadn't packed at all… That flight to New York was the worst journey of my life, we felt awful!"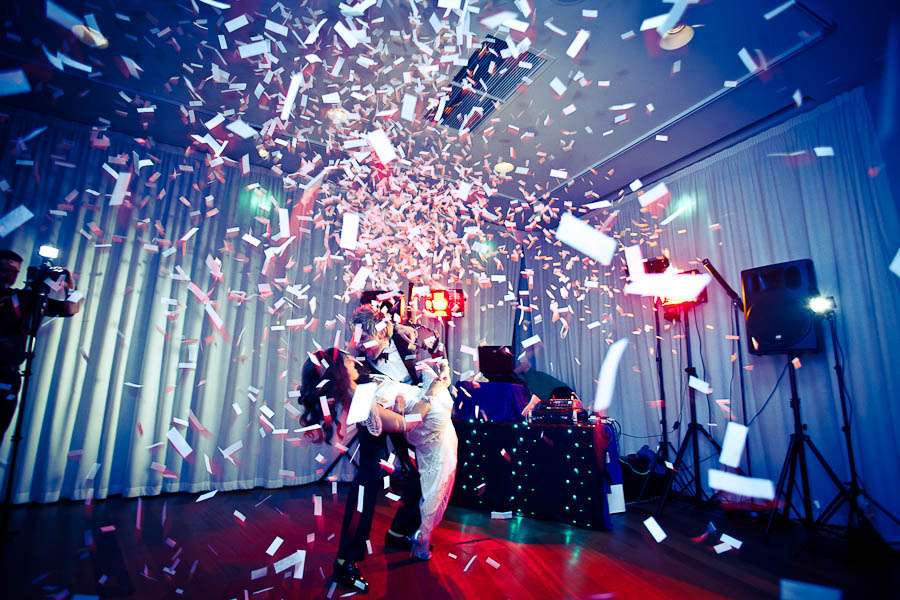 HAHA Gareth & I did exactly the same thing Hayley. Oh it was so romantic jetting off to Tokyo after we'd both thrown up in the airport toilets!
Don't forget to check out their ace wedding video too…
I love how Hayley & Matthew really used their venue to set the tone of their wedding. Everything else fits perfectly around it. Thank you to you both, and your wedding photographer Jonny Draper for sharing.
Supporting Cast:
Photography Credit: Jonny Draper Photography
Video Credit: Silk Wedding Videos
Venue: The Midland Hotel, Morecambe
Bride's Dress: Jenny Packham
Bride's Shoes: Jimmy Choo 
Groom's Suit: Jaeger
Bridesmaid's Dresses: Dan Kerr
Flowers: Flowers by Catherine
Stationery: DIY