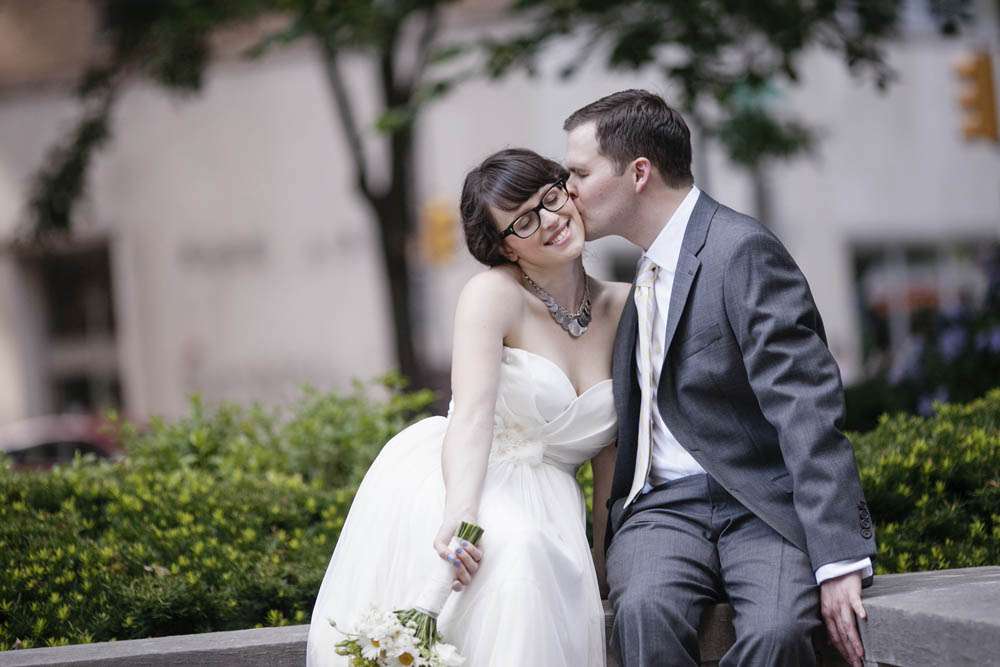 Matt & Kellyann had a homemade wedding in the historic Colonial Dame, a mansion in Philadelphia. The DIY details included the escort table, some decorative pinwheels made from origami paper, the chalkboards, the ring bearer's book (an actual book instead of a cushion – inspired by The Clash's Combat Rock album art, and as a nod to Kellyann's bookish nature), the printed napkins and the invitations.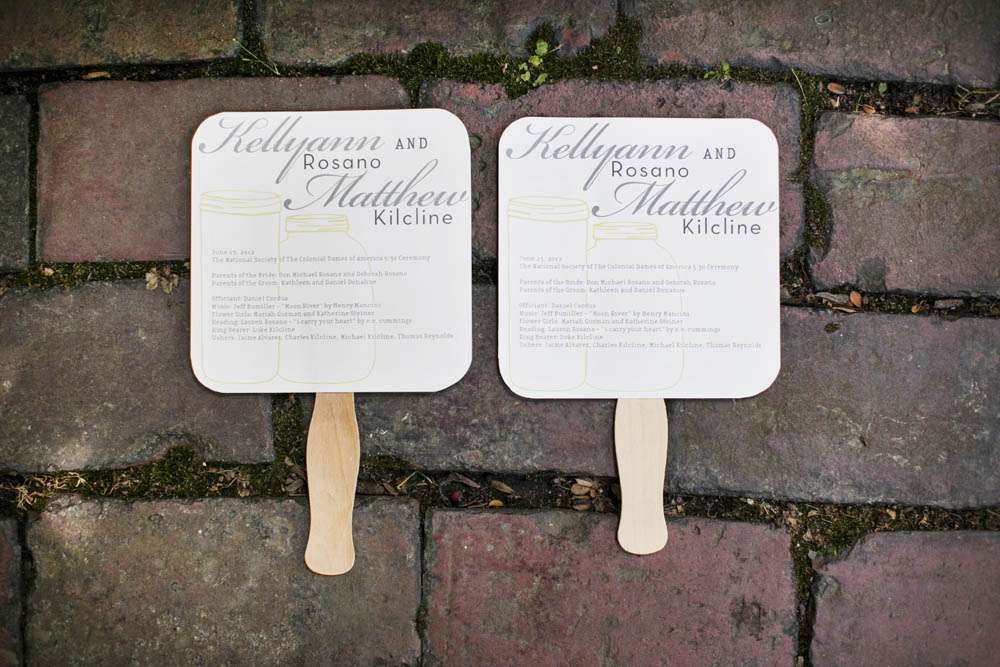 "We had been to mostly black tie hall-type receptions that followed ceremonies in churches, and wanted something that fitted us a bit more", explained the groom. "We aren't affiliated with any religion, and wanted something in a garden. We found the venue through our photographers, Love Me Do, and once we had that, the rest was sort of shaped around it. The venue was perfect for our small party size. The layout has lots of smaller rooms for exploring. As soon as we took a tour of it, we knew we had to have it there."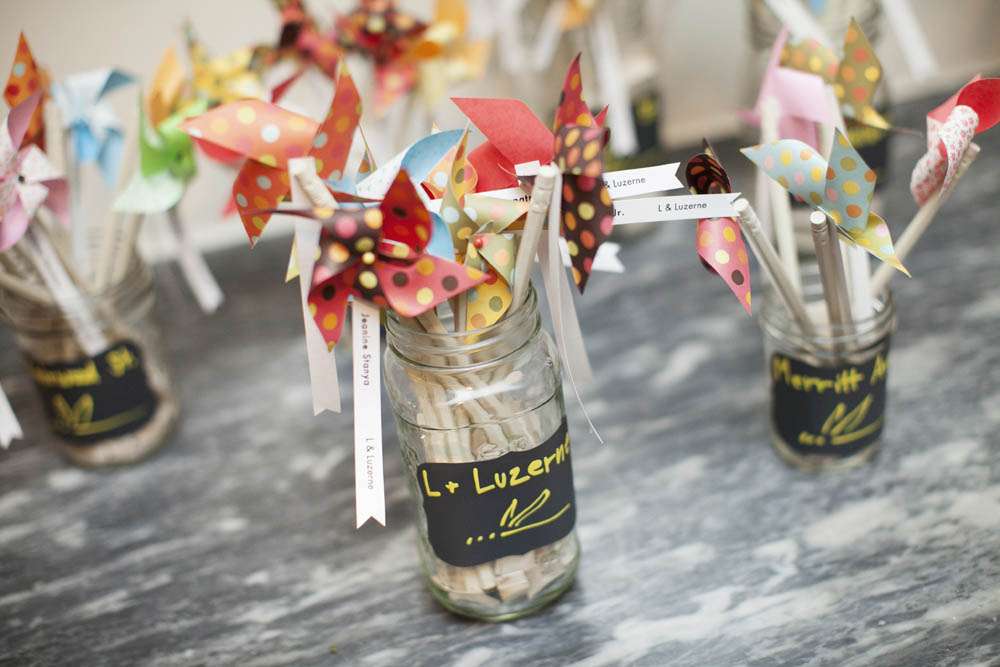 "We have a friend that was ordained, and we wrote our own vows. Kellyann wore glasses, despite everyone's insistence that she learn to wear contacts. She always wears glasses and she didn't want to not look like herself in our wedding photos!"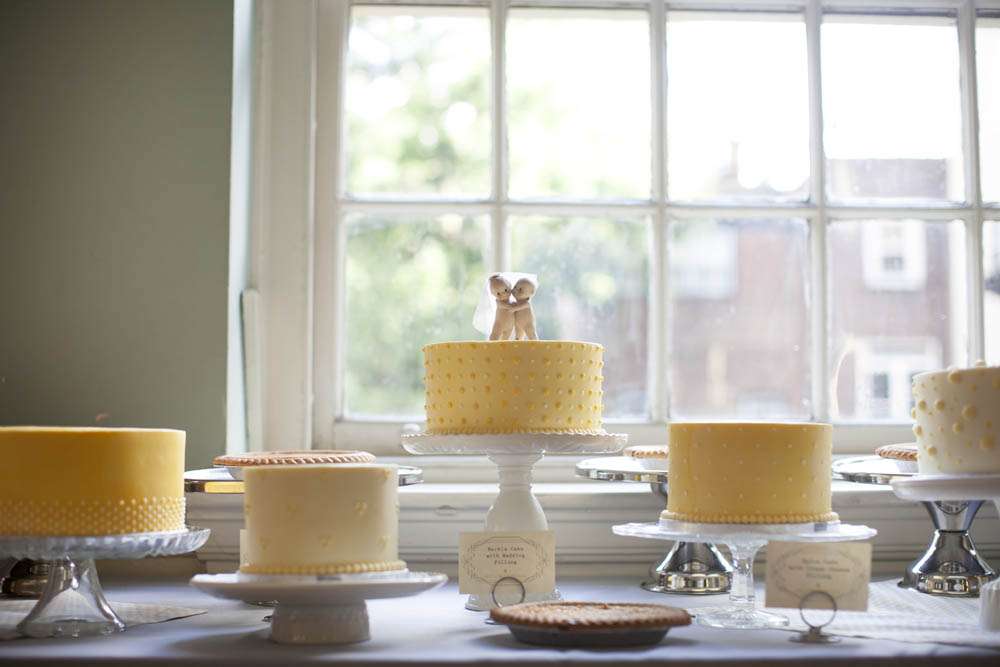 "We had pies because I make pies. We didn't ever want a traditional cake, but Kellyann's grandmother insisted. She was convinced that our wedding was going to be a circus but I'm glad she insisted because the cake was good! The cake toppers were old kewpies from my grandparents' wedding cake. Their 60th wedding anniversary would have been two days before our wedding so it was really special to be able to use them. A few of the cake stands were made from glassware that was stacked, epoxied together, coated in glass frost as a primer, and spray-painted with an epoxy appliance paint."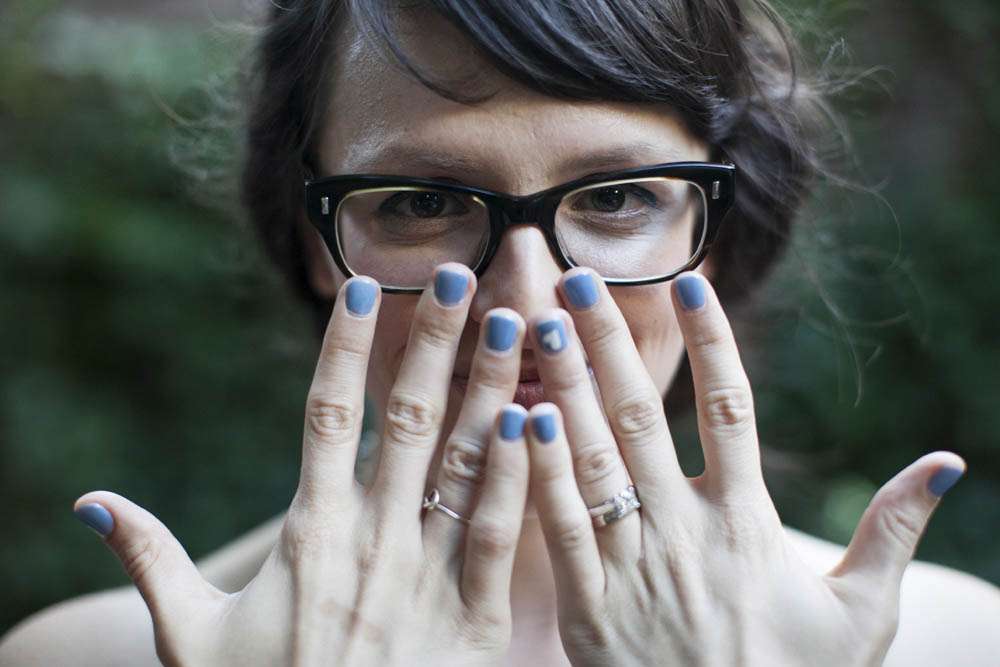 Gorgeous! I love that this couple didn't cave to the pressure to have a wedding that suited other people (well except maybe with the cake… but there's always space for cake!) Thank you to Matt & Kellyann and their fabulous wedding photographers Love Me Do Photography for sharing today.
Supporting Cast:
Photography Credit: Love Me Do Photography
Venue: Colonial Dame
Bride's Dress & Headpiece: Elizabeth Dye
Bride's Shoes: Seychelles
Groom's Outfit: Lord & Taylor
Cake: Karolyn's Kakes
Pies & Cookies: Stock's Bakery
Flowers: A friend
Band: No Macarena 
Stationery: Lauren Rossi at Boutique Textiles
Catering: Birchtree Catering