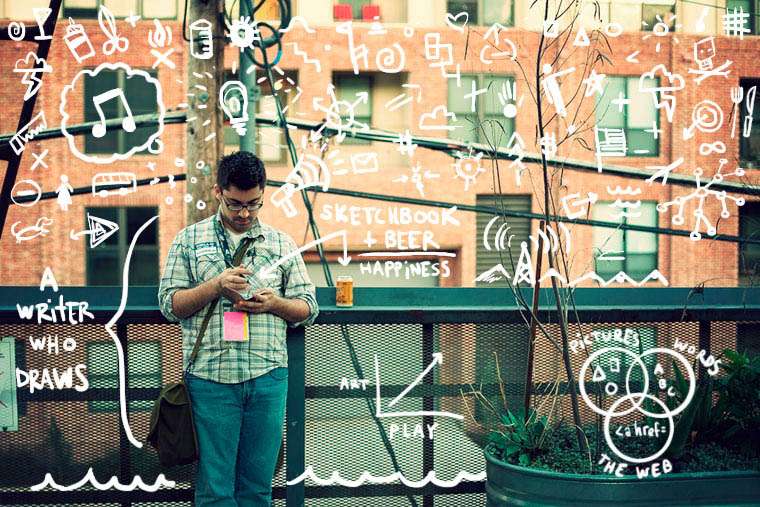 I was introduced to the work of Austin Kleon by a reader who emailed me a link to his latest book, Steal Like an Artist, after attending my School of Rock workshop. She thought I'd like it (thanks Emily!) and she was right. I bought it straight away and devoured the whole thing in one sitting.
Austin uses drawings and simple analogies to share his vision of what makes an artist… theft. Sounds controversial huh? Well it's not… it's awesome… and hugely enlightening. I'd enourage you all to go out and read it right now.
I wanted to know more so I decided to interview the man himself… enjoy!
Who are you and what you do you do?
I'm a writer, artist, and speaker. I've written two best-selling books: Newspaper Blackout (2010), a collection of poetry made by redacting newspaper articles, and Steal Like An Artist (2012), an illustrated manifesto for creativity in the digital age. Before I became a full-time artist, I was a librarian, a web designer, and an advertising copywriter. I grew up in the cornfields of Ohio, but now I live in Austin, Texas, with my wife, Meghan, and our dog, Milo.
I'm assuming you had an online following before the books came about… What was the progression from sharing your work online to publishing books?
I've been blogging at austinkleon.com since 2005. Both of my books came directly out of stuff I had posted online — I started posting my newspaper blackout poems in 2006, and that led to my book deal with HarperCollins for Newspaper Blackout. My second book, Steal Like An Artist, started as a viral blog post of text and slides of a speech that I gave to college students, and that blog post led directly to my deal with Workman Publishing.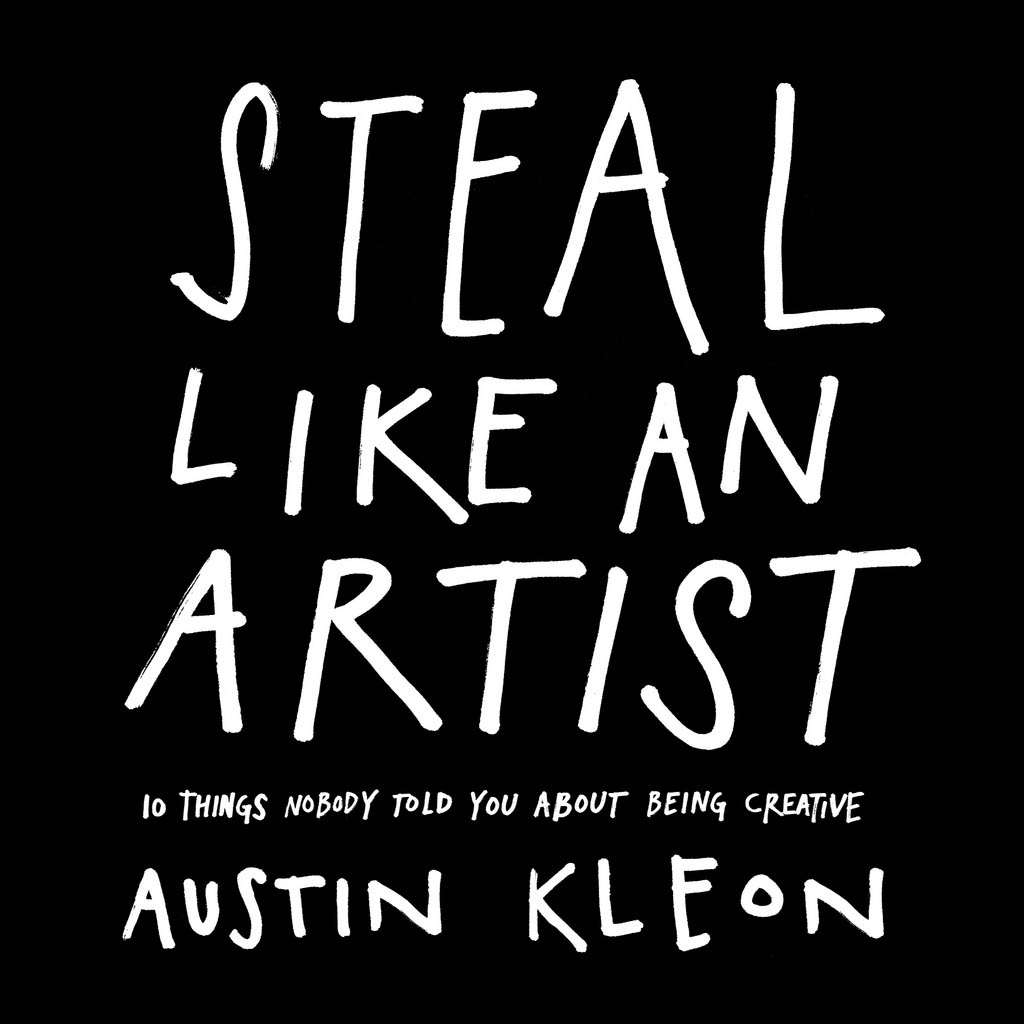 Do you have any advice for anyone wanting to write and get a book published?
Yes: forget about it. Forget about being published. Think about what work you want to do, put it online, and join a community of like-minded people online with whom you can share your work. Even if you still want to be published, publishers are looking for already-proven talent: people who have a "platform," and a built-in audience.
The concept of the book is pretty unique. Where do the ideas in Steal Like an Artist come from? Is it a way you've been taught or have just always felt?
Actually, nothing in the book is that original — it's formed through bits and pieces of wisdom I've filched here and there from my favorite artists. I've always been a student of collage, and collage is just kind of the way I see all art — you take bits and pieces from here and there and you form them together to make something new. The ancient Greeks and Romans did it — they copied their heroes and used their work to come up with their own thing. When it came time to write Steal, I noticed that lots of people had written about remix culture, but not many people had written about what those of us who don't consider ourselves remix artists could learn from it. So I used that as my starting point.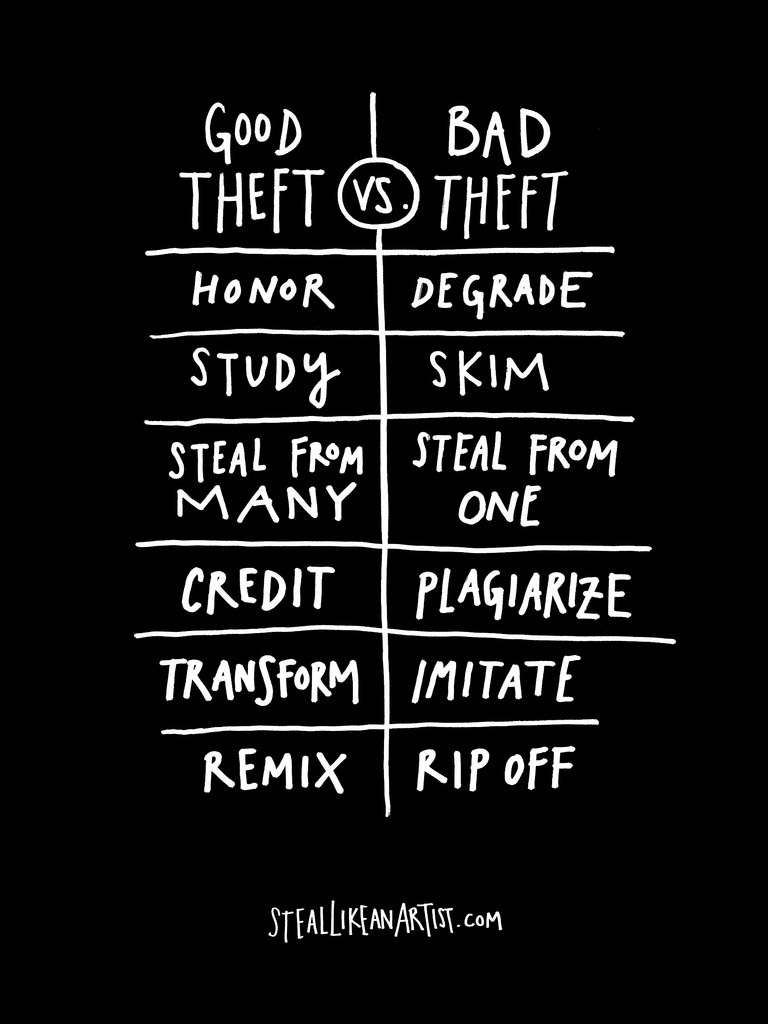 Who are your biggest inspirations? Who do you steal from?
I steal from everybody — the book has quotes from everyone from Picasso to my own mother. But the artists I've stole the most from are Lynda Barry and Saul Steinberg.
Tell us about Newspaper Blackout. Where did the inspiration for the series come from?
The poet Phillip Larkin once said, "I didn't choose poetry, it chose me." I never set out to be a poet, but when I was right out of college, I was facing a nasty case of writer's block, and one day, I looked over at the recycle bin full of newspapers next to my desk and thought, "I don't have any words, but right there are millions of them, ripe for the plucking." So I picked a newspaper article and started circling words that popped out at me and forming them into phrases and funny sayings. Then I blacked out the rest of the article with a permanent marker as if it were a declassified government document. I wasn't sure what to do with them, so I started posting them on my blog.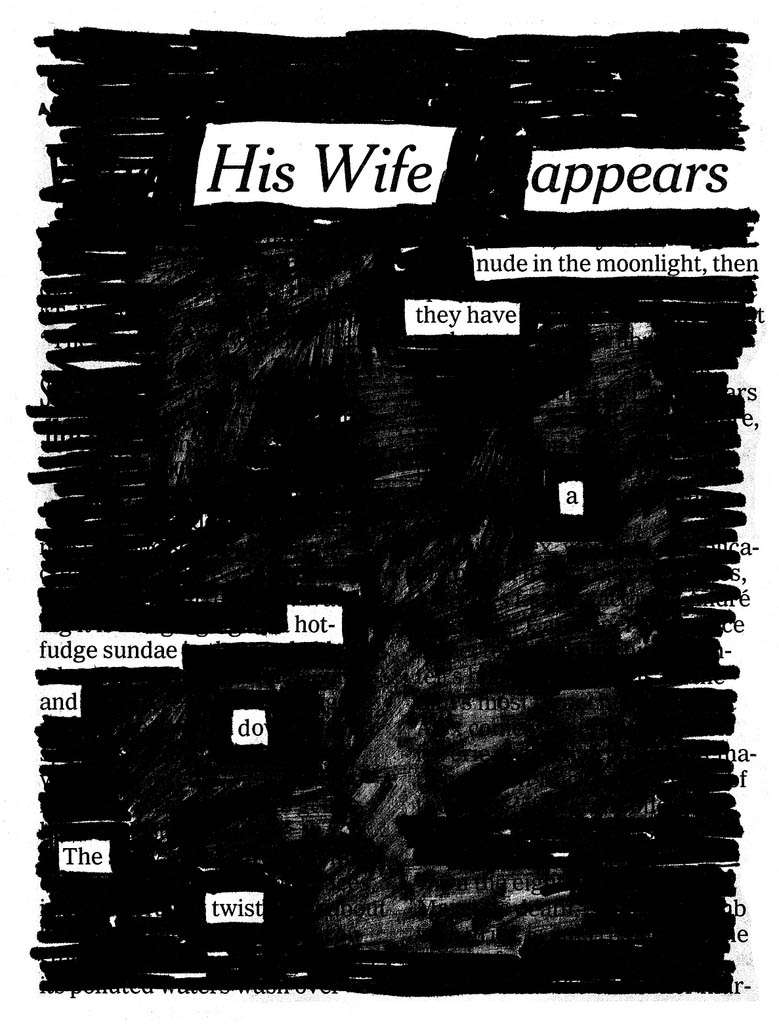 Have you ever been at the receiving end of 'bad' theft and how have to dealt with it? Do you have any advice for anyone going through the same?
You have to be very careful when you accuse someone of ripping you off — cries of plagiarism and the responses of accused plagiarists tell you more about the parties involved than the alleged plagiarism itself. A lot of plagiarism accusation online comes off as whiny — I think it's best to contact someone directly by email rather than point at them publicly and get the pitchfork mob all riled up. That never turns out well. Of course, I'm not a lawyer. But more often than not, keeping things civil and professional is the rule.
And have you ever been accused of 'bad' theft?
Oh, sure. I was once sent a take-down notice from a dead artist's estate for sharing some of his work on my website. That's just a clash of cultures, there: one man's sharing and enthusiasm is another's copyright infringement.
I've also been sent numerous emails and tweets calling my work a rip-off of Tom Phillips or William Burroughs — both of whom I write about in Newspaper Blackout.
I've also been contacted by a lot of artists who are (in my opinion) ripping off someone else's work, looking to enlist me as some sort of cultural defense attorney for them. This bothers me more than anything else. Steal Like An Artist is not about plagiarism, it's about transformation: taking the bits of inspiration that you've stolen and turning them into something new.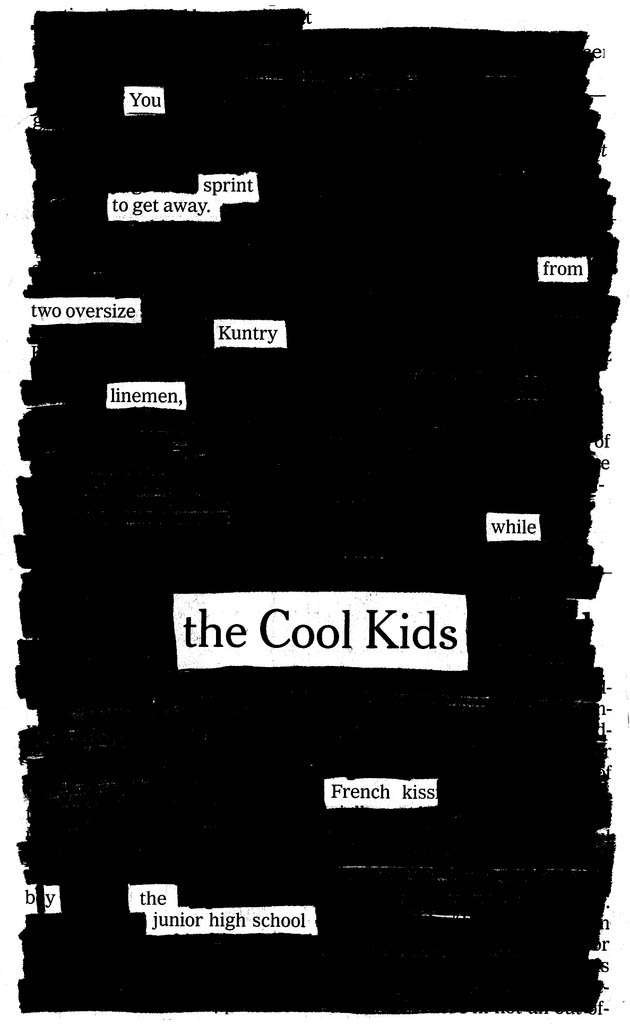 If you could go back to the beginning of your career what advice would you give yourself?
That's pretty much the entire premise of Steal Like An Artist. I wrote it for the 19-year-old me.
And the same question, but to before you got a book published?
Don't worry about being published. Just make stuff you love and put it online.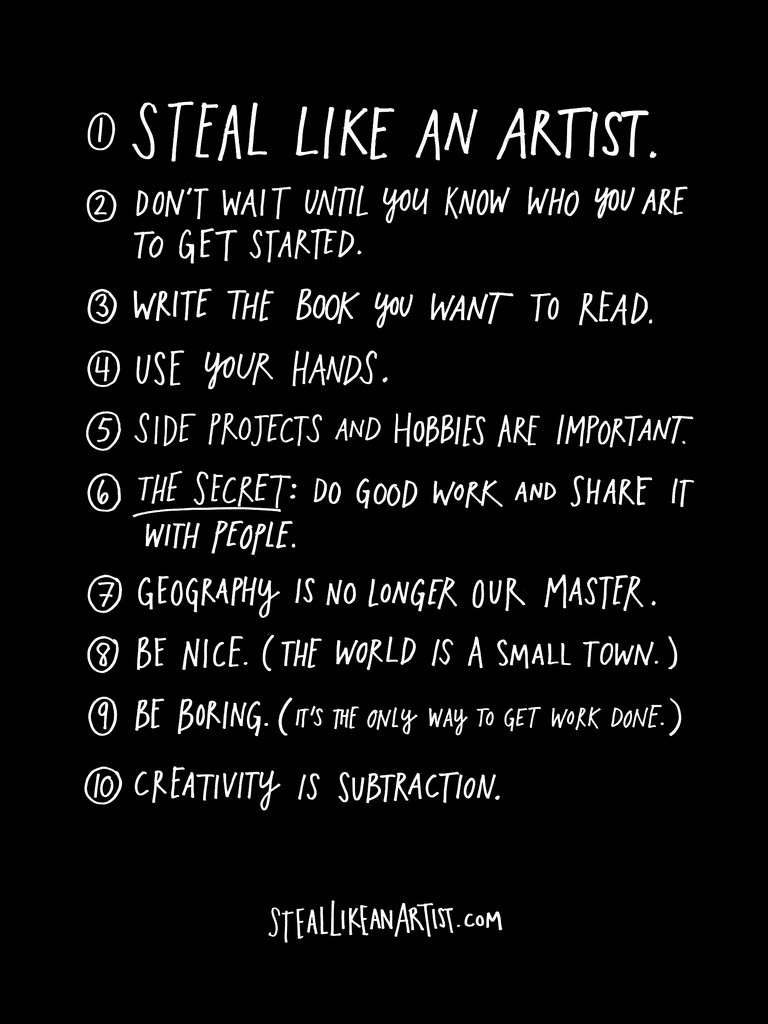 What's the best piece of advice anyone has ever given you?
An artist named Winston Smith once wrote to me when I was 13, "Drive safely and don't abuse alcohol, drugs or candy." That was good advice.
…and the worst?
"Be yourself." I hate that advice. I like to say, "Be(come) your (best) self."
and finally, whats next?
My wife is having a baby in October, so I'm going to be a stay-at-home dad for a while, and try to figure out the next book.