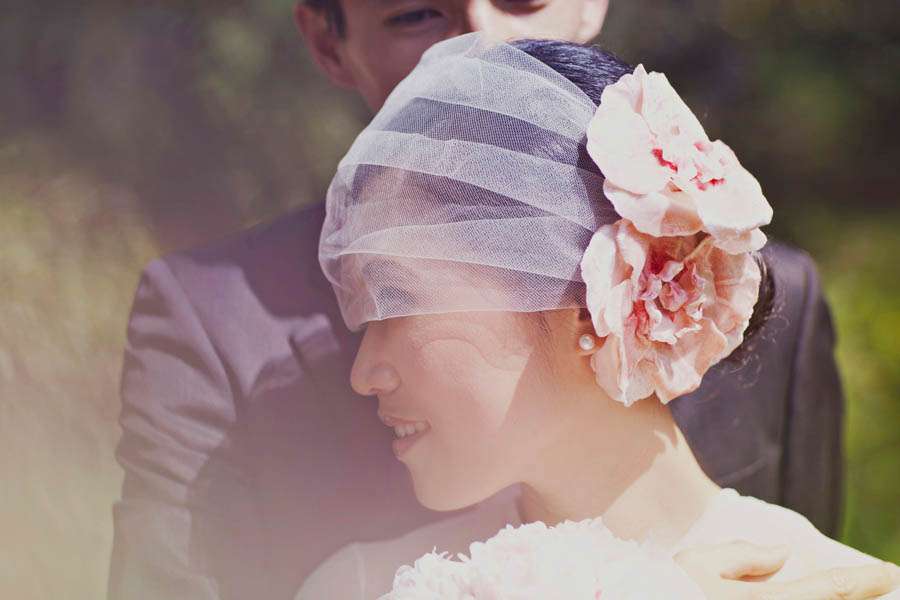 Ronnie & Richard were married at Calistoga Ranch, California. Originally from Taiwan, the couple's families knew each other and had often joked about setting the two of them up, but they'd never met. It was only when they both moved to America (her to New York and him to Austin, Texas) that they started emailing and arranged to meet.
The bride readily admits that she's not a very crafty person so DIY was out of the question for their April wedding. She did however fall in love with etsy and used it to source as much as possible for the wedding. "We didn't have anything handmade ourselves except for the 'here comes the bride' flag which Richard made", she told me. "I am not crafty, but I like the unique touch that comes from handmade products which is why I used etsy so much. I am also very into vintage style clothing and décor. I spent a lot of time researching on the site, searching for vintage wedding dress, bridal accessories, wedding favors and paper goods. At the end, I feel really fortunate to have found things I loved with affordable prices."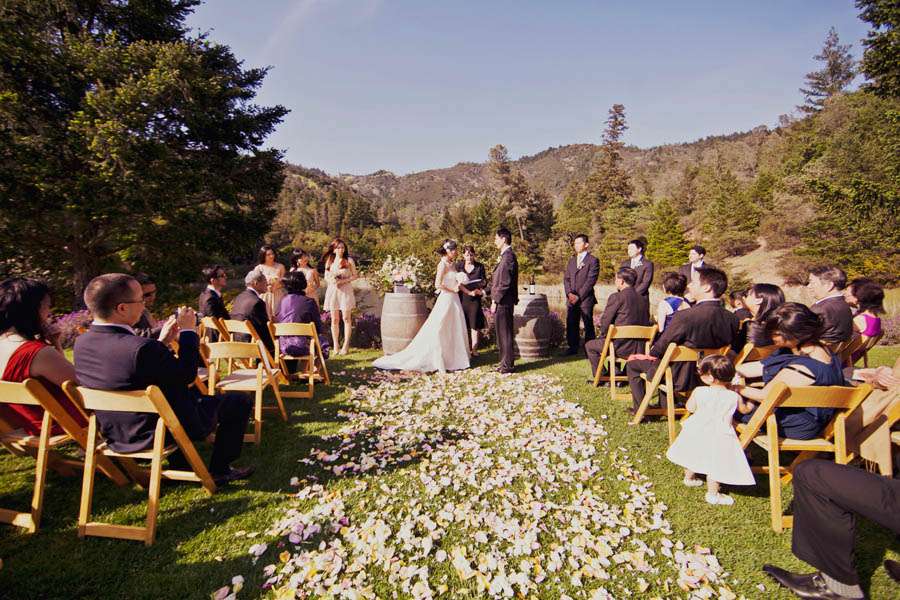 "Before the actual wedding, we had a traditional Taiwanese engagement ceremony in Taipei, Taiwan as well as a courthouse wedding in Austin", she continued. "Richard and I both wanted a western style of wedding, and because we'd done the other two things, we knew we want to go for something simple and intimate with our families and close friends."
"The first thing we did was look for a venue. Once we had that sorted we built our wedding around it. Calistoga Ranch is a resort secluded over north border of Napa Valley with spectacular lake and mountain views, a nice wine cave set up, and good catering. The best part is we did't really need to do much to it.  The scenery itself is so pretty that we decided to keep our decorations simple. We were expecting a lake scene with blossoms in April, so we decided to use the basic decorations provided by Calistoga Ranch with just a little bit more flowers for the ceremony settings. I worked with the local florist, Susan, who used two barrels with large floral pieces and rose petals to define the aisle and the ceremony site. At the wine cave, we decided to use candles with medium-sized floral pieces to add romance."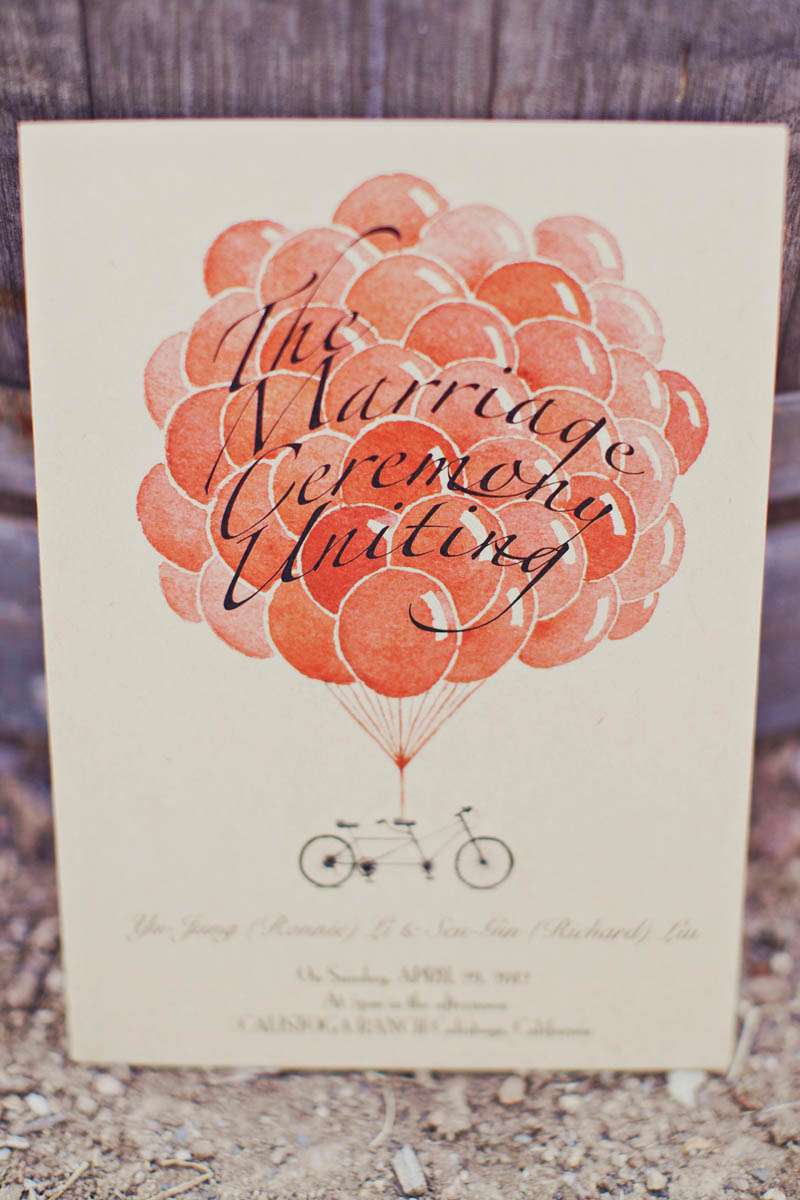 "We worked with my close friend's cousin, Ann who is a Taiwanese illustrator, for our stationery and paper goods", Ronnie explained. "We came up with a tandem bicycle tied with blooms as the main idea. She hand drew the tandem template, and we played with different bright colors and patterns to display the blooms on the escort cards and table numbers. I worked with Susan to come up with the ideas of using green grass to display the escort cards, and using branches to hold up the table numbers. I like the way they turned out; I think they were fun, cute and definitely added more spring feelings into our reception."
"Truth to be told, I don't think our wedding was that 'different'," Ronnie replied when I asked her about their unique ideas. "I read tons of wedding blogs and realised that, really, the weddings that caught my eyes were the ones that really showed the couples personalities and their love not all the 'stuff' they had. Searching for things that reflected 'us' is something I kept in mind throughout this whole journey. I loved researching wedding ideas however, it can be easy to get overwhelmed with too many choices and ideas. It takes time to frame your ideas but what I really learnt was to try to stay true to ourselves with all our choices. I believe that is the ultimate key to leading you to having a wedding that is really authentic and special. Isn't what you say on your blog too?!"
The bride wore two dresses – one for the ceremony and reception, and another for the portraits. "Having a different look for our wedding portraits wasn't my original plan. I had the idea when I found the 1970s vintage dress on Miss Elliette's etsy page. The dress was a surprise and it was so perfect. I fell in love with the beautiful silhouette, the see-through long sleeves and the simple striped design. It was also only $130! I loved my Jim Hjelm gown (which I'd already bought) so I decided to be a two dress bride! The style of the vintage number worked really well with field location that we shot in, which is why I chose to wear it for the portrait session."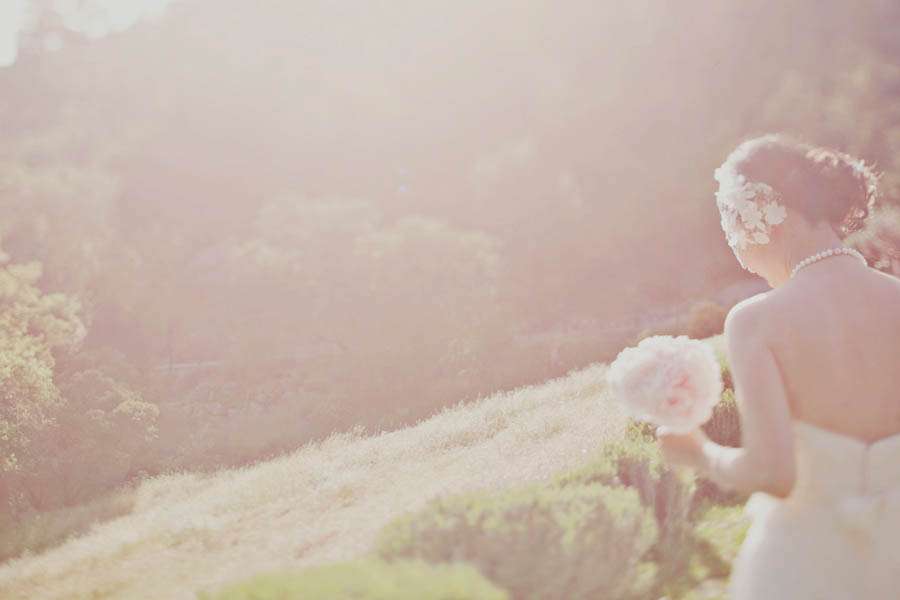 If you're stressing about details… don't! Doesn't this wedding prove how beautiful simple weddings can be? Thank you to Ronnie & Richard and their wedding photographers Jesse & Whitney of Our Labor of Love for sharing today.
Supporting Cast:
Photography Credit: Our Labor of Love
Venue: Calistoga Ranch
Bride's Dresses: Miss Elliette on etsy & Jim Hjelm, Style 1103
Bride's Shoes: Vintage shoes from Lady Violette Decourcy on etsy
Bride's Headpieces: Miss Maud (veil) Oh My Deer on etsy (flowers), Twigs & Honey (birdcage veil for the ceremony)
Bridesmaid's Dresses: Madewell
Cake: Michelle Marie's Patisserie
Wedding Coordinator: Lena Chu
Flowers: Susan Carr from Artiste Fleuriste
Hair & Makeup: Jessie Weng
Stationery: ShinJong Chang