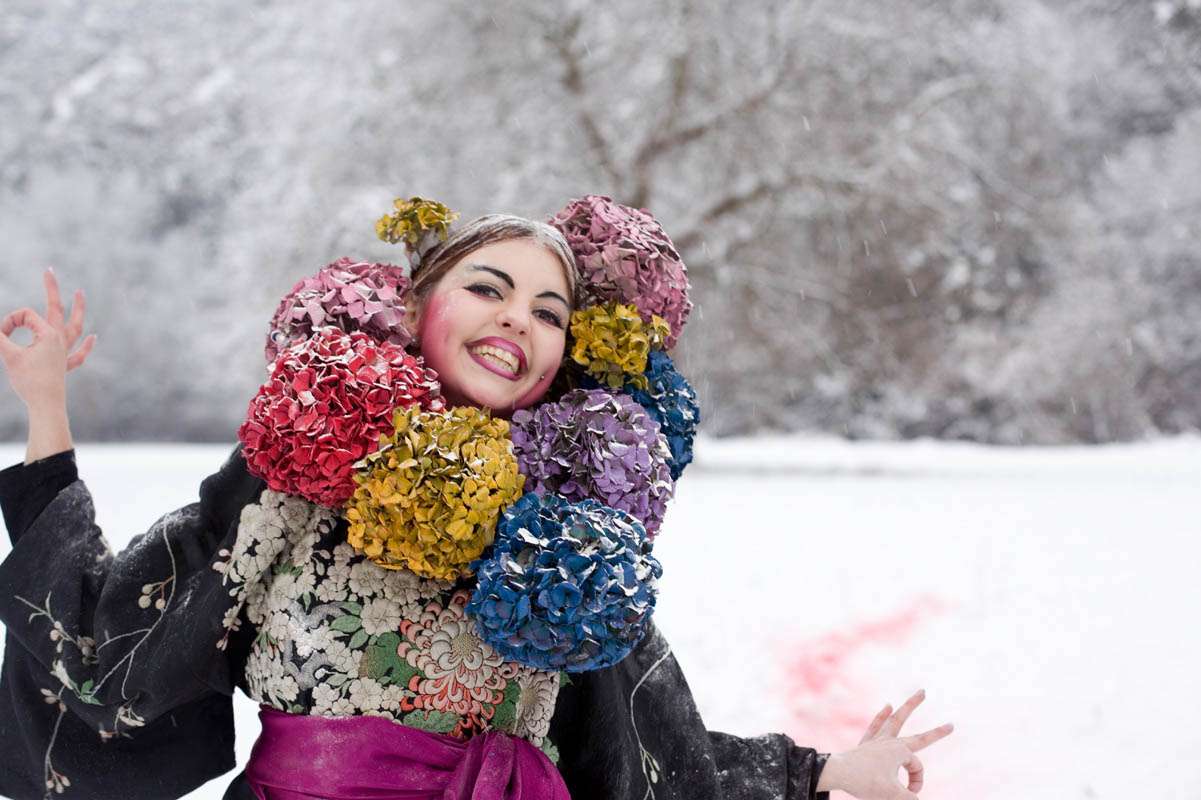 Elbie on the Wonderland set
"Elbie has no concept of what is real, and what is make-believe", wrote photographer Kirsty Mitchell in 2009. "She lives in la-la-land, and likes to spend her money on gardening wire and lipsticks. She spends her days ruining people's hair because she is constantly emailing me about fairies and monsters, and leaves broken make up all over the place. She will stain your carpets with blue face paint and glue, and says 'happiness' a lot, and gets very excited about sparkly stuff."
So apart from the ruining people's hair bit, this couldn't be more spot on about my friend Elbie. After stalking her work online for months, I finally plucked up the courage to email her to ask if she'd be available to work with me on a shoot. Luckily she agreed and we've been the best of friends ever since. Elbie is my go to girl for anything hair and make up related. With every shoot I do, Elbie is the first MUA I want to book. And after disastrous (and erm… expensive) hair dying results from Toni & Guy, Elbie has become my hair care saviour – regularly emailing me the next stage in my 'lets-get-Kat's-hair-healthy-again' regime.
She's a gem. She's exceptionally talented at what she does. As someone who has built her business from the ground up, she's the perfect person to interview today. Inspirational? Oh yes she is!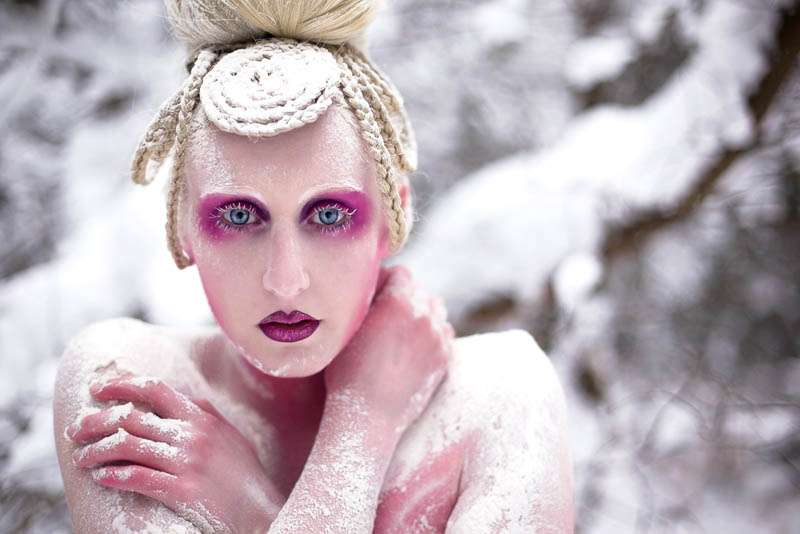 Hey Elbie! So who are you and what do you do?
Hello! My name is Elbie van Eeden, I'm a freelance hair and make-up artist living in London. I moved to the UK from South Africa over 5 years ago. My main focus at this stage is hair and make-up for editorial photoshoots and weddings, and I'm happy to say that I adore my job!
I love changing my hair colour and style, and surprising my husband by not telling him when I did so, waiting to see his expression.
Which came first, hair or make up? And did you have any formal training in either?
Hair can first. I knew since the age of 14 that I wanted to work in fashion, creating larger than life hair sculptures and otherworldly make-up. I grew up on a farm in the Free State, and it was because of my parents open-mindedness and encouragement that I've always yearned for something bigger (fast forward another 14 years and here I am in London!)
I started to do research on the best salons in South Africa to train in hair first, and after five years of working at a salon in Johannesburg, doing hair shows, competitions and TV shows, I decided to come to the UK for a change.
It was only intended to be a two-year stint, but after a year I found myself posting on facebook that I wanted to do hair and make-up for photoshoots.  Having had NO previous make-up experience, I knew that I was taking a risk!! I started working with photographers on tests (unpaid shoots where everyone gets 'paid' in pictures), using up every free moment I had for it, for about 2 years, whilst working full-time at a hair salon. I trained myself by studying books, looking at YouTube tutorials for techniques, going through magazines, trying to recreate looks. I really cringe when I look at my first shoots!
With a Mother working as an all-round artist (dress designer, interior decorator, and iron artist, to list a few!) I knew that I was destined to follow in her footsteps. I''l never have the incredible ability she has to create something out of seemingly nothing, but I sure can try!!
Why did you then decide to train in both? Do you think you have an advantage by being able to do both hair and make up?
It was something that I always dreamt of doing. I think from a client's point of view it's easier (and cheaper) to book one person for a job, but I do enjoy working with other make-up artists/hairstylists on shoots too! From my perspective – I like being able to create the whole look, especially at some of the more conceptual shoots.
So which do you prefer?
Tricky one!! This really depends on the shoot/bride/client…
How did you go about making the shift from fashion hair and make-up and working in a salon to doing more bridal work?
When I eventually set out to do photoshoots, I met the incredibly talented Kirsty Mitchell (but more about that later!) then Kat featured some of our Wonderland pictures on Rock n Roll Bride (I've been a big fan as I was a recently engaged myself) and then she asked me to do a shoot with her. After that shoot I started getting enquiries about doing hair and make-up for weddings (Thank you Kat!!)  So the wedding-bit happened totally by chance, and although I never thought I'd do weddings, I love every bit of it, especially since Rock n Roll Bride readers are ace/awesome/fanciful/incredible/sub-zero cool.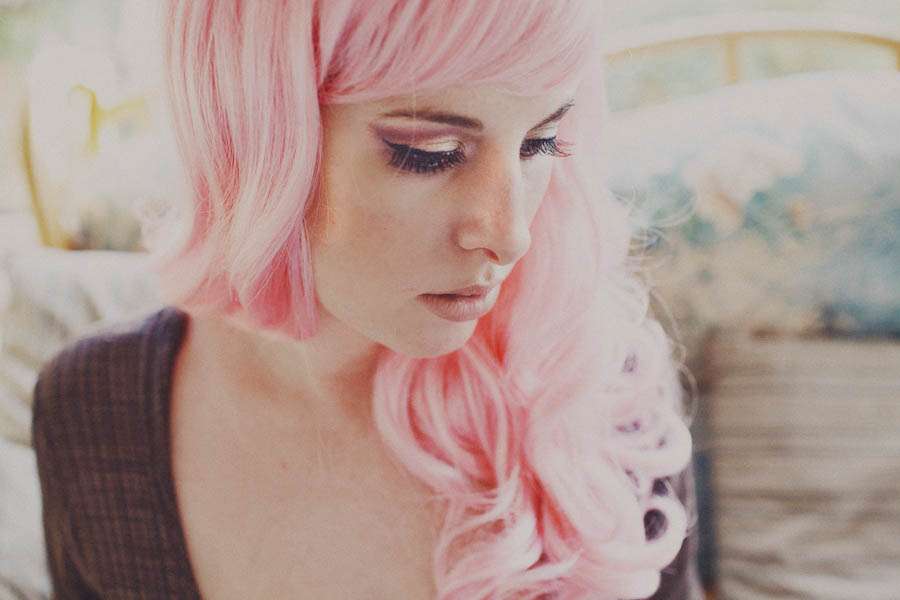 Photography Credit: Joanna Brown Photography
How do the majority of your clients find you and do you have any advice for MUAs struggling to get their work noticed and get booked for weddings?
Network, network, network. You have to put yourself out there. Be available.  Scour twitter/facebook for job opportunities, help out on inspiration shoots. Talk to people on twitter, become involved in conversations (without being creepy!)  Help others out by retweeting job opportunities, one day it will come back to you.
As a side note – be true to you. I know this sounds lame, but the only way you'll get YOUR type of client is to be the truest representation of YOU, so your prospective client knows who you are. You might find a client who shares in your mild coffee addiction/obscure music taste/distaste for furry critters.
Was there one particular moment that you thought, "This is it! I could really make a living from this?" Maybe while you were working at the salon or when you decided to quit to work for yourself?
That happened way before then. Well, I hoped that it would, in anyway!! After the exposure of the Wonderland project, and when I got more and more wedding enquiries, I realised that I'd have to quit my job to keep up with it all. Also, it was what I really wanted to do and although it was scary to not have a regular income I eventually did that in the summer of 2011. It wasn't an easy start, I don't know what I would have done without my husband's support, but I'm so glad I did it!
What are the biggest preconceptions about your industry?
There's still this preconception about photoshoots being glamorous. I can tell you, standing in the snow for 7 hours, carrying a 1.5m high cake is not glamorous!!!
Another preconception about weddings is that every bride will be freaking out on you on her wedding day!! I'm lucky that the clients who chose me have all been lovely, even when they are stressed. That's why a trial is SO important, making sure that the hair/make-up artist will be able to understand you, and be a calming presence on the day.
What is your favorite part of the job?
At shoots: being there on the day, seeing all the planning come to life, and then seeing the final product. A highlight so far has been when some of the Wonderland images were used as an installation at Karen Millen's flagship store in London's Regent Street.
At weddings: Just being a part of it. Seeing the bride shrieking with delight when she realises that she'll be marrying the boy of her dreams in a few moments.
What inspires you and who are your biggest influences?
My family, in their constant faith and support in me. Kirsty Mitchell, helping me create my dream. I'm inspired by passionate people, contrasts between light and dark, objects with a story.
If you could go back to before you started this job, would you change anything or give yourself any advice?
At the beginning, I had zero confidence. But a simple thing I wish I'd have told myself then, especially when I stressed the night before a big shoot, is this:  Don't be scared to try things. If you mess up someone's make-up, you could just wipe it off and start again.
Can you tell us a bit more about how working with Kirsty Mitchell on the Wonderland project came about and what it means to you?
I met Kirsty through a modeling networking site. She commented on some of my work, and I was swept away by the magical vision that she showed in her work, at that time it was mainly street photography and self-portraits. When we met up to do a shoot (the Lavender field series) we both thought that it would be just a few shoots. Three years later, the still unfinished series called Wonderland has been published globally (you could see the BBC interview here). Neither of us have anticipated how big this would become!!
Working with Kirsty has opened my eyes, and made me realise that I didn't have to give up my dreams, creating beautiful, dark and magical characters, and the response has been unbelievable!! And I still can't believe that what I'm doing is now my JOB!!
Another one of my favorite things is to sit in her back garden, thinking up HOW exactly we're going to make a giant flower headpiece/lifesize candycanes/light up huge steel ships in trees. There's never a 'not possible' with her. With a bit of gardening wire, loads of glue gun sticks, a piece of cushion, cans of hairspray, and a paint roller, ANYTHING is possible.
The behind the scenes pictures are testament of just how non-glamorous this gets!
And finally what's next for you?
We will be finishing the Wonderland project in the next few months, after which there will be an exhibition of all the works. There are also talks about having it exhibited internationally. The series will also be published as a book, which will be presented like a precious beautiful storybook.
As for the rest, who knows? With weddings, photoshoots, and hair clients keeping me busy, I'll just have to wait and see where life takes me next!!
All Photography Credit (except where stated): Kirsty Mitchell Photography