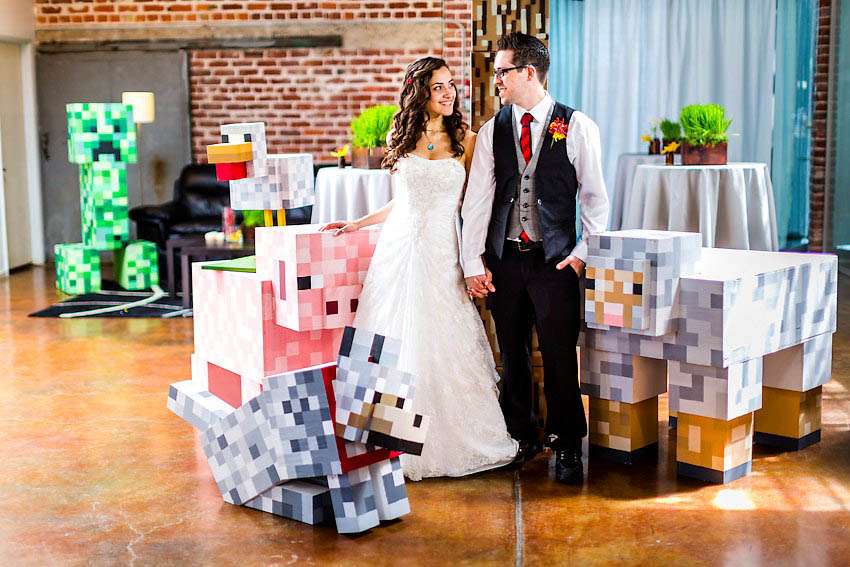 Confession: I can't take any of the credit for finding this wedding…this baby was aaaaall Gareth's doing! I'm quite the Minecraft widow actually, and when I drag myself from my computer to my bed at night I can often hear him watching the latest Yogscast video (at full volume of course!) Needless to say he's a bit of a fan… So when the creator of Minecraft, Markus Persson (known online as 'Notch'), tweeted about a wedding themed around the game, Gareth was straight away begging me to try and feature it. In fact I've never seen him run into my office so fast "Ooohmiiigaaaawd there's a Minecraft wedding! You HAVE to feature it! Pleeeease! Pleeeeeeeeease! How do you not know about this already!?? This is the coolest wedding ever ever ever!"
Luckily, it turned out the photographers who shot it are friends of the blog (veteran readers will remember them from their epic 'Up' themed anniversary shoot) and so they were more than thrilled to share it with us. HURRAH! I hope you fellow gamers will get as much joy out of this as Gareth has!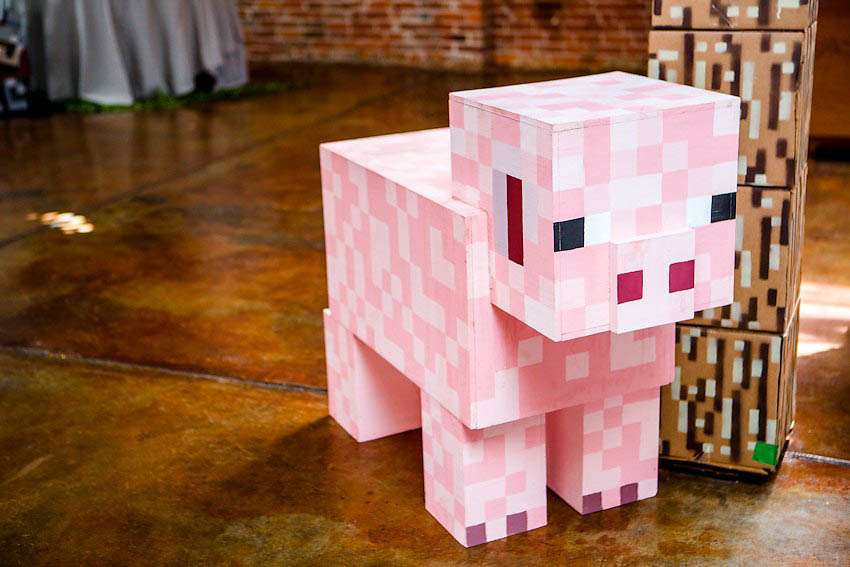 Matt & Asia's Minecraft wedding theme was pretty much a given, considering how Matt proposed…
"My proposal was a complete fluke," the groom explained. "Asia really wanted to go to MineCon, as it was the first ever convention for Minecraft, a game we both played and loved. I wanted to propose to her there, but had no idea how I would do it. Being someone with plenty of video production experience, I sent an email to the team (who I supported on Kickstarter) who were filming a documentary about Mojang (the game developer behind Minecraft), as I knew they would be there at the big event. I simply told them I planned on proposing, and that it might make good B-roll for their film if they wanted to plan on being there when I did it. One thing led to another, and my email was sent up to the person running the entire event; Lydia Winters, known as 'minecraftchick' by the nerd masses. She completely set up the entire deal, which involved Mojang's artist creating custom Minecraft labels for Jones Soda, who was sponsoring the event. The video ended up having over 200k views on YouTube!"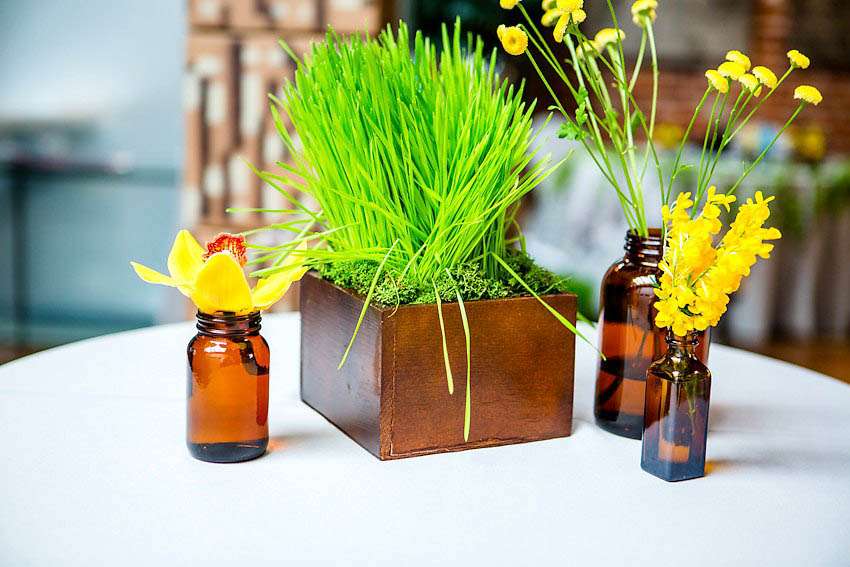 So, the couple set to work painstakingly planning their Minecraft themed wedding. "Asia and I have always been the kind of people that enjoy going against the flow, "Matt continued. "We have weird senses of humor and we both are part of growing 'cool nerd' culture in the world. As in, people who enjoy computers, video games, and other 'geeky' hobbies, but that still have full social lives, enjoy exercising and being outdoors, and in general don't look much different than 'normal' (non-nerd) people. Minecraft is a cultural phenomenon, for nerds and non-nerds alike, and it's a game that I played very early on, during the alpha stages of the game. When I re-friended Asia, and found that she loved video games as much – if not more – than I do, I showed her the game. She instantly fell in love, and the game became a great source of bonding early in our relationship. You are literally exploring an unknown world that you have to mine, grow, harvest, and craft in. You want tools? Find the wood or stone to make them. Want a house to protect you from bad creatures that come in the night? You have to find the materials to build a house, whether it's melting sand to form glass, finding clay to roast into bricks. It's the kind of game that requires a lot of teamwork, from hunting food while the other grows crops, or defending your home from invaders while the other runs to the basement! We clicked in the game as well as we clicked outside it, and it became a regular part of daily life to explore and discover new things in Minecraft as we did the same in our real lives."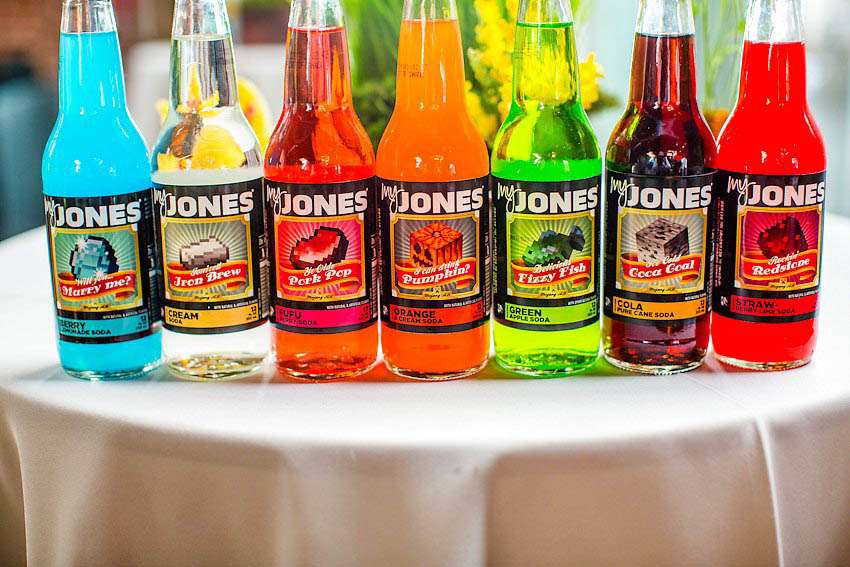 "Others have described the wedding as 'just as nerdy as it was classy', and that's exactly what we were going for. The Minecraft statues, trees, plants, cave, and other props were taken directly from the game. We knew that not everyone at the wedding would have played the game, and we also knew that we didn't want the location to feel like a cheesy amusement park or something. The location, Beatnik Studios, already has a very earthy look to it, with it's brick walls and polished brown floors, so we decided to continue that 'natural' theme from Minecraft by using greens and browns, and other earthy tones to bring out a natural look to the decorations. I have to give huge props to my Aunt, who has been an incredible florist and decorator at her business, Jackie's Flowers for many years. As someone without prior knowledge of the game, she was still able to bring things to life with very natural ingredients, such as the 'grass blocks' on the tables, and the incredible mushroom and moss piece she made from scratch for our wedding table. While we took care of the boxes, statues and other props directly from the game, she worked her magic to bring the theme into reality with real plants. Quite simply, her and her daughter (my cousin) did a brilliant job."
The Minecraft characters and animal statues were created by Greg Aronowitz for MineCon. After the epic proposal, Greg kindly allowed them to borrow them for the wedding. He even allowed them to take the fully functional torches with working 'fire' and LED lights.
Jones Soda, who sponsored MineCon, also donated all 250 bottles of custom labelled drinks for the wedding. "Sure, they sponsored MineCon, but we were going to be ordering over $600 worth of bottles, not including shipping," Matt explained. "That was a massive blessing, and one of the reasons we wanted to make absolutely sure their goods were shown off in the pictures! Also, because the bottles look absolutely awesome!"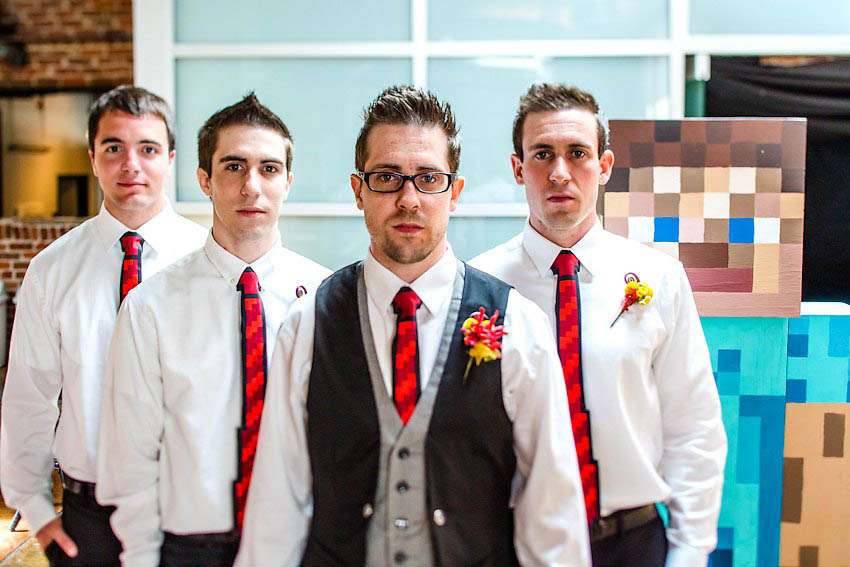 "The success of this wedding was completely based on the hard work out countless friends, artists, and family," Matt concluded. "I've had many ideas in my life that have not turned to be half as good as I thought in my head. This one turned out far better than I could have ever imagined, and it's all due to the creative talent of friends who helped with planning and setup, an amazing pair of florists, a phenomenal location, a groundbreaking video game, and the best two photographers in Sacramento and beyond. We couldn't be happier with the results, and we are proud to share it with the world!"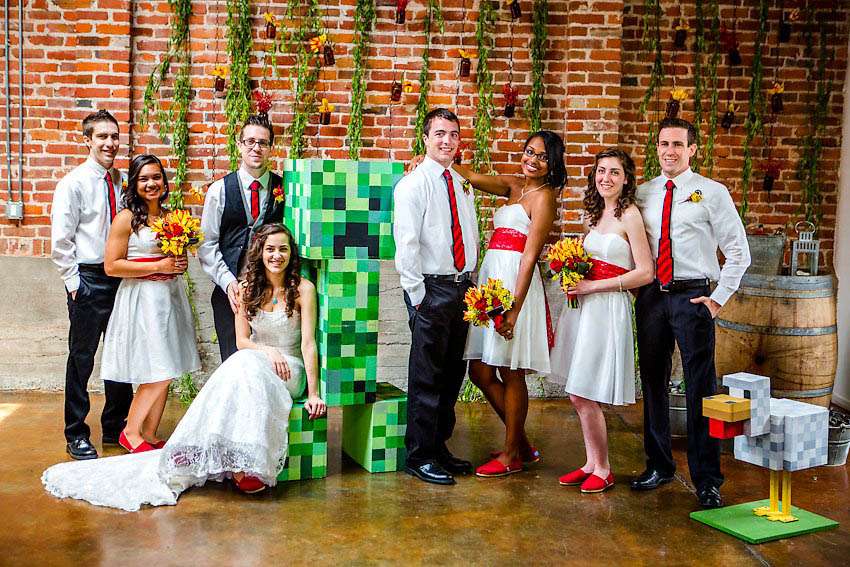 Make sure you watch the video too…
AMAZING! I'm not even a video game geek and I bloody love it. Huge love and thanks to Matt & Asia and their wedding photographers The Goodness for sharing with us today.
Supporting Cast:
Photography & Videography Credit: The Goodness
Venue: Beatnik Studios, Sacramento
Bride's Dress: David's Bridal
Bride's Shoes: TOMS
Bride's Minecraft 'diamond' necklace: J!NX
Groom's & Groomsmen's Ties: Amazon
Bridesmaid's Dresses: David's Bridal
Cake: Jennifer Bakes sassyjmb@gmail.com
Flowers: Jackie's Flowers
Stationery: DIY
Reception Decor/Props: Greg Aronowitz
Custom Minecraft Sodas: Jones Soda
Minecraft music for wedding film provided by c418