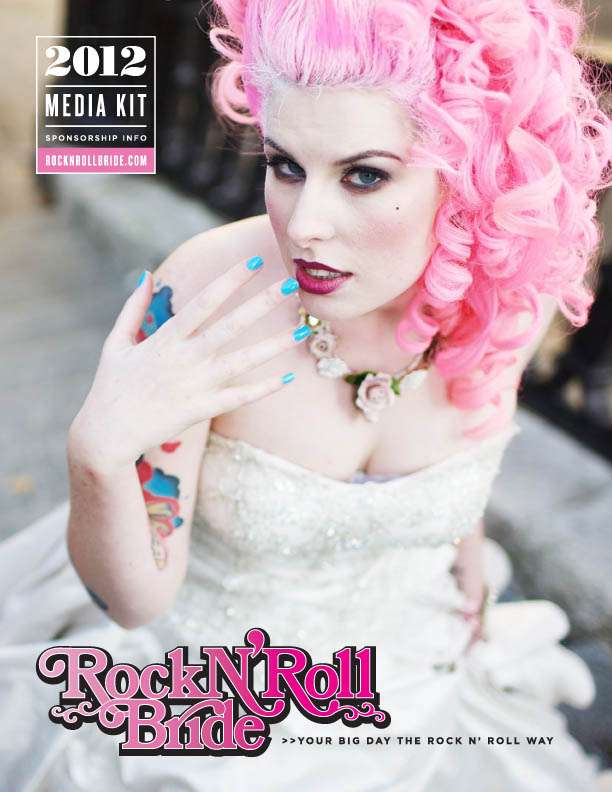 I'm often asked by advertisers what they can do to improve the results for their sponsorship and often its the same mistakes people make over and over. These are not hard and fast rules by any stretch, but here are a few tips and ideas I've picked up over the past few years…
Find the right fit
It's vital that you pick the right wedding blog(s) to advertise on. You need to pick ones that promote the style of wedding that you want to work with as well as ones that reflects your own business ethos. Whether you choose to focus your advertising on one single blog or spread yourself over a few is of course up to you, however it is always vital to make sure the blogs you select can offer you the kind of potential clients you want. If you're out of sync with what the readers of that blog are looking for you'll be wasting everyone's time! It goes both ways too as wedding bloggers want to make sure they are offering their readers relevant links and content for finding their wedding suppliers. For example, if your work was very traditional and your website reflected that, it would be pretty pointless advertising on Rock n Roll Bride because my readers would be instantly put off when they landed on your site. Luckily there are so many wedding blogs around these days that you'd be hard pushed to not find one you identify with.
It does seems to me that some businesses expect that they can whack an advert on a highly trafficked blog and that enquiries will just start rolling in. Sorry but it's a little bit more complicated than that! Be targeted with your advertising and you'll reap the rewards. After all you only need to book a certain number of clients a year, you don't have to be all things to all people.
Tailor your site
One of the most common reasons people give me for not renewing an advert is that they received traffic but no enquiries or bookings. As well as picking the right blog to advertise on, you need to ensure that your site and work fits in with the kind of thing the blog readers would be looking for. Some of my advertisers even have their ad link to a specific page set up saying things like 'Welcome Rock n Roll Brides'which I think this is a nice touch. They can then add things to that welcome page that my readers are most likely to enjoy.
Make sure the price is right
There is no standard pricing structure across all wedding blogs, we all determine our own prices by what we judge our blog real estate to be worth. Generally the more traffic a blog receives the more expensive the adverts. However it's not all about being the biggest. As we've already determined, a small targeted audience can be much more beneficial than a huge one that doesn't necessarily identify with what you do. A newer blog might attract a very specific niche of readers, and one that you'd like to be booking. Don't be afraid to get media packs from a selection of wedding bloggers and compare prices/stats/readership to make sure you can determine which is the right choice for you.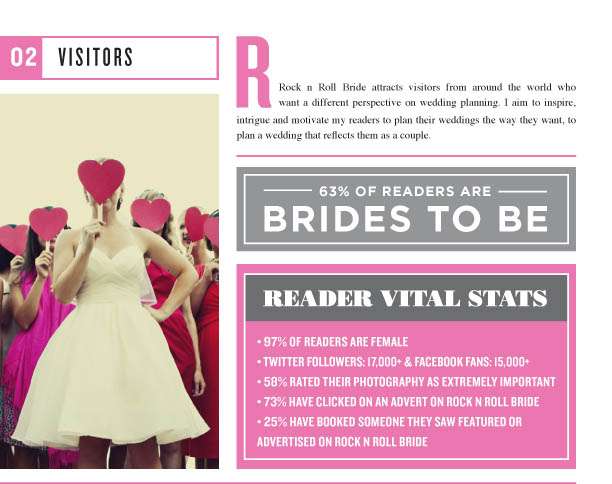 Set your own goals
Before you start to advertise you should set yourself targets or goals in order to determine what you would like to get out of your investment. It sounds simple and obvious but only then will you be able to look at the results objectively and decide if the advertising is working for you.
Maybe you want to book one new client a month, get 5 enquiries or simply build a relationship with the blogger? Write these down and refer back to them when it comes to deciding whether to renew.
Banner ads or sponsored posts?
Most wedding blogs offer a selection of banner ads (priced according to location and size) as well as sponsored posts. These articles are usually written by the blogger from information you provide them about your business. Both options will send traffic to your site but potentially in different ways. When I look at the number of clicks my banner ads get vs the sponsored posts they are not miles apart, however the traffic sent through a banner ad is usually spread out whereas the traffic from a sponsored post is condensed into one or two days. I keep sponsored posts archived in my blog forever, however once the posts drops off the front page the number of click throughs drops down dramatically.
Stand out from the crowd
If you choose the banner advert option it's important to make yours stand out from the competition. It sounds obvious but if all the other ads on the site are very blue in colour, for example, try making yours bright orange! There are often trends in popular types of images/editing/fonts/colours so when it comes to designing your advert make sure it is as unique as possible as well as a strong representation of you and what you do.
Be sure to make it very obvious what it is you do with the image that you choose. If you're a wedding photographer for example don't have an image of a bouquet of flowers or a shot of a centrepiece. It may be a beautiful photograph but brides who just glance at the ads may assume you are a florist and if they're on the look out for a photographer they may pass you by.
Change the advert graphic
If you feel your advert isn't working, or it's been the same for a while and your clicks are going down, ask the blogger if its OK to change the graphic. I would assume that this wouldn't be too much of a problem (it isn't for me and I'm always happy to do it) as long as you're not asking to change it ever other day of course! If this is something you think you might like to try, ask if this is possible before you book the ad just to make sure it's an option.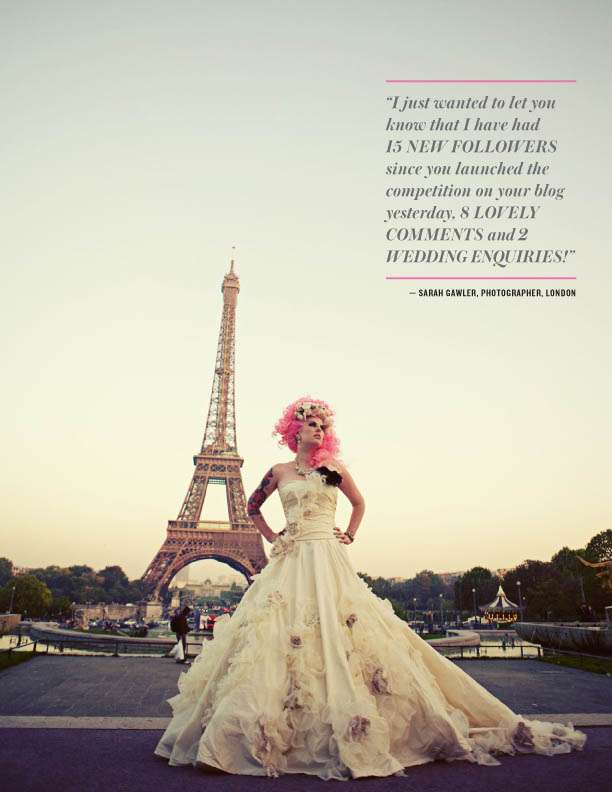 Submit content
Unlike many other wedding blogs I don't include a welcome post or a guaranteed number of real wedding features for advertisers. I want all the content on my blog to be there because I genuinely love and it and think my readers will too, not just put up because I am obliged to do so (I turn down many people who want to advertise with me because I don't like what they do for this very reason!)  However if a real wedding, styled shoot or guest post is submitted by someone that helps me pay my bills (!) I am more likely to feature it. Why? Well we all know blog features help promote suppliers and obviously I want my sponsors to get results from their advert, so if I can help them by featuring them then I will. It keeps them happy and hopfully advertising for a long time!
Be sure that you only submit relevant weddings and content ideas though and don't spam the blogger with everything you've done – you don't want to be a nuisance! Relevant and high quality content keeps everyone happy. One of the most sucessful advertisers my site regularly contributes to the Green Room, another always send me first refusal on any wedding she books through my site and another often sends me DIY tutorial ideas…and I love them all for it!
As a side note, make sure you follow bloggers on twitter as often they will tweet if they're after a specific image to illustrate a post which is another great way to get free extra exposure.
Give it time
Generally wedding blogs will give you options to book ads monthly but for longer periods of time (I offer 3 or 6 month blocks) they will incentivise you with a discount for paying for it all up front. Often one month alone is not really enough time to make a judement on if something is working or not. Some of the most successful adverts (in terms of number of clicks) on my site are ones that are lower down (and therefore cheaper) but have been there consistantly for as long as I can remember! Readers will rarely click on an ad the first time they see it, but if the graphic piques their interest, they are more likely to click it the third, fourth or fifth time they notice it. If this doesn't happen for you then try changing the graphic or rebook with a different advert option.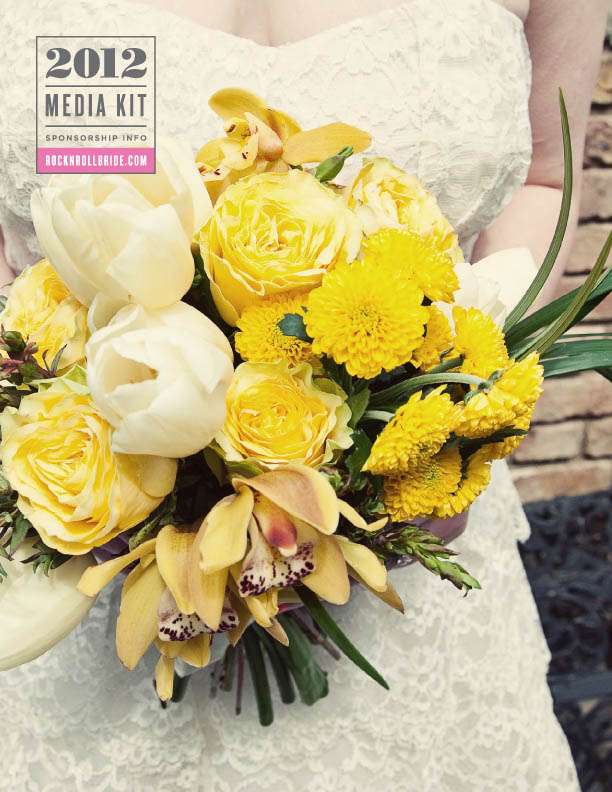 I hope this article has given you some ideas to improve your online advertising. If you have any other questions relating to this topic that I haven't addressed hit me up in the comments.
The images within the post are from my current media kit. If you are considering advertising on Rock n Roll Bride email me and I'll send you the full thing!