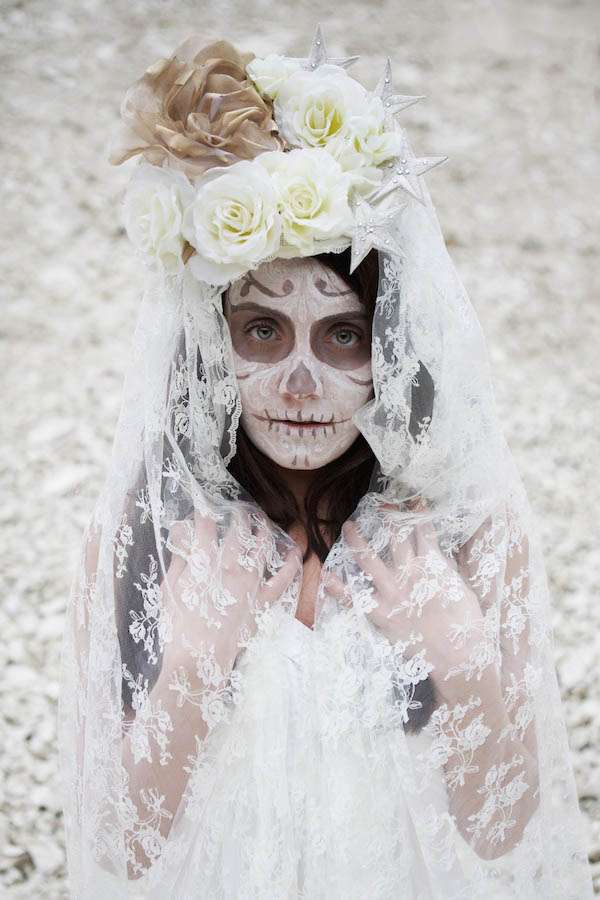 I have a feeling this is another one of those bridal shoots that you're going to either love or hate. Me? Well I love it! Pushing the boundaries of bridal fashion and taking influences from things that inspire you outside of the wedding world excites me greatly. It's shoots like this, set up by millinery & headpiece designer Madeleine of Madeleine Bride, that reinvigorate my love of the alternative and remind me that yes, it's not for everyone, but oh boy is it exciting to see something different!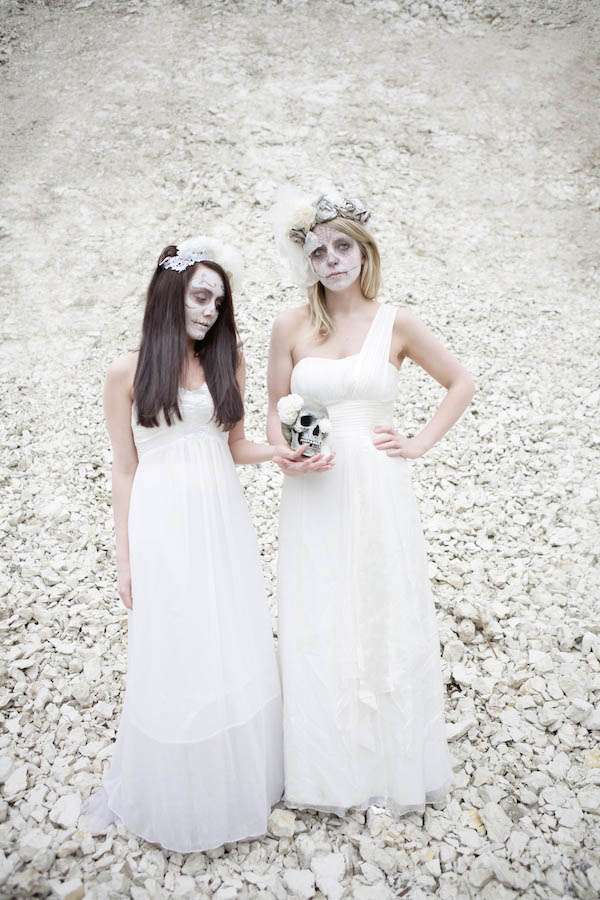 "In 2010 I went travelling to the US, Mexico and central America for four months," Madeleine explained. "The whole trip was centred around being in Mexico for the Day of the Dead celebrations which is something I have wanted to experience for years. I love the concept of the Dia de los Muertos – it's a celebration of death where people remember their loved ones with happiness, bright colours, lovely food and amazing fancy dress parties. We spent time in cemeteries where all the graves were decorated with pink and orange flowers and even helped a family build a day of the dead alter decorated with sugar skulls and flowers."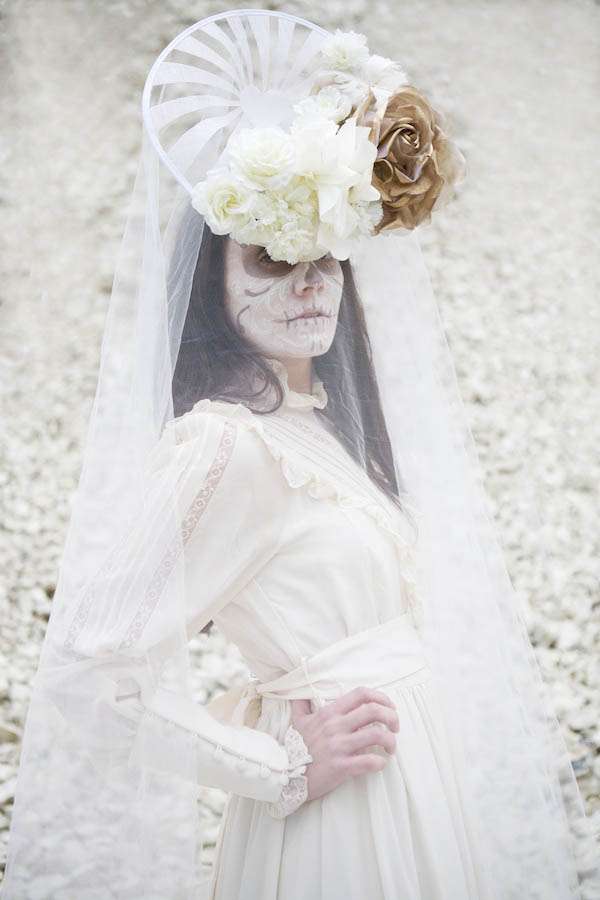 "When I got back to England I decided I just had to do a creative hat project based on this festival. I spent a while working out exactly what I wanted to do and when I was designing my bridal veils and headpieces last year I decided to continue the theme with a bridal day of the dead collection. Usually the festival is very colourful but I thought that it would look really beautiful in white and pale tones of bronze, gold and pale mint. The headpiece designs were inspired by Mexican icon and artist Freda Kahlo with lots of silk and organza flowers and Spanish style lace mantillas."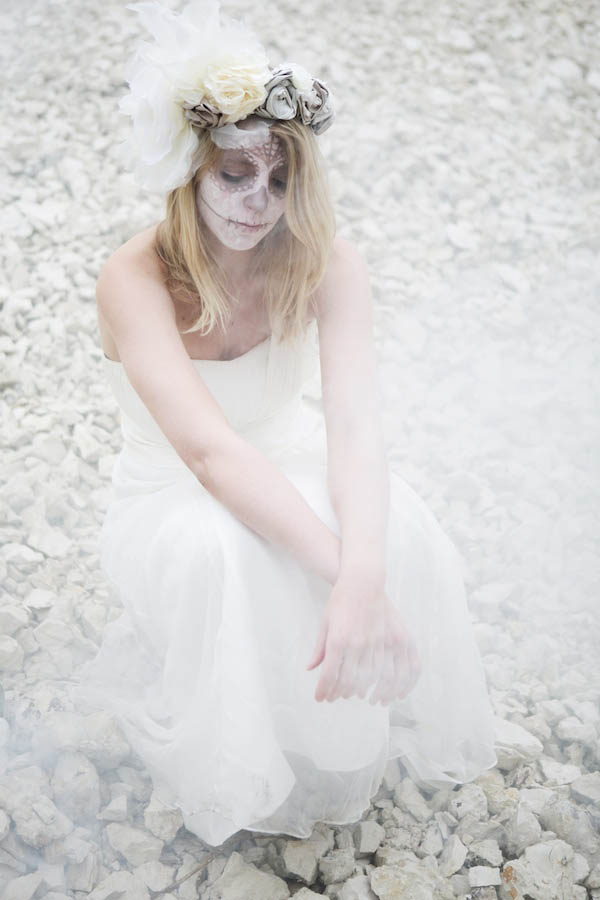 "I approached Lydia from Lydia Stamps Photography about the shoot as I knew she was the right photographer for this project. With a background in theatre, she has a great eye for creating strong theatrical images. She was as inspired and excited about the concept as I was. We had a fun evening trying out the make up and decided to pull through the same muted tones, making it quite subtle, but still referencing the Day of the Dead Concept. Together we found an amazing white chalk pit for the location again keeping the muted white tones and we used smoke bombs which combined with the location created an ethereal, ghostly atmosphere."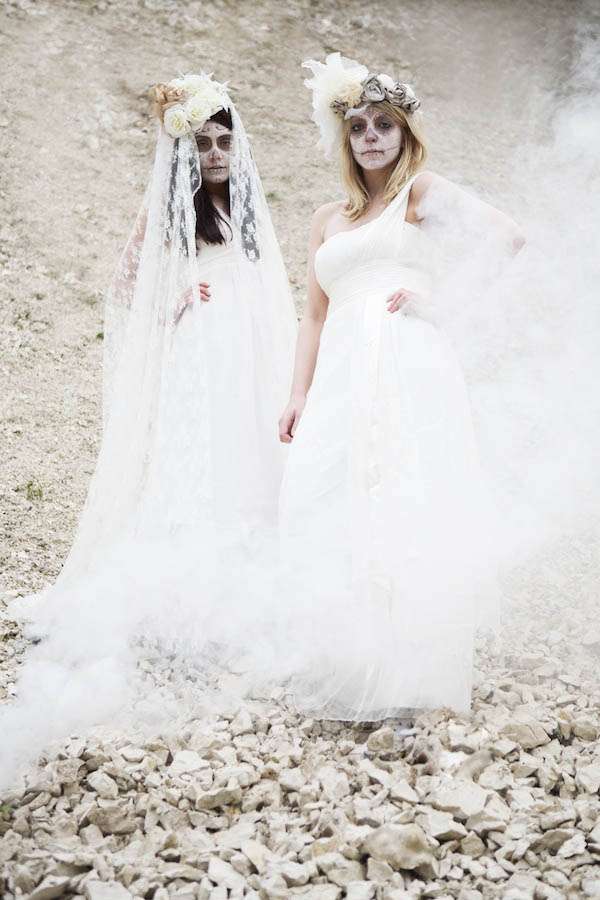 Stunning! Thank you so much to Madeleine & Lydia for sharing this shoot with us today!
Supporting Cast:
Photography Credit: Lydia Stamps Photography
Styling, Concept & Make Up: Madeleine O'Mahony of Madeleine Bride
Millinery & Headpieces: Madeleine Bride
Dresses: eBay (empire line halterneck), Monsoon Bridal (Grecian style dress), Ritva Westenius (Marion) & A vintage (Victorian) wedding dress