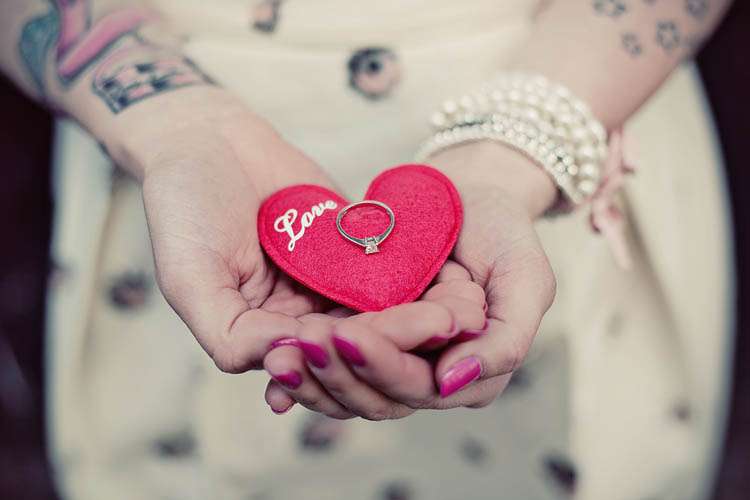 In my opinion, every business lives or dies on the strength of its customer service. To most it means complaining when there are queues at the store, when a check out girl is grumpy, when we wait too long for our order in the restaurant – i.e. the term is mostly pulled out when customer service is lacking. When it works well, it's like an invisible comfortable blanket that makes you feel good when you think about visiting your favourite bar or when you are ordering an item from an online store that's always reliable. When Kat asked me to write about customer service, I first started writing a very matter of fact, hypothetical kind of article. But I soon realised that, actually, speaking from personal experience would make my point come across a lot better than any bullet points ever can. So, I hope you're sitting comfortably, as I'm about to tell you the story of my tattoos…
Ever since I was a teenager I've always loved (beautifully drawn) tattoo art. For various reasons, I never got around to getting any tattoos when younger, but it was something that was always at the back of my mind.
Last year I finally decided the time was right to make the leap and have my first tattoo. Not really having ever been a part of any sort of 'tattoo scene', it was quite difficult to know where to start with when choosing the right person for the job. My design was fairly small, just a few words that mean a lot to me, so I didn't really know whether the style of the artist mattered, and I also kind of thought that anyone taking money for tattooing should be easily able to replicate it. I ended up looking online for recommendations of tattoo salons in my area, and in the end went with one that was conveniently situated and had some beautiful work in their online gallery. I phoned ahead and was told that I didn't need an appointment, just to turn up with my design. So that's what I did.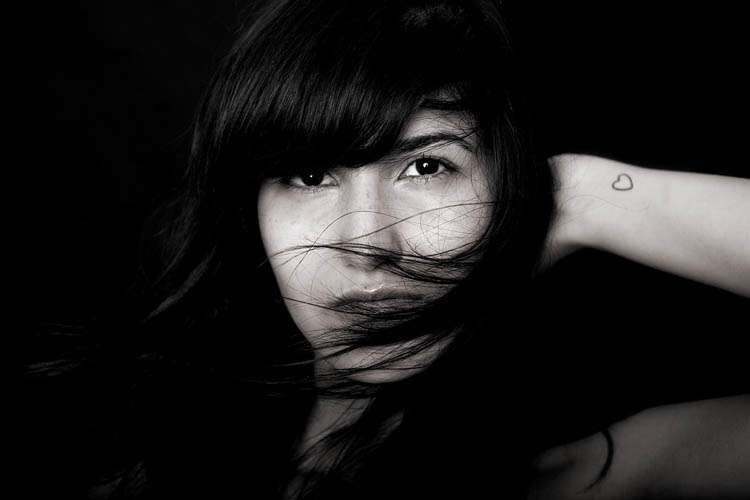 When I got to the shop the first thing that struck me was how intimidated the place made me feel with it's darkness and heavily tattooed customers and staff, who looked way cooler than I did. But I had been kind of expecting this, so figured it was part of the whole experience. I showed my design and was told it would be quite fast to do, after which the receptionist gave the job to a man who didn't look very impressed with having been given such a small job.
The whole process of actually getting the tattoo was quite uncomfortable. My tattooist clearly thought his talents were being wasted, and got more and more frustrated when I spent time trying to decide on the perfect position for my tiny design. Before that day I hadn't really had much idea of how important actual positioning is, and how much the movement of your bones and muscles affect the final result, so I felt like I was having to make some big decisions on the spot for something that was going to be permanently on me. Throughout it all I could feel my tattooist getting more and more frustrated, almost to the point of aggression. At some point I was told that if I couldn't make my mind up right then I'd still have to pay as they had already spent this time on me, which didn't really help my growing anxiety one bit. Once I finally decided on the placement, the transfer (which is the guide for the actual tattoo) was quite worn out, but when I asked about whether we should do a fresh one I was told quite curtly it wasn't an option and that the transfer was a 'perfect copy' of my design…
After all this, I took a deep breath, and decided to 'trust the professional' as I figured he knew what he was doing better than me. To cut a long story short, the tattoo that I got didn't really resemble the design I came in with very much, and when leaving the studio I felt slightly humiliated, and also angry at myself for not standing my ground. I have come to love the tattoo now, and in a funny way the imperfection of it is a good reminder to myself on how I want to treat my clients.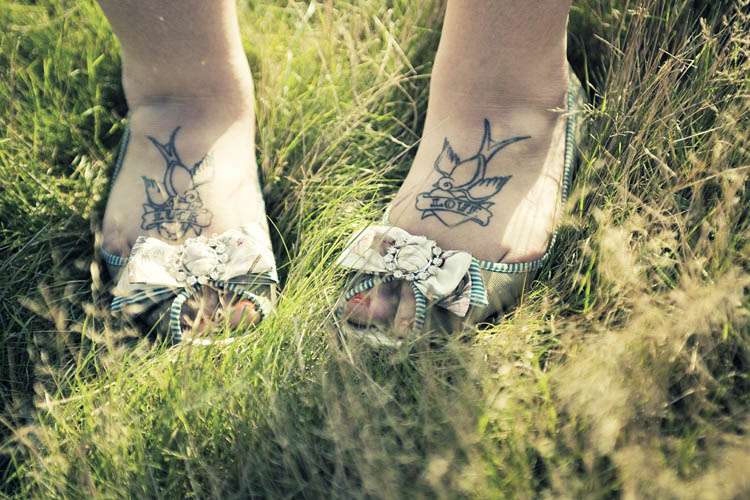 Now, let's roll forward 6 months. Against all odds, I decided I wanted to get another tattoo done, for several reasons, but partly because I wanted something on me that was truly beautifully designed. I now knew how I DIDN'T want the experience to turn out, so I spent a lot longer on research. I got specific recommendations from people, looked at several artists' work on several websites, and in the end sent quite a lengthy email to three different studios on my shortlist, with an explanation of how traumatic my first experience had been and how I didn't want a repeat of that, along with my ideas for the design.
Out of those three, I got a response from just one tattoo studio, Good Times Tattoo in Shoreditch, London. I suspect that the reason I never heard back from the other two places was because they felt that, as a potential customer, based on my email I would be more hassle than it would be worth for such a small tattoo. But Harrient at Good Times couldn't have felt more differently. She answered all my questions, addressed all my worries and phoned me to discuss my desired design in more detail. What made me short list Good Times in the first place was the work of Nick Horn, which I'd fallen in love with, so he was my obvious choice when we got around to arranging an appointment. He was in quite a high demand so there was going to be a wait, and I was offered the option of another tattooist, but I decided the wait would be worth it, as I now knew it mattered who you chose. In the end I got in fairly quickly due to Harriet working her magic.
When I arrived for my appointment I was quite nervous and feeling a teeny bit angry with myself for putting myself through it again. But after meeting Harriet and Nick I was put completely at ease. Nick couldn't have been nicer and more accommodating, drawing the perfect design for me right on the spot, letting me take as long as I needed with finding the positioning, mixing the colours together with me, and just being thoroughly lovely the whole way through. In the end I felt perfectly happy and excited to leave him do his work, as I trusted him completely. I am beyond happy with the final result. All in all, the whole experience was a complete opposite to my previous endeavor.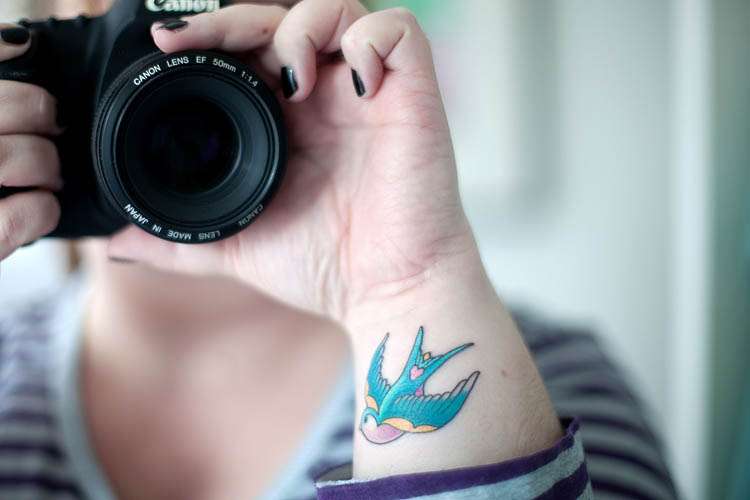 The final result, tattoo by Nick Horn
So, what is there to learn from this story? You might think someone getting a tattoo doesn't really correlate with running a wedding photography business for example, but it does, in so many ways. Much like the tattoo scene, the 'wedding scene' can be a very insular thing. We work in it and let's be honest can take a lot of our knowledge for granted, and sometimes we can forget that our clients have most likely never planned a wedding before, or never hired a professional photographer before. They will not have this knowledge hammered into them like we do, much like a tattoo novice can feel very much like a fish out of water when facing the industry for the first time. Another thing similar about tattoos and weddings is that they, unlike a lot of other services and products, are permanent in a sense that there are no 'do overs'. This can create a lot more stress and anxiety than most other business transactions might, and in both cases there needs to be absolute trust in order to get to a mutually satisfactory outcome.
Lesson 1: Always keep in mind that this will probably be the couple's first experience organising a wedding and/or dealing with a professional photographer.
Don't assume they know everything that you know, instead guide them through the process with providing enough information at every step of the way.
For my first tattoo I was made to feel stupid for not knowing 'the rules' of getting a tattoo, and inconsequential for wanting to have such a small piece, which might not be so exciting and profitable to the artist. Whereas the second time around I was made to feel as valuable as the next client having a big back piece done, and I was given more than enough information at every step of the way – without anyone's ego getting involved.
When working with wedding clients, we can sometimes feel frustrated when they don't 'get' something that seems obvious to us; like that we might need natural light in rooms they are getting ready in for example. We can't expect our clients to know what is required for a good photograph when we are the expert, not them.
Lesson 2: Never let a client set their own expectations.
This is the fastest way to disappointment. Always communicate clearly what the client can expect to receive from you, and explain all the limitations that might affect the outcome.
Had I not at the back of my head thought 'surely every tattoo artist who takes my money can copy my small design', I could have avoided a lot of stress. When Nick saw my first tattoo he said right away he would have told me that the font was too small and wouldn't probably come out exactly like in the example. Had I had my expectations set correctly in the first place, I would have been a lot more realistic about what to expect, and even about my design.
We might get annoyed when our clients get back to us upset when we didn't get a shot of Uncle John among the 350 wedding guests.  But we have only ourselves to blame if we didn't specify we can't guarantee getting a shot of every single guest in the first place. Work towards pre-educating your clients on your website about what you do, and what you don't do, so they'll have a clear idea about the way you work before they even contact you. After they've booked you, never stop giving them more information – and collecting more information in order to assess their expectations – throughout the whole client relationship.
Lesson 3: Care about your clients. Be as passionate about them as you are about your art.
Ask yourself 'how would I feel if I was the customer?' and then work towards making your client experience such that makes them feel taken care of and cherished, just like you would want to be made to feel yourself. Do go above and beyond in making your clients happy – happy clients are by far your biggest sales force.
Among giving me a beautiful work of art, Nick also offered to fix up my previous tattoo with no extra charge. Were I ever to get any more tattoos, Nick can be safe in the knowledge that he has a customer for life, and also that I will be recommending him to anyone who asks me for advice on where to go to get tattooed.
Do surprise your clients with going above and beyond, maybe with the way you help them find other service providers, or by sending them a surprise gift that can be both educational and beautiful. Little things can have a huge affect on the way your clients feel about you and your services. And most of all, treat each and every one of them as valuable and unique.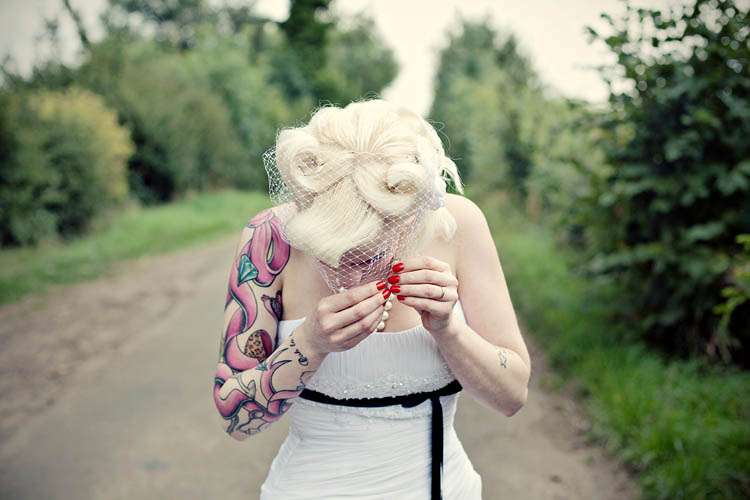 Lesson 4: Don't let your ego get in the way of treating everyone with the same level of respect and kindness.
Nick didn't let his ego get in the way when he let me go as far as I felt necessary with all the decisions about the design, colours and placement of my tattoo. Once I felt comfortable with these and felt I trusted him, it was easy to say 'this is where I let go and trust you to be the amazing artist I know you are'.
In the same way, in order to get as much freedom as possible to create beautiful images, I need to first make my couples 100% comfortable in the knowledge that they have all the information they need to let go and trust me to follow my vision.
Lesson 5: Give good customer service also to those who don't end up being your clients.
I contacted three different tattoo shops. Two of them obviously didn't think my business was worth their time. Even if they were fully booked, or felt that what I wanted was too small and unambitious for their artists, they could have at least come back to me to say they didn't have available appointments, and then refer me to someone else more suitable.
I get a lot of enquiries I can't accommodate. Getting back to all of them takes a lot of my time. But I always do it, and I always try to find another photographer to recommend, a photographer who I think would be a good fit for the couple in question. This is absolutely extra work I wouldn't 'need' to be doing, but I believe that every opportunity you have to be nice to people, and offer to go above and beyond, the better they will feel about you and your business – and when people feel good about something, they tend to talk about it.
Lesson 6: Acknowledge the power of word of mouth.
Realise that in this day and age, marketing is not about pushing, it's about conversation. Your past and present clients are your biggest sales force, and when they are happy with your services they will shout about it from the mountaintops (or, you know, on Twitter, Facebook, blogs, coffee shops etc).
Good Times Tattoo went way beyond any of my expectations with providing me with not only all the knowledge that I was lacking, but also care and attention that I would not have associated with getting a tattoo before. In short, their customer service was exemplary. And little did they know that this client, who was getting just a tiny tattoo and possibly 'wasting' their time with all my questions, would one day be writing about them on the biggest wedding blog in the UK…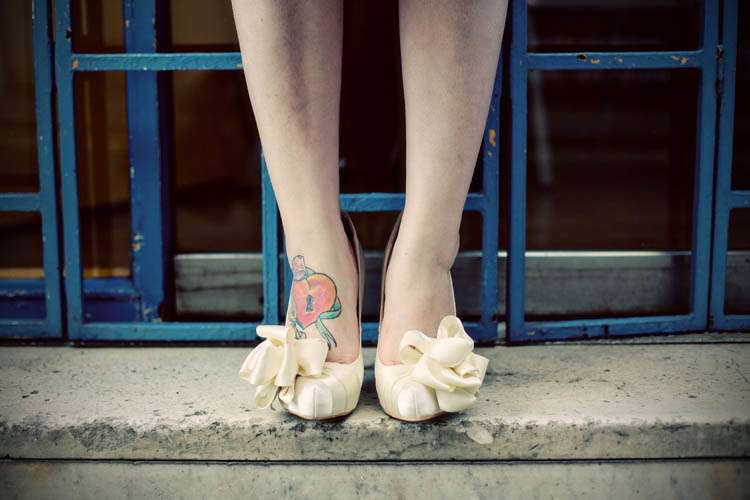 Marianne Taylor is a wedding photographer, originally from Finland but living in London, and is a pioneer of the Beloved Movement in the UK. She will be releasing one-to-one sessions, and a workshop about building a fulfilling business around your passion, towards the end of 2012. More details to come at mnoo.com
All Photography Credit: Marianne Taylor Photography