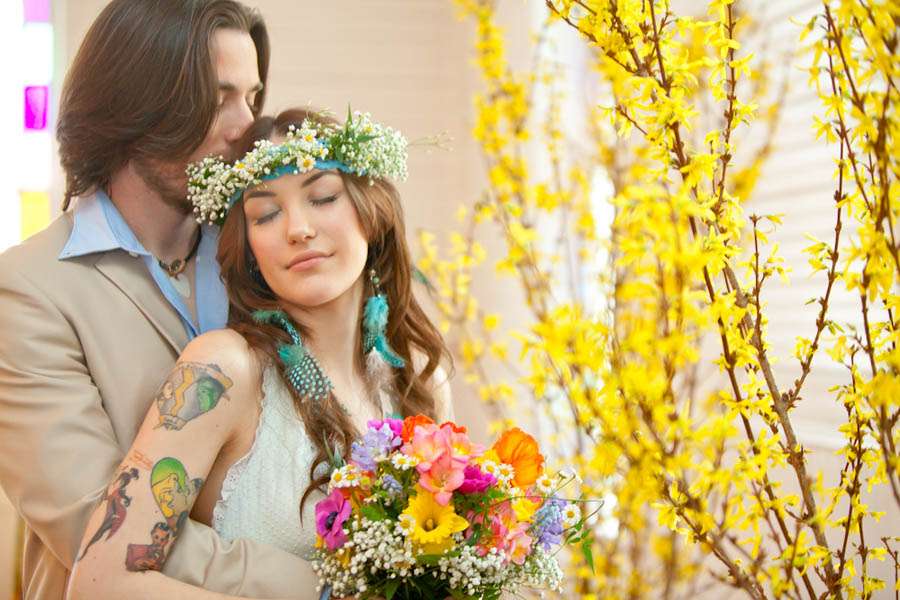 The 1970s is an era we're starting to see represented a lot more in the wedding industry. For a while it was avoided, with the 50s and 60s being the most popular decades for brides to emulate on their big days. However I'm thrilled that the tides are a-changing, especially when this resurgence in popularity lands pretty inspiration like this on my desk!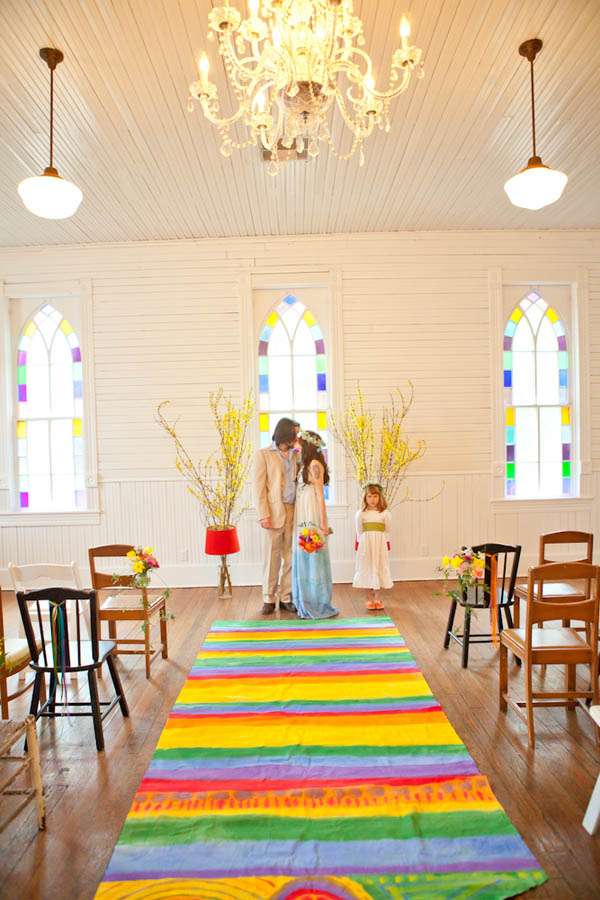 The shoot took place at Mercury Hall, Austin and was set up by photographer Jessica Monnich. "Mercury Hall was the perfect backdrop for this particular shoot as it is a gorgeous white cottage (on the inside and out) with colorful stained glass windows," she wrote. "I have seen this space transformed in many different ways and I thought it would be perfect for our needs as the layout and design is simple."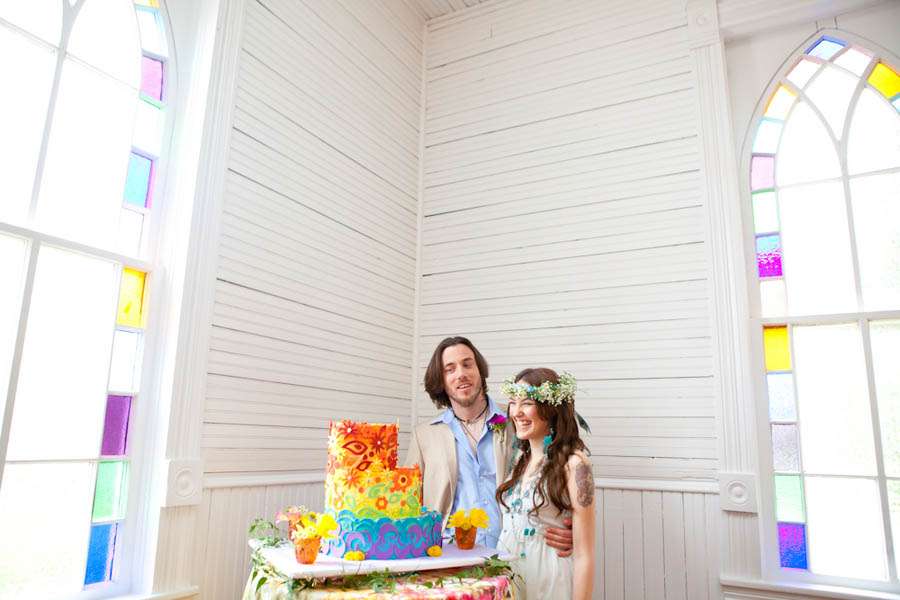 The bride wore a dress which Jessica bought on etsy and customised herself. "I dyed the dress with an ombre effect to give it a little bit of a modern hippie look. Our model created the beautiful feather earrings as well. The jewelry was borrowed from my Mom's jewelry box and were authentic 70s pieces. The shoes she wore for most of the shoot were from Forever21 so nothing was super expensive but her foot tattoo really helped these shoes pop."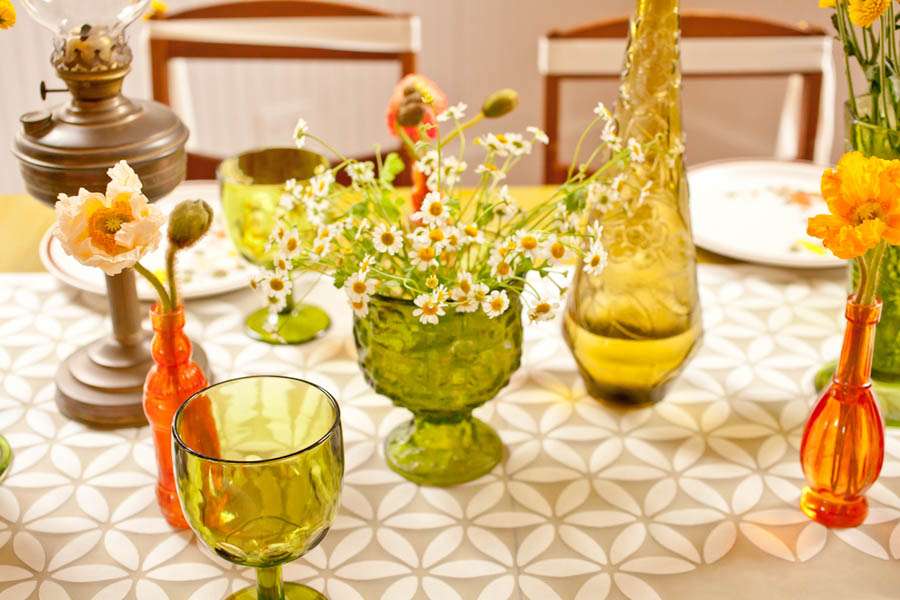 "We really strived to create a 'Peace, Love and Marriage' feel throughout the shoot," Jessica concluded. "Visual Lyrics created some amazing florals for us that had a 'fresh picked out of the garden' feel to them mixing high end flowers with typical 70s flowers like baby's breath. The same owners of Visual Lyrics also started a new vintage rental company called Vintques so they brought all the beautiful couches, chairs and table and set up a table scape that complimented our theme perfectly."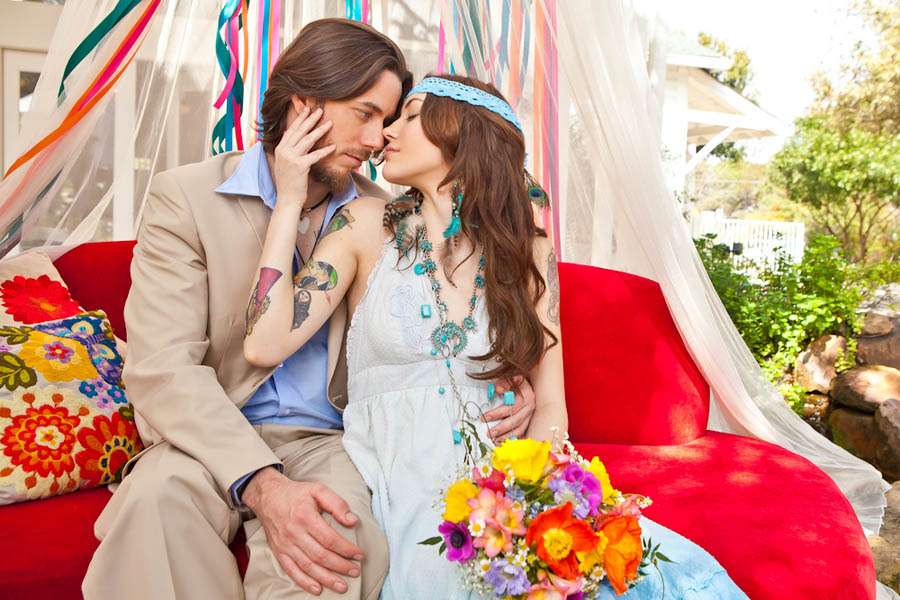 "They created a lounge scene outside that would be perfect for guests to wander to if they were all danced out. They also set up hookahs out there where guests use while lounging outside."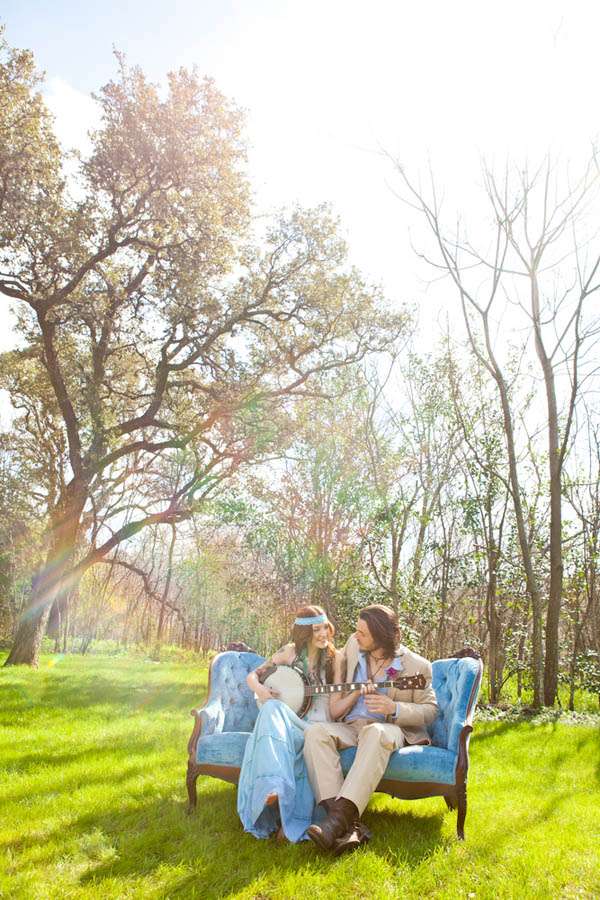 Utterly stunning! Thank you to Jessica and the whole team behind this shoot for sharing it with us today.
Supporting Cast:
Photography Credit: Jessica Monnich Photography
Venue: Mercury Hall, Austin
Bride's Dress: Etsy
Bride's Second Dress: Forever21
Flowers: Visual Lyrics
Rentals: Vintques
Gift Bags: DIY
Catering: Catering with a Twist
Cakes: Fine Arts Bakery
Hair & Make Up: Summer Edwards of Loud Looks