The Spanish wedding of Natalia & Edgar took place in September at the Sol I Vida Garden Terrace in Barcelona. The bride wore an amazing corset by Barcelonian fashion designer Bibian Blue with a skirt hand made by her Mother and her Aunt.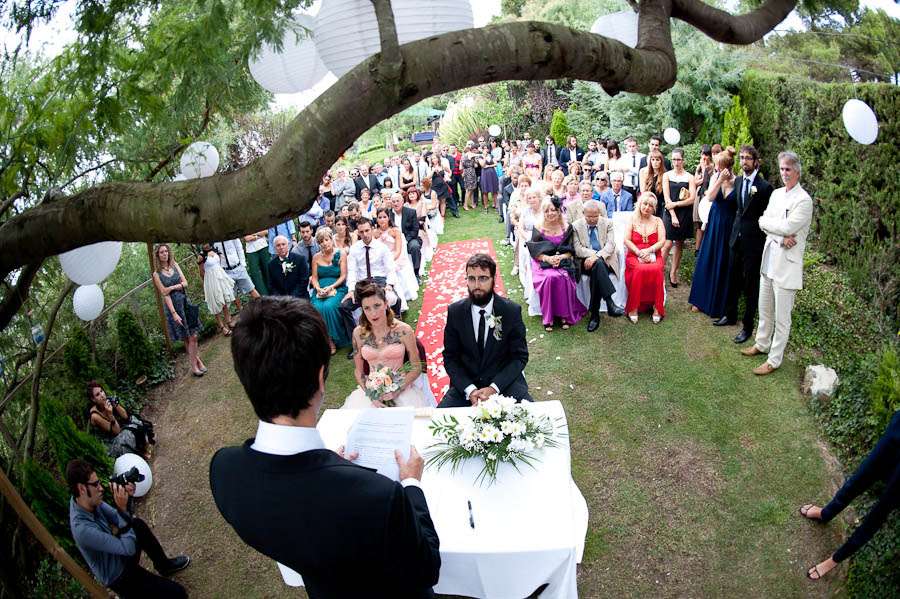 "Natalia & Edgar wanted everybody to have fun," their wedding photographer Javi of F2 Photo Studio told me. "That was the main idea for the wedding so they prepared it in a way that everybody would feel comfortable and enjoy the day. The venue was beautiful and perfect for what they wanted. It was really relaxed and private, surrounded by nature but only 15 minutes drive from Barcelona. Edgar prepared the venue with lanterns, flowers and the stage for the bands on the morning of the wedding with the help of his friends."
With the bride being a graphic designer and the groom a musician, this was always going to be a stylish and rockin' wedding. The personal touches and details made the wedding beautiful and the party, accompanied by more than 3 of the couple's friend's bands, went on until the early hours of the morning!
Thank you to Natalia & Edgar and their photographer Javi for sharing this beautiful day with us today.
Supporting Cast:
Photography Credit: F2 Photo Studio
Venue: Sol I Vida Garden Terrace, Barcelona
Bride's Corset: Bibian Blue
Bride's Skirt: DIY
Groom's Outfit: Zara
Cake: Lujuria Vegana
Flowers: Floristeria Floria
Hair & Make Up: Tall Peluqueria
Bands: Maple, Oso, Tiki Phamtoms and some others