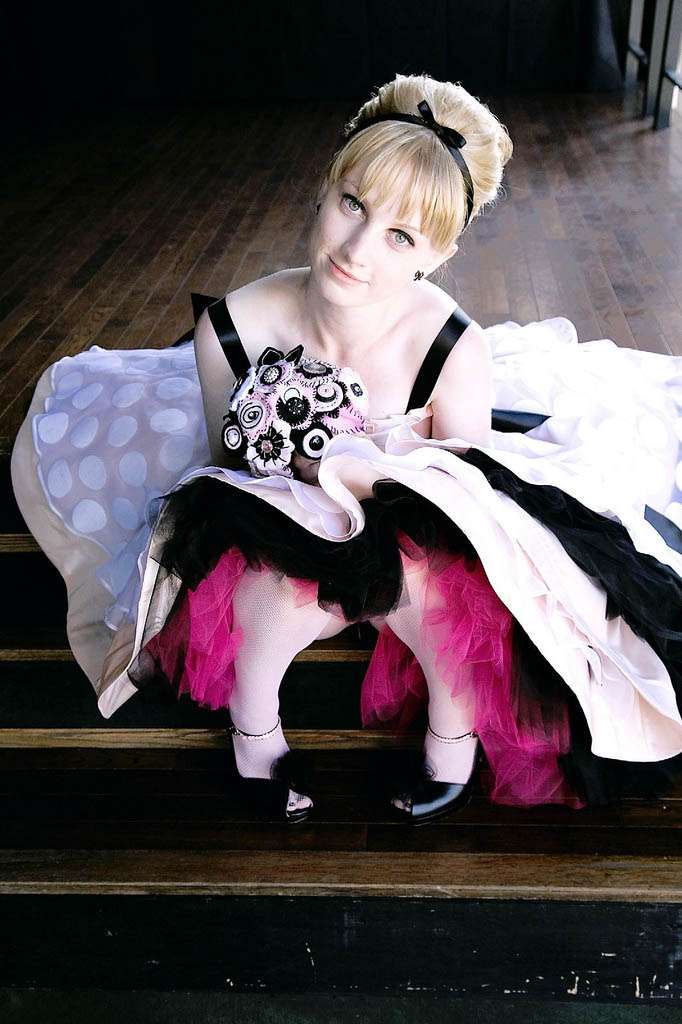 You know Princess Lasertron right? Inventor of the felt & button bouquet (yes, the original inventor of the concept!) and fashion designer from Omaha. Jeez, it's hard to put into words how much I adore Megan, the lady behind the brand. After falling in love with her over the internet, and a mutual respect that grew from expanding our respective businesses at the same time, I was utterly flummoxed when she invited me to model in her catwalk show at Omaha Fashion Week in August.
At the time I thought the trip would be a shrewd business move and nothing more. However yes while it certainly was, what I didn't expect was the epic and genuine real life friendship that would blossom from that trip. I love her, I love her family, I love her outlook on life and work, and I love love love that she's agreed to be interviewed in The Inspirations.
My sister from another mister, I adore you…
You can see more of Megan all over my blog here, including the posts related to my Omaha trip if you missed them at the time too. Also, if you haven't seen them before (and you should!) click here to check out her wedding to Mr Lasertron. It's all kinds of wonderful.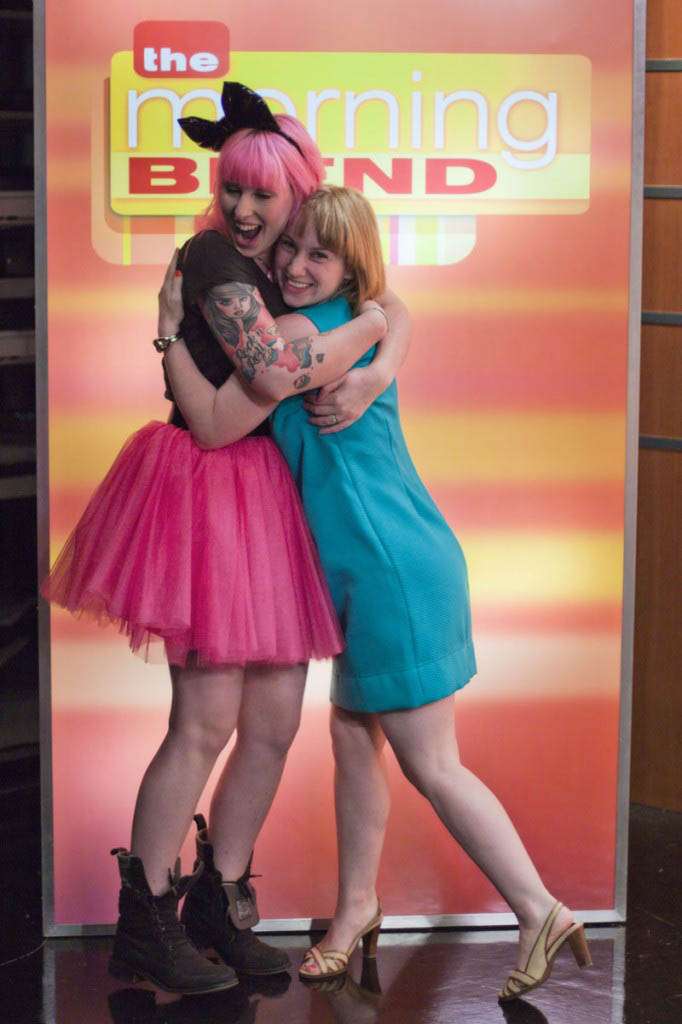 Me & Megan after our 'Morning Blend' appearance during Omaha Fashion Week. You can watch it here and see some more behind the scenes photos here.
Hey Megan! So, what's the Princess Lasertron story?
Throughout my life so far, I can see that I was constantly receiving clues about where I ought to be, what kind of career would make me happy, and which pursuits were really allowing the creative possibilities in my mind to unfold. I'm 25 years old, and I've done many of the things I was "supposed" to do. I graduated college (German and Intercultural Communication), worked passionately in several jobs (bakery, radio station, hot air balloon chaser, record store clerk), and traveled around Europe (where I picked up textiles, paper, and beautiful dyes…not postcards). I got married and I have a baby. I own a house and I drive to work every day. But there is little about my routine that is conventional.
When I met my ultimate dream dude and proposed marriage to him in 2007, I didn't realize that I was on the precipice of a new career that would bring so much joy and inspiration into my life. I started my business, Princess Lasertron, in 2005 to bring project ideas and handmade accessories to modern brides, such as the original felt flower bouquet which I designed and just became a gigantic trend in the wedding world. But it wasn't until after my own wedding that my aesthetic and vision became more known in my industry and my orders skyrocketed as blogs and magazines reprinted my wedding photos, shared my project ideas, and published interviews about my "wedding party" and "make it pretty" philosophies.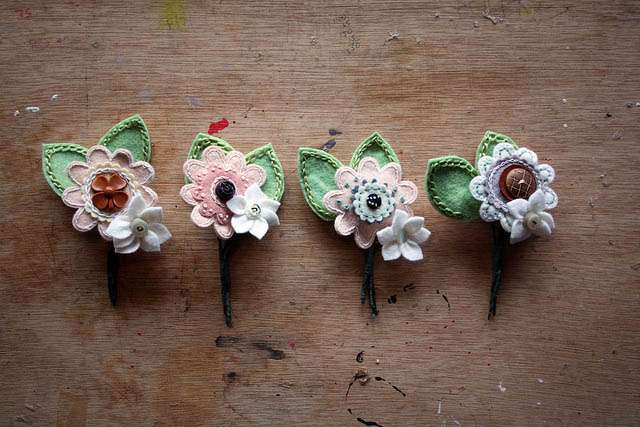 Since my small beginnings, Princess Lasertron has grown to a three-person company serving hundreds of brides each year. My designs have been featured in countless blogs and magazines, I have had the opportunity to speak in conferences and classrooms around the country, and I have enjoyed the greatest honor of creating real connections with readers around the world through my blog.
Where did the name Princess Lasertron come from?
The name Princess Lasertron came to me in a dream. I thought FOREVER about what to name my business–it had to be something feminine, but badass. It had to be memorable. It had to be scalable so I could apply it to other ventures I pursued down the road (i.e., not "Megan Hunt Floral Design" or something), and it had to have a good cadence–just sound good when you say it out loud. Personally I'm more of a "Lasertron" than a "Princess," but I think the name represents my brand perfectly.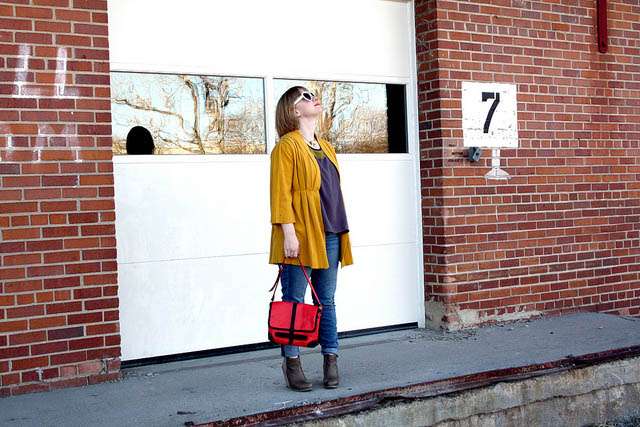 You had your daughter Alice 2 years ago. How do you make running such a successful full time business look so effortless when you have a child? Has she changed you, the way you work or your motivation? And do you have any advice for anyone struggling to juggle children and working for themselves?
I have a daughter, Alice, who will be two years old in May. (And we share a birthday!) While pregnant, I was in the process of scouting locations to start a coworking space for other entrepreneurs and freelancers, and we had our opening party for CAMP was when Alice was four weeks old. So having my child definitely came during a hectic time. I was moving my home studio into CAMP, I was making contracts for tenants, I was shopping for furniture and setting up utilities–and meanwhile, I had fifteen brides to take care of that month. I worked while I was in labor, and I worked the day I got home from the hospital. And that's all to explain the kind of energy Alice was born into.
Until Alice was a toddler, I took her to work with me every day. My productivity was slower, but I was there to manage my workers and have a presence in the space. I got a lot done when she was napping or nursing, and my husband took over when he got home from work so I could go back to the studio all night. Alice is used to going to events with me–gallery openings, launch parties for many of the other thriving businesses here in my region, and she comes to conferences with me as well. My ambition has not died.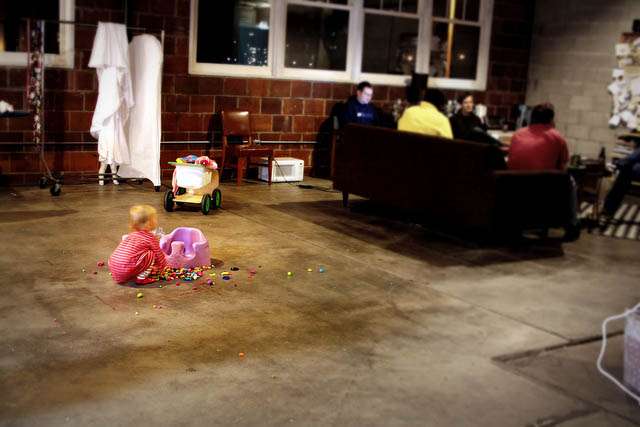 I will say that this has been a bit of a sacrifice. I have missed more bedtimes than I was there for. I rarely have dinner with my family. But I am with Alice every day, and I am proud of the example I am setting for her.
For other businessowners who want to have children, my best advice is to brush up on your best practices. Demand more from yourself. Improve your customer service. Think bigger. Make a plan for a healthy rate of growth. Pursue relationships with mentors who can help you think strategically about your business goals. Work very hard, and very smart. What I'm saying is, set your business up to be in an amazing place before you experience a slowing-down period. Once you have your baby, a lot is left to luck. I am lucky to have the flexibility to adapt to Alice's schedule instead of forcing her to live within mine. I am lucky to have an assistant who can lessen my workload. I am lucky to have a husband who does the cooking and cleaning and laundry. And I am lucky to have such a supportive family who can take Alice for a few hours when an emergency comes up.
Starting and growing a business brings me so much happiness, but having my child was the most wonderful thing I've ever done. And when I take her to the playground, I say "How high can you climb?"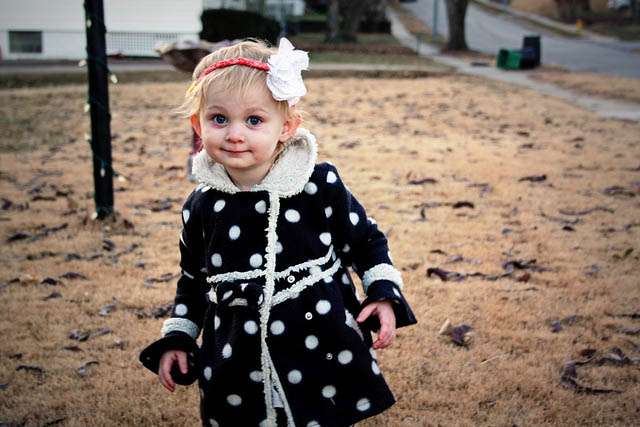 Tell us about CAMP, the co-working space that you manage. How did it come about and what made you want to start working in a co-working space?
CAMP is Omaha's first coworking space, an open office where people can come work on their projects. Businesses start and grow here, and it's become an important hub for events in our community. Part of the reason I started it was to move out of my home studio–I needed to hire employees, and I wanted to have a dedicated workspace away from my home as I was expecting my child. Having this workspace has made me more productive, and also given me the opportunity to collaborate and learn from other people outside of my industry–graphic designers, programmers, writers, accountants, photographers, whatever. I've learned so much about entrepreneurship just from the collective environment here.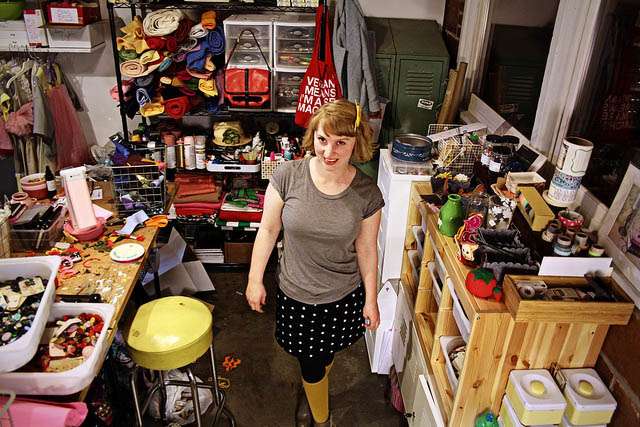 As well as the felt & button bouquets that you're known for you've also designed two dress collections. What inspired you to expand your business in this way?
Making bouquets is still my bread and butter at this point–we make hundreds of felt and vintage button bouquets each year and as the original designer, I am constantly challenging myself to innovate and redevelop the design for the changing trends. But of course, this product does box me in to the wedding world, and designing a collection of party dresses (perfect for unconventional brides as well) has helped me break out into a more mainstream market. Our Fall/Winter 2012 collection will drive me closer to that market, offering separates in wearable, washable fabrics that can be easily dressed up or down. Right now I'm looking at options for ethical manufacturing and ways to grow this part of my business more quickly.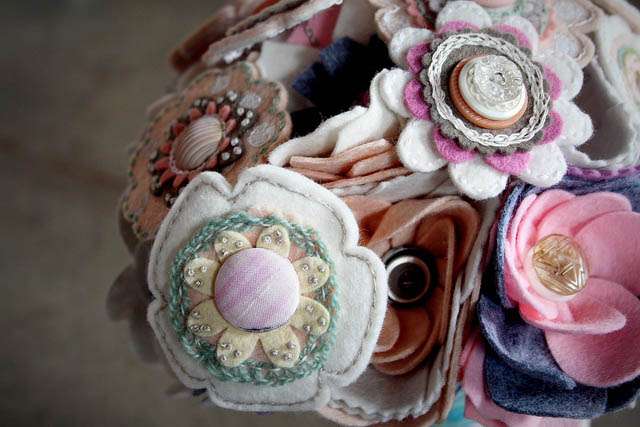 Tell us about the Princess Lasertron Subscription Club? (which I freakin' love by the way, I'm a member!) How did the idea come about and what has the reaction been?
I had a lot of "excess inventory," which was basically me just playing around with new ideas and making beautiful things for fun. I could upload them to my store and sell them, but the administrative costs (time, mainly) are too high for me to upload everything I make into my store. So, what about sending them off to my fans via a subscription club that they pay for monthly? So that's how the idea came about.
I wanted a way to offload the cute little things that I made but wasn't listing in my store, and I wanted a way to thank my readers and fans by sending them unique, one-off, and sometimes experimental projects that I made in my spare time.
You live quite public life online. Was it a conscious decision to be a very open and public figure behind your brand?
Well, I absolutely grew up online! My dad programmed computer games for me as a baby, and I started my first website–in HTML of course–when I was eight years old, and began blogging in the late 90s. I was on newsgroups, BBS, forums, chat rooms, and blogs through all of my formative years. I think that I had a public life online BEFORE I started my business, and when I started Princess Lasertron, I felt intuitively that it would be beneficial to mix the two. At the end of the day, I am selling a product, and when my readers and fans feel emotional about my brand, that makes a positive impact on their loyalty to Princess Lasertron. They're more likely to buy, they're more likely to refer their friends to me, and they're more likely to continue engaging in my brand after they've bought something from me. I've created that emotional relationship through my blog, through a lot of transparency, and through sharing insight into my personal life as well as the hard business lessons I've learned and shared.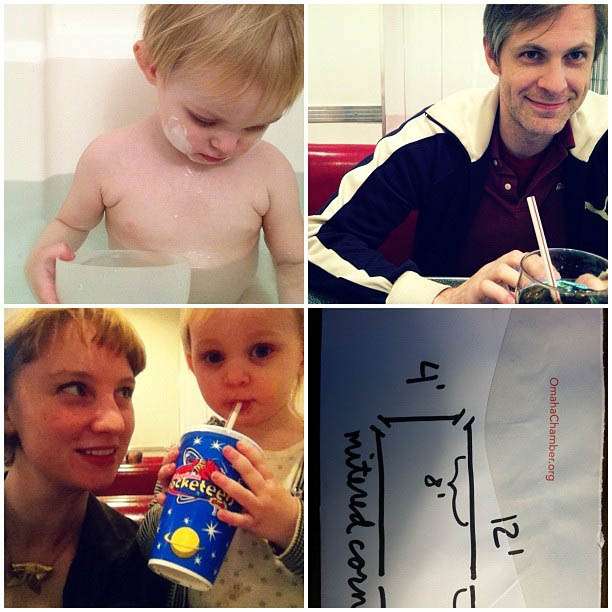 I cant even tell you how honoured I was to be invited to model for you at Omaha Fashion Week last year. What gave you the idea to get a blogger involved?
You are so sweet! Well, of course there's the obvious answer–bloggers offer lots of free publicity (like this interview!). As a blogger myself, I know that when you throw free exclusive content into a writer's lap, they will take it and do great things with it. It's mutually beneficial for both of us. And on a personal note, I have admired your style for a long time and I was eager to finally meet you and call you a friend! I think you coming to fashion week was initially a business move, but ended up being more fun than either of us anticipated.
On the catwalk together at Omaha Fashion Week.
I hear you're writing a book! Can you tell us anything about it? When will it be available and can I have an autographed copy?
My agent says I've shared too much! It's called The Wedding Party and it's about planning weddings as parties–kind of taking them down from their pedestal and approaching weddings in a fun, low-pressure way to have a party that really represents the couple. Nobody is dying over "wediquette" anymore. Nobody wants a wedding day full of anxiety.
Oh and an autographed copy? Anything for you, my dear friend.
Who or what are your biggest inspirations?
In my day-to-day work–which IS my life–I'm inspired most by my customers and my friends here in Omaha. I've learned a lot from both groups of people. My customers have taught me a lot about humility and trust, and many of them have become friends. My peers in the entrepreneurial community here in my region inspire me every day as well–they work so hard and have such big dreams, and as they achieve their goals I feel even more motivated to chase my own.
In design, I take  inspiration from the savvy fashion and wedding bloggers who I admire not only as writers and trendsetters, but businesswomen. You, Kat, of course–brash, pink-haired, a totally singular personality. Gala Darling, the international playgirl, muse of Betsey Johnson who jets between New Zealand and New York. Naomi Davis, the young wife and mother in Washington D.C. who chronicles her life, lessons, and extremely beautiful outfits. The list goes on and on of strong, confident women I follow online, who are all like best friends in my mind as I have followed their adventures through their websites. When I think about the customer I want to reach with my clothing, with my mission, I ask myself, what would I design for these women? Something versatile, bright, wearable, something that becomes a signature piece for everyone woman who wears it.
What's the best (or worst!) piece of business advice you've ever been given?
Best: Planning is just guessing. Worst: Avoid controversy.
This may be a bit of a contentious issue, but how do you feel about people who copy your designs and sell them much cheaper than you on places like etsy? Do you have any advice for any designers experiencing the same thing?
You know, that's an interesting question and I wish I had a good answer. It still bothers me a lot. It does NOT bother me when people want to explore their own creativity and try their hand at a really fun project that I designed (we sell kits, after all, which they SHOULD purchase). It doesn't bother me when people send me photos of things they made inspired by my work. It does bother me when I see people selling stitch-for-stitch, color-for-color copies of things they have obviously seen in my portfolio, and it bothers me when I see people nicking copy from my website or shop. Even seeing brides copying my work for themselves and then getting credit and high praise for their work on major wedding blogs gets me down, because they are given an audience for their knock-off that I–the original designer–would have had to pay for.
In my experience–and many other artisans will tell you this–the best thing to do is just keep working, head-down, challenging yourself, innovating, and pushing forward. It was my frustration with knock-off sellers and feeling like I wasn't making a big enough impression on the industry that inspired me to start selling our DIY Felt Flower Bouquet Kits, which are now our most popular item. We've broken out into fashion design, we've made our original bouquets even better by innovating lots of new techniques that I have not shared. All of the frustration motivates me to give my customers the absolute best experience, bar none, above any relationship they would have with someone knocking me off at half the price. There are hundreds of customers who would say I've succeeded at that. The ultimate success is seeing my customers and loyal readers actually going after those people and calling them out–wow. That is loyalty.
So there's my petty, but honest answer. I hate it. Anyone who has been blatantly copied, anyone who works as hard as I do and sacrifices so much for this passion, would feel pissed off. I'm never going to say that I don't feel that way. But I think I have channeled that frustration in a very healthy way to not only improve my product but also the Princess Lasertron experience on the whole.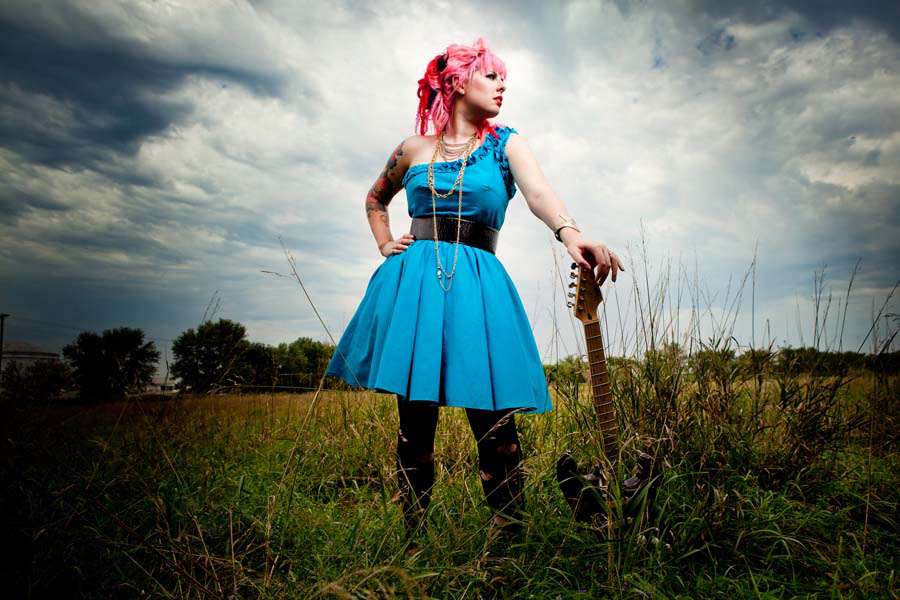 Modeling the Rock n Roll Bride dress in Omaha
If you could go back and give the pre-Princess Lasertron Megan some advice, what would it be?
Chill out. You're on the right track. It will be okay. Slow down. Enjoy sex. You're beautiful.
What have been the highlights of your career so far?
The best part of my career has been starting CAMP Coworking, just because of the people I have met through this workspace. I can host events here, we can do fashion shows, and other companies can utilize the space for the benefit of their businesses. I've found mentors and partners to help me venture into new opportunities, and I've had a platform to share my knowledge with other local professionals. As someone who does ALL of her business online, I was surprised by how much my local entrepreneurial community has influenced my growth. Less than 1% of my customers are from my state, but I'm hardly an island thanks to the relationships I've been able to form through CAMP.
Do you have any snippets of advice for aspiring designers?
Be a businessperson first, and never sell yourself short–you are good enough. Get out and show the world why you matter. Be very, very brave.