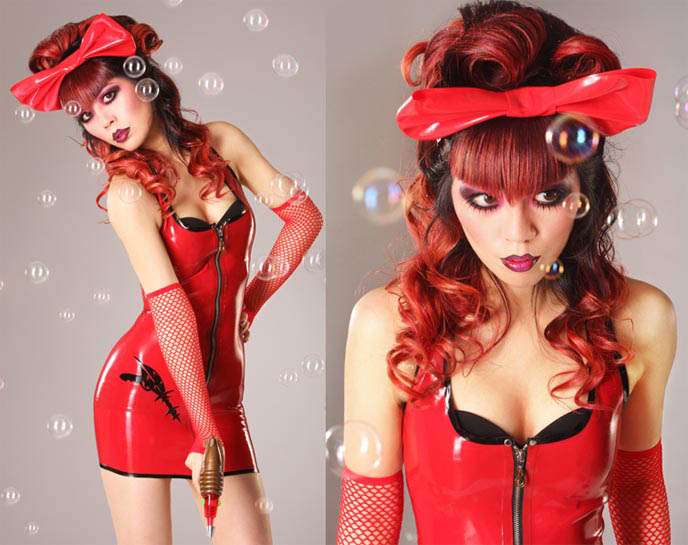 Reading the work of other bloggers is so important to me. I spend at least an hour a day (and often more!) catching up with my favourite non-wedding bloggers. I find they really help me stay inspired and not get trapped in the 'wedding industry bubble'. It's nice to feel a part of the 'real world' (however wacky!) too…otherwise I'd go mental. These other bloggers help me to keep what I do fresh and therefore enables my blogging to be more rounded – so thank you non-wedding bloggers!
This week I wanted to introduce you to another of my favourites, La Carmina.
A published author and TV presenter,  La Carmina has managed to use the platform of her blog to forge an impressive career out of her passion for alternative fashion and wacky subcultures. Now if that's not seriously inspiring I don't know what is!
Hey La Carmina, it's fabulous to finally have you on the pages of Rock n Roll Bride! For those readers who, unlike me, haven't online-stalked you for the past three years, can you tell us a little bit about yourself?
I'm a "spooky-cute" travel and fashion blogger, with a passion for alternative and Gothic subcultures. I was born in Vancouver, Canada and studied at Columbia University and Yale Law, but fell in love with blogging and jumped on this path instead. It's led to life-changing opportunities: I'm now the author of 3 books — including Cute Yummy Time (Penguin) and Crazy, Wacky Theme Restaurants: Tokyo (Random House) — and a journalist for CNN, Huffington Post, AOL. My "First Mate" and I started a TV fixing, hosting and coolhunting firm, called "La Carmina & The Pirates."
I also host my own web series for Huffington Post, and am constantly traveling for appearances and work (last year, I was in Hong Kong, Macau, Italy, LA, Mexico and more). Right now, my focus is on television presenting; my credits include The Today Show, Travel Channel, NHK Japan, Fuel/Discovery/National Geographic, Food Network, Pepsi, Sony, Norway TV, CNN. All my TV clips are here.

Where did the name 'La Carmina' come from?
I wrote a blog post that explains how the name La Carmina came about. You can read it here.
In a nutshell, it is a nickname derived from my real name (Carmen), and a tribute to La Camilla (Army of Lovers), La Carlotta (Phantom of the Opera) and La Casati: flamboyant, eccentric fashion divas.
You blog about alternative fashion and culture, with particular focus on Japan. What made you get into, and fall in love with, Japanese culture?
Since my family is from Asia, we often traveled to Japan when I was young. In my early teens, I visited Harajuku and my mind was blown open by the vibrant street fashion and culture – Jrock, Goth Lolita, Punk. This was the initial spark that led to where I am today. I continue to be fascinated by the connections between alternative fashion, music and subcultures.
When and why did you decide to start a blog and was it a conscious career decision at the time?
I first heard of blogs around 2004-5. When I started mine in September 2007, I was at Yale Law School, but felt frustrated by the lack of a creative outlet. Blogging was a perfect fit: it combined photography, writing, and interaction — allowing me to share my love of dark fashion and subcultures.
I never expected blogging to become a career, since the medium was completely new and unrecognized. However, when it led to the book projects and TV appearances, I realized something was in the air. So I decided to pursue this road instead, and I've kept going.

Do you find it restrictive or difficult falling within such a specific niche, or do you think it is to your advantage? I can imagine that fashion blogging is a very competitive world?
It doesn't have to be a burden. My La Carmina blog doesn't just have the typical "look-at-my-outfit" posts; there's a mix of alternative travel, culture, nightlife. It's fashion-related enough for me to be invited to international fashion weeks and Luisaviaroma, and do collaborations with clothing brands. However, style blogging is only one the many things I do (I'm concentrating right now on TV hosting). I feel I've found a good balance between being in this world, and exploring opportunities outside of it.
Your blog has opened up many doors to your other projects (including writing books, television presenting and fashion collaborations). Can you tell us a bit about how these came about and do you have any advice for someone who, say, wants wanted to write a book? Would you advise them to start a blog to make this happen?
My site organically led to TV hosting, arranging and consulting offers. Relatively soon after launching my blog, I met a fantastic NYC agent, and received publishing deals for my books, Cute Yummy Time and Crazy Wacky Theme Restaurants: Tokyo. I had previous experience in professional writing and publishing, so that helped to get these projects off the ground. After I did a few TV appearances, I was invited to be the guide on Andrew Zimmern's Bizarre Foods in Tokyo. This opened the floodgates to gigs with Discovery, CNN, NHK, Travel Channel, Canal Plus, Sony Australia, Dutch Pepsi and more.
My First Mate, Naomi, is invaluable as a translator and fixer on Tokyo TV shoots. So the logical next step was to establish our own company: La Carmina & The Pirates. We also offer coolhunting, youth trend consulting, translation… you name it.
My advice is to treat your blog as your portfolio: if your goal is to do a book, work hard on your writing, and hone a strong, marketable focus. That way, you'll be the natural candidate, and an easy sell to publishers. It does also take an amount of action: pitching, following up and suggesting collaborations. But it's easiest if you first establish a strong foundation, and have the projects flow naturally.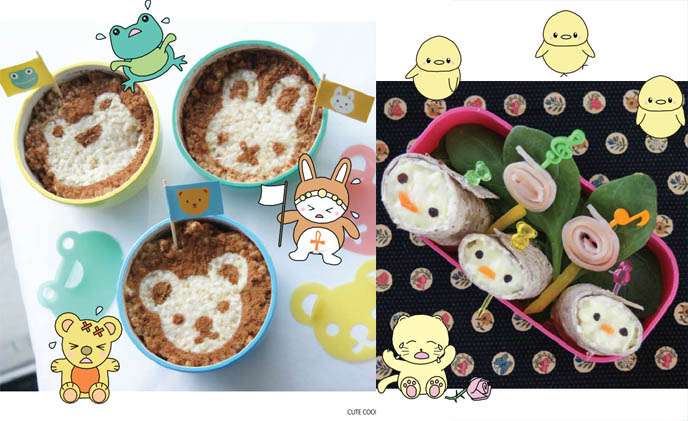 What's the best piece of business advice you've ever been given?
Keep it human, and genuine. I try to answer as many messages and comments as I can, and do little things to brighten up my readers' days. It makes everyone feel good.
And if you could go back in time, what advice would you give the 'pre-La Carmina' Carmen?
I was rather lost — I wanted to work in a creative field, but didn't know how to get started. I had no connections in entertainment, and couldn't figure out which career to aim for. Thanks to the Internet, I'm now able to work in a diversity of platforms (TV, writing, speaking, modeling); this simply wasn't possible in the past. I'd advise my younger self to keep learning, and try not to worry too much. When the technology and opportunities come around, you'll be as prepared as possible to hop on, and sail forth.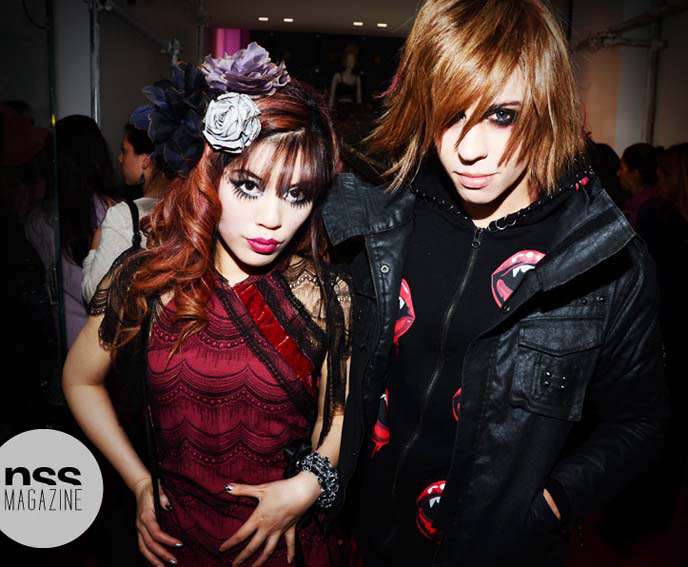 Your 'look' and brand are both very strong. Do you have any advice for people struggling to come across as unique in a sea of competitors?
Prove that you've got the track-record (schooling, successful projects). Show numbers, and examples of the results that you can deliver. And only work with people who "get it." You have something special to offer, a window into the world you inhabit — so make sure your clients appreciate and respect that.
Who or what inspires you?
I'm not particularly inspired by people in the fashion universe. I find more wisdom and inspiration from my plump Scottish Fold cat, Basil Farrow!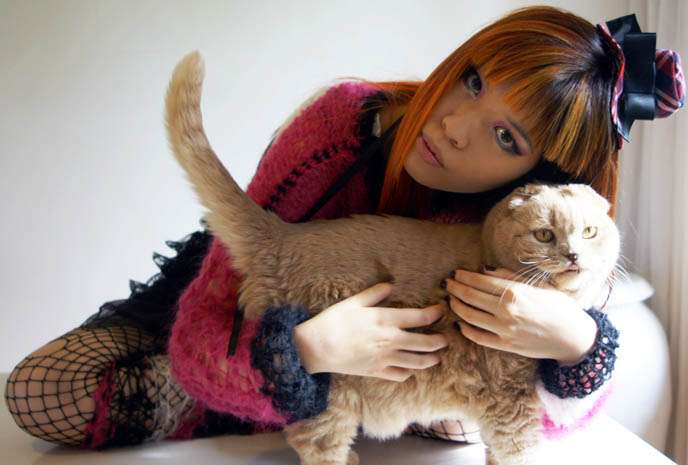 What drives you as a business woman and a creative? Are they linked?
I have an insatiable hunger for creative work, and the curiosity to see how far I can go. I'm still amazed at my TV, travel and writing opportunities to date, and I want to keep pushing hard to see where the journey takes me. Many artists shy away from the business/legal side, but it's crucial if you want to protect yourself and reach your fullest potential.
A lot of people who are starting out in blogging might be stressing or worrying about their blog traffic (or lack of!) Do you have any practical advice for them?
Don't do it for the traffic numbers, or the badges of recognition. Blog only if you truly love doing it, and would continue even if you're speaking to an empty room. If you get frustrated, take a break or try something new. Finally, it helps to learn as much as you can about web design, SEO and the other technical aspects of blogging, if you really want to make a go at it.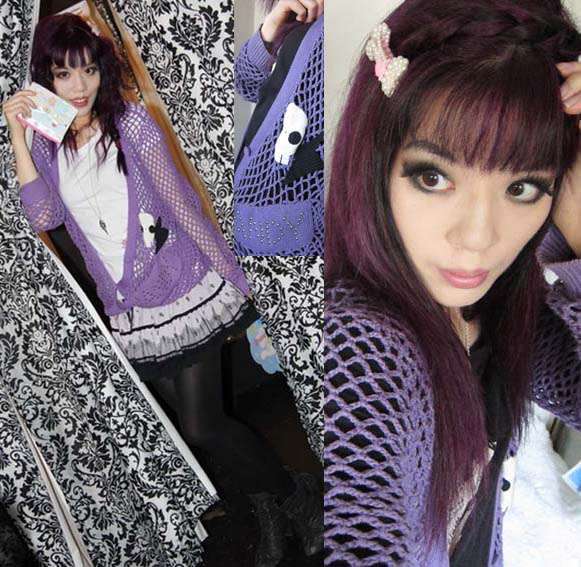 What are your plans and dreams for the coming year?
I'll be on Food Network in spring 2012; I'm in the Japan episodes of a new show called World's Weirdest Restaurants. My NHK Kawaii TV appearance will air, as well as my Mexico Tourism Board travel videos. And I'm debuting a new web series for Huffington Post, where I answer travel questions with the help of my expert friends – starting with Kent and Vyxsin of the Amazing Race!
I'll keep traveling the world, and my next destination is New York Fashion Week in February. I'm a speaker at Independent Fashion Bloggers conference, hosting events, and attending runway shows — very excited. And I'm collaborating with a new fashion iPhone app from Japan, called Zoolook – I'll be posting and tagging outfit snaps from NYFW. I hope you'll stay tuned to my site, www.lacarmina.com, to see what comes next!