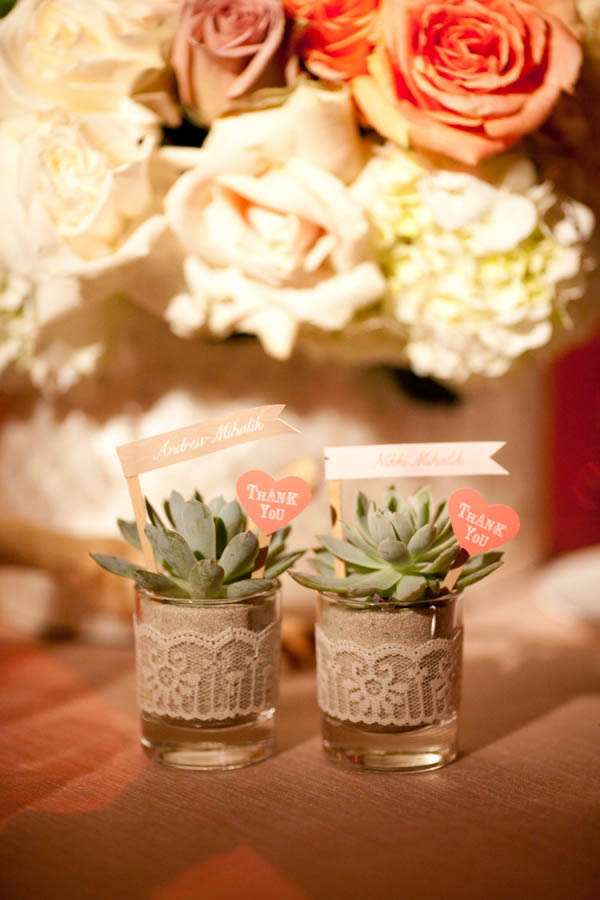 Photography Credit: Caroline Tran via Ruffled Blog
As the rest of you Rock n Roll Brides will be aware, there are certain age-old wedding traditions that we love and want to uphold, whereas others leave us looking a bit glassy-eyed. The beauty of the contemporary wedding is that we're free to do away with the stuff that doesn't make sense to us pretty much without question – for us, I naturally just assumed that we'd be forsaking the wedding favour.
Now, I've only been to three weddings in my time and I received a wedding favour at just one of them – so you'll forgive me for thinking that there was no real "meaning" or general substance to the idea. In fact, the tradition apparently dates back to as early as the 16th century, when wedding guests were given what is known as a bonbonniere – a small trinket box that held sugar cubes/confectionary. Sugar was then somewhat of a luxury, and to give it as a gift was indicatory of the bride and groom's wealthy standing. As time went on and sugar became more of an affordable commodity, the tradition became popular with lower classes of bridal parties – and the rest, as they say, is history.
Although I am a traditionalist in lots of ways, there's something about this that doesn't really appeal to me. In my defence, for any hard-core favour enthusiasts, it's only because I've seen some truly tacky examples. Moreover, I felt like a lot of the ones I saw were highly impersonal, and I don't know why. That was until I saw Alix's handmade stuffed animal favours: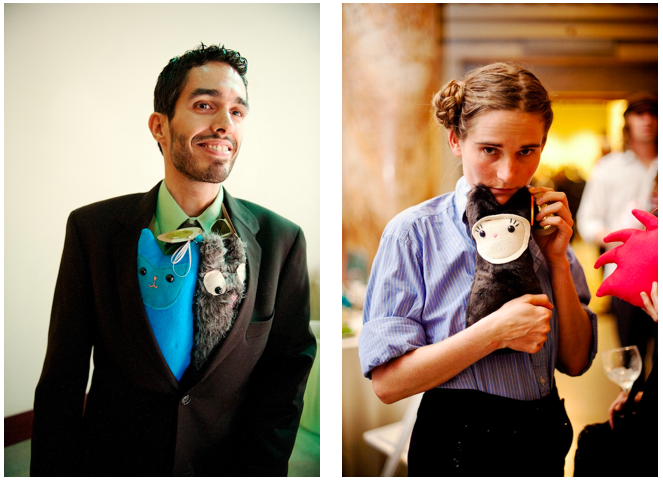 Photography Credit: Photo Pink, full wedding on Rock n Roll Bride here
These incredibly thoughtful, endlessly original gifts got my brain into gear and we figured that favours could be something we'd get on board with. Now, having quite hectic work/university schedules, I was pretty certain that we wouldn't be able to create something as bespoke as Alix's stuffed animals – so what could we come up with that had the perfect balance of creativity, personality (as in, personal to us), and manageability?
When I first moved to Brighton, my parents bought me a set of mini cactus plants. They've come with me everywhere, from home to home, and before we decided to get a kitten, I think they were pretty much our adopted children. There's just something so aesthetically pleasing and comforting about cacti – not to mention that the cactus flower symbolizes a heart burning with love (or so the world wide web tells me). All in all, you could say we're pretty attached to our mini cacti family, so when our pesky kitten kept knocking them out of their simple plastic pots, I decided to take action and find them some new housing. As ever, I was able to rely on my friendly neighbourhood charity shops: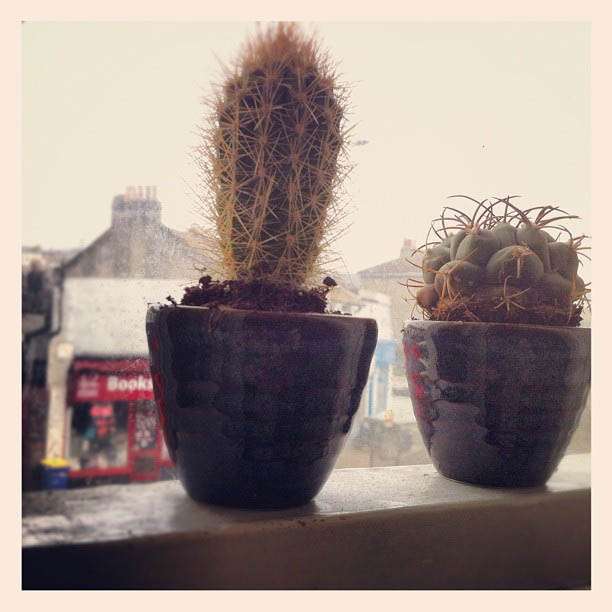 Pair of eggcups, £1.50 from PDSA
I'm somewhat of a dippy eggs and soldiers fiend, so when I found these beautiful clay eggcups in PDSA I was keen to add them to our kitchenware collection. Once I got home I remembered that our cacti were in despair, and I decided to sacrifice forever-stylish breakfasts to help out our little buddies in need. With a little compost, I managed to re-pot them into their new homes, and they now sit safe and happy out of the reach of any pesky kittens…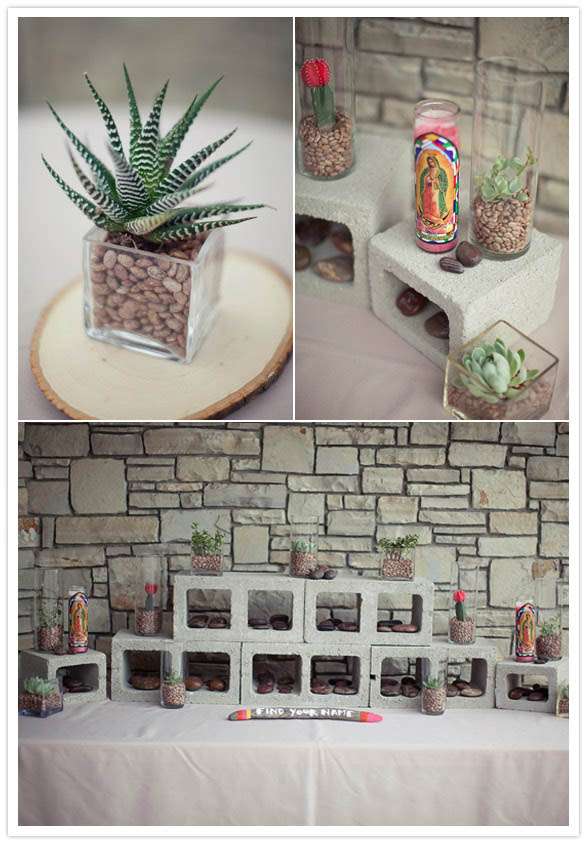 Photography Credit: Katie Neal Photo, full wedding at 100 Layer Cake
It was as I was admiring my handiwork that Lamb suggested, why not use cacti as wedding favours? Fabulous. And so, the hunt is ON! We've now started our collection of suitable pots, cups, glasses, and other housing – and pretty much anything of a suitable size will suffice. Charity shops are ideal for finding such bits and bobs – it's useful to look out for any glassware that they sell in sets, like port wine glasses and candle holders (as seen in the first photo on this post). As we talked about last month, teacups can act as brilliant planters for seedlings and other flora, so I couldn't resist picking this one up – though I feel that I may keep it as a little wedding favour to me and Lamb! (You can never have too many mementos of your wedding, right?)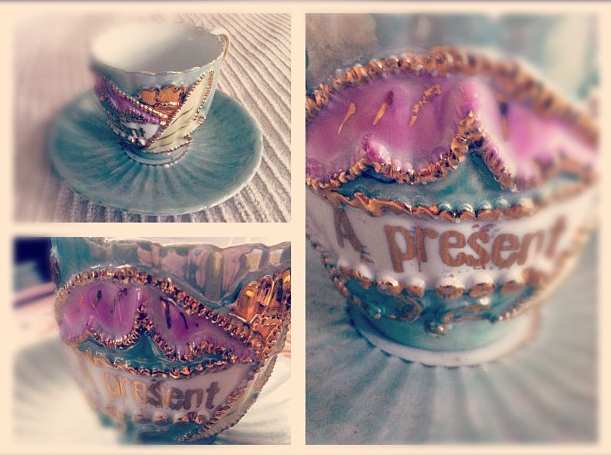 "A Present" teacup, £4 from Snooper's Paradise, Brighton
As we like the idea of most of our favours being unique to each guest (something we'll have to overlook slightly if we do start buying cups/glasses in sets) – so for us, charity shopping and general thrifting is the best way to go, but naturally it'll take up more time and effort. If you're thinking of doing something similar for your own celebrations but you want to cut the preparation time in half, then don't forget invaluable resources like eBay and Etsy, where you can search job lots of items for really reasonable prices – we're actually sourcing our cacti from eBay, which saves a lot of hassle on our end as we don't need to keep collecting them as we find them – we can just buy them in bulk!
Here we are – it's that time again – my other favourite finds of this month!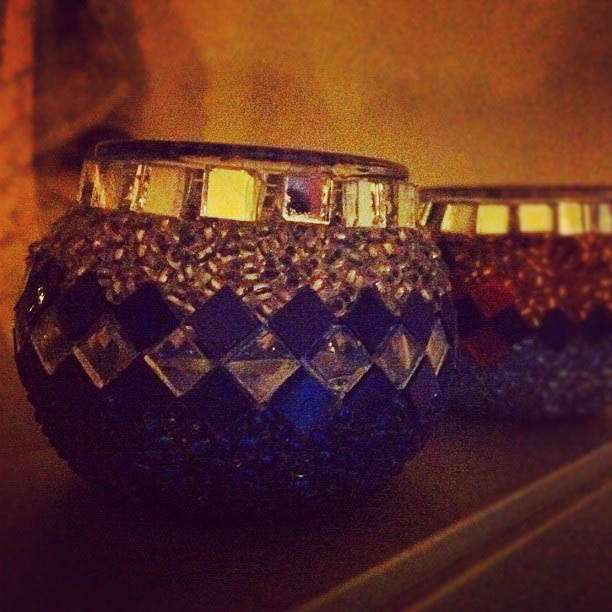 Pair of candleholders, £2.50 from Oxfam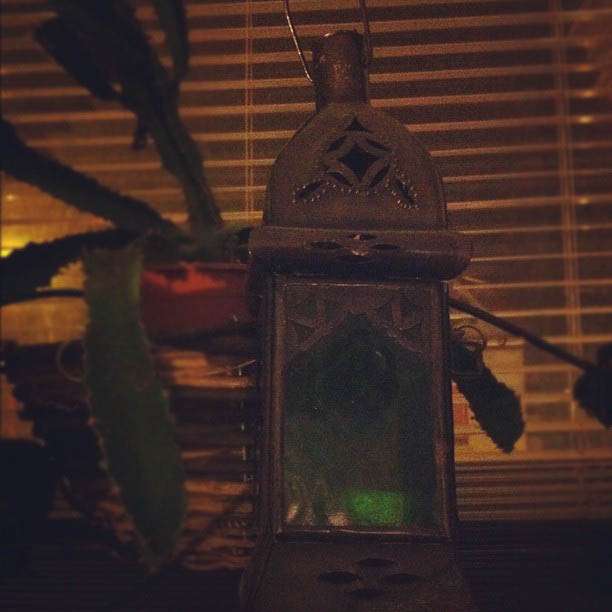 Moroccan-style lantern, £3 from ageUK
AMAZING picnic-style handbag, £5 from Chestnut House