This month, the fabulous Roo shares her ideas on what to do with less-than-perfect charity shop finds. I love love love her diy fix-up ideas so much and I know you guys will too.
Over to you Miss Roo…
♥   ♥   ♥
Now, even after seeing what treasures can be found if you look hard enough in the right places, you would be forgiven for presuming the following formula:
 Charity shops = tat
… Because, quite frankly, quite a lot of the time it's proven to be true. Whether you're a tried & true charity shop scavenger or a recent disciple following this series, you're sure to have had a "dud" run, and that can be disheartening. When you're perusing for the fun of it it's not so bad, but if you're committed to the cause for the sake of your wedding it's easy to get blindsided by the dud run and head home feeling dejected. This month I'd like to focus on spotting the potential in otherwise "useless" items: the tattered, the broken, and the not so shiny.
On the whole, I would identify myself as someone who is creative, with an active imagination – yet despite being able to conceive of good ideas, I often find myself falling short when it comes to executing them, due to a distinct lack of "know-how". This, among a menagerie of other reasons, is why the Internet is such a useful tool to have at our palms. Blogs such as Tokketok and Mermag boast incredible tutorials that take everyday items and transport them into the world of the fantastical – widening the scope of possibilities for objects that we'd otherwise overlook, or "make do with" – like these beautiful monogrammed glasses, just when you thought plain ones would suffice.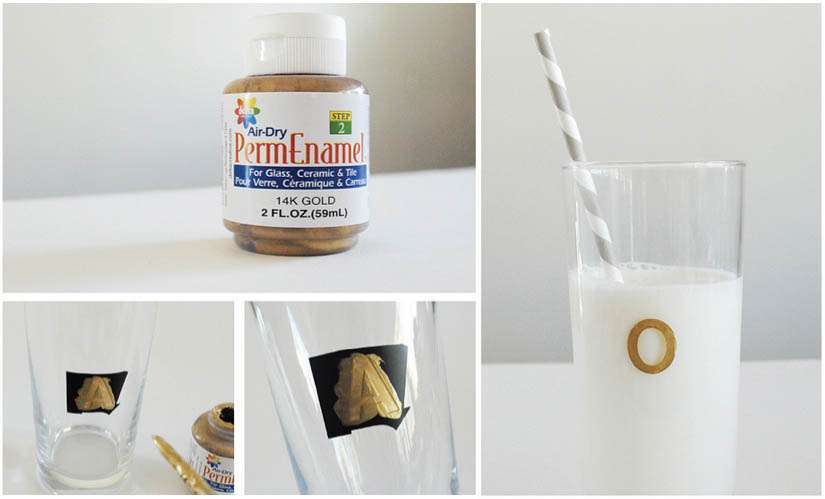 Photography Credit: Merrilee Liddiard, full tutorial at Mermag
Many online tutorials are a breeze (almost so simple that you wonder, why didn't I think of that!?) and some are a little more intermediate, but a task that is too tasking for one person is less tasking when halved – which is where your bridesmaids, groomsmen, parents, children or betrothed can come in handy. Some of my most favourite weddings featured on wedding blogs everywhere are the ones where I read the words "everyone chipped in!" because really, there's nothing more celebratory and wonderful than everyone you love claiming a share of your big day. So, if you're reading this and thinking but I'm the kind of person who glues their fingers together, do not despair. Bear with me, and I promise by the time you reach the end of this post, your creative lusts will be hooting.
Over the past couple of months we've tried terrariums and collected clothes, and this month I had the bright idea of looking at turning "trash" into treasure.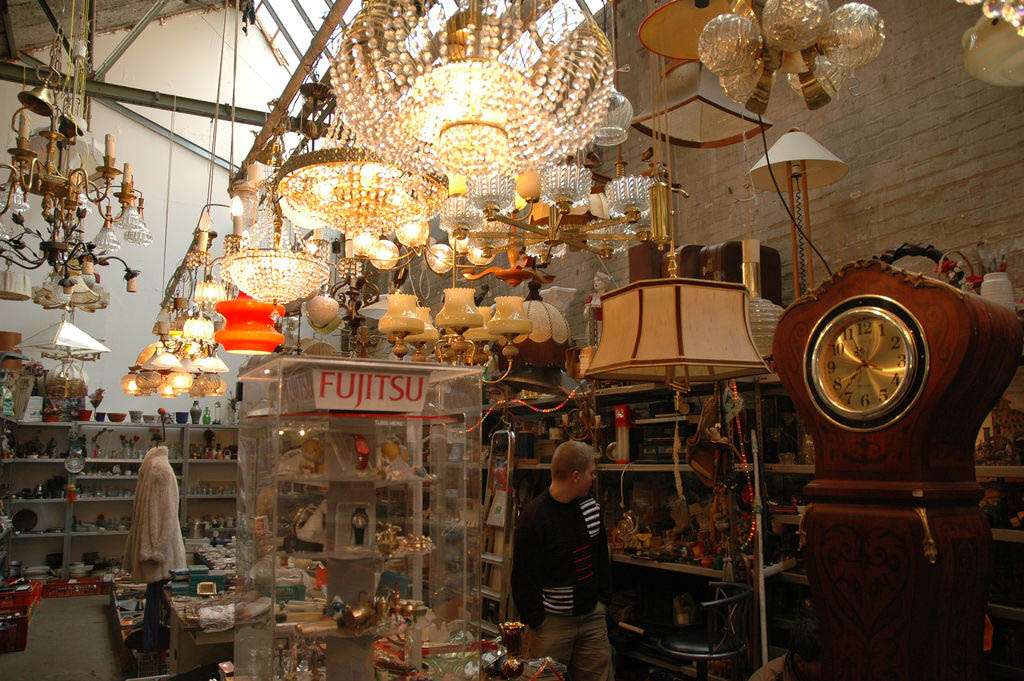 Photography Credit: Ramsey Amaoot
Now since I can tell that you're wondering, I'll tell you: the thought came to me following two separate, poetic incidences. Lamb and I have been on the hunt for furniture for our room over the past couple of weeks, so my charity shop trawling has extended to charity furniture shops. We're fortunate enough to live next door to a YMCA furniture store, and regularly keep our beady eye out on the street outside for their delivery van. The only downside is that our obsession with second-hand furniture shopping has lead to us trawling the Internet for new places to leaf through, and this has been a little too time consuming when trying to juggle work/university on the side… oops!
Unfortunately, our search for more furniture shops run by charities has proved a little fruitless in and around our local area – despite this, we've managed to find some really wonderful flea markets dotted around Brighton, and this month I'd like to shift our attention to flea markets as well as charity shops as great sources for all manner of wedding paraphernalia. As usual, we'll take a look at my favourite finds of the past month, and leaf through some tips I've jotted down along the way.
My secondary source of inspiration for this post was the stumbling across an absolutely phenomenal tutorial by Jason Hull. Remember how I said in my last wedding-y post that Pinterest was an outrageously effective way of finding and documenting ideas and inspo? If you didn't believe it before, then I pray you believe it now – Pinterest boasts a whole host of "pins" dedicated purely to tutorials, focusing on everything from hair/make-up to homemade fashions; from home décor to party favours. It was whilst simply perusing the people I was following that I found the most delightful thing… vintage camera nightlights.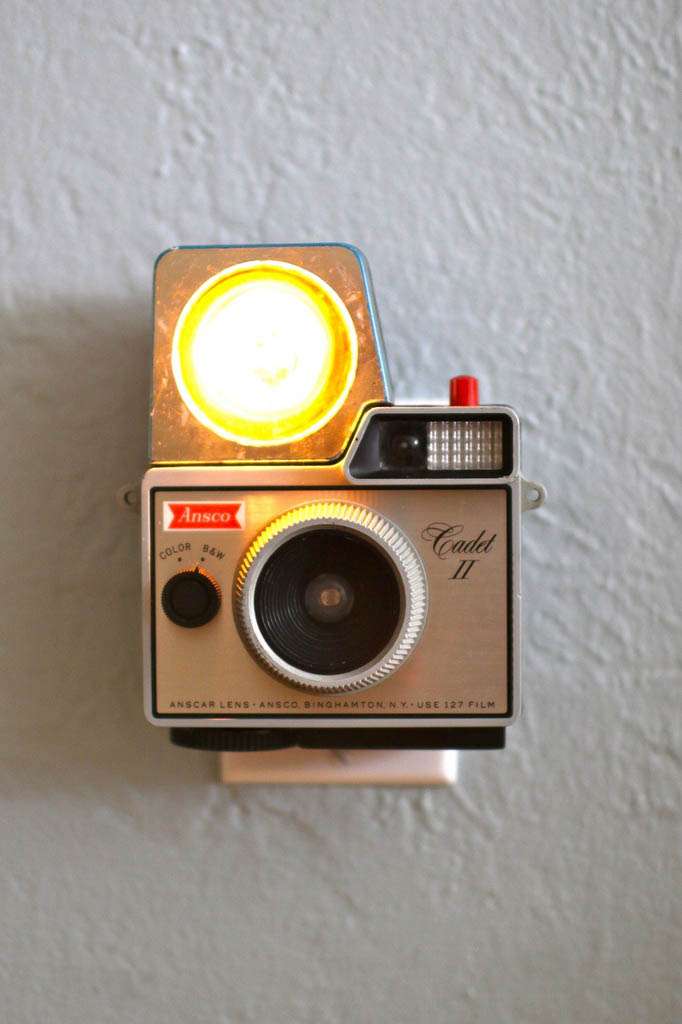 Photography Credit: Jason Hull
Imagine my further delight, then, when I realised that this pin linked to a tutorial detailing how you can make your very own nightlight for yourself. The tutorial itself seems to hover halfway between beginner and intermediate, and I think that even I could tackle this one with a little bit of concentration and patience. However, if you'd rather cut to the chase, Jason has a shop on Etsy where he typically sells his creations. Seeing this tutorial got me thinking – how easy would it be to cheaply source what was needed to make it, and could it be adapted to suit other needs – for example, would it be possible to take string lights (bigger than fairy lights) and make "nightlight bunting"? Can battery-operated LED lights replace the nightlight bulbs, so that they can sit on the tables as part of the centrepieces? Not coming from a particularly electronic DIY background, I'm afraid I can only speculate. Perhaps some of you have other ideas/uses for this tutorial that you'd like to share?
So, having aptly ogled Jason's wizardry, I was inspired. My mind began whirring along the lines of how and where I could find seemingly unwanted/unloved items and turn them into focal points of splendour at the wedding. Now, where to begin?
If it ain't broke, it ain't a project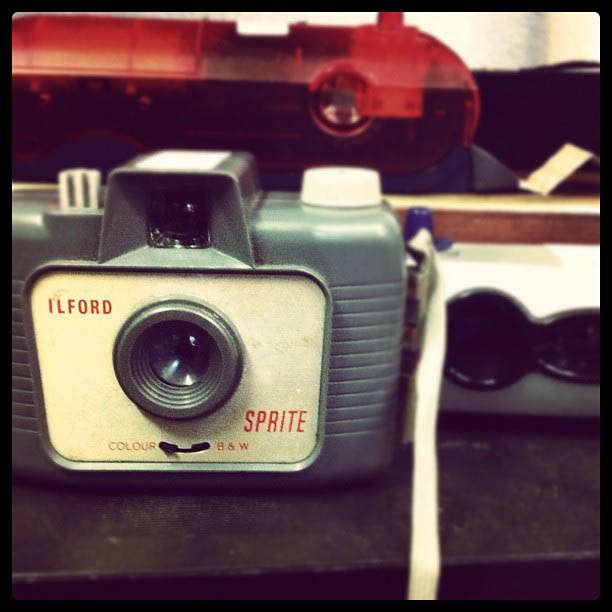 Faulty toy cameras sitting pretty in Snoopers Paradise, Brighton
Charity shops and flea markets alike are very often divided into halves of items in good condition, and items that are in need of some TLC. In my experience, proprietors and assistants of flea markets are generally much more knowledgeable of the stock they have to hand, and can tell you pretty much everything about an item from its country of origin to its current working state. Items that are broken shouldn't be classes as write-offs – Jason maintains in his vintage camera nightlight tutorial that you should only use broken cameras for the task – any working cameras should be used for their original purpose of taking photos, of course. Right? He also stipulates that toy cameras (i.e. cameras with light plastic housing) are best suited as they won't weigh heavy on their fittings. So what are you waiting for!?
As with everywhere, some items are priced accordingly, while some are priced a little higher than you'd anticipate. In past posts, I've talked about how you should rely on your gut instinct and deduce whether the price you pay is the real worth of what you're looking to buy. In this instance, it may be difficult for you to ascertain the value of something in a flea market, because what could look as though it should be a bargain might be a mega-rare antique that the seller's going to want a little bit more for. Again, though, only you can really be sure of whether you want to spend X amount of money on the "props" for your wedding – it's all an individual choice. If you've fallen in love with something that you simply can't afford to part with, say, £100/$200 for, don't despair – there's just might be room to wiggle.
Haggling is healthy
When I was younger, my family would frequent Turkey as the holiday destination of choice, and my most vivid memories are the smells of spices and teas in the bazaar as my mum would haggle her way through purchases with dozens of sellers. I do not in any way underestimate when I say she is an absolute pro at it. It's important to bear in mind that haggling in a charity shop is an absolute no-no – it's probably silly to feel the need to stress this but I once encountered a horrible young man haggling with a charity shop volunteer for a set of Pretty In Pink stills. Charity shops are there for the benefit of charities, and any cheap shots at haggling merely undermines the good, hard work they are trying to do for those who need it. In my experience of flea markets, however, they either run on the same premise as any independent shop (i.e. they are there to make a personal profit) or some are merely open to enjoy the collection and rotation of stock they have on show – in either sense, they are usually willing to move on the price because: a) they have set it a little higher than they would expect anyway, and/or b) they just want to see their stock go to a good home and make way for the introduction of new, interesting stock. In any case, you should approach haggling in the following manner:
♥ Once you've spied something you like, take a look at the price tag and make a mental note of how much you'd prefer to pay for it (but be realistic!)
♥ Ask an assistant for help, and ask them, "is this the lowest price you'd be willing to accept?"
♥ If they seem open to suggestion, try nudging the price down by £10-£15 (that's $15-$23 in the US) – chances are they won't accept your offer straight away (unless you're mega lucky!)
♥ The game is to try and meet them in the middle so that you get a bargain, and they still make a pretty penny – it's important to maintain the ethic that everyone's a winner here!
♥ Eventually, you'll settle on a price – I can't tell you how persistent you should be in your haggling, as it's a matter of personal preference. My mum's always maintained that market sellers absolutely love haggling with customers, so remember to have fun with it rather than turn it into a battle.
♥ Remember, whether you knock a little or a lot off the original asking price – you've still made a saving. Give yourself a pat on the back for now, and persist with your haggling technique! It may soon become second nature to you.
If it's not fit for purpose, what can we do with it?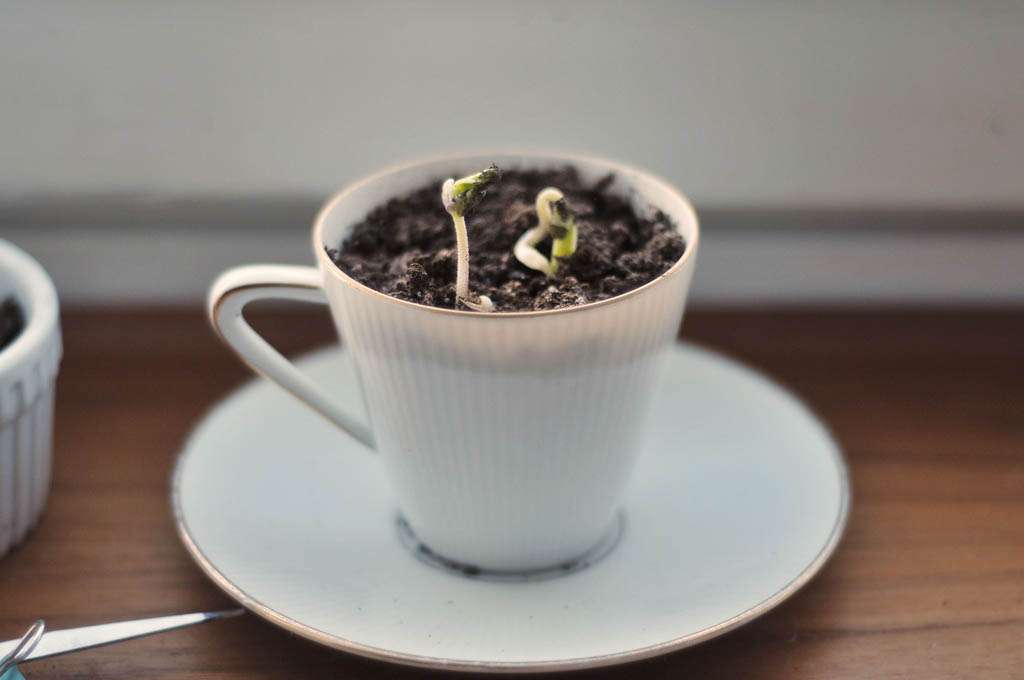 Photography Credit: Susanna Maaria Erkheikki
Finally, it's always good to remember that everything has a dual or multi purpose. Teacups can house cacti, short-stemmed flowers or the buds of promising plants (which can also act as cute favours, if you can source enough of them!); old, ornate frames can hold printed table numbers/reception dinner menus; vintage photographs/postcards could act as cheap Save The Date notices, and old books can offer a plethora of possibilities.
With Lamb being a Creative Writing student, he reads his fairly hefty share of literature and talks about it with so much passion that sometimes I worry his eyes are going to pop out. This has left me wondering how we can incorporate literature into our wedding in a subtle way – and then I saw these unique confetti holders made from sheet music, used at Debs and Sean's masked ball wedding.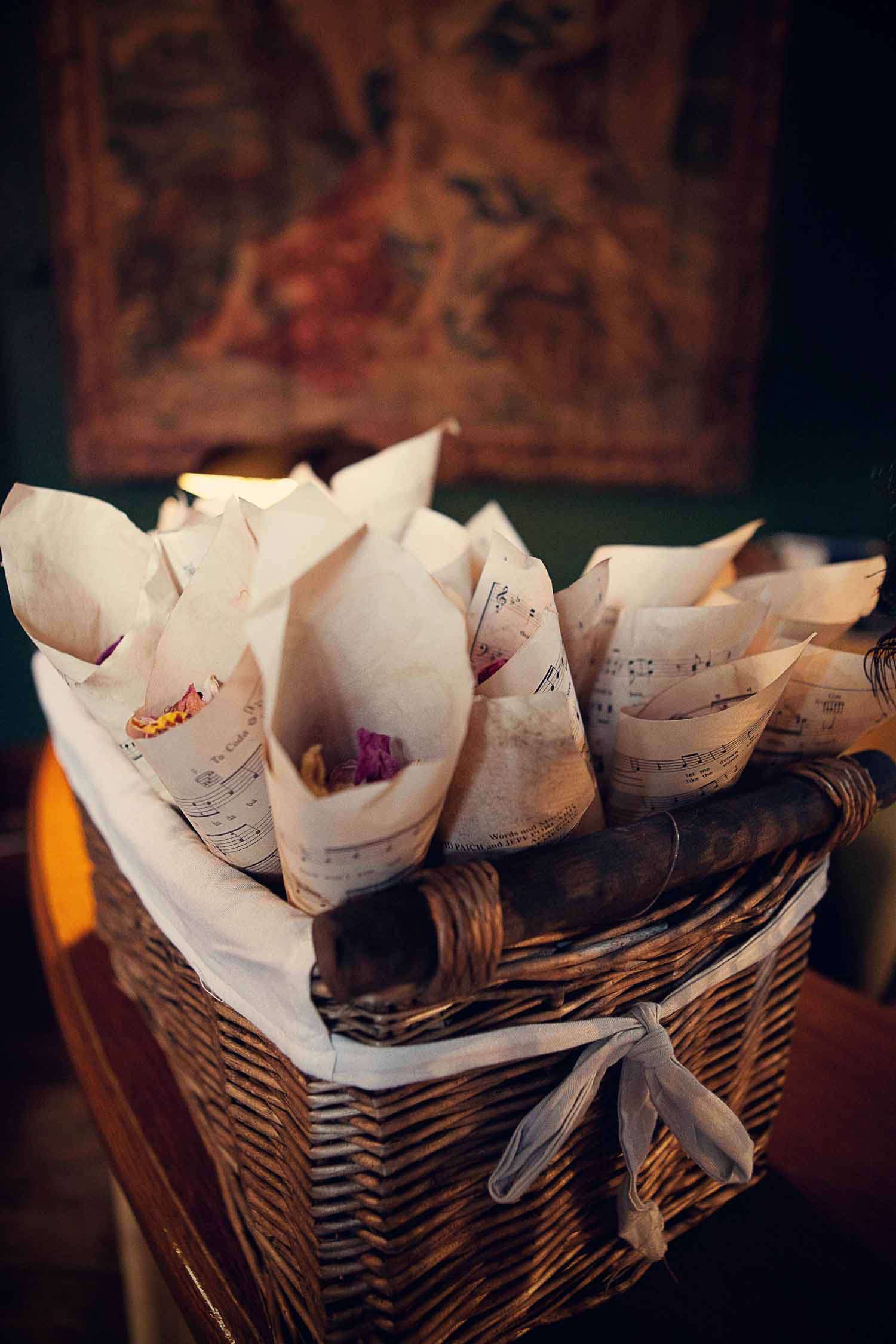 Photography Credit: Assassynation, full wedding on Rock n Roll Bride here
Now, this is all dependent on personal preference, because the idea of ultimately defacing and destroying a book is something of a taboo subject (or so I think, anyway). When I was thinking about it, I remembered one of my friends who buys a copy of a certain book every time he sees it in a charity shop (talk about odd collections, right?) and I got to thinking that if Lamb and I can agree on a book we might use, I can get on the hunt and start our own little book collection.
So ladies and jellyfish, any thoughts? Do you have any tips on haggling? Do you think haggling is appropriate? Have you ever sourced something weird and wonderful and incorporated it into your wedding with a unique function? I'm dying to hear what you've found! And as ever, I'm always keen to hear about what other bits you've managed to find yourselves, and any tips of your own that you'd like to share.
Without further ado, I present to you my favourite finds of this month!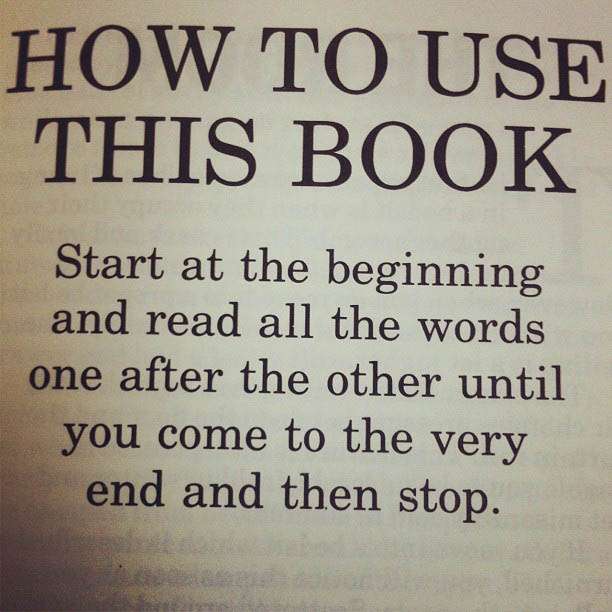 The Bedsit Survival Manual by David Hallamshire, ageUK, 50p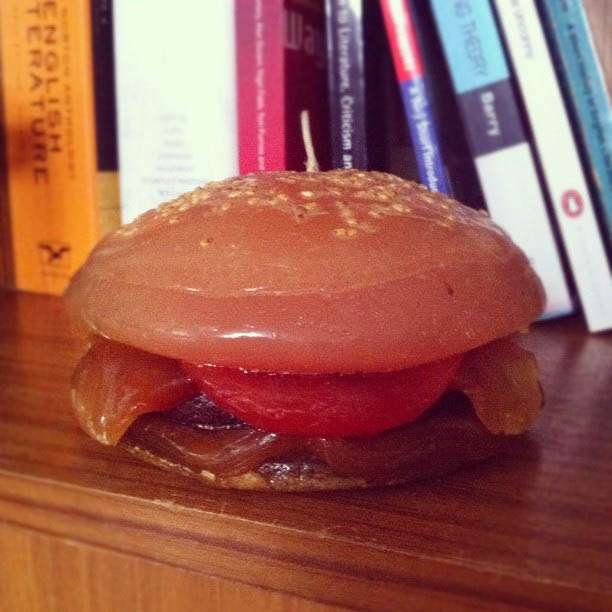 Cheeseburger candle, Chestnut Tree House, £1.50 (imagine how weird I looked buying this, considering I couldn't stop laughing at the till and none of the staff even cracked a smile…)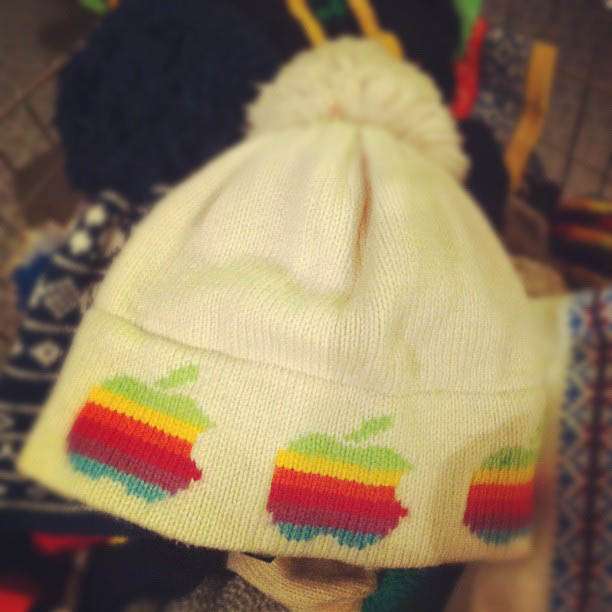 Apple logo beanie, Oxfam, £8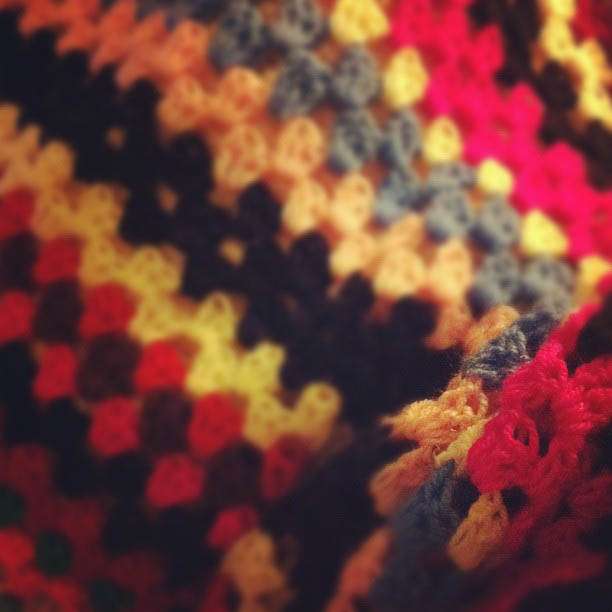 Crochet throw, PDSA, £6.99
Until next time peeps…happy charity shopping!