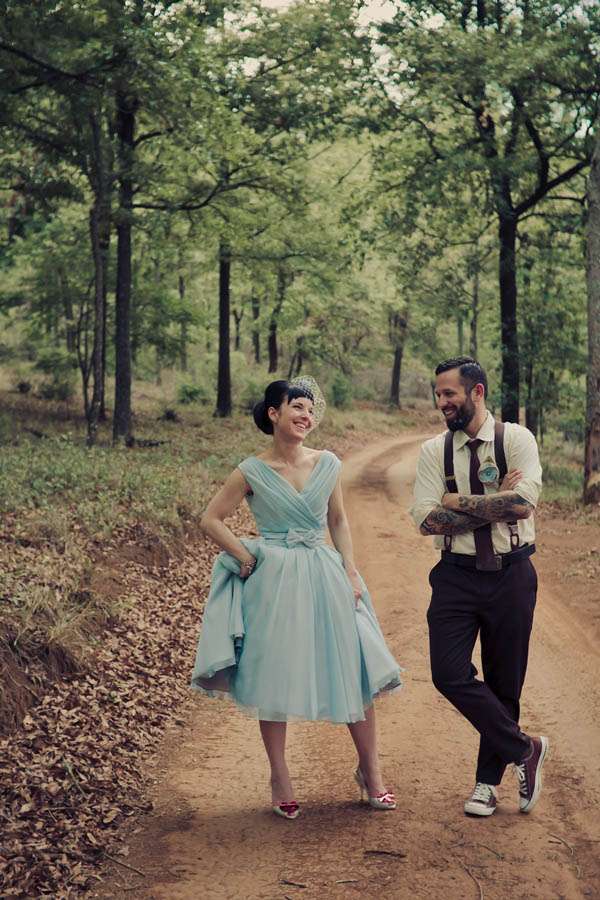 The beautiful South African wedding of Daniel & Annette was sent over to me by their wedding photographer Bruce of Flyinghorse Photography. Not only do I love the relaxed vibe of this day, but Annette's short powder blue dress is just perfect!
The wedding was held at Hillhouse, Dargle and was a huge family occasion, with everybody pitching in to help.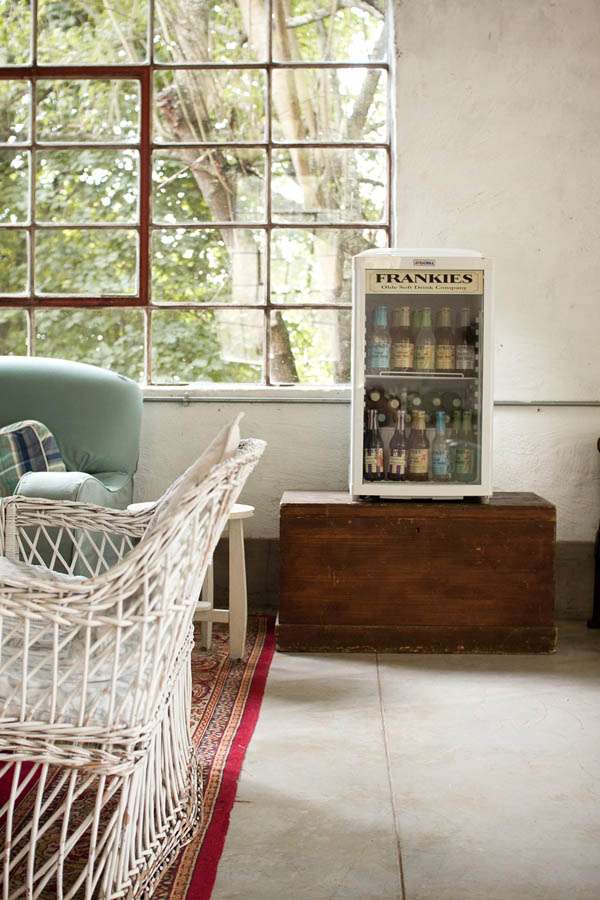 "Daniel and I had so much fun planning the wedding, we got a kick out of every little detail and it was our special little project," Annette wrote. "We didn't want to spend a fortune on the wedding so we decided to do most things ourselves, with a lot of help from our friends and family. We are both not at all into big white weddings we basically just wanted to do the legal/official bit and then have a big party with all our friends and family. Ideally this would've involved something like going to Las Vegas with a bunch of friends. However it quickly became pretty clear that the most important people to us won't be able to join us on such a crazy adventure, and we couldn't do it without them so we started to look for something a bit closer to home."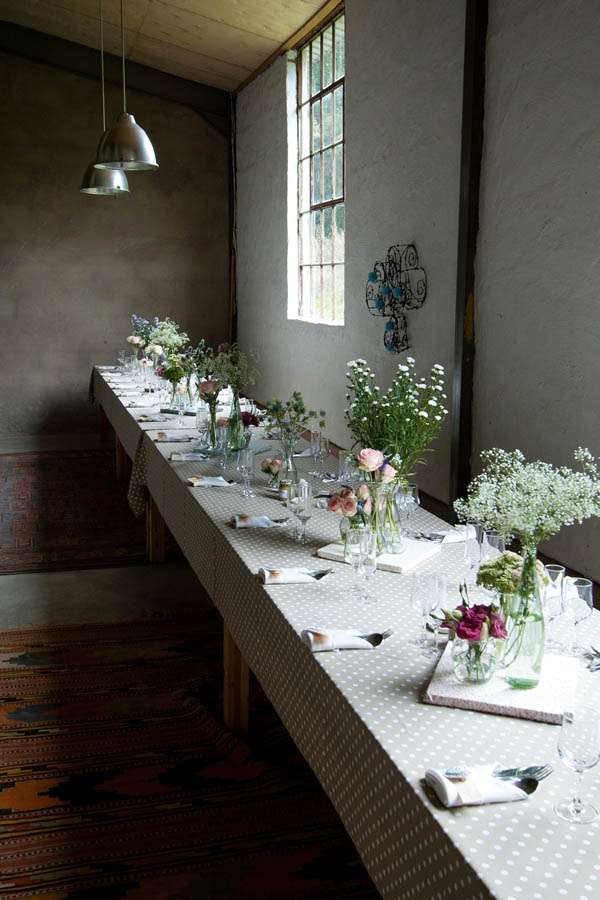 The ceremony pergola, the stationery, the signage, the flowers, the reception decor and the fire-pits for the bonfires were also put together by friends and family members. "My Mum made all the little hearts for the table placeholders and decorated the hanging wire and barbed wire hearts. She also made the boutonnieres and my garter. My Step-dad was head of the wine and champagne committee. While my Sad and Step-mum, who live in the area, were the local logistics committee. This includes providing tea, gluten-free pizza & quiche and transportation of chairs!"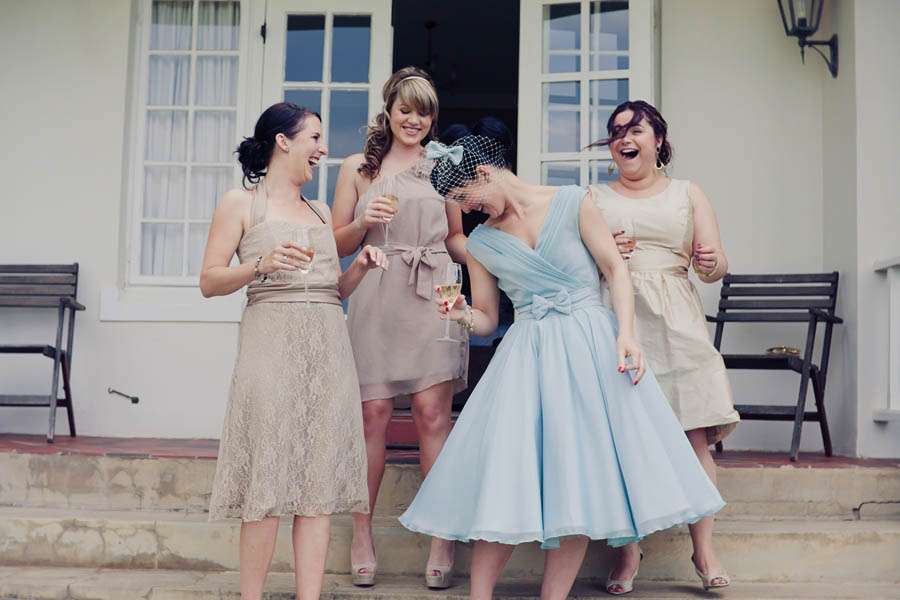 "Daniel's family came out from Australia and were here to help an support us leading up to the wedding," Annette continued. "They all helped out too. We got most of the vases and jars for the flowers from a local glass manufacturer's outlet store and Daniel and his brother Bevan covered blocks of wood in fabric for all the square centrepieces. I also searched far and wide for meters and meters of polka dot fabric, which we sewed into table cloths, I love polka dots!"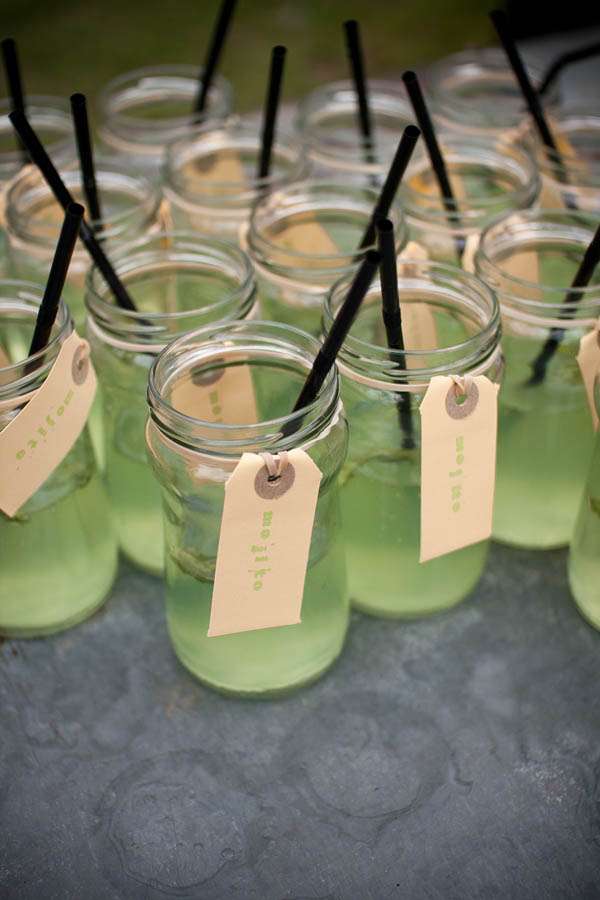 The couple spent a huge amount of time looking for their perfect venue, but they eventually found Hillhouse after seeing another wedding there on Rock n Roll Bride (wooo!) "We were all over the place trying to find a venue that didn't feel like a wedding factory," Annette explained. "We even drove 10 hours to Mozambique looking for a casual beach setting after we drunkenly proclaimed that we will get married on that beach the previous year at a music festival! But I somehow remembered the name of a venue I saw featured on Rock n Roll Bride that had become stuck in my head…Hillhouse. The converted shed on a beautiful farm overlooking Midmar Dam didn't need much in décor, it is filled with antiques and artwork and the rustic floors, fireplace, roof and lighting just added perfectly to the look and feel of the place. The best part is that there are no restrictions and we could make noise as loud and as late as we wanted! From there everything seemed to fall in place."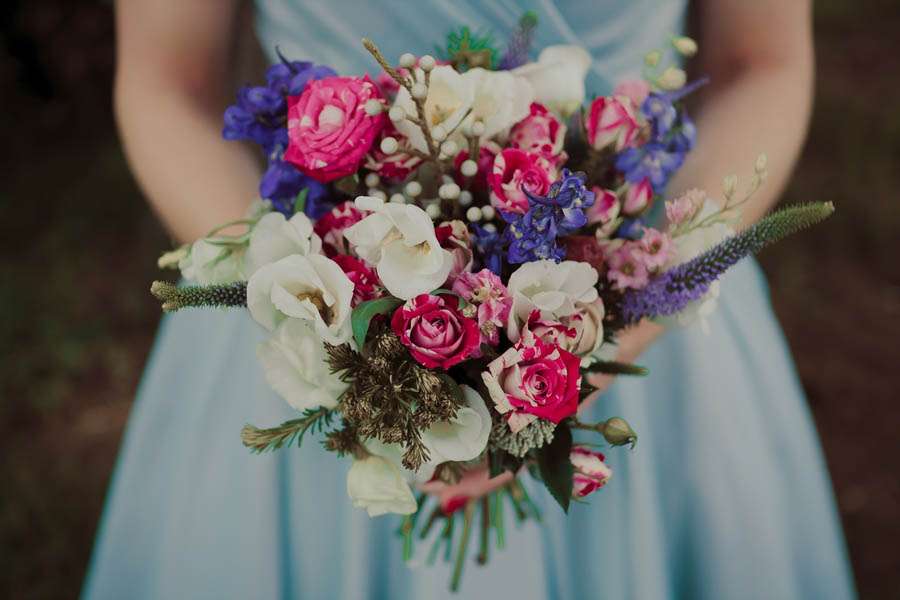 "The most important thing to us was that our guests and we have fun, that the music was good and that the food was tasty and gluten free! Turns out we achieved all those things! Firstly, with the most amazing wedding playlist compiled by us with input from our guests via our wedding website. Everything from ABBA to Zeppelin! Secondly the awesome talents of our caterer, Margie, whose meze platters, soups and main courses were both gluten free and soooo delicious! We weren't really interested in having a wedding cake as we are both gluten intolerant so we went for a 'Candy Shop' for dessert. It was a HUGE hit and there was barely a square of fudge left the next day!"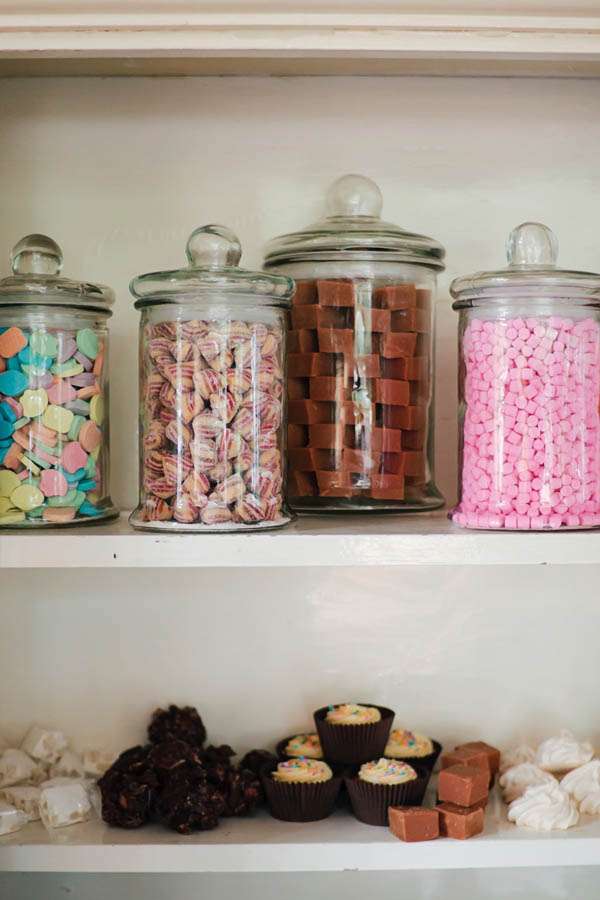 "Finding the right photographer was always really important to us" the bride concluded. "I was starting to give up on finding a photographer that was even remotely cool when I stumbled on Bruce's photos on Facebook. The photos I saw were from work he had done with a local South African band and we were blown away. We found out that he also did weddings and Daniel immediately said 'Book him!'"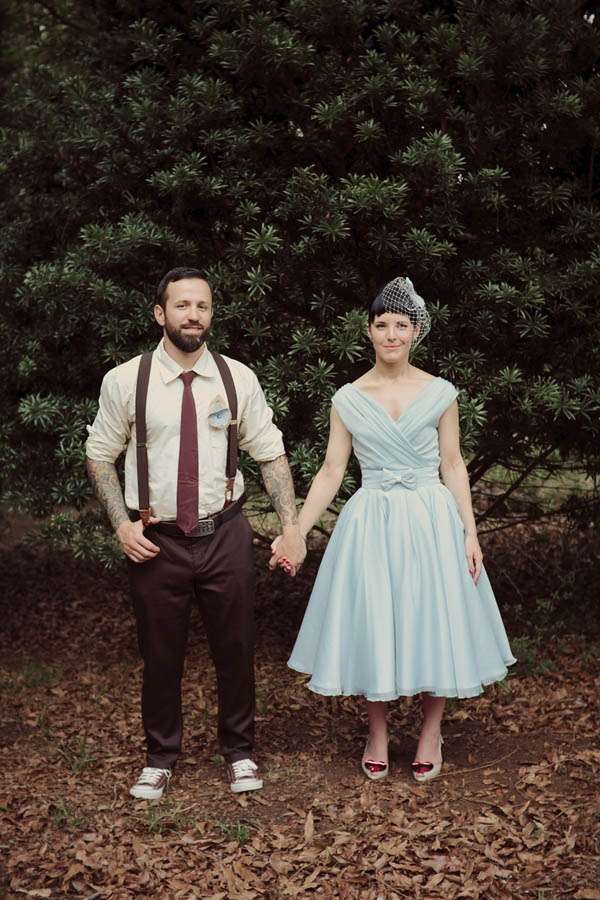 "In terms on a theme, we really just took all the elements of the things we love – music, tattoos, rustic/vintage décor, 1950s dresses, hearts, art… and threw it all together to make the day a true reflection of ourselves and the things we love. I could never picture myself in a white dress, not even as a little girl. I didn't consciously set out NOT to have a white dress though. The idea for what I wore came from a blue dress I saw in the movie '500 Days of Summer.' I was playing around with ideas based on this dress, thinking about what it would look like in white, and then Daniel said, 'Why don't you just keep it in blue?' and that was it! I absolutely loved my dress, I loved the colour, the skirt and the fact that I could move around and dance in it. Daniel chose his own style for the boys clothes and even went out and found their own shoes. He also made me order the braces and buckles from the US because we couldn't find what he wanted in South Africa!"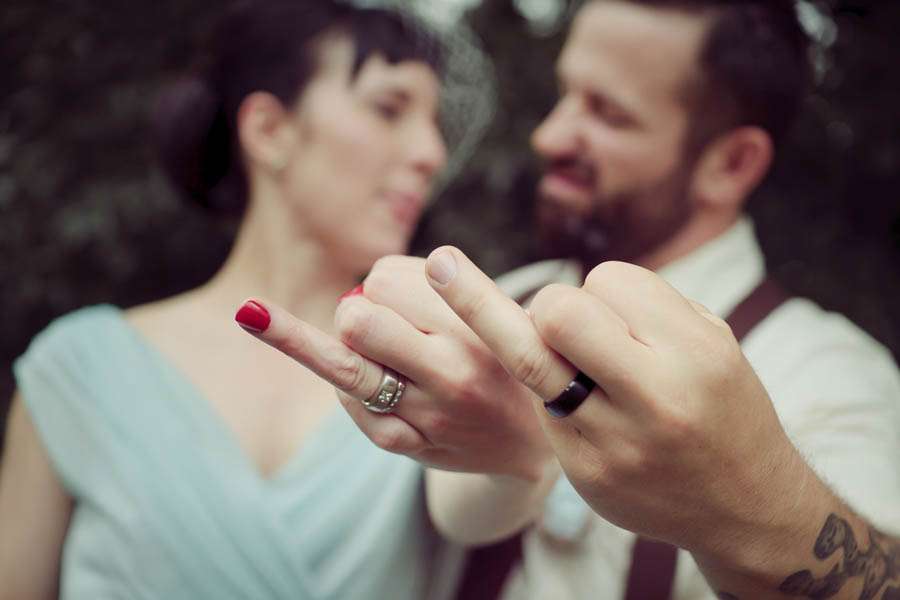 Thank you to Daniel & Annette and their photographer Bruce of  Flyinghorse Photography for sharing this wedding with us today.
Supporting Cast:
Photography Credit: Flyinghorse Photography
Venue: Hillhouse, Dargle, Howick, South Africa
Bride's Dress: Ronel Designs
Bride's Shoes: Vivienne Westwood/Melissa
Bride's Headpiece: Petro
Groom's Outfit: Neo Leoka
Bridesmaid's Dresses: Ronel Designs and Young Designers Emporium
Cake: Sweetie Cupboard by Tasha's Fantastic Fudge
Flowers: DIY &  Perfect Petals, Nottingham Road
Hair: KZN Hair Solutions, Lana Joubert
Make Up: Rebecca Garozzo
Caterers: Margie and Team from Aubergine Cookery Studio