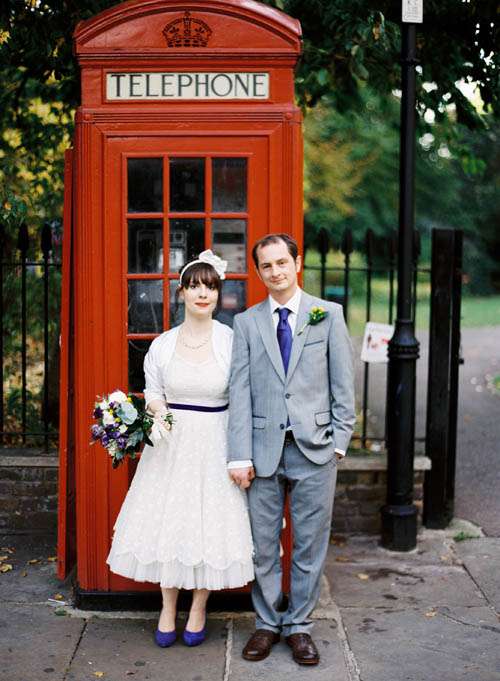 Cecilia & Robert's pretty London wedding took place at Union Chapel and Union Hall, Islington.
"At first we had to decide where to have our wedding as I'm from Italy and Robert London," Cecilia wrote to me. "We soon realised that London was the perfect place, as it's where we've chosen to live and where we definitely wanted to start our life as a family. We started looking at a few venues, but they all looked a bit impersonal and soulless to us, we definitely wanted somewhere that would have a meaning for us and our relationship. And so that's how we "stumbled" upon the Union Chapel. Rob had been there several times to see gigs, and we had been together to see a very special acoustic performance by Editors. Many people think it's not an actual church, but it actually is – and it made perfect sense to us to get married there!"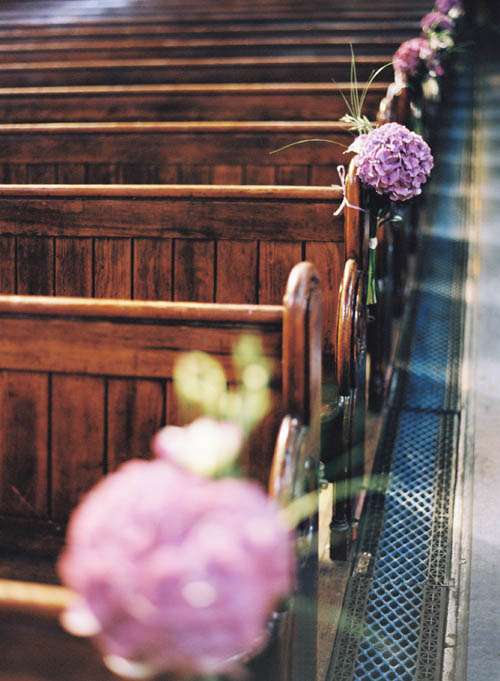 "We were also delighted to find out that – apart from the main auditorium – they have several spaces for hire that can be used for all sorts of events. The Upper Hall fitted the bill perfectly, as it's a completely blank canvas that we would be able to personalize according to our own taste."
Cecilia wore a vintage dress from Fur Coat No Knickers. "Being only 5 ft 1' and quite curvy, I was dreading the idea of going wedding dress shopping as I knew what is available in 'traditional' wedding dress shops simply wouldn't look good on me and would undoubtedly knock my confidence. Then one day in a shop just off Brick Lane I saw a beautiful prom-style short dress and that's when I knew that would be the style I would go for. But it wasn't until I went to the National Wedding Show at Earl's Court and discovered Fur Coat No Knickers that the whole 'vintage' thing started to incredibly appeal to me, so I went to see the fabulous Laura & Emma about 9 months before the wedding. Laura insisted we had 'a little play' and she picked a dress for me to try on first. As soon as I saw myself in the mirror I went 'oh my god!!!'– I simply couldn't believe how amazing it made me look!. I also picked a stunning necklace from FCNK, which complemented the pearl earrings my mum gave me for my 31st birthday."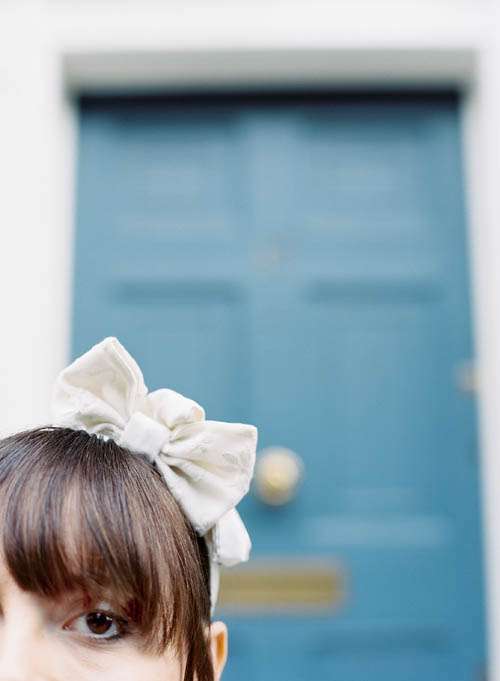 "We had quite a few DIY projects that we completed thanks to the invaluable help of our friends and family", the bride continued when I asked about their reception details. "We did our wedding invites ourselves, Rob designed the London skyline that became a sort of 'fil rouge' throughout our wedding, and created the actual invites around it. We also handmade our jam jar wedding favours and the little sugar almonds bows. Rob's brilliant sister Anne (who also made my hair on the day!) and her husband Kevin made most of the plum and peach jam, whereas the jars were provided by my mum, who works for a glassware manufacturer. Anne and Kevin also made the spiced apple and onion chutney that was served together with our cheese cake!"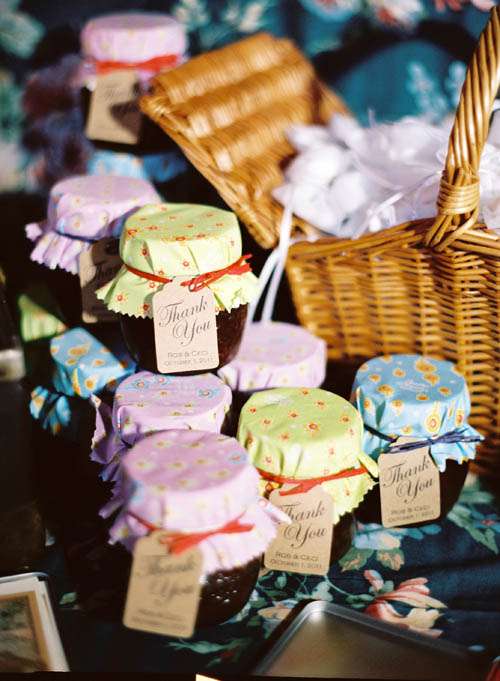 "We were on a tight budget so we knew we could not afford a traditional seated meal for all our 80 guests. This, combined with the vintage feel we wanted to give to our wedding after I chose my dress (and, I admit it, my love of cakes), convinced us we should go for a traditional English afternoon tea party. After all the cakes and sweet treats, we thought that having a traditional wedding cake would not make any sense. That together with Rob's absolute love for cheese convinced us that we had to go for a cheese cake! We purchased the cheeses (Cornish Yarg, Stichelton, Italian Caciotta, Coeur Neufchatel and Crottin de Chavignol) from the fantastic La Fromagerie in Highbury – a real treasure trove for all cheese lovers!! The cake was decorated with cherry tomatoes on the vine and black grapes, and was served with our homemade chutney and artisan bread sticks."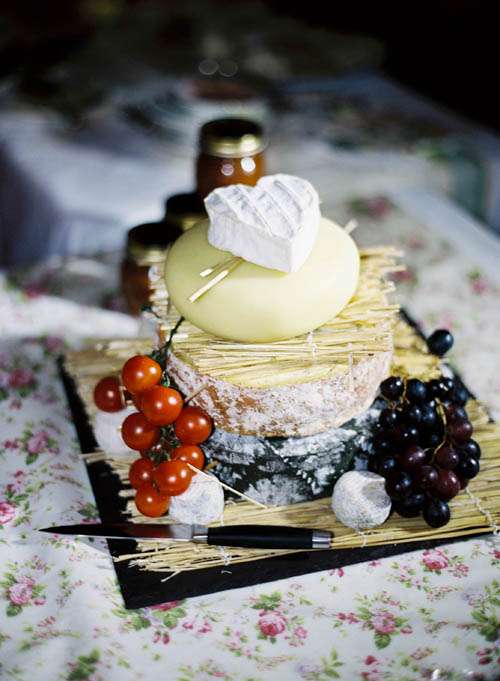 "I have to say," concluded the bride, "that although we put all our efforts into organizing this wedding while being on a budget, trawling all the wedding blogs out there and trying to do as many things as possible ourselves, we couldn't have done anything without all the amazing suppliers we met along the way, who really surpassed themselves on the actual day."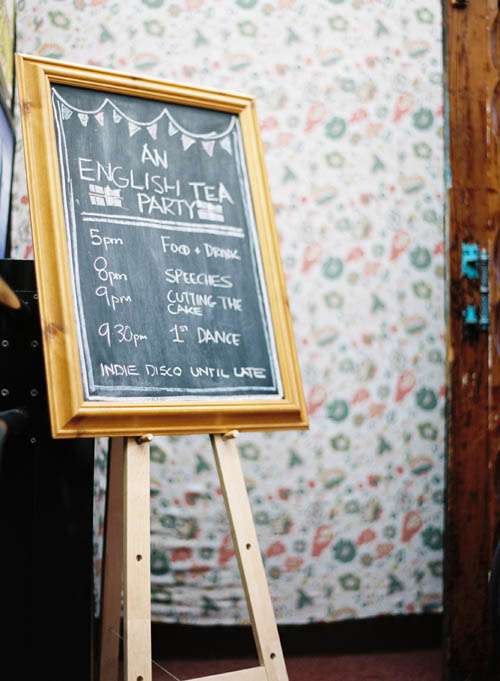 "Although the months of planning were quite stressful, we were very absolutely over the moon with the result, because we managed to stay true to ourselves and incorporate all the things that really mattered for us in our day. We wanted our guests to experience something personal and different, and we wanted those who had travelled across Europe to be there to really feel it was worth it – and their happy faces were the best reward for us! So my advice to those planning their wedding now is just this – be true to yourself and do things with your heart!"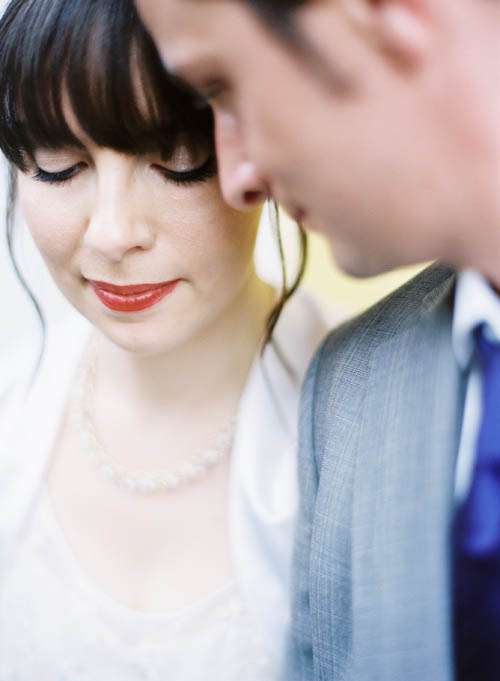 Thank you so much to Cecilia & Robert and their photographer Ed for sharing today.
Supporting Cast:
Photography Credit: Ed Osborn Photography
Ceremony Venue: Union Chapel, Islington
Reception Venue: Union Hall, Islington
Bride's Dress: Fur Coat No Knickers
Bride's Shoes: Barratts
Bride's Headpiece: DIY
Bride's Jewellery: Fur Coat No Knickers
Groom's Outfit:  Debenhams
Bridesmaid's Dresses: Leila London
Cake: La Fromagerie, Highbury
Flowers: Emma Sousa Flowers
Stationery: DIY
Caterers: The Golden Afternoon Tea Company
Reception Room set up and styling: Hel's Angels
Props: The Golden Afternoon Tea Company