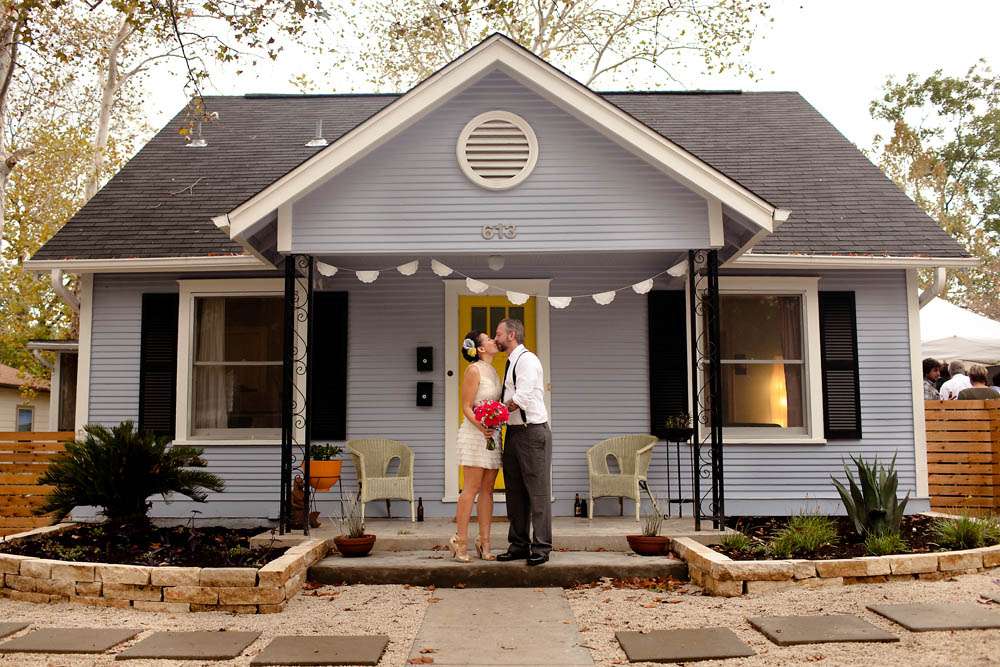 Ann & Tim had just the kind of wedding I'd love to have had if a) the UK marriage laws weren't so damn strict and b) if I lived in a blue house. With the ceremony being held on their driveway and the reception in their back garden, this is the perfect casual backyard wedding. The couple actually met at their house, at the house party of a mutual friend who owned it before them. Having the wedding here really brought their story full circle. The matchmaker, even spoke at the wedding.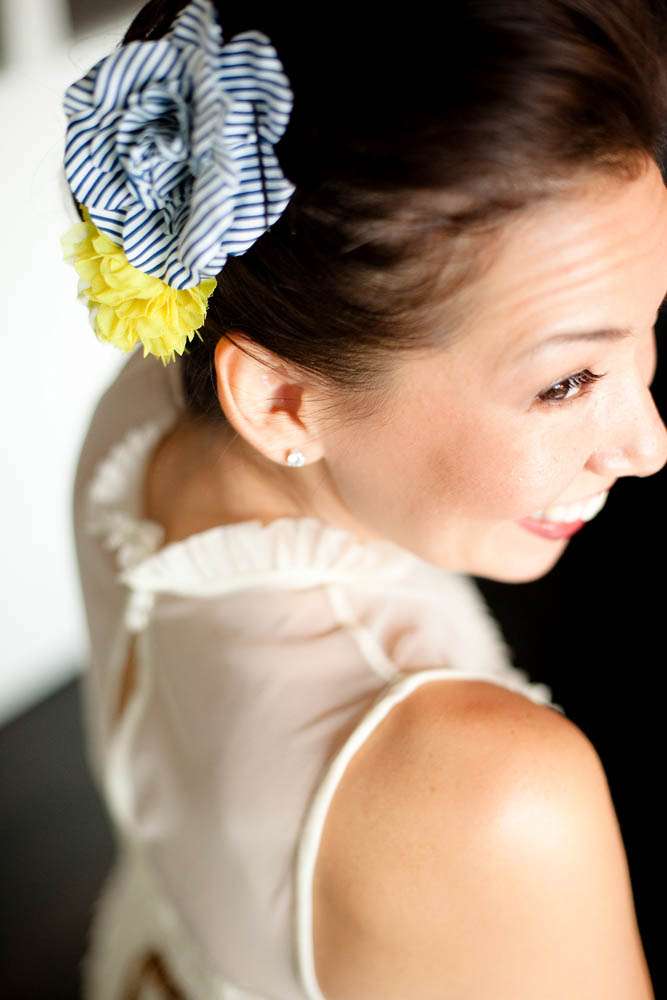 "They wanted the whole thing to feel like people were at home," wedding photographers Sarah & Adam of InTandem explained. "The home was built in 1940 and the original owners of the house who sold it to them also had their wedding reception there. Back then it was just a big white farm house, but Ann & Tim repainted, re-leveled, re-landscaped, and even built the flower boxes themselves. It was DIY to the extreme, and their love for authentic vintage came through in their decor."
Other DIY elements included the chalkboard signs and the jars and bottles for flowers were bought throughout the year. "We went to every thrift store in Austin and more, with a $2 or less rule," Ann explained. "We splurged on the cake toppers (which cost us a whole $5!) which we found at an antique mall. I also strung about 6 miles of doily garland, but most of it couldn't be used because of the rain."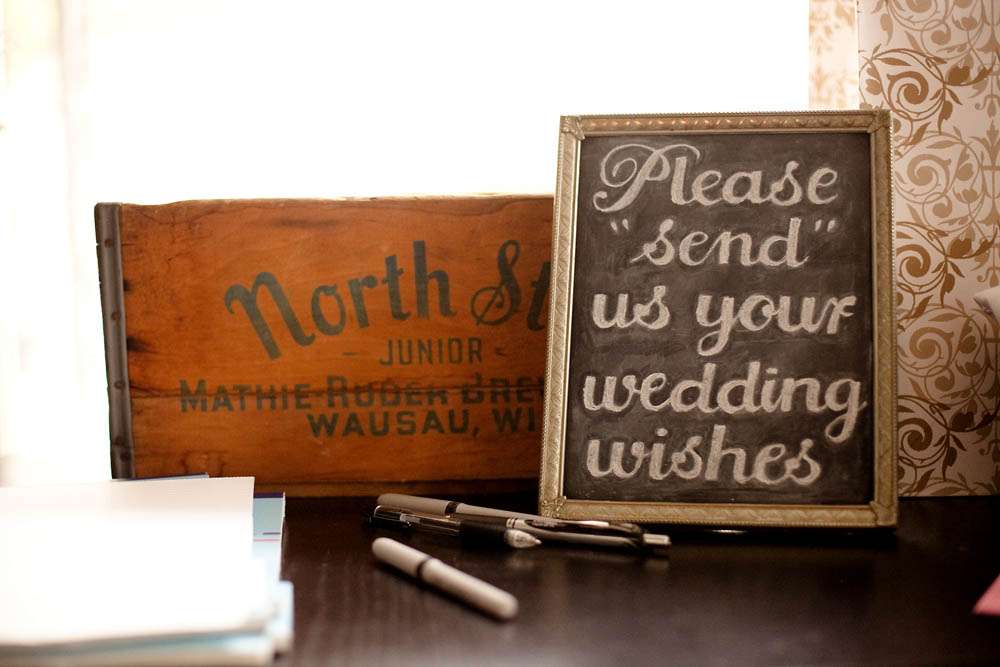 "We really wanted everyone to feel at home during the whole thing. Next to the gift table was a pot of hot coffee, and the the football game was playing in the living room. The ceremony was very casual, with many of the guests standing with drinks in their hands. We wanted it to feel like a picnic."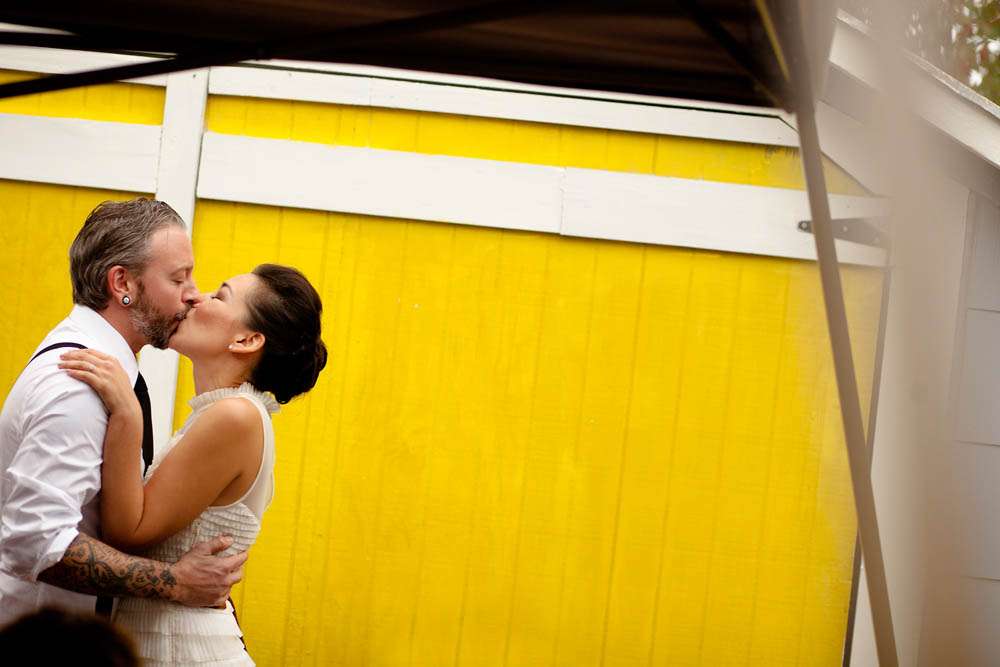 Even the unexpected rain fall didn't stop these two having the perfect day, "This summer Texas saw a terrible drought, with literally NO rain for the whole hot summer," Sarah & Adam concluded. "Their wedding ended up on the first rainy weekend to break it. They said they never took the rain seriously until the day before their wedding when they had a worried moment, and worked together with friends and family to rain-plan their wedding. It was too late for a tent, so they set up the blue tarp over the tables in desperation. They set big concrete blocks in the super muddy areas and filled the gaps with hay at the last minute."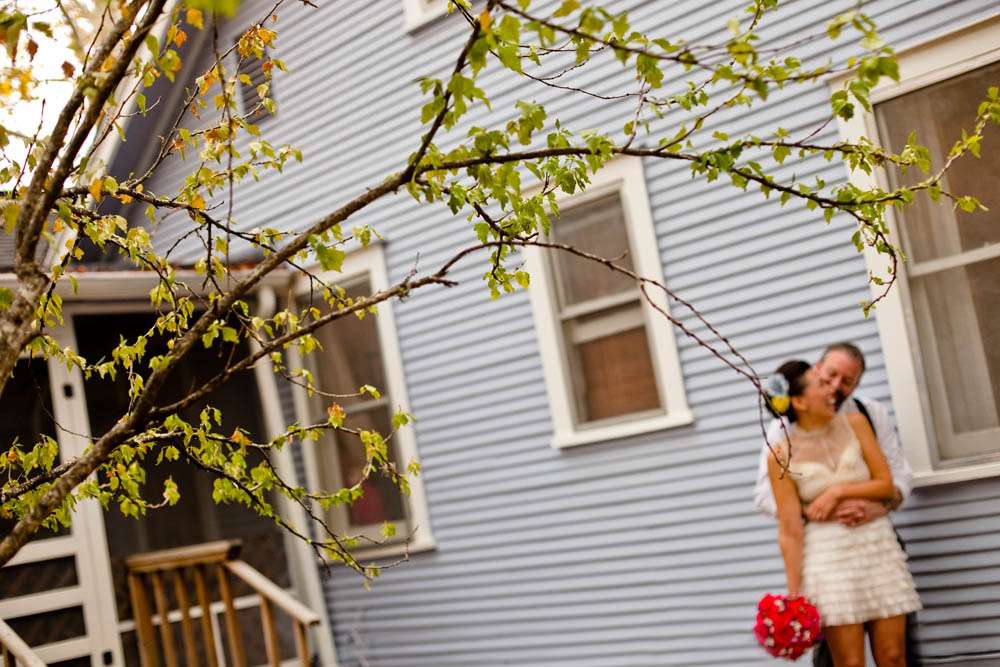 Thank you to Ann & Tim and photographers Sarah & Adam for sharing this beautiful wedding with us today.
Supporting Cast:
Photography Credit: InTandem
Venue: Couple's Home, Austin
Bride's Dress: Free People
Bride's Shoes: Seychelles & Michael Kors
Bridesmaid's Accessories:
Cake: Sugar Mama's Bakeshop
Flowers: DIY
Caterers: Traveling Bistro