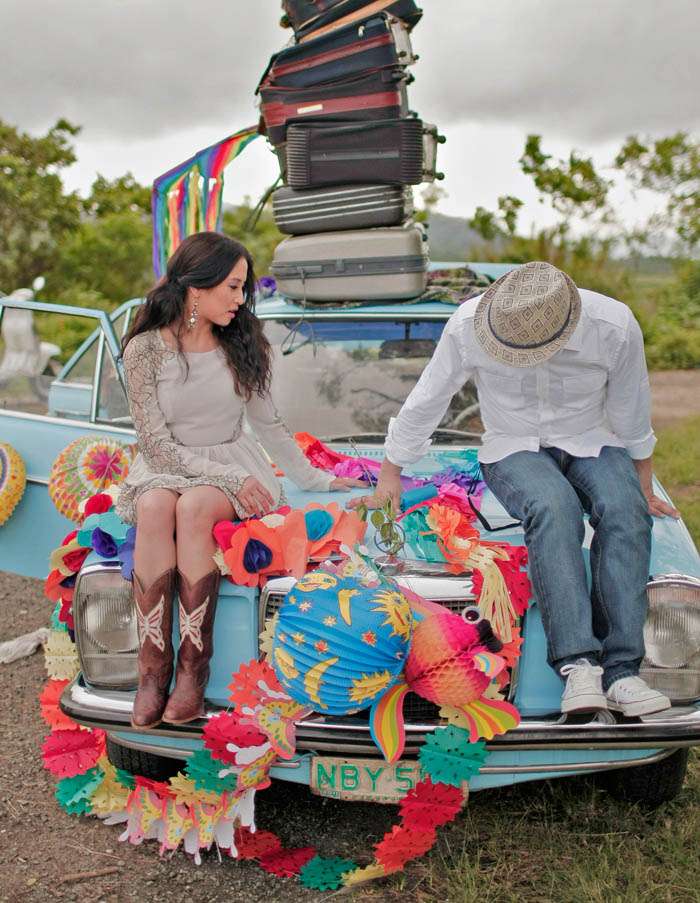 I have a beautiful two-parter for you this afternoon, both the engagement shoot and wedding of Mark & Jolina. When I saw this shoot by MangoRed, who hail from The Philippines, I knew I had to blog it. I love the mix of mediums between the photography and illustrations. It's something I've never seen before and it creates a really different and beautiful storytelling result don't you think?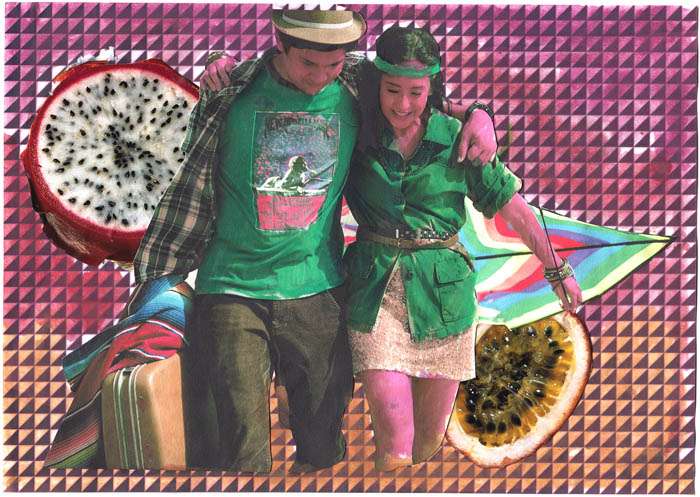 MangoRed worked with RabbitHole Creatives to create this shoot, as they explained, "We have been working with MangoRed for a long time now and our collaborations have proved our good creative rapport. The exchange of ideas are both orgasmic and highly productive. RabbitHole's concepts are captured in a very special light by MangoRed. You can see the attention to detail and the desire to capture the mood of every concept."
"Inspired by each couple's personalities, we explore many possibilities of translating them – to push the boundaries of pre-nuptial editorials. For Jolina & Mark's pre-nuptial shoot, the ideas initially came from them. They were aiming for ethereal, boheme and fun. We then extended these ideas to a more visceral approach. We wanted it extra lush and overflowing with psychedelic vibes. Jolina Magdangal is a pop star and paved way to a fashion commotion during the late 90's that is distinctively hers. Mark Escueta is a rock legend in the underground sub-culture. Both have delved into the music industry and carved Filipinos' hearts with their compositions."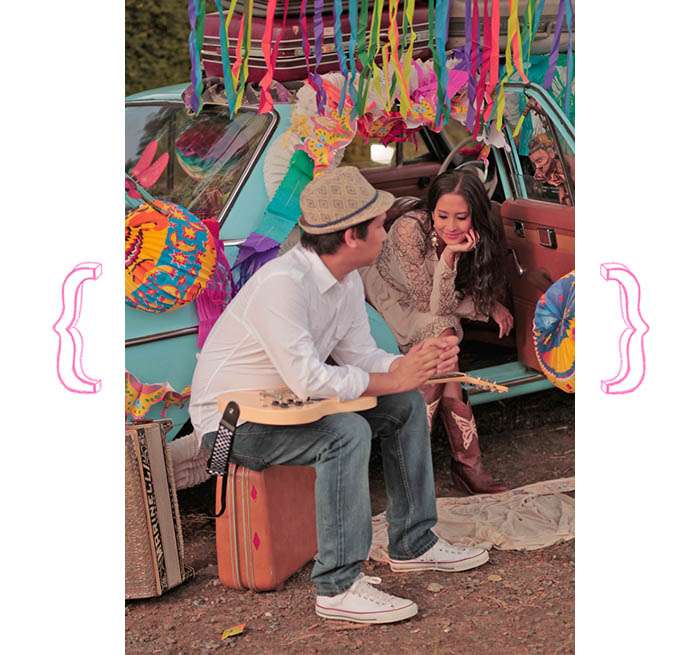 "We started with their ideas and extracted the essence, which is the bohemian life. Truth, beauty and freedom at it's most succulent form. Referencing from the bohemian movement of the late 60's, we looked into inspirations such as The Cockettes, Kenneth Anger, Janis Joplin and Taking Woodstock. We also looked at Pre-Raphaelite artworks by Rosetti, Beardsley and Klimt that highly influenced the lifestyle. From those ideas, we concocted a story/editorial that captures all those moods. We then proposed a story of leisure, travel and folly. Colors and patterns are important visual cues. Hence, the styling of the clothes and the production/set design were carefully composed. We provided the vibrant backdrops, embellishing everything in a loose but fiery motion. Lace, argyle, luggage, twigs, party favors, rock band shirts, harp, kites, Lambrettas, crochet, make-shift swing, eloping Sedan, trumpet, parasol, gramophone, sand, sea, paper lanterns, bicycles – all mixed together in one big stew."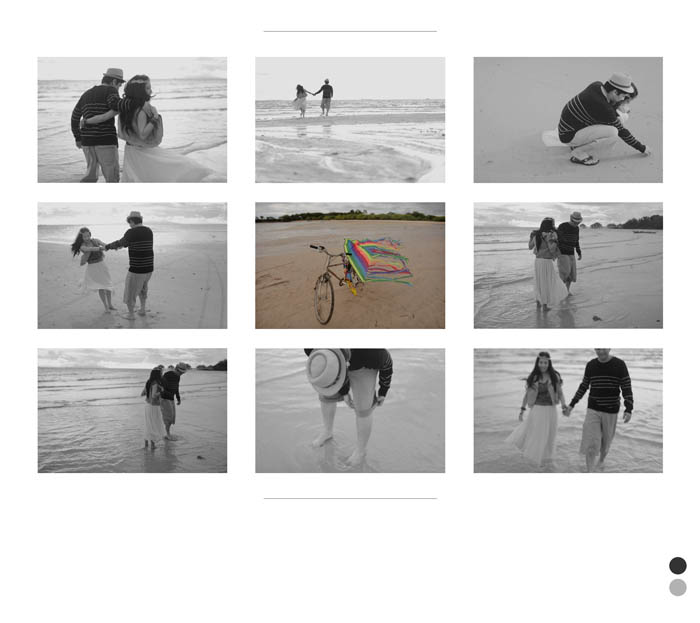 "To make the whole output more raw and teeming with details, RabbitHole's Creative Director, Geof Gonzales, composed hand made illustrations and collages. It was a product of all of our visions to tell a visual story supported with these intuitive illustrations. Geof made the collages with the couple's ideas in mind. Old books and magazine cut-outs and illustrations were combined with passages from books and novels and Nina Simone's lyrics."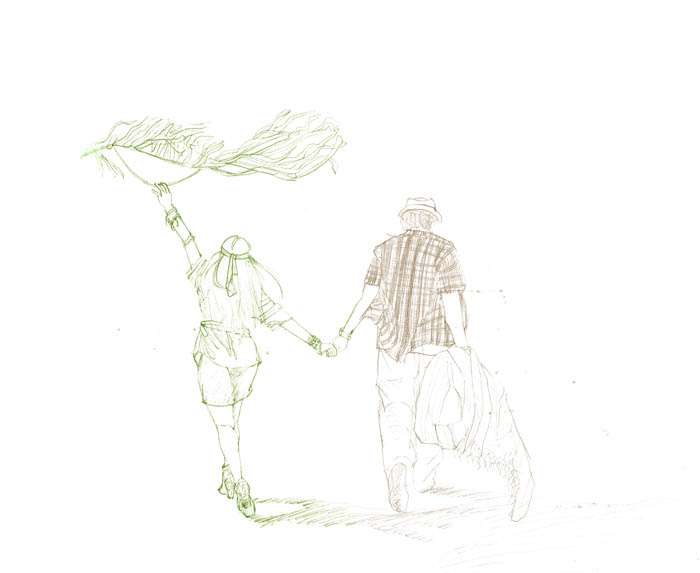 Aren't these just so inspiring? Thanks to Mark & Jolina and the teams at MangoRed and RabbitHole Creatives for sharing these today. Be sure to pop back at 3pm for the incredible (and I mean INCREDIBLE) wedding!
Supporting Cast:
Photography Credit: MangoRed
Concept & Styling: RabbitHole Creatives