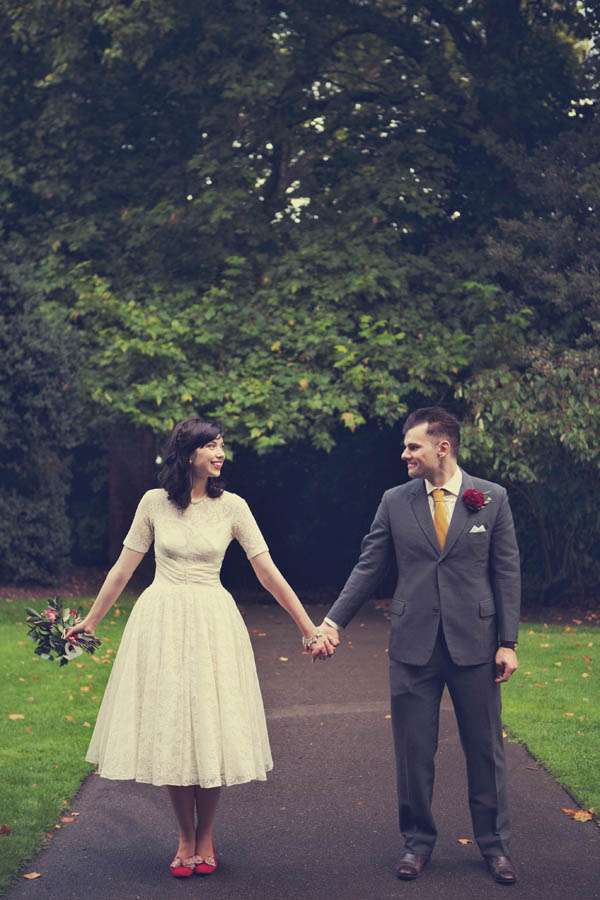 Meeting through a love of 60's girl bands and 50's Rock n Roll, it was inevitable that the wedding of Laura & Daniel would be made for this little blog of mine. Combine this with a penchant for vintage clothing and you've just about created the perfect Rock n Roll Bride wedding.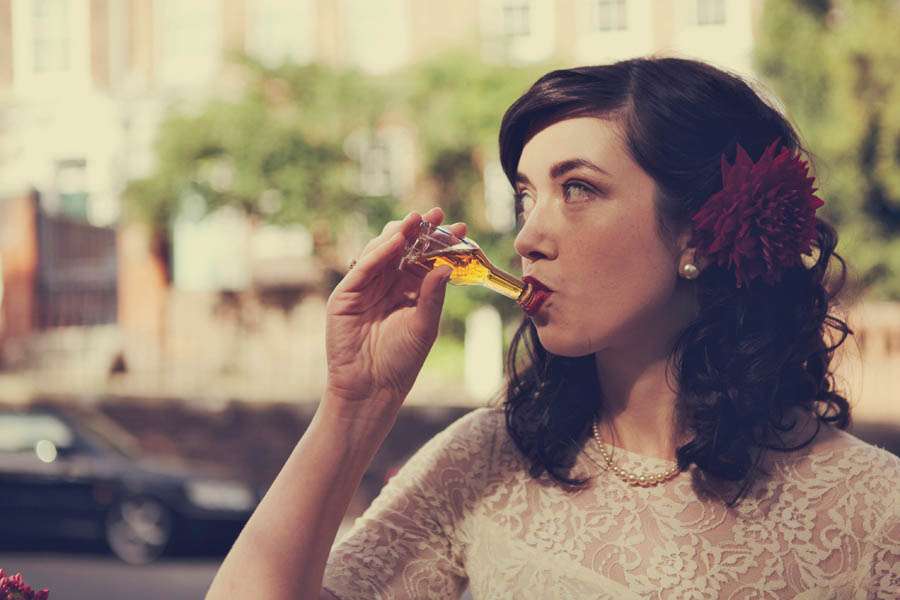 "It seemed natural for us to reflect the way we met in our wedding," Laura told me. "I'm an artist, designer and one half of 50's Rock n Roll DJ duo The Truckin' Laura's, and Daniel is guitarist in The Special Needs, so music was a big part of the wedding. I walked down the aisle to a piano version of 'Sea of Love' by Phil Phillips played by our friend Galia. Our friend Anna and her all singing all dancing Ronettes played a beautiful ukelele version of Phil Spector classic 'Be my Baby' at the end of our ceremony which set the tone for the day perfectly. Another really special moment was Daniel singing The Tempations 'My Girl' after his speech and all our guests joining in with the chorus. After our first dance to The Ramones 'Baby I Love You' our DJ friends took turns on the decks and kept the guests dancing all night!"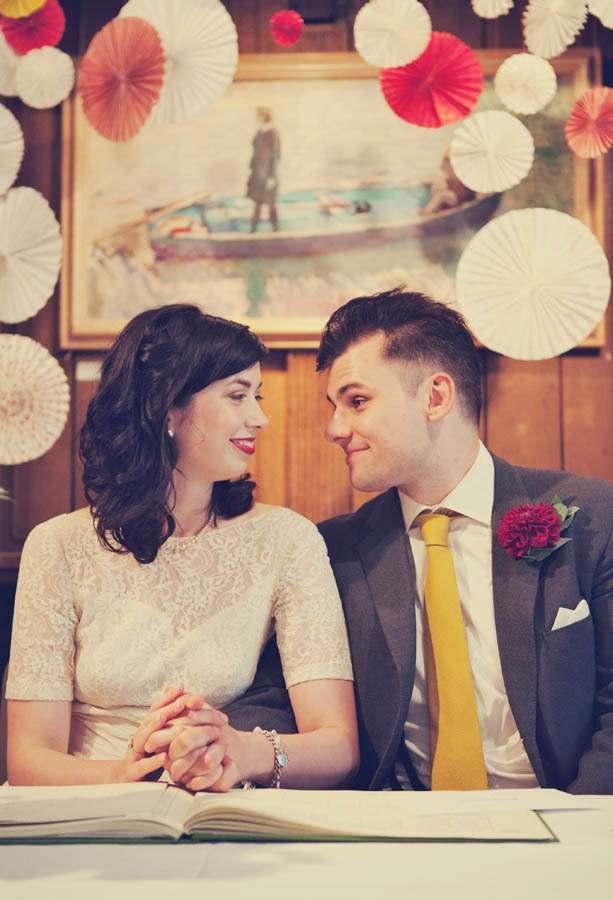 "We wanted to create a fun, down to earth day with lots of heart and some personal touches", she continued. "As we didn't have a huge budget we enlisted the help of our incredibly talented & kind friends and family! Everything from our cake, to the flowers, decorations and all the wonderful food (including some particularly cute pink coconut mice) were made by us, our friends and family. It was a huge amount of work but worth every moment. We felt so honoured to have so many people involved in making the day so individual and special."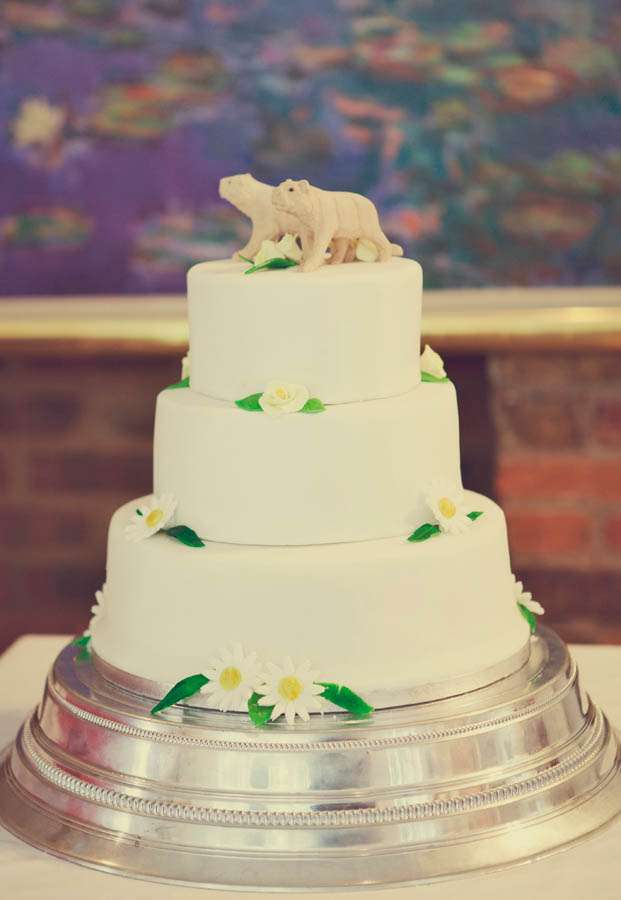 "For our table names we took our two carved Liger cake toppers (our favourite animal) and photographed them in the places around the city that were special to us. Each location was used as a table name and the photographs were placed in frames on the table. Guests really enjoyed chatting about them, especially the 'Tufnell Park Kebabs' table!"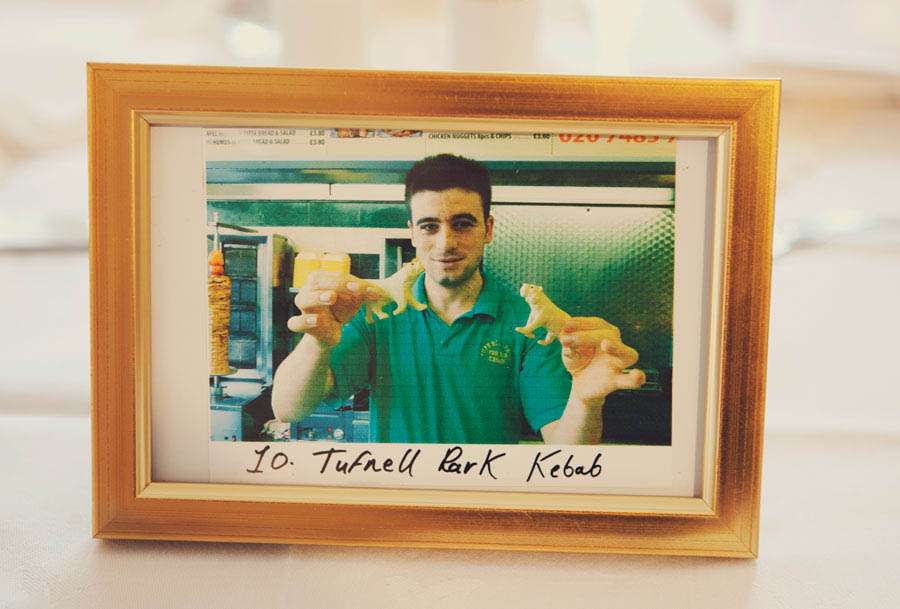 "The day not only reflected our love for each other but also all the amazing creative people we are lucky enough to have in our lives. In honour of Daniel's Polish heritage the guests toasted us with traditional double vodka shots when we entered the reception which was blamed for a lot of rowdy behaviour later in the evening. Rock 'n' Pole!"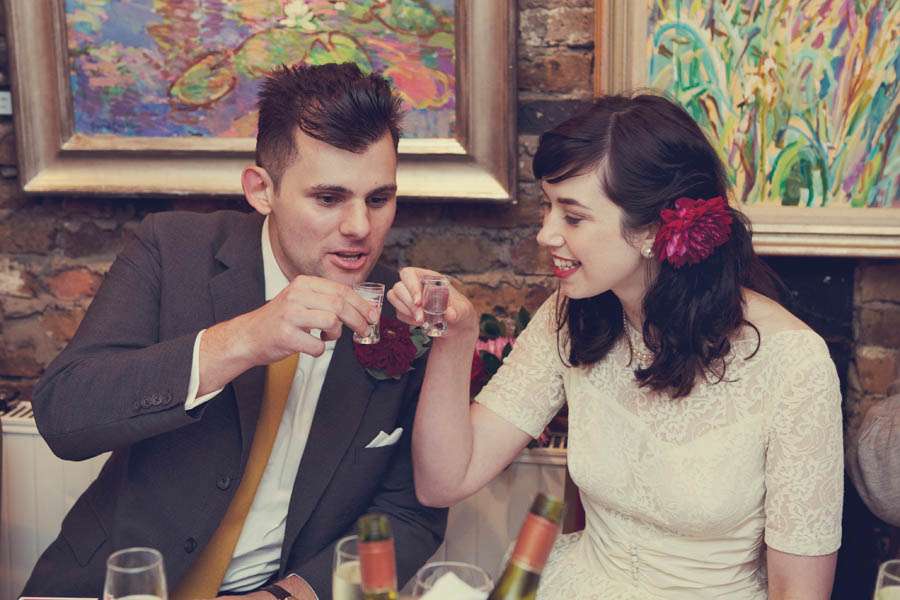 Laura's vintage dress was bought from Elizabeth Avey in London. "It was the first place I went with my Mum and we came away two hours later with my perfect frock," Laura explained. "I always wanted a 50's lace dress, but hadn't considered anything backless until I came across this beauty. My friend Lizzie who owns Mishka Vintage gave me my jewellery and very kindly let us get ready for the day in her beautiful shop."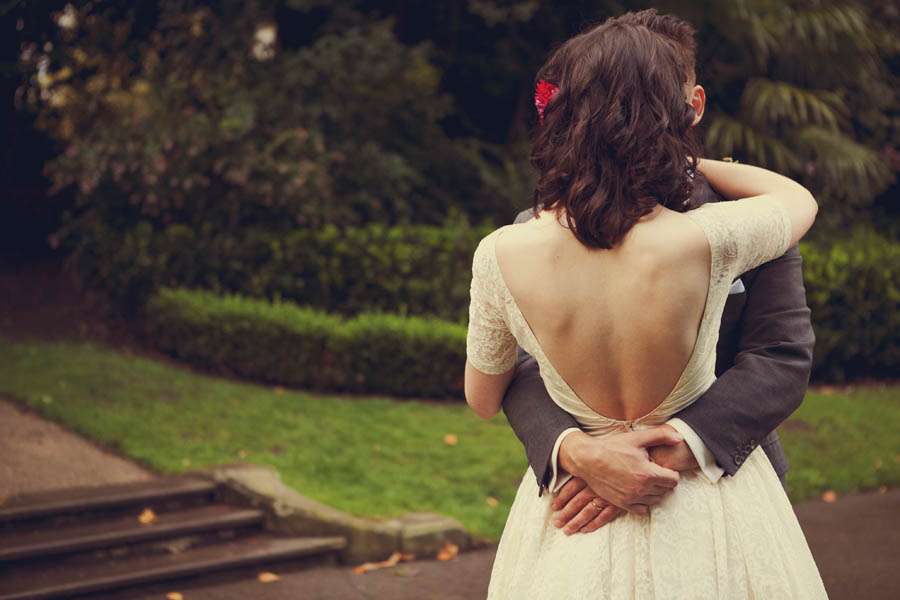 Thank you to Laura & Daniel and their photographer Lisa for sharing.
Photography Credit: Lisa Jane Photography
Venue: Lauderdale House
Bride's Dress: Elizabeth Avey
Bride's Shoes: Office (customised by the bride)
Bride's Jewellery: Mishka Vintage
Groom's Outfit: Vintage (eBay, Rokit)
Bridesmaid's Dresses: Vivien of Holloway 
Cake: DIY
Flowers: DIY
Hair: Zoe Leon
Make Up: Lauren Hynes
DJ: Truckin' Laura's, Nick from Mistakes, DJ Mauro
Reception Decor/Props: DIY