I honestly wasn't 100% sure if I'd enjoy The Luxury Wedding Show, London, that was held at The Saatchi Gallery over weekend. I'm not really a luxury or posh kinda gal so I wondered if I'd walk in feeling a) out of my comfort zone b) snubbed by snooty designers or c) bored of seeing the same old same old 'pretty white dresses'.
Oh how wrong I was!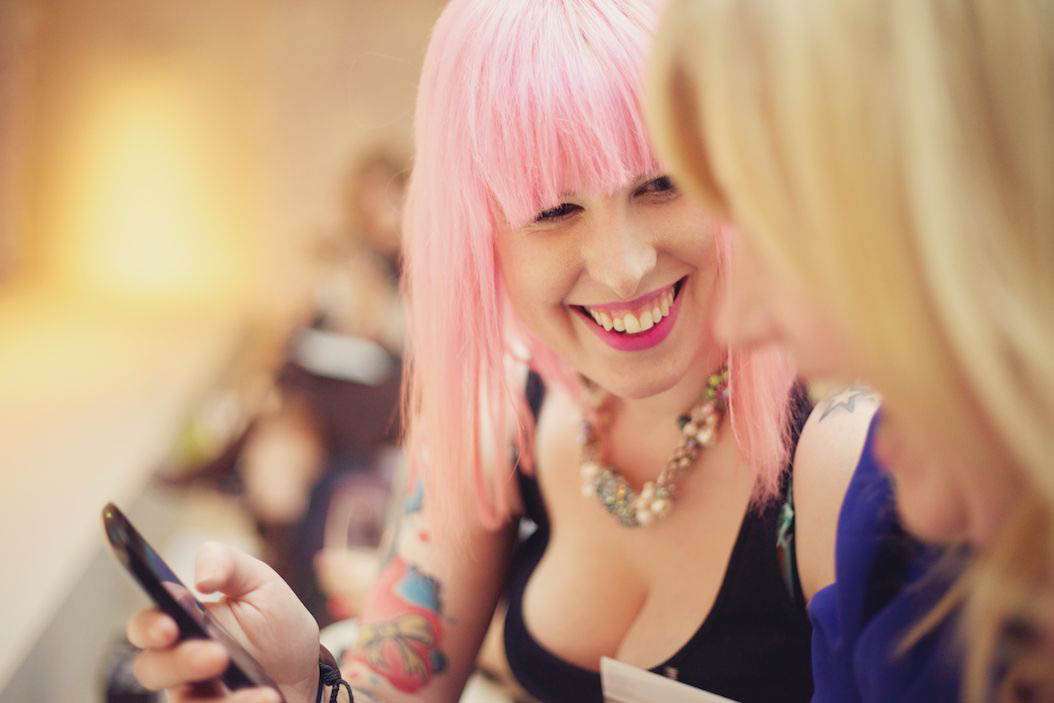 Firstly there was zero snootiness despite it's 'high end' location. The organisers were sweet and accommodating and the exhibitors I chatted to were excited to see me and eager to chat about what they did. A lot of them were debuting their 2012 collections at the show, so it was really awesome to see all the new designs and trends coming through for next year. I thoroughly enjoyed meandering around the white hallways looking at all the wedding pretty.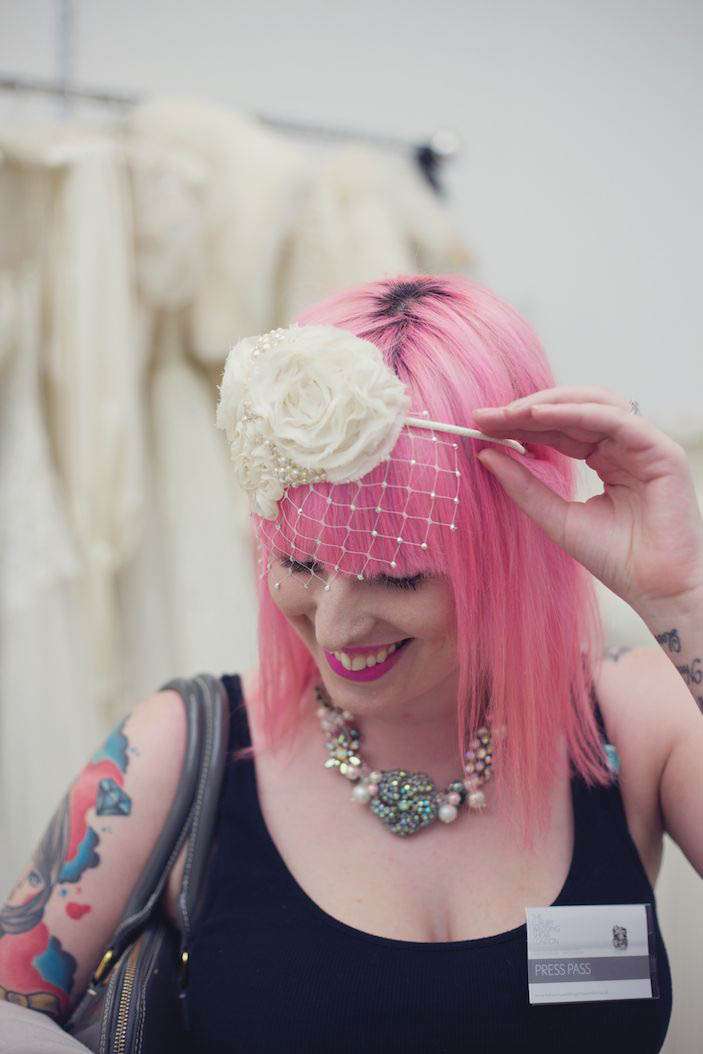 Wedding bloggers can't stay off twitter. Fact…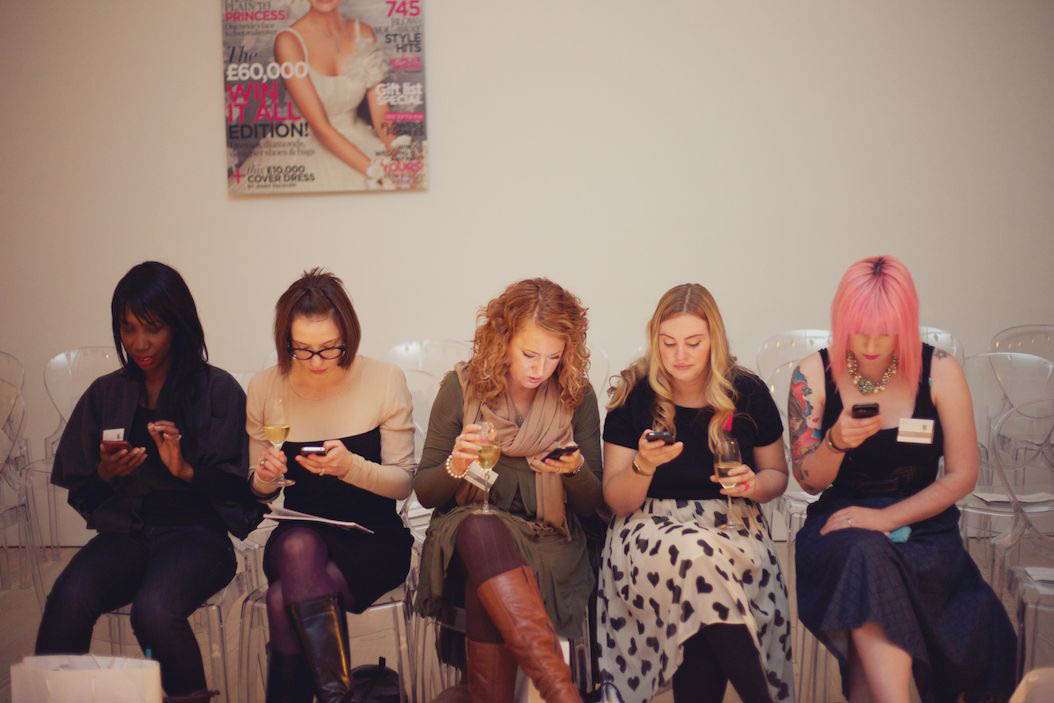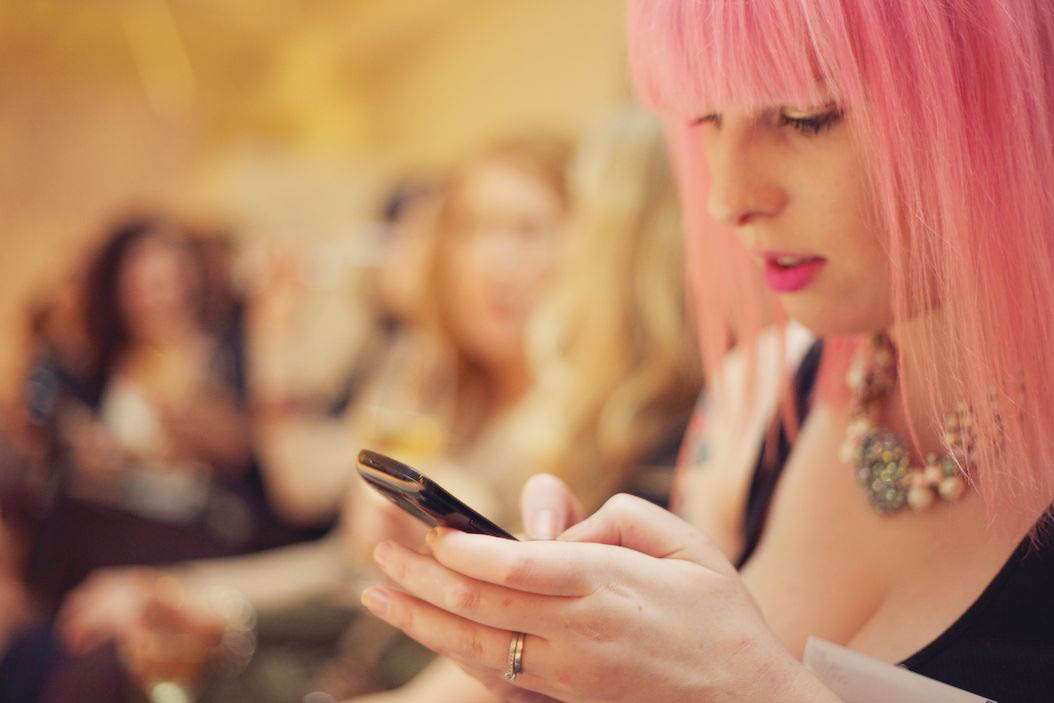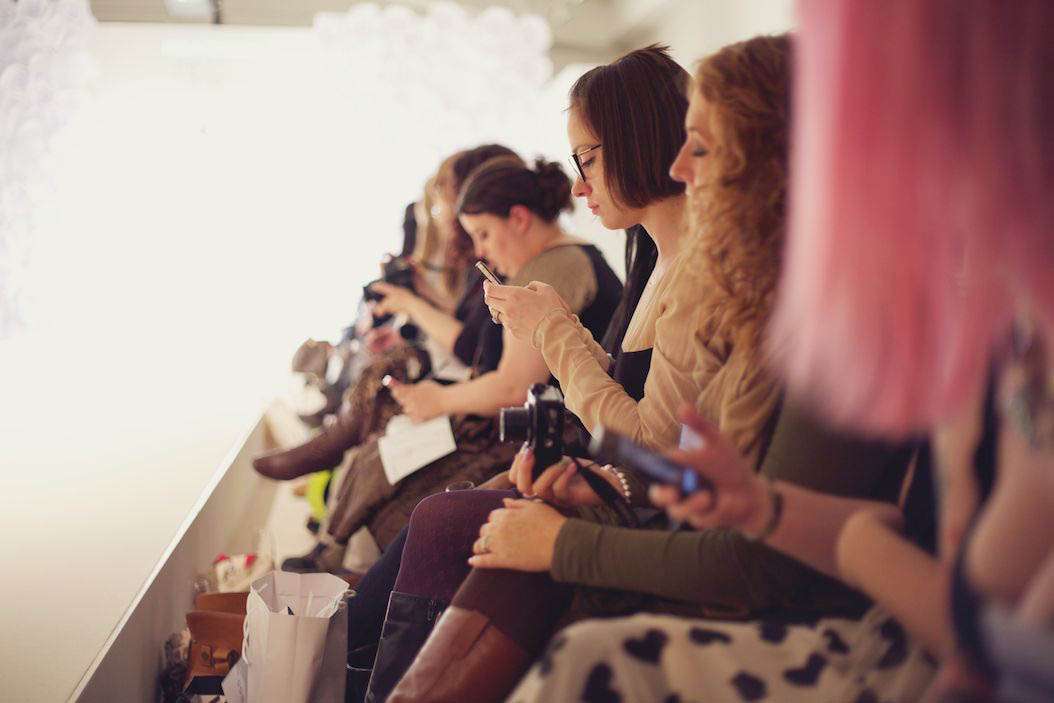 The catwalk show was also, no joke, the best I've ever seen. I've often said that I find catwalks shows a little on the dull side, but not this one! The show started with a crash of dramatic music and flashing lights. As I sat in the front row ('FROW' daaarling) with some of my fellow wedding bloggers, we swit and swooed as stunning designs by David Fielden, Luella's Boudoir, Candy Anthony, Charlotte Casadejus, Vera Wang, Temperley and (OMG) Vivienne Westwood (to name a few) sauntered down the runway.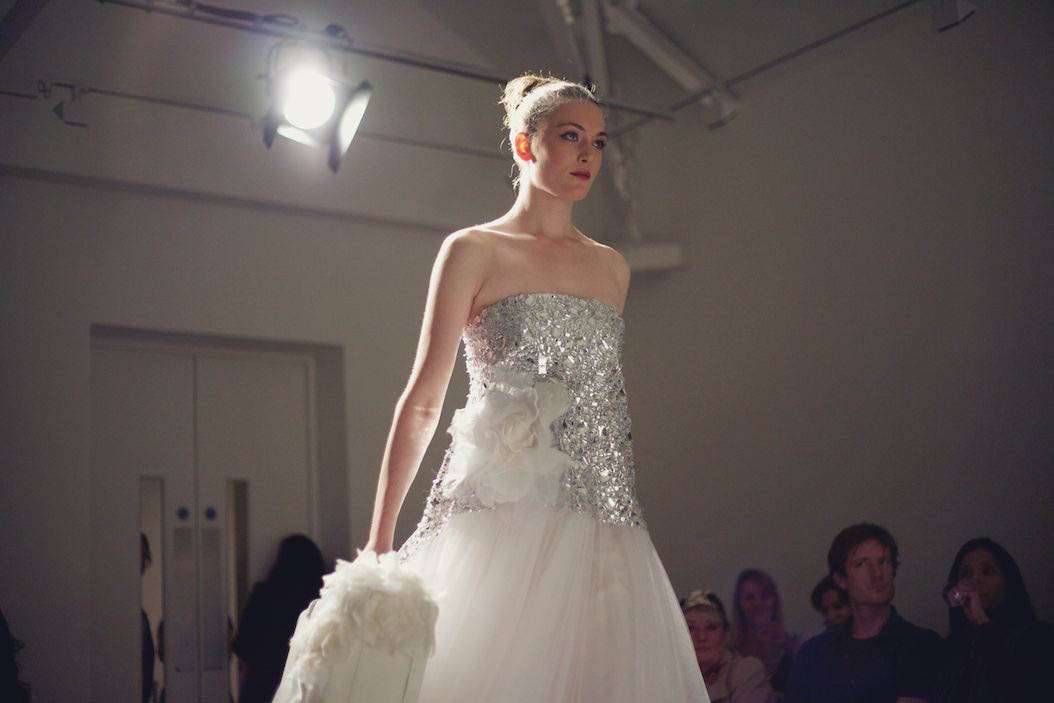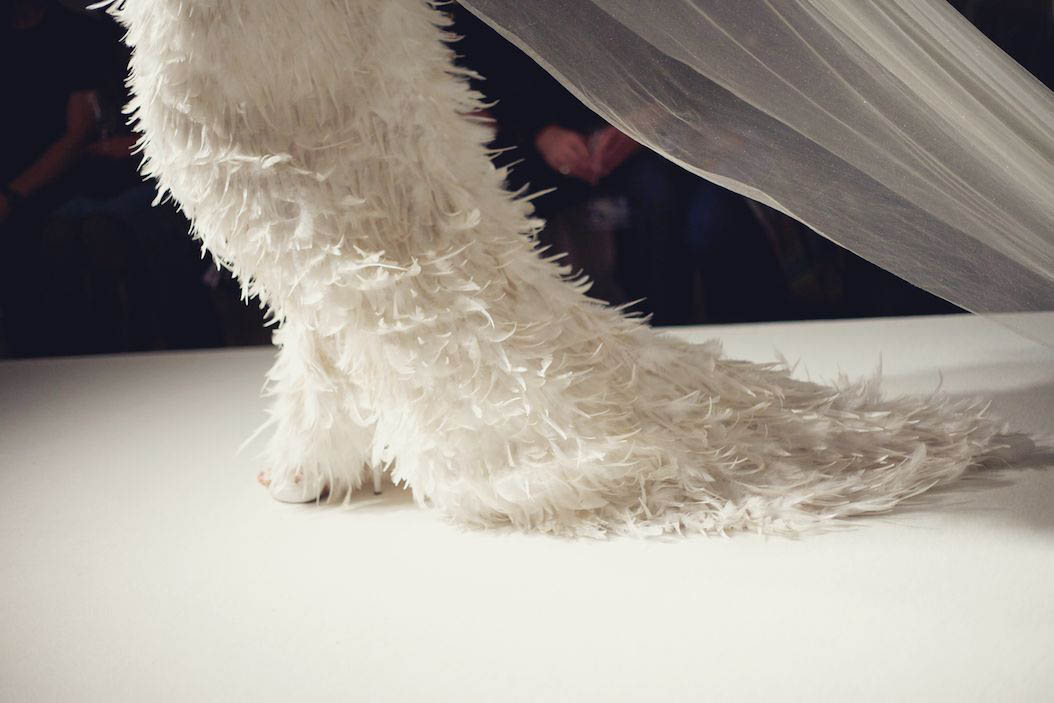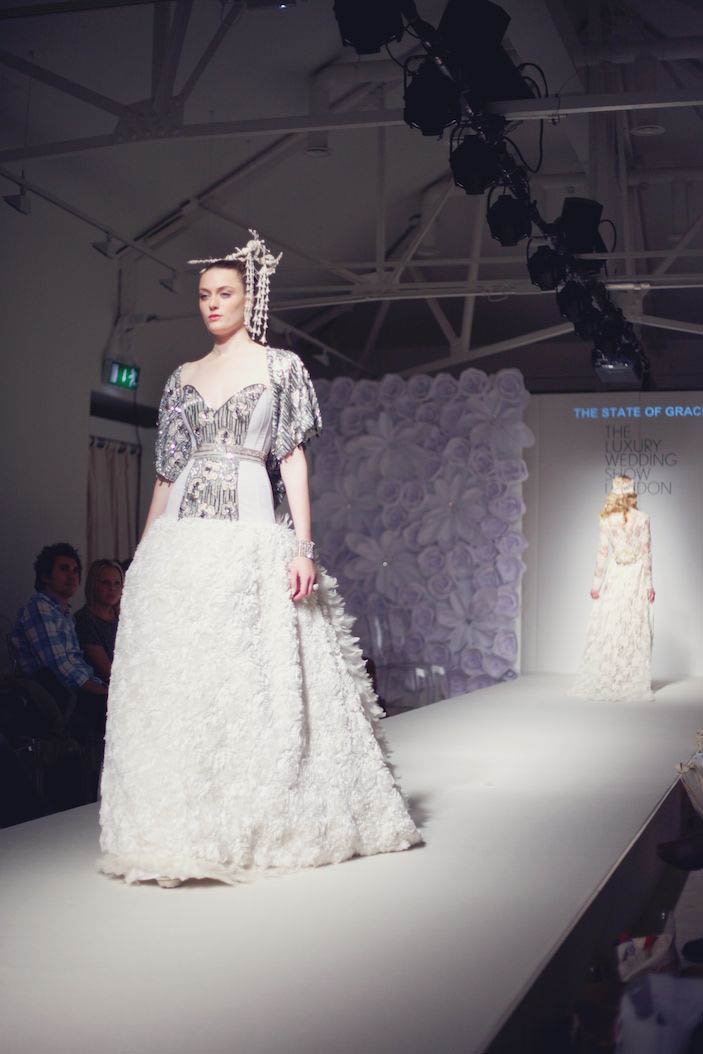 The designs were inventive and elegant, unique and original. There was not a boring strapless taffeta monstrosity in sight. This was wedding couture at it's very best and I thoroughly enjoyed myself.
Silver accents, unusual hemlines and necklines, bold colour statements, textured fabrics and multi-layered skirts played a big role.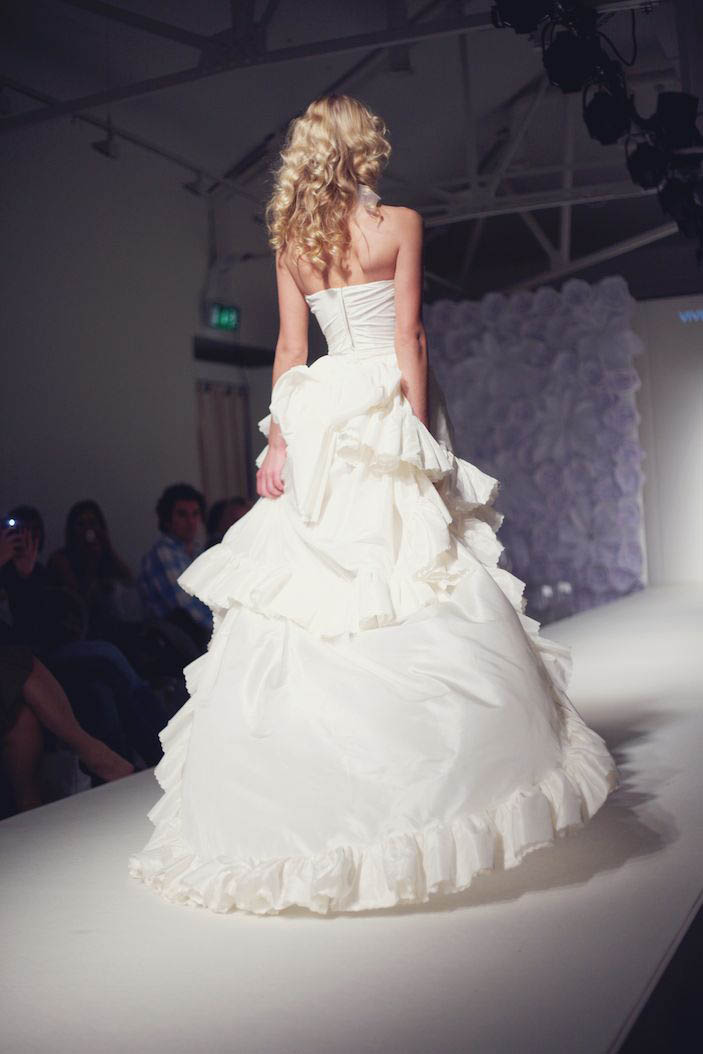 Vivienne Westwood certainly didn't disappoint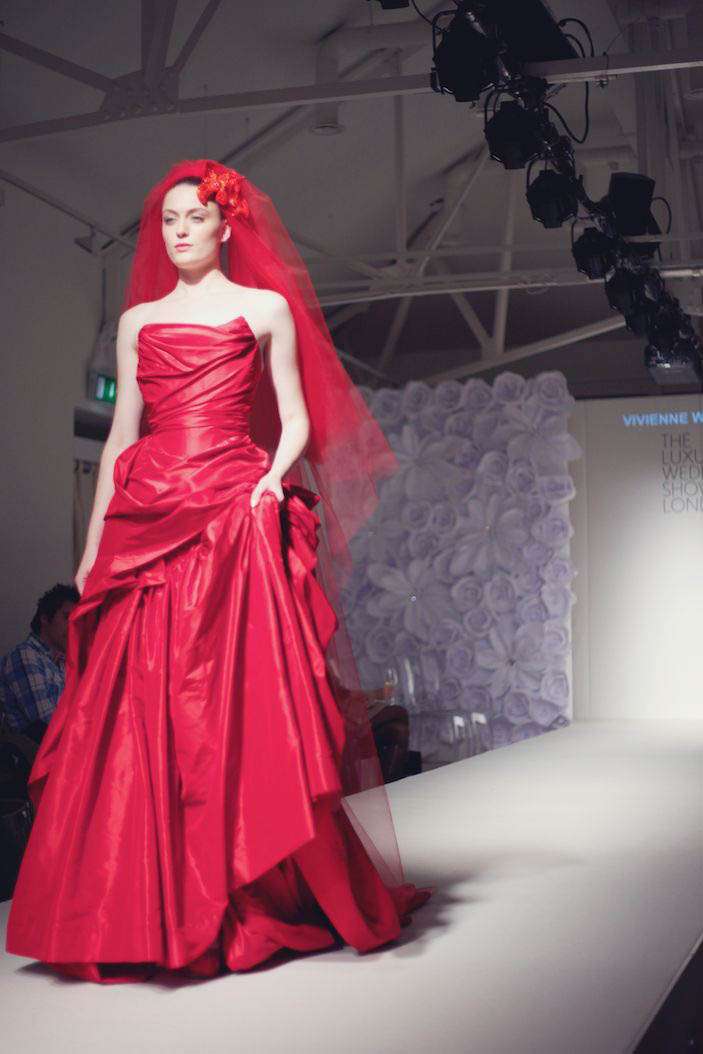 Charlotte Casadejus' Isabella gown is made for a Rock n Roll Bride! The tulle and silver paint splattered skirt is to die for! I must borrow this for one of my photo shoots soon. Easily my favourite gown of the entire show.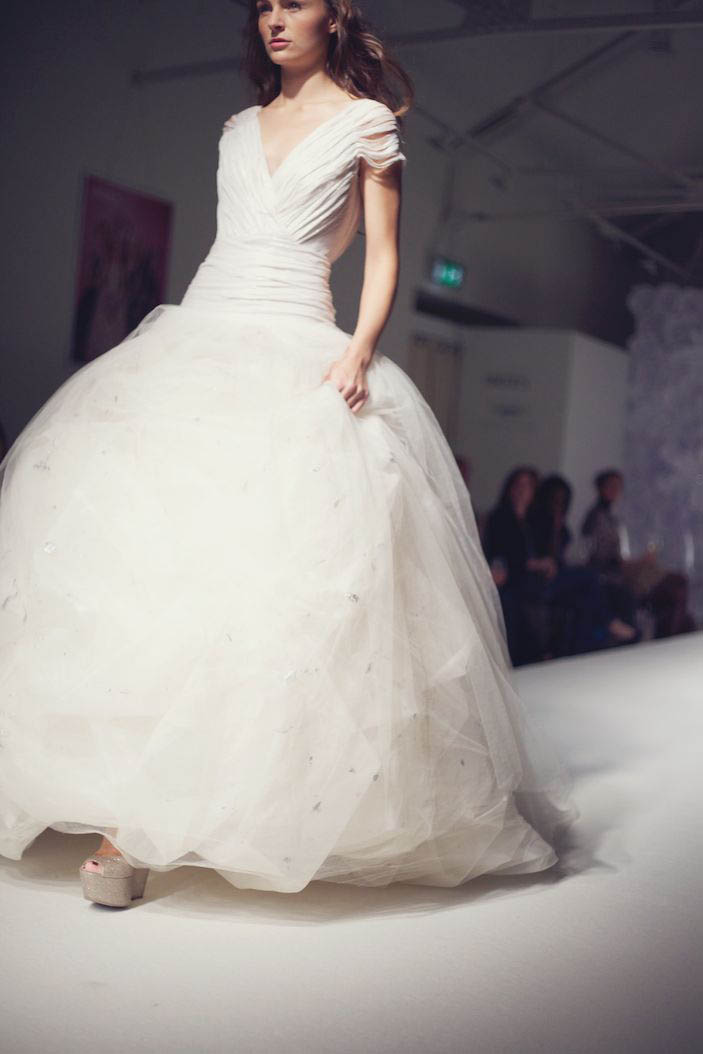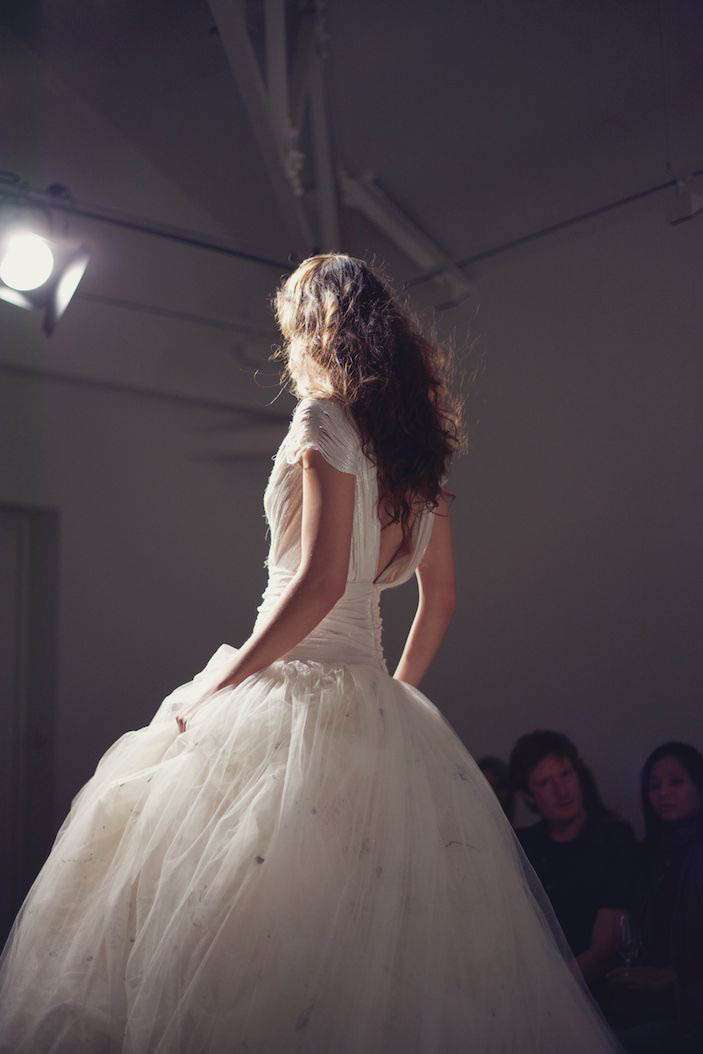 Candy Anthony even debuted her longer length gowns. She also showed a number of brand new silhouettes. I fell in love…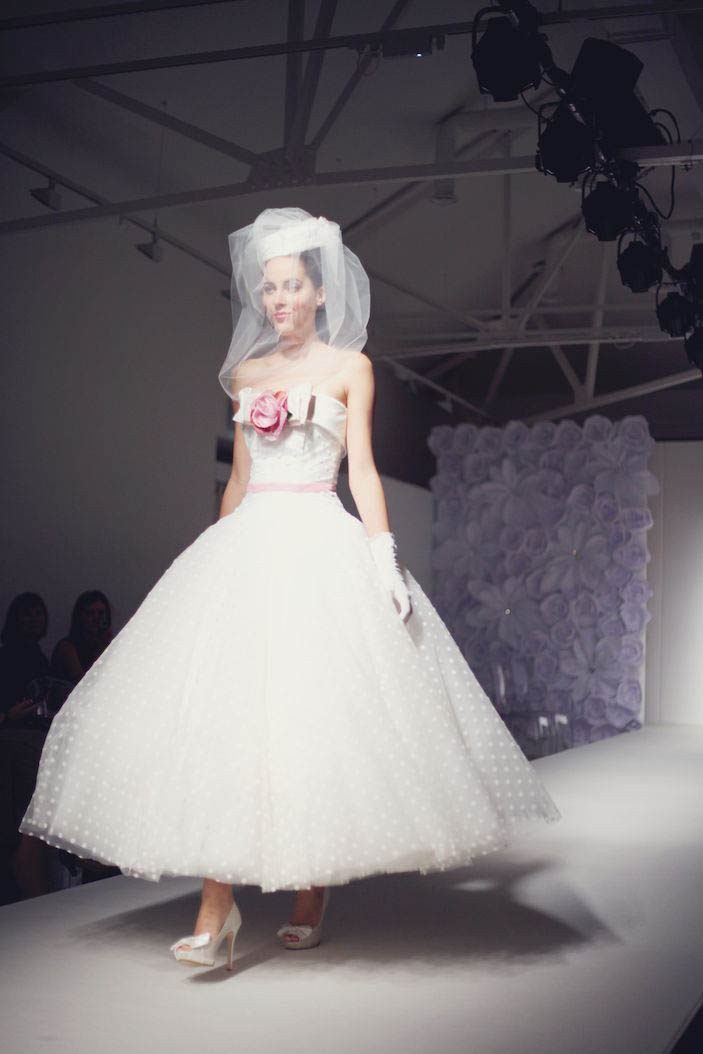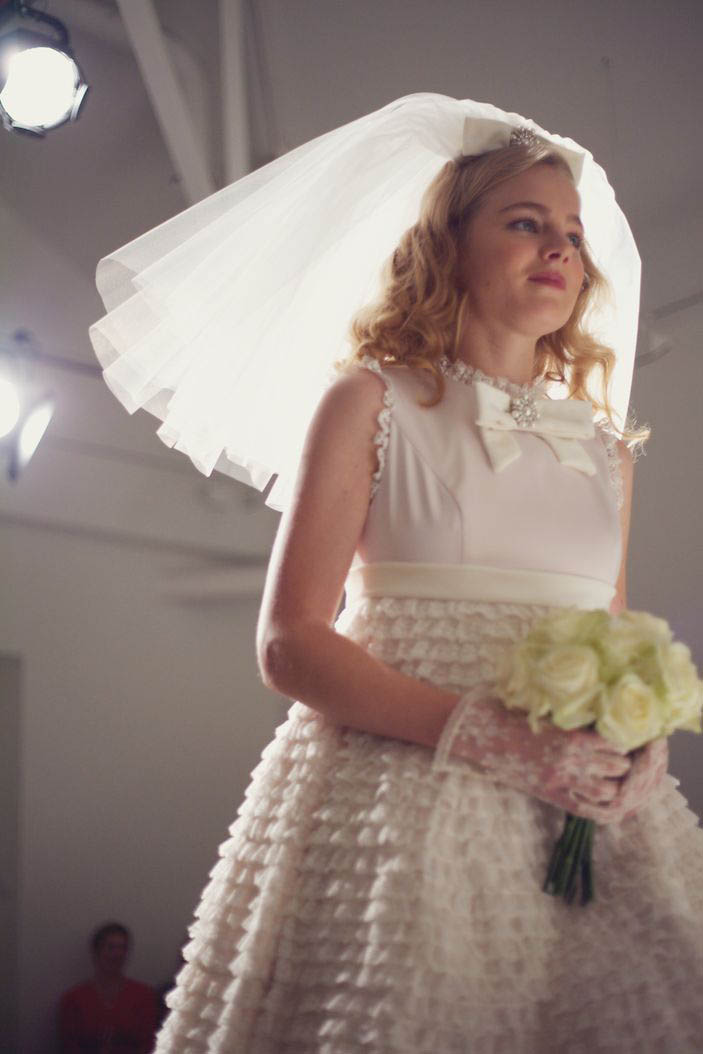 Although not on the catwalk, Suzie Turner's feather creations also blew me away!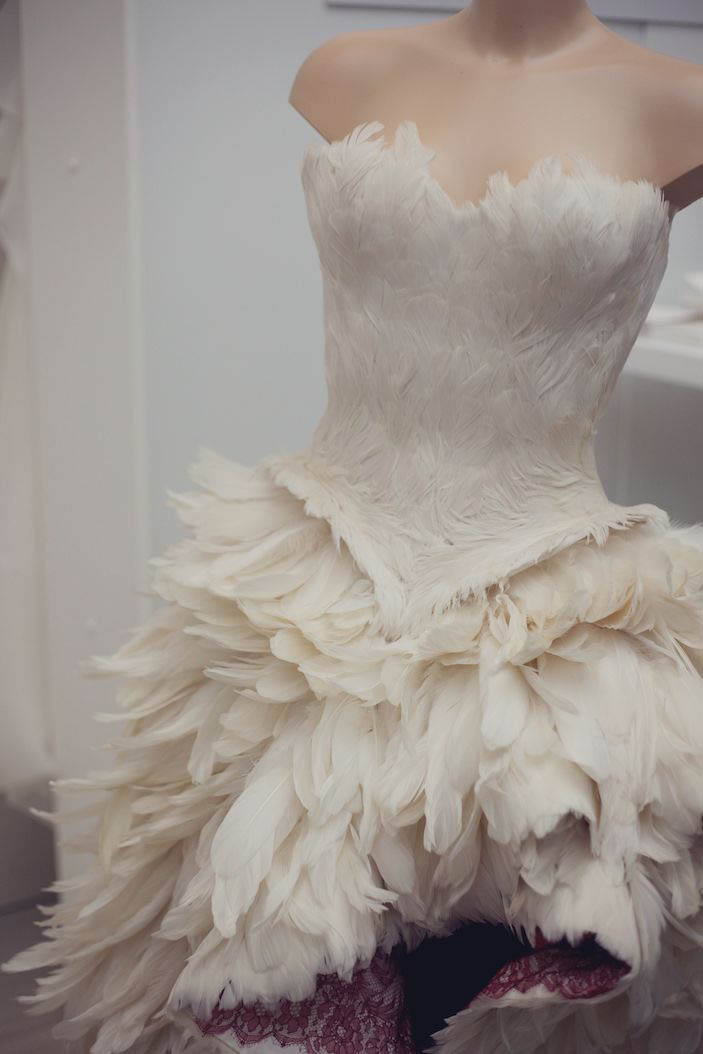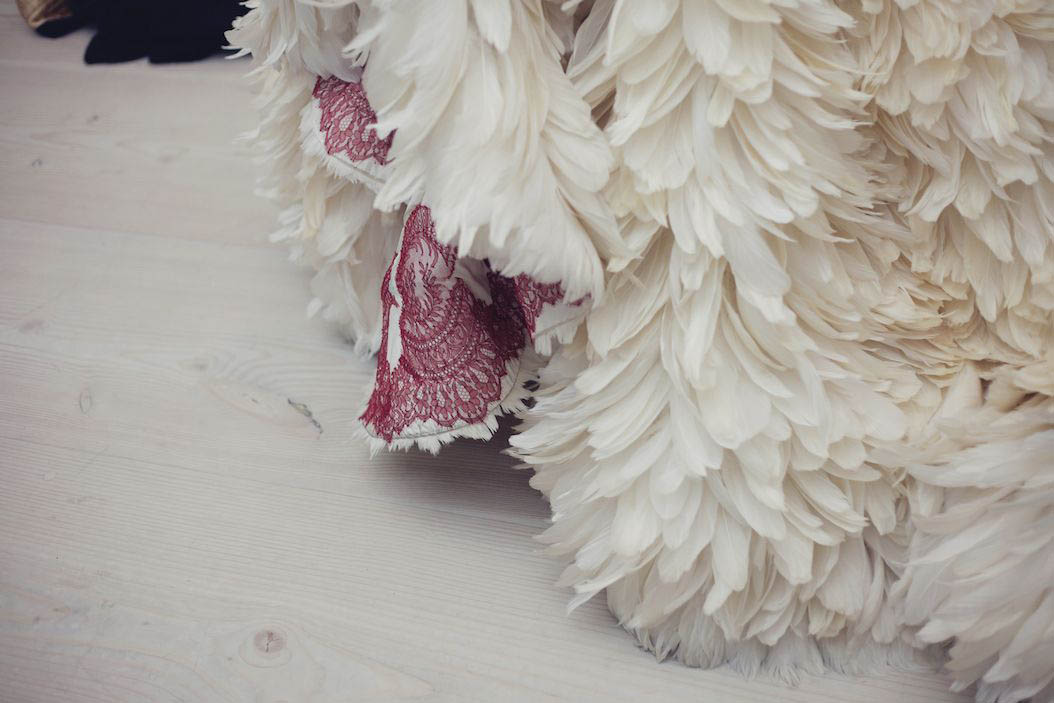 The goodie bag each guest received was also out. of. this. world. The best I've ever seen. I left the show with gifts from Dermalogica, Elemis, Pearl Drops and L'Oreal.
Gareth was excited by the Macaroons, cupcakes and Gü chocolate!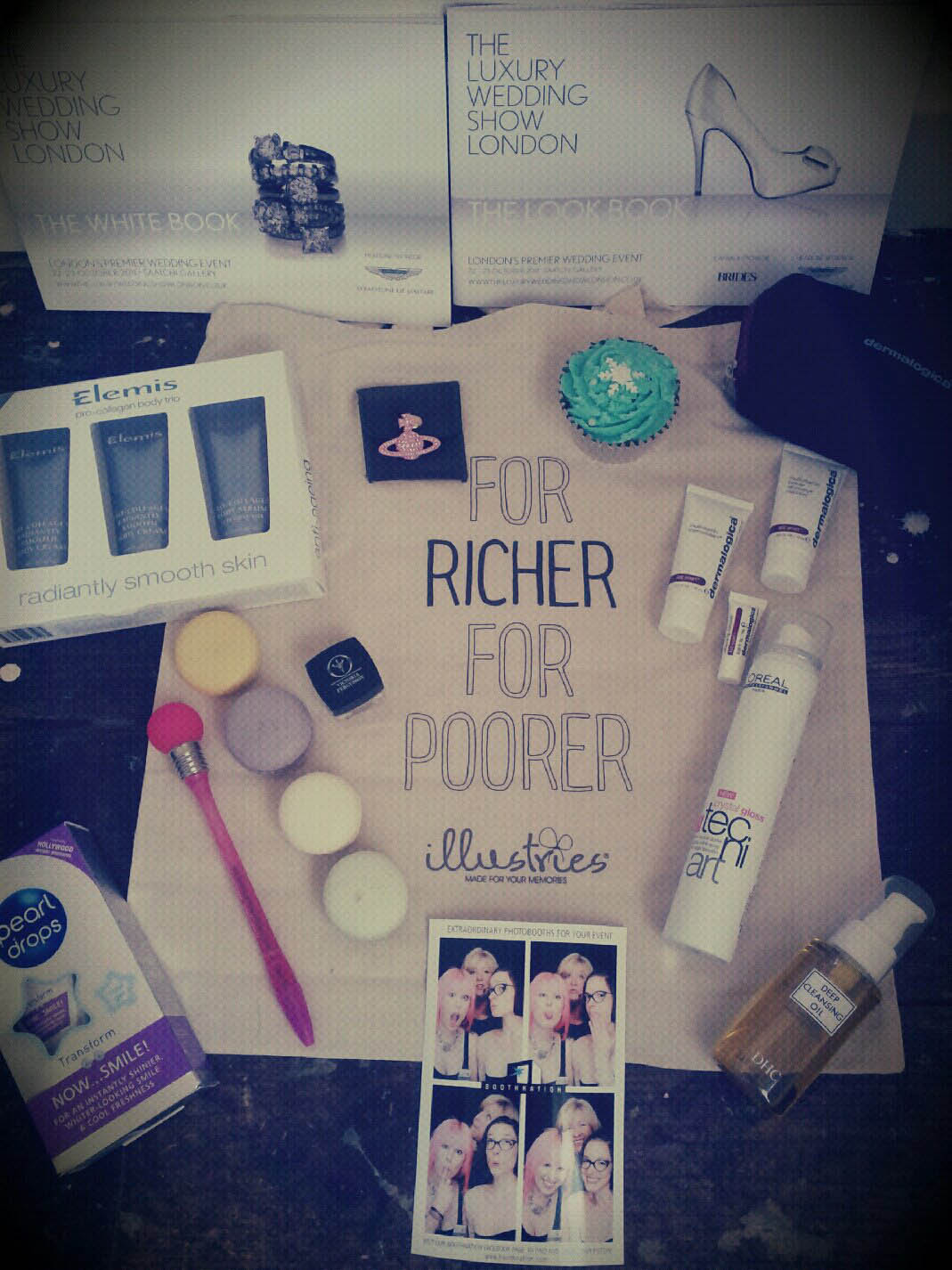 Crappy phone photo by me…
As a special thank you from the show I was even given a a PINK orb brooch by Vivienne Westwood. I DIE.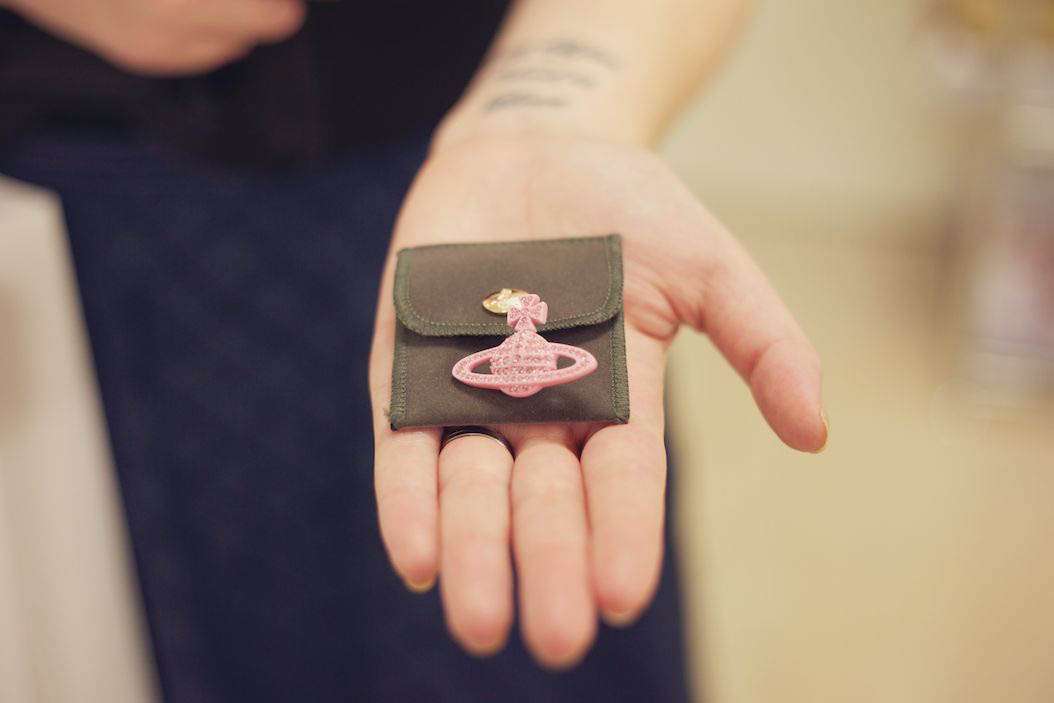 All in all I would thoroughly recommend a trip to The Luxury Wedding Show, London. It was a really great day. I'm already looking forward to the February show (keep your eyes peeled to the blog for date announcements) If it's anything like this weekend I'm already excited for it.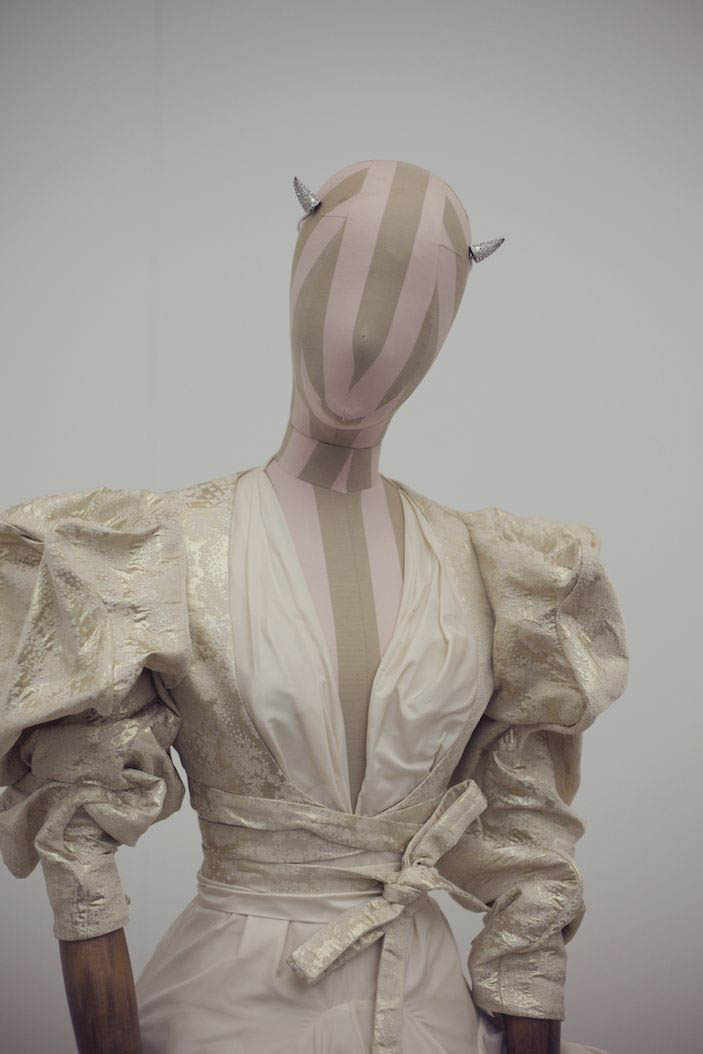 Be sure to check out more designs from each designer (and full credits for each image) in the gallery.
Special love and thanks to Lisa Devlin for coming with me and taking all these lovely photos. MWAH!
Photography Credit: Lisa Devlin
Show Photographs Credits
Image 1: Kula Tsurdiu ♥ Image 2-3: By Appointment Only Design ♥ Images 4-8: Vivienne Westwood ♥ Images 9-11: Candy Anthony ♥ Images 11-20: Luella's Boudoir ♥ Images 21-24: Jane Taylor Millinary ♥ Images 25-31: Vintage Teasets ♥ Images 32-33: State of Grace ♥ Images 39-41: Freya Rose ♥ Images 42-46: Suzie Turner
Catwalk Show Credits (in order of appearance)
David Fielden (1-4)
Temperley (5-9)
Charlotte Casadejus (10-20)
State of Grace (21-26)
Candy Anthony (28-42)
Amanda Wakeley (43)
Lisa Redman (44)
Angelina Colarusso (45-46)
Vera Wang at Browns Bride (47)
Peter Langer Browns Bride (48-49)
Marchesa at Browns Bride (50-52)
Vivienne Westwood (53-71)